Nvidia is reportedly planning to launch a Super refresh of its RTX 40 Series at the annual Consumer Electronics Show. As usual, CES should take place in January, and will allegedly star the RTX 4080 Super.
The date was provided by tech leaker, Kopite7kimi, when replying to a comment on X. They didn't confirm much else, but based on what we've gathered so far, Nvidia will fill out the best graphics card lineup with three Super models including the aforementioned RTX 4080 Super, a RTX 4070 Super, and a weirdly named RTX 4070 Ti Super. Naturally, these cards will offer both improved performance and features over their non-Super counterparts.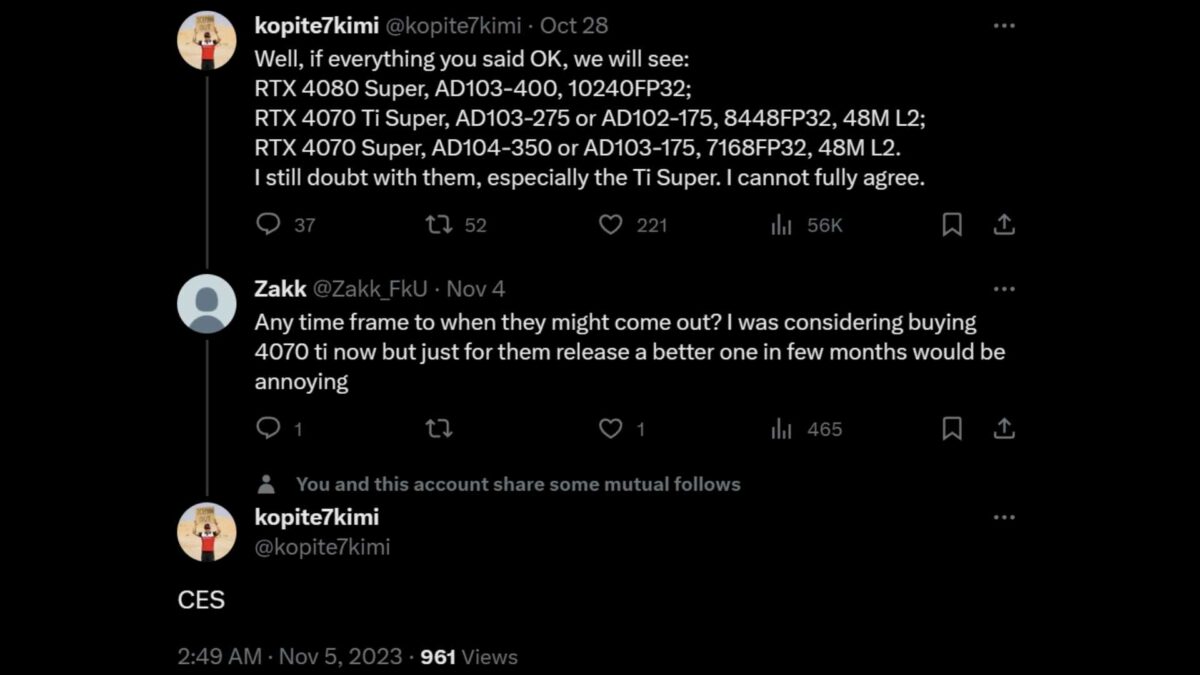 According to the rumour mill, the RTX 4080 Super will be the flagship model of the Super series. It could feature the same AD102 GPU die found in the RTX 4090, with a TGP below 450W. It's also possible that the upcoming graphics card might cram 20GB of GDDR6X VRAM – that's a 25 percent increase over the original.
The RTX 4070 Super and RTX 4070 Ti Super will allegedly be based on the AD103 GPU instead of the originally suggested AD104 die. This makes the most sense, and corroborates claims that the RTX 4070 Super will pack 16GB of GDDR6X VRAM and a 256bit bandwidth. It's also worth mentioning that there's never been a "Ti Super" graphics card. So far, there's also very little information regarding the performance difference between the two.
Traditionally Nvidia utilises the Ti nomenclature to denote a higher-spec model within the same Series of graphic cards. The RTX 4070 Ti and RTX 4060 Ti are a perfect example of this in recent memory. Meanwhile, Nvidia uses the 'Super' naming scheme when it introduces a mid-Series update, or refresh as you will.
Naturally, you should take all the above with a pinch of salt. Nvidia has yet to confirm any of its future plans and anything can change at a moments notice. As the saying goes, "nothing can be said to be certain, except death and taxes."