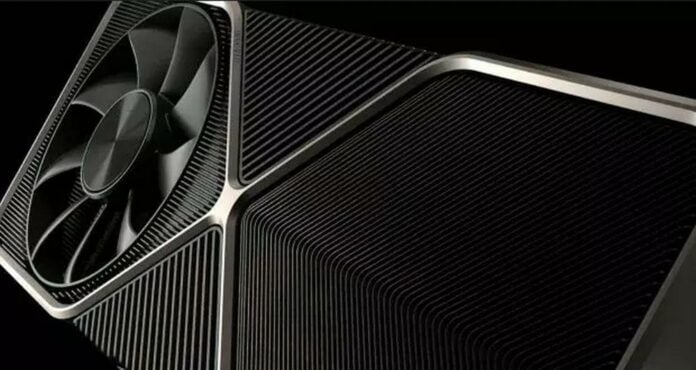 Twitter user kopite7kimi is at it again with a new rumour/leak; this time updating next-gen Nvidia RTX 4000 GPU specs with the addition of more CUDA cores, GDDR6 instead of GDDR6X, and somewhat down-to-earth power requirements.
RTX 4090 getting more CUDA cores
Based on AD102-300 GPU, GeForce RTX 4090 should now be rocking 16,384 cores housed in 128 SM (Streaming Multiprocessors), compared to 16,128 cores and 126 SM previously rumoured. This leaves enough headroom for something like an RTX 4090 Ti on the full Ada GPU, which reportedly is home to 18,432 cores/144 SM in complete form.
GeForce RTX 4090 should also offer 24GB of GDDR6X memory running on a 384-bit bus at 21Gbps, alongside 96MB of L2 cache against only 6MB on RTX 3090 (Ampere). Seems cache is king.
TDP-wise, no 600W or 900W here, but a more reasonable 450W that can be powered by a single PCIe 5.0 16-pin connector.
This card may hit the market in September or October.
RTX 4080 getting GDDR6 instead of GDDR6X memory
Based on AD103-300 GPU, GeForce RTX 4080 features 10,240 cores inside 80 SM, which is only four SM shy of utilising the entire GPU.
The card is coupled with 16GB of GDDR6 running on a 256-bit bus at 18Gbps. For reference, RTX 3080 has a 19Gbps memory. However, the story doesn't end here, because while RTX 3080's GDDR6X is faster by default, RTX 4080 carries a massive 64MB of L2 cache which will help keep performance up. Seems like Nvidia is going down the AMD cache-heavy route for the next generation.
TDP is a bit lower at 420W, again meaning a single PCIe 5.0 16-pin cable is enough. This card may hit the market in October or November.
RTX 4070 with less memory and smaller bus
Based on AD104-275 GPU, GeForce RTX 4070 has 7,168 cores and 56 SM, which is 512 fewer cores than a full AD104 GPU, alongside 48MB of L2 cache.
The new rumour indicates RTX 4070 is paired to a smaller 10GB of GDDR6 framebuffer running at 18Gbps using a 160-bit bus. which is less memory and bus compared to previous 12GB and 192-bit bus rumours.
TDP is much more comfortable at 300W, so no need to overpay for a 1,200W Dark Power, where a 850W Pure Power is enough. Assuming you went for a non-power-hungry CPU, of course.
Latest indication is RTX 4070 arrives in November or December.