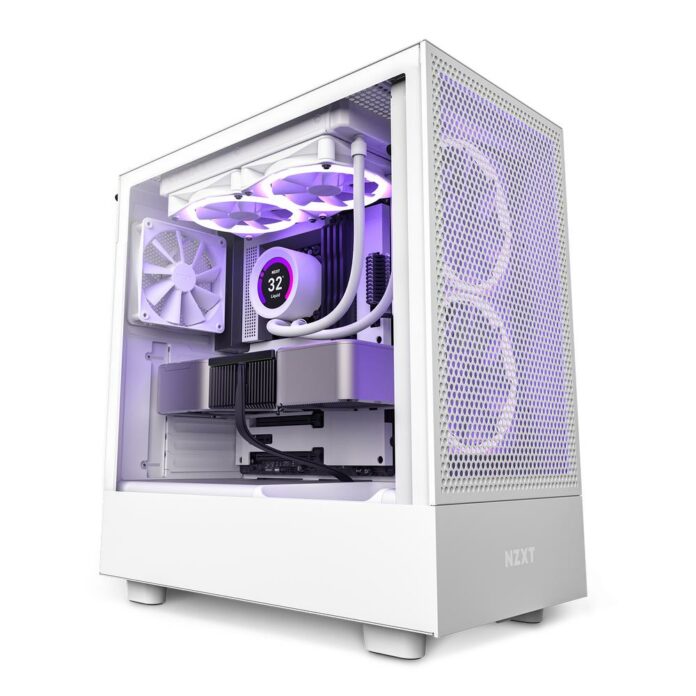 NZXT has unveiled the H5 Flow and H5 Elite chassis, which succeed minimalist and compact H510 mid-tower cases by boasting better airflow, plus there's new static-pressure-optimised T120 series air coolers.
H5 Flow and H5 Elite chassis
Starting with the chassis, both models improve on their predecessors (H510) by featuring an open top capable of accommodating up to 240mm radiators or two 120mm fans for better air circulation. Both will be available in all-white or all-black, measuring 446mm x 464mm x 227mm – a bit bigger than the H510 – which is explained by the wider cooling compatibility.
The remaining specs are also somewhat similar to an H510, namely support for Mini-ITX, Micro-ATX, and ATX motherboards, alongside 165mm-height CPU coolers and 365mm-long graphics cards. Cooling-wise, the H5 series will allow the installation of 240mm radiators on the top in addition to the front 280mm and rear 120mm. On the bottom resides one 120mm fan angled at about 45° toward the graphics card to provide extra airflow. Note that frontal radiators have 45mm of clearance.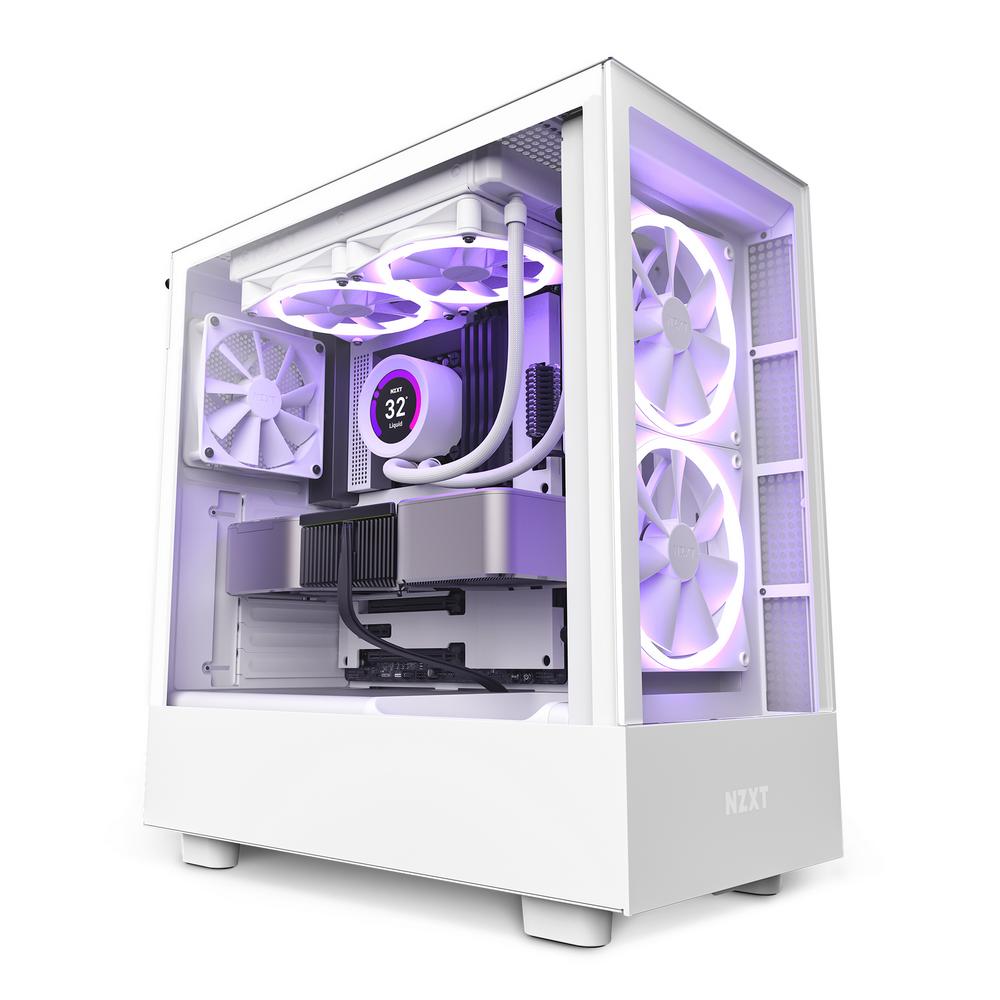 The design is also focused on ease of use with a removable front fan tray enabling hassle-free installation, and three removable dust filters – two on the bottom plus one up top. For expansion we find seven PCIe slots opening, plus two 2.5in or one 3.5in and one 2.5in drives for storage. I/O comprises a single USB 3.2 Gen 2 Type-C, another USB 3.2 Gen 1 Type-A, and a 3.5mm headphone jack. NZXT has put many cable-management channels behind the motherboard tray to facilitate cable routing.
The only difference between the H5 Flow and H5 Elite is that the former is performance oriented with a mesh front panel but has no RGB fans out of the box, while the latter is more of a showpiece, swapping mesh for a glass front panel plus two F140 RGB fans. The Elite model also gets a fan/RGB hub controllable via NZXT CAM software.
These upgrades look and sound very nice, which can't be said about increased prices. For comparison, the H510 normally retails for £69.99 while currently being on sale for £59.99, making the 'cheaper' H5 Flow £35 more expensive.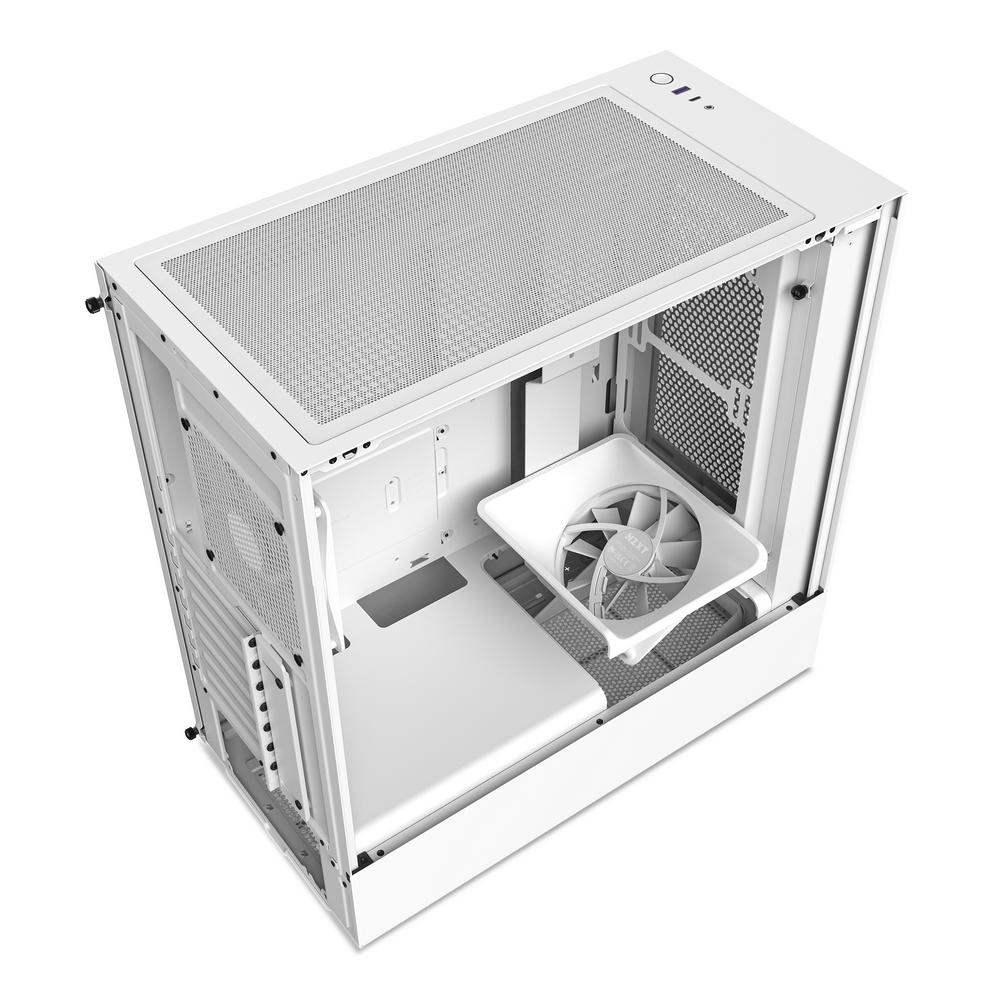 T120 and T120RGB air coolers
Available in black or white options, both T120 and T120RGB CPU coolers are based around a single fin-stack tower with what looks like four direct-touch heat pipes. The first doesn't feature any RGB lighting, making it a prime choice for clean builds, whereas the second offers an RGB ring around the fan that provides a diffused effect.
Depending on the model, each cooler will come with either one T120 or one T120RGB 120mm fan, plus 1g of NZXT's high-performance thermal paste and all the mounting hardware necessary to install them on Intel LGA1700 and 1200/115X or AMD AM5, AM4, STRX4 and TR4 sockets. NZXT reckons these new coolers are easy to install and maintain, which seems about right when looking at the installation manual.
Fan-speed curve adjustments and RGB customisations, if applicable, are possible via NZXT CAM.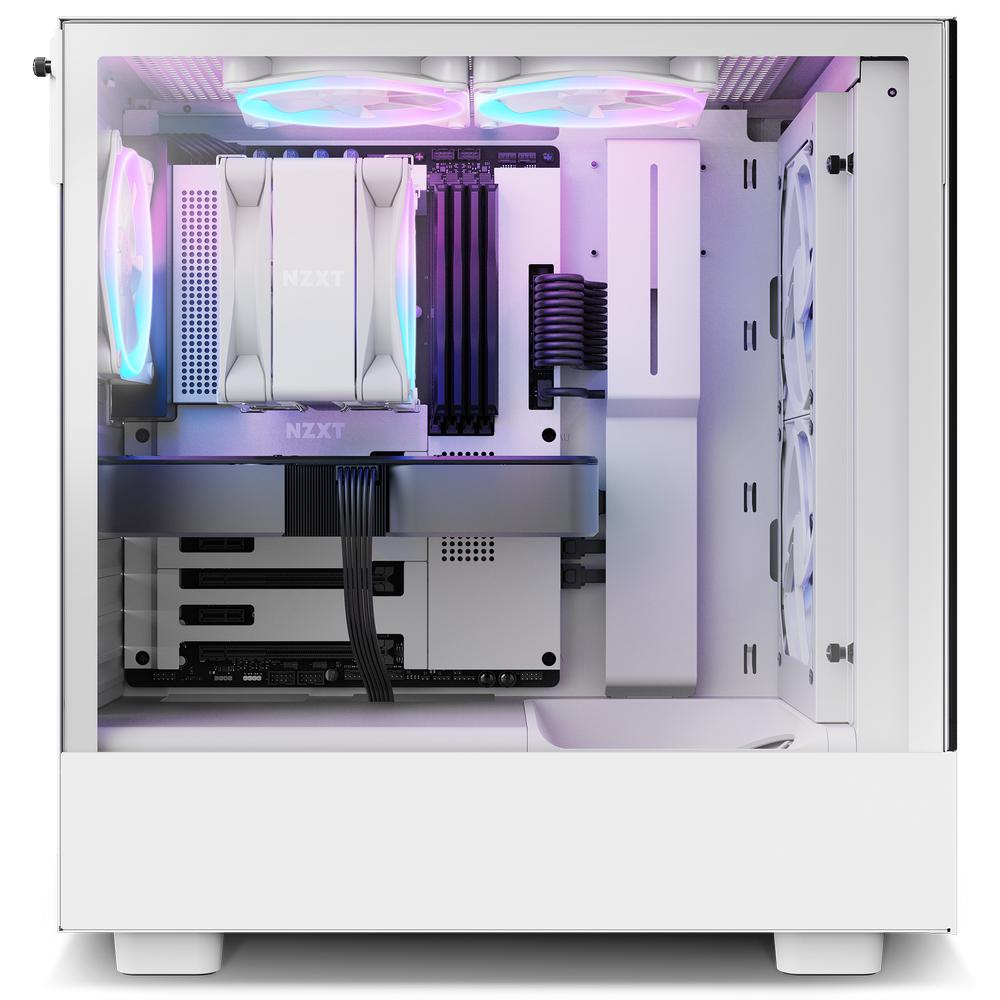 The H5 Flow and H5 Elite are priced at £94.99 and £129.99 (MSRP), respectively, with the T120 and T120 RGB sitting at £49.99 and £54.99. H5 Series plus T120 Series should be available at the usual haunts soon, backed by a two-year warranty.