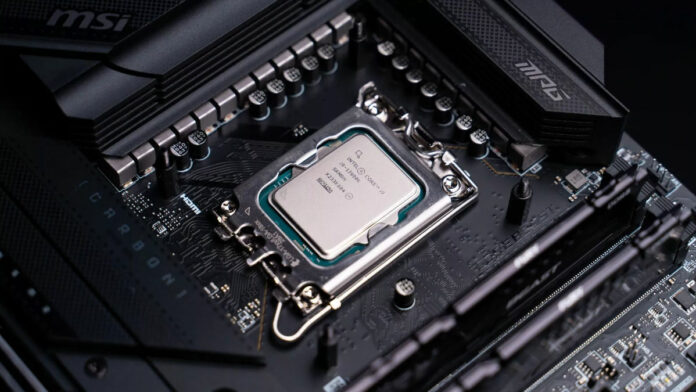 MSI has inadvertently leaked confidential information on Intel's 14th Gen Raptor Lake Refresh via a YouTube Live stream.
Bemusingly, the company even clearly marked its slides with "NDA, do not share" in big red letters, intended for all those in attendance, yet still failed to heed its own advice.
Much to the dismay of Chipzilla, the leak was clearly an unintentional mistake, and the stream was taken down post haste. Luckily for us enthusiasts, the good folk at VideoCardz were able to grab a still of the particular slide, providing us with a few juicy details.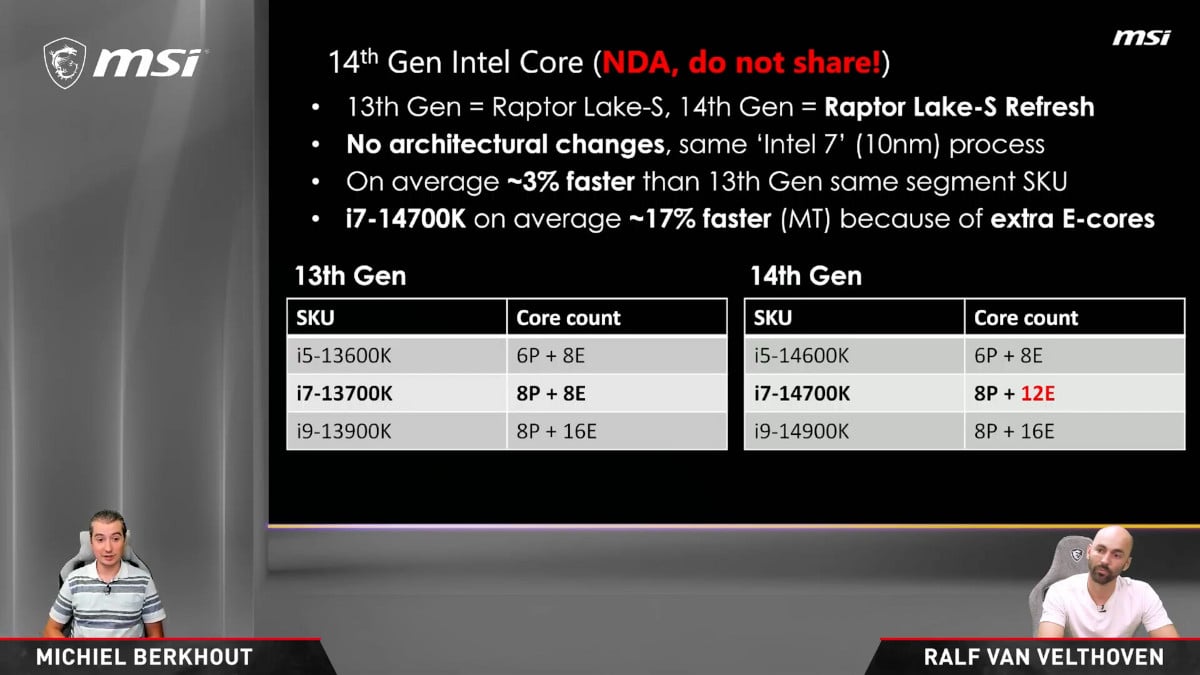 Codenamed Raptor Lake-S Refresh, MSI's leaked slide suggests that on average, Intel's upcoming 14th Gen processors will perform only three per cent faster than current 13th Gen CPUs.
The exception to that rule is the Intel Core i7-14700K, receiving a bigger 17 per cent bump in multithreaded performance. The disparity is due to core counts of the Intel Core i5-14600K and Core i9-14900K remaining exactly the same as their Raptor Lake counterparts, while the i7-14700K serves up a welcome surprise by adding four extra efficiency cores, rounding up to eight performance and 12 efficiency cores in total.
As the refresh name suggests, there are no architectural changes, meaning Intel's next-gen chips are built on the same Intel 7 (10nm) process, and according to previous rumours, could provide support for higher core clock frequencies and minor improvements to L3 cache, ideal for gaming-focussed performance.
This also provides the advantage of utilizing existing Z690 and Z790 motherboards, and while it may not impress current Raptor Lake users, the Refresh certainly carries mainstream appeal for those upgrading from previous generations.
All in all, it would appear Intel 14th Gen, aka Raptor Lake Refresh, is a modest update with a focus on platform opportunities rather than significant CPU improvements. MSI's claims of three per cent performance gains on certain SKUs is consistent with what we've heard from key partners, and the attention will likely shift to new motherboards touting next-gen WiFi 7, 10GbE and lavish PCIe 5.0 cooling.