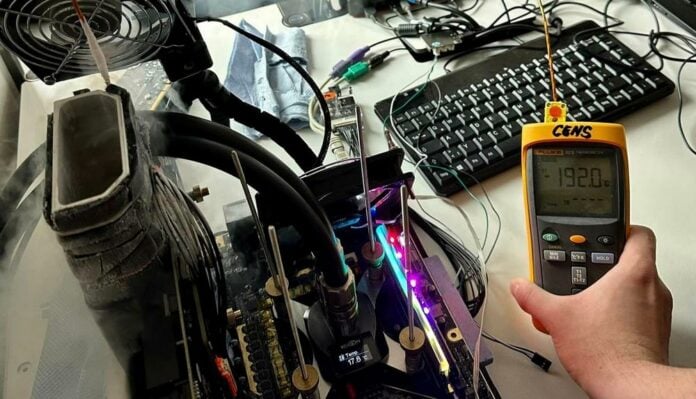 A new world featuring Nvidia's flagship RTX 4090 GPU has been reached in Unigine's 3D benchmark, taking the first spot from OGS.
German overclocker CENS is now sitting in the first spot for Unigine Superposition 8K benchmark by scoring 18,701 points using a Colorful iGame RTX 4090 LAB graphics card overclocked to 3.825GHz GPU and an effective GDDR6X memory speed of 25,408MHz. The previous record holder, OGS, managed to hit 18,145 points thanks to 3.66GHz GPU and 24,000MHz memory frequencies.
Just to be clear, this frequency has already been achieved by OGS on a Galax RTX 4090 HOF back in November 2022, however the validation was done using GPUPI, which is not a 3D renderer. In other words, the GPU wasn't stressed the same way as this time around.
CENS achieved this by cooling the GPU to -192°C using liquid nitrogen. Needless to say, this is not a 24/7 OC. What it is, however, is 51 per cent higher frequency over Nvidia's official GPU boost clock, and 20 per cent higher than reference RTX 4090 memory clocks.
The rest of the machine comprised an Intel Core i9-13900K CPU, an EVGA Z790 Dark Kingpin motherboard, and 2x16GB of G.Skill Trident Z5 RGB DDR5-7800 CL36-46-46-125 1.45V memory overclocked to 8,533MHz, operating on Microsoft's Windows 11 (Build 22000) plus GeForce driver version 526.98.
It is always impressive to see how cooling alone can push hardware far beyond its initial performance. We can't wait for the 4GHz barrier to be smashed.