Jump to: Specification | Performance | Conclusion
Smaller PCs and the idea of downsizing might be in vogue, yet if you want to maximise performance, the old adage of bigger is better rings true for many an enthusiast. E-ATX boards are more readily available than ever before, elaborate liquid cooling is increasingly accessible, and with the purported higher power requirements of next-gen hardware, it might be a good time to make room for a proper full-tower chassis.
Just don't underestimate how big a truly high-end gaming rig can get. PCSpecialist's Blade Ultra certainly took us by surprise when wheeled out of a massive truck and delivered to Club386 HQ on a pallet. Two of us barely managed to get it up the stairs, and while we've experienced our fair share of monster PCs in the past, we don't recall a single one as big or as heavy as this.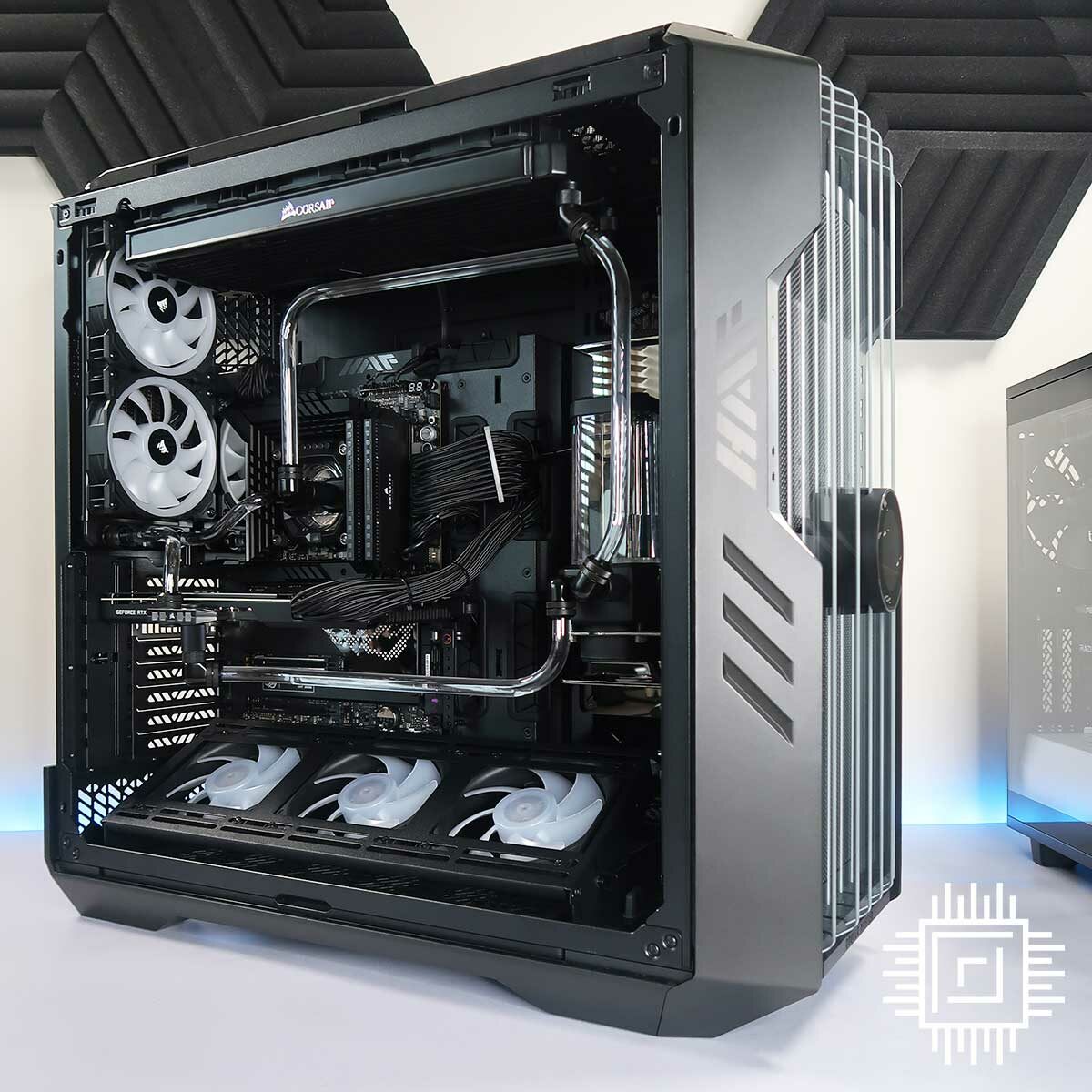 I mean, just look at it! As a point of reference, that's not a mini-ITX system to the side, it's our standard mid-tower Fractal Design Define R6 test platform, which looks pathetically puny by comparison.
Such grandiose stature is of course achieved by employing Cooler Master's gargantuan all-singing, all-dancing HAF 700 Evo chassis. Measuring a whopping 666mm x 291mm x 626mm, it is a truly monumental piece of kit for those who have space. Sat atop our desk, it's practically the same height as a 43in Philips monitor, and far more imposing.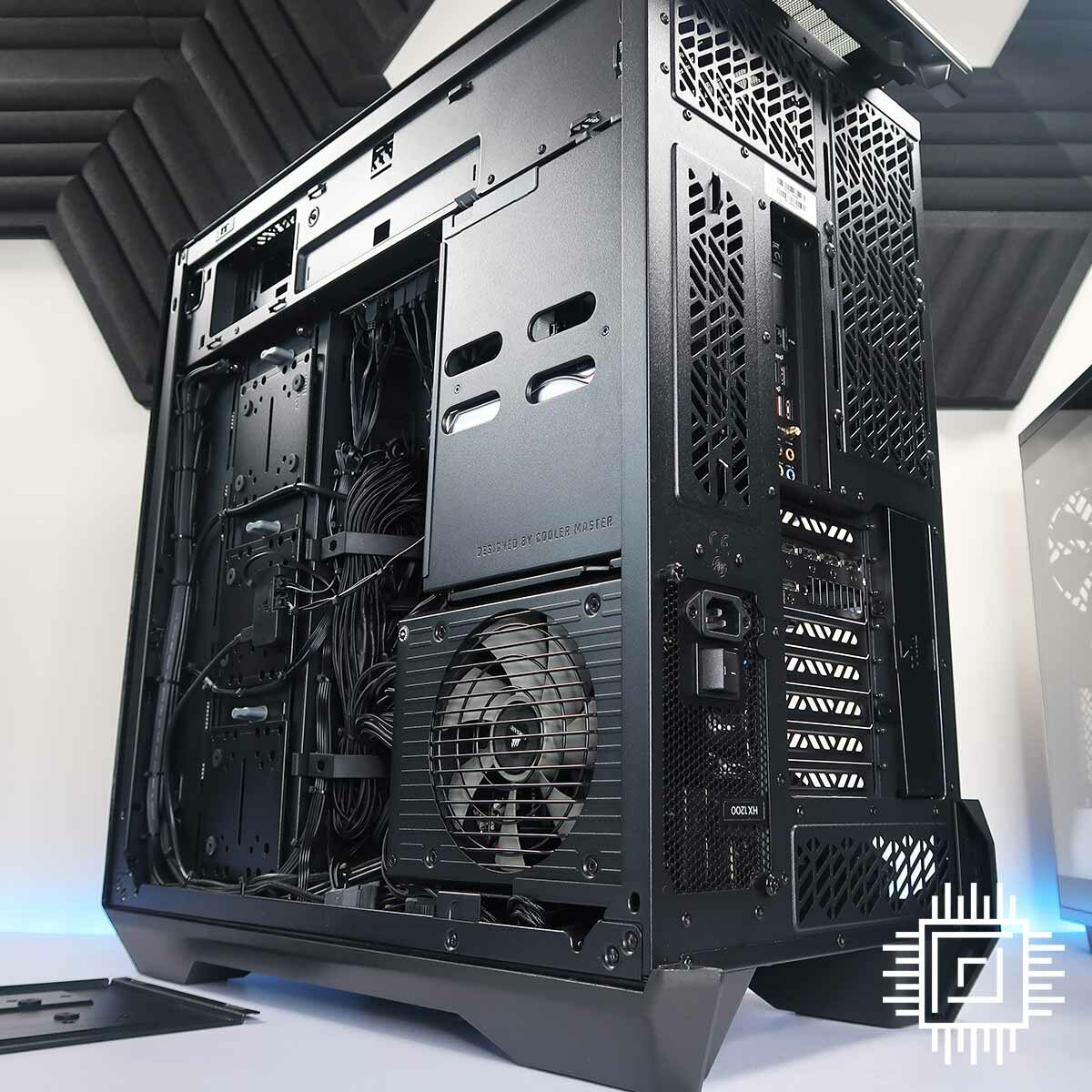 With so much other tech championing smaller, thinner and lighter form factors, such a beast feels like a welcome blast from the past. As many an enthusiast will testify, builds of these proportions used to be commonplace. It's so rare these days that the Blade Ultra feels a tad unnerving; I can sense its presence in the room, a black hole waiting to engulf anyone and anything that comes near.
That sense of trepidation extends to the price tag. PCSpecialist's rig will set you back £4,499, though going by current retail pricing, 10 per cent of that outlay is attributed to the case alone.
Specification
An immense build is practically a prerequisite, so what exactly do you get for the best part of five thousand pounds? PCSpecialist's CPU of choice is a flagship Intel Core i9-12900KS Limited Edition processor whose eight performance and eight efficient cores allow for 24 threads operating at a peak frequency of up to 5.5GHz.
The quickest of Intel's 12th Gen bunch is installed atop an Asus ROG Maximus Z690 Hero motherboard outfitted with 64GB (2x32GB) of Corsair Dominator Platinum DDR5-5200 memory. Plenty potent, albeit perhaps a tad reserved for a build of this magnitude; there's clearly room for E-ATX, and super-fast DDR5-6000 would feel right at home in this manner of rig.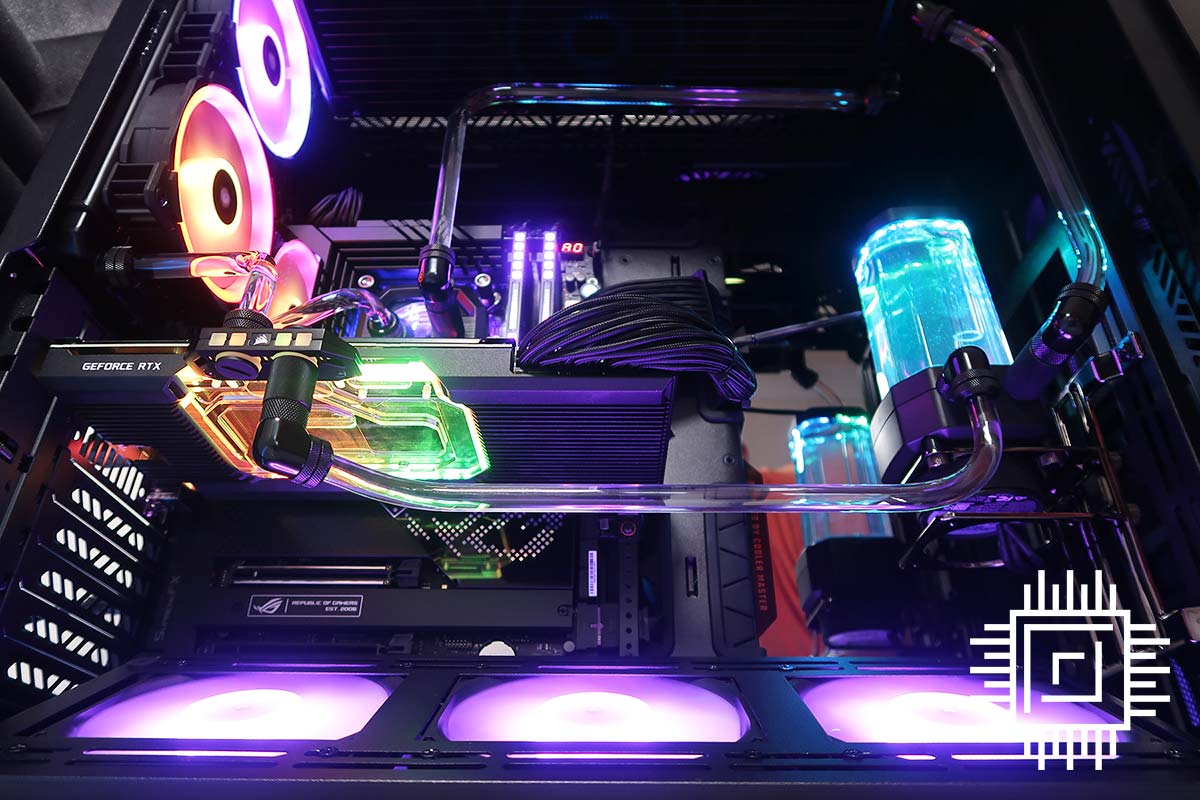 The fast-but-not-ridiculous sentiment extends to graphics, where we find a third-rung Asus ROG Strix GeForce RTX 3080 Ti. Choice of GPU could be argued both ways – RTX 3090 or 3090 Ti would be that little bit quicker, but either would tip the build closer to the £5k mark.
Rounding out the component hymn sheet is a 2TB Samsung 980 Pro M.2 SSD, 4TB Seagate IronWolf Pro 3.5in hard disk, 1,200W Corsair HX Series Platinum-rated power supply, and a whole host of Corsair Hydro X liquid-cooling accoutrements.
There's a lot going on, including XC7 RGB Pro CPU block, XG7 RGB 30 Series Strix GPU block, XD5 RGB pump/reservoir combo and two radiators; a 240 at the rear, plus a 360 in the roof. Everything is sewn together using 12mm Hydro X XT hardline tubing, and extra flourishes include clear Mayhems X1 watercooling fluid and individually sleeved power-supply cables.
Network connectivity is well catered for with the motherboard affording both 2.5GbE and Wi-Fi 6, while the chassis' eye-catching front fascia presents audio jacks, four USB 3.2 Gen 1 Type-A, a single USB 3.2 Gen 2 Type-C, and a customisable Iris LCD display flanked by striking edge-lit intake blades. Cooler Master's promise of a "futuristic lighting effect" sounds speculative, but credit where it's due, HAF 700 Evo does look terrific in the flesh.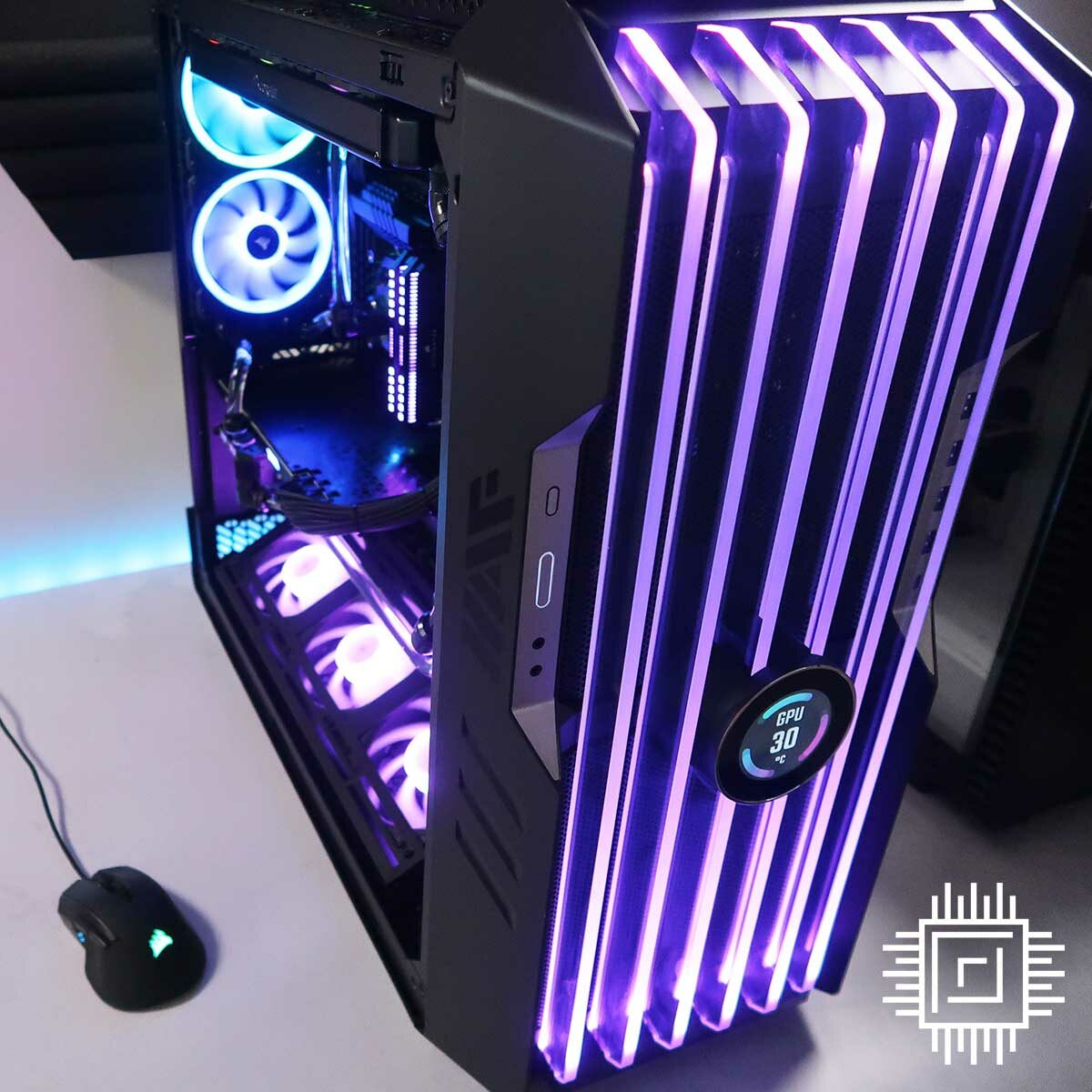 Such is the scope of the case that upgradeability is ample. Graphics cards can measure up to 490mm in length, there are a dozen 2.5/3.5in storage bays, and you have more fan mounts than you could shake a stick at. PCSpecialist augments the trio of tilted bottom fans with a further five; three on the top radiator and two on the rear. Curiously, all eight 120mm fans are configured as exhausts, favouring a negative air pressure configuration.
Despite the custom Hydro X loop, there's ample scope to expand should you feel the need. Cooler Master's case can house a second 360mm radiator in the roof (the top panel comes away to help ease installation), and though the bottom fans are largely decorative, they can be augmented with another 360mm radiator if you prefer. Heck, there's even space for a 420/480 alongside the motherboard. Point is, you're never likely to run out of room.
With so much opportunity, wouldn't it be better to build it yourself? The DIY approach is always fun; however the cost saving might not be significant. Totting up all the various parts brings the component bill up to around £4,500, including Windows 11. That figure implies PCSpecialist isn't charging a premium to build, deliver and support the system with a standard three-year warranty that includes a month of collection costs, parts cover for the first year, and labour for the duration.
Performance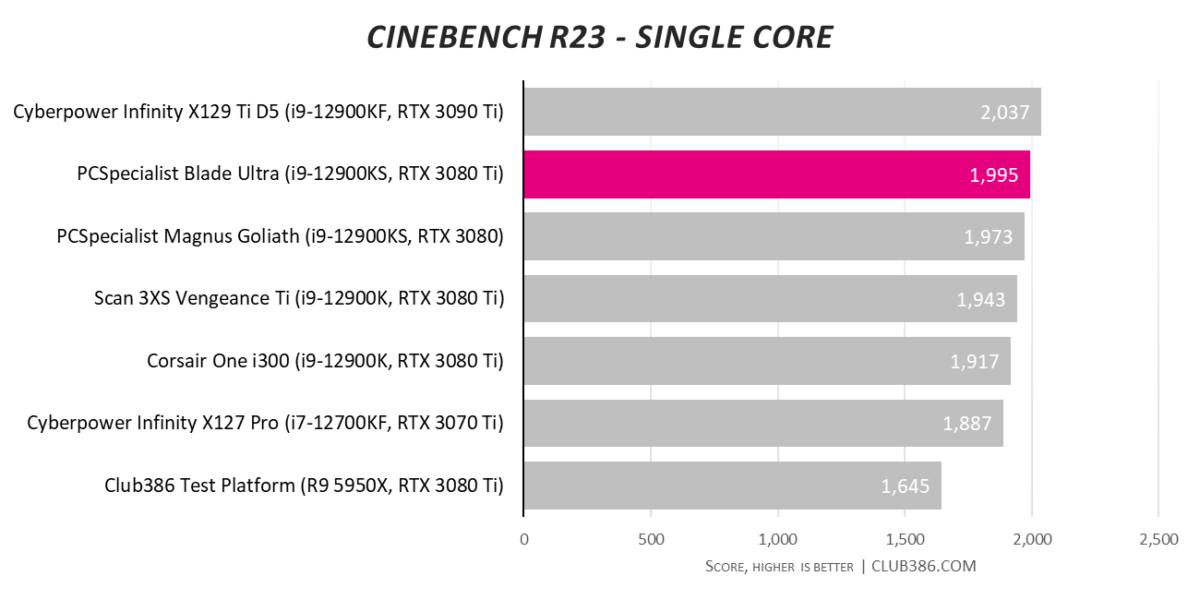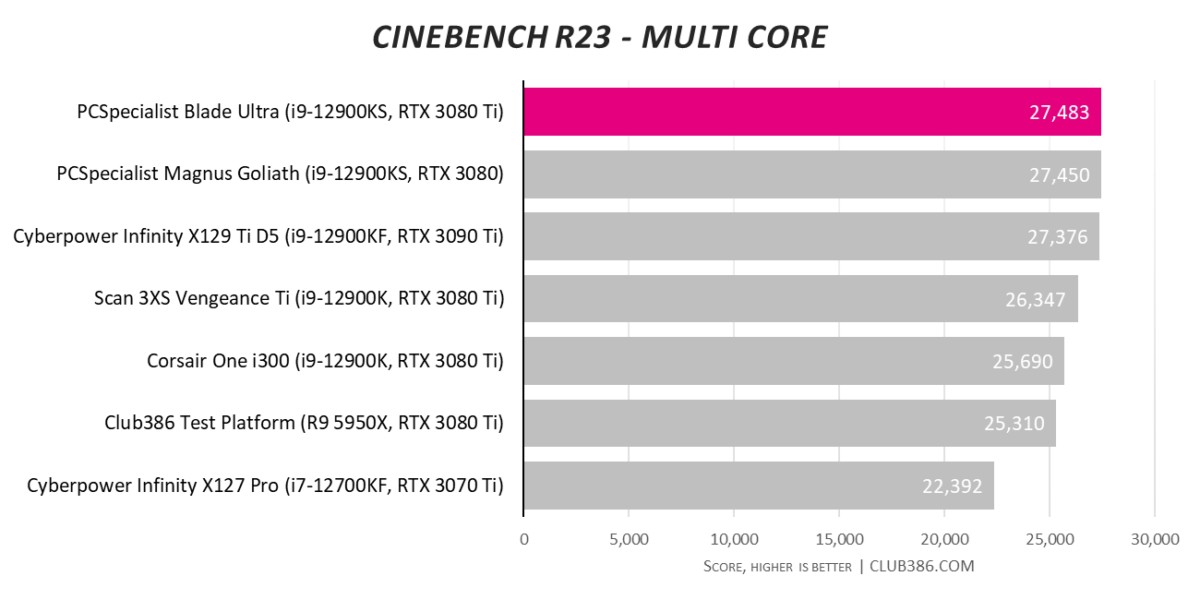 Core i9-12900KS, as expected, is right up there in the CPU charts. If anything, we're surprised the Blade Ultra doesn't creep past the 2,000 mark in the single-core test. It is very, very fast, though we wonder if the notoriously thirsty chip is getting a little hot under the collar irrespective of the custom loop.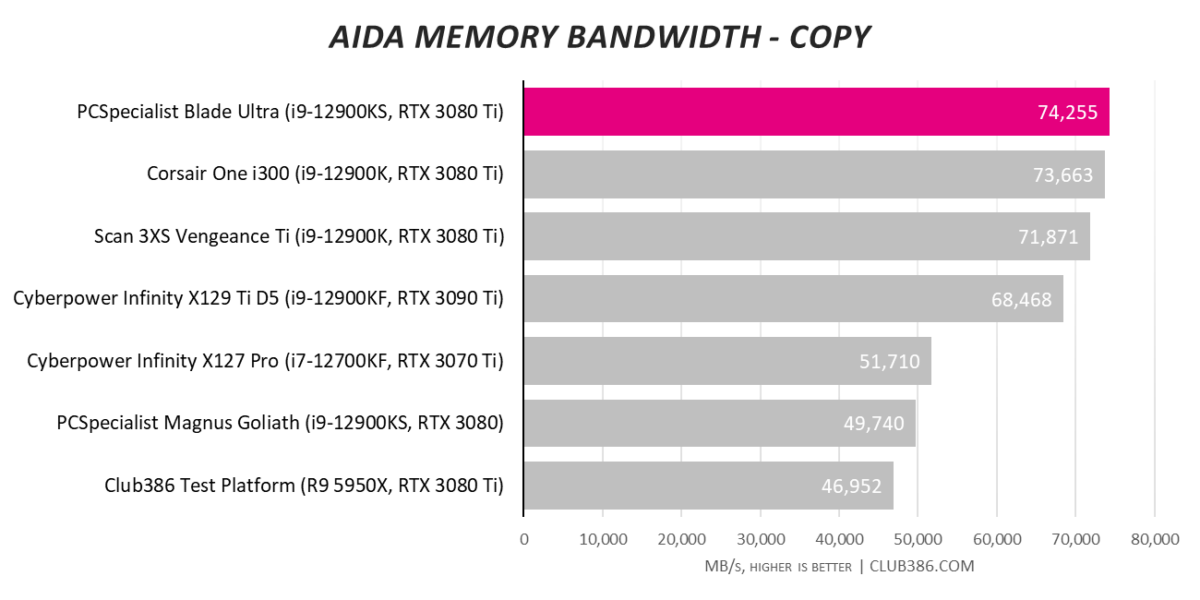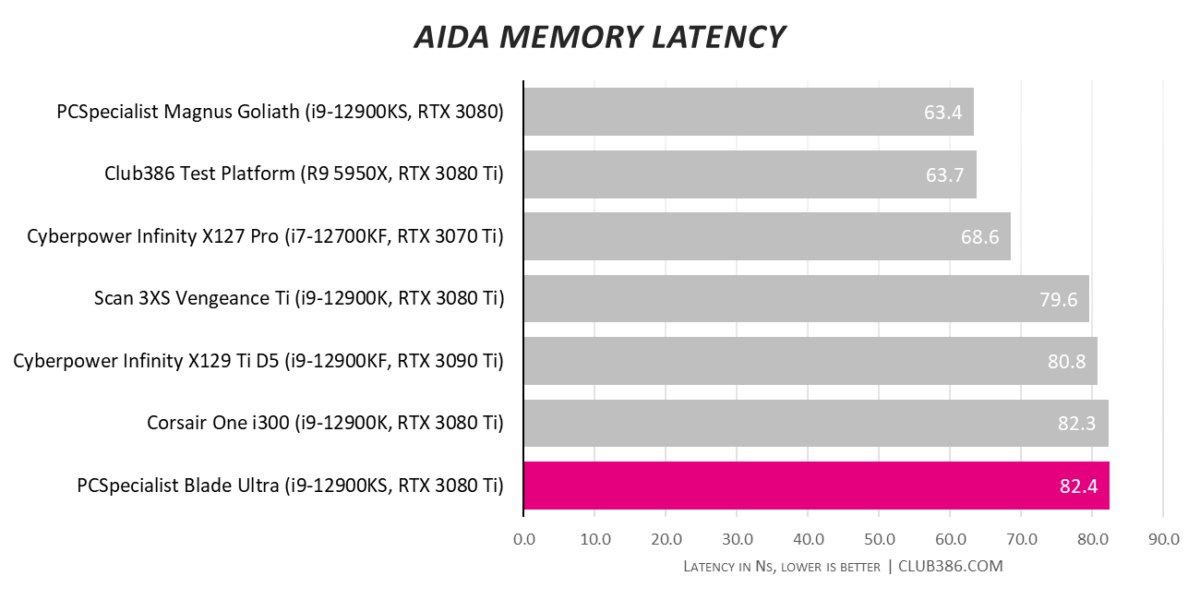 Quick, forward-looking DDR5 may not be the strongest in terms of latency, yet bandwidth is more than ample. 64GB at 5200MT/s is a safe bet.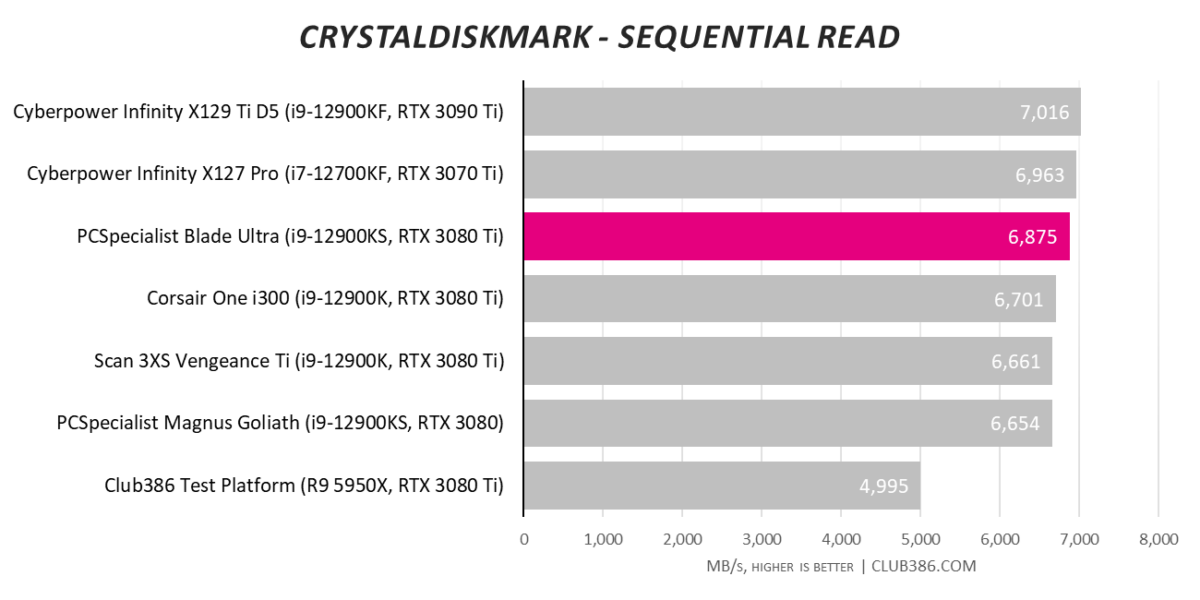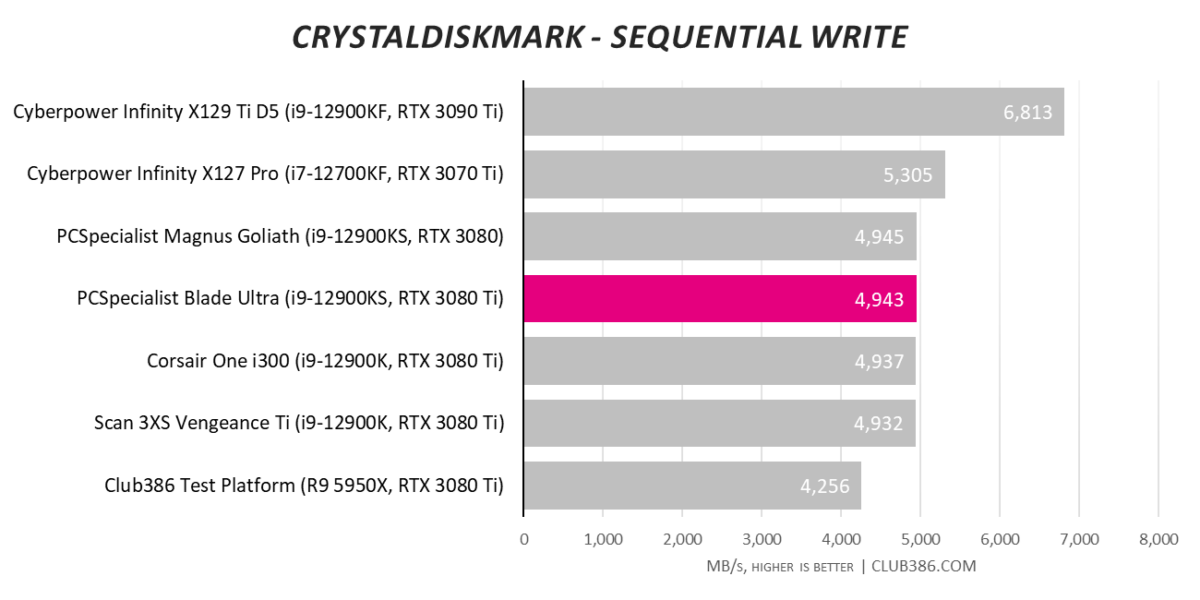 Samsung's 2TB 980 Pro M.2 SSD isn't strictly the quickest, yet read and write speeds are very healthy and we know this drive to be one the most consistent in its class. There's good reason for it to feature in so many high-end turnkey systems.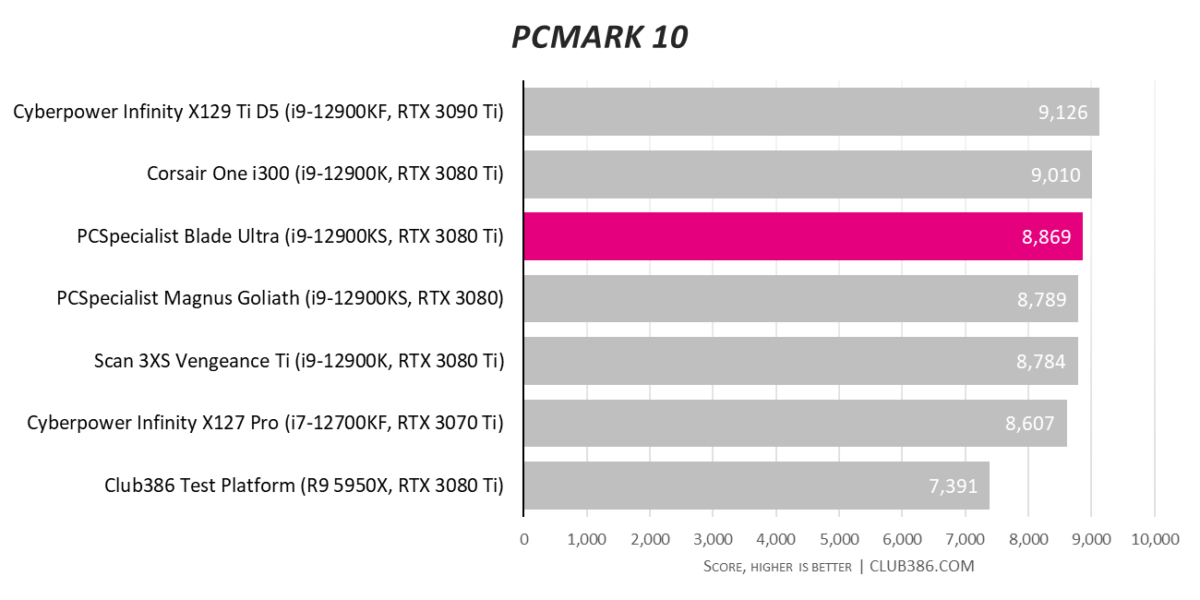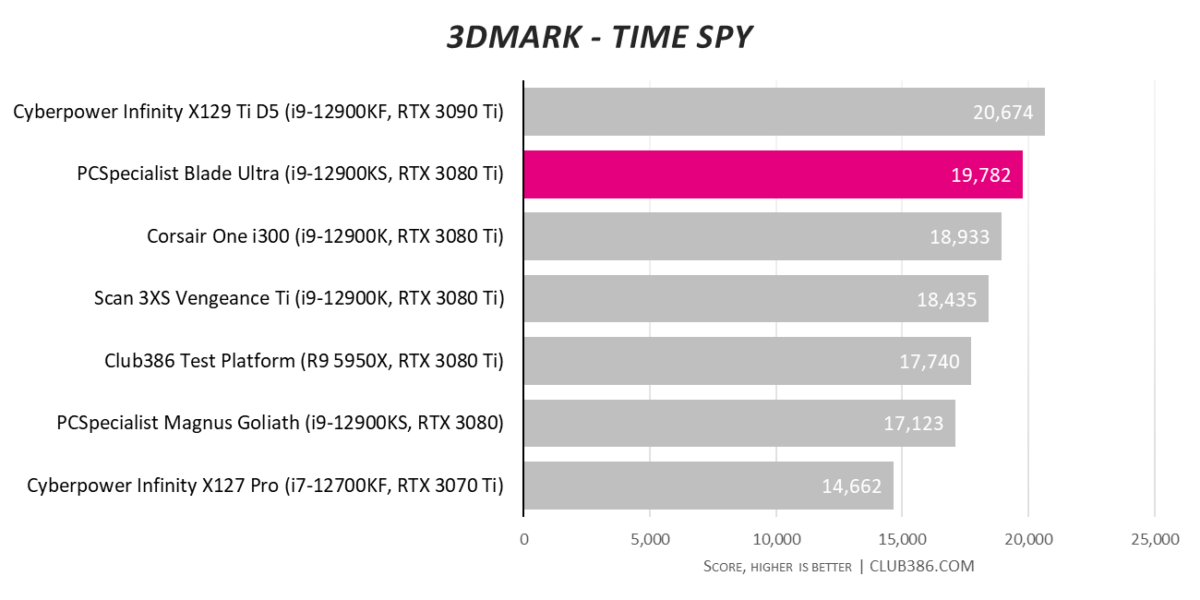 Performance is understandably strong in most regards, yet there's no ignoring the elephant in the room: Blade Ultra is the most expensive system in our charts yet doesn't break away from more affordable alternatives. Heck, PCSpecialist's own Magnus Goliath isn't a million miles off and costs £2,100 less. Being fair, going down that route precludes the jaw-dropping appearance of Blade Ultra, which can be a centrepiece foundation for many builds to come.

Show your support for impartial Club386 reviews
Club386 takes great pride in providing in-depth, high-quality reviews built on honest analysis and sage buying advice. As an independent publication, free from shareholder or commercial influence, we are committed to maintaining the standards our readers expect.
To help support our work, please consider making a donation via our Patreon channel.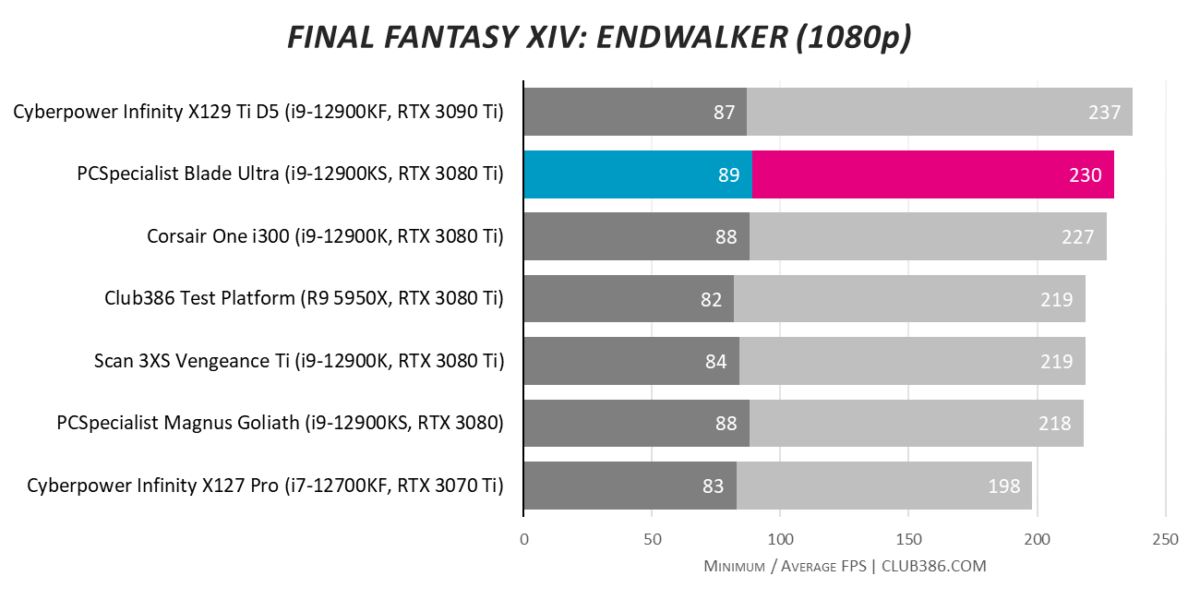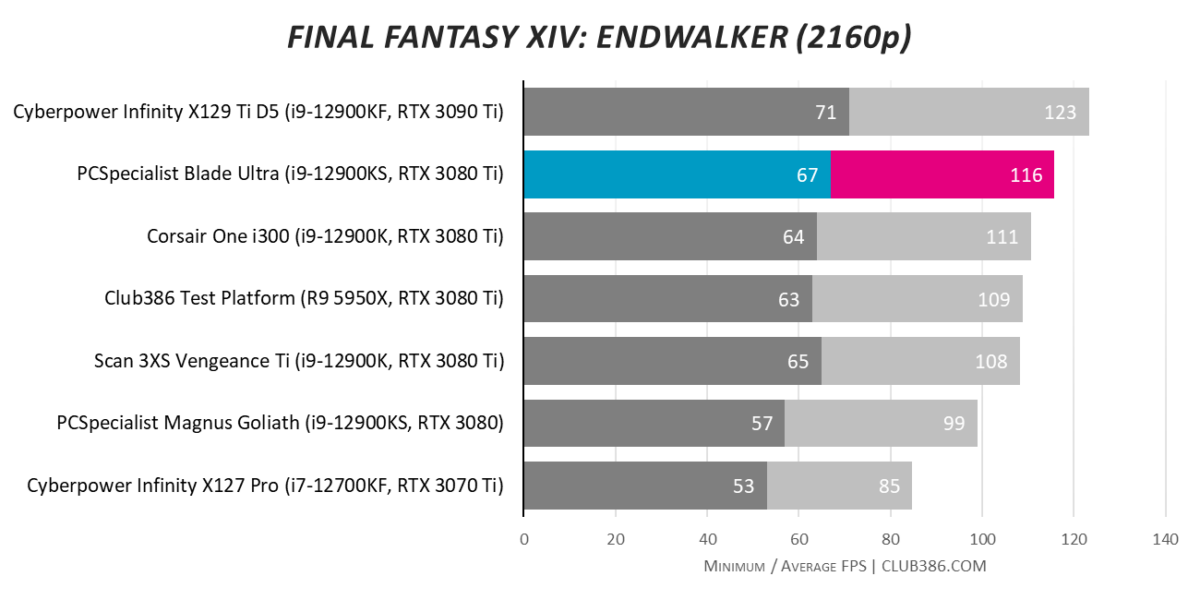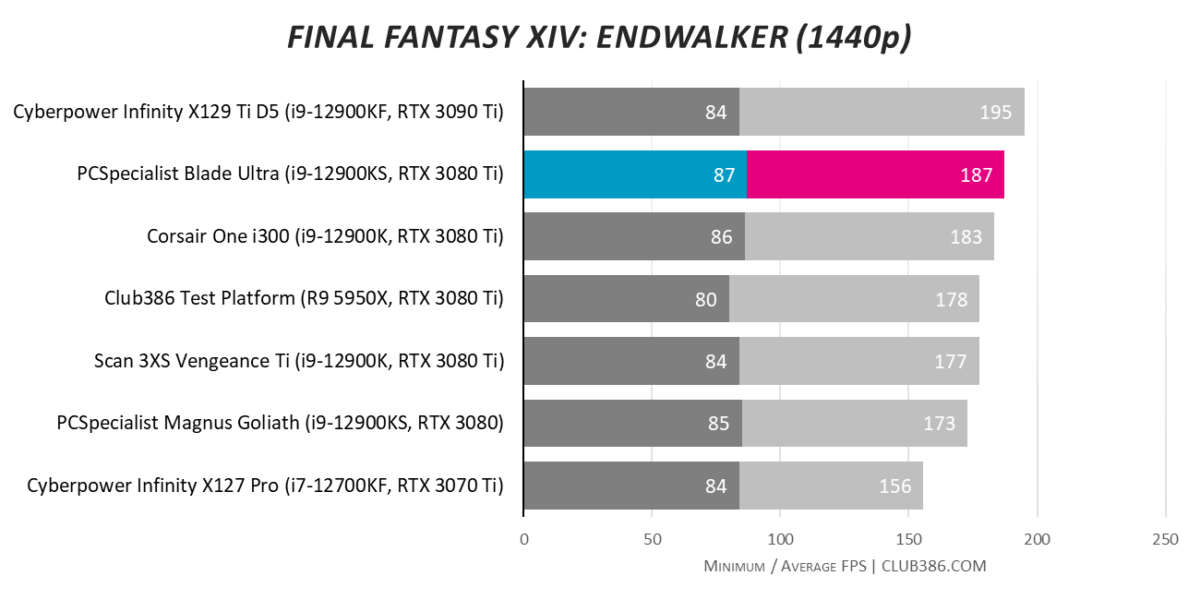 Bigger and dearer doesn't always mean best. Blade Ultra is clearly no slouch when it comes to gaming, but be aware a good chunk of change is being apportioned to how the system looks; such a cavernous case and lavish cooling doesn't come cheap.
| Game | FPS @ 1080p | FPS @ 1440p | FPS @ 2160p |
| --- | --- | --- | --- |
| Assassin's Creed Valhalla (Ultra High Quality) | 119 | 101 | 67 |
| Dirt 5 (Ultra High Quality, Raytraced Shadows On) | 172 | 136 | 96 |
| Far Cry 6 (Ultra Quality, HD Textures and DXR On) | 122 | 110 | 72 |
| Gears Tactics (Ultra Quality) | 201 | 143 | 82 |
4K60 performance is maintained in all of the above tested titles, thanks in no small part to the RTX 3080 Ti equipped with 12GB of memory. Far Cry 6 notoriously stutters into an unplayable mess on older cards.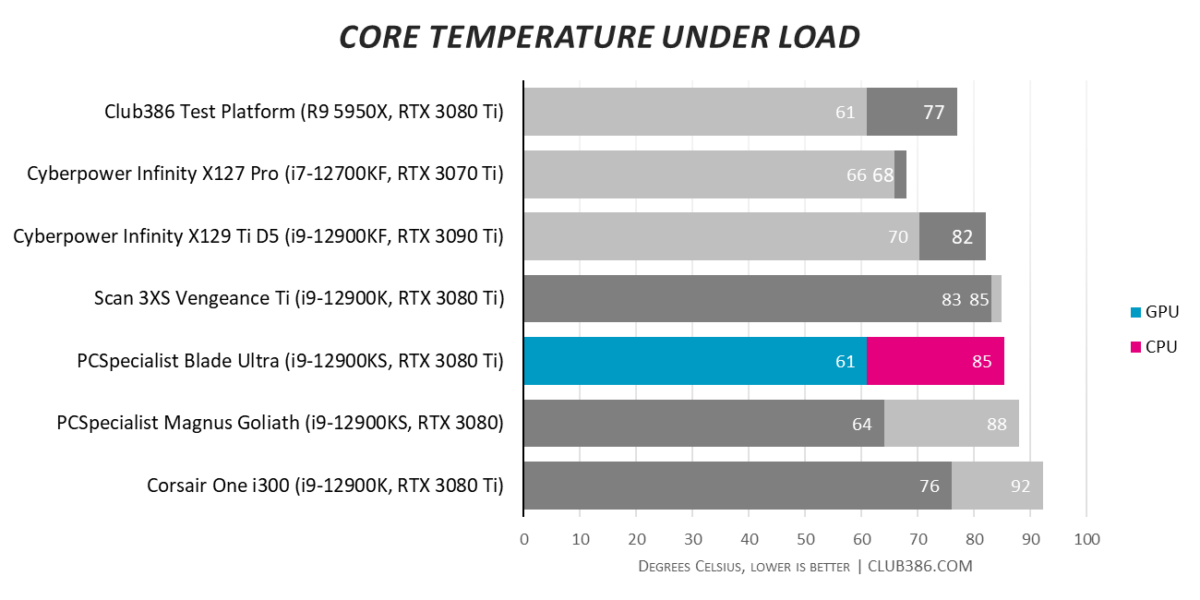 Corsair's Hydro X loop is tasked with taming two thunderous parts – they don't come much more potent than Core i9-12900KS and RTX 3080 Ti – and we see mixed results during real-world use. GPU temperature is no bother with the GeForce maintaining a cool 61°C when gaming, however the Core i9 does get toasty.
An under-load temperature of 85°C seems reasonable, yet remember this is an all-core average taking cool-running efficient cores into account. Perusing our logs reveals the performance cores often exceed 90°C, with one core rising as high as 100°C during a 10-minute stress test.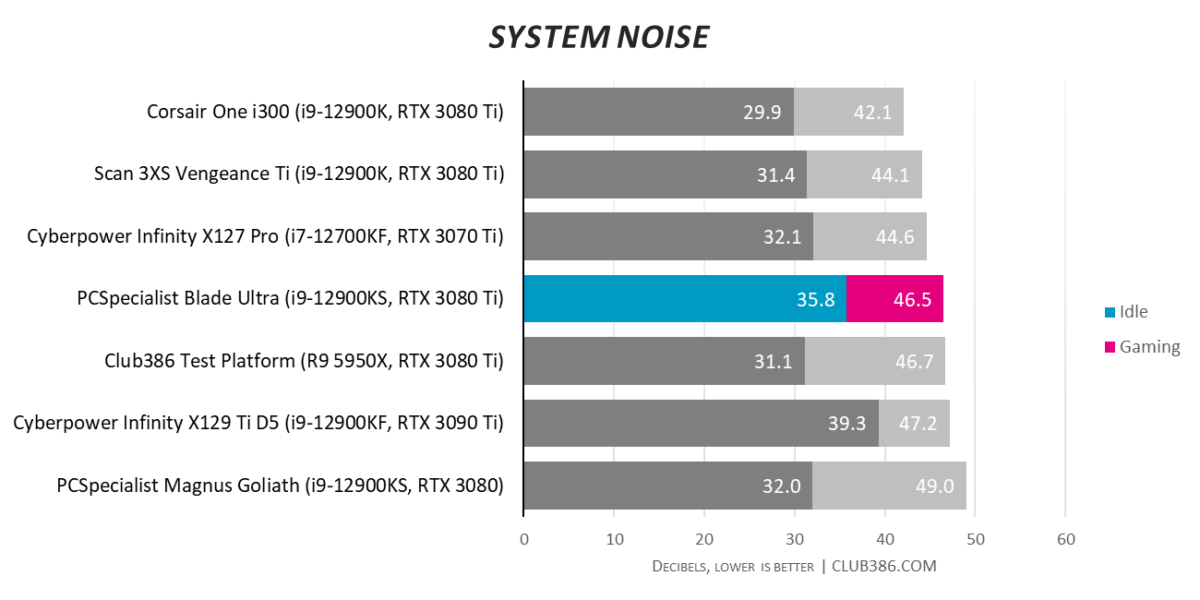 High CPU temperatures naturally cause the fans to spin-up noticeably under load, and the system is a tad more vocal than expected at idle. This can in part be attributed to the Corsair XD5 RGB pump/reservoir combo, which in our experience isn't the quietest of solutions.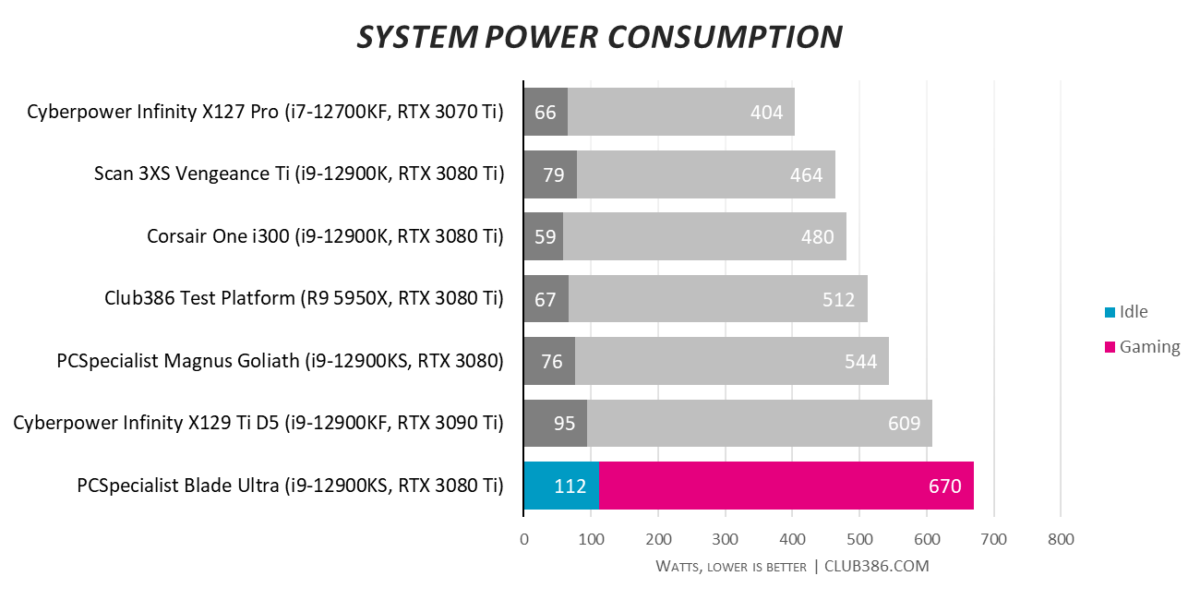 Blade Ultra confirms our own findings; Core i9-12900KS is the fastest consumer CPU out there, but it is far from the most efficient. Something to be aware of with the October energy price cap increase looming large.
Conclusion
Buying a PC on the eve of next-generation launches always feels like a gamble, and those stakes are raised when the computer in question costs the thick end of five thousand pounds.
PCSpecialist's Blade Ultra is undoubtedly quick and has the benefit of a tremendous Cooler Master chassis that will span at least a couple of generations, but as is naturally the case at this end of the market, diminishing returns dictate extra performance comes at a heavy cost.
While it looks terrific and dominates any room, Blade Ultra is crying out for next-gen gear that is now just around the corner. This manner of build incorporating, say, an Intel Core i9-13900K and GeForce RTX 4080 Ti graphics, would be quite something to behold.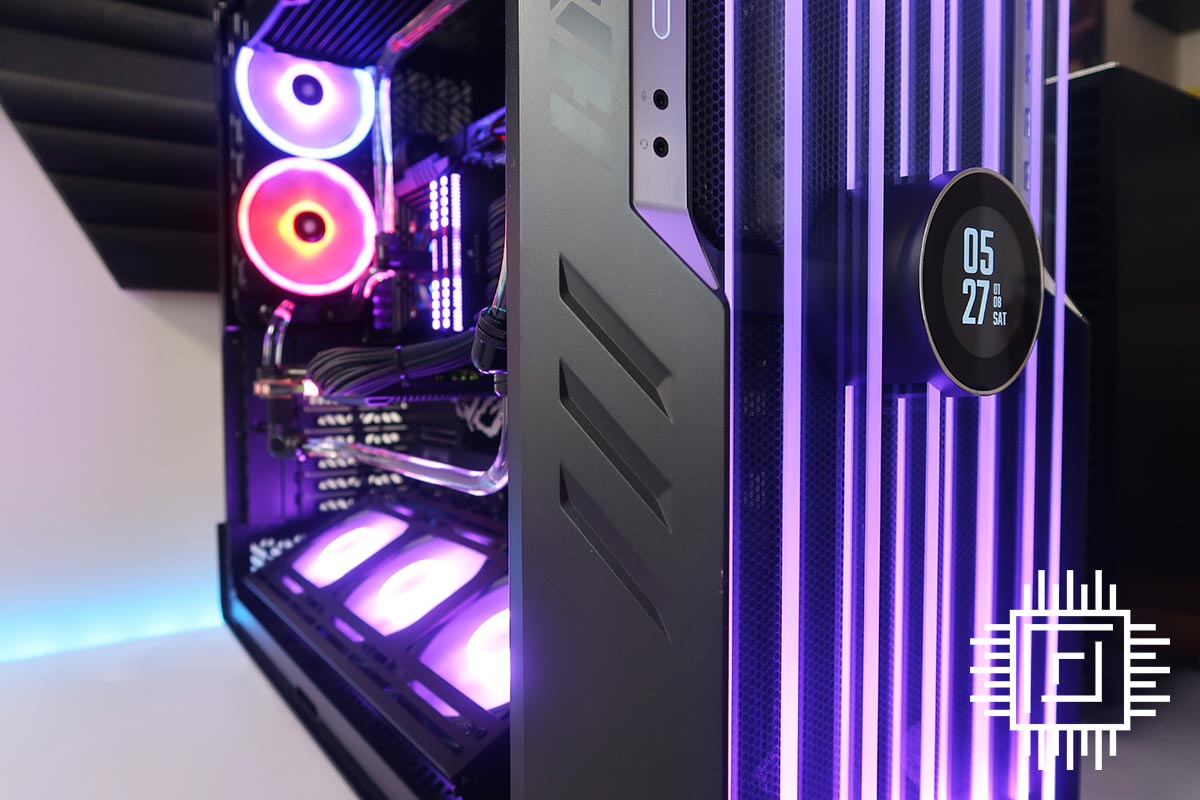 PCSpecialist Blade Ultra
Verdict: who would think that in a PC housing a Core i9-12900KS and RTX 3080 Ti, the case steals the show.
---
Pros
Cavernous case
Eye-catching build
4K gaming credentials
GPU runs extremely cool
Three-year warranty
Cons
Not the quietest
Next-gen looms
Hot and thirsty CPU
---
Club386 may earn an affiliate commission when you purchase products through links on our site. This helps keep our content free for all.
Rest assured, our buying advice will forever remain impartial and unbiased.