Jump to: Specification | Performance | Gaming | Conclusion
The PCSpecialist Odin TX is the UK retailer's latest all-AMD gaming PC, aiming for that 4K/144 sweet spot. At times, it comes across as a bit more Thor than the Allfather himself, but Zen 4 and RDNA 3 are still a killer combination.
It couldn't come at a better time, given that we haven't had a year like 2023 for a while. Baldur's Gate 3 and Starfield are just two of the more memorable games we've been blessed with, but remember Hogwarts Legacy? That was this year, too. 2024 is looking just as jam-packed, and playing in 4K will no doubt soon require an upgrade.
With a £2,049 price tag, the Odin TX fits into this high-end bracket with lofty resolutions in mind. It packs a high-end punch, dressed entirely in some of Team Red's finest.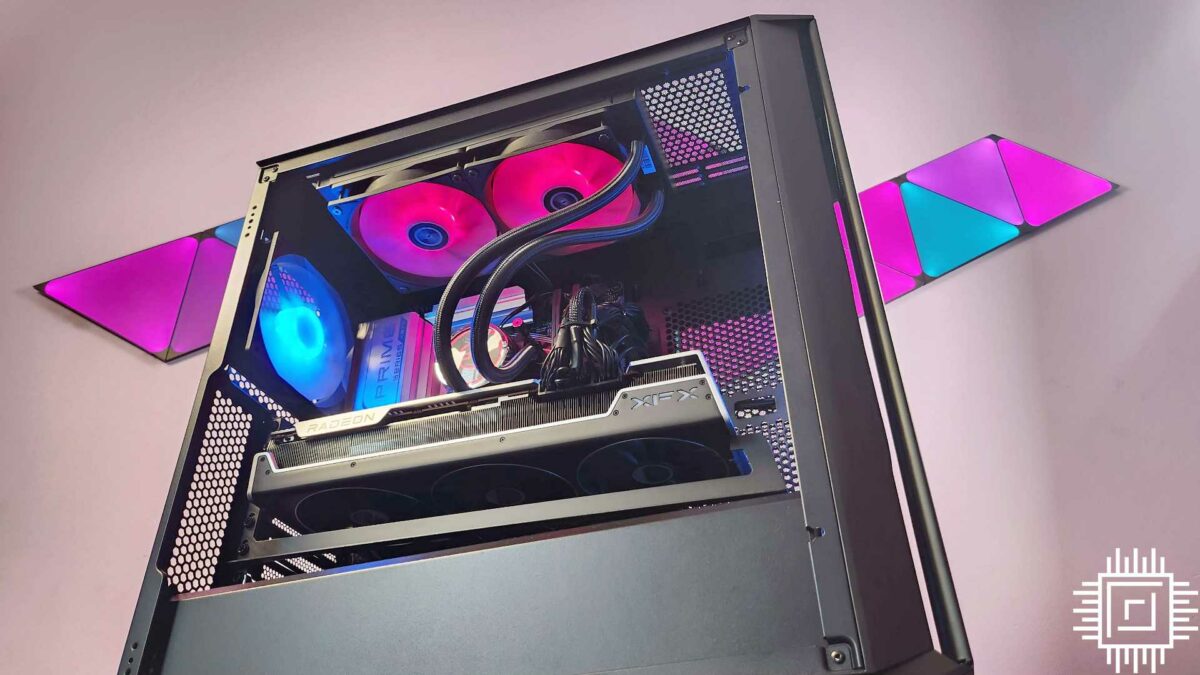 Specification
The Odin TX is a stock PC, and what you see is what you get. PCSpecialist has hand-picked the hardware, and you can't change the configuration. You can make additions, like buying a monitor that can keep up. You can even make subtractions, and we'd recommend removing the default 90-day Norton 360 license. It gives you an unwelcome nudge from time to time otherwise. One benefit it has over custom systems, however, is that you can get it faster with next-day delivery.
You probably won't want to change much anyway. The AMD Ryzen 9 7900X processor at its heart handles most tasks easily thanks to 12 cores and 24 threads. It doesn't have a 3D V-Cache that elevates some of its sister CPUs, but it's a productivity powerhouse.
It sits atop an Asus Prime X670-P motherboard built around the AM5 socket. The great news is that you should be able to use any new AMD Ryzen processor for at least the next three years. The bad news is that it lacks a Gen 5 expansion slot, potentially limiting some upgrades down the line. It's a small blemish on an otherwise spotless specs sheet. A USB 3.2 Gen 2×2 port, WiFi 6, and 2.5GbE make an appearance, but the star is probably that one of its three M.2 storage slots supports PCIe 5.0 SSDs.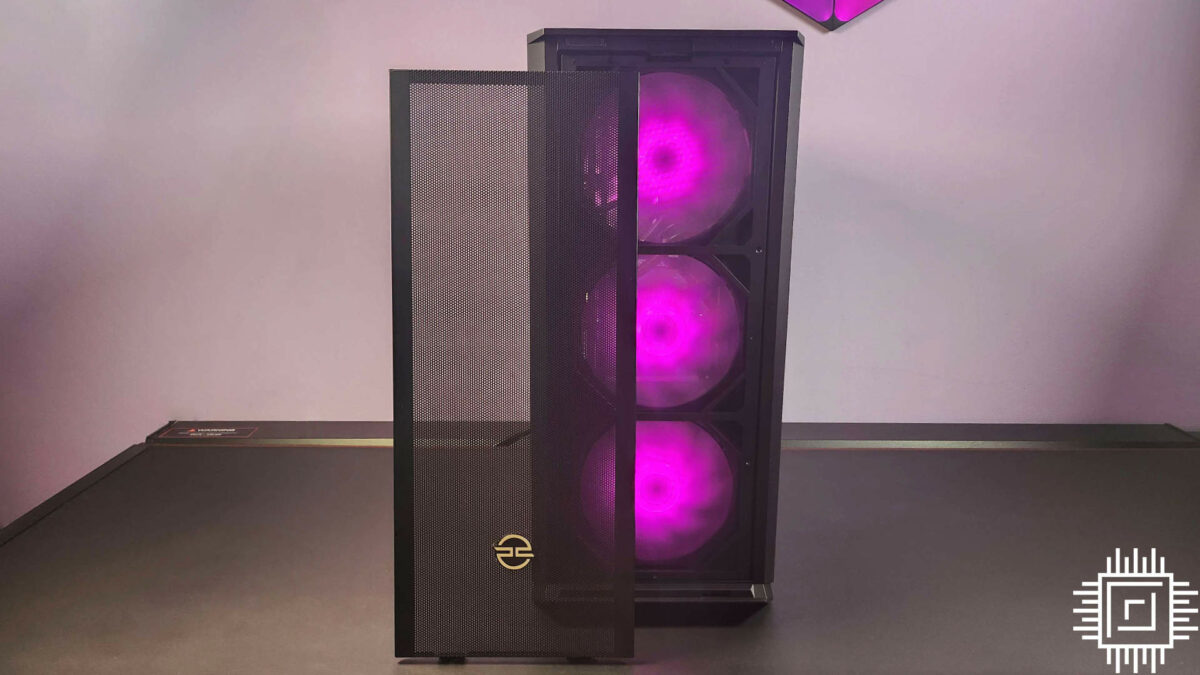 PCSpecialist doesn't use this, though, instead sticking with a PCIe 4.0 primary drive. The 1TB Samsung 980 Pro is at least half the price of the nearest Gen 5 alternative, so it's likely a cost-cutting measure. At least it gives you an upgrade path. Don't sweat it if 1TB isn't enough, as there's also a 2TB Seagate Barracuda hard drive along for the ride.
32GB of Corsair Vengeance RAM is plenty for modern gaming, but it's a little slower for a system of this calibre. Even the most relaxed DDR5 memory is faster than previous generations, so it's not much of a complaint. Still, DDR5-5200 memory is just a notch above the minimum that the motherboard can handle. I'd expect something a little more substantial for a premium configuration.
An AMD Radeon RX 7900 XTX does the visual heavy lifting. Let me tell you, there will be no games crashing due to VRAM issues here, as the graphics card leverages a whopping 24GB. I can't see the need for much more than that for a while, but system requirements are fickle beasts. PCSpecialist avoids any GPU sag with some added support. It's not the most visually appealing compared to some solutions out there, but neither is a droopy component.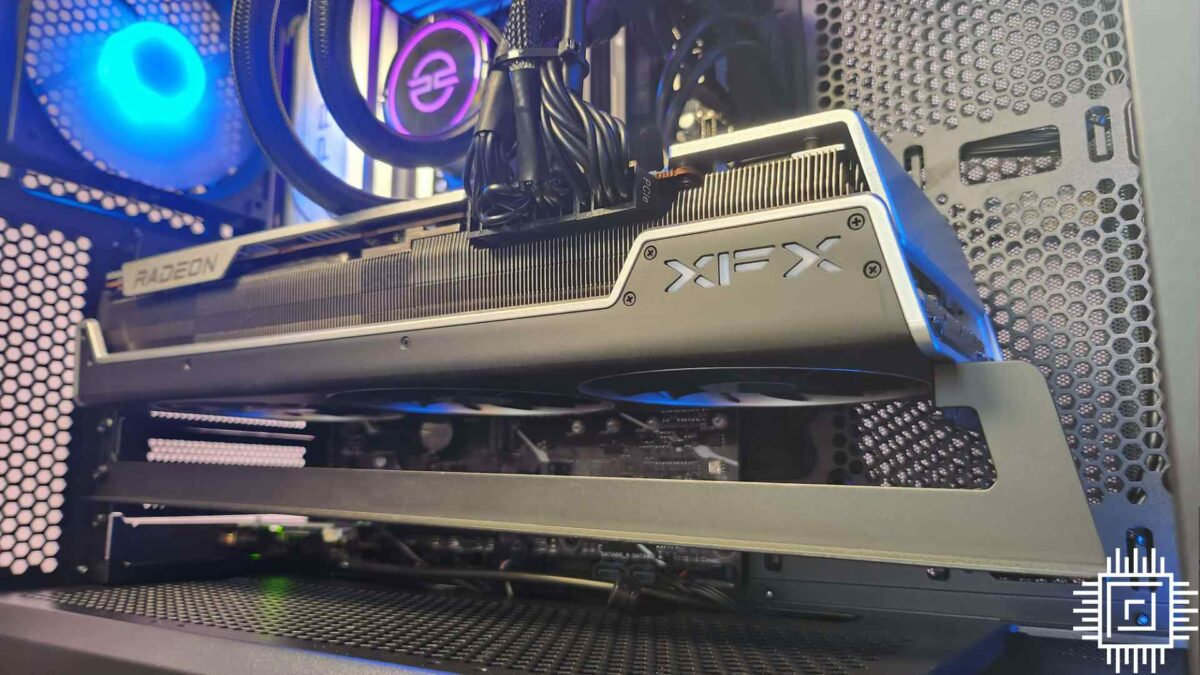 A Corsair 850W RMX series power supply provides the juice, which skirts the line of what you need for graphics cards as hungry as this one. My main gripe, however, is the 1.5-metre power cable. Although this is standard with many PC vendors, there's no option to get something longer. Sure, power extensions are a dime a dozen, but our testing is best done directly from the wall. Kettle leads are cheap enough to purchase one separately, but there's little reason PCSpecialist couldn't just give the option.
Safely nestled inside the company's own Spectrum II ARGB chassis, the build certainly has the PCSpecialist touch. The cable management is gorgeous behind the tempered glass panel, and the power supply is hidden beneath a shroud. There's even love and care with neat cables behind the motherboard. You wouldn't venture into that side of the case often, but it's all part of the experience. A touch of the fans' RGB lighting peeks through the magnetic mesh panel up front, but it's far from garish. Dare I say even tasteful? This is a system you'd be proud to showcase on your desk.
Now, PC gaming is often an expensive hobby – even more so if you opt for top-tier parts like the ones here. £2,049 isn't exactly pocket change. Still, the Odin TX packs more value as a prebuilt than if you were to buy the parts separately. You can't purchase the case or Frostflow 240 series AIO cooler outside of a full system, but using the closest equivalent, you'd need to pay around £2,175 for everything.
It's difficult to call anything over two grand a steal, but PCSpecialist potentially saves you money with the Odin TX. Throw in the labour of building it and a warranty covering three years of support (£5 extra for a year's worth of collect and return), and there's a serious bang for your buck. It just depends on how the configuration holds up against our tests.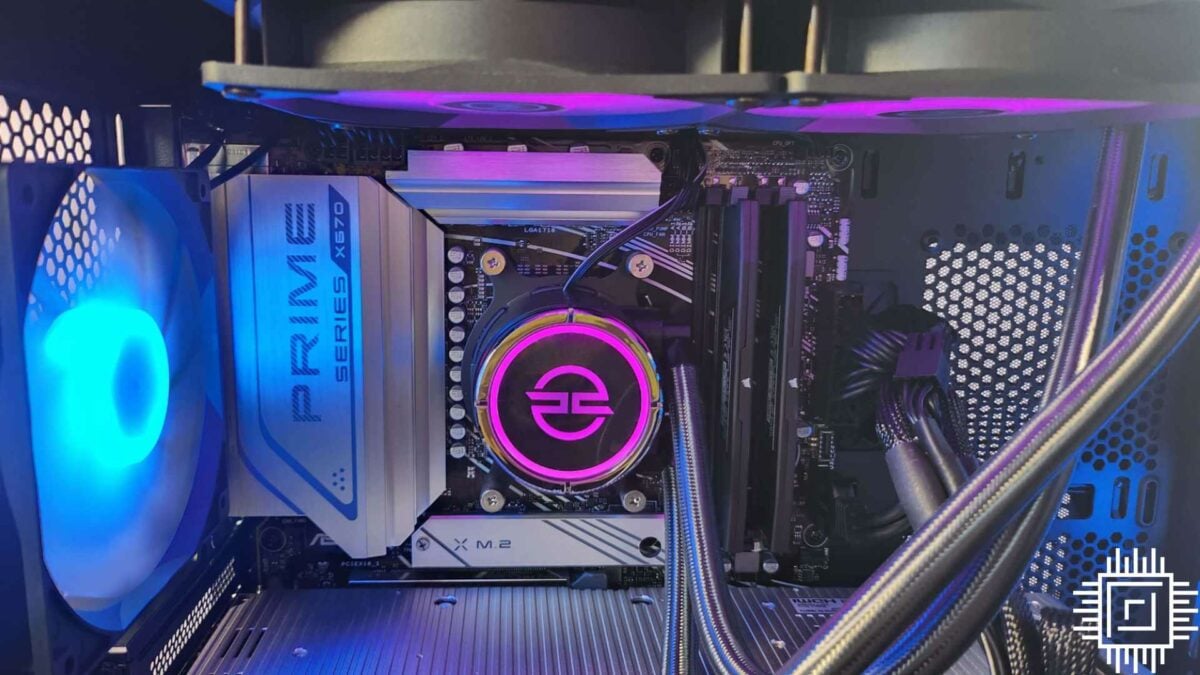 Performance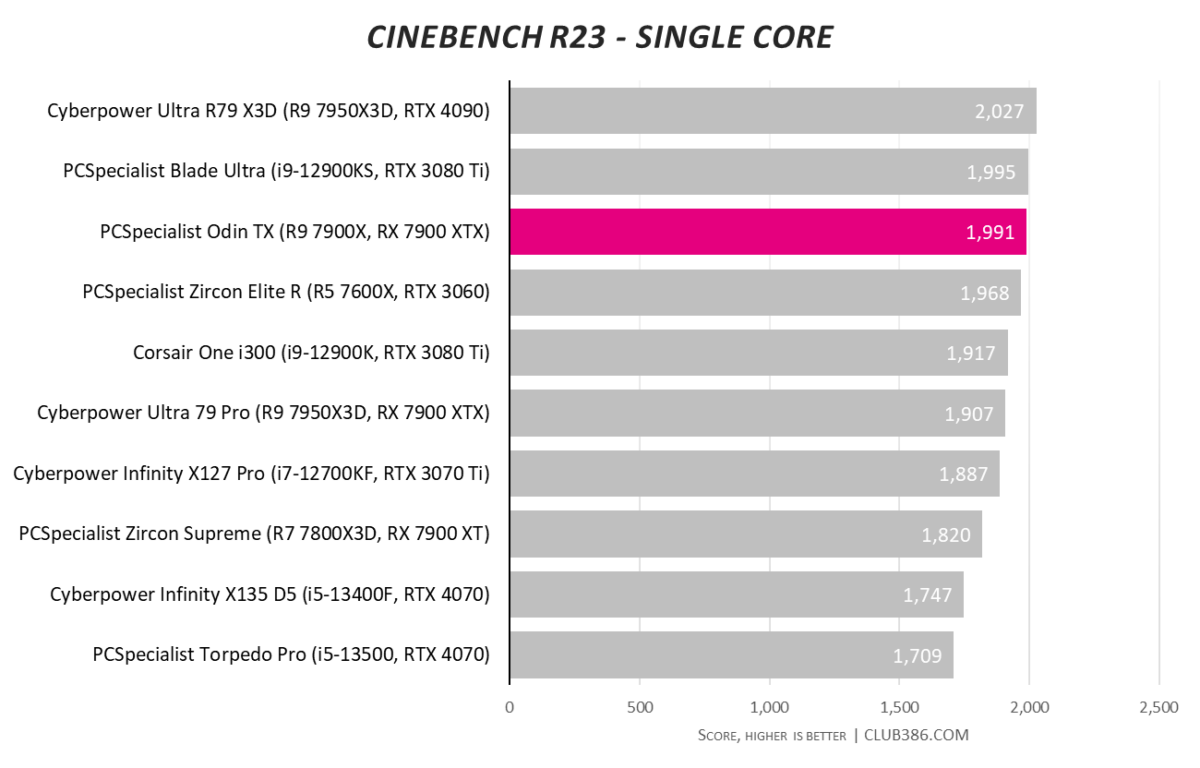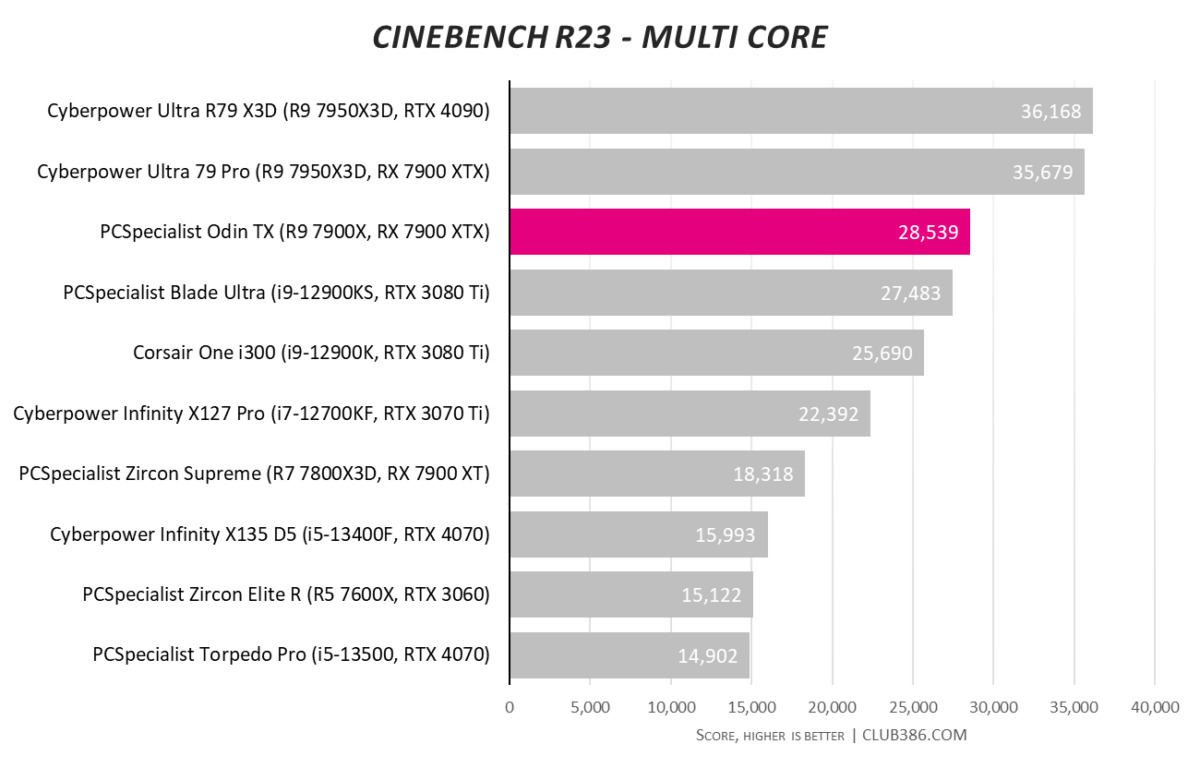 The 12-core, 24-thread CPU can't quite out-muscle either of last year's Intel flagship processors. Still, the 4.7GHz base clock handles its own with a top-three single- and multi-core performance. It sits right where it should.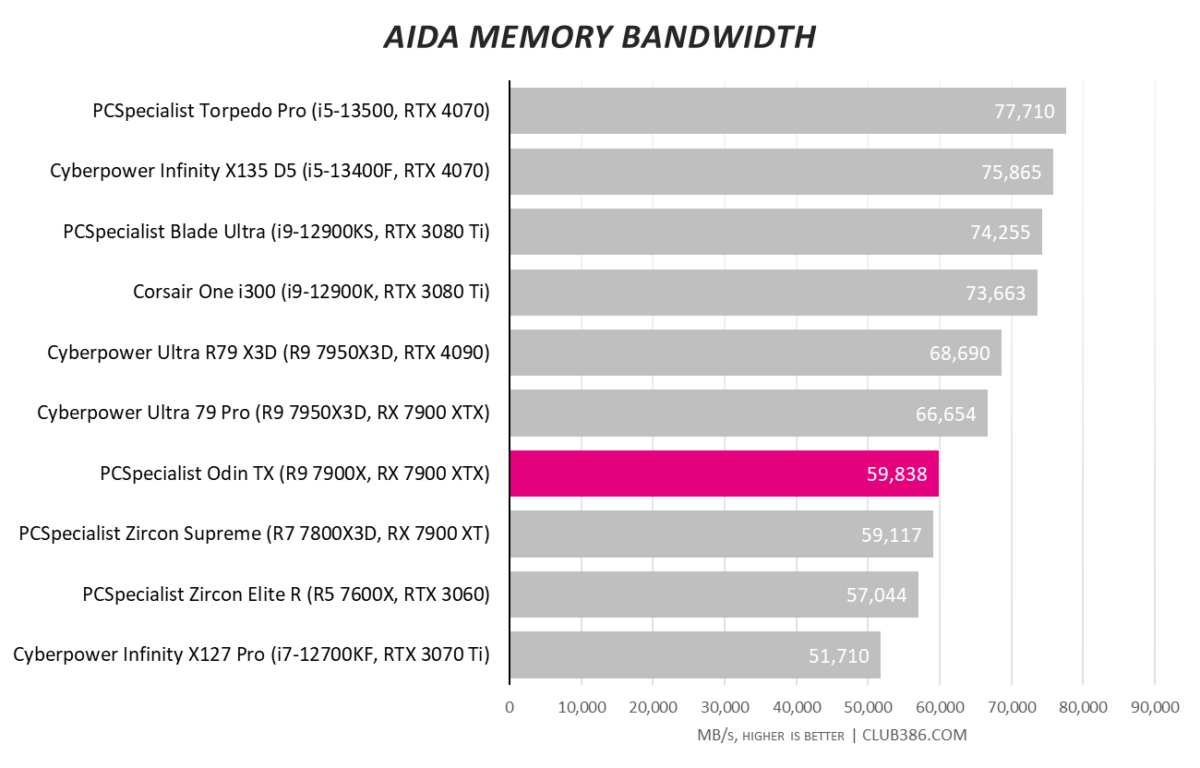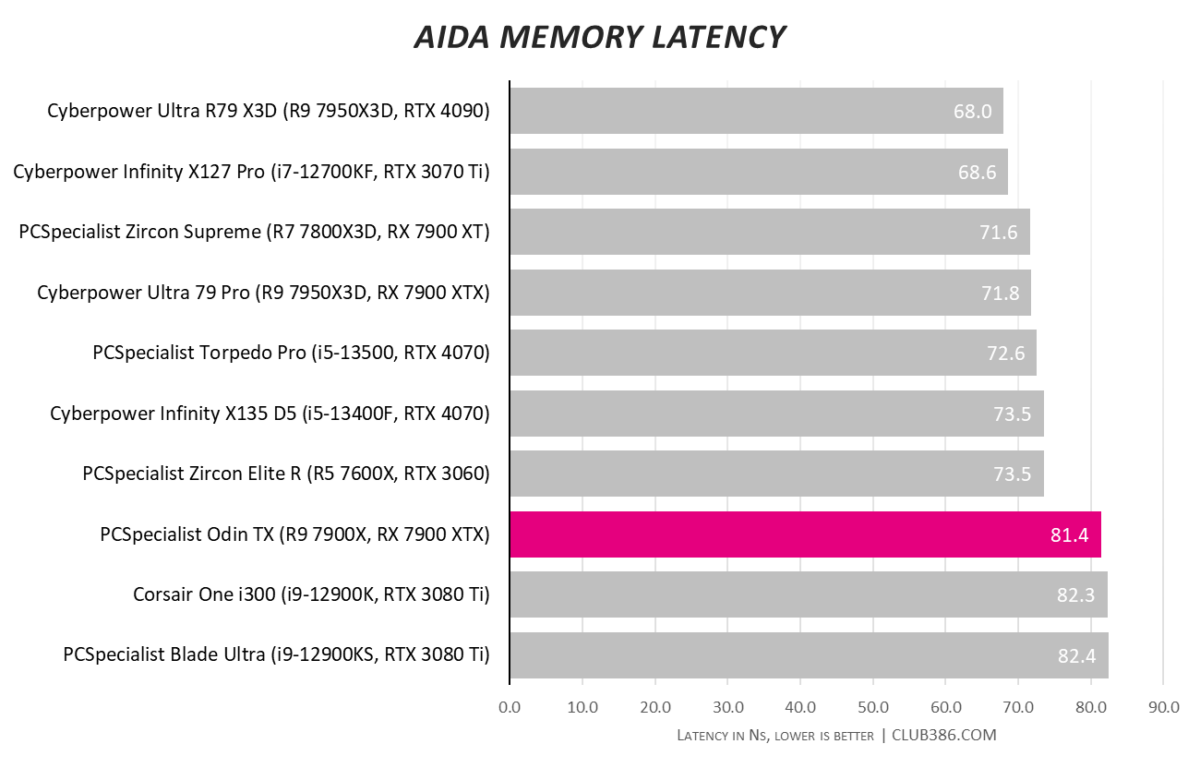 Corsair Vengeance DDR5 RAM performs admirably, with the 32GB (2x16GB) config giving ample bandwidth. It's on the slower side of the standard, but latency is in line with what we'd expect from DDR5-5200.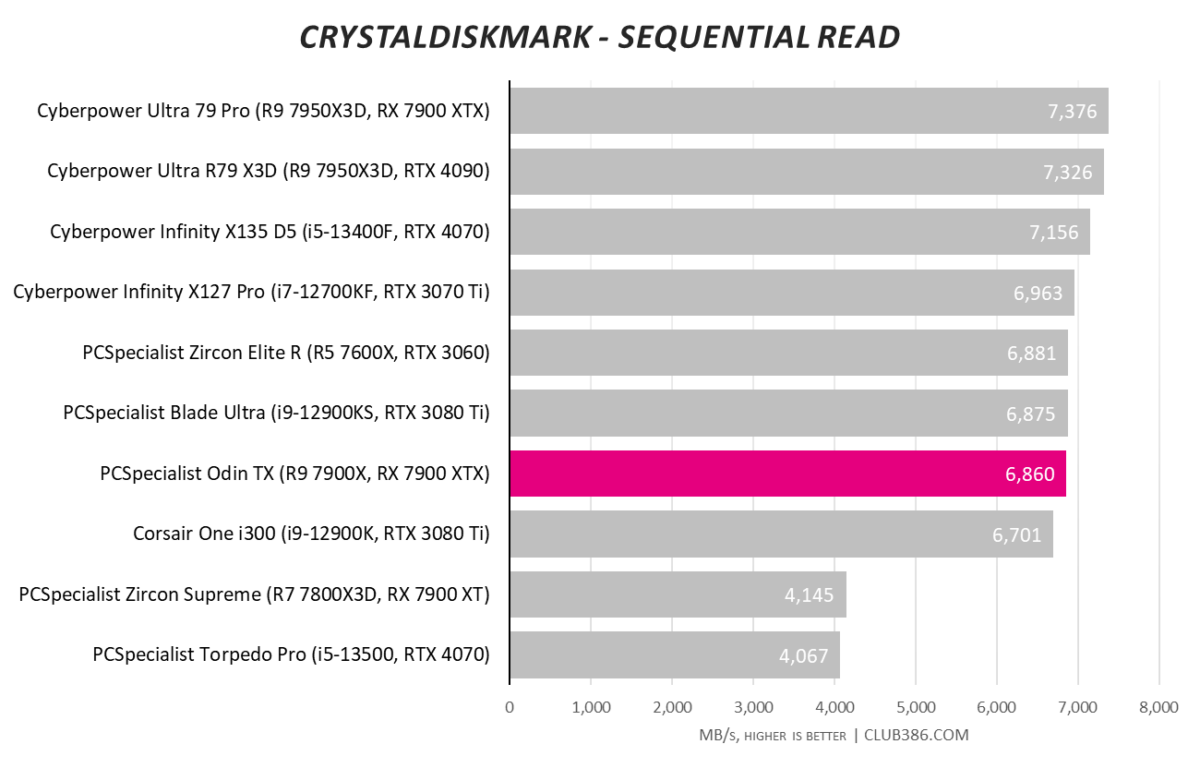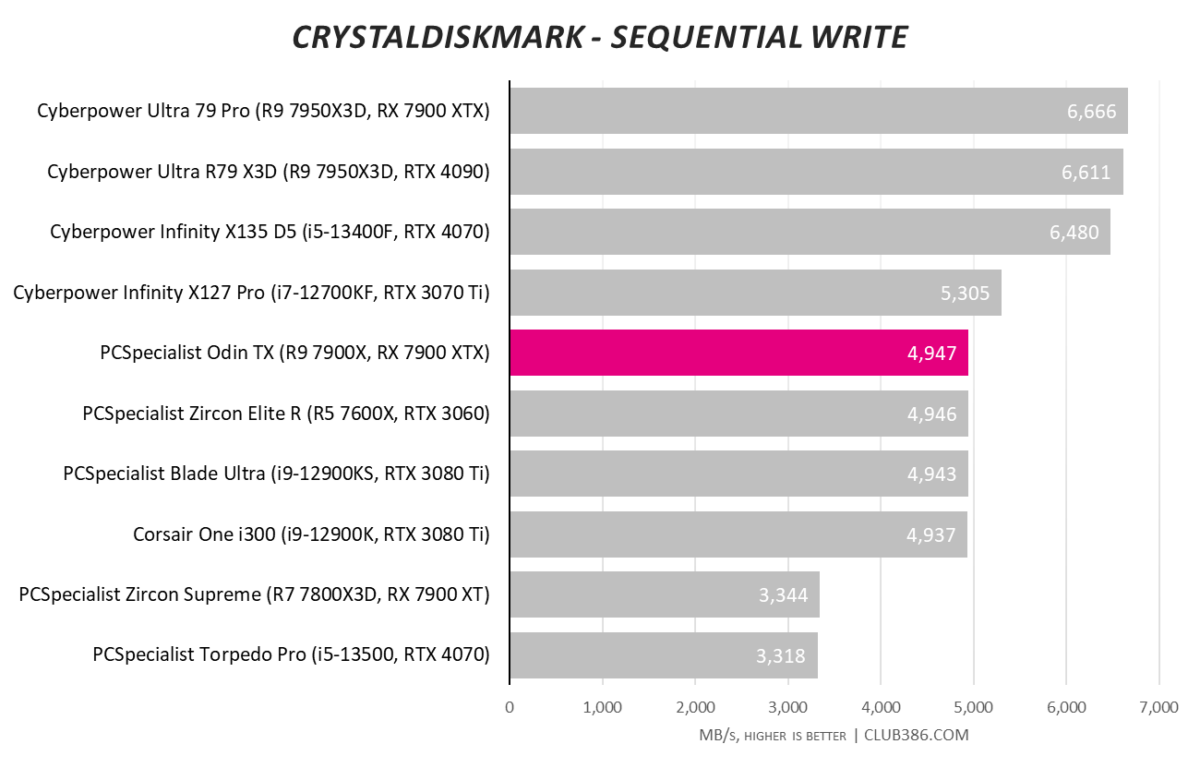 The Samsung 980 Pro 2TB set a high standard for PCIe 4.0 SSDs, and the 1TB model in the Odin TX nips at its heels. Unfortunately, it doesn't keep up with the WD SN850X or its non-X alternative in CrystalDiskMark. Still, there's little skin in the game measuring the speed of NVMe drives now that we're talking milliseconds.
There's a secondary 2TB Seagate Barracuda hard drive under the hood that obviously doesn't place in this race. After all, mechanical drives are slowly on their way out, according to Steam Hardware Surveys. Still, it's a fantastic spot to back up all your files and doesn't drive the price up by much.
Gaming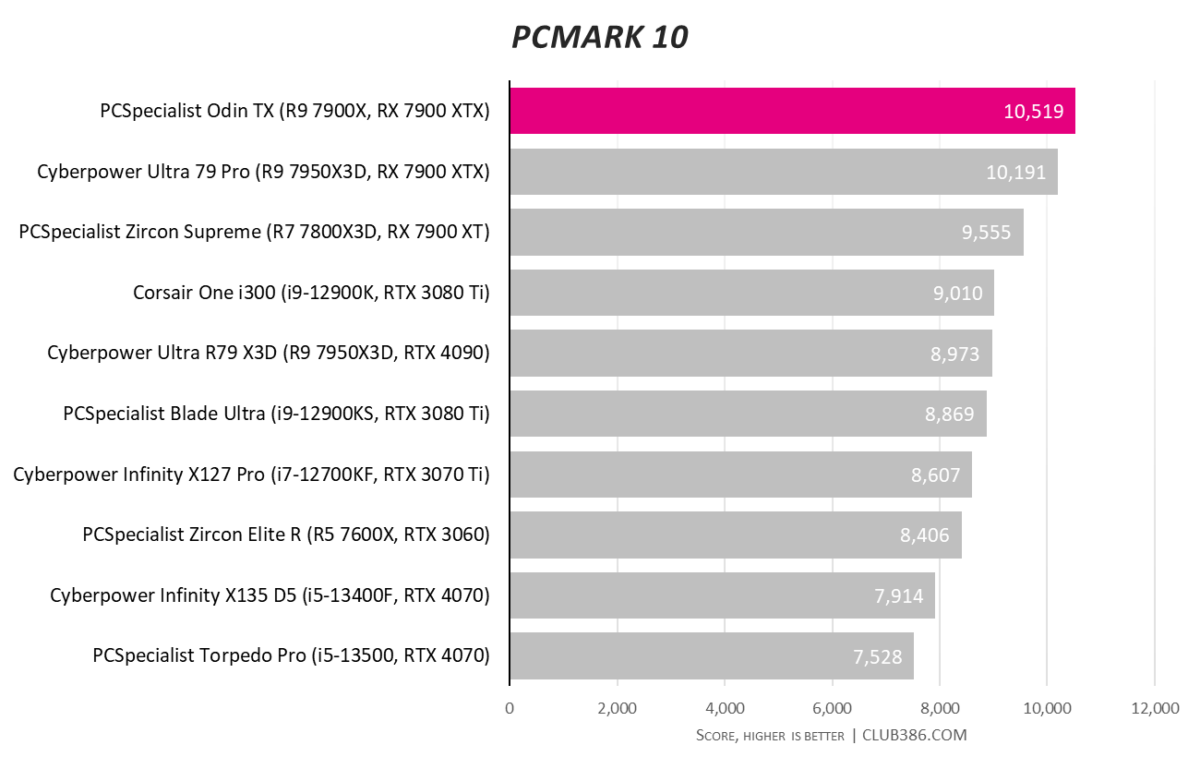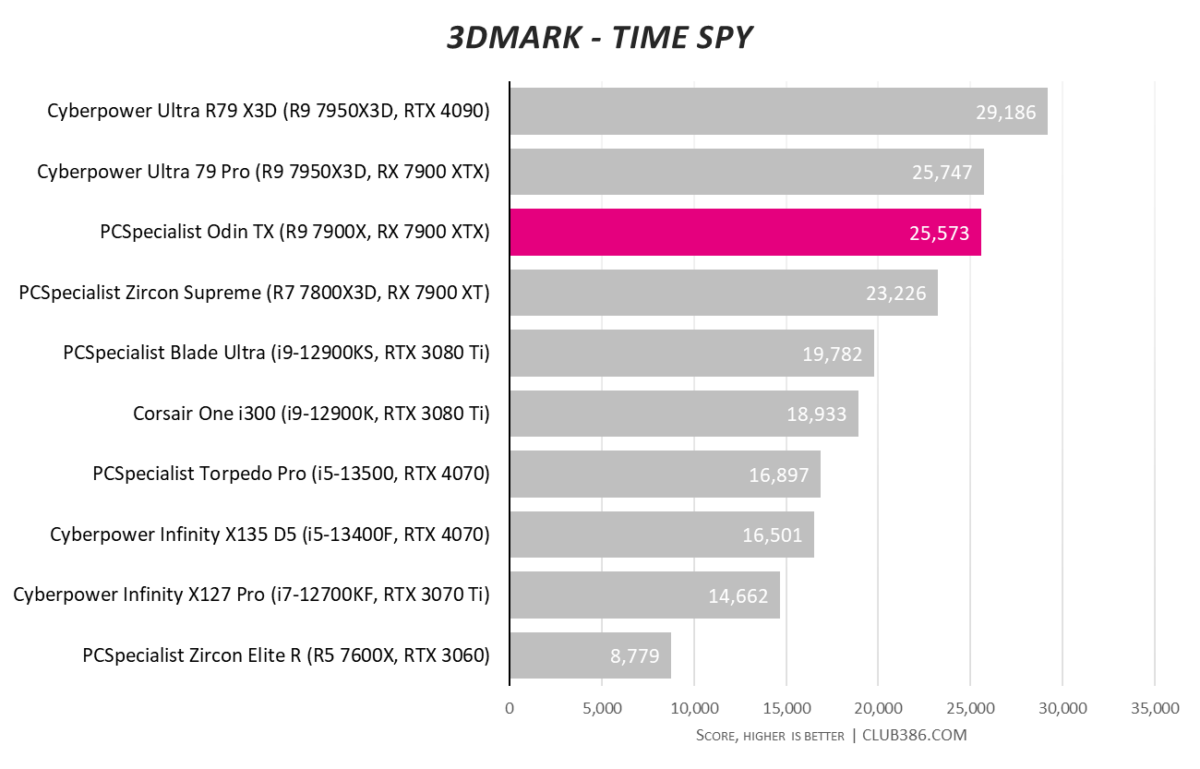 It's starting to look like an AMD wash at the top of PCMark. The Odin TX takes the crown with a substantial victory, as the 7900X and 7900 XTX crack the benchmark code like the other Radeon and Ryzen combinations. Nvidia still reigns supreme with 3DMark, however, with the Radeon flagship firmly taking the silver medal.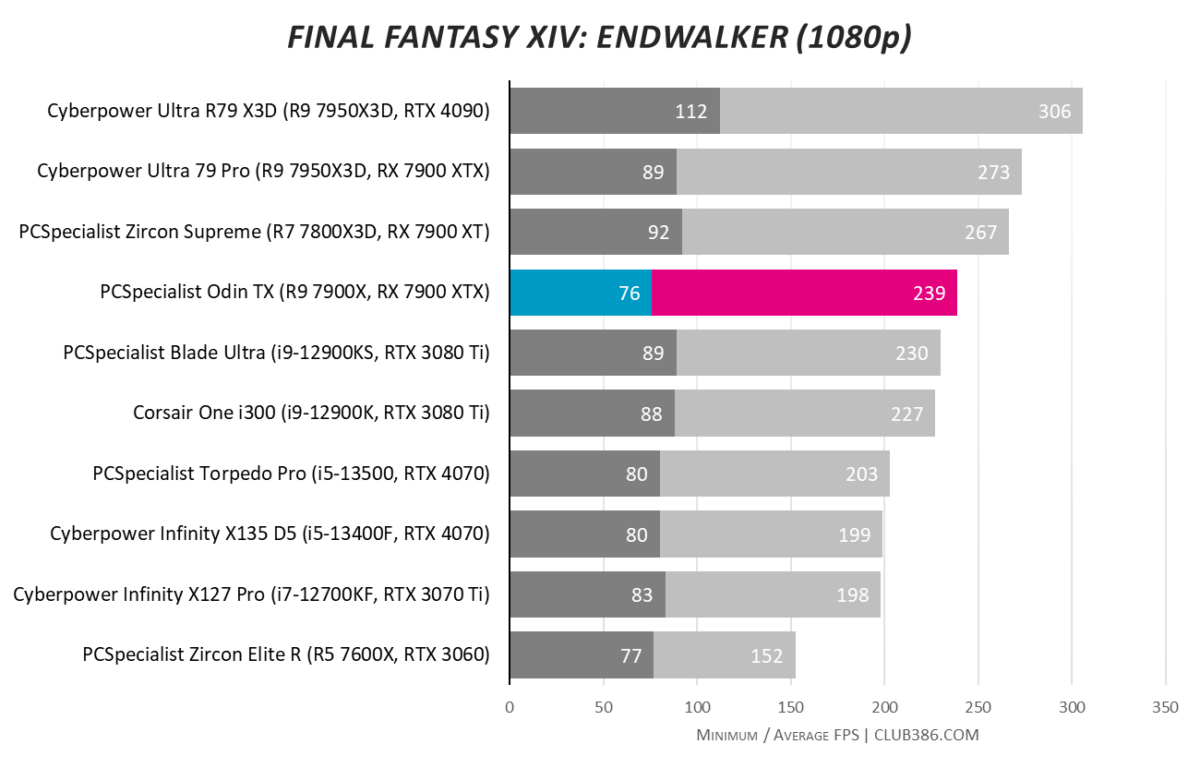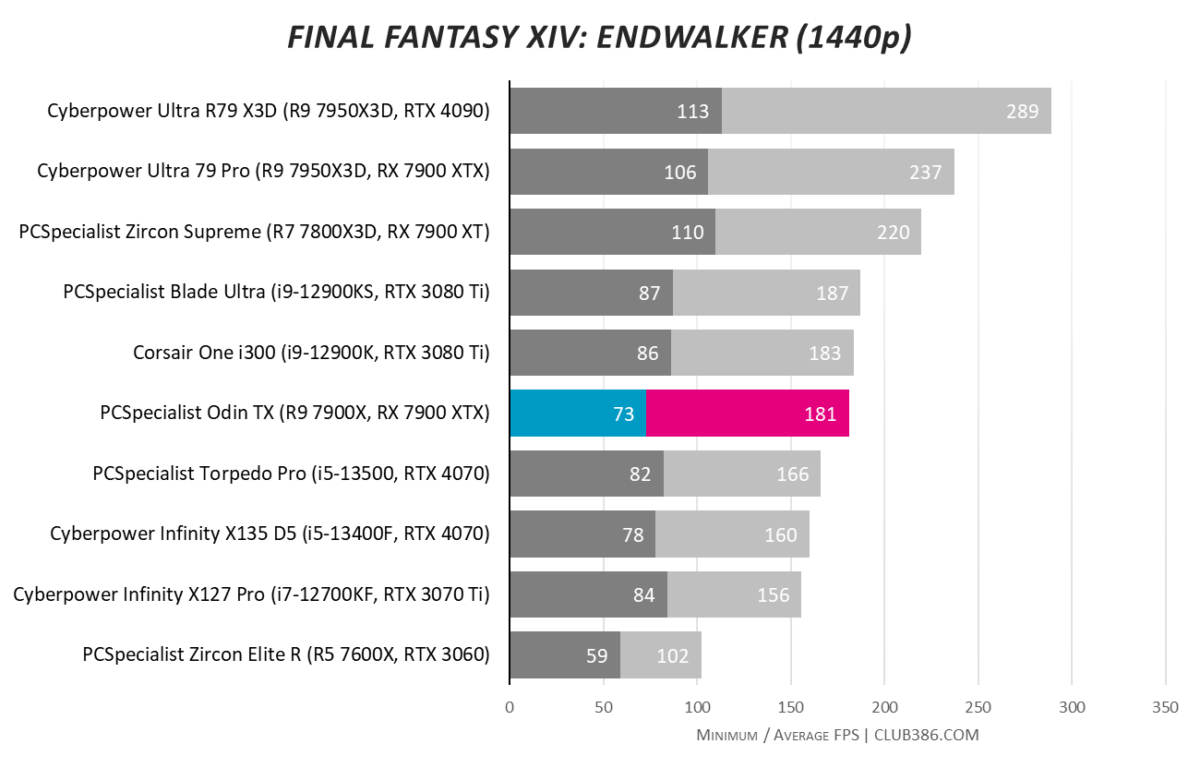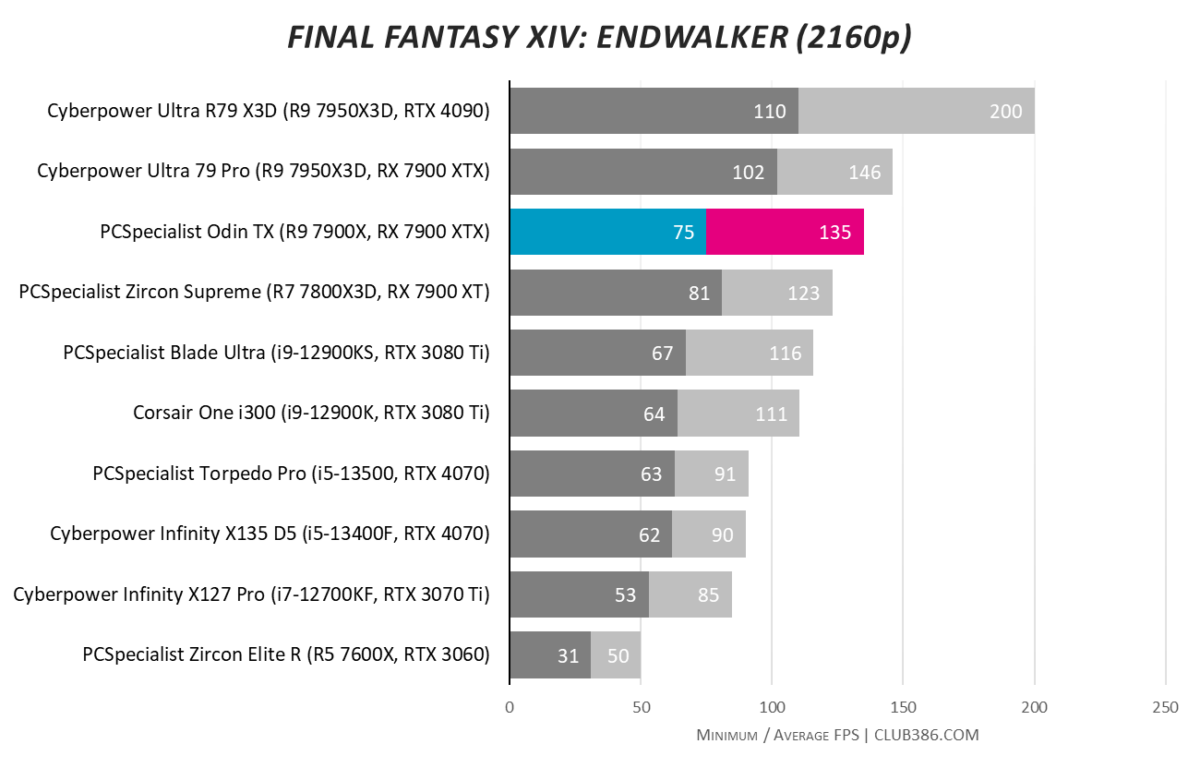 Looking towards real-world performance, you probably wouldn't scoff at running the PCSpecialist Odin TX at 1080p or 1440p, but it shines at 4K. In fact, its average fps is just eight per cent shy of its closest competitor while being 23 per cent cheaper. That's quite the value if you don't mind the minimum frame rate dipping below triple figures.
| Game | FPS @ 1080p | FPS @ 1440p | FPS @ 2160p |
| --- | --- | --- | --- |
| Assassin's Creed Valhalla (Ultra High Quality, FSR Off) | 208 | 170 | 111 |
| Cyberpunk 2077 (Ray Tracing: Ultra, FSR On) | 92 | 69 | 39 |
| Far Cry 6 (Ultra Quality, HD Textures and DXR On) | 127 | 125 | 105 |
| Tom Clancy's Rainbow Six Extraction (Ultra Quality) | 238 | 239 | 153 |
It's no surprise that AMD's finest keeps it above 100fps at 4K in most modern games. The Radeon RX 7900 XTX stumbles slightly with ray tracing at max settings. FSR Quality helps a bit, with further improvements coming from FSR Balanced and Performance.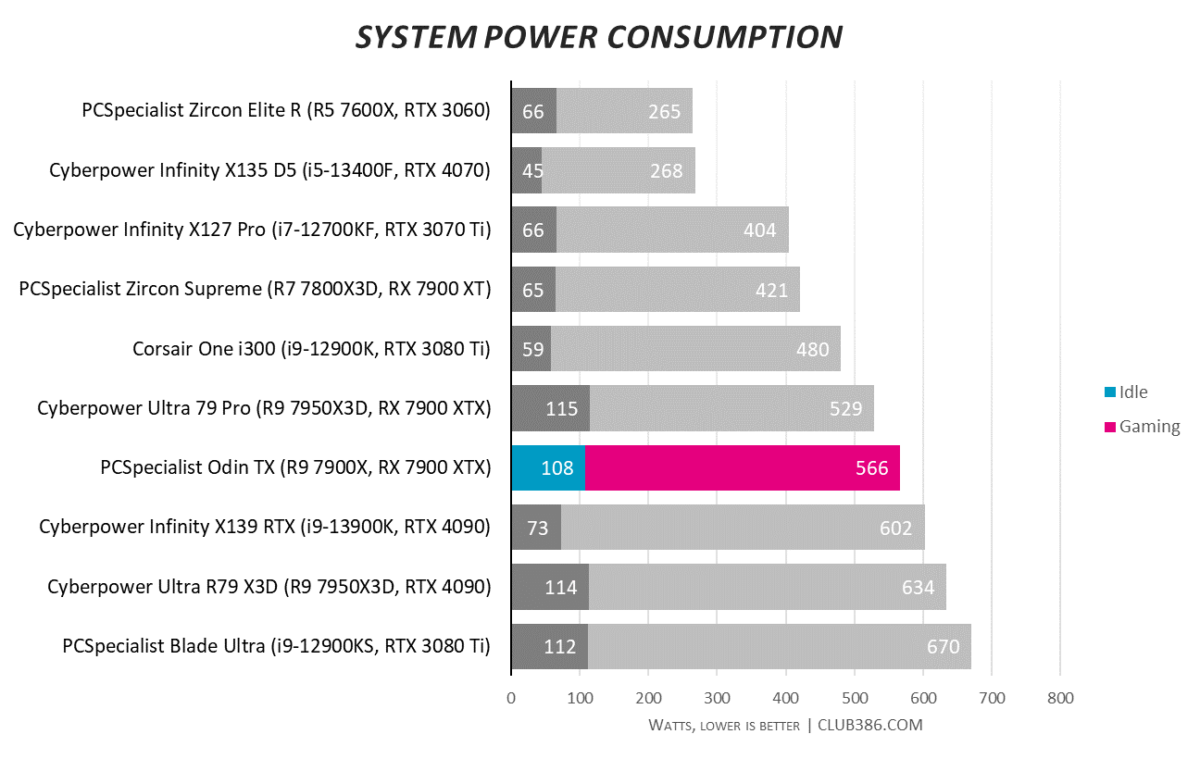 The AMD hardware tends to suck as much as it can out of the Corsair 850W RMX power supply.

Show your support for impartial Club386 reviews
Club386 takes great pride in providing in-depth, high-quality reviews built on honest analysis and sage buying advice. As an independent publication, free from shareholder or commercial influence, we are committed to maintaining the standards our readers expect.
To help support our work, please consider making a donation via our Patreon channel.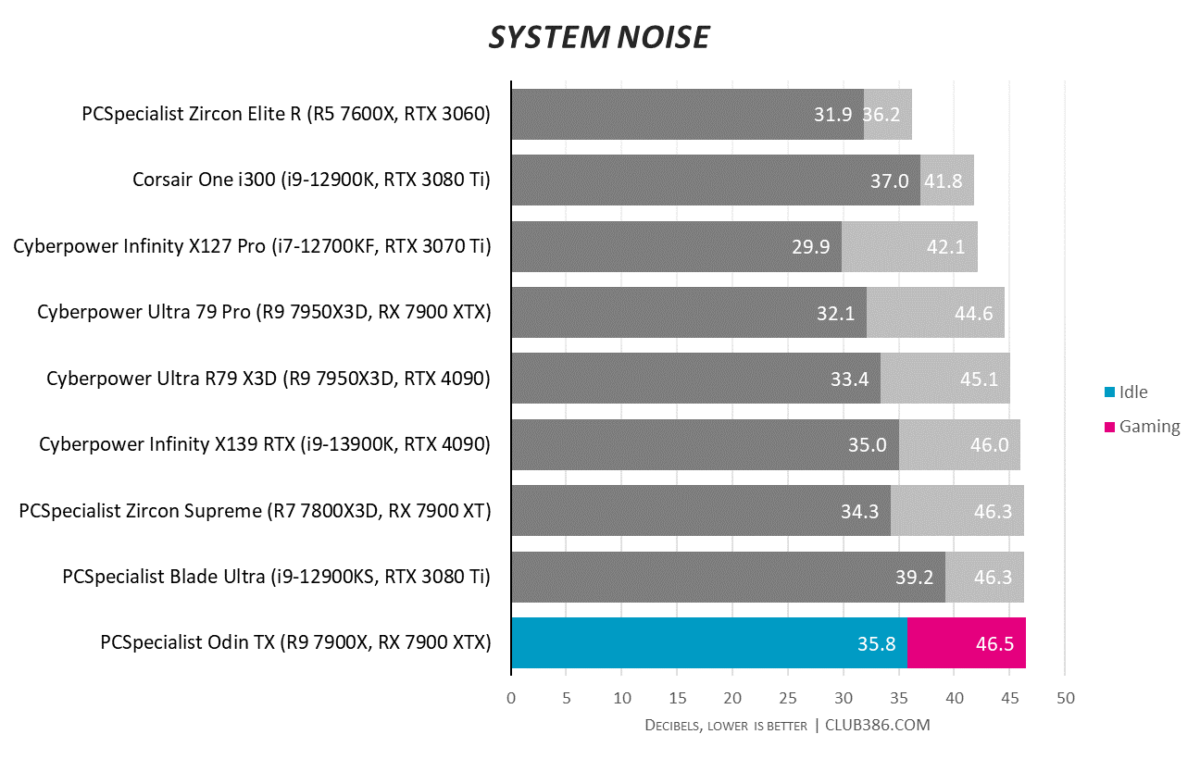 This is where the system's a little more like the God of Thunder than Odin. It's the loudest system we've tested, which probably wouldn't be too bad if it was a consistent hum. Instead, you'll often hear the fans ramp up when loading apps, sometimes creeping above 52dbA.
There's also the risk of PWM fan whine. We only caught it once during our testing, but the hissing from the electrical current was unmistakable. It's no big deal for gamers wearing headsets, but it could be a dealbreaker when using it in a quiet office space. Then again, it could also be a fleeting issue that never again rears its head.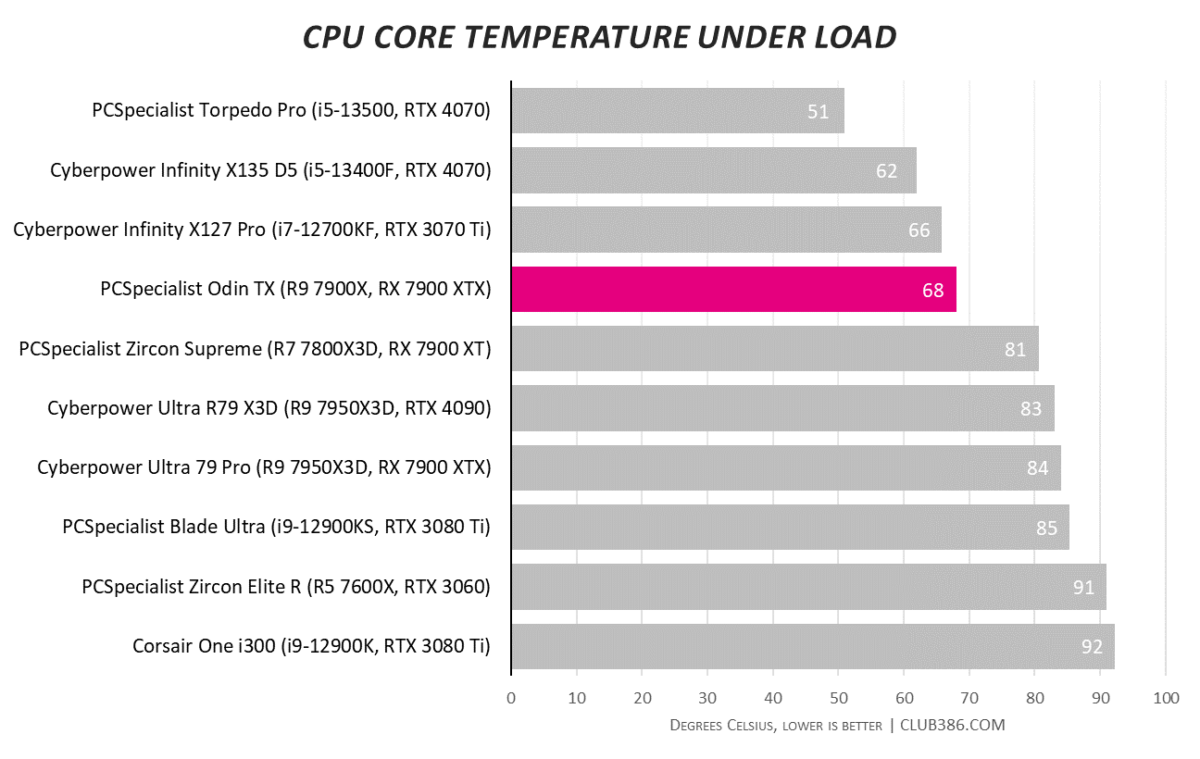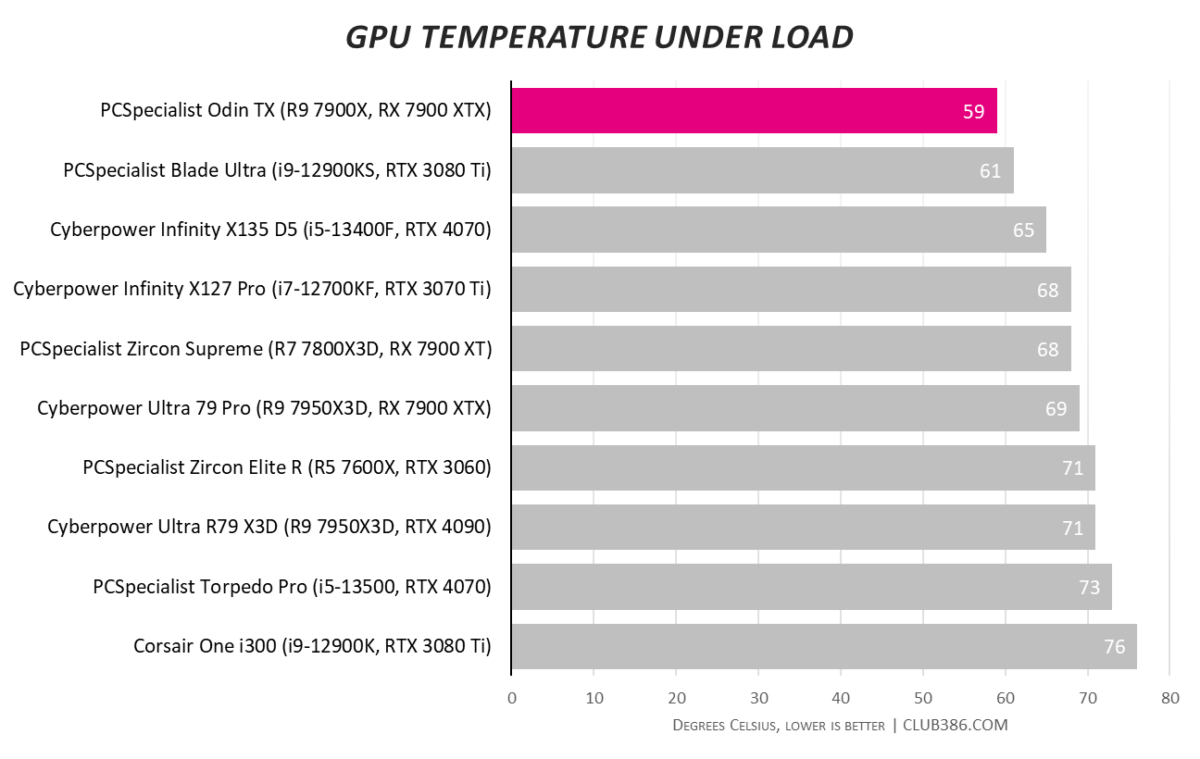 Louder noise is often caused by fans spinning faster. Fortunately, it's not wasted in this instance. The XFX Radeon RX 7900 XTX kept its cool no matter what we threw at it, and the PCS Frostflow 240 Series AIO cooler is outstanding at keeping the CPU chilled.
Conclusion
You don't get the excitement of configuring your own build with the Odin TX. At the same time, you also don't get the stress that comes with getting it right, building it, and tucking away all the cables. PCSpecialist has selected everything you need for a great time and made it as hassle-free as possible.
High refresh rate 4K gaming monitors continue to fall in price, and this is the ideal companion to make the most of them. It's not without its faults, with loud fans being the biggest bugbear, but there's nothing here you can't work with.
Next-gen AMD parts are rumoured to be just far enough away to make this a worthwhile investment without the fear of outdating yourself too soon. Plus, with PCSpecialist essentially saving you pennies buying the Odin TX instead of sourcing the parts yourself, it feels a little like you're getting away with highway robbery.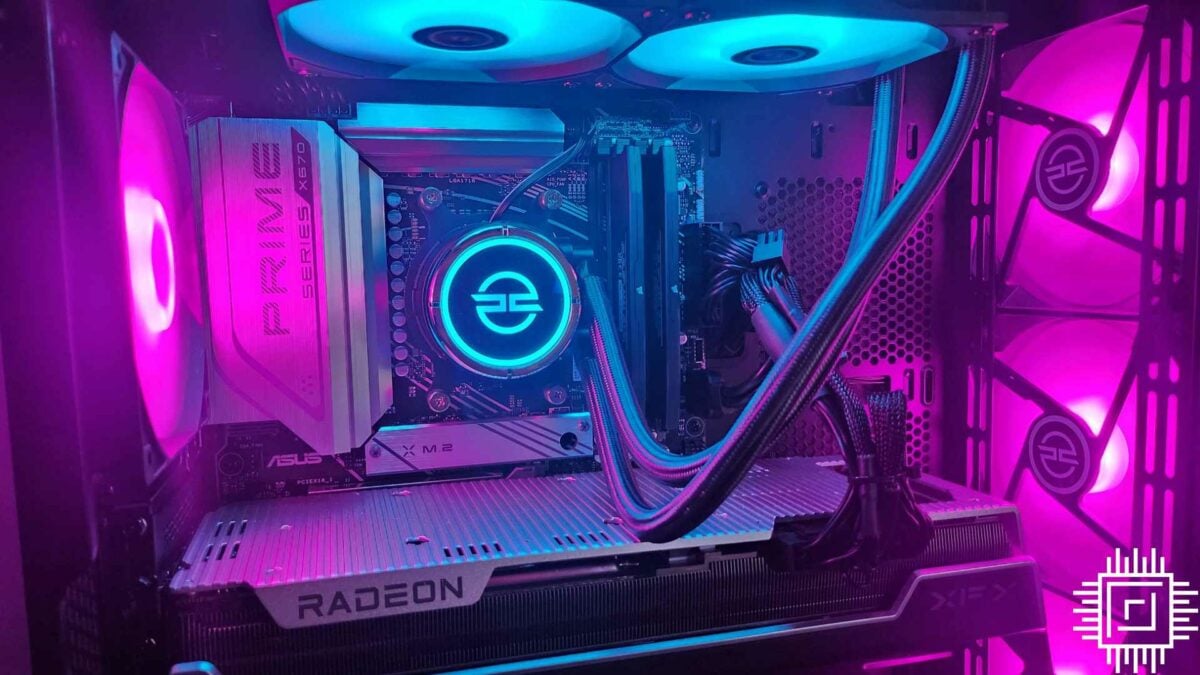 PCSpecialist Odin TX
Verdict: A powerful 4K AMD gaming PC that packs enough value that it actually saves you money.
---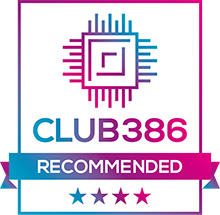 Pros
Amazing value
Fantastic 4K frame rates
Looks wonderful
Scalable warranty
Cons
It's pretty loud
Slightly slower RAM
---
Club386 may earn an affiliate commission when you purchase products through links on our site. This helps keep our content free for all.
Rest assured, our buying advice will forever remain impartial and unbiased.