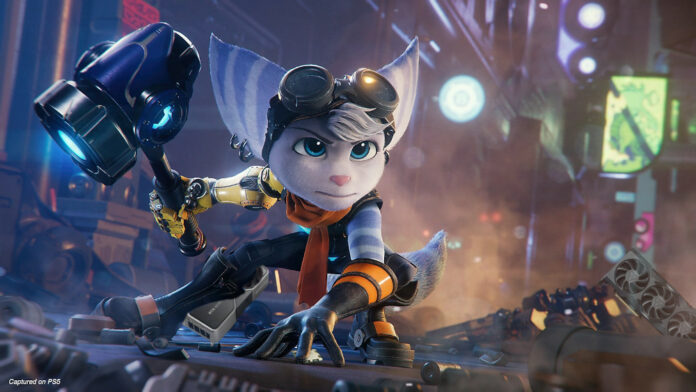 Complete system requirements for Ratchet & Clank: Rift Apart have been announced, calling for a five-year-old, four-core CPU and a 2GB graphics card from 2015 at the very minimum.
Coming to PC on July 26, Ratchet & Clank: Rift Apart asks for a Core i3-8100 / Ryzen 3 3100 CPU, 8GB of memory and a GTX 960 / RX 470 GPU to deliver 30fps at 720p with very-low settings. Interestingly, to store the game files, we only need 75GB of HDD space, though an SSD is recommended. These are fairly low requirements, enabling many more players to join the fun.
Those looking for higher framerates and resolutions will need a Core i5-11400 / Ryzen 5 5600 processor, 16GB of RAM, 75GB of SSD space, and RTX 3060 Ti / RX 6800 graphics for 60fps at 1440p high settings or 2160p at 30fps. Again, not the most expensive hardware available, with CPUs retailing at around £130 and GPUs in the £400 range.
The ultimate experience is understandably more taxing and scales requirements accordingly, now demanding a Core i7-12700K / Ryzen 9 5900X CPU, with 32GB of system RAM and RTX 4080 / RX 7900 XTX graphics to play at 60fps in 4K using the Ultimate Ray Tracing setting. Demanding, though at least the ultra-premium RTX 4090 is not needed.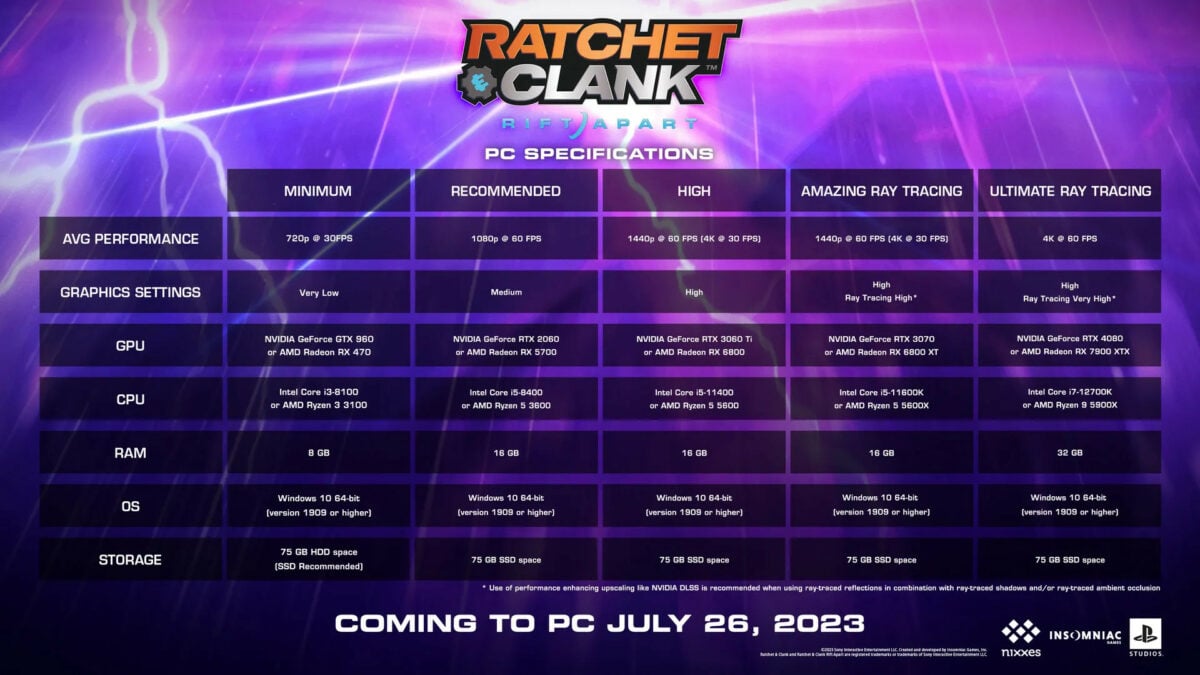 The game is being ported to PC by Nixxes, the same team behind Marvel's Spider-Man Remastered PC version. The game will also officially support ultra-wide resolutions alongside Nvidia DLSS 3, AMD FSR 2, and Intel XeSS upscaling technologies out of the box, so no one is left behind. Nice!
Also worth noting, there was a brief Steam news post that mentioned the implementation of DirectStorage 1.2 to enable quick loading and transition between game dimensions. The post was quickly removed, yet if true, this would make Ratchet & Clank the first game to use GPU decompression.
The High and Amazing Ray Tracing settings, which should be equivalent to PlayStation 5's 60fps Performance and Performance with Ray Tracing modes, ask for mid-range hardware that can be obtained at reasonable prices nowadays. This is excellent news as the game's graphics are shaping up rather nicely.
Here's hoping for smooth, hiccup-free gameplay, and with PlayStation's recent interest in releasing its exclusive titles on other platforms, it's starting to feel like a good time to be a PC gamer.