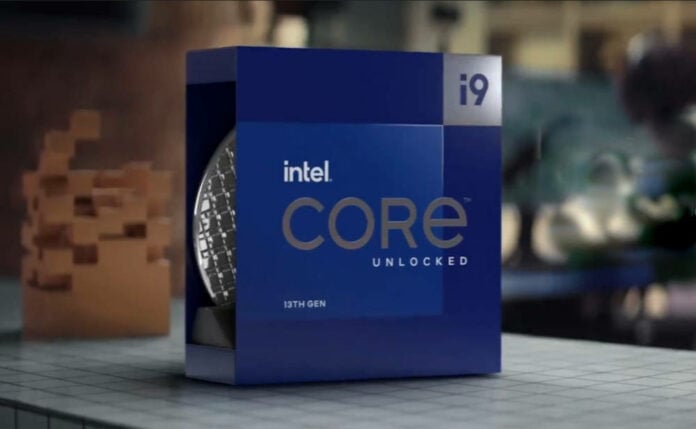 Intel 13th Gen Raptor Lake desktop processors have appeared at Amazon UK, with listings indicating a £750.12 price tag for the upcoming 32-thread Core i9-13900KF.
Hours from Intel's Innovation event, listings for the upcoming CPUs have started popping up around the world. Here in the UK, Amazon has spilled pricing for four upcoming chips. Spotted by @momomo_us, we can see listings for a Core i9-13900KF at £750.12 – a noticeable hike over the current generation – plus an i7-13700K at £547.22, an i7-13700KF at £516.58, and an i5-13600KF at £349.75. Though each part appears to carry a premium compared to respective predecessors, keep in mind that these could simply be placeholders until Intel officially discloses MSRPs.
On the other side of the Atlantic, online retailer Newegg has also listed some desktop 13th Gen prices. Starting from the top we find the i9-13900K set at $659, the i9-13900KF (sans iGPU) at $629, the i7-13700K at $449, the i7-13700KF at $429, the i5-13600K at $329, and the i5-13600KF at $309.
The store also indicates base clocks which go as follows, 3.00GHz for the i9-13900K plus i9-13900KF, 3.40GHz for the i7-13700K plus i7-13700KF, and 3.50GHz for the i5-13600K plus i5-13600KF. Note that you can't yet add these to your shopping cart, however, you can set up an availability notification.
While Intel is still to reveal the exact boosts for all models, we already know the flagship Core i9-13900K will have a 5.8GHz boost clock, while a purported Core i9-13900KS is believed to smash the 6GHz barrier sooner rather than later.
As a reminder, next-gen Intel Core processors will see some upgrades to their Performance and Efficient core counts, thus we will have 8P/16E on the high-end, 8P/8E on i7 models, 6P/8E across the i5 range. As always there will be variants with or without integrated GPU, each boasting different frequencies and cache capacity.
We'll have all the finer details and complete coverage following Intel's official Innovation event later today.