Jump to: Analysis | Sapphire Card | Performance | Conclusion
AMD decided to invigorate the best graphics cards by launching faster versions of existing products. Radeon RX 6950 XT, 6750 XT and 6650 XT improve upon their direct predecessors by upping the core clock and shifting memory speed from 16Gbps to 18Gbps. Not much, granted, but enough to offer high single-digit gains from hardware alone.
Last week's headline review, Sapphire RX 6950 XT Nitro+ Pure Gaming OC, ably demonstrated marginal benefits of x50 cards. Now it's the turn of RX 6750 XT to get the same treatment. Without further ado, let's delve deeper into how it's different from the original card released comfortably over a year ago.
| | RX 6800 XT | RX 6800 | RX 6750 XT | RX 6700 XT |
| --- | --- | --- | --- | --- |
| Launch date | Sep 2020 | Sep 2020 | May 2022 | Mar 2021 |
| Architecture | RDNA 2 | RDNA 2 | RDNA 2 | RDNA 2 |
| Codename | 21 XT | 21 XL | 22 KXT | 22 XT |
| Interface | PCIe 4.0 x16 | PCIe 4.0 x16 | PCIe 4.0 x16 | PCIe 4.0 x16 |
| Process (nm) | 7 | 7 | 7 | 7 |
| Transistors (bn) | 26.8 | 26.8 | 17.2 | 17.2 |
| Die size (mm²) | 520 | 520 | 335 | 335 |
| Boost clock (MHz) | 2,250 | 2,105 | 2,600 | 2,581 |
| Shaders | 4,608 | 3,840 | 2,560 | 2,560 |
| GFLOPS | 20,736 | 16,166 | 13,312 | 13,215 |
| RT Cores | 72 | 60 | 40 | 40 |
| Infinity Cache (MB) | 128 | 128 | 96 | 96 |
| Memory size (GB) | 16 | 16 | 12 | 12 |
| Memory bus (bits) | 256 | 256 | 192 | 192 |
| Memory clock (Mbps) | 16,000 | 16,000 | 18,000 | 16,000 |
| Bandwidth (GB/s) | 512 | 512 | 432 | 384 |
| ROPs | 128 | 96 | 64 | 64 |
| Power connectors | 2x 8-pin | 2x 8-pin | 2x 8-pin | 2x 8-pin |
| Power (watts) | 300 | 250 | 250 | 230 |
| MSRP ($) | 649 | 579 | 549 | 479 |
Analysis
The move from RX 6700 XT to RX 6750 XT represents a small change in specification. Spelling it out, boost clock inches up from 2,581MHz to 2,600MHz – barely worth mentioning, actually – while most of the extra performance comes by way of that 18Gbps GDDR6 memory, offering an extra 12.5 per cent bandwidth. As far as we can discern, Infinity Fabric clock is unchanged between the two, as well.
It is therefore reasonable to assume RX 6750 XT is a mildly overclocked RX 6700 XT. AMD duly increases power budget by 20W and installs a $549 fee, compared to $479 for last year's RX 6700 XT. As GPU pricing has recently become more harmonised with RRPs, one issue facing the card is from AMD's own stable – RX 6800 is clearly a faster GPU that, on paper, doesn't cost a whole heap more. Puts the RX 6750 XT in a difficult situation, don't you think?
To be fair, there's not much more AMD can do with the underlying technology that's built on a smaller, less powerful die than RX 6800/XT/6900 XT/6950 XT. It can never truly rival RX 6800 because that GPU has 50 per cent more shaders and a wider memory bus.
Unperturbed, Sapphire Technology forges ahead with two cards built around this 'all-new' GPU. We take the Nitro+ Gaming OC for a spin.
The Card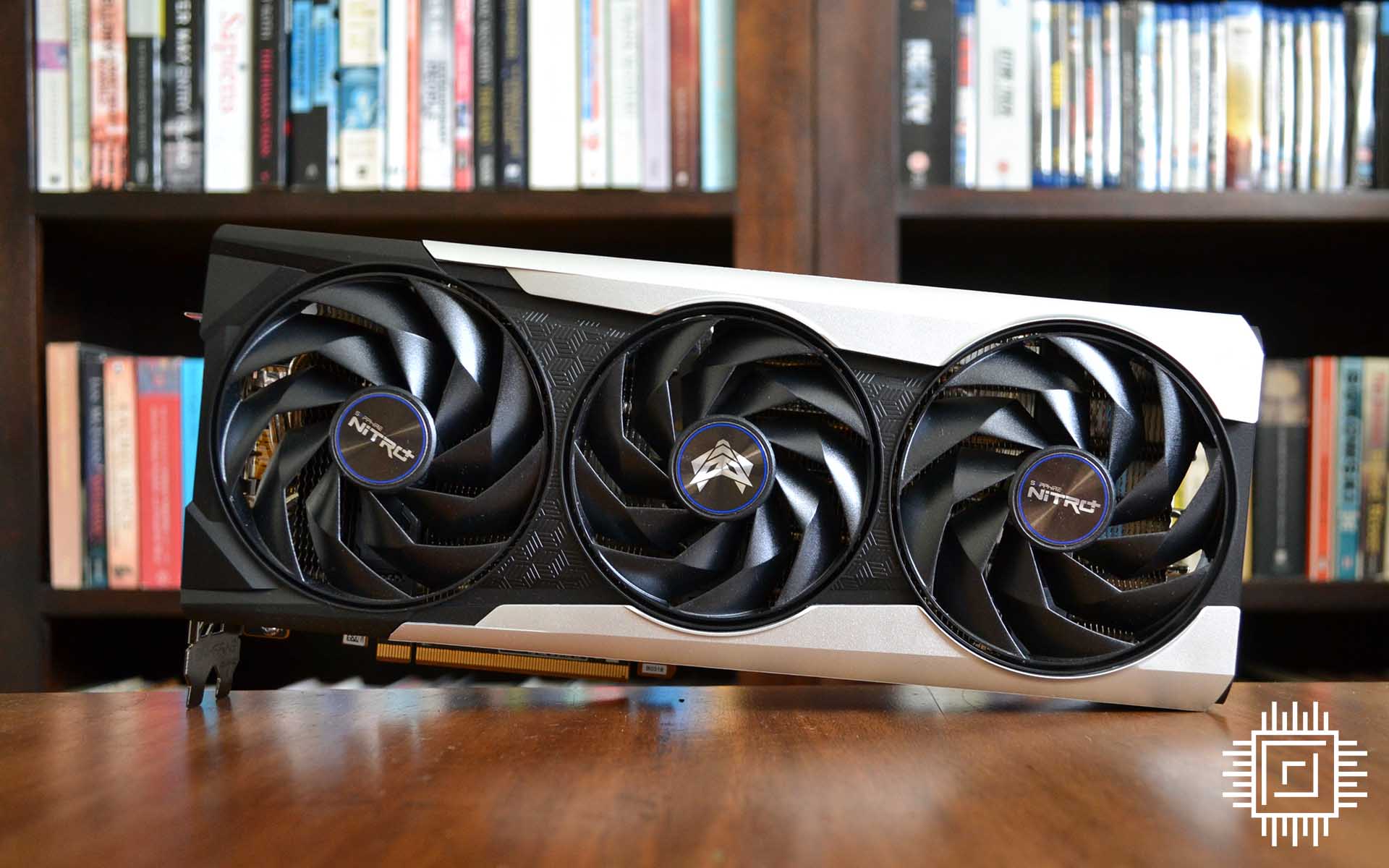 The GPU might not be, but the card's a bit of a beast. Really. A 310mm length and 131mm height offers a similar physical profile to the big daddy RX 6950 XT version. Even the 62mm height shows little restraint, and you'll need three spare slots to house this brute. Sapphire has opted to go above and beyond for this 273W card – double-slot coolers have historically proven adept at this kind of wattage – but the upshot for users with mid- or full-tower chassis is excellent cooling and quiet operation.
Boost clock is heightened to 2,623MHz, representing a minor increase on AMD specifications, and the 18Gbps memory is left well alone. One indirect method of ascertaining a cooler's quality is to look at real-world boost speed, which in this case is a solid 2,723MHz.
Tipping the scales at 1,160g, overall heft is understandably not as impressive as RX 6950 XT's. Sapphire uses a two-section heatsink connected via five heatpipes. Memory and phases are covered, but the cooling is not as all-encompassing as the very best Radeons'.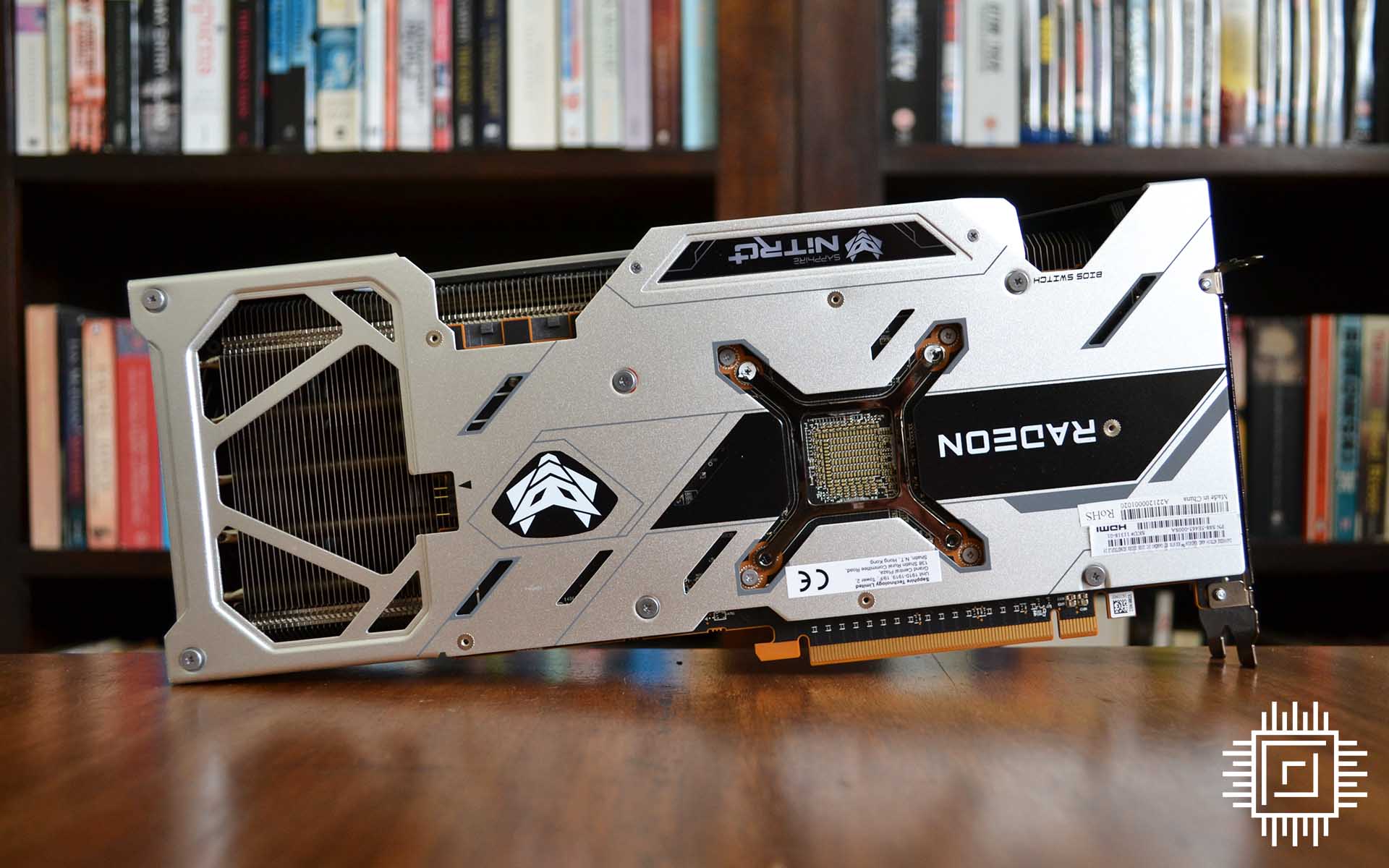 Rear design is interesting insofar as it has a number of cut-outs. The PCB ends two-thirds of the way down the heatsink, leaving space on the left-hand side for air to be pushed through and out of the bottom section, but not before it does the required job of cooling the fin-stack and five heatpipes. A bundled bracket support is a nice touch.
Two eight-pin power connectors are heavily recessed, which is great for a tidy build and reinforces the rather small PCB Sapphire plays with. A BIOS switch on the right toggles between performance (default) and quiet modes, and a third position allows changing within TriXX software. Last but not least, the Sapphire Nitro+ rectangular logo is lit by RGBs, but the 'head' is not.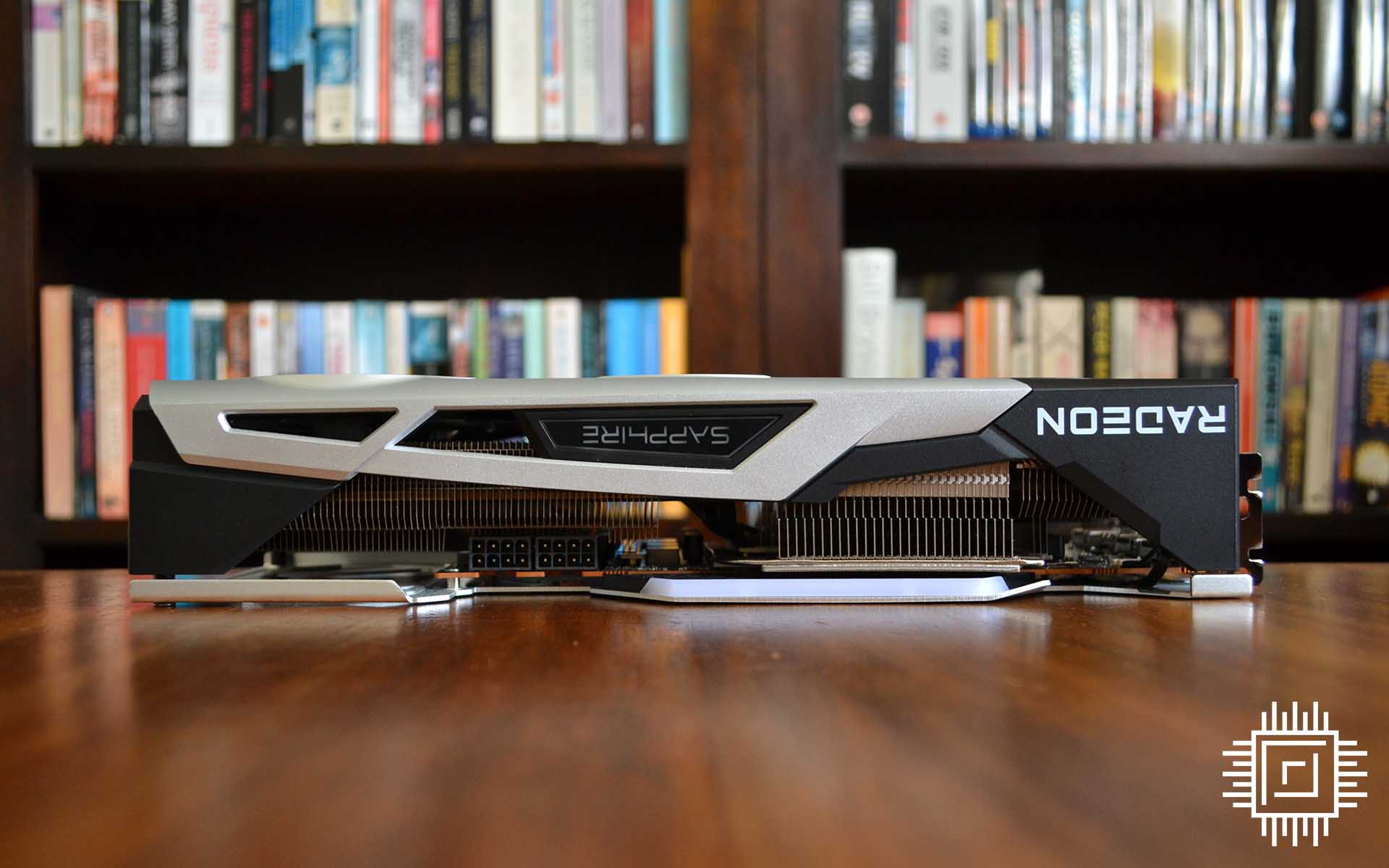 Cut-outs lend plenty of space for air to be recirculated in the chassis. Adding some visual pizzazz is a small lightbar seen near the front, and it works in conjunction with the also-backlit Sapphire logo on the side.
Like its bigger brother, anyone wanting more RGB can take advantage of an ARGB header on the rear, connecting to the motherboard for visual integration with other lighting products.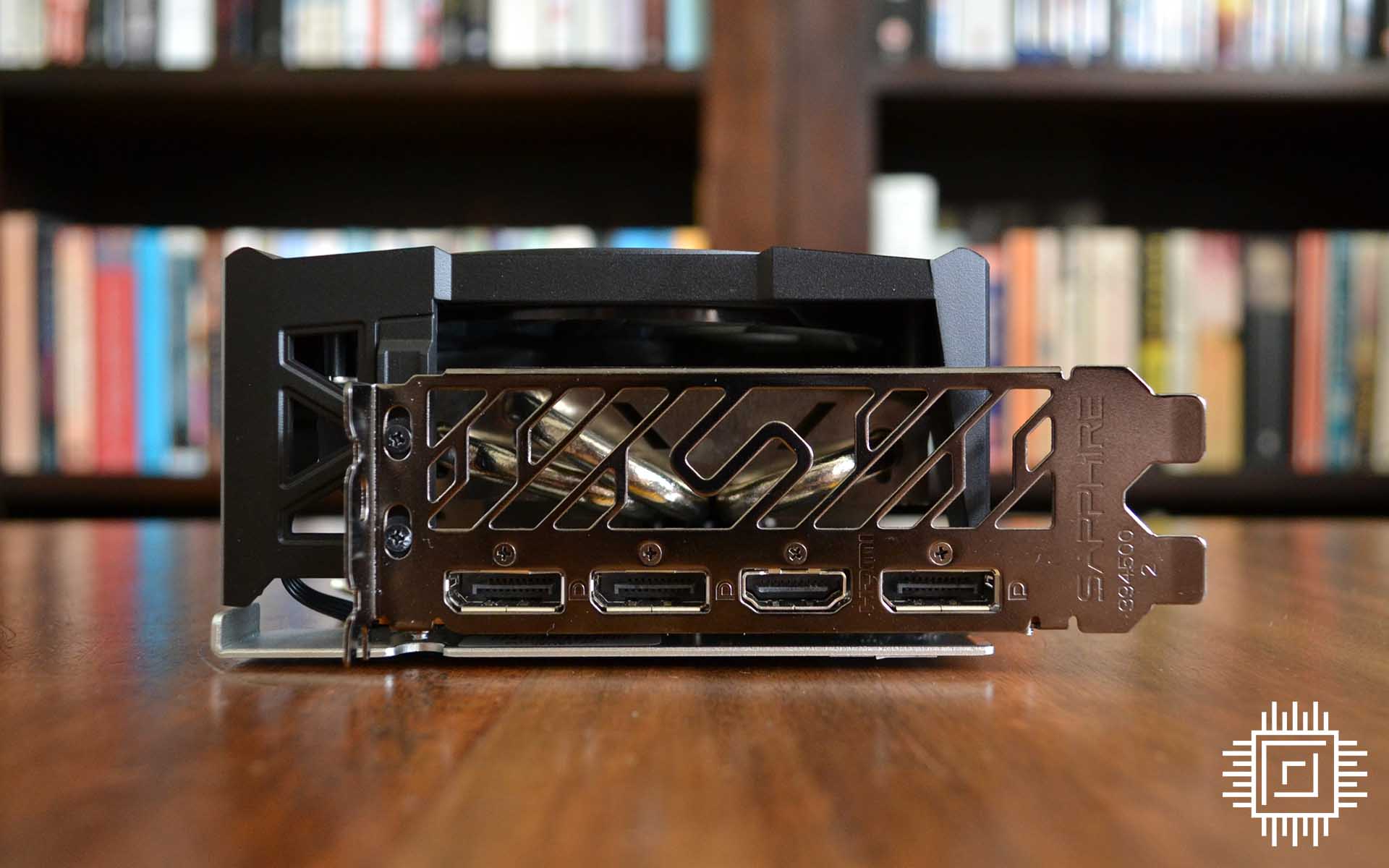 Sapphire's newer cards tend to have a central fan which is smaller than the outer duo. That's the case here, too, as the 90mm spinner is flanked by two larger, 100mm fans that spin in the opposite direction, in the name of lower turbulence. All three are easily removable for cleaning, under Sapphire's QuickConnect technology, and they switch on and off smoothly. They aren't adorned by RGB, if you're wondering.
Three DisplayPort and a single HDMI are present and correct. The sheer height of the card is better evidenced in this photograph, as the shroud is both comfortably taller and wider than the standard-sized I/O bracket. Certainly not one for the small-form-factor crowd.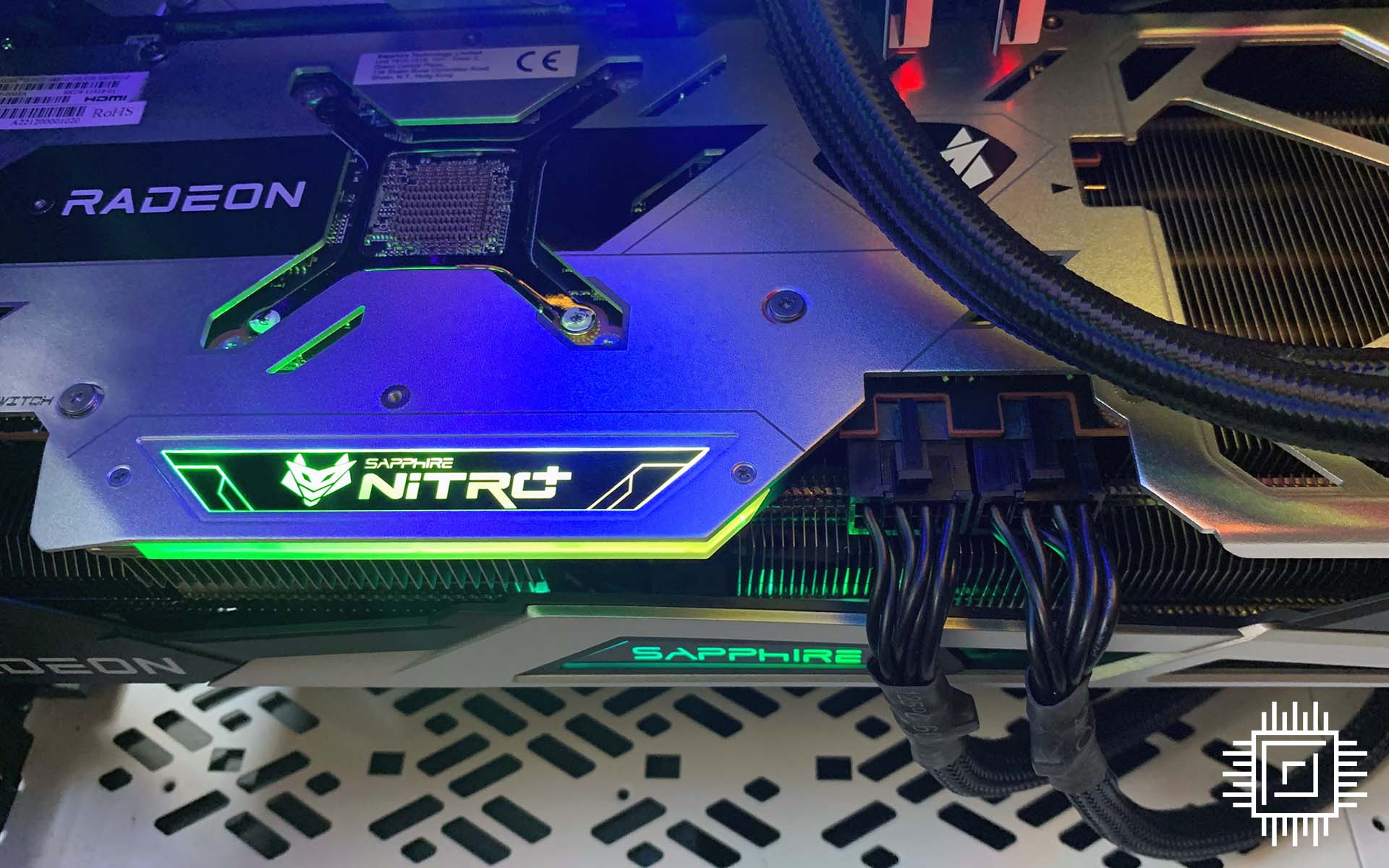 Big and bold, the natural competitor for this card is the GeForce RTX 3070. We have duly benchmarked the Nvidia rival and added results to our ever-growing graphs. Full system setup and methodology is available on page two.
Futuremark Tests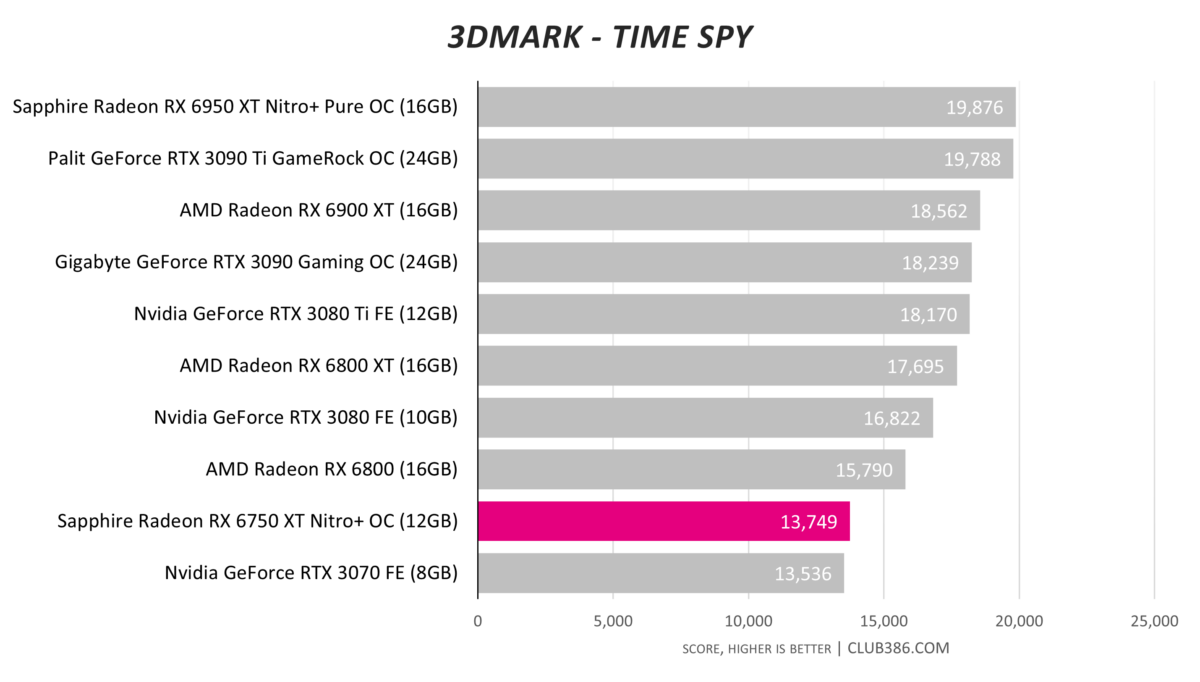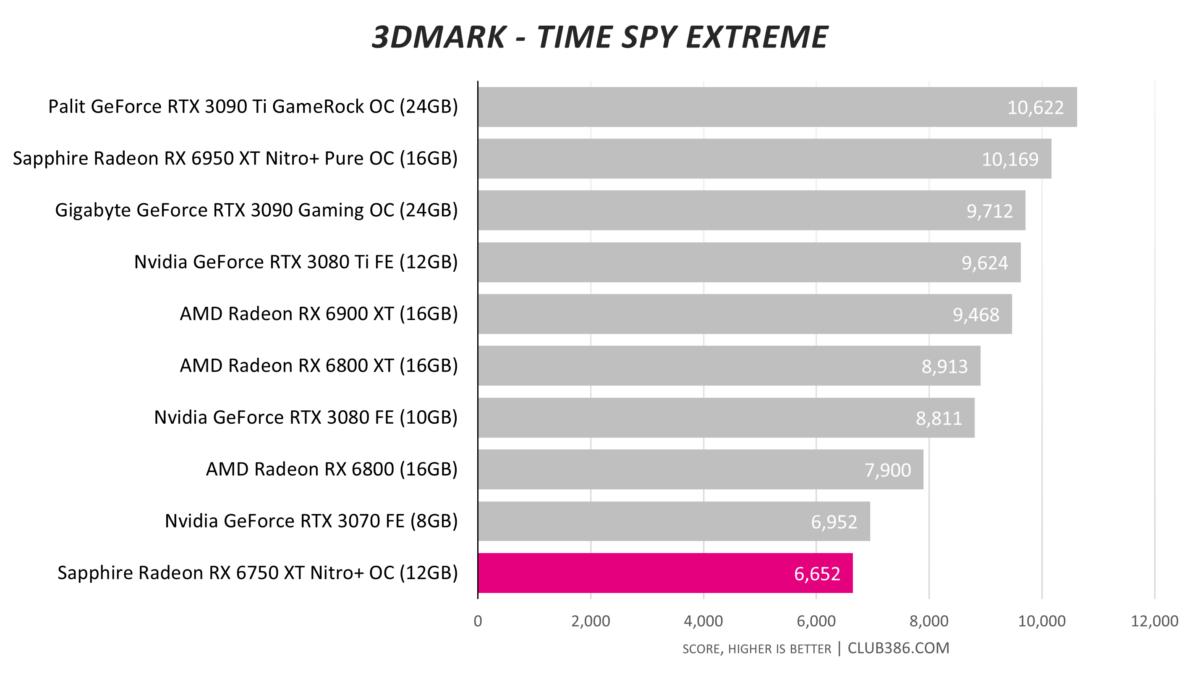 There was never expectation Radeon RX 6750 XT would mix it with the real big boys of the discrete consumer graphics world. The card needs to be on-point compared to something like the RTX 3070, and hopefully get close to RX 6800.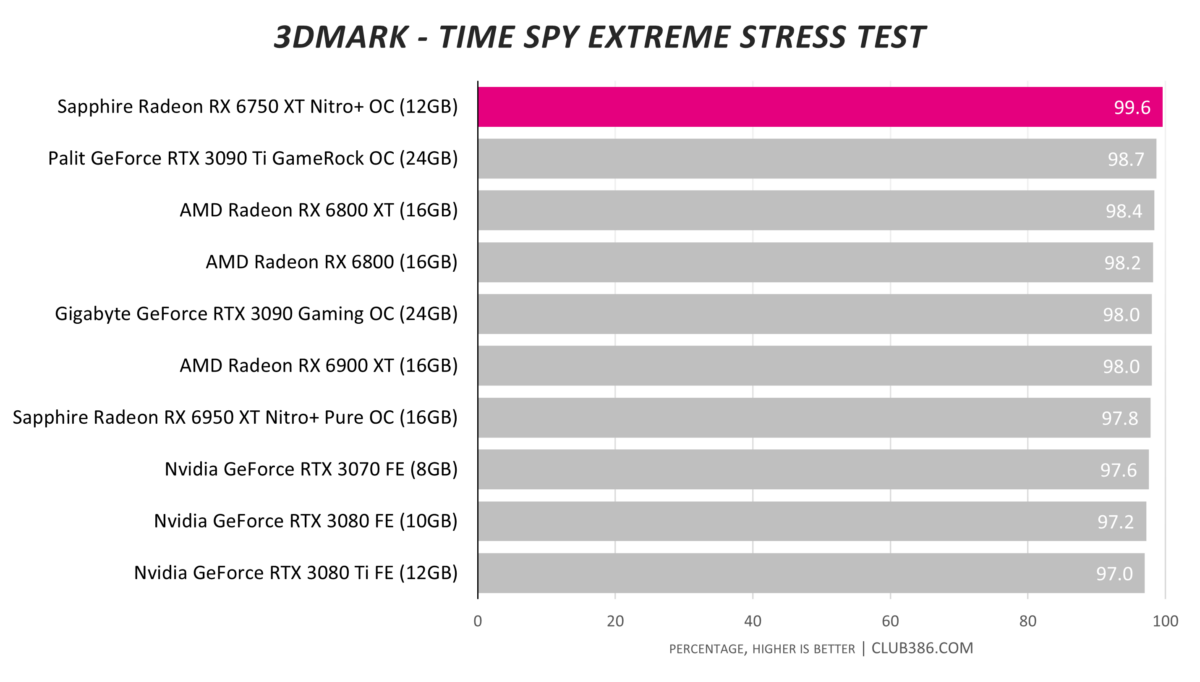 That massive cooler does a fine job, by the way.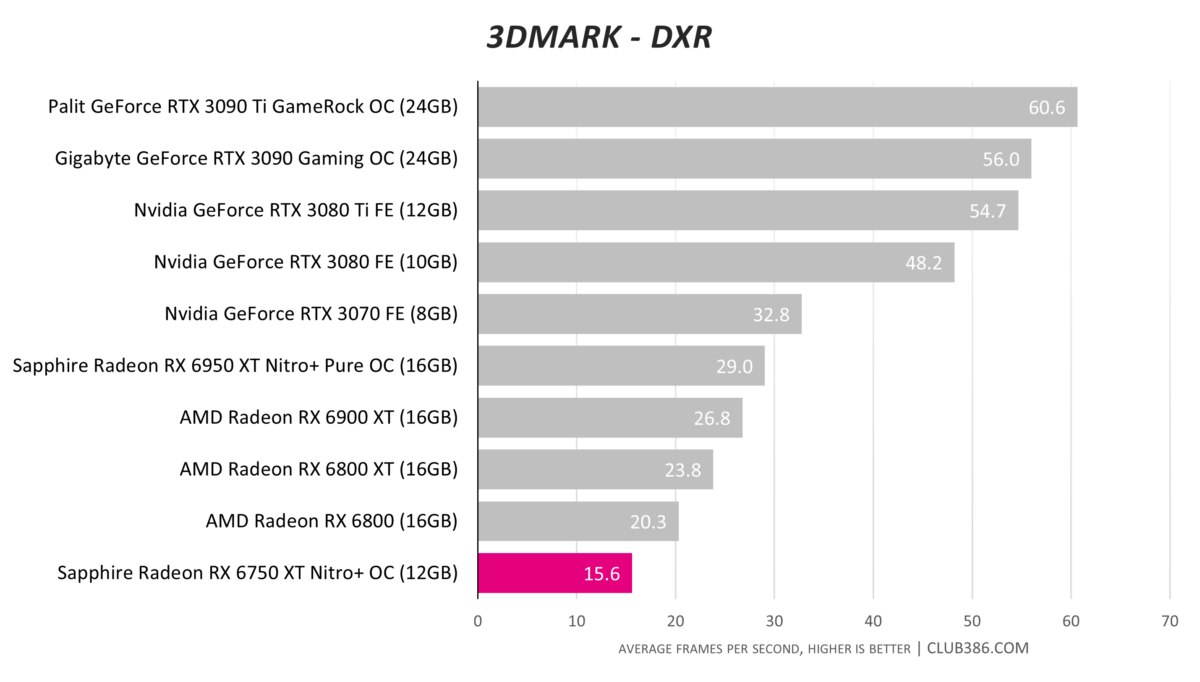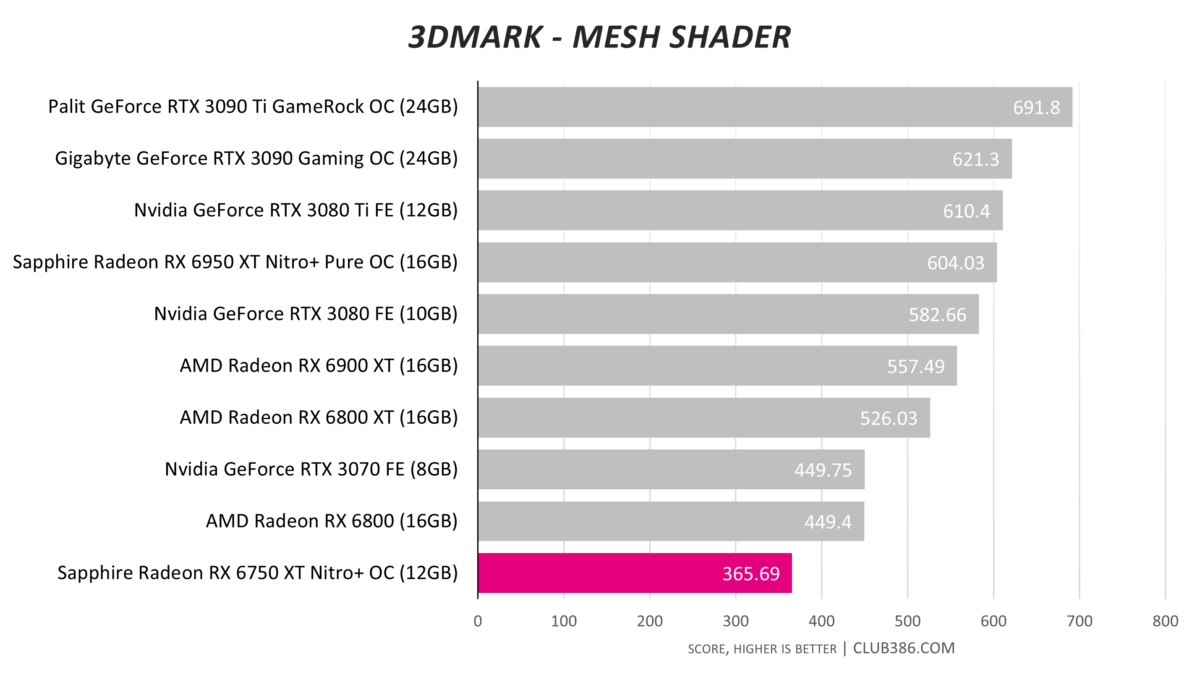 Though pumped up through high frequencies on core and memory, an innate lack of horsepower, emanating from a smaller die, shows.

Show your support for impartial Club386 reviews
Club386 takes great pride in providing in-depth, high-quality reviews built on honest analysis and sage buying advice. As an independent publication, free from shareholder or commercial influence, we are committed to maintaining the standards our readers expect.
To help support our work, please consider making a donation via our Patreon channel.
Assassin's Creed Valhalla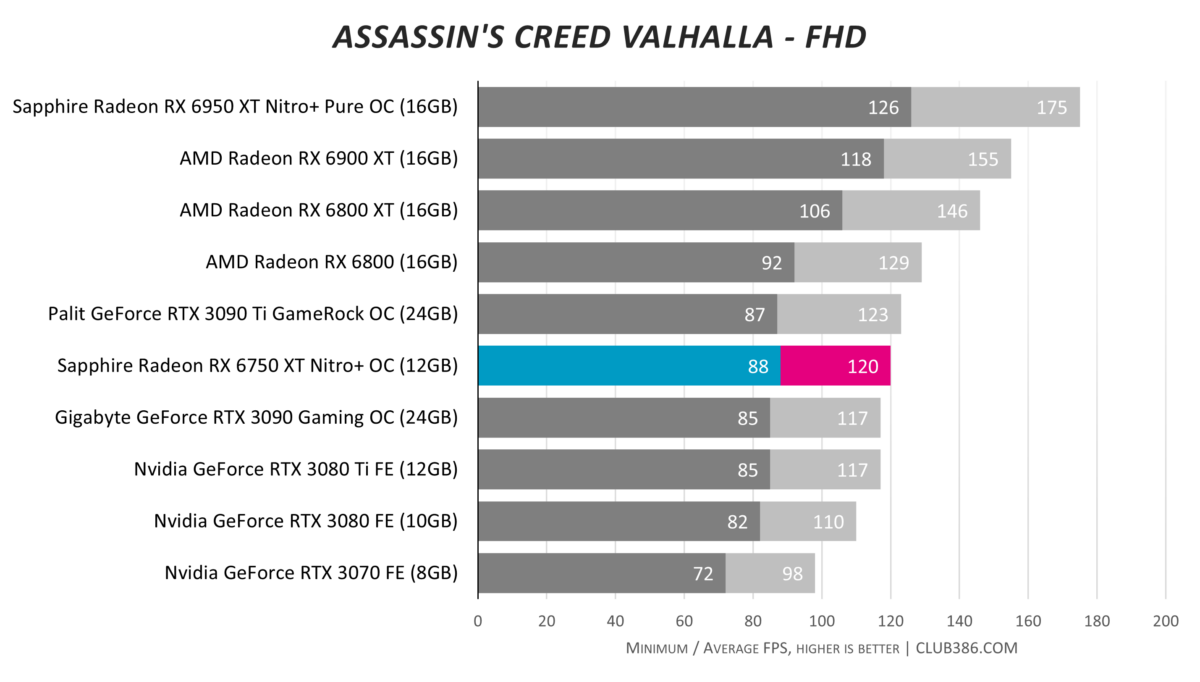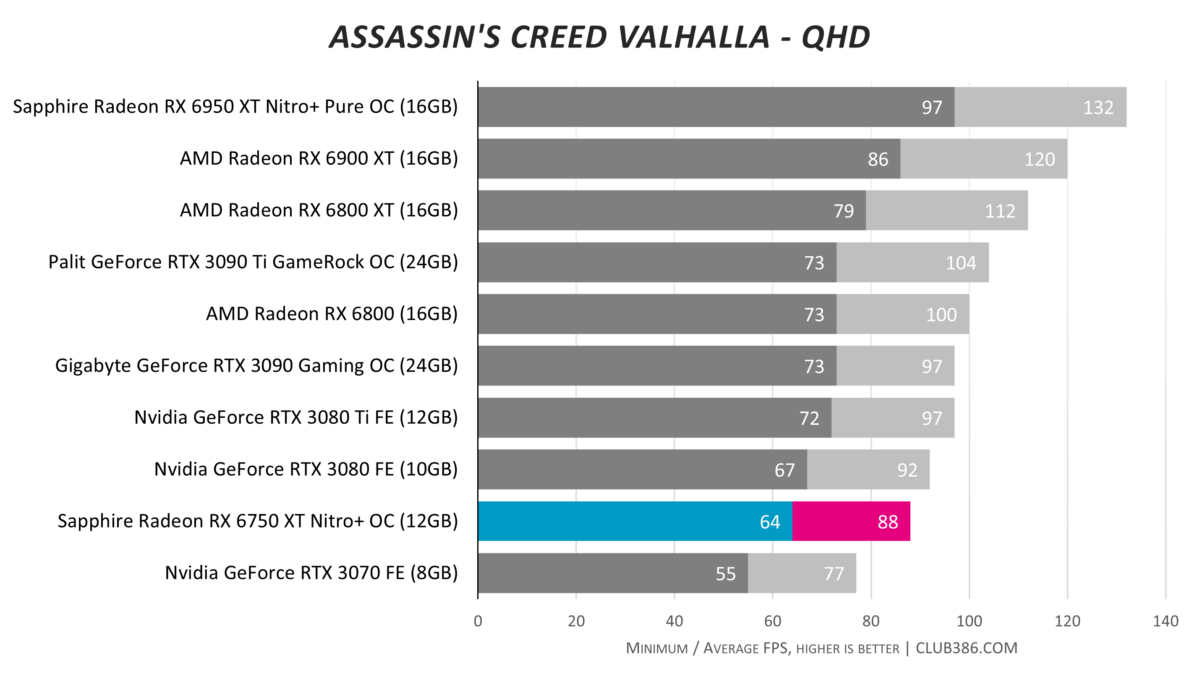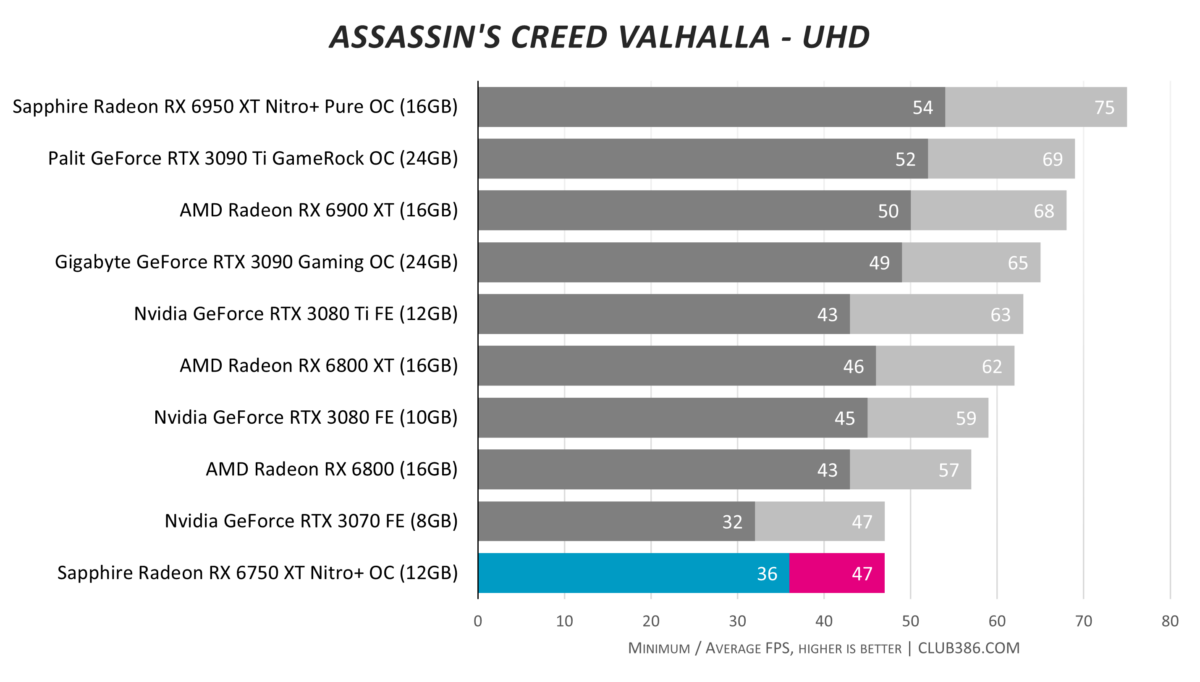 AMD-based cards do well in Assassin's Creed Valhalla. The latest RX 6750 XT is about 20 per cent slower than an RX 6800. To be fair to Sapphire and AMD, this GPU is marketed as a fine QHD solution. Hard to disagree thus far.
Far Cry 6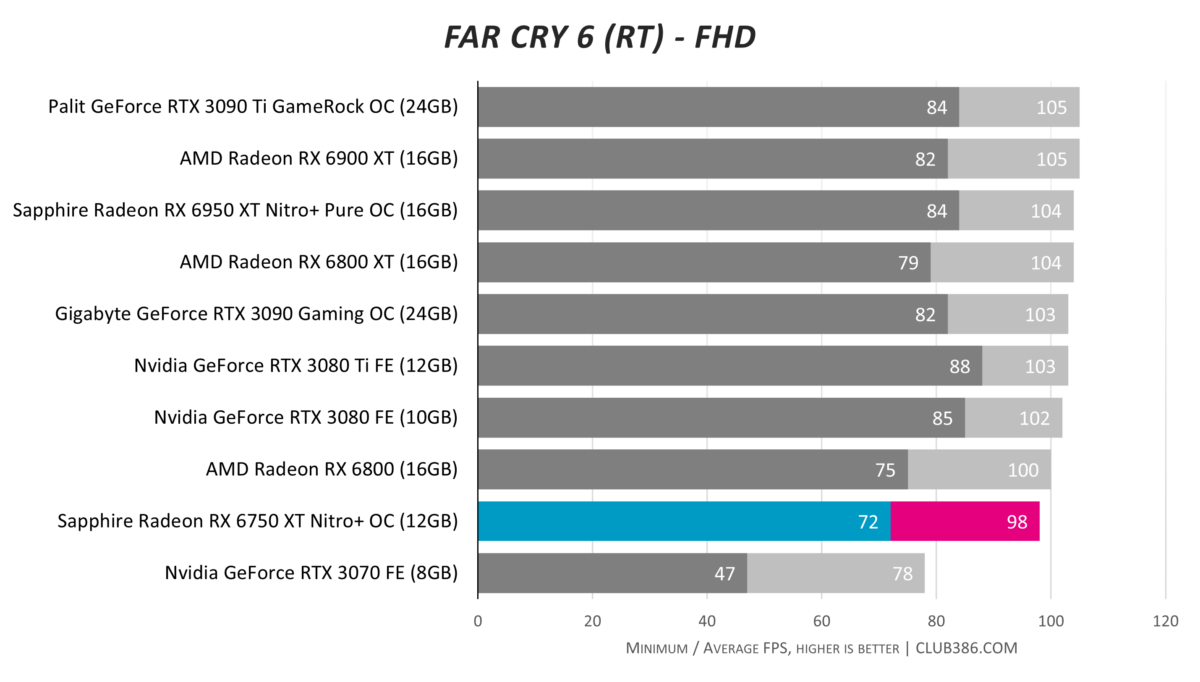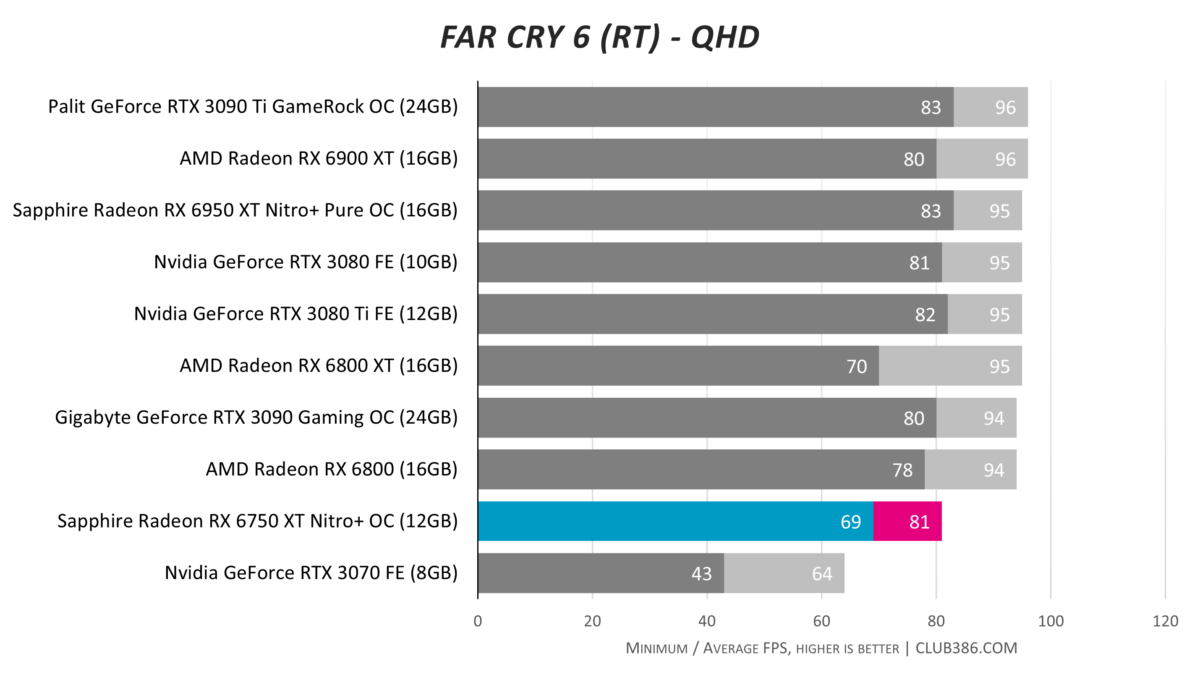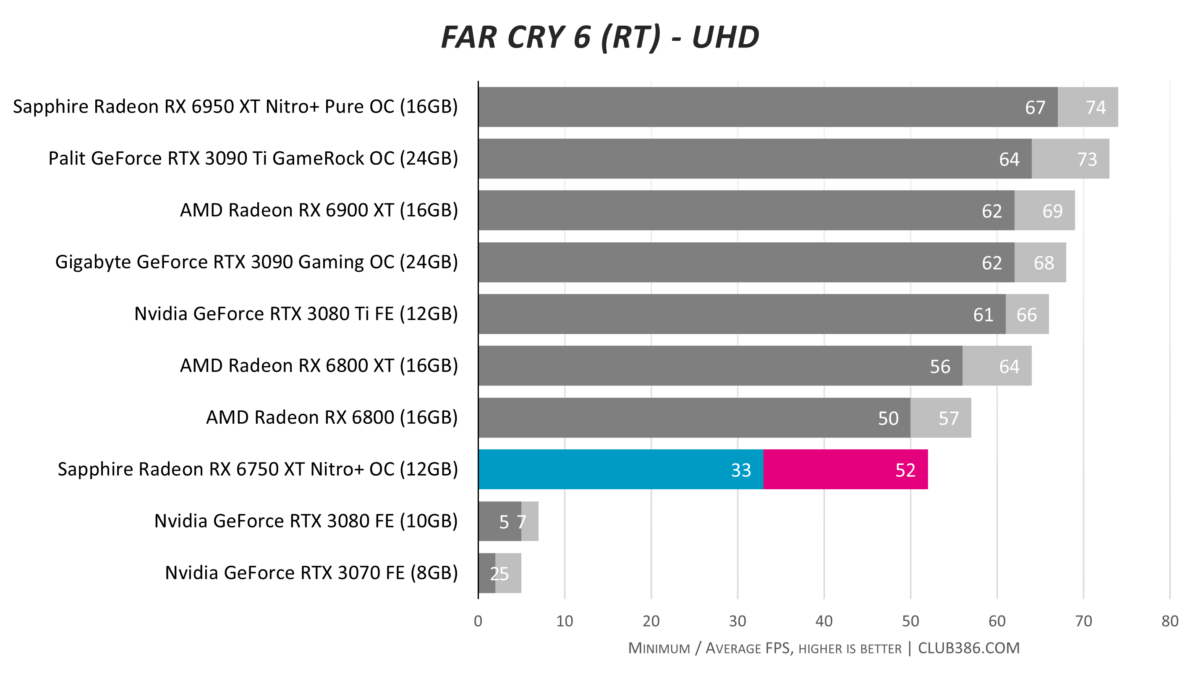 Far Cry 6 is interesting as the game needs a >10GB framebuffer when run at 4K. Put into better context, an average 81 frames per second at QHD is acceptable… and a much better return than witnessed on rival RTX 3070.
Final Fantasy XIV: Endwalker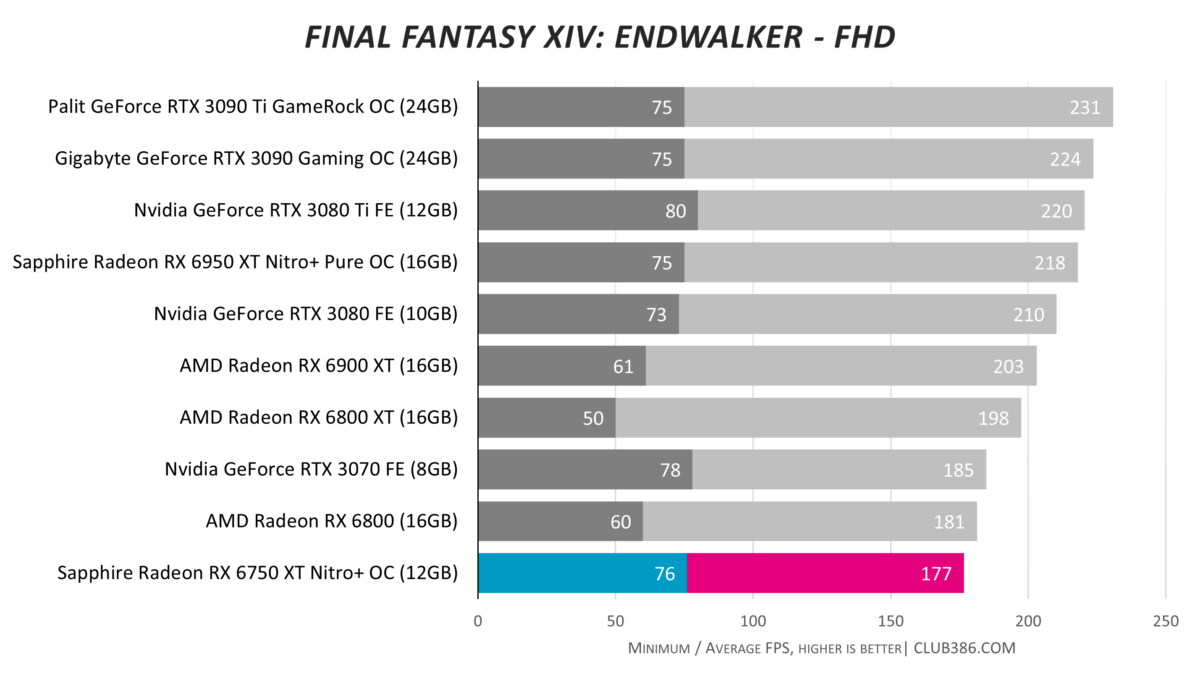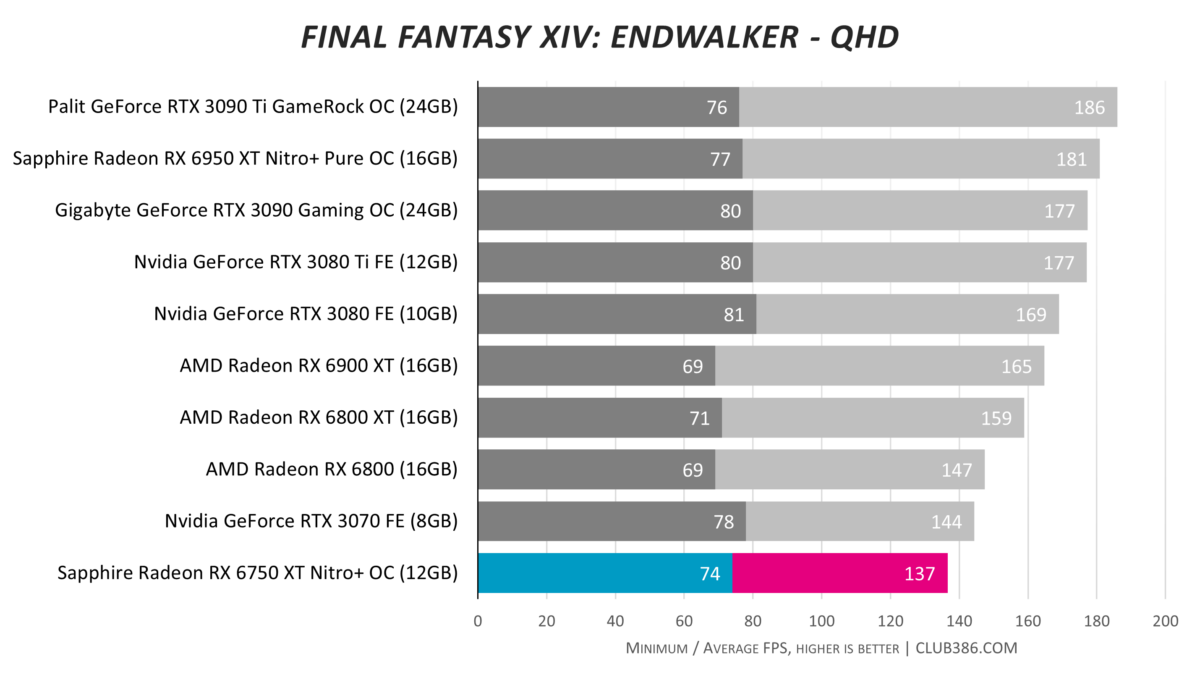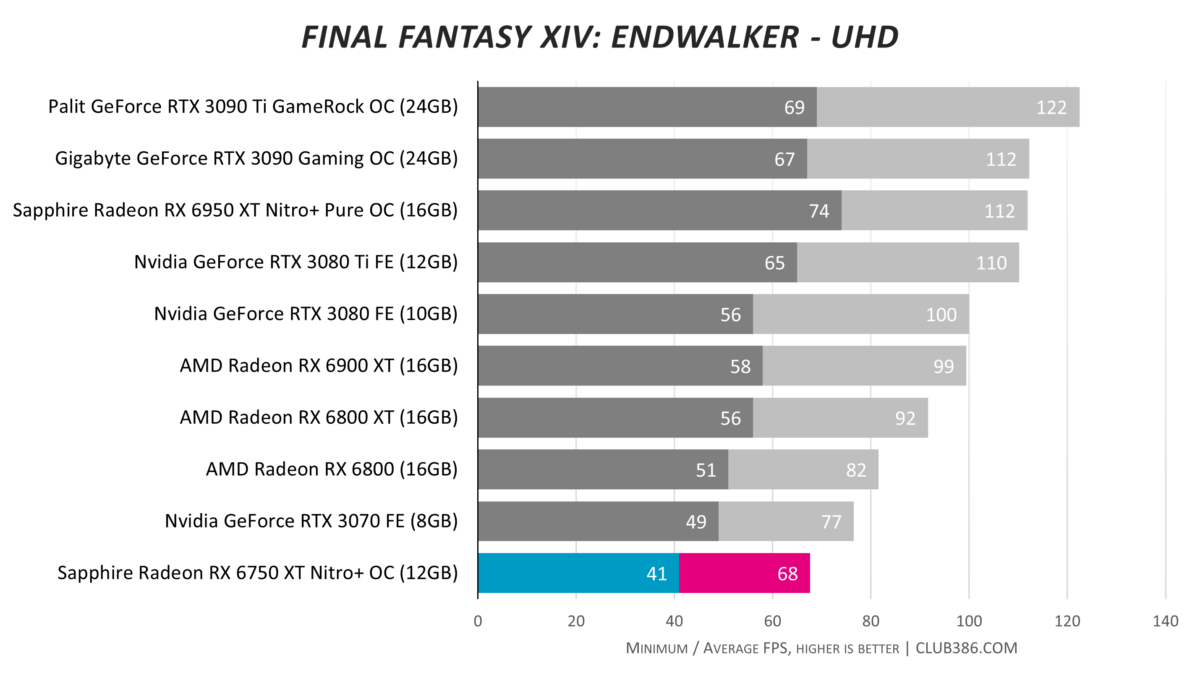 Arguably the most consistent test, Final Fantasy: Endwalker usually separates the wheat from the chaff. QHD performance is absolutely fine, but the card shows first signs of struggle at UHD.
Forza Horizon 5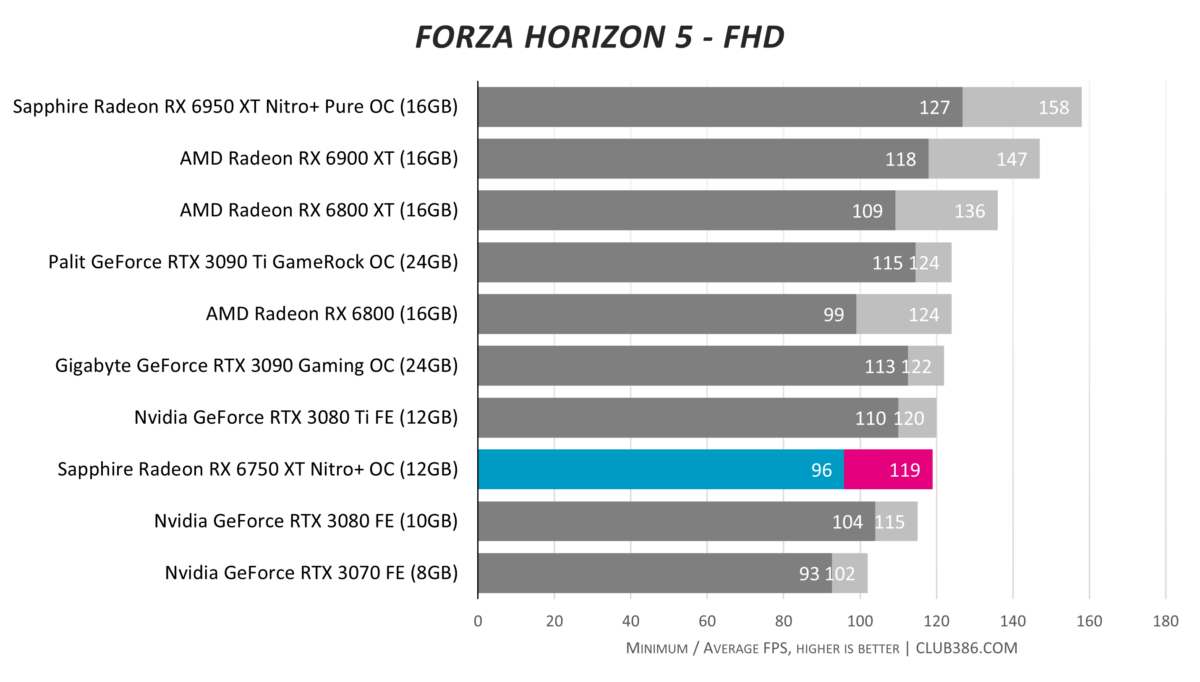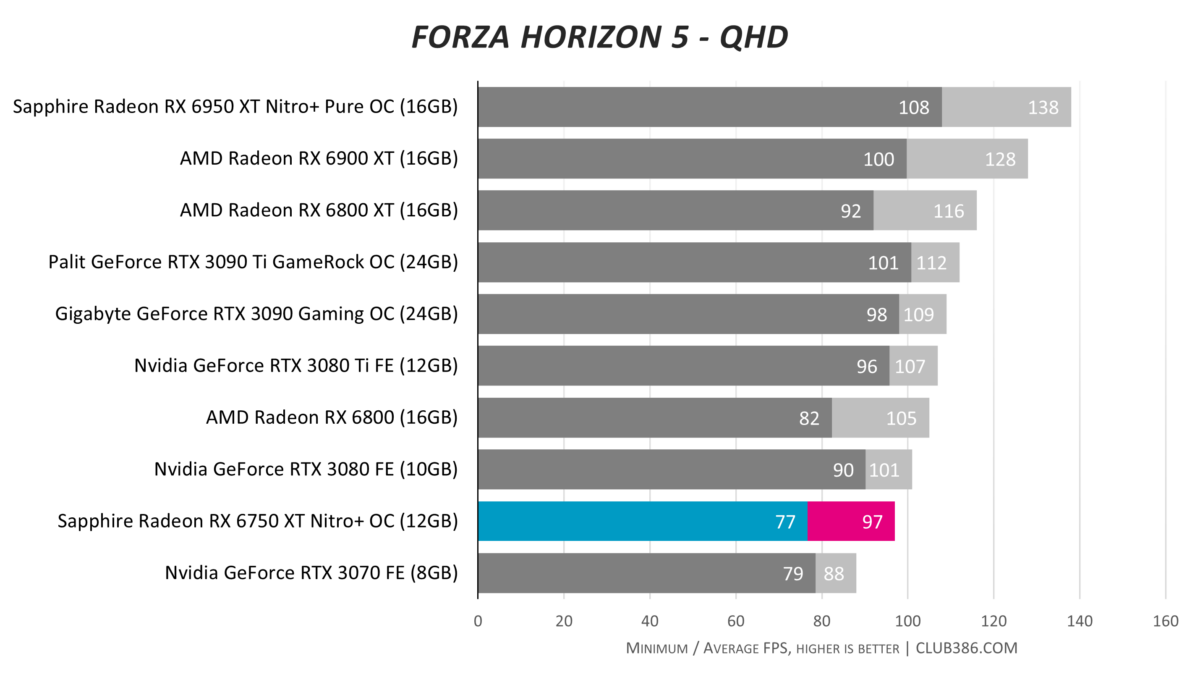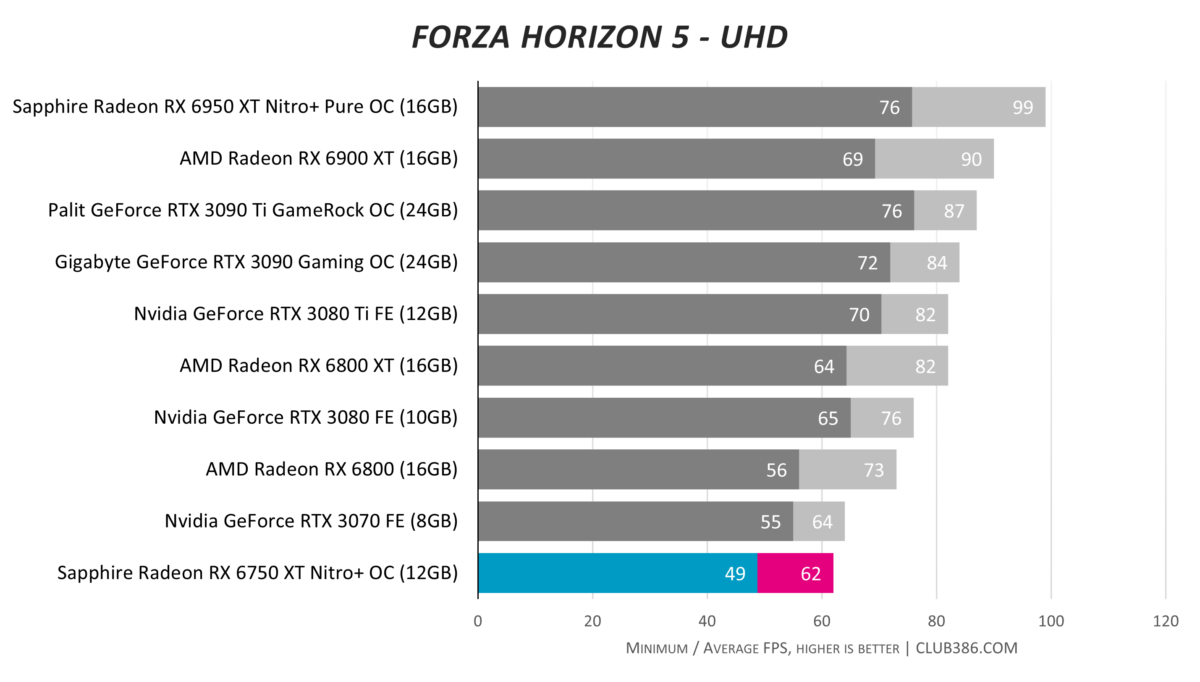 A beautiful game that loves RDNA 2, much of our previous commentary remains true. We'd definitely recommend ponying up the extra cash for the RX 6800 – it is 20 per cent faster – if available anywhere near the RX 6750 XT's street price.
Gears Tactics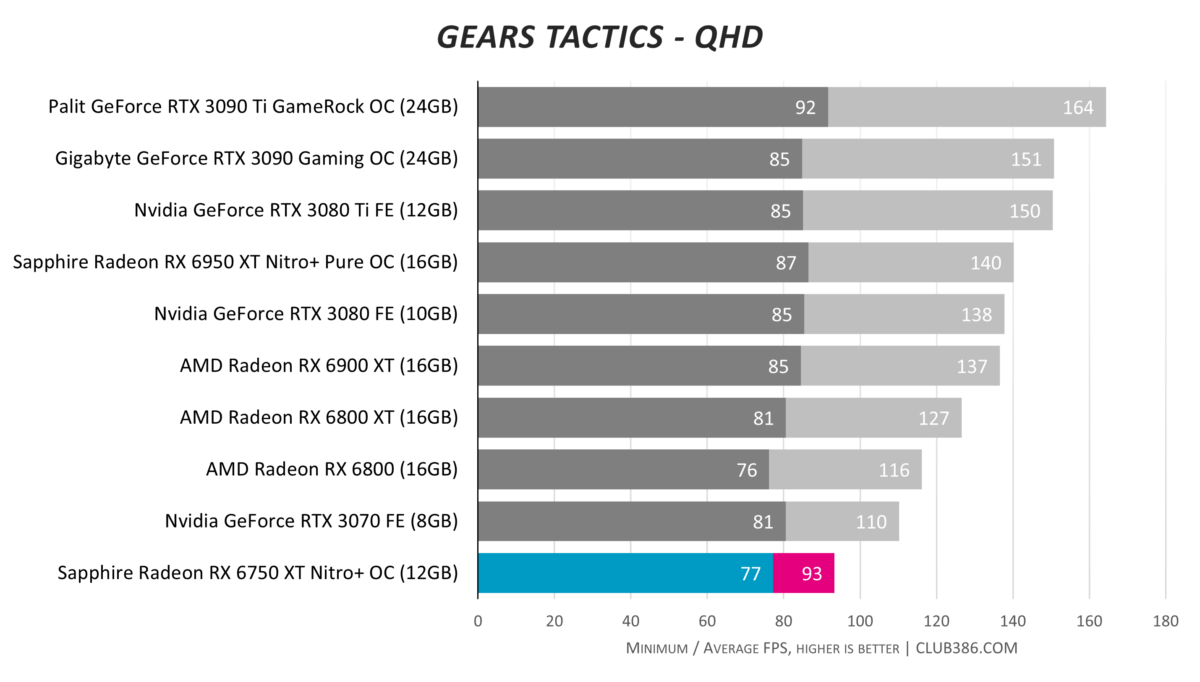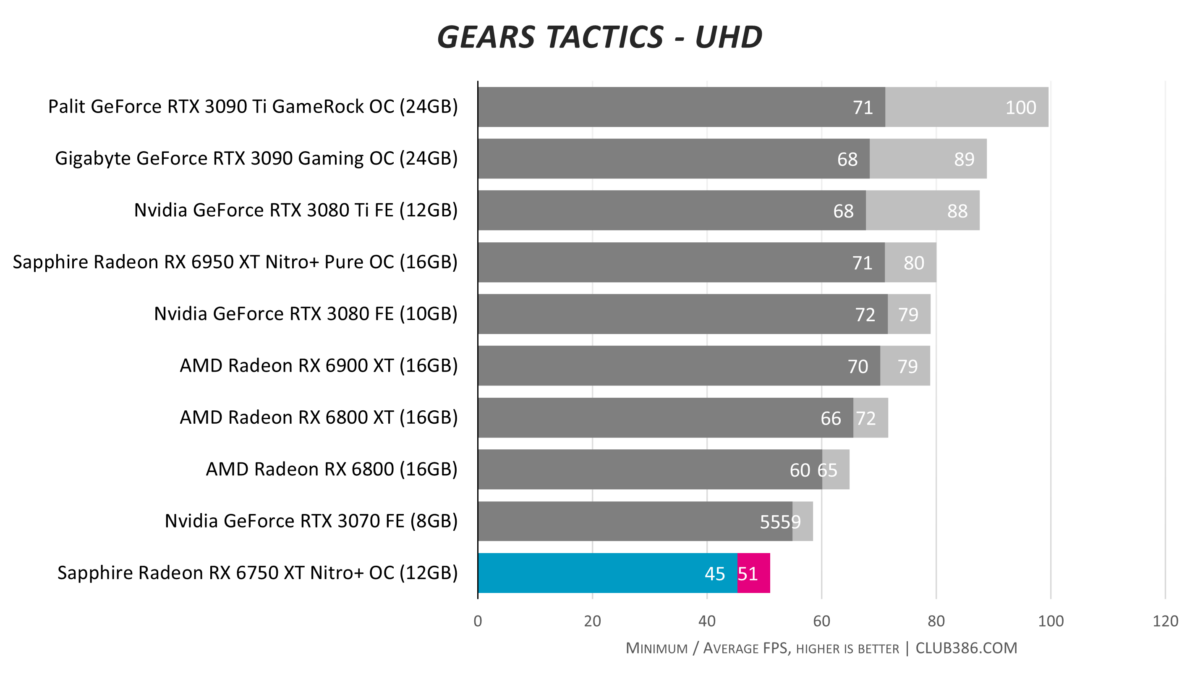 RX 6750 XT wins some, RTX 3070 others. Both are excellent at QHD and passable at UHD.
Marvel's Guardians of the Galaxy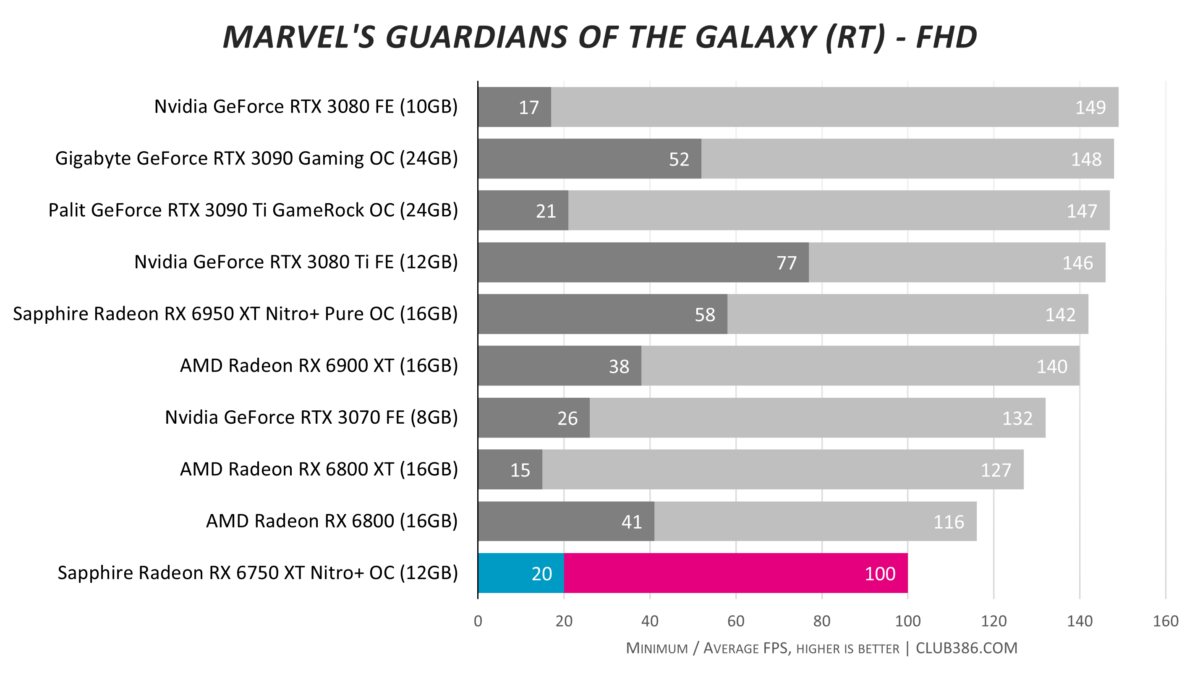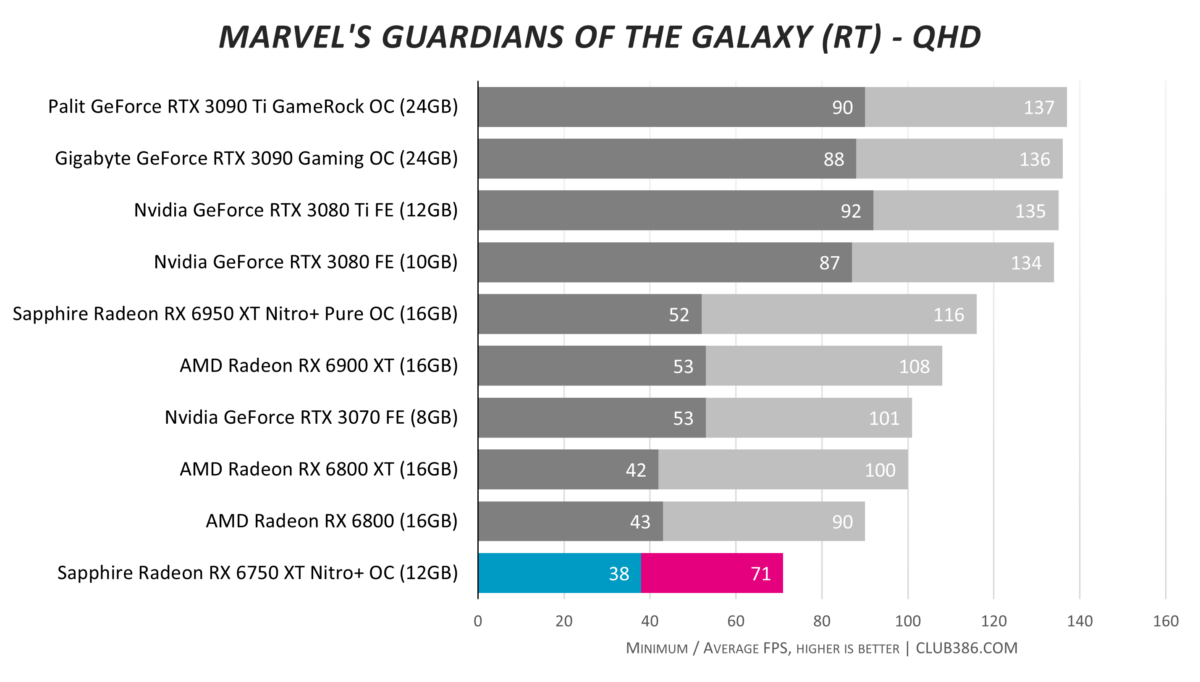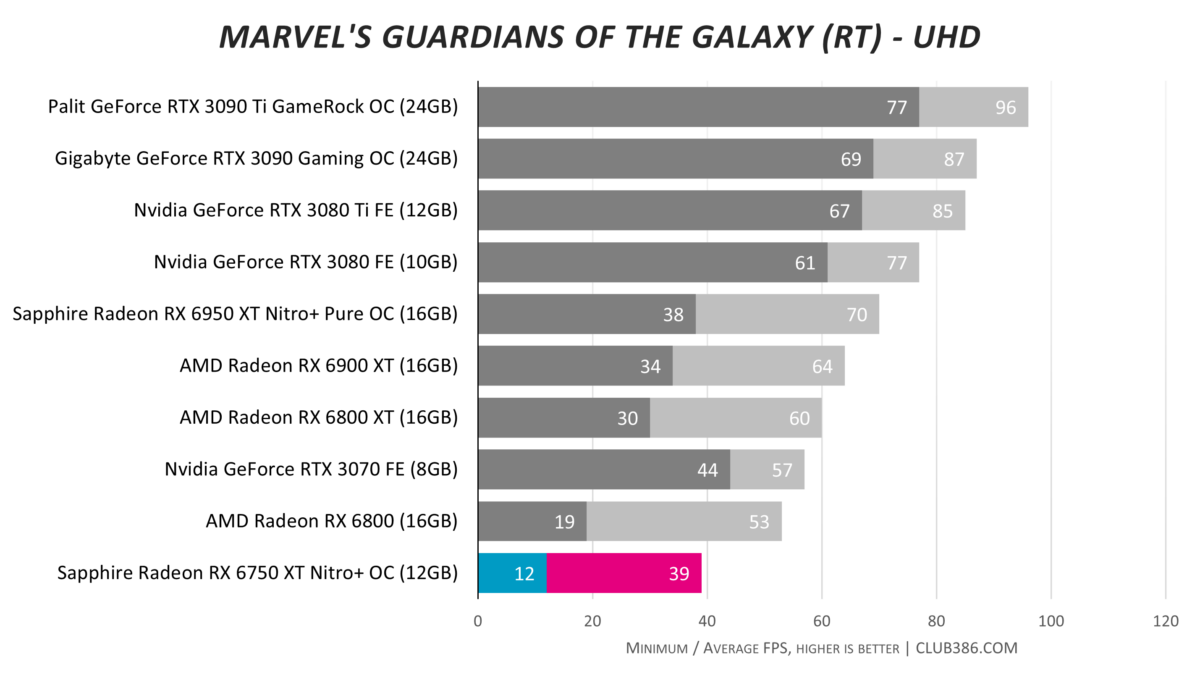 Adding ray tracing to the mix means Nvidia trumps AMD at each price point.
Vitals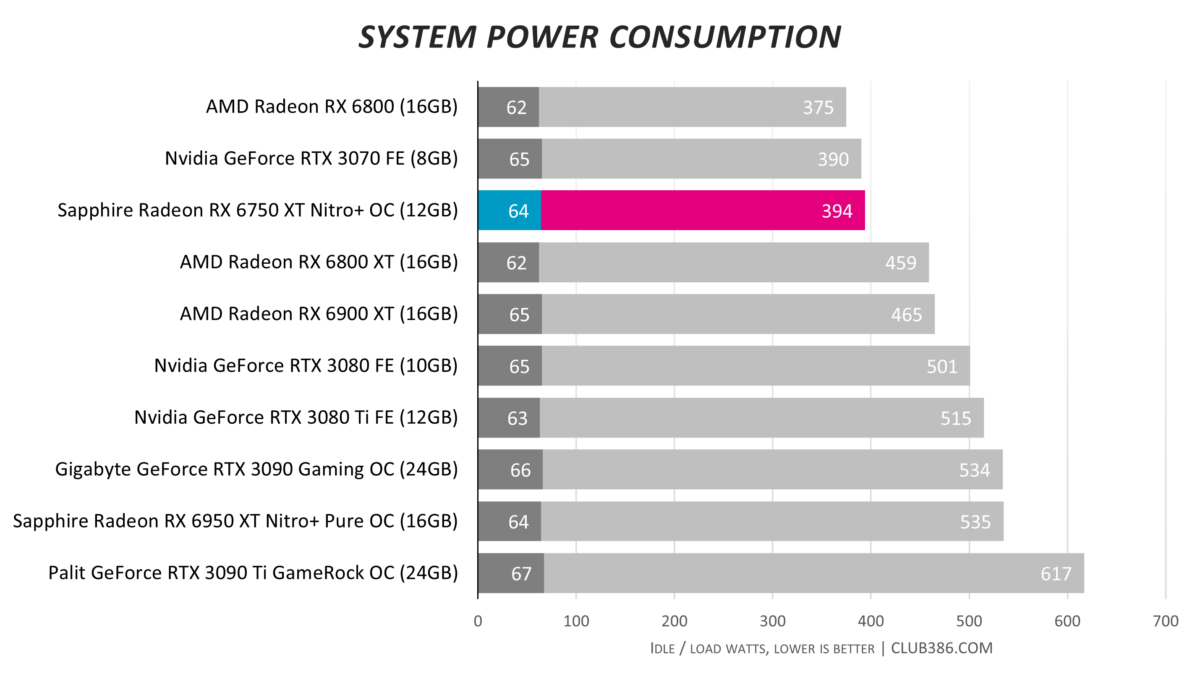 Here's another interesting observation. The need to increase the wick on an RX 6750 XT means it actually consumes more power than RX 6800, even though performance is lower. Bigger, wider die versus higher frequencies.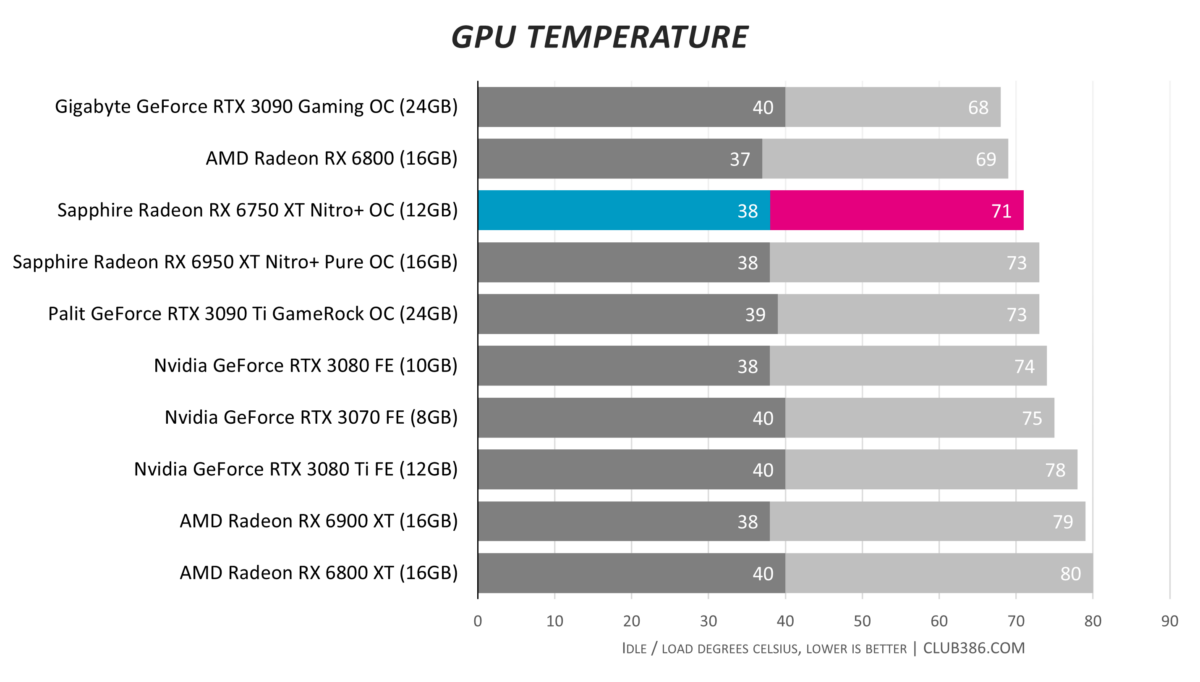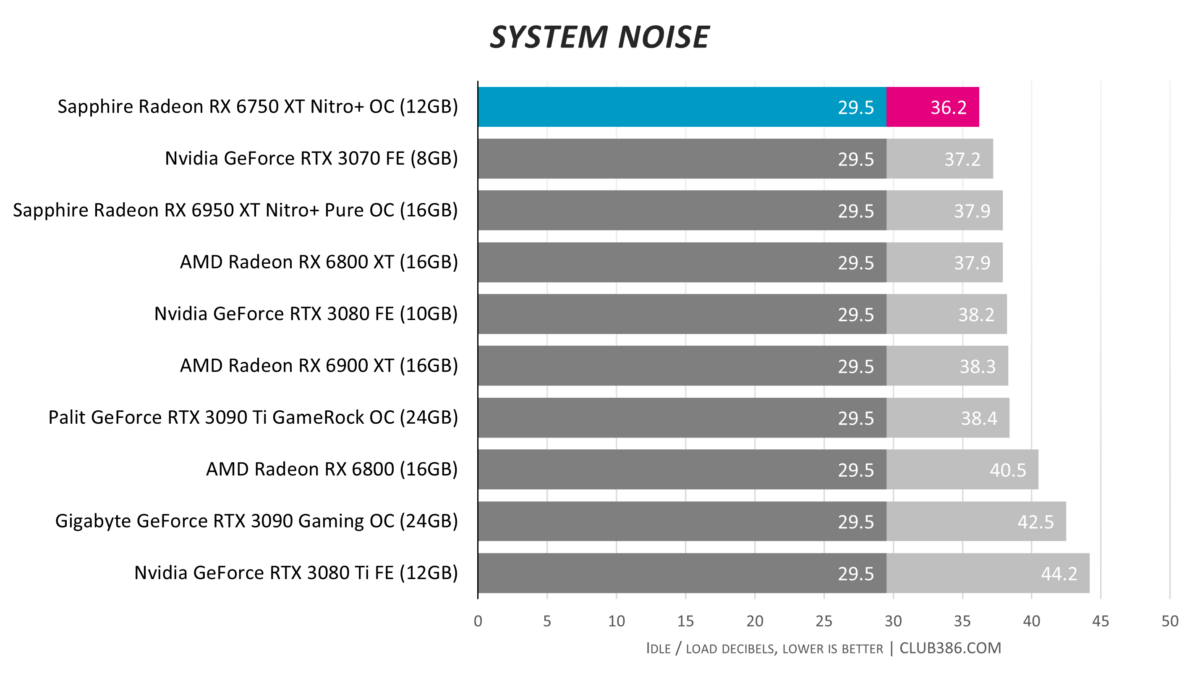 Massive cooler? Check. Relatively modest TDP? Check. End result is a cool and eerily quiet card. Top marks to Sapphire here.
Overclocking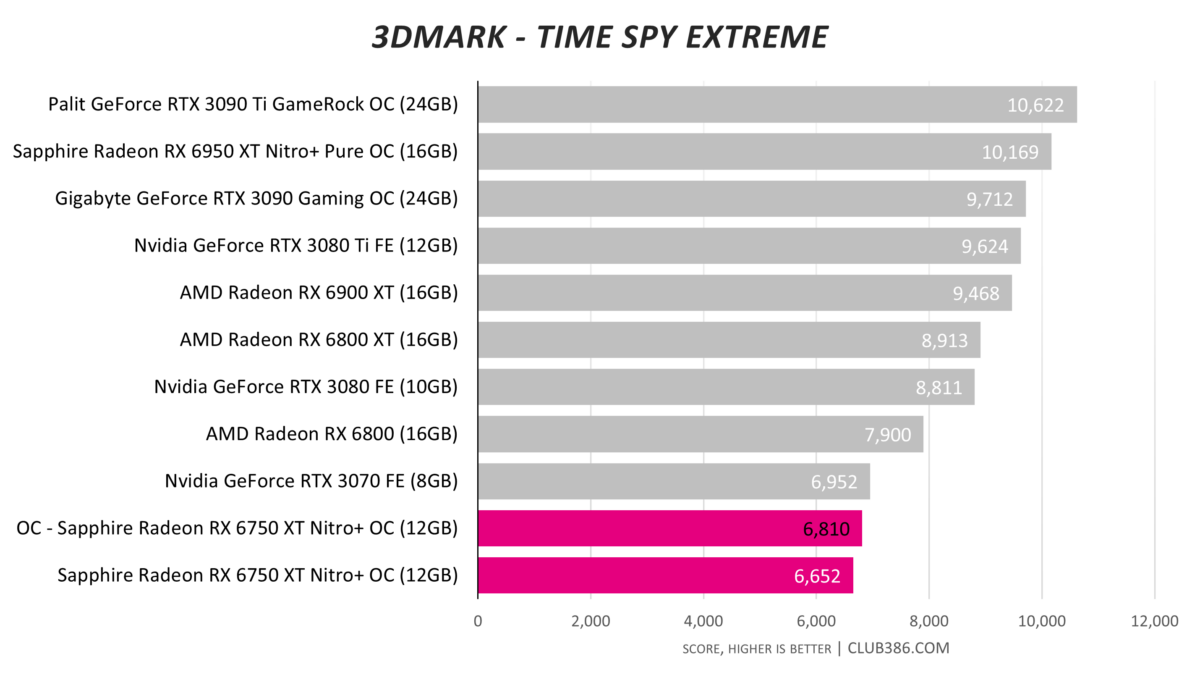 There's not much more left in the tank, captain. Limited frequency headroom is a by-product of having speeds already near the edge of what's possible.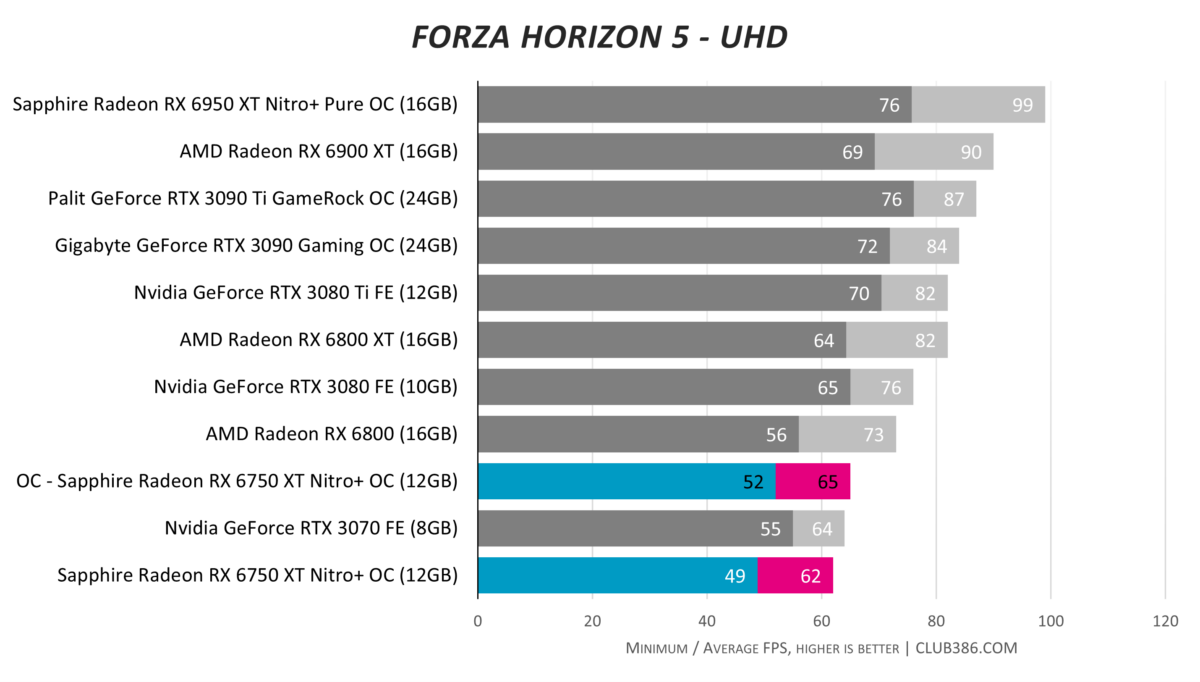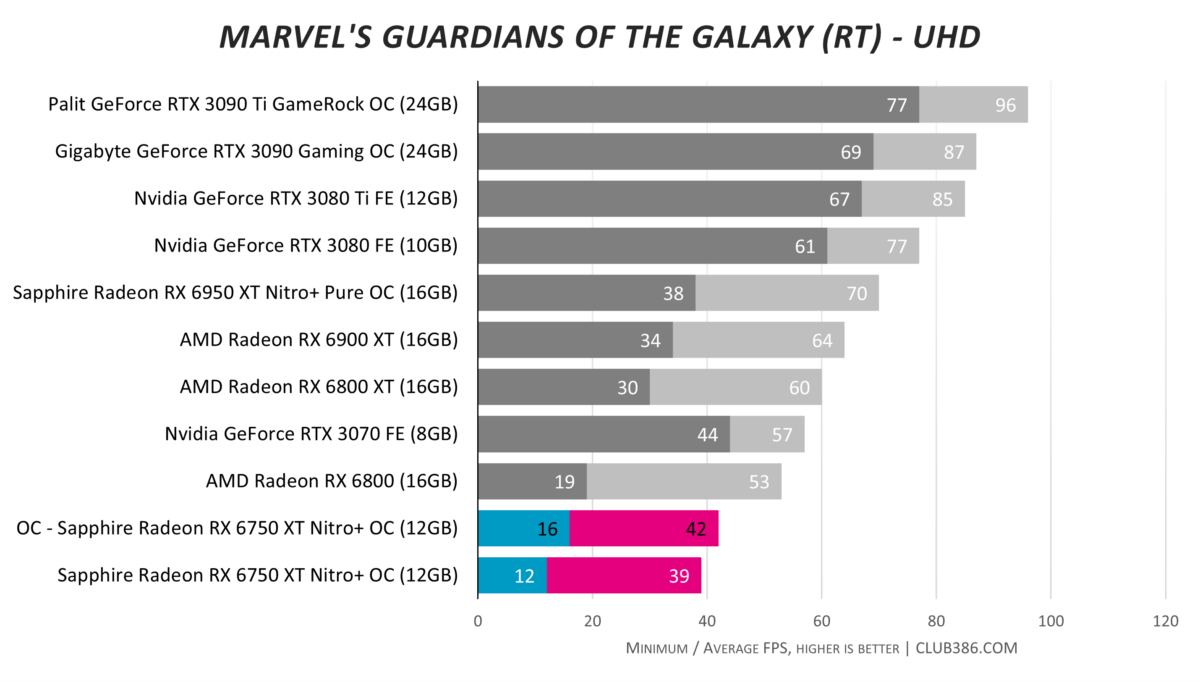 But, you know, every little helps.
Performance, Efficiency, Value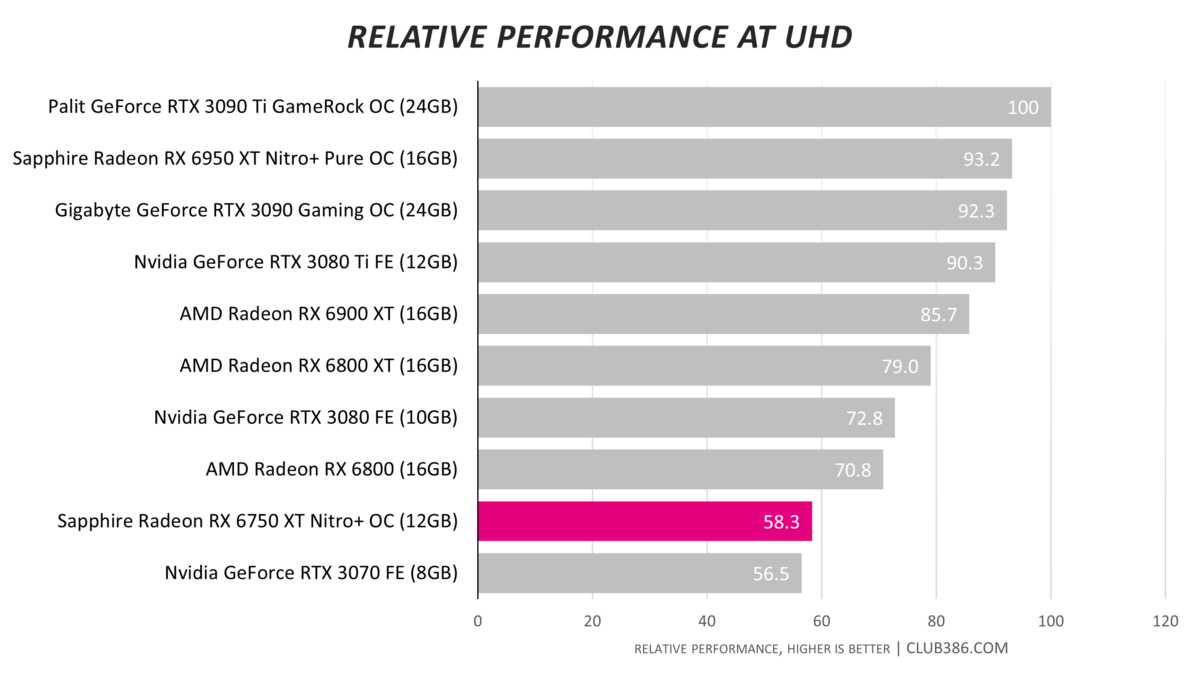 This score represents an aggregation of the respective framerates achieved by each card, in each title, at UHD. The scores are then normalised to the best overall, which in this case is the Palit RTX 3090 Ti GameRock OC.
Getting around 60 per cent of the top dog's performance is about right for a card of this ilk.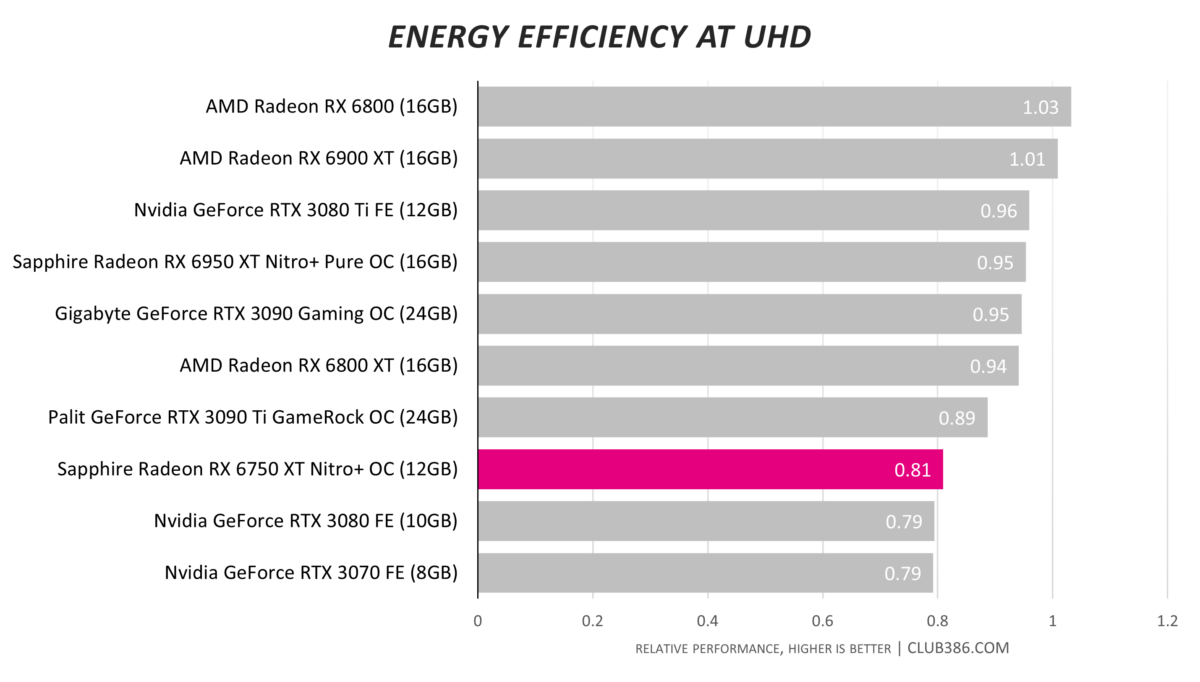 The graph divides the aggregate framerate by peak system-wide power consumption. An obvious issue facing the RX 6750 XT is RX 6800, which is better in both preceding graphs.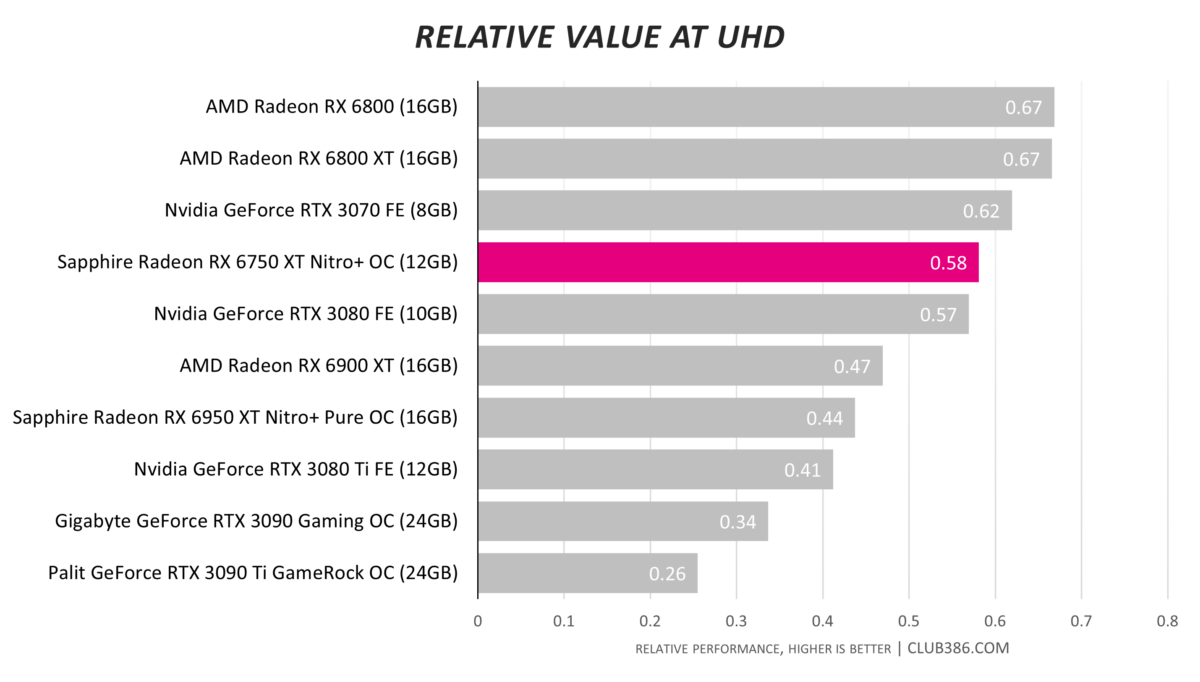 One would expect value to be one of this card's stronger points. A top-half finish this late in the game is decent enough, but RTX 3070 and RX 6800 aren't troubled.
Conclusion
AMD's RDNA 2 refresh works better on some GPUs than others. Radeon RX 6750 XT receives very little in the way of core frequency uplift, relying instead on faster memory to make the difference. Accompanying this minor increase in performance is higher power consumption and higher street price.
That'd be okay if this end of the market wasn't so congested, but we come away with the feeling there's not enough extra in RX 6750 XT to be worthy of serious consideration if you already own a decent card. If not, then surprisingly widespread availability at around the £650 mark provides enough disruption for it to be at least in the running as an upgrade solution.
Sapphire does what it can to embellish this mid-range refresh, and the Nitro+ Gaming OC is built well, barely makes a squeak, and is mildly overclocked. Trouble is, 'last-gen' Sapphire RX 6700 XT Nitro+ Gaming OC, hardly any slower, is available for over £100 less. Rock and a hard place, eh?
A decent card hamstrung by availability of older stock, put this veritable beast of a GPU on your shortlist if it comes on special offer.
Sapphire Radeon RX 6750 XT Nitro+ Gaming OC
Verdict: Sapphire goes big on a GPU that's doesn't offer a great deal more than last-gen cards.
---
Pros
High-quality QHD credentials
Excellent cooling
Dual BIOS
Eerily quiet
Cons
Minor performance uplift
Ray tracing not great
---
Club386 may earn an affiliate commission when you purchase products through links on our site. This helps keep our content free for all.
Rest assured, our buying advice will forever remain impartial and unbiased.