Jump to: Components | Performance | Conclusion
Intel is back at the races. Having spent years in fabrication wilderness, the chip giant's Alder Lake architecture has once again brought Core to the fore. A welcome return for all those who appreciate the genuine benefit of competition and Alder Lake's arrival neatly coincides with an array of enthusiast hardware.
DDR5 is hot on the scene, PCIe 4.0 storage continues to gather pace, a bevy of new motherboards offer plenty of bells and whistles, and heck, with graphics card availability improving glacially, you could argue that recent GeForce and Radeon products still feel new. Put all that together and this could be an opportune moment to invest in a shiny, new gaming rig.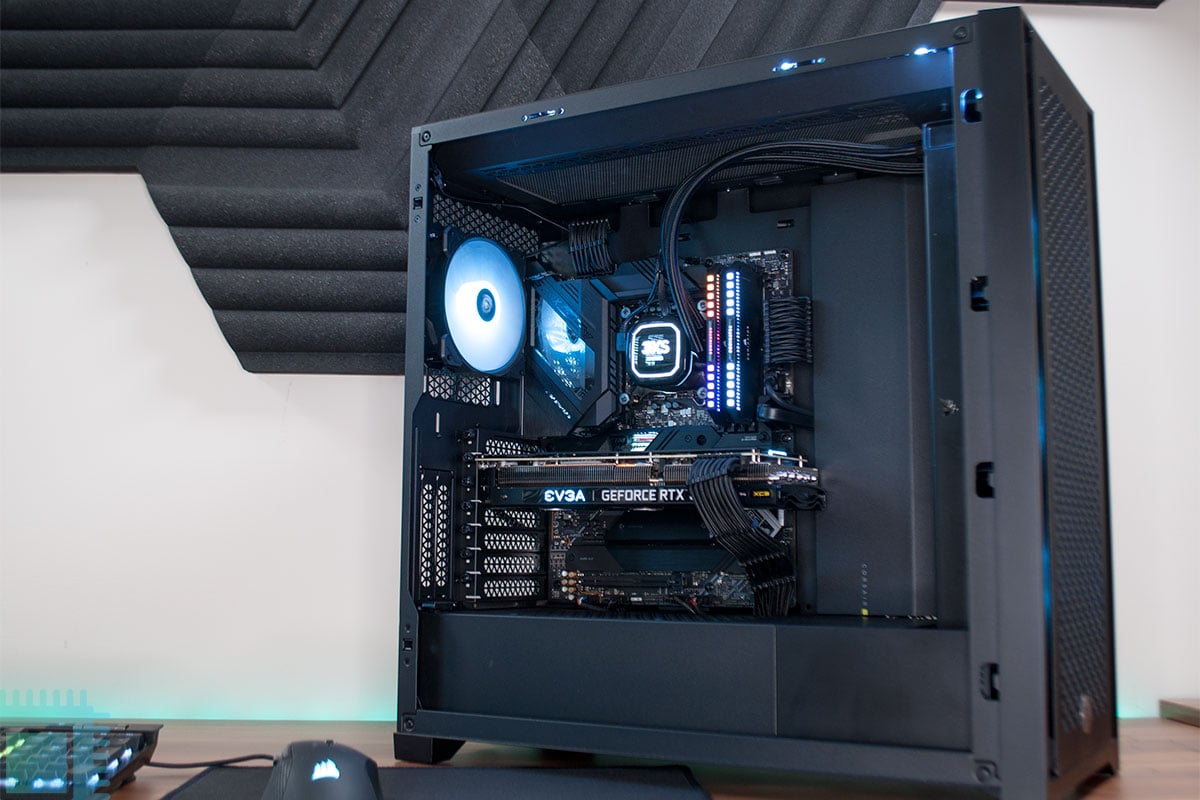 System integrators certainly see it that way, and Scan Computers is eager to showcase the latest iteration of its 3XS Vengeance Ti. Priced at £3,500, this high-end base unit champions just about everything that's hot in the PC gaming arena right now.
Enthusiast Components
Highlights include a flagship Core i9-12900K processor, 32GB (2x16GB) of Corsair Dominator Pro DDR5-5200 memory, a 2TB Samsung 980 Pro M.2 NVMe SSD and 12GB EVGA GeForce RTX 3080 Ti XC3 Ultra graphics. Some hymn sheet, and Scan has all that firepower installed atop an Asus RoG STRIX Z690-F Gaming WiFi motherboard that handily comes equipped with both Wi-Fi 6E and 2.5GbE Ethernet connectivity.
Intel's knowingly thirsty CPU is tamed by a Corsair H150i RGB PRO XT 360mm all-in-one cooler, a Corsair RM850x power supply provides the juice, and continuing the Corsair-heavy theme is a stylish 5000D Airflow chassis. Not a lot to quibble about – the ensemble looks terrific in the flesh – and as you'd expect at this price point, there are some neat flourishes throughout.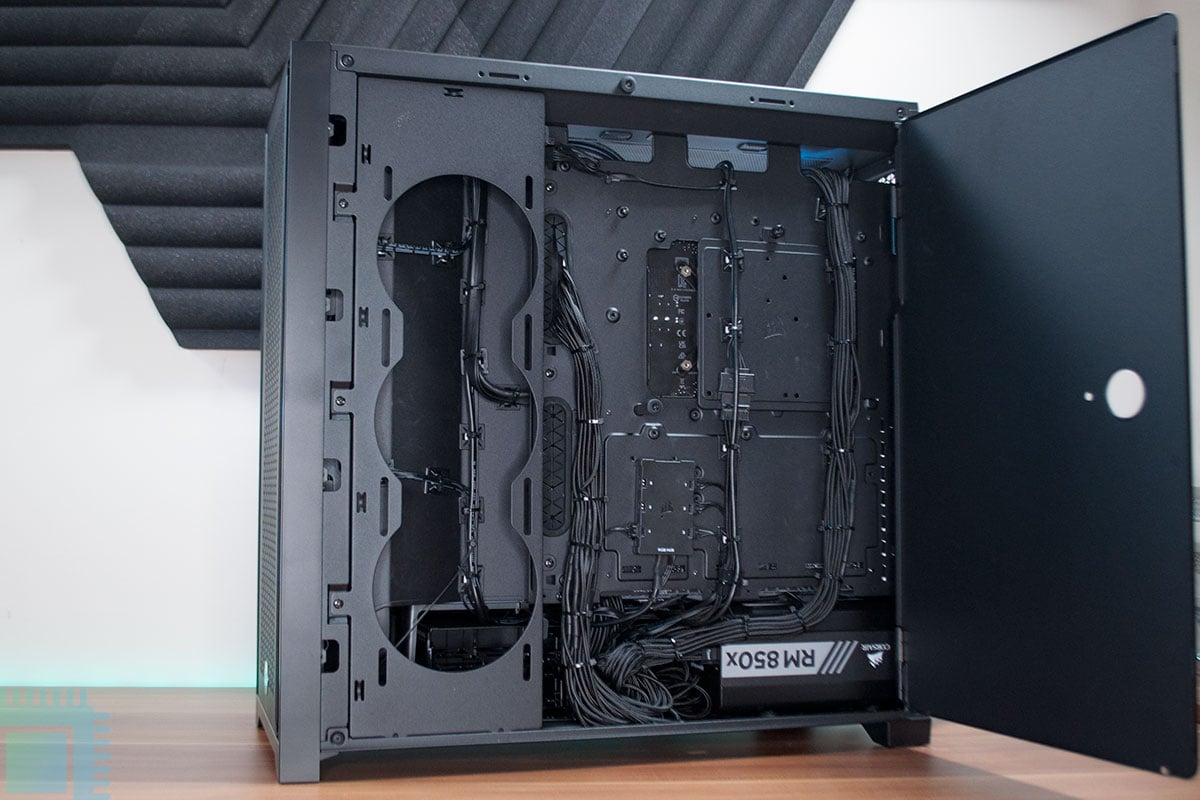 Scan's cable management is tidy, the SSD is pre-loaded with a clean installation of Windows 11, and work has been done to optimise cooling with minimal noise output. To that end, the three stock radiator fans have been replaced with a trio of Corsair SP120 RGB Elite promising higher static pressure and subsequently better cooling. A fourth SP120 RGB Elite acts as a rear exhaust, and the quartet offer just enough illumination without appearing gaudy.

Show your support for impartial Club386 reviews
Club386 takes great pride in providing in-depth, high-quality reviews built on honest analysis and sage buying advice. As an independent publication, free from shareholder or commercial influence, we are committed to maintaining the standards our readers expect.
To help support our work, please consider making a donation via our Patreon channel.
Performance: Core i9 vs. Ryzen 9
We've had the pleasure of putting the system through its paces this past week – perfect timing for some epic Halo Infinite gameplay – and found it instructive to compare performance alongside the trusty Club386 Ryzen 9 test platform. Our AMD system features a top-of-the-range Ryzen 9 5950X processor and 32GB (2x16GB) of DDR4-3200 memory atop an Asus ROG Crosshair VIII Formula motherboard. A 2TB Corsair MP600 provides the storage, and to make things interesting, both systems were outfitted with the same EVGA GeForce RTX 3080 Ti XC3 Ultra 12GB graphics card.
Question is, on Windows 11, which platform holds the upper hand with regards to performance?


Competition has very much been restored. Core i9-12900K's eight performance cores and eight efficient cores put up a solid showing against the venerable 16-core 5950X. Intel edges ahead in both the single- and multi-core Cinebench tests.


DDR5 brings with it a sizeable uplift in memory bandwidth, albeit at the expense of absolute latency. Not something that's going to be immediately obvious during everyday tasks, but if bragging rights matter – and they most probably do at this price point – it feels good to smash the 70,000MB/s barrier.


The Scan 3XS Vengeance Ti is all about showcasing top-notch performance in key enthusiast categories. Single-drive SSD storage doesn't come much quicker than the supplied 2TB Samsung 980 Pro M.2 NVMe SSD, and we appreciate the fact that a noisy secondary mechanical disk hasn't been thrown in for the sake of it.


Popular Futuremark benchmarks paint the Intel-based system in a positive light. We're surprised to see a PCMark performance uplift of almost 20 per cent – faster storage and memory no doubt contributes – but 3DMark puts the two rival platforms on a more even keel.

| | 1080p | 1440p | 2160p |
| --- | --- | --- | --- |
| Assassin's Creed Valhalla (Ultra High Quality) | 113 | 92 | 62 |
| Dirt 5 (Ultra High Quality, Raytraced Shadows On) | 146 | 116 | 76 |
| Far Cry 6 (Ultra Quality, DXR On) | 116 | 103 | 67 |
| Gears Tactics (Ultra Quality) | 197 | 137 | 75 |
| Average FPS across all titles: | 143 | 112 | 70 |
How does synthetic performance translate to real-world games? In truth, there isn't a great deal to separate flagship Intel and AMD platforms. Some game engines do naturally exhibit a slight preference either way, but with the onus shifted to the GeForce RTX 3080 Ti at higher resolutions, we see no meaningful reason to favour one platform over the other; both are a fine fit for ultra-high-end gaming.
Circling back to the Scan 3XS Vengeance Ti, the rig is able to average 70 frames per second across a variety of titles at a 4K UHD resolution. We'd expect nothing less at the £3,500 price point.



Another interesting set of results. Intel's Core i9-12900K is known to run warm and Scan's decision to install the 360mm radiator at the front of the chassis, drawing cool air in, has the knock-on effect of noticeably warmer GPU temperature. Nothing to worry about, mind, with system noise being kept to a smooth hum when gaming, and though much has been made of Alder Lake's power requirements, we're pleasantly surprised to see system-wide power draw come in well below 500W when gaming.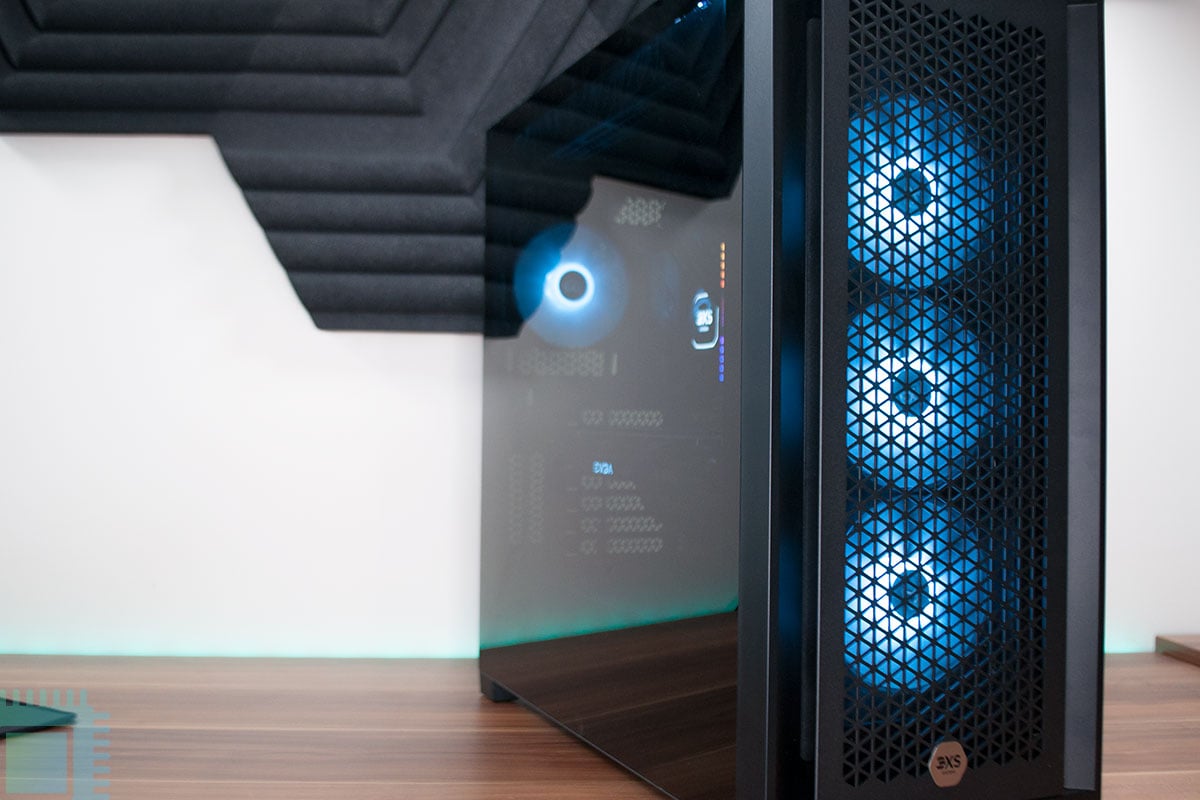 Conclusion
Scan's 3XS Vengeance Ti base unit succeeds in showcasing the enthusiast-grade capabilities of 12th Gen Intel Core desktop. Championing a chart-topping Core i9-12900K processor, this premium rig takes full advantage of the Alder Lake architecture by incorporating latest-gen DDR5 memory, super-fast PCIe 4.0 storage, and forward-looking features such as 2.5GbE Ethernet and WiFi 6E.
Add to that powerhouse GeForce RTX 3080 Ti graphics and you have the makings of a high-end system equipped to stand the test of time. Scan's implementation strikes many of the right notes, and the Bolton-based outfit's scope of delivery also manages to impress. A video preview of your new rig prior to dispatch is a very nice touch, and the standard three-year warranty, which includes on-site repairs for the first 12 months, is more comprehensive than most.
The one potential sticking point is availability and stock of many of the aforementioned components is understandably running dry. There's a glimmer of hope for Club386 readers as Scan has secured stock for "at least 50 units" of the review specification when purchased using this link, and that alone could be reason enough to consider buying built.

Verdict: Championing a chart-topping Core i9-12900K processor, this premium rig takes full advantage of the Alder Lake architecture by incorporating latest-gen DDR5 memory, super-fast PCIe 4.0 storage, and forward-looking features such as 2.5GbE Ethernet and WiFi 6E.
Pros
Core i9-12900K and RTX 3080 Ti
Latest-gen DDR5 memory
Blistering PCIe 4.0 storage
Forward-looking connectivity
Excellent warranty
Cons
Stock won't last long
GPU runs a tad warm
Buy Link

The Scan 3XS Vengeance Ti is available to purchase from Scan Computers.
Club386 may earn an affiliate commission when you purchase products through links on our site. This helps keep our content free for all. Rest assured, our buying advice will forever remain impartial and unbiased.