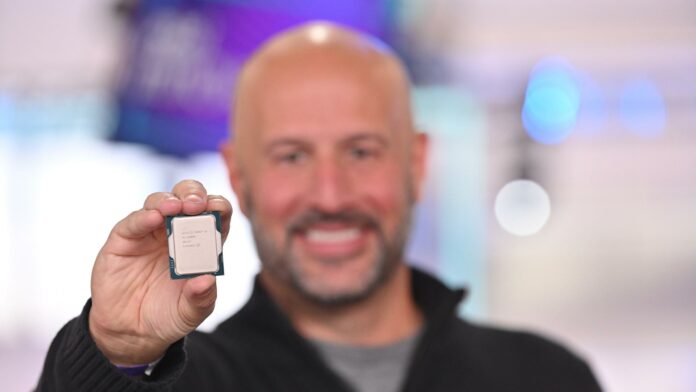 After recent announcements, Intel and AMD are set fair to battle for the coveted title of world's best gaming processor. Intel laid claim to the title with 12th Gen Core 'Alder Lake' released in November 2021, though the victor between it and the best Ryzen 7/9 chips was dependent upon game.
AMD hit back with the cache-heavy Ryzen 7 5800X3D, announced at CES 2022 and, going by the company's in-house numbers, winning three benchmarks and tying a further three against the Core i9-12900K.
Swinging back the other way, and not wishing to be outdone, Intel also chose the pretext of CES to show off the fastest-ever Alder Lake chip, Core i9-12900KS. The top-binned limited-edition processor has the ability to hit a heightened top speed of 5.5GHz, or 5.2GHz when all eight Performance cores are under the pump.
Ought to be enough horsepower to fend off the AMD threat, you would think, and the first indication of the Core i9-12900K's potential comes by way of the usual leaks.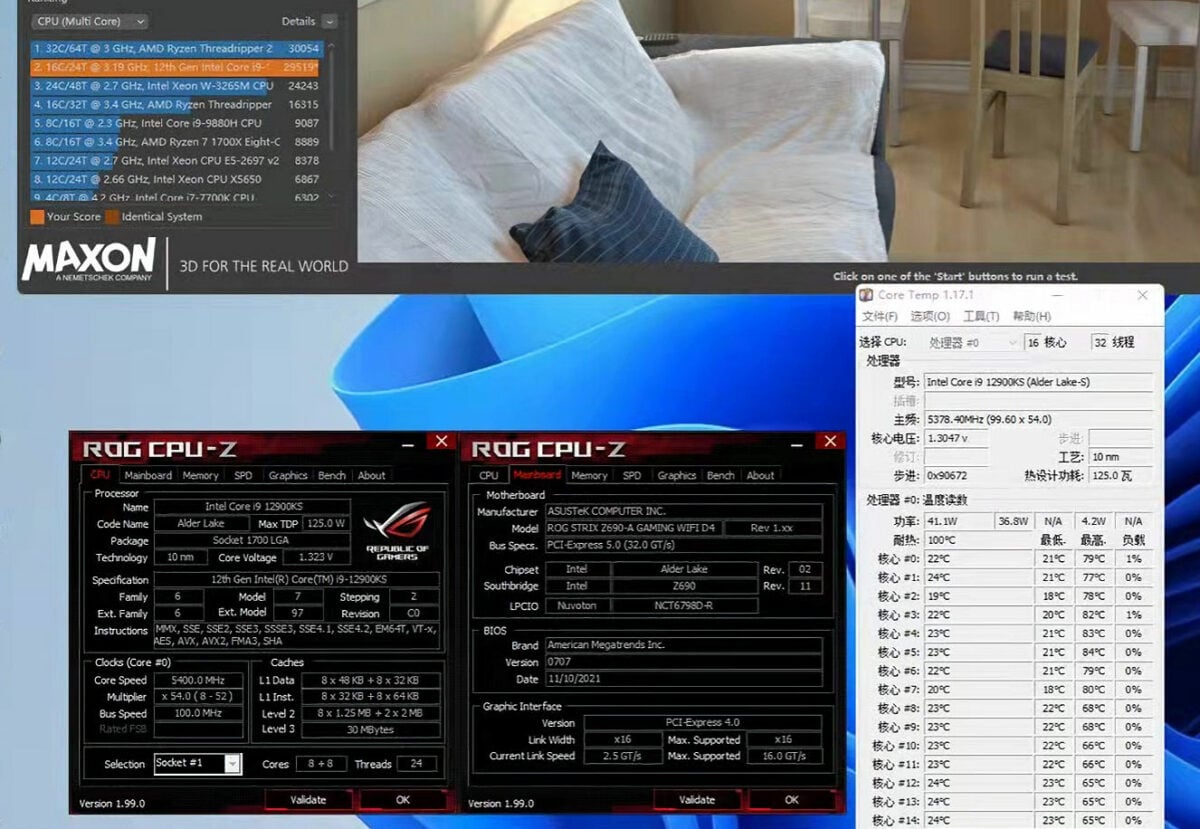 A user at Taobao Marketplace has apparently got their mitts on the Core i9-12900KS, and being the responsible overclocking sort, has benchmarked it in Cinebench R23.
Said 16-core, 24-thread chip runs at an all-core 5.4GHz – so 200MHz faster than what Intel advertises – on top of an Asus ROG Strix Z690-A Gaming WiFi motherboard.
Genuine Overclocking Potential
Our sample Core i9-12900K had a hard time in running past 5.1GHz, so based on a sample of precisely one, there appears to be merit in Intel pre-binning the very best silicon for the limited-edition KS model.
A Cinebench R23 score of 29,519 is in line with our expectations of an all-core 5.4GHz frequency, but crucially, there are no gaming benchmarks we can take advantage of right now to contextualise the uptick in fps over the regular 'K' model.
The user hasn't left much on the table, either, as DDR5 memory is running at a lofty 7,398MHz (albeit in slower Gear 2 mode), which is not a frequency we'd be using long term. Nevertheless, the best Alder Lake silicon clearly has propensity for scaling high up the MHz range on both core and memory.
We've now had a glimpse of what Core i9-12900KS can do with a moderate amount of voltage. AMD is probably binning Ryzen 7 5800X3D to the nth degree, hoping to steal a performance march on its higher-frequency rival.
It is thought that Core i9-12900KS will be exclusive to OEMs in the first instance, meaning you'll have to buy a pre-built system to take advantage of one. Here's hoping Intel releases it in retail form.