Jump to: Nitro+ | Performance | Value | Conclusion
AMD's RDNA 3 ASIC roster finally completes with Navi 32. Revealed at Gamescom and more commonly known as Radeon RX 7800 XT and RX 7700 XT, the duo is primed to challenge rival Nvidia in the important $449 – $499 space. GeForce RTX 4070 12GB and RTX 4060 Ti 8GB / 16GB are in the firing line, and the arrival of much-needed competition should be welcome news for a good number of PC gamers.
Designed to run the latest titles with bells and whistles turned on at the increasingly common QHD resolution, both enthusiast-class GPUs represent a good step up from entry-level offerings. Without further ado, let's investigate whether these deserve to sit among the best graphics cards.
| Radeon RX | 7900 XTX | 7900 XT | 7800 XT | 7700 XT | 7600 |
| --- | --- | --- | --- | --- | --- |
| Launch date | Dec 2022 | Dec 2022 | Sep 2023 | Sep 2023 | May 2023 |
| Codename | Navi 31 | Navi 31 | Navi 32 | Navi 32 | Navi 33 |
| Architecture | RDNA 3 | RDNA 3 | RDNA 3 | RDNA 3 | RDNA 3 |
| Process (nm) | 5/6 | 5/6 | 5/6 | 5/6 | 6 |
| Transistors (bn) | 57.7 | 57.7 | 28.1 | 28.1 | 13.3 |
| Die size (mm2) | 522 | 522 | 350 | 350 | 204 |
| Compute units | 96 of 96 | 84 of 96 | 60 of 60 | 54 of 60 | 32 of 32 |
| Stream processors | 6,144 | 5,376 | 3,840 | 3,456 | 2,048 |
| Game clock (MHz) | 2,300 | 2,000 | 2,124 | 2,171 | 2,250 |
| Boost clock (MHz) | 2,500 | 2,400 | 2,430 | 2,544 | 2,625 |
| Peak FP32 TFLOPS | 61.44 | 51.61 | 37.32 | 35.17 | 21.50 |
| RT cores | 96 | 84 | 60 | 54 | 32 |
| AI cores | 192 | 168 | 120 | 108 | 64 |
| ROPs | 192 | 192 | 96 | 96 | 64 |
| Infinity Cache (MB) | 96 | 80 | 64 | 48 | 32 |
| Memory size (GB) | 24 | 20 | 16 | 12 | 8 |
| Memory type | GDDR6 | GDDR6 | GDDR6 | GDDR6 | GDDR6 |
| Memory bus (bits) | 384 | 320 | 256 | 192 | 128 |
| Memory clock (Gbps) | 20 | 20 | 19.5 | 18 | 18 |
| Bandwidth (GB/s) | 960 | 800 | 624 | 432 | 288 |
| PCIe interface | 4.0 x16 | 4.0 x16 | 4.0 x16 | 4.0 x16 | 4.0 x8 |
| Power (watts) | 355 | 315 | 263 | 245 | 165 |
| Launch MSRP ($) | 999 | 899 | 499 | 449 | 269 |
Navi 32 – Better Late Than Never
Running through specifications serves up little in the way of surprise. RX 7800 XT is a full implementation of the Navi 32 die, providing 3,840 stream processors, while RX 7700 XT disables six Compute Units to bring processor count down to 3,456.
Hosted by Navi 31, top-tier Radeon RX 7900 XTX and XT are more powerful beasts altogether, so don't go comparing RX 7800 XT to RX 7900 XT – model numbers may well be similar, but performance is not. That's okay given the huge price differential between the pair. Yet what's abundantly clear is how much AMD has missed true mainstream GPUs in this RX 7000 Series lineup. Poor, old Radeon RX 6000 Series can only go on so long filling the yawning chasm.
We find it curious 7700 XT almost matches its bigger brother in sheer compute throughput – 35.17 TFLOPS vs. 37.32 TFLOPS – but has a significantly weaker memory back-end, evidenced by a narrower memory bus, smaller Infinity Cache, and slower card memory. Not only that, it loses out in framebuffer size, down from 16GB to 12GB. As such, 7700 XT will be more disadvantaged the higher up the image-quality and resolution scale you go.
All but baseline Radeon RX 7600 uses AMD's chiplet approach, where the central graphics die (GCD) is flanked by a set number of memory dies (MCD). We encourage you to read our exclusive interview with GPU boss, Scott Herkelman, to gain real insight into how AMD decides on which chips to build monolithically and which to invest with GCD / MCD goodness.
The same interview also sheds light on Navi 31, 32 and 33 constituting the entire RDNA 3 desktop ASIC stack, meaning that while you may see future derivations on design, there will be no further purpose-built die for cheaper cards.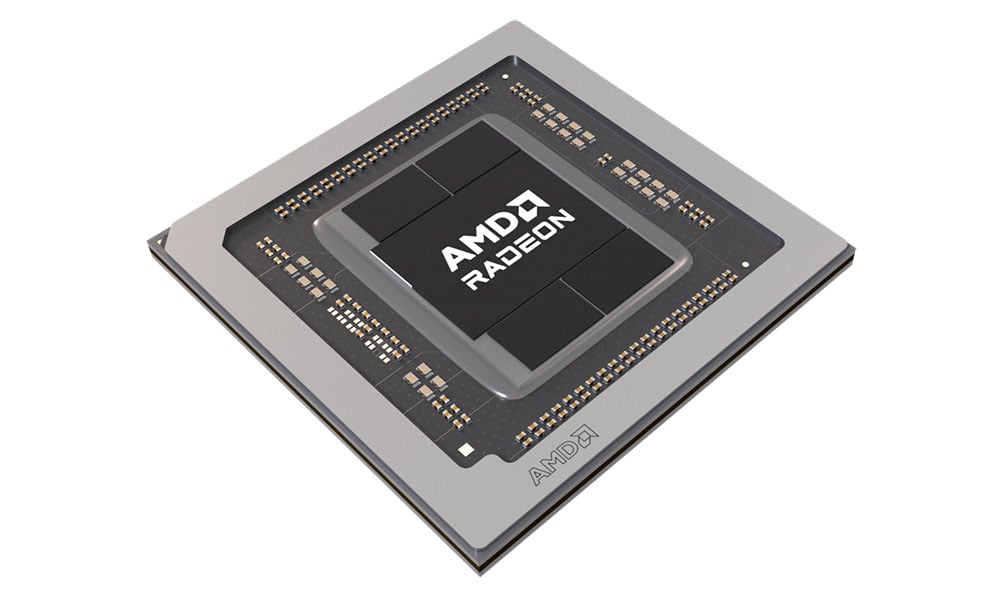 Sometimes it's difficult to glean intent from a set of specifications. The Navi 32 duo is primed for high-quality gaming at the increasingly popular 1440p resolution, and looking through most triple-A games, AMD expects enthusiasts to enjoy 60fps+ in the vast majority of titles, with a 100fps average attainable in many. This reasoning is why the company feels confident in recommending both as sensible upgrades from mainstream cards of, say, three years ago.
The maximum 245W and 263W total board power budgets for the pair are a little ways higher than competing Nvidia cards, but not so much that it becomes a deal breaker, especially if partners use top-notch cooling.
AMD also persists in using standard power connectors, and you'll see dual 8-pin adorn most partner cards. It's interesting that Navi 32 GPUs were originally designed with a different (PCIe 5.0) connector on reference boards, though the decision was rowed back when Nvidia's implementation fell foul. As Scott Herkelman explained to us, "We specifically, for 7900 Series, and even 7600, we didn't plan on the new power cable, but 7800 and 7700 did have a plan for it. We removed it, and that was a purposeful removal."
$50 is a big deal for people who are looking at 7800 XT / 7700 XT-class of GPUs. The price could always be cheaper on a GPU, but if we don't make money, then it's hard to make a roadmap.

Scott Herkelman, AMD GPU boss
The last port of call is price. $499 / £480 feels about right as the starting position for Radeon RX 7800 XT. Designed as a straight-up competitor to Nvidia GeForce RTX 4070, nominally undercutting the rival by $100 is a good move. Expect Nvidia to help adjust partner pricing to some degree from today onwards.
We have more concern with the $449 / £430 for junior Navi 32 because the $50 gap leaves little room for partners to build compelling cards without stepping on the more powerful toes of 7800 XT.
AMD defends the difference by saying, "$50 is a big deal for people who are looking at 7800 XT / 7700 XT-class of GPUs. The price could always be cheaper on a GPU, but if we don't make money, then it's hard to make a roadmap." There's merit in this argument, too, and price positioning typically takes the competitor into account – RTX 4060 Ti in this instance – rather than familial competition.
Sapphire Radeon RX 7800 XT Nitro+ Gaming OC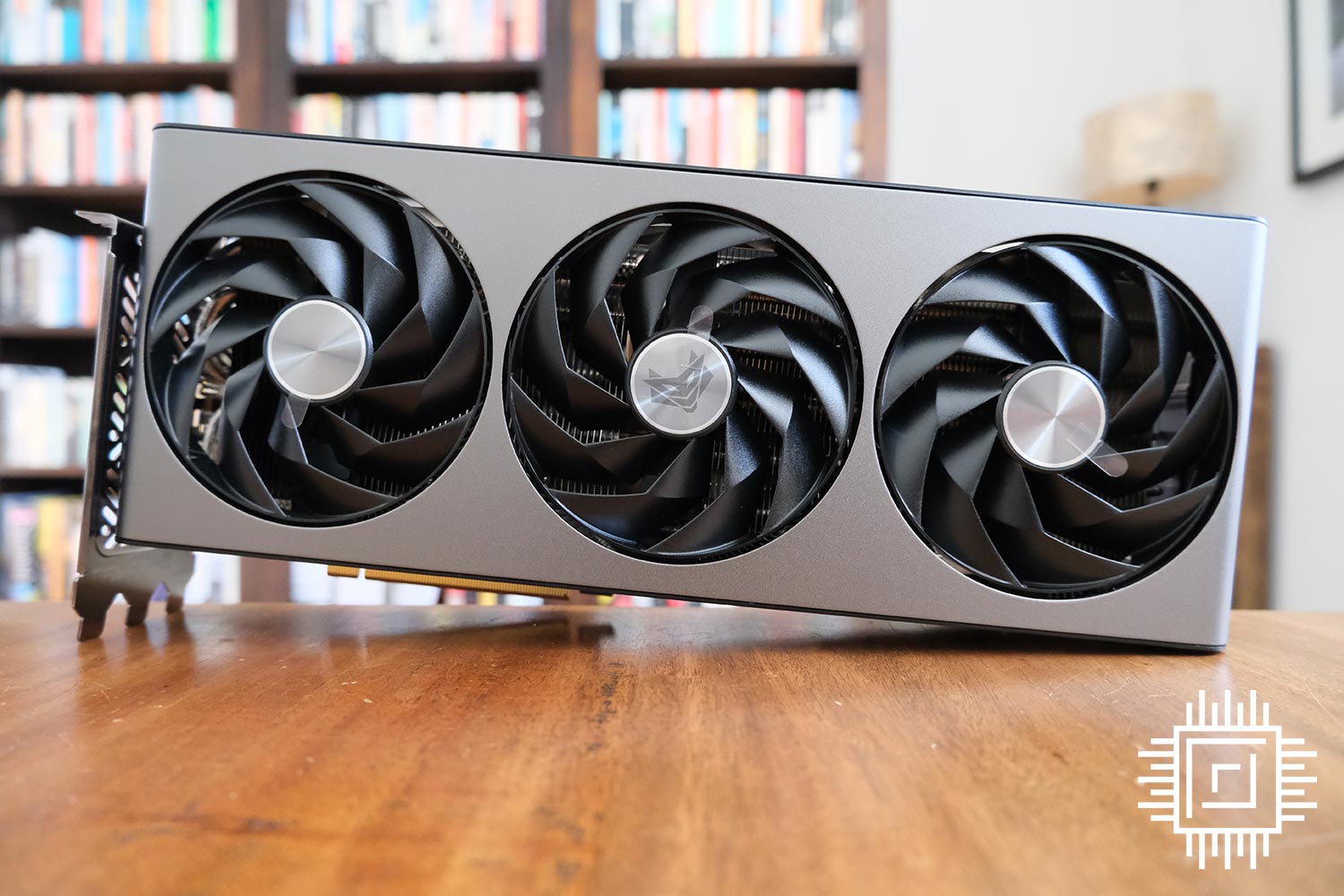 Top of the Sapphire Radeon RX 7800 XT tree is the $550 / £520 Nitro+ Gaming OC. There's also the $529 / £500 all-white Pure Gaming OC, $509 / £480 Pulse Gaming and, unique to Sapphire, a card based on the reference design.
Pulling no punches, Sapphire doesn't mess around with cooling and calls into action the Nitro+ technology found on the powerful Radeon RX 7900 XTX / XT. Though they share many visual similarities, they are not exactly the same.
Toning it down for RX 7800 XT / 7700 XT, the card measures 320mm x 134.85mm x 61.57mm, meaning it's approximately the same height and width but 10mm less thick than Big Boy Nitro+. That makes sense, actually, as Sapphire tasks this card to cool a total board power of 288W compared to, wait for it, up to 420W for 7900-class GPUs. Nevertheless, this is no shrinking violet and is considered a three-slot offering requiring a minimum 700W PSU.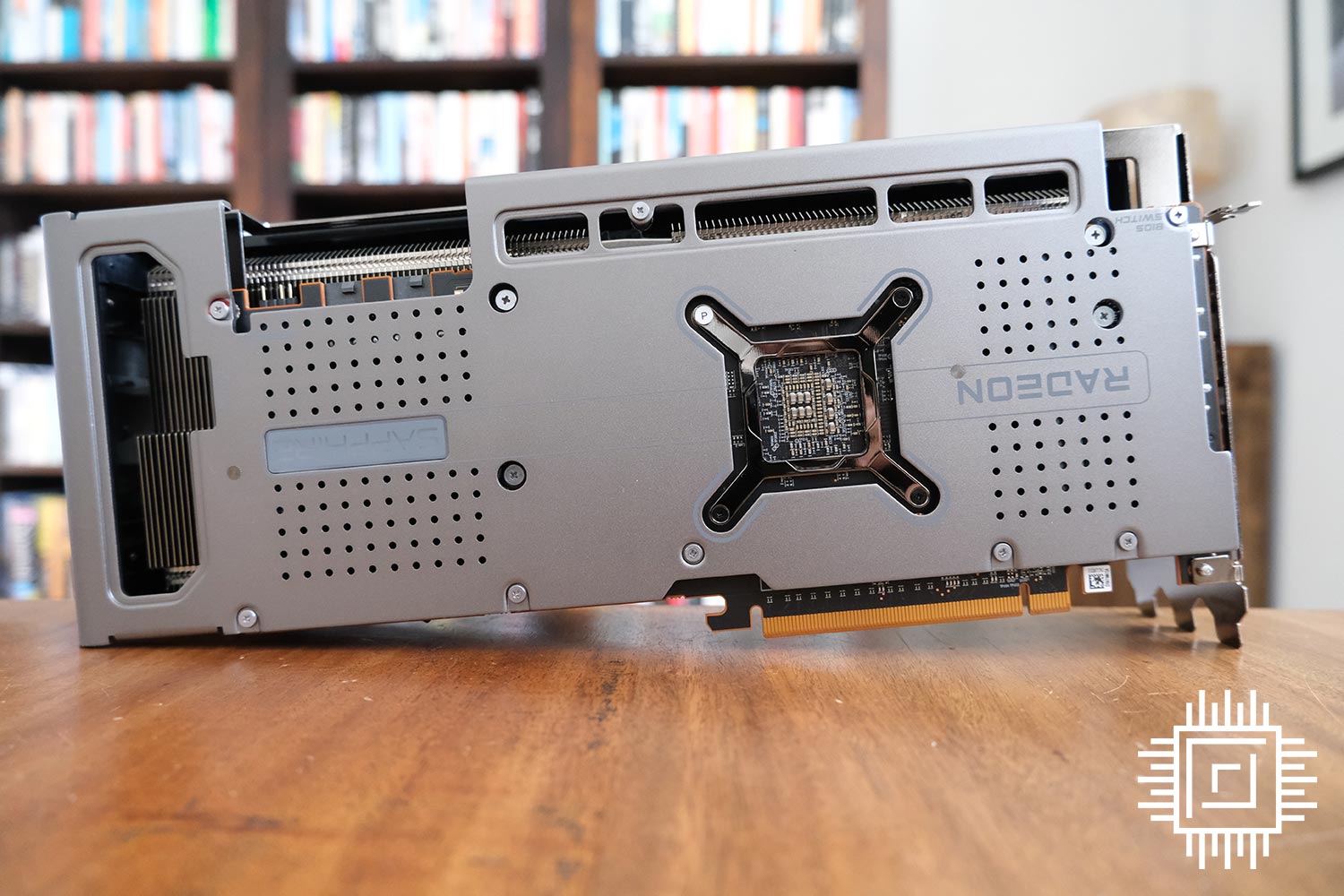 Built using an alloy frame – the card is imbued with superb rigidity, by the way – Nitro+ Gaming OC weighs in at a substantial 1,600g. Porky as that may be, it's still 355g less than aforementioned Nitro+ 7900 XTX, though large enough for Sapphire to include an L-shaped card support bracket in the box.
Underneath, Sapphire cools all relevant components with high-quality heatsinks and adds a number of nice touches befitting the king-of-the-hill status. There's an RGB-lit Sapphire logo contained within the metal backplate, fan headers for ARGB motherboard synchronisation (relevant cable is included) and controlling an external fan's speed based on GPU load. Other Nitro-specific goodies include a dual BIOS switch and full-width Nitro Glow.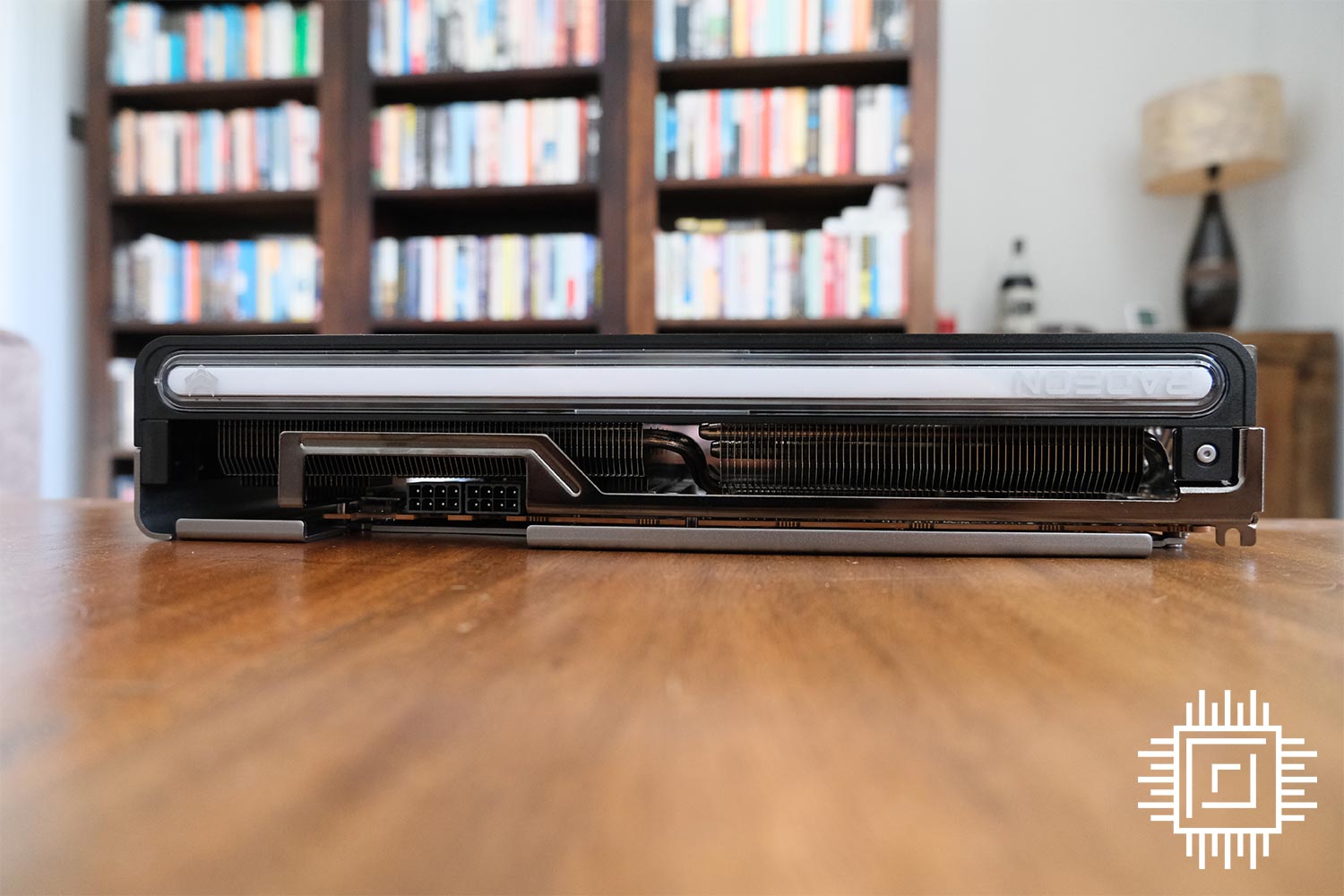 Yup, that wide bar is back in business here. Unlike 7900's cooler, there is no matching bottom lighting, but that's no major drawback.
Cooling takes place via five composite heatpipes snaking their way through the entire card's width – all too often, we now see cards with tiny PCBs and massively overhanging heatsinks – while power is sourced through a 14-phase supply offering 70A on each stage. Good luck in pushing 980W through this beastie. 14 appears to be a number Sapphire likes; the near-full-width PCB carries that many layers, too.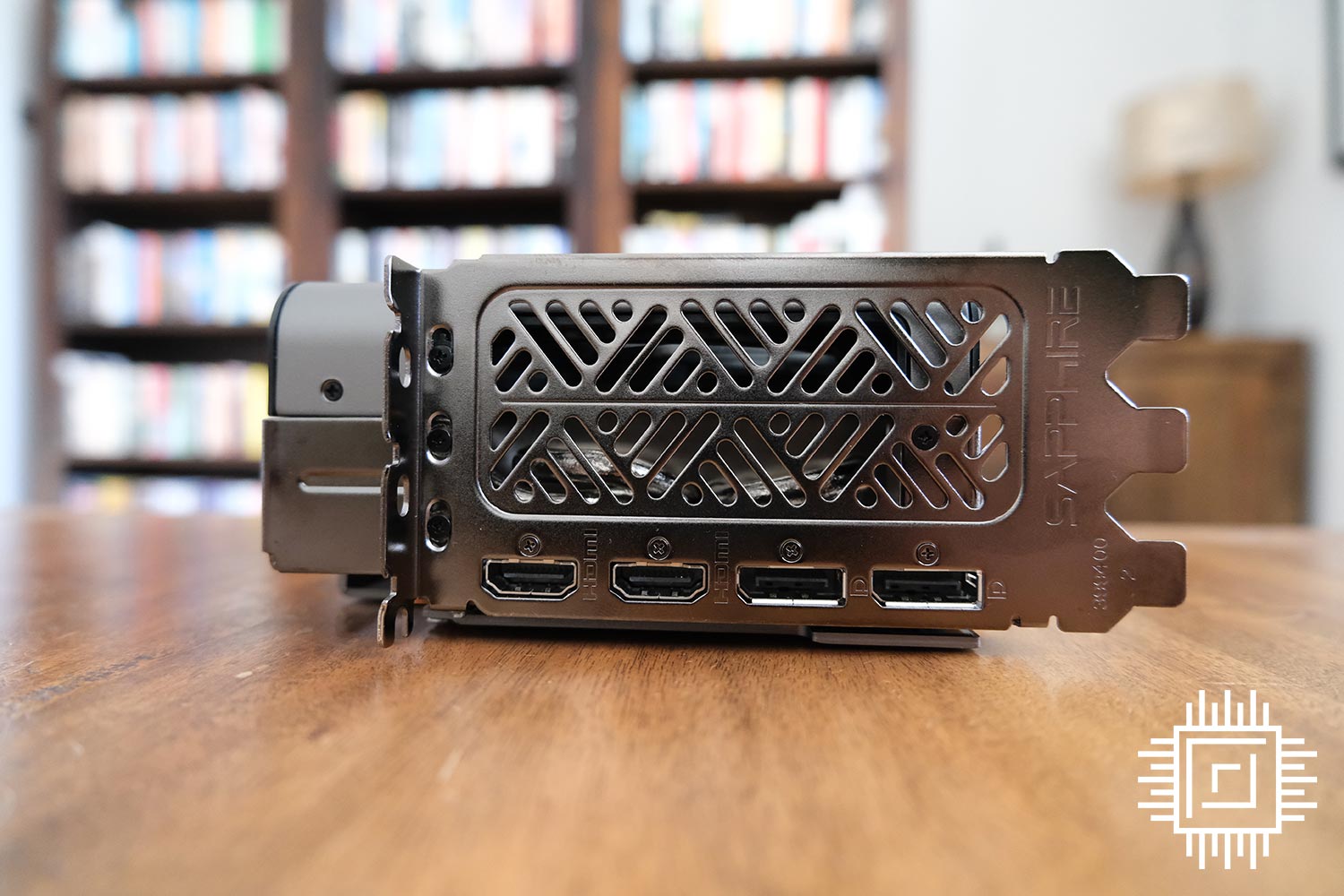 The card's height ensures dual 8-pin power connectors are recessed, which actually helps with plugging in and out. A trio of fans switch off at loads below 50°C and have a lovely and smooth transition to on when gaming.
Sheer size is further exemplified by rear I/O, and Sapphire splits options between two DisplayPort 2.1 and two HDMI 2.1a.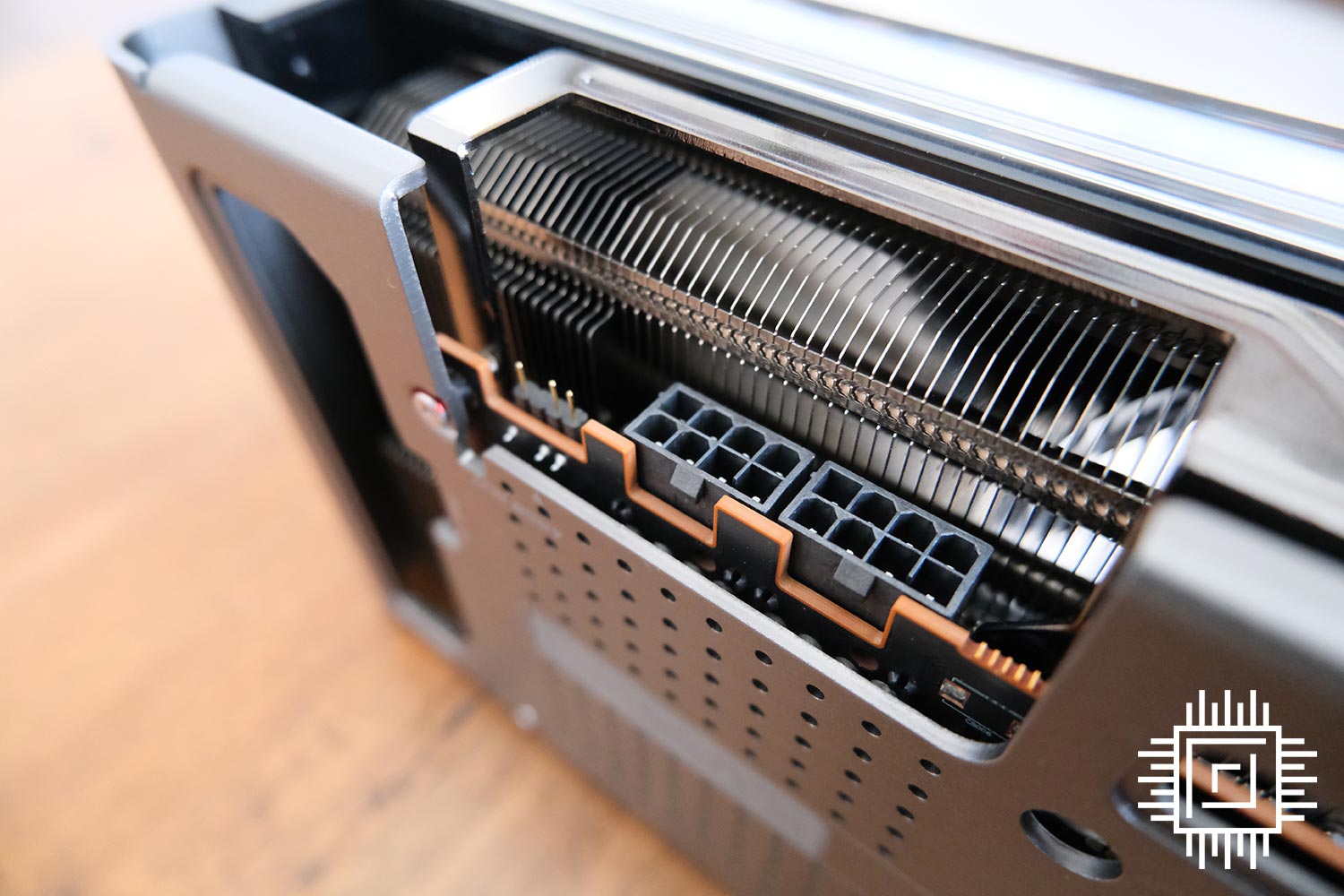 All this focus on power and cooling delivers a boost clock of 2,565MHz that is some way above the expected game clock of 2,254MHz. Other desktop RDNA 3 cards have similar deviations between the two, and we're curious why there's such a difference. Being clear, this is not Sapphire's doing; the reference model carries game and boost frequencies of 2,124MHz and 2,430MHz, respectively. Memory, as you would expect, is kept at 19.5Gbps.
Laden with meaningful upgrades over other models in the same range, make no mistake, Nitro+ Gaming OC is an absolute weapon of a card.
Performance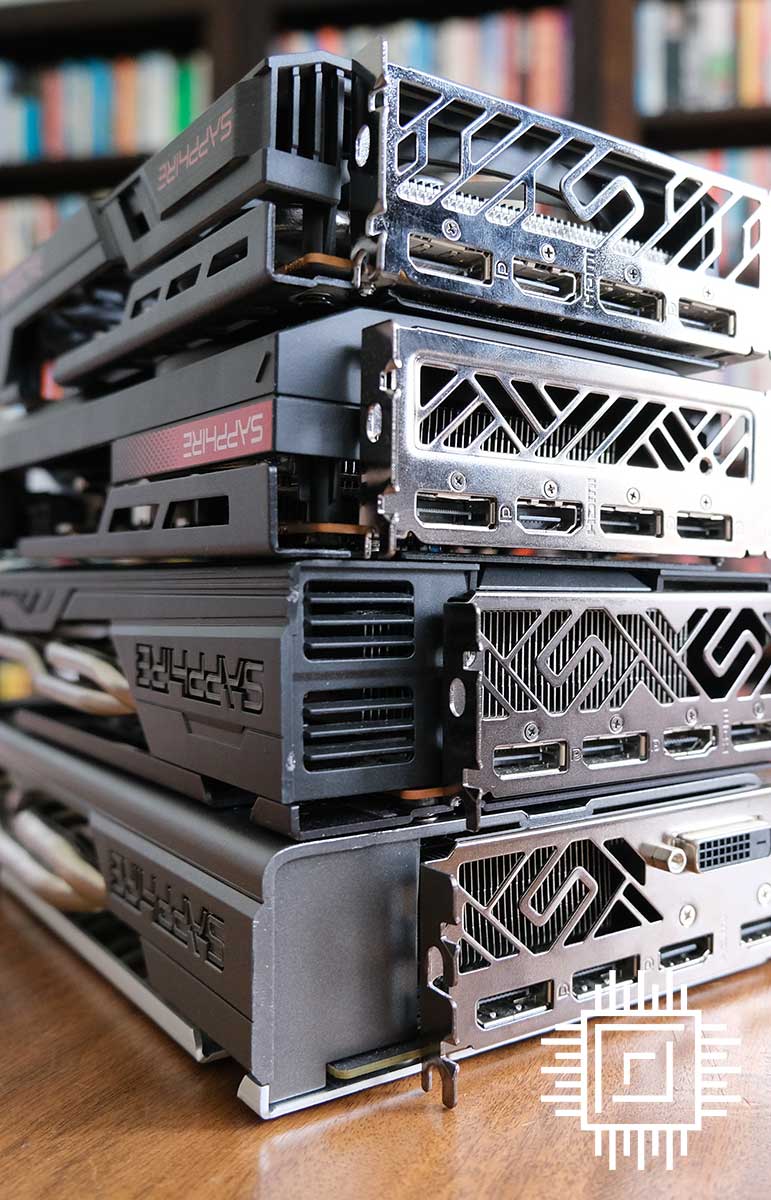 Wondered how the Sapphire Radeon RX 7800 XT Nitro+ Gaming OC compares against 17 other relevant cards? Of course you had. Let's get to it.
Futuremark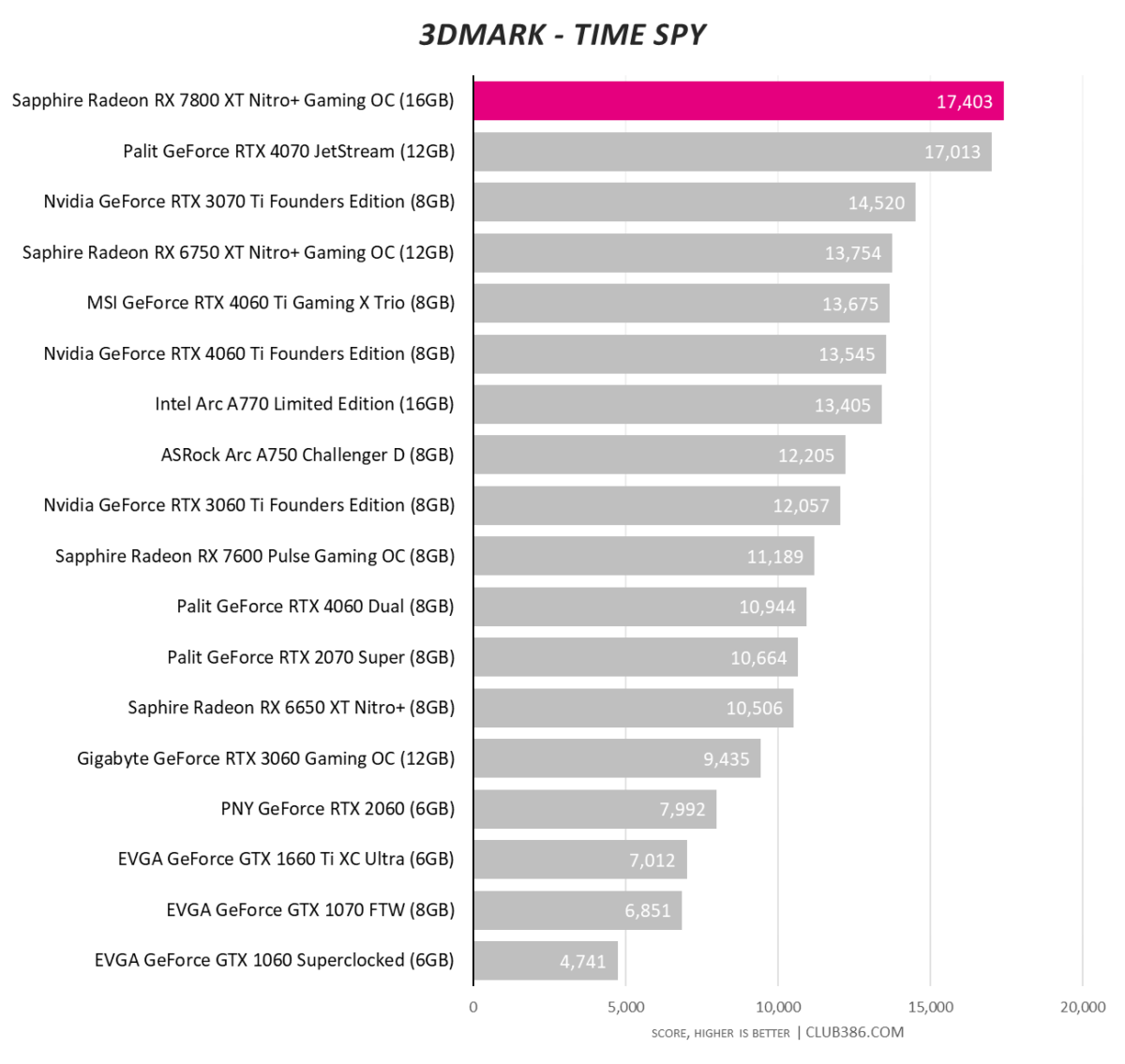 AMD's recent architectures have always been strong in the synthetic 3DMark test. There was liberal talk of Radeon RX 7800 XT butting up against GeForce RTX 4070, and that's exactly how it plays out as we compare partner cards.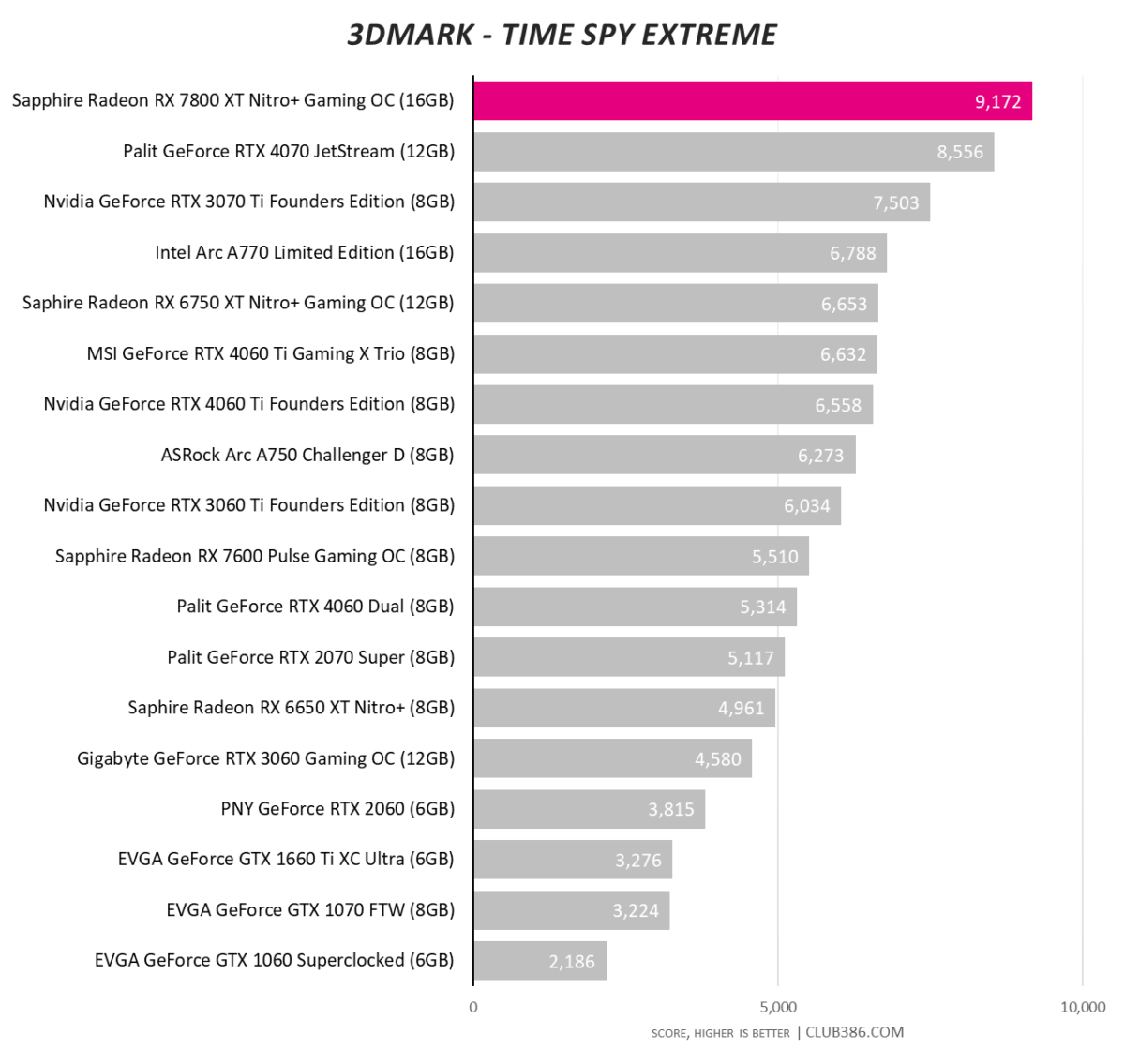 Pushing load up to 4K enables the Sapphire behemoth to pull a decent lead. That ought to come as little surprise as, assuming AMD's Infinity Cache and Nvidia's heaps of on-chip L2 level themselves out, Navi 32's mainstream champ has a 20 per cent memory bandwidth lead – 624GB/s vs. 504GB/s.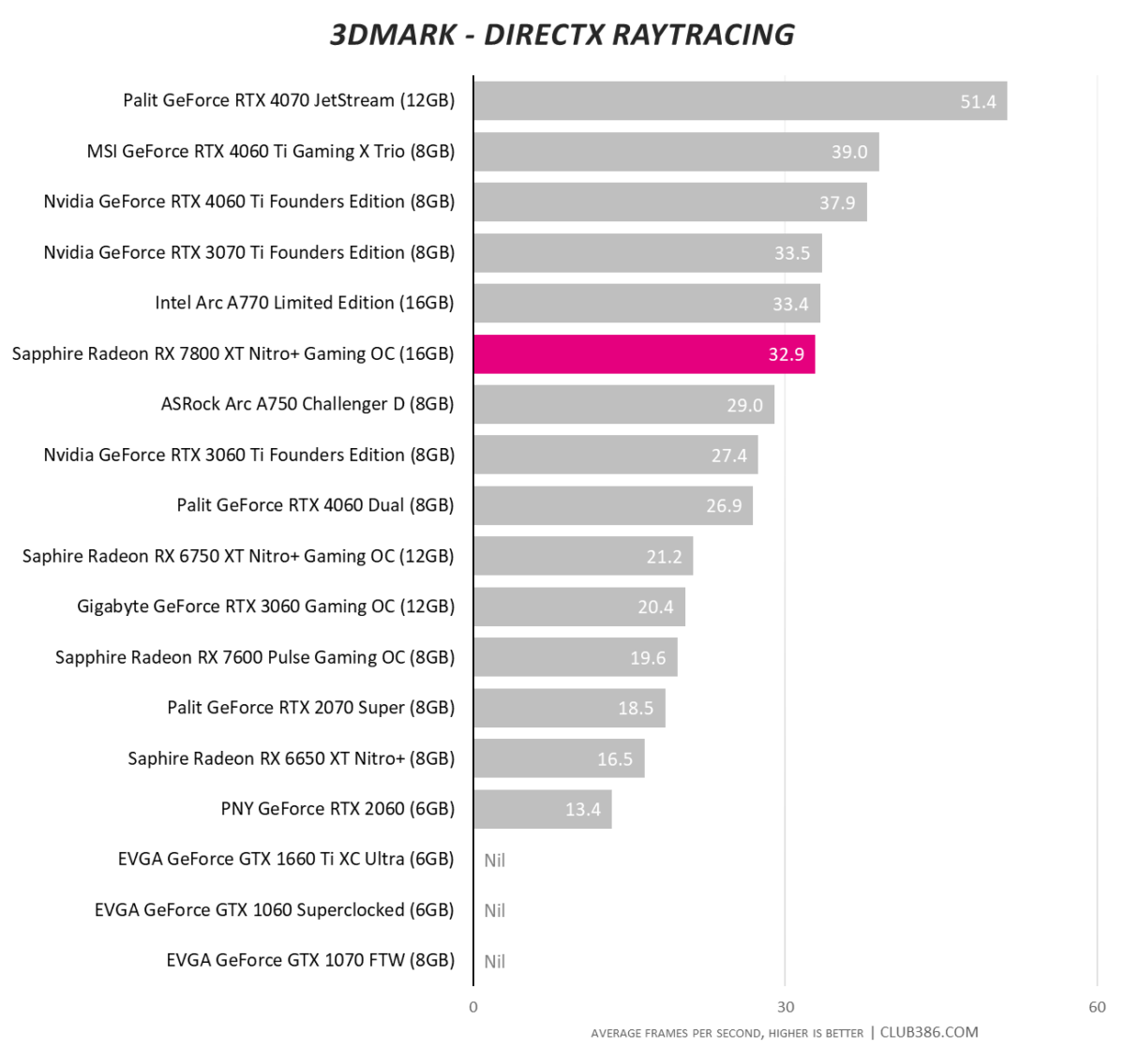 Graphics boss Scott Herkelman fully acknowledges AMD ought to be better in ray tracing, and Radeon RX 7800 XT's result is totally expected.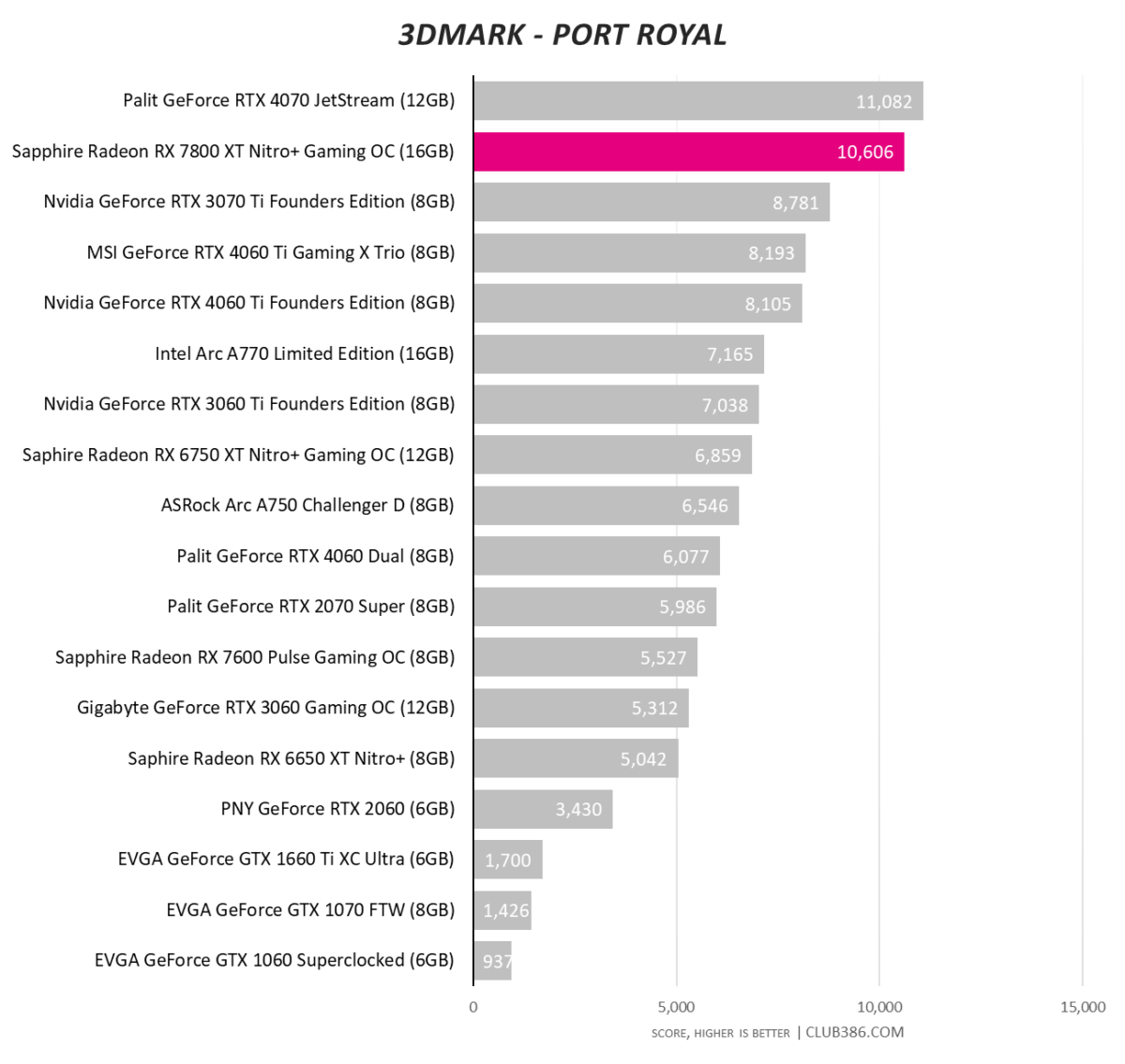 Running better when ray tracing is only part of overall rendering, our Radeon and GeForce duo remains close.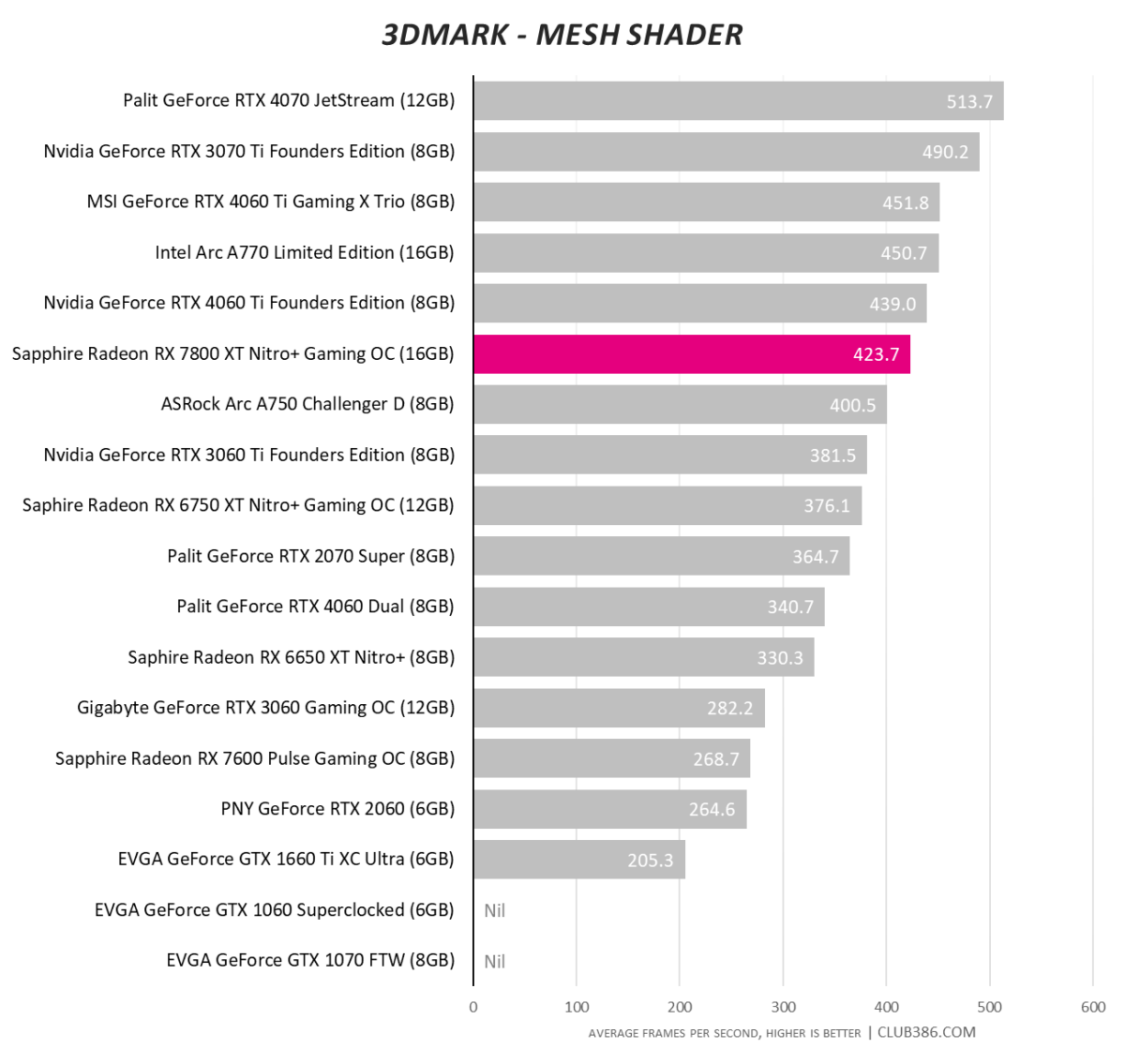 Not too bad, all things considered.

Show your support for impartial Club386 reviews
Club386 takes great pride in providing in-depth, high-quality reviews built on honest analysis and sage buying advice. As an independent publication, free from shareholder or commercial influence, we are committed to maintaining the standards our readers expect.
To help support our work, please consider making a donation via our Patreon channel.
Assassin's Creed Valhalla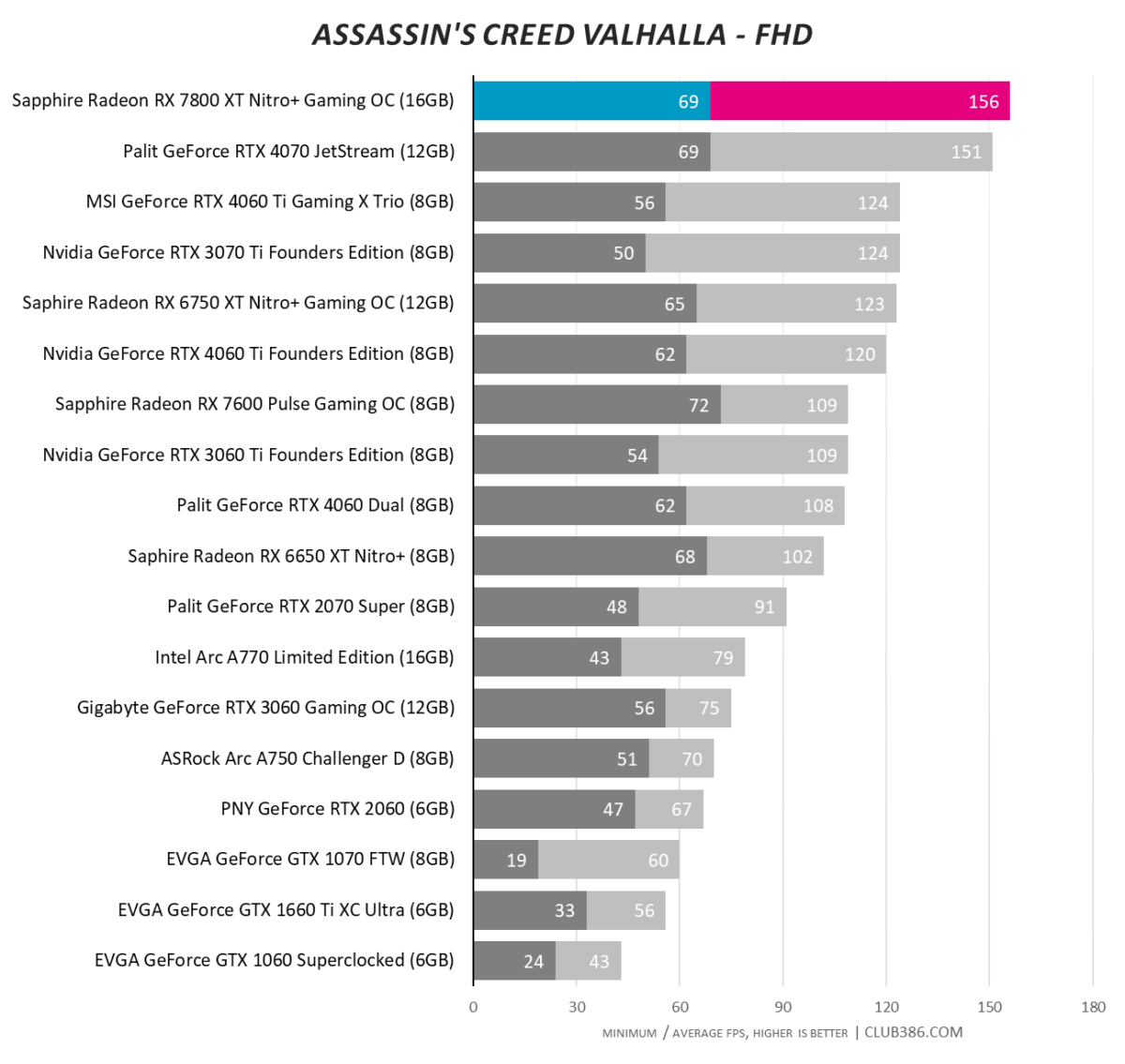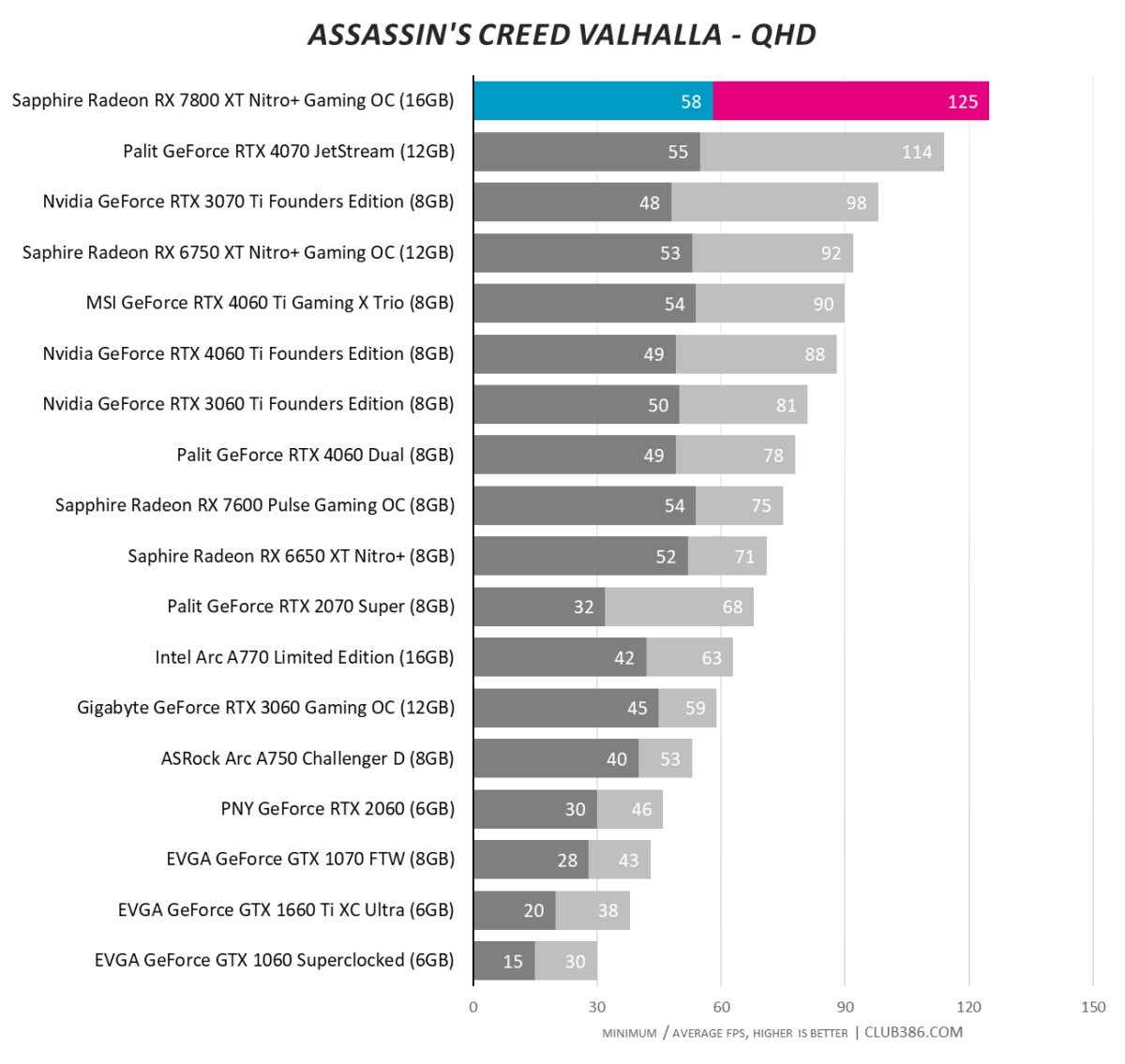 Pure rasterisation is where Radeon hits hardest. The Sapphire card bosses it at QHD.
Cyberpunk 2077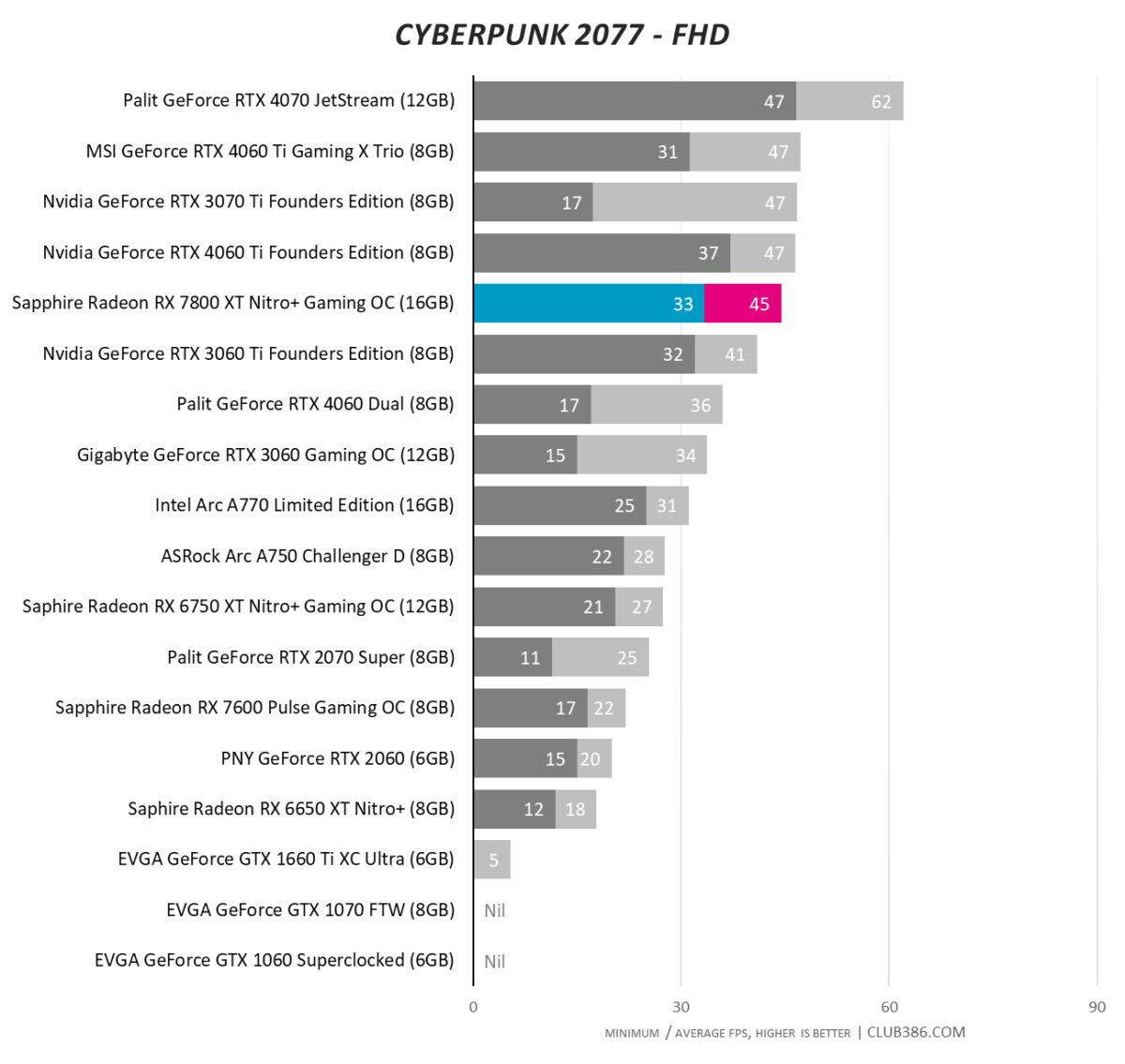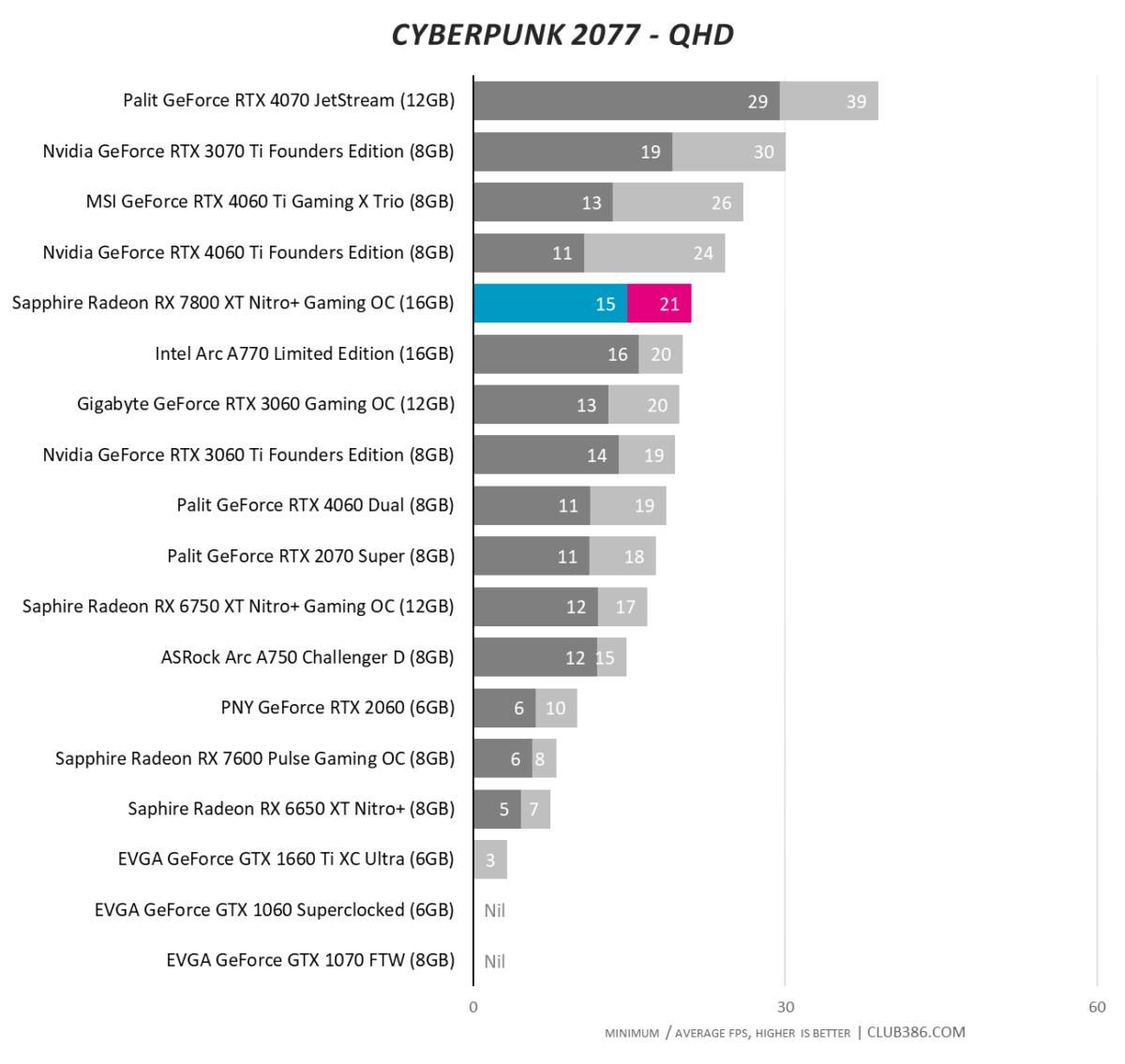 Run with ray tracing set to the ultra preset – one ought to expect these cards to at least make a fist of this painful setting – it's clear AMD has work to do. Here's where technologies such as FSR 3 and Fluid Motion frames need to prove their worth.
Far Cry 6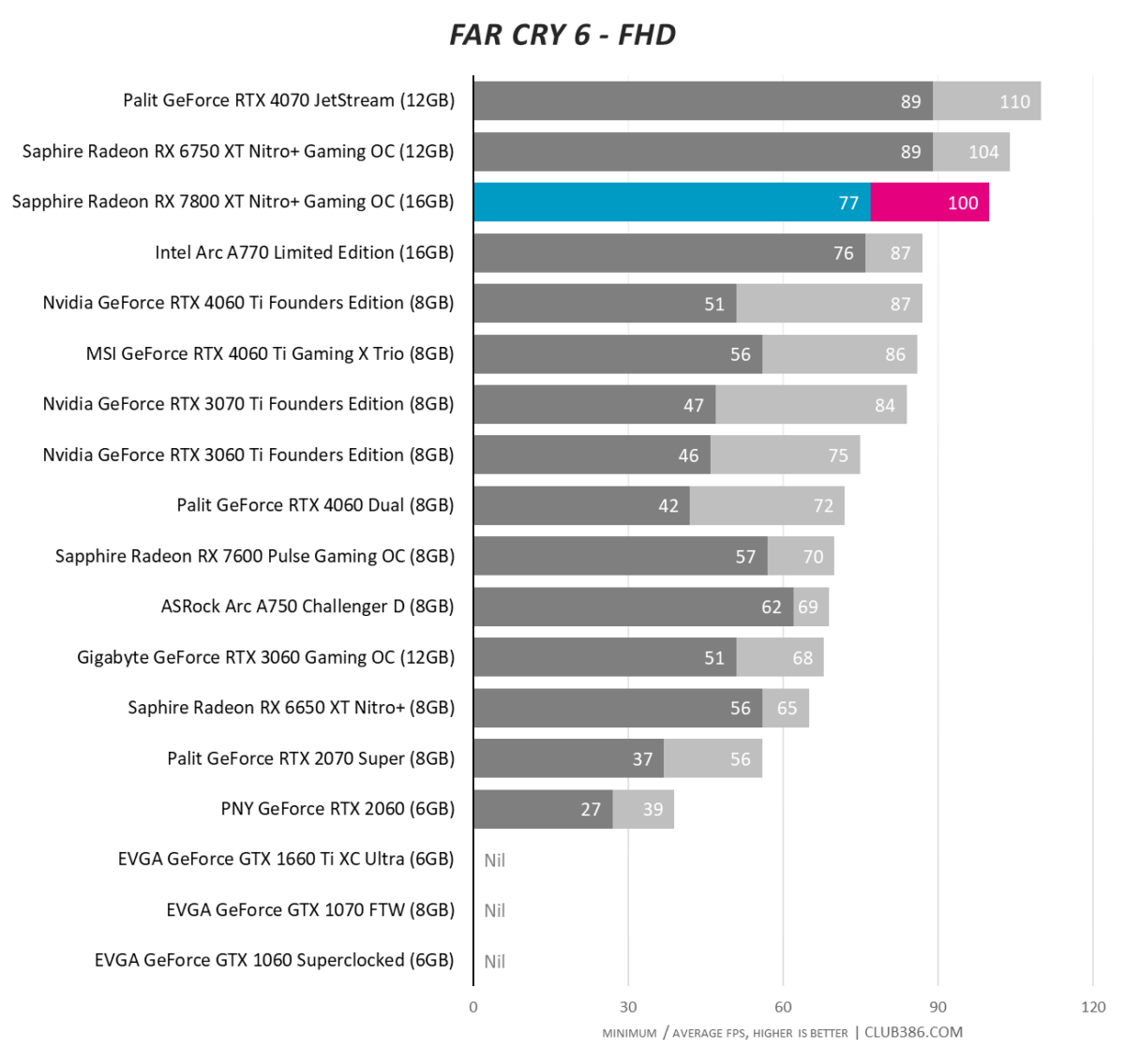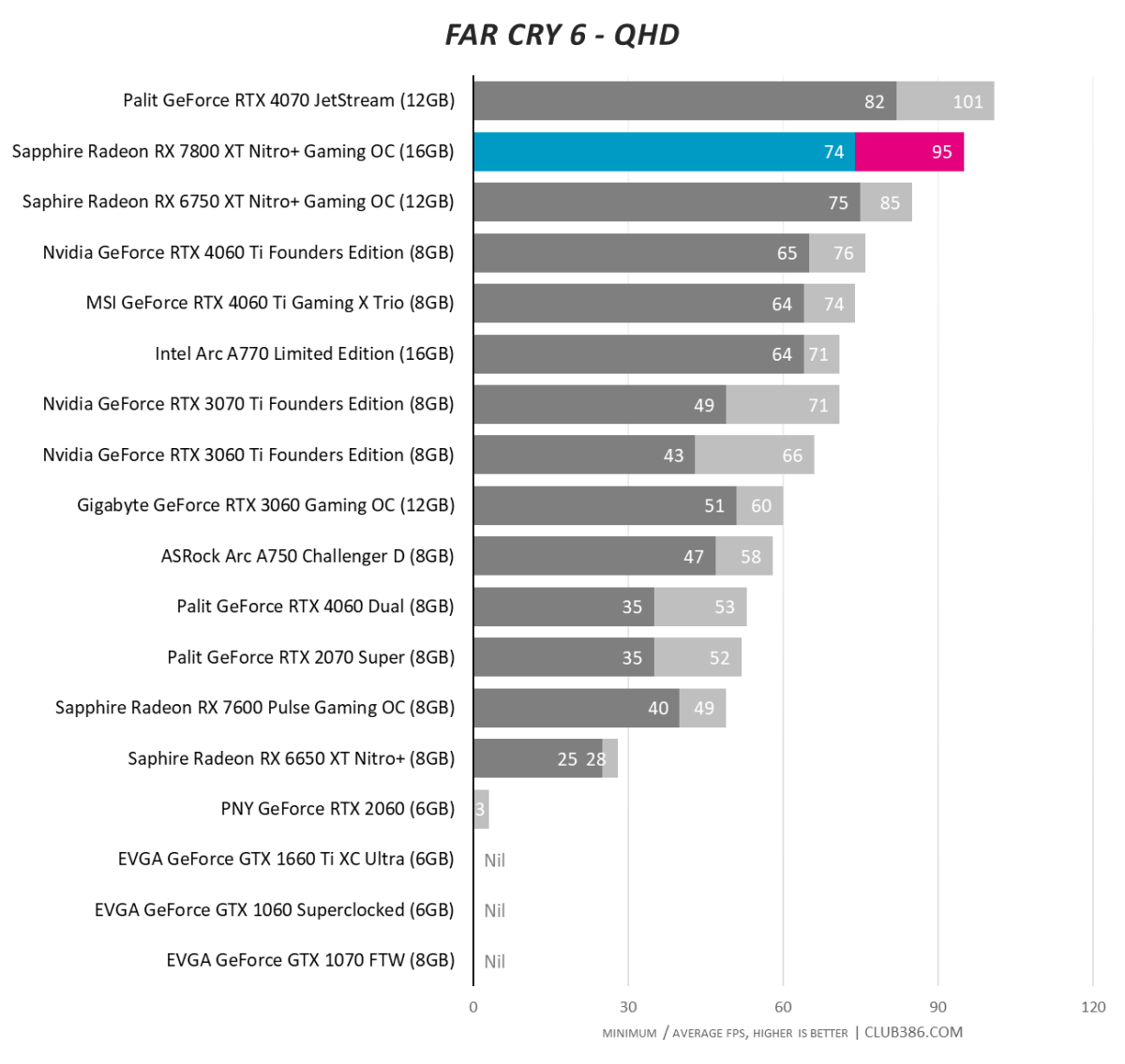 Ray tracing has less of an impact in Far Cry 6. QHD90 is the sweet spot for this card. Duly delivered, but is it worth investing in a modern, gaming-focussed CPU as well? You'd be surprised by the performance bump.
Final Fantasy XIV: Endwalker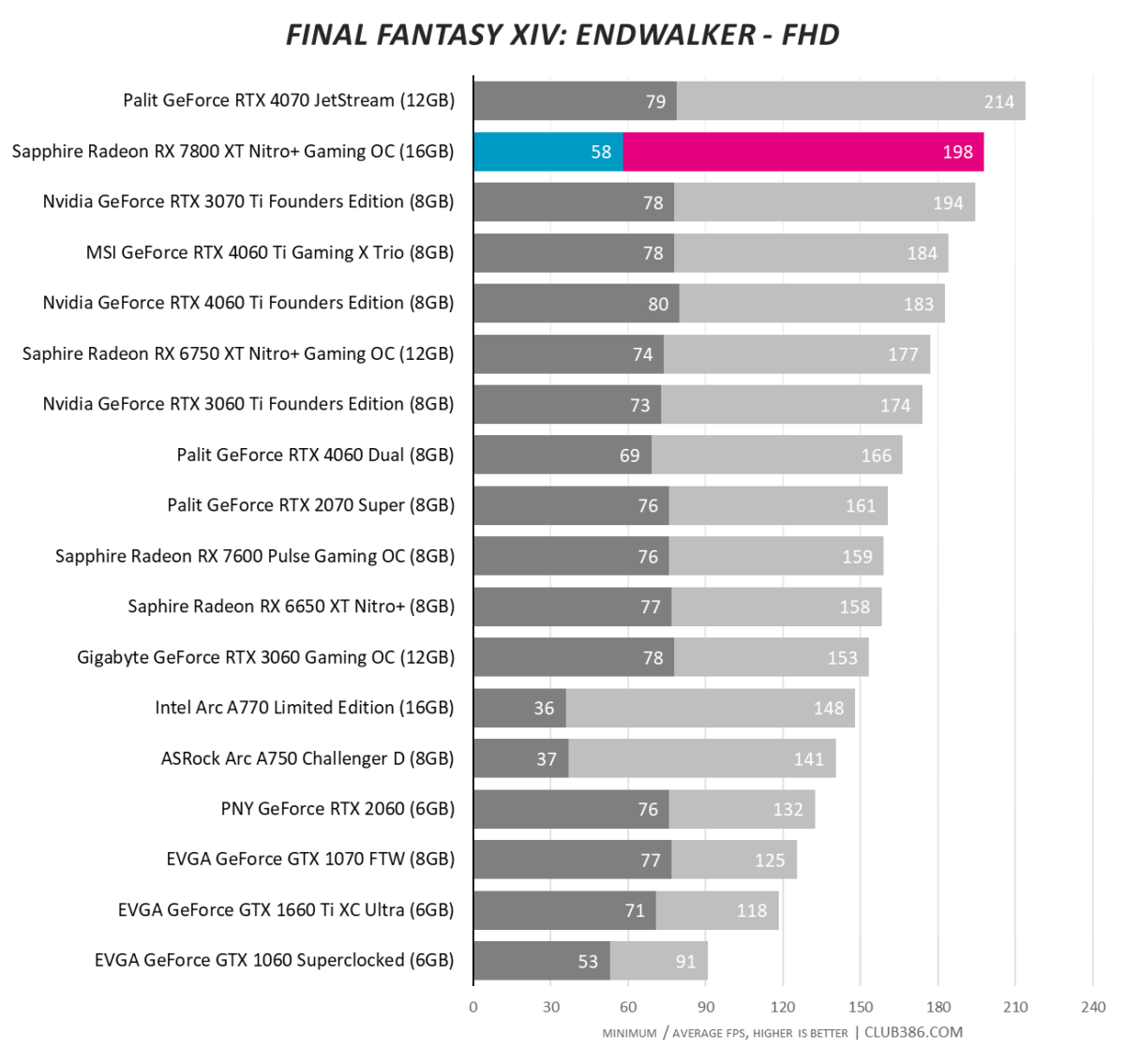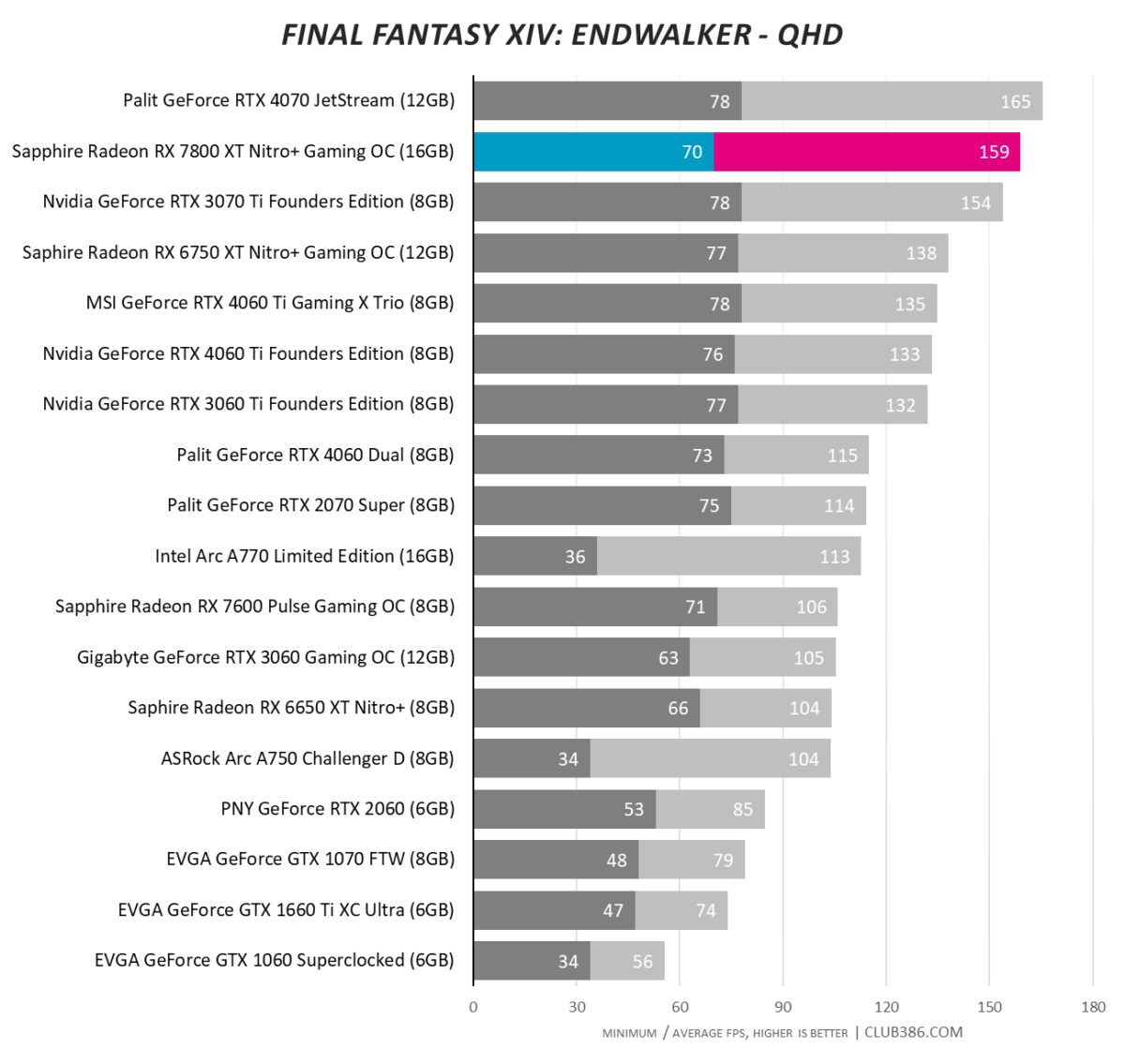 Older titles are instructive insofar as they represent a broad swathe of games. QHD90 is easy peasy for most; even a £225 Intel Arc A750 can muster that level of performance.
Forza Horizon 5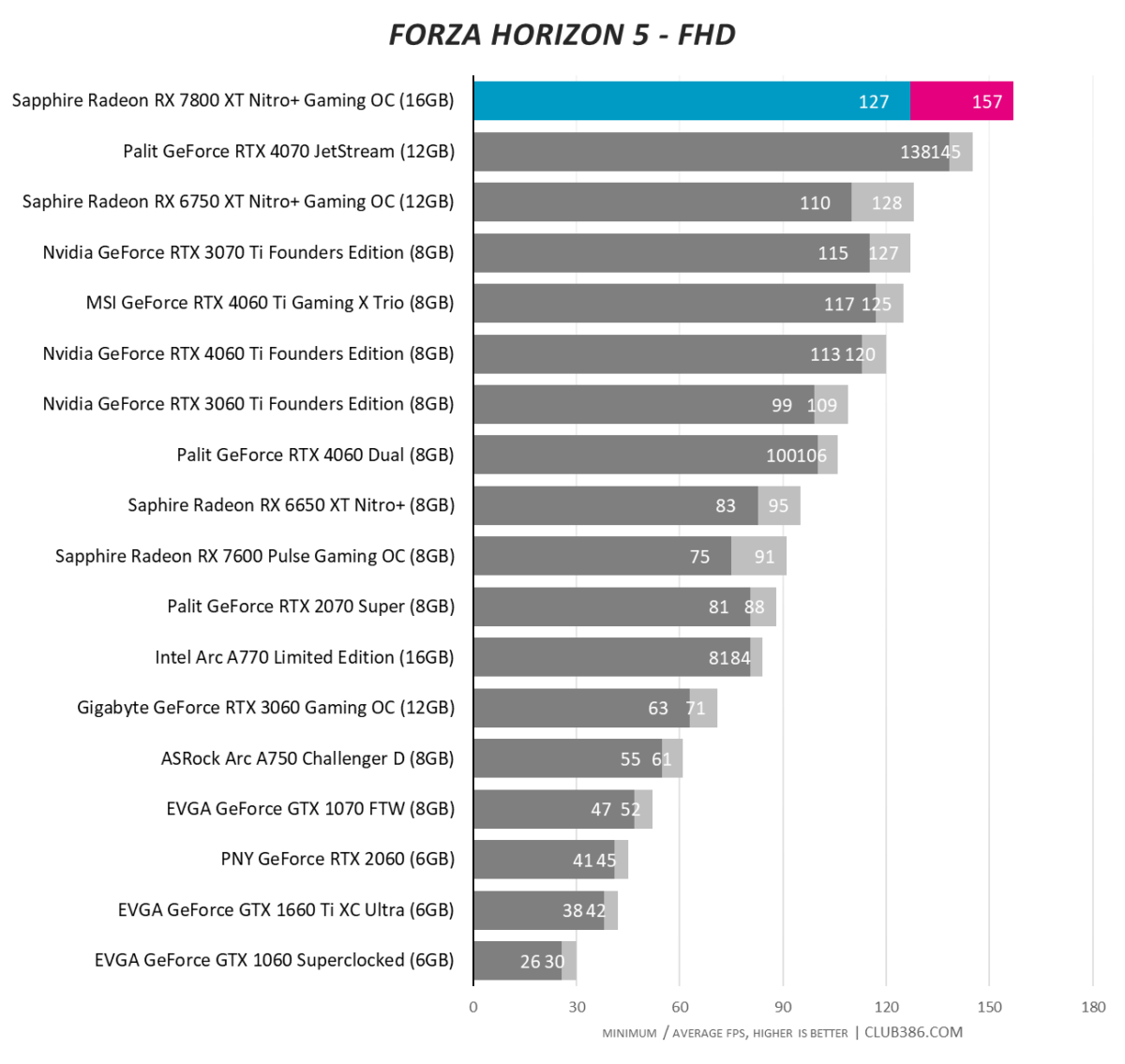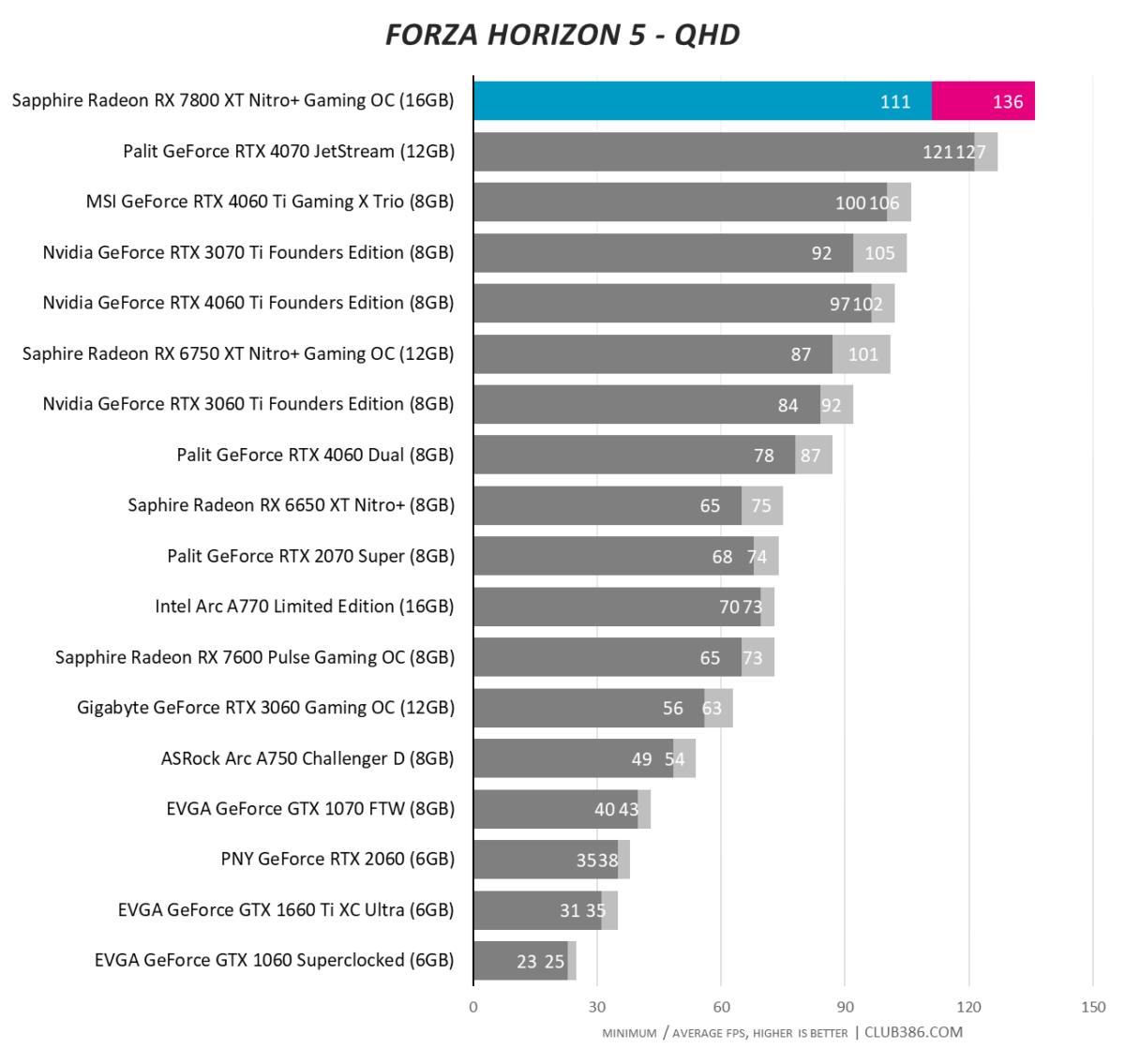 Radeon RX 7800 XT and GeForce RTX 4070 have traded heavy blows thus far. Sapphire gets in a quick jab to the Palit belly for Forza Horizon 5.
Thinking about the state of play in a broader sense, anyone rocking, say, a GeForce RTX 2060 or even Radeon RX 6650 XT has incentive to upgrade.
Tom Clancy's Rainbow Six Extraction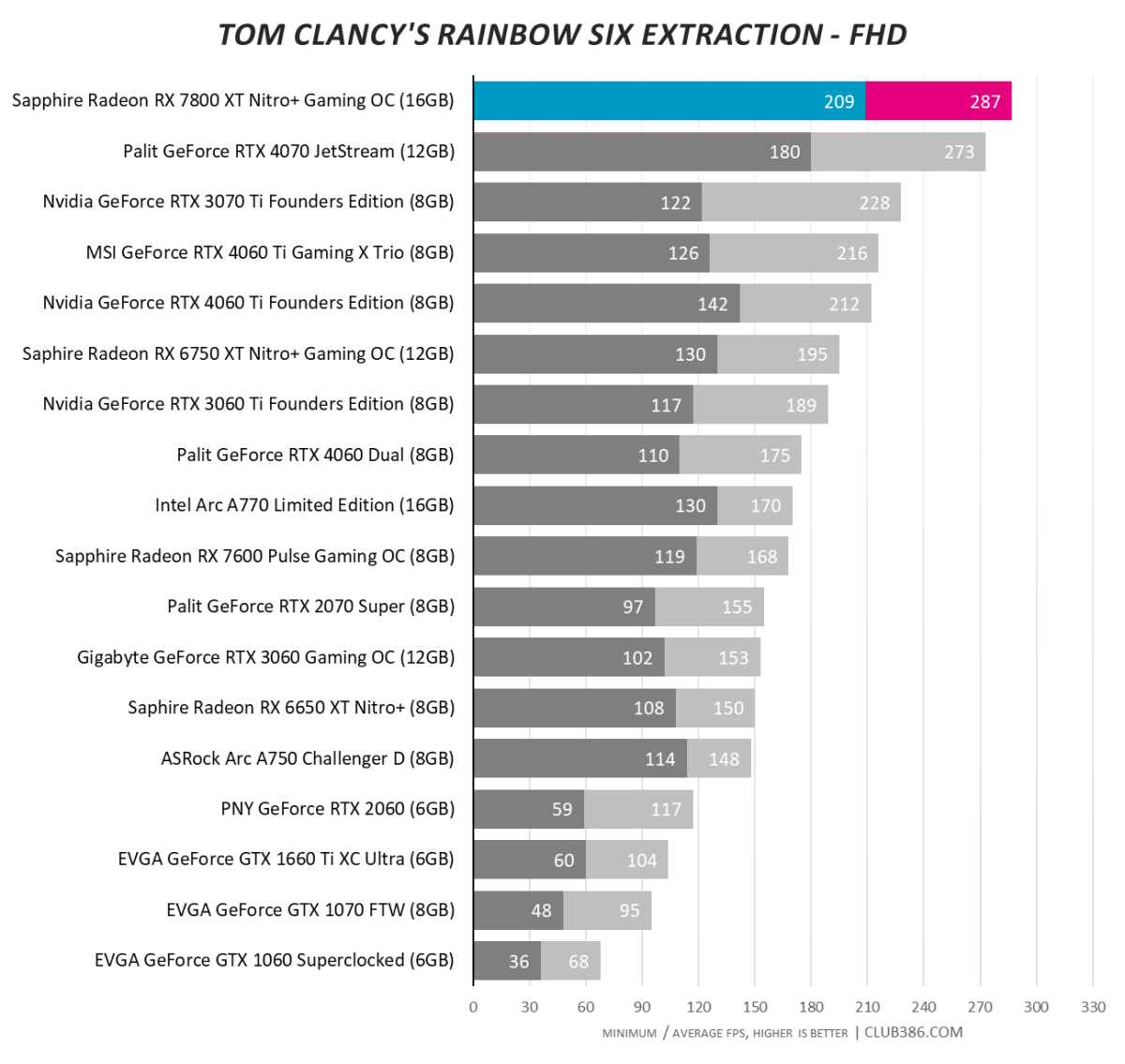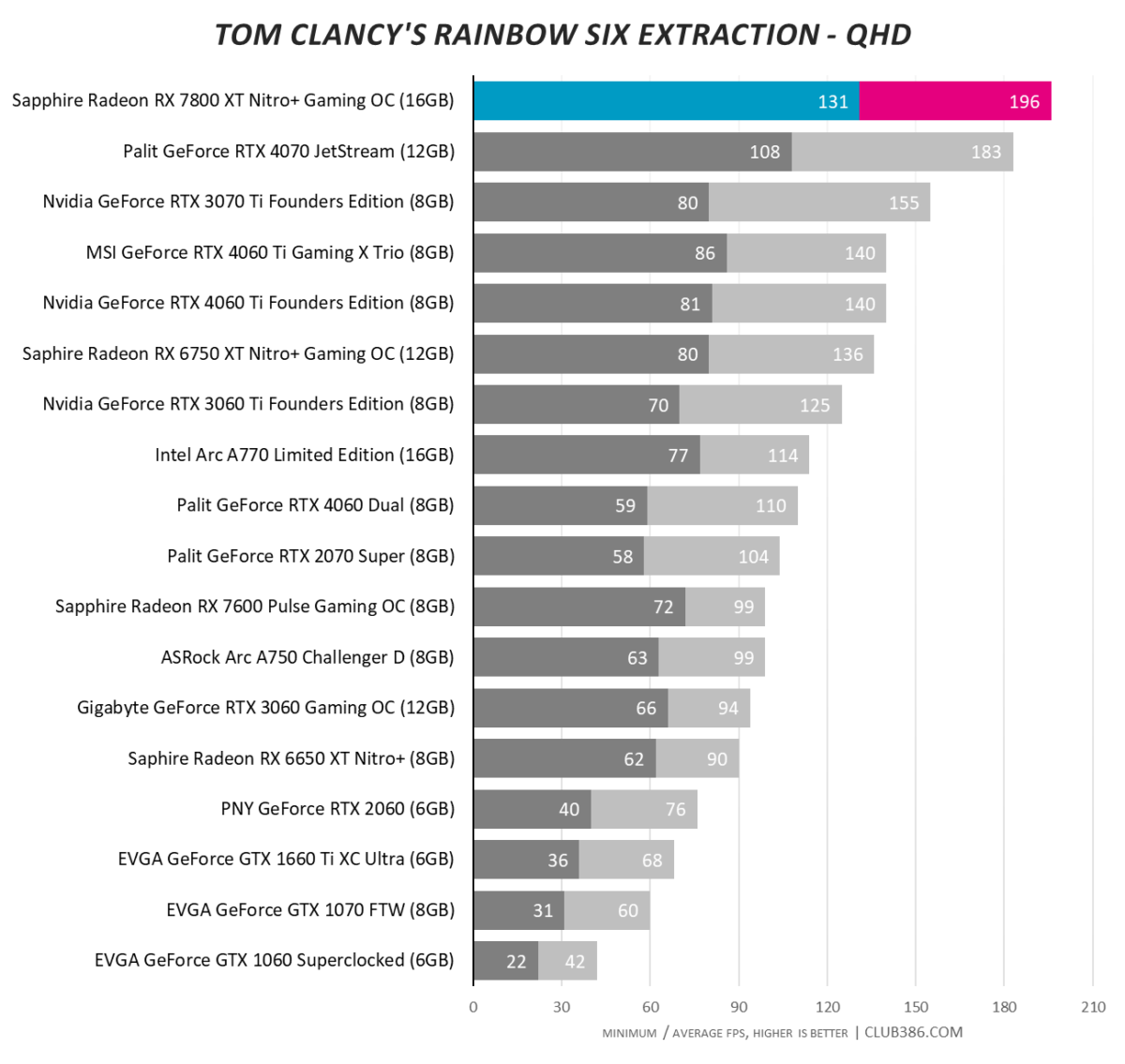 Big numbers in Extraction. Not all games need brand-new cards to run at wholly acceptable framerates, so it pays to do your research and determine what the load will be.
Power, Temperature and Noise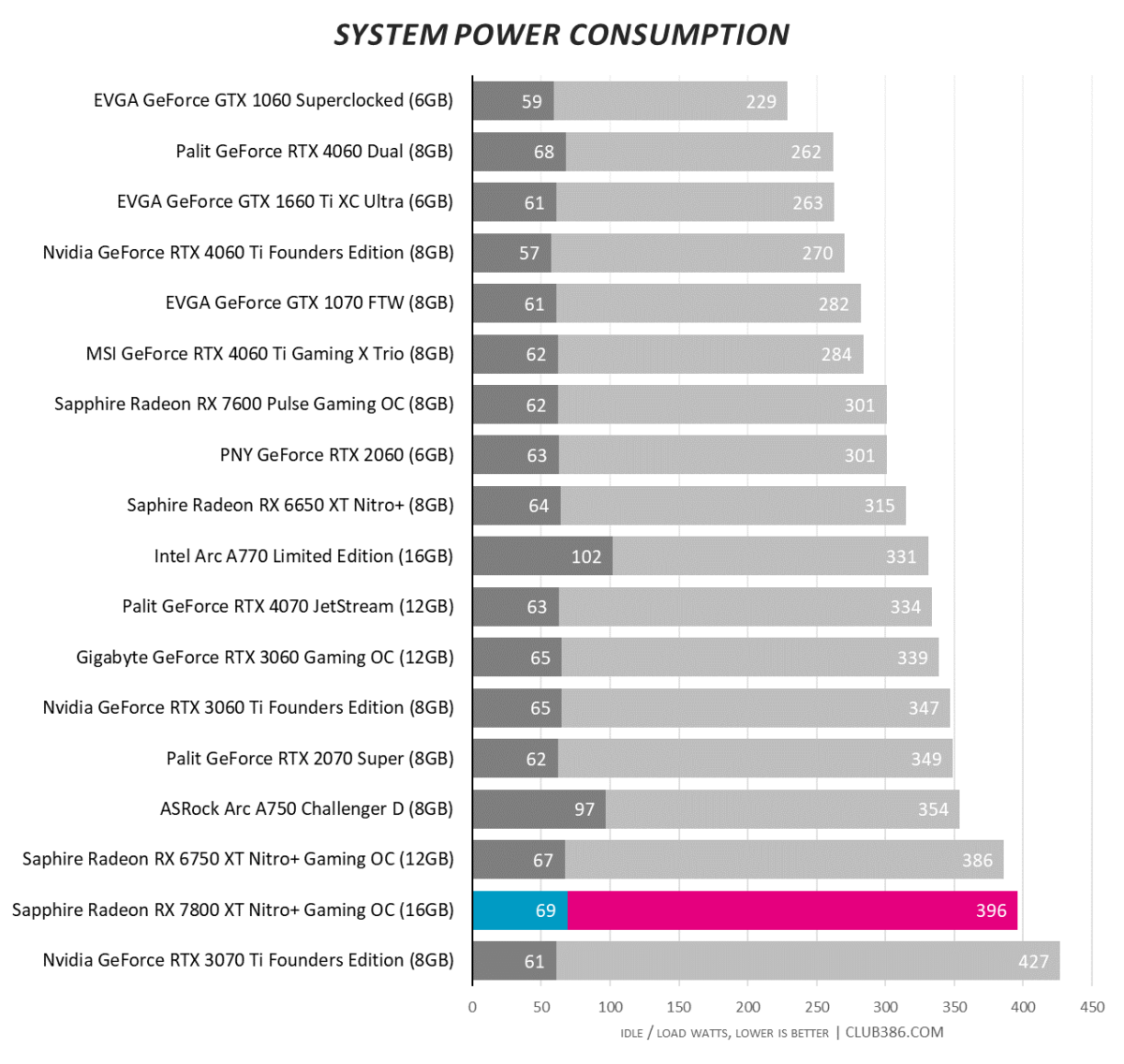 Representing a well-engineered partner card, Sapphire's Nitro+ is relatively thirsty, requiring about 60W more than the oft-compared Palit GeForce RTX 4070.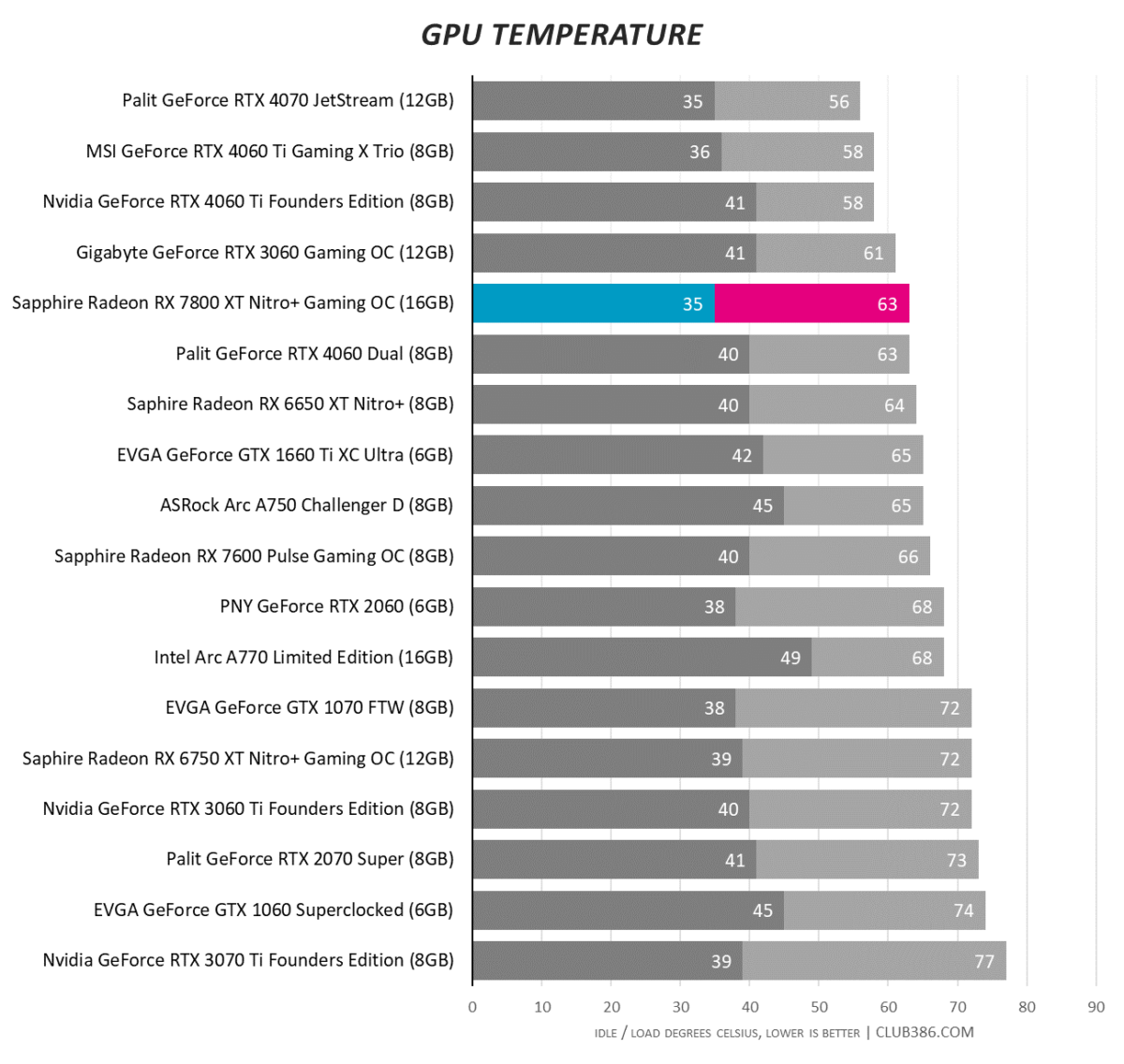 Extra wattage may cause problems for some, but not Sapphire, whose impressive cooler gets on with the business of low temperatures with the minimum of fuss.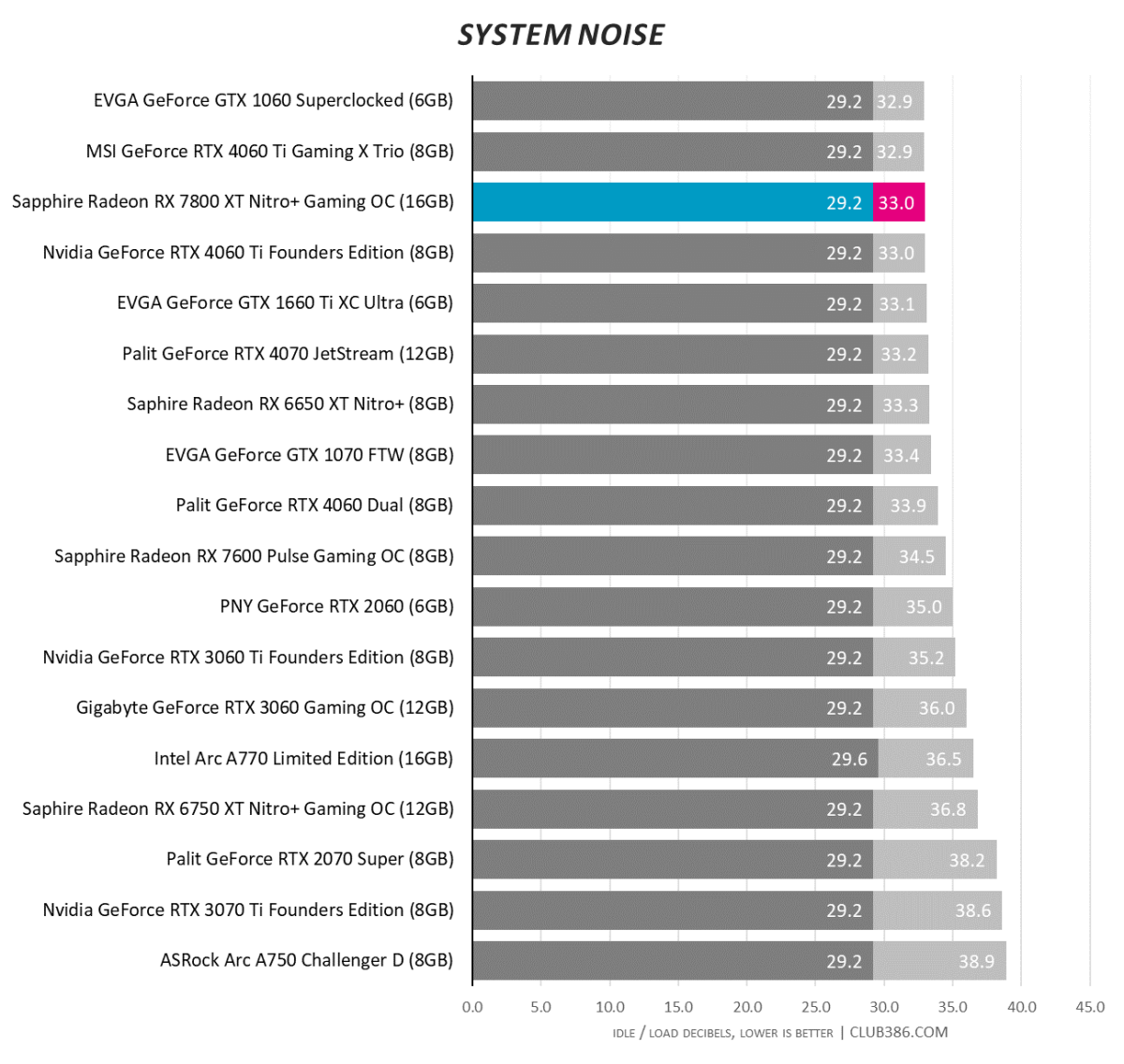 Cool and quiet, Sapphire's excellent heatsink continues to win plaudits from Club386.
Relative Performance, Efficiency and Value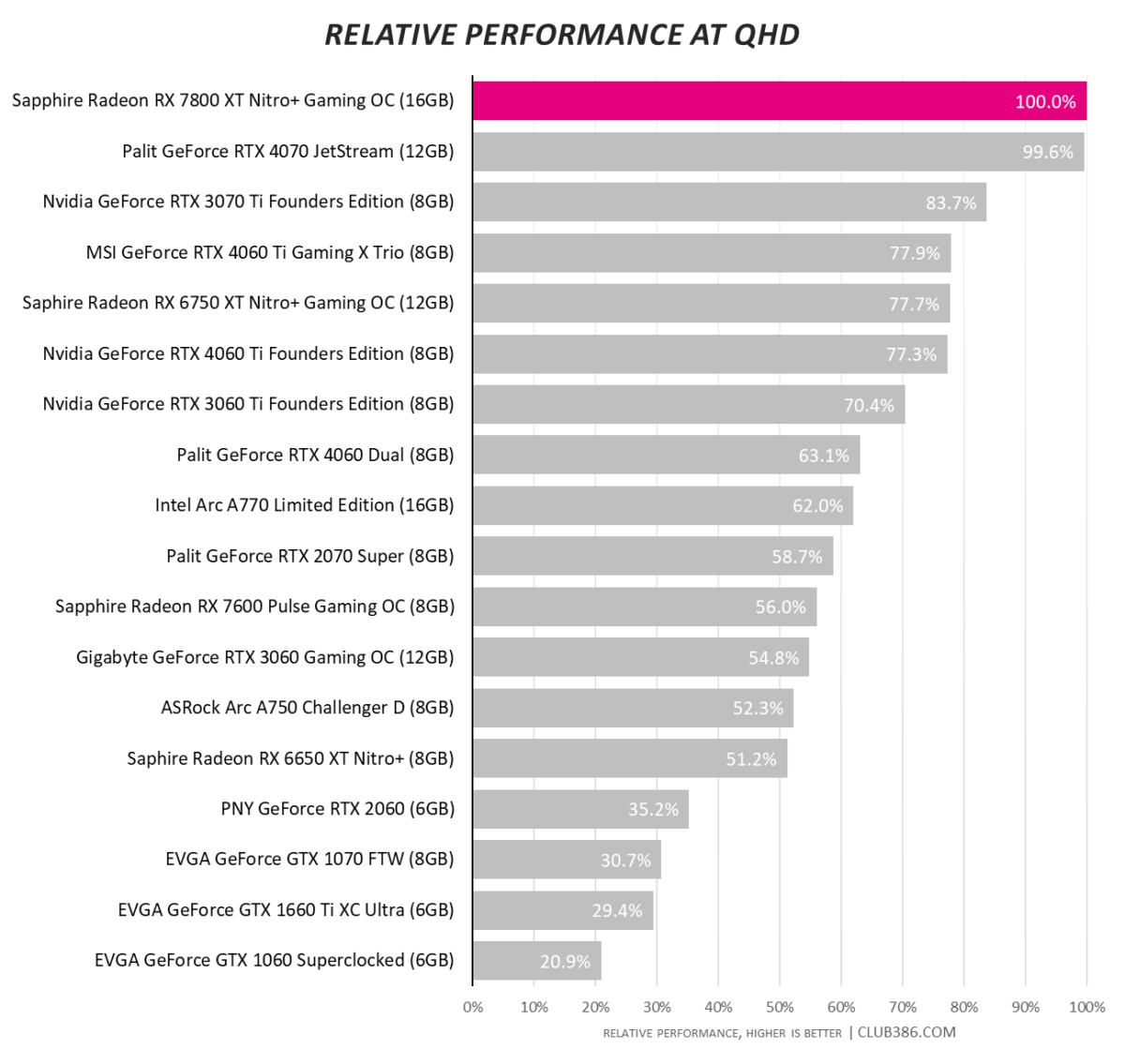 As QHD is the desired resolution, we tot up the per-game results and arrive at a relative performance metric. We've alluded to RX 7800 XT and RTX 4070 being close, and it doesn't get much closer than this!
This graph divides the cumulative score by observed system-wide power consumption. RTX 4070 wins out as it provides an equivalent level of performance for less power. Nevertheless, Sapphire Nitro+ Gaming OC is in the top quarter of all results.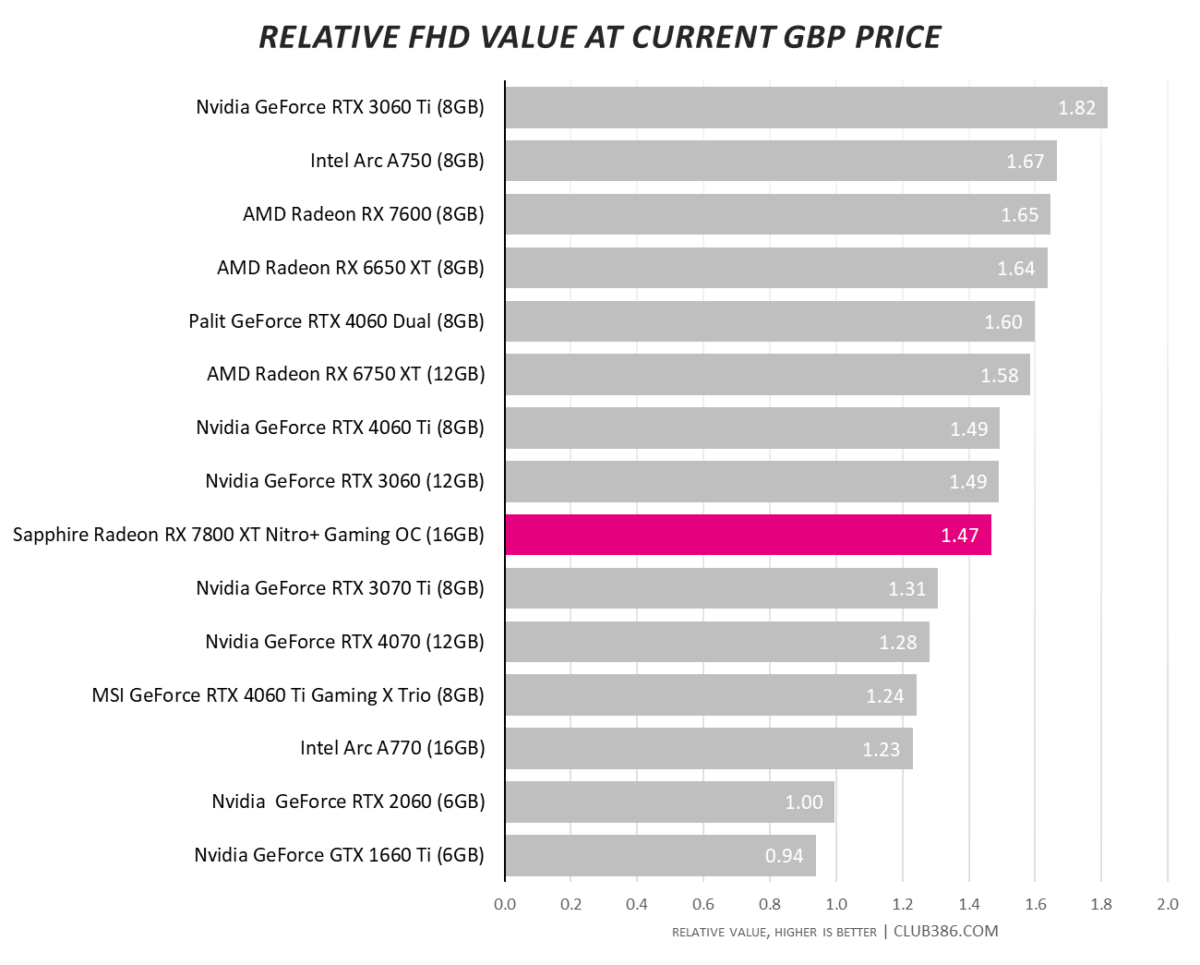 Sticking price into the matrix reveals an obvious truth insofar as older-generation cards, ravaged by continual price cuts, offer better value for money. That said, AMD / Sapphire has pricing pretty much spot on for a new-generation GPU.
Sapphire's card is ticking the right boxes for performance, efficiency and rock-solid build quality, plus for an added bonus, there's decent overclocking potential, too.
Conclusion
A long time coming, AMD's $500 Radeon RX 7800 XT duly reports for duty and is primed to battle Nvidia GeForce RTX 4070 for QHD gaming supremacy. Taking over the baton from premium, price-cut RX 6000 Series cards, top-bin Navi 32 is a credible contender in every regard.
There's more than adequate framerate firepower at the target resolution, matching the dearer RTX 4070 when evaluated over a bunch of rasterisation and ray tracing titles, while an extra 4GB framebuffer speaks to greater futureproofing. AMD also has pricing pretty much on the money, once bundled Starfield Premium is taken into due consideration.
Partners are encouraged to be bold and beautiful with their designs. Nowhere is this more evident than the handsome Sapphire Radeon RX 7800 XT Nitro+ Gaming OC. Espousing quality throughout, the three-slot card is refined in every sense and a welcome competitor in the mid-range space.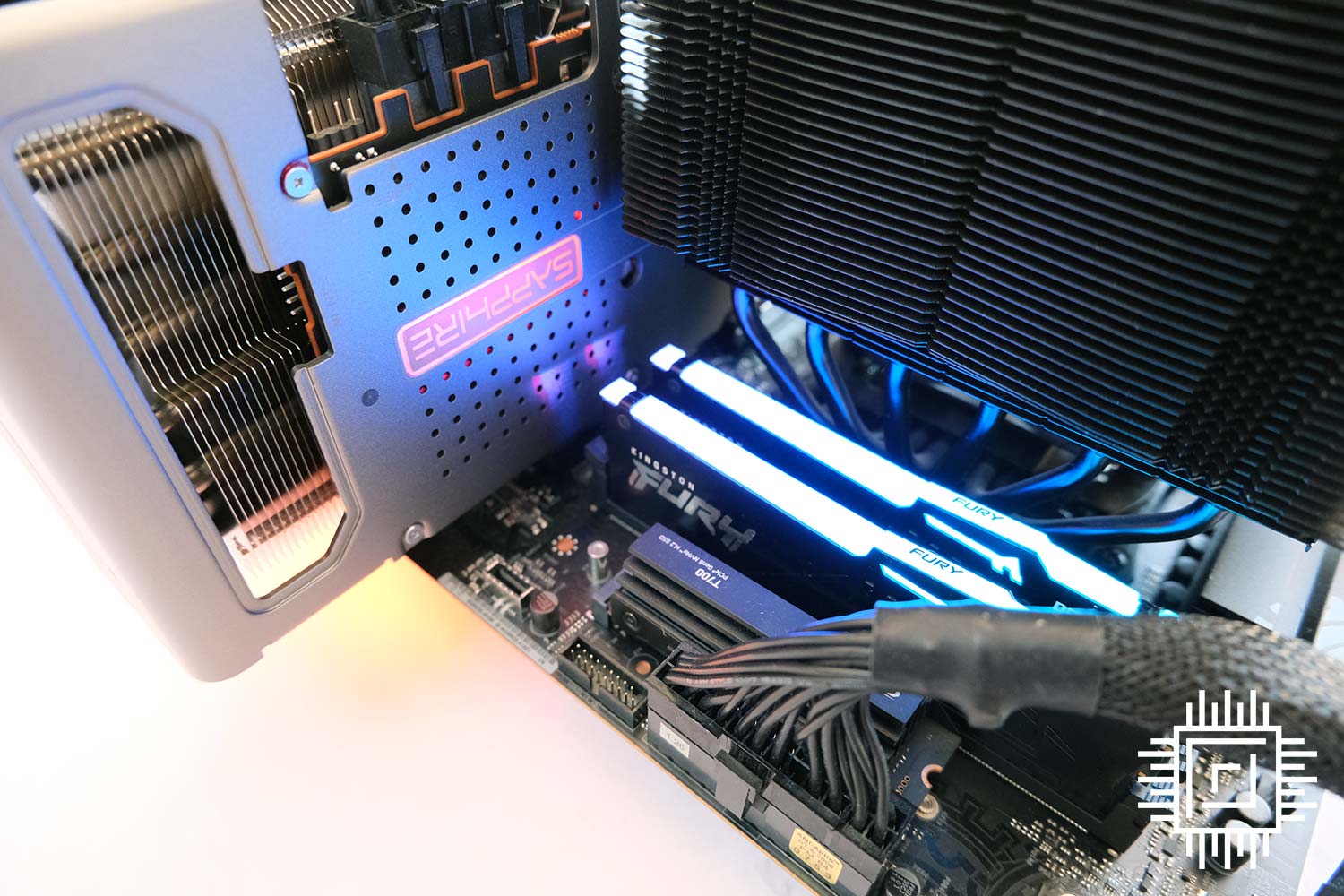 Sapphire Radeon RX 7800 XT Nitro+ Gaming OC
Verdict: A high-quality card showing off the best side of Radeon RX 7800 XT.
---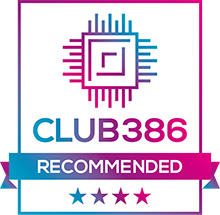 Pros
Oh so quiet
Beautiful build
Excellent QHD gaming
Overclocks well
Starfield included
Cons
Ray tracing remains weak

---
Club386 may earn an affiliate commission when you purchase products through links on our site. This helps keep our content free for all.
Rest assured, our buying advice will forever remain impartial and unbiased.