Jump to: Build | Specs | Performance | Conclusion
If the purpose of the Asus ROG Zephyrus G14 is to showcase AMD's progress in the mobile space, it is doing a darn good job. First released in 2020, the 14in laptop impressed in its ability to shoehorn high-end components in a thin-and-light chassis that not only looked the part but performed well in practically every category that mattered.
The original had a lot for going it, but each new iteration brings steady progress, and for 2022, Asus has successfully raised an already-high bar. Full support for the very latest Ryzen and Radeon technologies is to be expected, but there's more to this year's Zephyrus G14 than processing technology alone.
Enhanced Visuals
The single most important enhancement, in our estimation, is the inclusion of a taller 16:10 display as standard. 1920×1200 WUXGA and 2560×1600 WQXGZ resolutions will be offered, with the latter boasting 500-nit brightness, 3ms response time, pro-grade DCI-P3 colour gamut, and AMD FreeSync support at up to 120Hz.
Transition from 16:9 to 16:10 may seem minor in the grand scheme of things, but get used to the latter and there's no going back. Sure, widescreen movies will have larger borders, but there's less scrolling involved during everyday work, and games look great at the native aspect ratio. It's a shame Asus still doesn't offer a touchscreen option, particularly when you consider the ErgoLift hinge has been improved such that the display now folds flat a full 180°.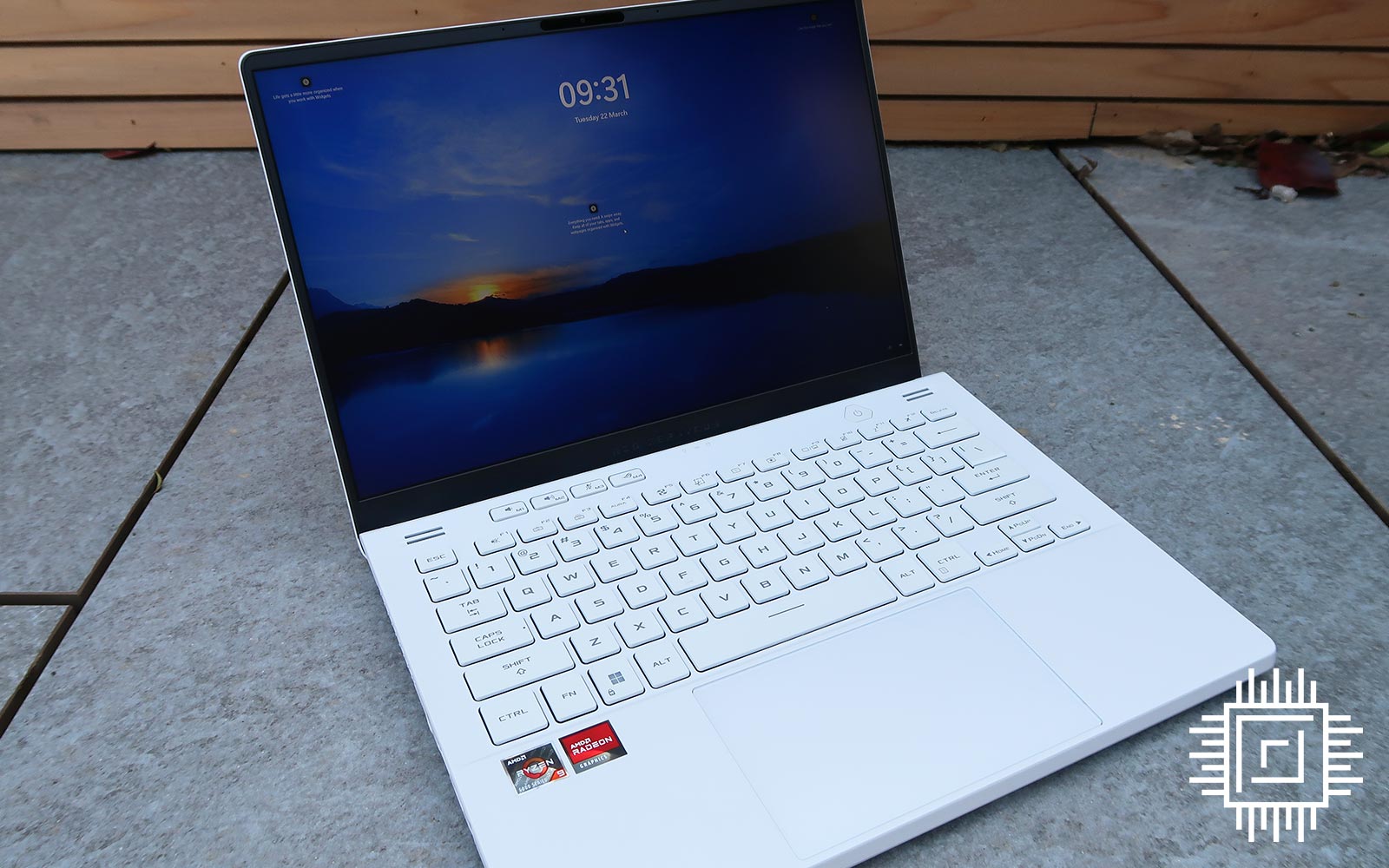 This is a highly enjoyable IPS panel, and though it lacks the vibrancy of, say, an OLED, the display specifications bode well for a wide range of usage scenarios. Better yet, the heightened aspect ratio has led to a refreshed magnesium-alloy chassis that's narrower than last year's model (312mm vs. 324mm) but a fraction deeper (227mm vs. 222mm).
That extra bit of wiggle room has allowed Asus to rectify one of G14's biggest omissions; the absence of a webcam. This time around, a 720p Windows Hello camera has been added above the 14in display and image quality is decent enough despite the entry-level resolution. An important upgrade in today's world of remote work, though the inclusion of facial recognition does come at the expense of other biometric security; the fingerprint reader residing in last year's power button has fallen by the wayside.
Built To Shine
Extra space has been put to good use elsewhere, too. Asus's keyboard now has a roomier feel, with chiclet keys offering good spacing, generous travel and a logical layout that includes a quartet of reprogrammable multimedia shortcuts. The white backlight still isn't particularly consistent – dark spots are scattered throughout the keycap typeface – yet the glass trackpad has ballooned in size, and even the display lid has extra sparkle.
Readers familiar with the G14 will recognise the optional 'AniMe Matrix' holes on the top cover that come alive with underlying LEDs that can be configured to display notifications, audio equaliser, or a choice of cool animations. For 2022, the number of holes has increased over 2x from 6,536 to 14,969, with 1,449 underlying LEDs helping drive brighter effects that are guaranteed to turn heads.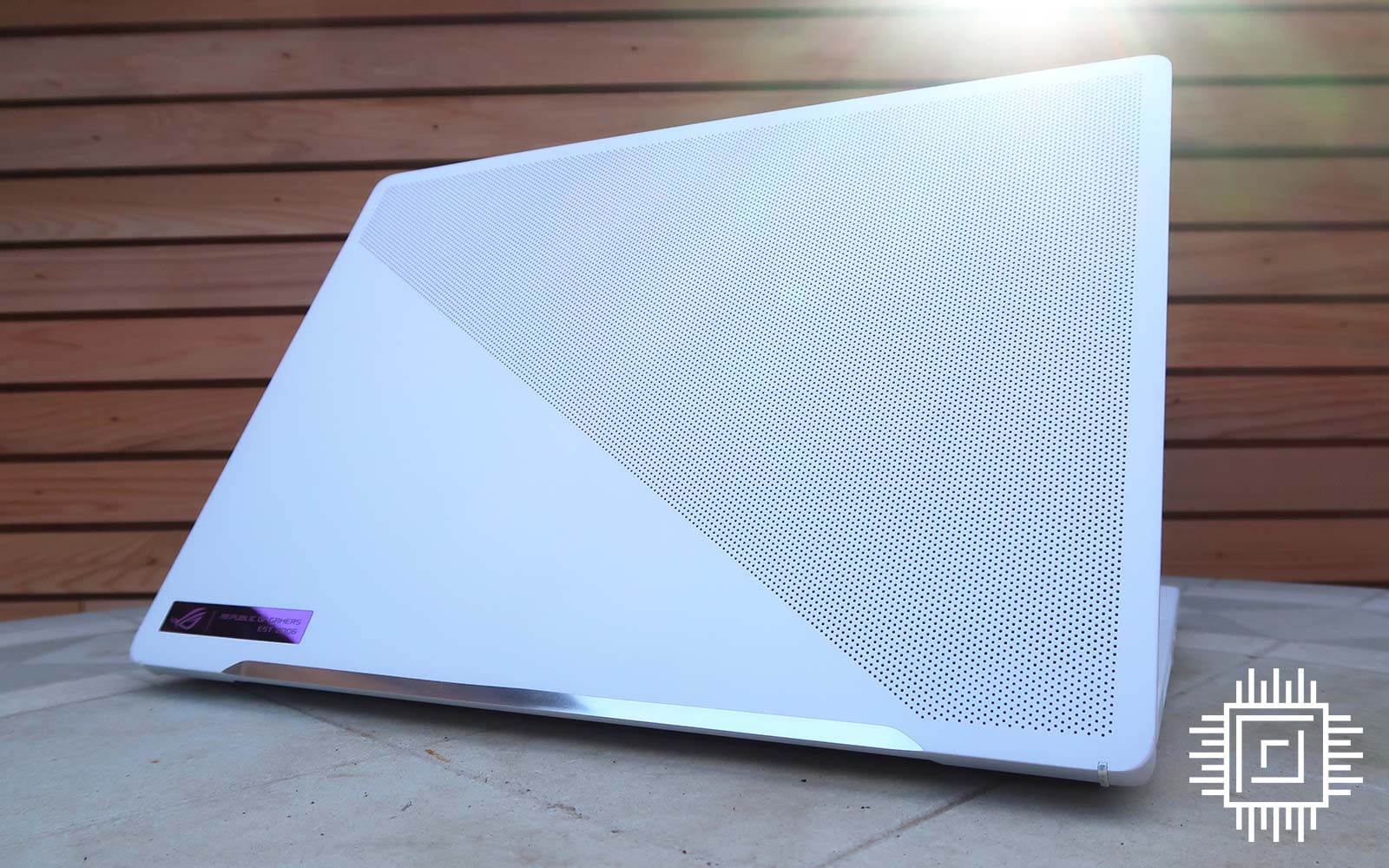 As much as we enjoy the pizazz of the AniMe Matrix lid, do note it adds to overall thickness and weight. Go without and the laptop shrinks from 19.5mm to 18.5mm thick, with weight dropping from 1.75kg to 1.65kg. An important point to consider, as though the animated lid looks fun – my other half reckons this is the best laptop she's ever seen – the novelty does wear off.
What's more useful is Asus's acoustic setup. Quad speakers (two upward-firing tweeters, two downward-facing woofers) deliver a better audio experience than any 14in laptop has a right to, and the internal fans seem better balanced than previous models. Asus continues to employ vapour-chamber cooling technology and reckons the 84-blade blowers now offer a 32 per cent increase in airflow while staying 2dB quieter. The default cooling profile certainly sounds smoother to our ear, and the fans switch off at low load for a practically silent experience during basic tasks. Healthy improvements all round.
Beefier Means Pricier
As you might have guessed, upgrades across the board have raised the cost of entry. Asus's base 2022 model, featuring Ryzen 7 6800HS processor, Radeon RX 6700S graphics, WUXGA display, 16GB of memory and 1TB SSD, starts at £1,700. Putting that into perspective, previous-gen Ryzen 5000 Series models now start at £1,200, so while the 2022 upgrade has plenty of merit, ask yourself how much you really need the latest mod cons.
Given the price point, it's a shame Asus still only includes 12 months of warranty cover as standard, and the default software configuration could be tidier. There's more bloatware loaded atop Windows 11 than we'd like, and though no nagging security software is installed as standard, the MyAsus app will do its best to convince you to at least try McAfee LiveSafe.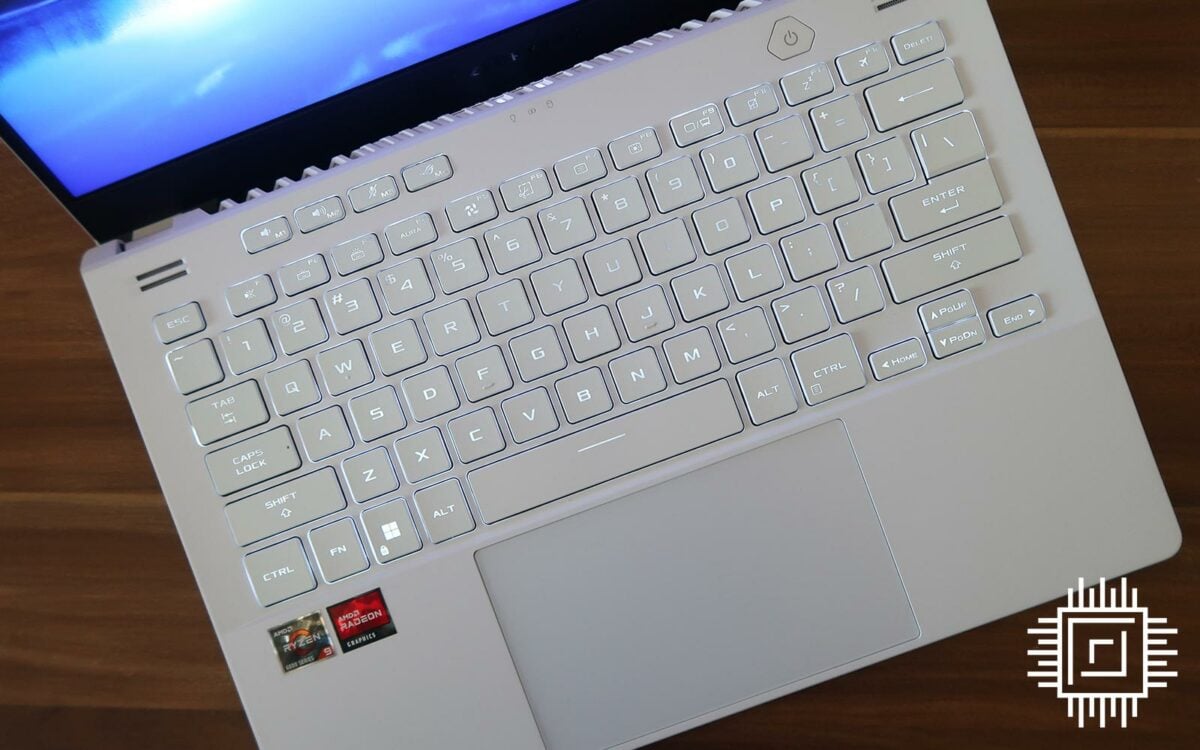 At the top end of the scale, our £2,000 review unit packs one of AMD's best HS Series CPUs, an eight-core, 16-thread Ryzen 9 6900HS. The 4.9GHz chip is paired with Radeon RX 6800S graphics, a 1TB M.2 PCIe 4.0 SSD and 32GB of DDR5 memory. Impressive hardware for any system, let alone a sleek 14in laptop that slips easily into a backpack.
Connectivity is well-stocked, too. Zephyrus G14's left side is home to 3.5mm audio, USB 3.2 Gen 2 Type-C, HDMI out and a connector for the external 240W power supply. Over on the right you'll find a second USB 3.2 Gen 2 Type-C, a pair of USB 3.2 Type-A, and a micro-SD card reader. You can charge the 76Whr battery via USB-C if you prefer, albeit slowly, and Wi-Fi 6E connectivity is at hand courtesy of a MediaTek MT7922 controller.
AMD Advantage
Though there are numerous quality-of-life improvements, let us not forget the Asus ROG Zephyrus G14 has always been centred around AMD components. The chip giant now uses the term 'AMD Advantage' to market laptops outfitted with both its CPU and GPU technologies.
As a brief recap, 6nm 'Rembrandt' mobile CPUs carry an updated Zen 3+ core whose enhancements focus on improved power optimisations and updated RDNA 2 onboard graphics. The 35W Ryzen 9 6900HS chip in our review sample provides an eight-core, 16-thread CPU alongside a Radeon 680M IGP that is home to 12 Compute Units (768 cores). IGP alone ought to be sufficient for casual 1080p gameplay, but Asus chooses to bolster Zephyrus G14's appeal with a dedicated Radeon RX 6800S GPU.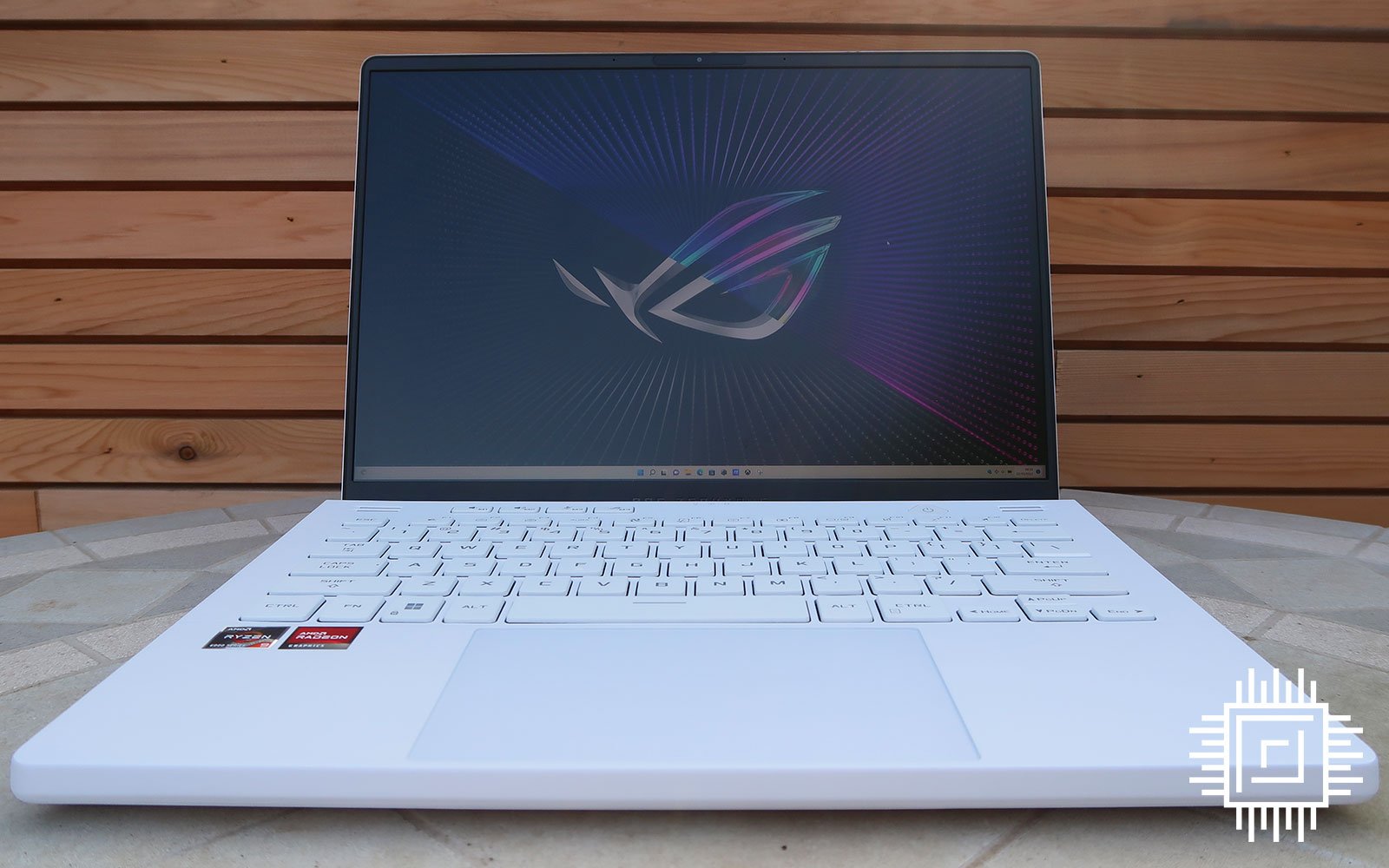 Purpose built for high-performance laptops, the discrete 100W graphics chip is a 7nm RDNA 2 part carrying 32 Compute Units (2,048 cores) and 8GB of GDDR6 memory for a more robust gaming experience. A dedicated Mux switch is at hand to toggle efficiently between IGP and dGPU, and AMD is keen to extol the virtues of the duo working in tandem through a bunch of 'smart' technologies.
Smart Access gives the Ryzen processor full access to Radeon VRAM, while SmartShift Max dynamically shifts power between CPU and GPU depending on workload. Power allocation has an important part to play, as our benchmarks will demonstrate. Last but not least, FidelityFX Super Resolution is also supported in compatible games, and it'll soon become much easier to boost performance as Radeon Super Resolution upscaling tech is scheduled to make its way to laptops such as the G14 in Q2.

Show your support for impartial Club386 reviews
Club386 takes great pride in providing in-depth, high-quality reviews built on honest analysis and sage buying advice. As an independent publication, free from shareholder or commercial influence, we are committed to maintaining the standards our readers expect.
To help support our work, please consider making a donation via our Patreon channel.
Performance


Out-the-box performance paints the ROG Zephyrus G14 as a potent workhorse and a meaningful step-up from previous generation Ryzen mobile parts.
What we see using the default balanced profile is no surprise, but there's untapped potential for those willing to accept more aggressive cooling. Switch to a 'Turbo' profile through Asus's Armory Crate software and SmartShift lifts CPU power limit from 45W to 80W, while available GPU headroom climbs from 90W to 105W. So much for this being a 35W CPU, but the caveat, of course, is that the laptop's acoustic limit crescendos from an acceptable 40dB to an obnoxious 48dB.
A trade-off worth making? That depends entirely on how much performance you need. In our testing, Cinebench single- and multi-score results scaled to 1,595 and 14,628, respectively, with Turbo mode enabled.


The performance uplift is even more pronounced in popular Geekbench. A multi-core score of 8,357 isn't bad right out of the box, but flip the Turbo switch and Zephyrus G14 returns 10,326. Granted, the fans do spin into overdrive, but an up to 25 per cent bump is no bad thing to have in reserve.


32GB of DDR5-4800 memory means memory bandwidth is never in short supply. The same can't be said for DDR5 memory itself, and one has to wonder if it'll be weeks or months before the 2022 Zephyrus G14 becomes readily available.


Laptop storage configurations can vary between regions. Our review unit packs a 1TB Micron 2450 PCIe Gen 4 NVMe SSD. A relatively conservative choice as far as PCIe Gen 4 solutions are concerned, though sequential read and write speeds in excess of 3,000MB/s are plenty fast.


There's no doubt about it, this is a tremendously capable 14in laptop. Heck, a PCMark 10 score of 6,969 is only slightly shy of the Club386 desktop test platform, which packs a Ryzen 9 5950X and returns 7,391.

High-end CPU performance is married to a capable Radeon RX 6800S. A premium part, the 2,048-core GPU delivers a level of 3D performance akin to a desktop Radeon RX 6600. Hit Turbo and those AMD 'smarts' deliver a Time Spy score of 9,396 – that's rubbing shoulders with a desktop GeForce RTX 3060.



Final Fantasy XIV: Endwalker is benched at common 1080p, 1440p and 2160p resolution. Less strenuous games such as this will make good use of the 120Hz refresh rate at full-HD.
| | FPS @ 1200p | FPS @ 1600p |
| --- | --- | --- |
| Assassin's Creed Valhalla (Ultra High Quality) | 78 | 50 |
| Dirt 5 (Ultra High Quality, Raytraced Shadows On) | 74 | 57 |
| Far Cry 6 (Ultra Quality, HD Textures and DXR On) | 62 | 47 |
| Gears Tactics (Ultra Quality) | 96 | 61 |
More challenging titles running at 1920×1200 or 2560×1600 pose a tougher challenge. Achieving over 60 frames per second at 1200p in most titles should be manageable with high amounts of image quality, but at a native 1600p the Radeon RX 6800S will begin to struggle, particularly as raytracing comes into play.



Asus makes plenty of bold claims when it comes to the 14in WQXGA display, and they essentially ring true. The promise of 500-nit brightness and 100 per cent DCI-P3 colour coverage is backed up by our internal results, while out-the-box colour accuracy is exemplary. Top marks here.



Squeezing this level of hardware into a slim 14in chassis is but one part of the puzzle; maintaining overall balance is the real trick and there's only so much Asus can do. CPU and GPU temperatures settle in to the mid-80s but peak higher and cause the chassis to become noticeably hot to the touch, particularly in the upper corners. Fan noise can become bothersome as a result, though the laptop does keep reasonably quiet during regular web browsing tasks.

Battery life is measured using the PCMark 10 Modern Office test, which intermittently tasks the laptop with writing, web browsing and video conferencing workloads. For directly comparable results, each system is configured with a purpose-built power plan, wireless radios disabled, and screen brightness set as close to 200 nits as possible using a calibration device.
In this scenario the 2022 ROG Zephyrus G14 manages to keep going for just under eight hours. A decent return for a gaming laptop? Perhaps, but not quite enough for a full working day, and a step backward given that the 2020 model managed over 11 hours in the same test.
Conclusion
The Asus ROG Zephyrus G14 continues to serve as a fitting demonstration of AMD's progress in the mobile space. No longer a second-class citizen, the chip giant's Ryzen and Radeon tech rightly attracts the biggest OEMs and features in some of the sleekest laptops on the market today.
Chief among them, Asus's 14in powerhouse packs a multi-faceted punch courtesy of eight-core Ryzen 9 6900HS processor, dedicated Radeon RX 6800S graphics and a full suite of enticing features. These include a bright, accurate 16:10 display with 120Hz adaptive sync, an improved keyboard and trackpad, better acoustics, comprehensive connectivity and, thank heavens, a built-in webcam.
There is still room for improvement – battery life is good but not great, and the GPU may struggle with modern games at the native resolution – but if you can stomach the higher fee, this is without doubt the best Zephyrus G14 to date.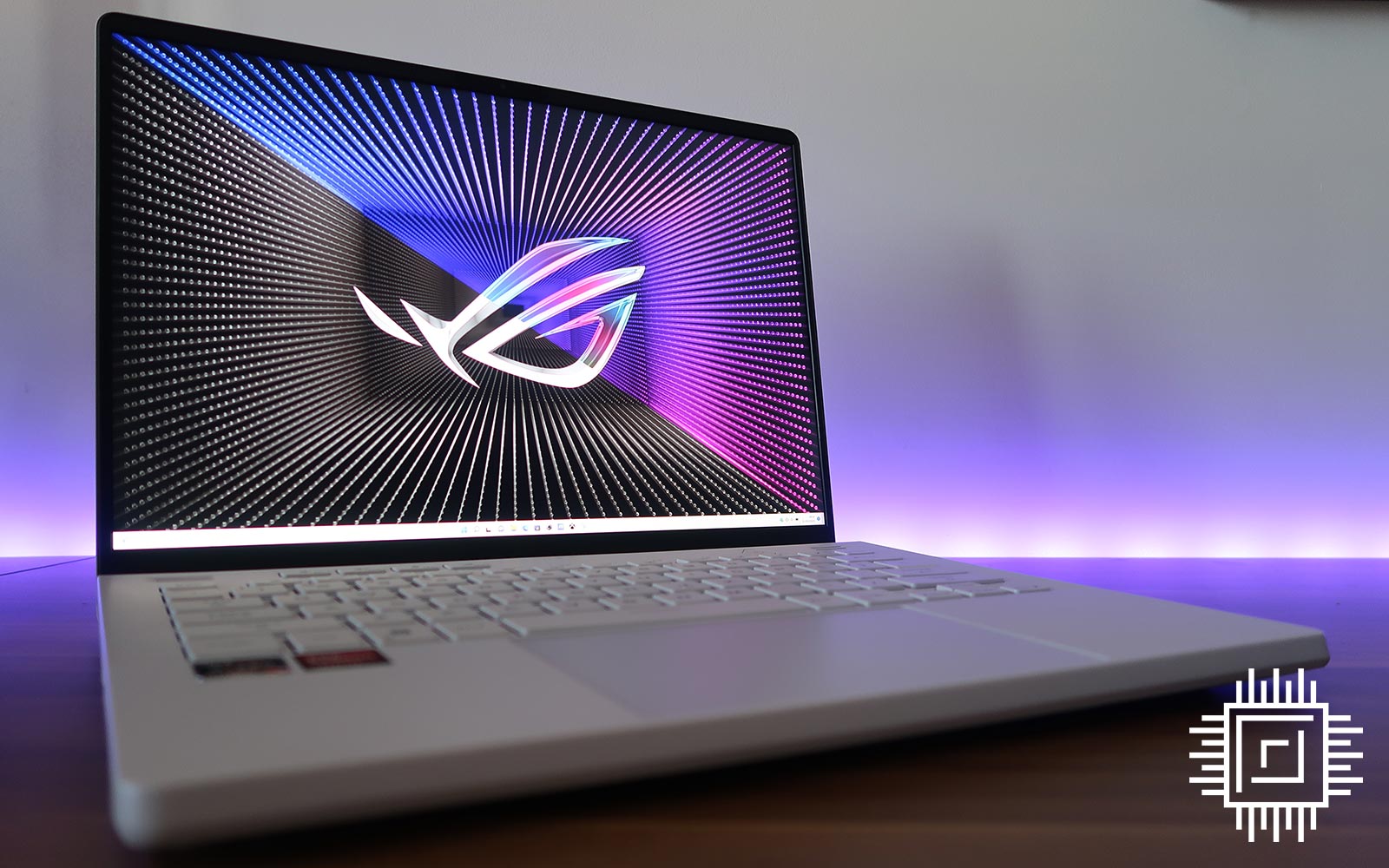 Asus ROG Zephyrus G14 (2022)
Verdict: Packing a whole lot of firepower into a likeable 14in chassis, the Asus ROG Zephyrus G14 delivers performance and portability in one of the sleekest gaming laptops around.
---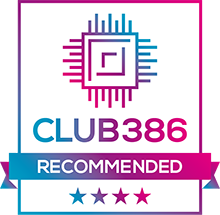 Pros
Excellent 14in perf
Bright 16:10 display
120Hz adaptive sync
Much bigger trackpad
Good connectivity
Now with added webcam
Cons
Gets hot
Higher starting price
Ordinary battery life
---
Club386 may earn an affiliate commission when you purchase products through links on our site. This helps keep our content free for all.
Rest assured, our buying advice will forever remain impartial and unbiased.