German PC components manufacturer be quiet! celebrates 20th anniversary today by announcing three products wearing new FX branding.
With its first product, which was a noise-dampening mat released back in 2002, be quiet! has come a long way. Launching a silent-focused power supply in 2003 all the way to 2014 when the first CPU cooler saw the light, today be quiet! is known for excellent Silent Wings fans, Dark Power PSUs, and Dark Rock CPU coolers – two of which we already reviewed here for the Silent Wings Pro 4 140mm PWM fans and here for Dark Power Pro 12 1,200W PSU.
With the past behind us, let's dive into what the future holds Spoiler alert, lots of RGB.
Pure Base 500 FX
Available at £146.99 MSRP and backed by a three-year warranty, the Pure Base 500 FX is a steel computer chassis with a tempered glass side panel measuring 450mm (L) x 232mm (W) x 463mm (H) and weighing 8kg. Inside, we find space to accommodate ATX, micro-ATX, and mini-ITX motherboards, alongside up to 190mm-tall CPU coolers, 369mm-long graphics card, and 258mm-to-225mm PSUs (depending on the HDD cage position).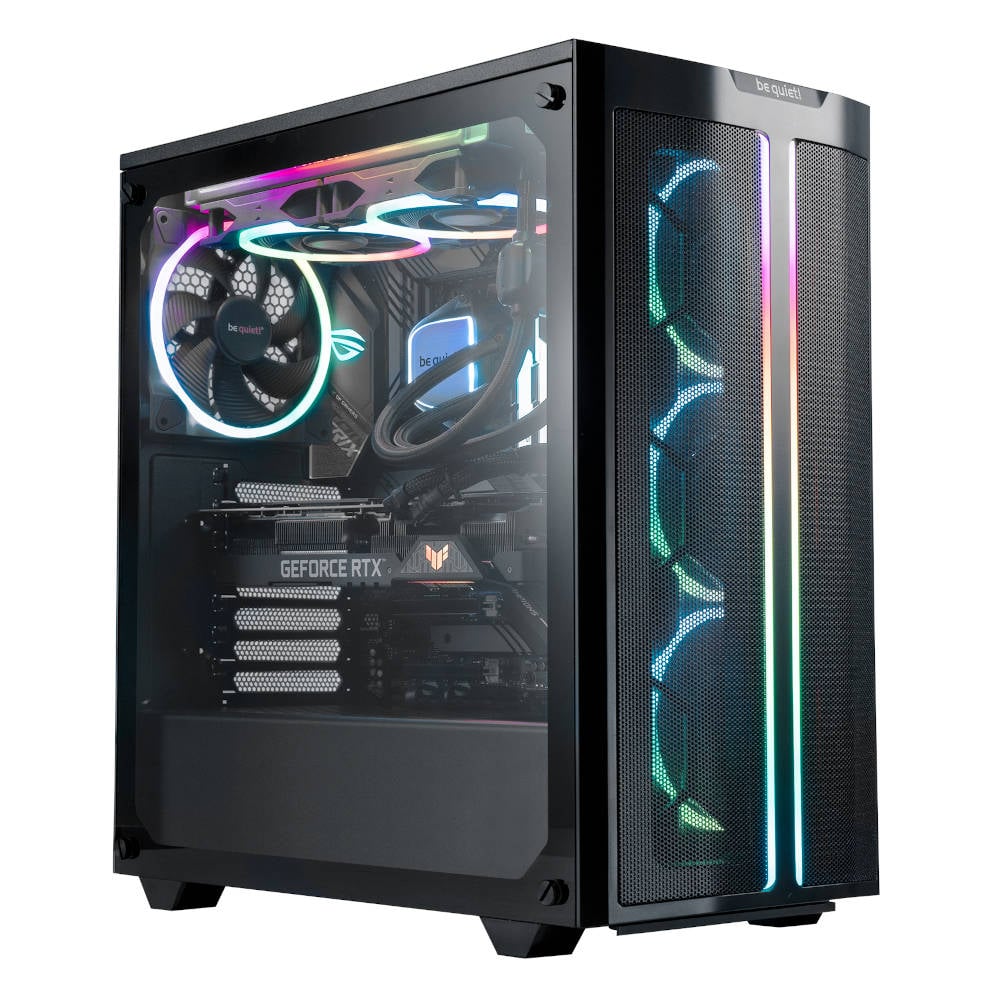 For cooling, one can install two 140mm or three 120mm fans in the front, plus two 140mm or 120mm fans on the top. The case comes pre-installed with three Light Wings PWM 120 in the front plus one Light Wings PWM 140 in the rear. As for liquid cooling, there is space for up to 360mm radiators in the front, 240mm up top, and 140mm in the back.
Storage-wise, be quiet! has included various options for installing up to four SSDs, be they hidden inside the PSU compartment or visible through the glass window. I/O is made of one USB 3.2 Gen 2 Type C, one USB 3.2 Gen 1 Type-A, two audio jacks, and a switch controlling LEDs.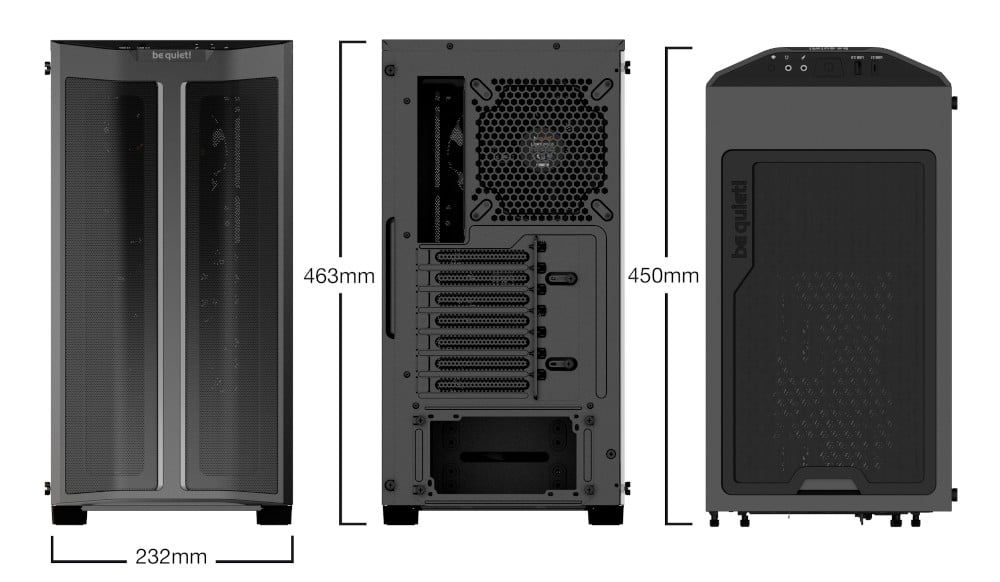 Pure Loop 2 FX
Also backed by a three-year warranty, Pure Loop 2 FX is an all-in-one liquid cooler available in 360mm, 280mm, or 240mm sizes weighing 1,545g, 1,290g, and 1,180g, respectively. They all use be quiet's Light Wings fans offering high static air pressure needed to push air through nickel-plated copper radiators, and a PWM pump capable of running from 4,000RPM up at 5,500RPM.

A key feature of these AIOs is their inclusion of an easily accessible refill port for topping off or changing liquid to increase the lifespan of the cooler – or just to have fun trying other coolant formulas that claim lower temperatures. Just check for compatibility before refilling, to avoid any gunk build-up or corrosion caused by chemical reactions.
All variants are compatible with Intel LGA 1700, 1200, 2066, 1150, 1151, 1155, 2011(-3) Square ILM, and AMD AM5 plus AM4 sockets, thus taking one equation out of customers' minds.
The Pure Loop 2 FX will be available at £144.99, £129.99, and £123.90 for the 360mm, 280mm and 240mm sizes, respectively.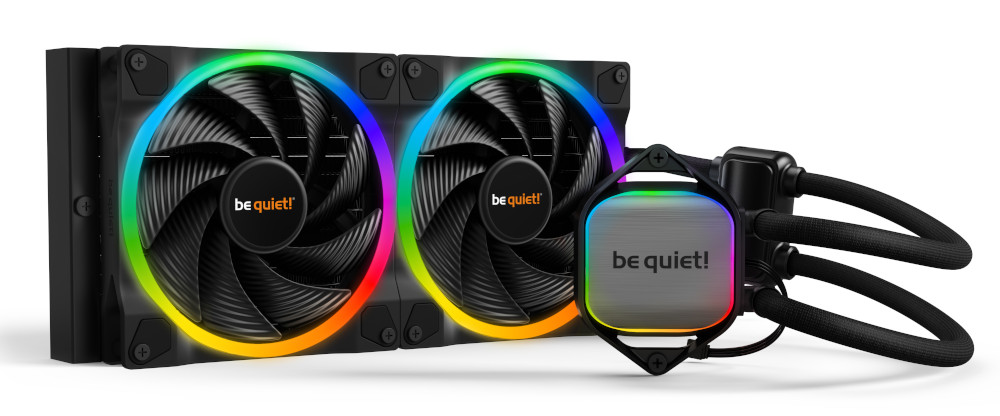 Pure Rock 2 FX
Available at £46.99 MSRP and again backed by a three-year warranty, the Pure Rock 2 FX is an aluminium CPU air cooler featuring an elegant black finish measuring 87mm (L) x 121mm (W) x 155mm (H) (including fan) and weighing 685g. It can cool up to 150W TDP processors thanks to its four 6mm heatpipes, which terminate using a nice-looking cap, which is similar to the ones on Dark Rock Pro 4.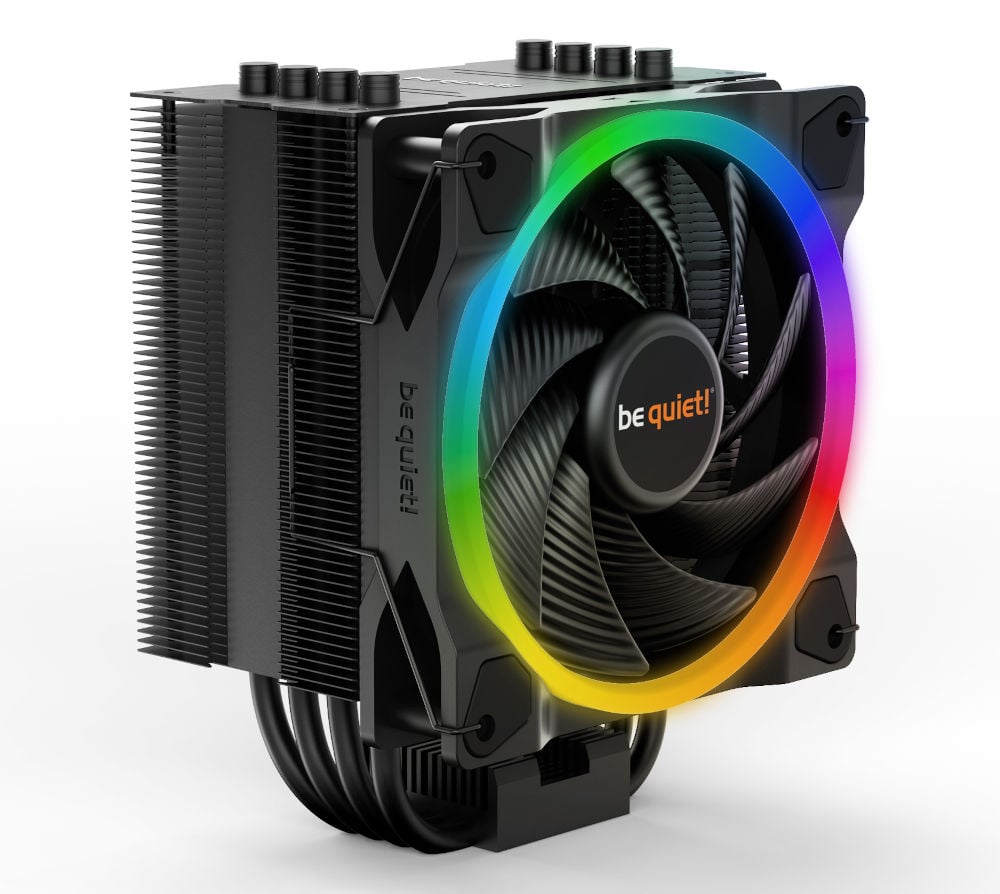 To blow air over the heatsink fins, be quiet! employs a Light Wings 120mm PWM fan capable of speeding up to 2,000RPM at 24.4dBA noise level.
Like Pure Loop 2 FX AIOs, this one is also compatible with Intel LGA 1700, 1200, 2066, 1150, 1151, 1155, 2011(-3) Square ILM, and AMD AM5 plus AM4 sockets. Note this tower cooler uses an asymmetrical construction to avoid blocking memory slots. Nice.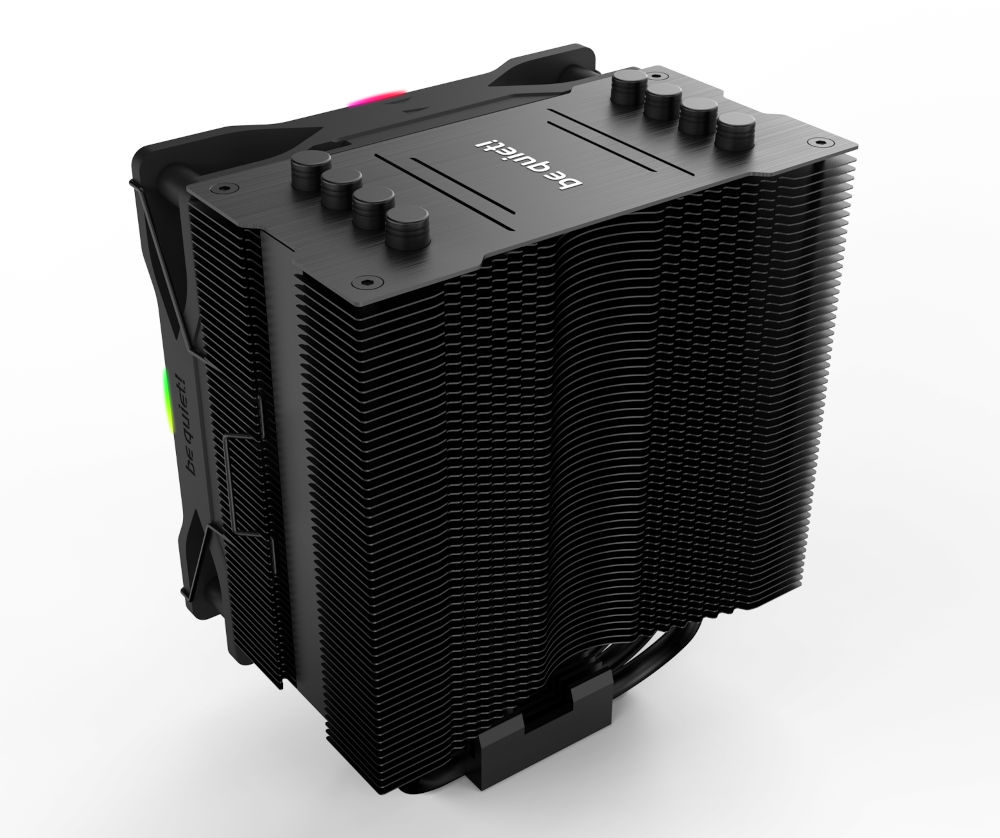 Finally, be aware that during August and September, select partners are offering these products at special promotional prices that are up to $30 under the suggested retail prices, the company says.
Feel like these are some components you would like to have? Well, it's your lucky day, as Club386 is having a giveaway starting tomorrow and running through the entire month featuring one of three be quiet! 20th anniversary FX case-and-cooler upgrade bundles.