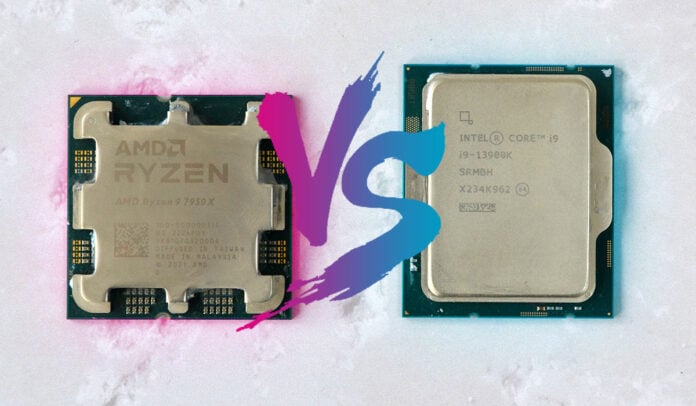 Intel and AMD covet the kudos that goes with having the best all-round desktop CPU. Today's battleground pits Core i9-13900K against Ryzen 9 7950X – two mighty processors mercilessly beating up on predecessors. Glistening with true HEDT potential in multi-core applications which renders older workstation chips obsolete, never has so much power been packed into mainstream sockets.
Numbers suggest AMD has the upper hand in a swathe of professional programs leveraging all available cores and threads, though the latest Core chief is hardly slow. Moving the fight over to gaming reveals a different truth; Intel's cache-rich, high-frequency Raptor Lake architecture beats down on Zen 4 Raphael in sheer, unadulterated throughput. Tested with a GeForce RTX 3080 Founders Edition card, the framerate gap at a FHD resolution is significant in some titles, but that's not the whole story.
Feed The GPU Beast
Coinciding with a flurry of CPU releases, Nvidia has brought the wonderfully impressive GeForce RTX 4090 to market. So proficient is it at gobbling up frames and outdistancing the best of the last generation by up to 50 per cent – it's on a different performance plane to other consumer gaming GPUs – that an AMD Ryzen 9 5950X, a rather tasty chip in its own right, surprisingly acts as a major bottleneck, particularly at lower resolutions. Extracting the most out of the Green Goblin requires a faster CPU. Guess what, brand-new Ryzen 7000 Series and Core 13th Gen position themselves as prime candidates to sate the hungry RTX beast.
Questions arise. Does the framerate gap between 13900K and 7950X increase to a yawning chasm when the fastest-ever GPU is at the helm? How much better is the new duo than a Ryzen 9 5950X? How long will Rishi last as UK PM? Okay, we can't answer the last one, but have crunched all the numbers to show which high-performance chip is champion at gaming when paired with ultra-rapid RTX 4090. Buckle in the for the ride.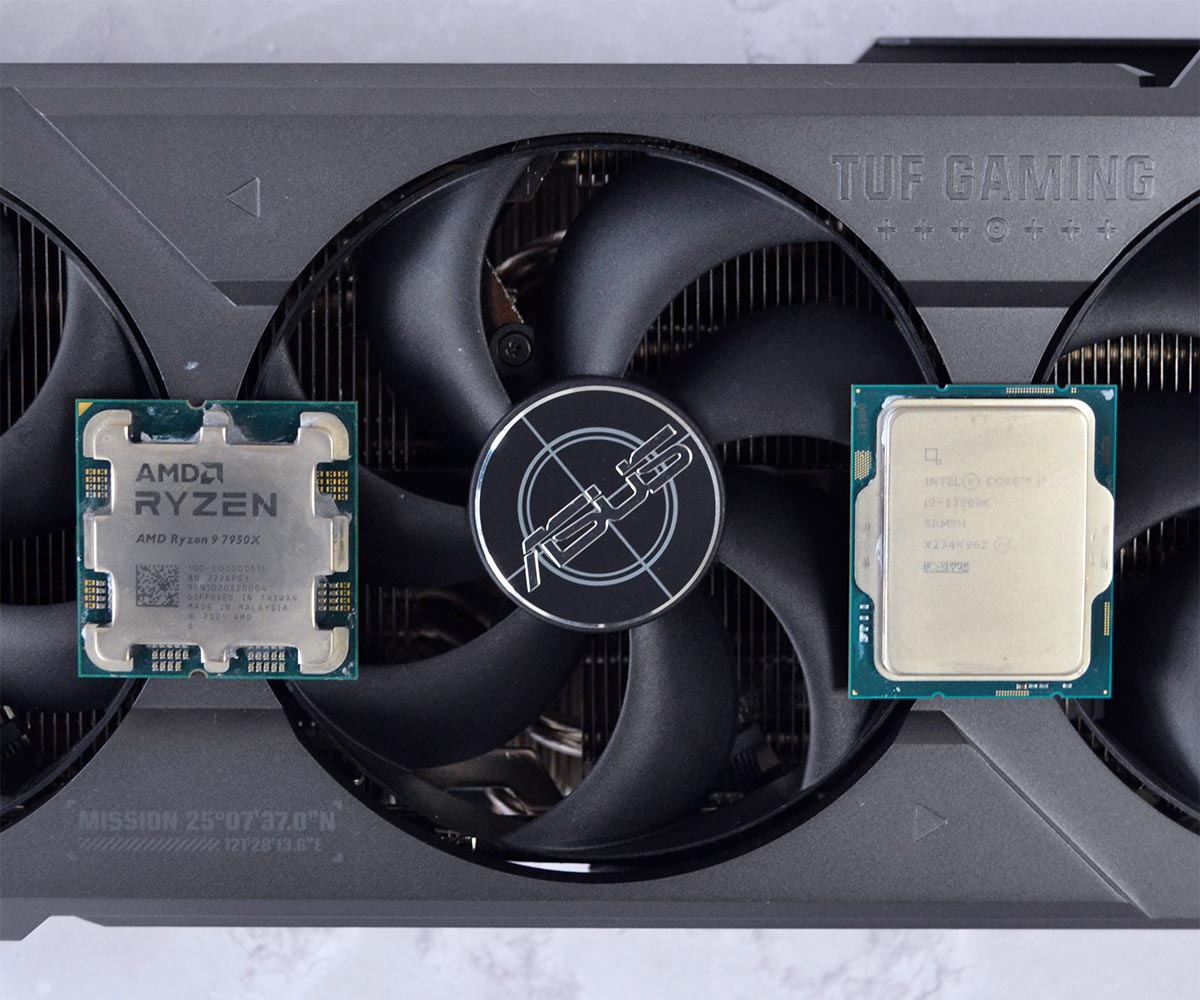 Common components for the two new chips include an Asus TUF Gaming GeForce RTX 4090 OC Edition 24GB graphics card, 32GB (2x16GB) G.Skill Trident Z5 Neo EXPO memory operating at DDR5-6000 CL30 on both fronts, Noctua NH-D15S chromax.black cooling, Seagate FireCuda 530 2TB NVMe SSD, and Asus ROG Hero boards from the Z790 (Intel) and X670E (AMD) families. A pre-production be quiet! Dark Power 13 1,000W PSU provides perfectly stable power and makes cabling easy thanks to a single PCIe 5.0 GPU power connector. We couldn't make the two class-leading platforms more similar if we tried. In-game settings are set to maximum.
All chips are run with their manufacturer-specified power limits intact, meaning a 142W PPT for Ryzen 9 5950X, 230W applied to Ryzen 9 7950X, and 253W package power for Core i9-13900K.
Performance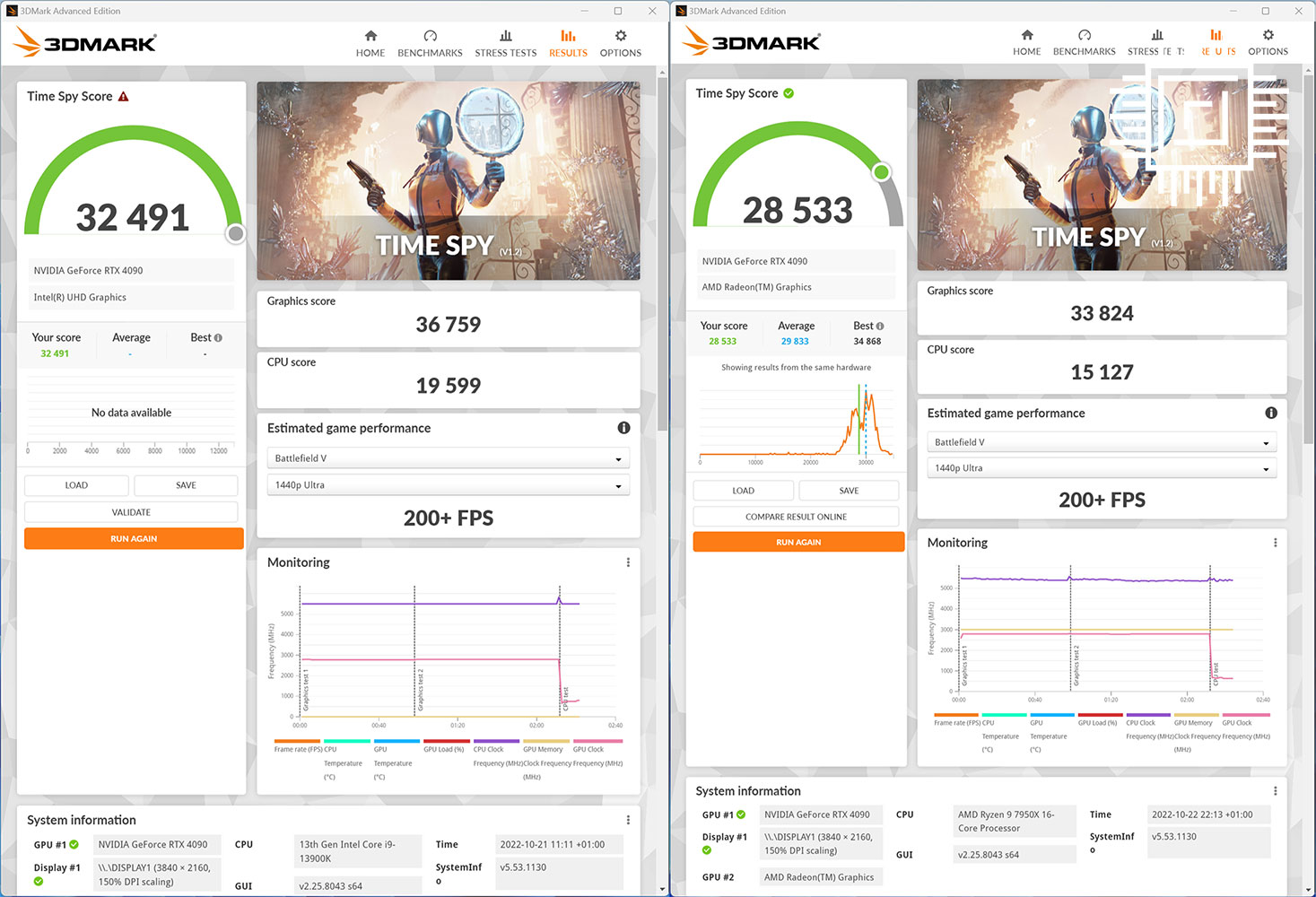 Propelling Core i9-13900K firmly into the lead, Intel nabs a near-4,000-mark advantage at the default test.
Making the largest difference is the CPU score attributed to both camps, with Intel Core i9-13900K adjudged to offer 30 per cent more performance. Quite the start.

Increasing GPU load by running the 4K test shows both leading chips benchmarking in close proximity. What's also clear is Ryzen 9 5950X lags behind.
Assassin's Creed Valhalla



Historically considered a mostly GPU-bound game at any resolution, having a GeForce RTX 4090 at the helm illustrates minor advantages for Core at FHD. Moving on over to QHD and UHD leads to similar results as all the burden is placed on the meaty graphics card.
Cyberpunk 2077



Run at the taxing Ultra preset, even mighty GeForce RTX 4090 struggles at 4K. Core i9-13900K continues to hold a slim lead at FHD and QHD, but it's nothing much to write home about.
Far Cry 6



Whoa, Nelly. The Far Cry engine has always been a lover of Core architecture. Lapping up the high-frequency and fat caches of Raptor Lake's finest, Core i9-13900K demolishes today's and yesterday's best Ryzens. In fact, in combination with RTX 4090, it's faster at UHD than Ryzen 9 5950X is at FHD. Think about that for a second.
Final Fantasy XIV: Endwalker



Games that appreciate a fast CPU scale best with RTX 4090. Makes sense, right. The monster Nvidia graphics card is begging for more throughput at every resolution. It's eye-opening to consider Core i9-13900K adds an extra 22 per cent framerate on top of Ryzen 9 5950X.
Another resounding win for Raptor Lake over Raphael and Vermeer.
Forza Horizon 5



Wondering why no minimum FPS is charted at FHD or QHD in Forza Horizon 5? The reason is the reported GPU minimum is higher than the in-game average. There's still a clear step up in three-resolution performance when using faster CPUs. Itching to bust out the wallet?
Marvel's Guardians Of The Galaxy




Chalk this one down to an easy Core victory, too. The game's engine is no lover of the Zen 3 architecture (Ryzen 9 5950X) and its restrained frequency clocks. Jumping up to Ryzen 9 7950X adds 21 per cent more framerate at FHD but shifting gears to Core i9-13900K pushes performance out by a further 20 per cent. These are not small gains when one considers the graphics card is identical in all three scenarios.
It is only at UHD the game becomes wholly bound by GPU.
Tom Clancy's Rainbow Six Extraction



Producing the loftiest framerates encountered so far, no-one will complain at the weakest platform producing a 375FPS average at FHD. Nevertheless, faster processors help tease the most performance from the rampaging GeForce RTX 4090. If it's not abundantly clear already, the best CPU to mate with this class of GPU is the Intel Core i9-13900K.
Summary
Those with an inclination to build a luxury PC this winter will naturally look toward the Nvidia GeForce RTX 4090 graphics card as the prime purveyor of pixels. Humongous innate power escalates performance to a new level compared to any consumer GPU that has come before, though getting the most out of the monster requires thought.
Selecting the right CPU is paramount in ensuring framerates remain high, especially when performance-boosting technologies such as DLSS 3 are brought to bear. Our analysis shows that both new heavyweight processor champs from Intel and AMD offer a better gaming experience than, say, Ryzen 9 5950X, with most of the gain occurring at lower resolutions where RTX 4090 is bored waiting for CPU-side throughput.
Having higher average framerates is all well and good – no-one will say no to an extra 20FPS – yet arguably more important to die-hard gamers is the lift to minimums – the slowest frames hurt the most. In both instances, Intel Core i9-13900K outdistances AMD Ryzen 9 7950X, sometimes by a little, other times by a lot. A couple of our games are so reliant on a fast CPU that RTX 4090 performance increases by a whopping 20 per cent at the FHD resolution, and such knowledge is mana to competitive gamers.
Looking toward the near-term future, AMD needs a cache-laden Ryzen 9 7950X3D to come out sooner rather than later, helping redress the imbalance and fend off the inevitable Core i9-13900KS waiting in the wings.
Nevertheless, AMD has made solid strides by bringing Zen 4 power to mainstream processors – Ryzen 9 7950X is a better gaming chip than Ryzen 9 5950X, period – but it's Intel that now stakes a solid claim as the go-to solution for an exotic gaming rig in 2022. Core i9-13900K is the best all-round processor on the market right now, effortlessly mixing solid multi-core performance with superb gaming credentials.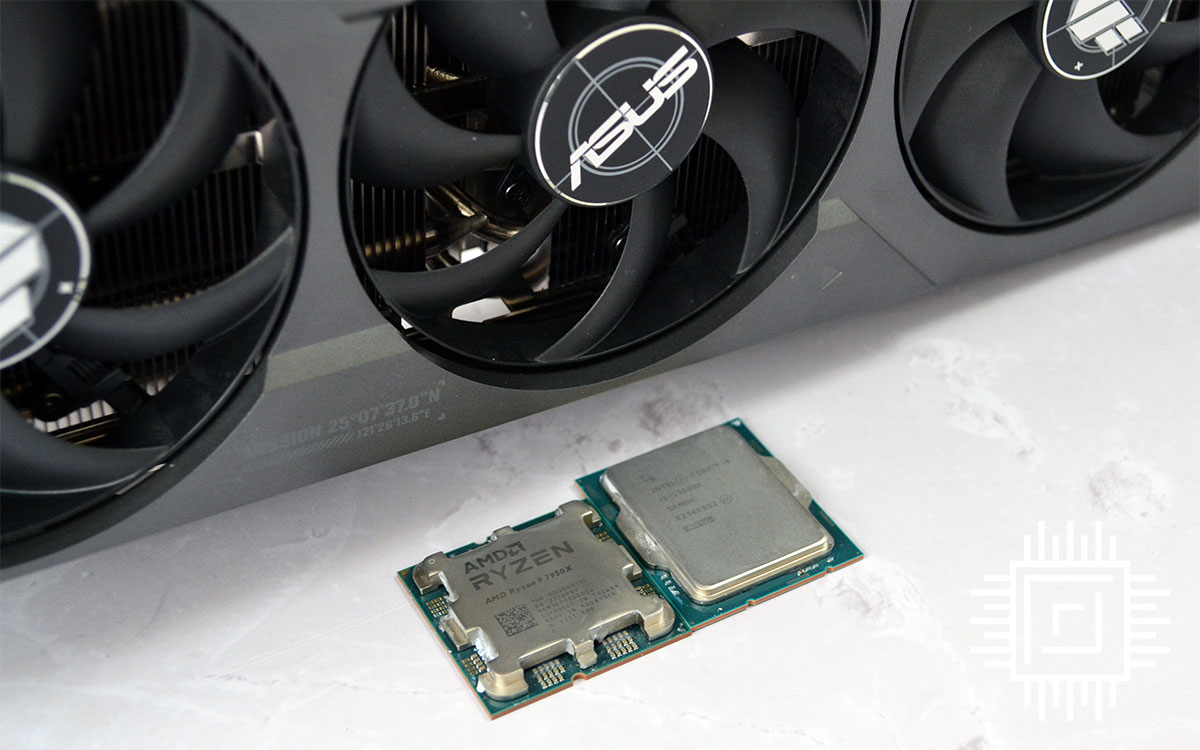 AMD Ryzen 9 7950X
---
"AMD Ryzen 9 7950X is a 16-core powerhouse processor and 32 threads that can do it all for the most demanding gamers and creators."
We earn a commission if you make a purchase, at no additional cost to you.
Intel Core i9-13900K
---
"With the highest clock speeds and a groundbreaking new architecture, you'll be able to push your gameplay to new heights while secondary apps run seamlessly in the background."
We earn a commission if you make a purchase, at no additional cost to you.