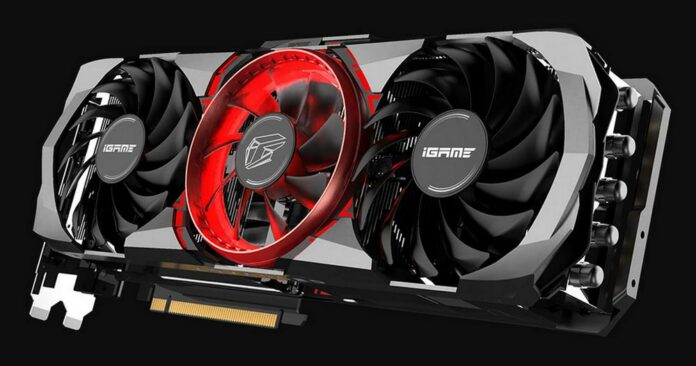 Colorful seems to be planning for at least three Nvidia GeForce RTX 3070 Ti cards housing Nvidia's high-end GA102 GPU instead of GA104 previously.
As far as we know, Colorful is the second brand after Zotac to use a cutdown GA102 die for these cards. But that doesn't mean you will be getting a faster card, since it will be missing 4,608 cores out of 10,752 originally, to keep the same 6,144-core specs found on 'standard' RTX 3070 Ti. The brand plans to launch an iGame Vulcan OC, iGame Advanced OC and iGame Ultra White OC.
While the remaining specs are identical – for example, a 1,575MHz base and 1,770MHz boost clocks, plus 8GB of 19Gbps GDDR6X memory running on a 256-bits bus – power consumption sees a rise from 310W to 400W when compared to the same model running the leaner GA104 GPU. The power-delivery system has also been strengthened to deliver the required 400W, now boasting a 14+8+4-phase design instead of 14+4-phase on GA104-based cards.
Since these cards seem to be reusing the exact power delivery found on their RTX 3080 counterparts, we can assume they will also carry the beefier cooling system, which is a good thing – if the price stays the same, obviously.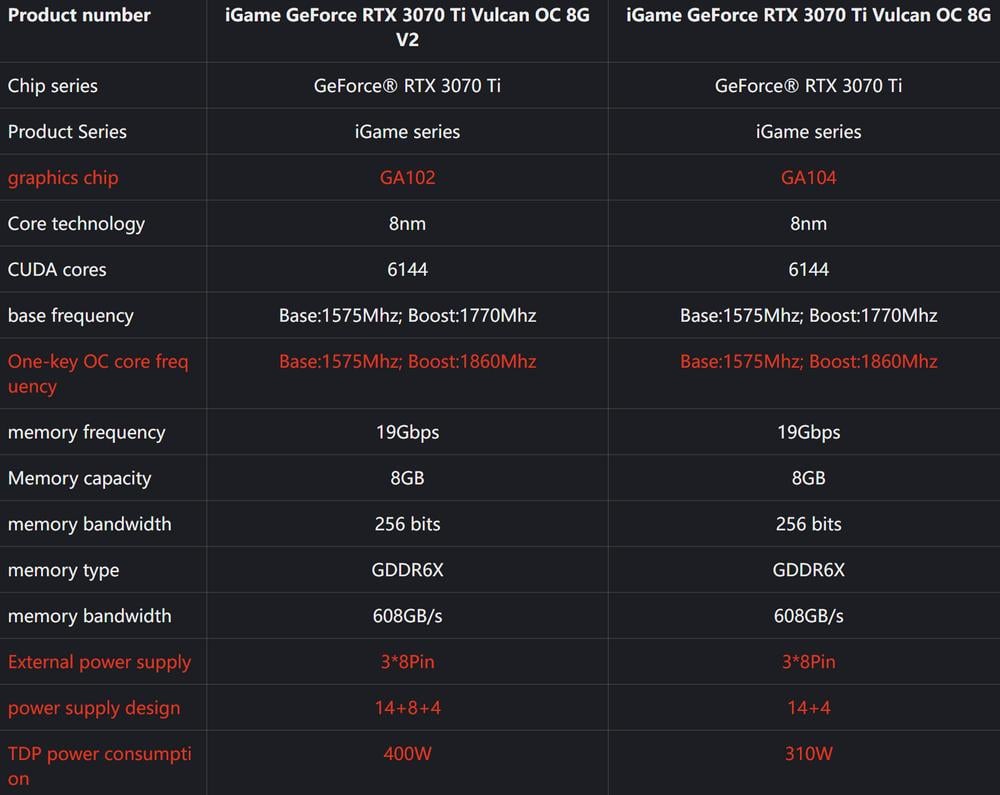 Why do this?
This news adds to the veracity of rumours regarding Nvidia's huge chip inventory that needs to be sold before releasing new midrange RTX 40 Series cards. If Nvidia doesn't get rid of RTX 30 Series silicon, there's the possibility of anaemic RTX 40 Series sales against in-market, discounted 30 Series and ostensibly cheaper Radeon 7000 GPUs. Such sentiment skirts around RTX 4080's inadequate pricing which keeps many models firmly on the shelves.
According to Jon Peddie Research (JPR) latest report, Nvidia's GPU shipments decreased by 19.7 per cent from last quarter. While this may be partly caused by lower demand from crypto miners following the Ethereum merge and general price crash, we can't ignore the fact that many gamers may have had enough of exorbitant hardware prices.
We can't wait for RDNA 3 cards to spark some competition in pricing, because things aren't looking rosy for those with shallow pockets.