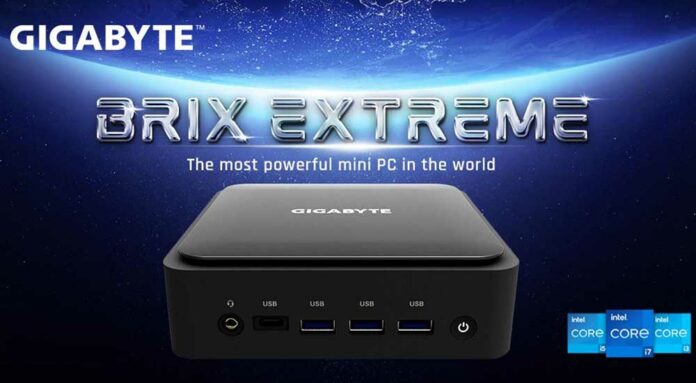 Modern processors and storage enable vendors to produce wonderfully powerful small-form-factor systems suitable for myriad uses. Gigabyte jumps on this fact with its BRIX line. Powered by Intel 12th Gen Core technology, today sees the performance needle move to the right with the announcement of, the company claims, 'the most powerful mini PC in the world.'
Brix SFF PCs are offered in 'Extreme' guise with two flavours: AMD and Intel. The former uses Ryzen 5000U Series mobile processors with baked-in graphics, whilst the latter cranks up the ability by shoehorning in select 12th Gen Core mobile chips.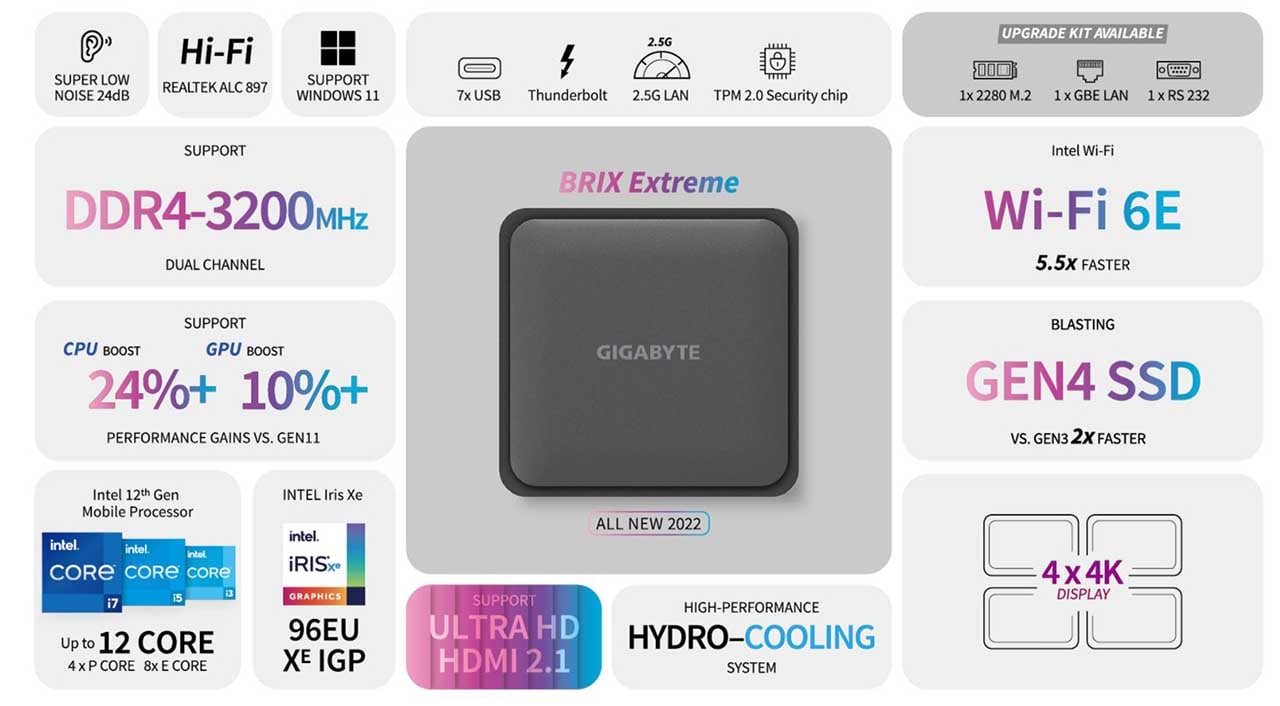 Gigabyte doesn't go into finer details on the chips powering this all-new Brix, other than to intimate the most powerful processor will house 12 cores comprised of four Performance and eight Efficient. By our reckoning that translates to either a Core i5 12x00H plumbed with a native 45W TDP or some form of Core P Series with a base 28W rating – our money would be on the latter, especially as the literature makes reference to a Core i7 model. Assuming this is the case, it's hard to see how this Brix is faster than Intel's homegrown NUC 12 Extreme.

The base Brix is known as the 'Slim version,' as shown on the bottom, and it measures a compact 44 x 134 x 139mm. The 'Tall' version, which adds an extra 8mm in height, enables additional storage capacity allowing users to install a 2.5in SSD/HDD in addition to three internal M.2 slots – one PCIe 4.0 x4 and two PCIe 3.0 x4.
Both models have identical outputs comprising seven USB, Thunderbolt, Wi-Fi 6E and 2.5G Ethernet, and both can take advantage of a new upgrade kit featuring an I/O expander for adding a second LAN connection, a RS232 communication port, and a M.2 2280 slot. Four 4K displays are supported, too, through an eclectic combination of dual HDMI 2.1, USB-C DisplayPort and mini-DisplayPort. It's worth knowing the same Tall chassis and outputs are present on Ryzen-powered Brix Extreme, save for Thunderbolt.
Available later this year as a barebones solution, we wonder how the Intel-infused Brix Extreme fares against its AMD rival.