Jump to: Performance | Value | Overclocking | Conclusion
The best graphics cards have been in a state of flux for longer than anticipated. Unprecedented shortages have been followed swiftly by an abundance of excess stock, and in the wake of a global pandemic and a cryptomining craze, things are only now beginning to return to normal.
Hefty price drops on existing cards are accelerating the process while putting the squeeze on recent GPUs such as GeForce RTX 4060 Ti and Radeon RX 7600. The costly mid-range newcomers raised eyebrows at launch, but with previous-generation equivalents now plummeting in price, we're firmly into full-blown People's Eyebrow territory. Queue the memes.
Partners who were already struggling to make sense of RTX 4060 Ti are hard pushed to justify dearer models outfitted with best-in-class coolers, and there's no better example of that quandary than MSI's Gaming X Trio.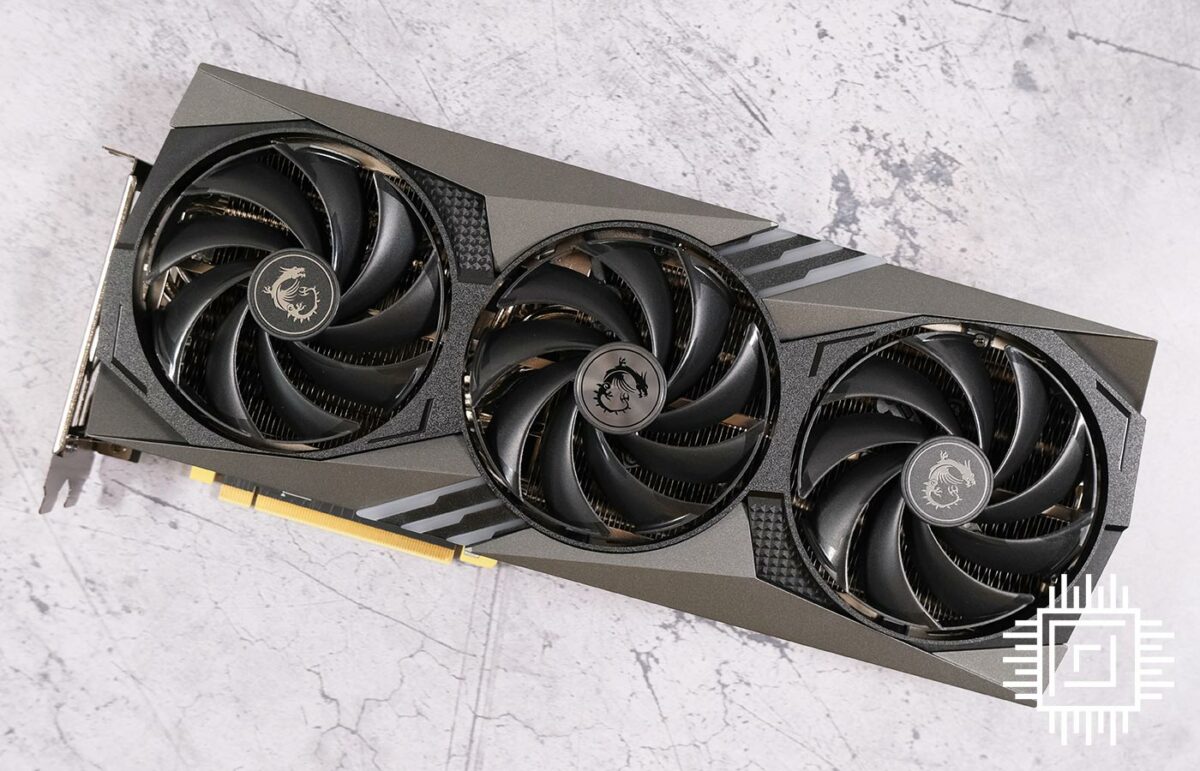 Here's a terrifically built card whose £459 price tag is ill-equipped for today's market. That's a 20 per cent premium over the rock-solid £379 Founders Edition right there, but the real snag is that MSI's own RTX 3060 Ti has been available for under £285. The minor generational uplift in performance does not equate to a 60 per cent bump in cost.
And that's a shame, really, as AD106 remains a decent 1080p GPU positioned all wrong. This has the feel of a x50-class GPU donning an x80-class cooler. In MSI's defence, the Taiwanese giant does have half-a-dozen RTX 4060 Ti models in its arsenal, including a dual-fan Ventus 2X that's price matched to Nvidia's Founders Edition. That's the card to go for, but MSI naturally wants to show off its engineering prowess.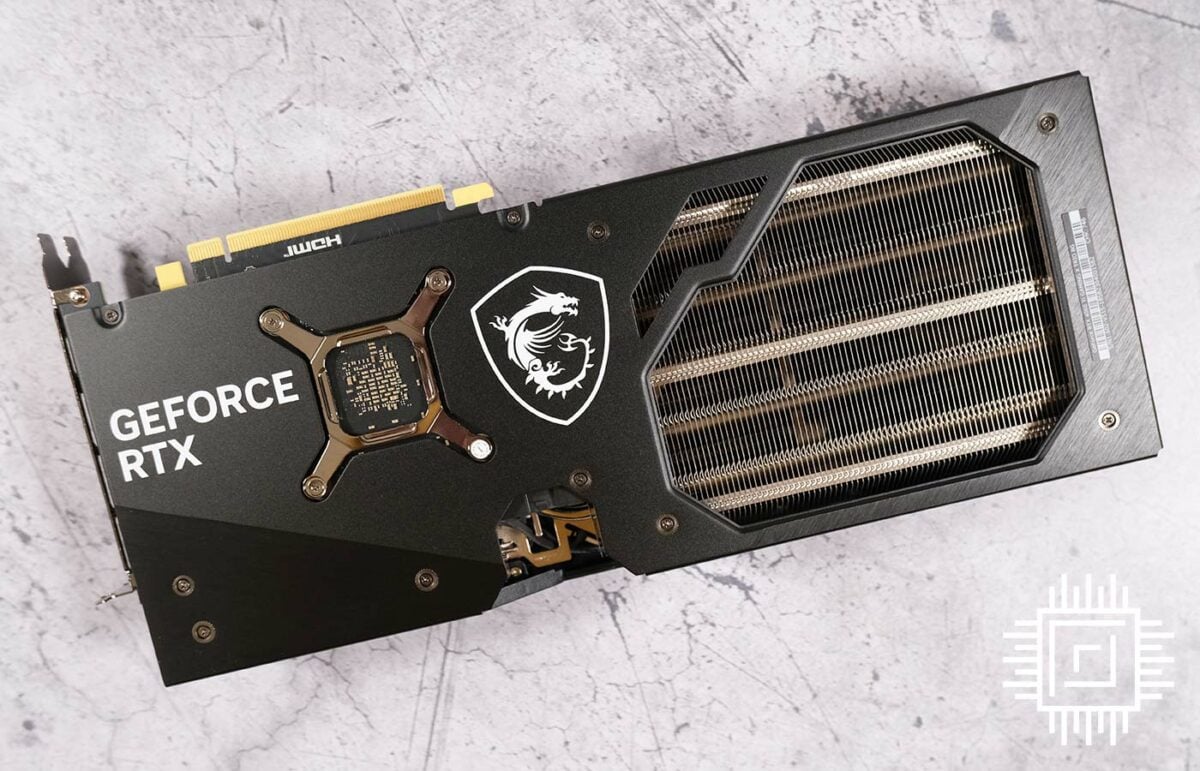 Measuring 338mm x 141mm x 52mm in size and tipping the scales at 1,167g, the 2.5-slot Gaming X Trio is a classic case of gaming overkill; there's no real need for any RTX 4060 Ti to be quite so big. Indeed, when you consider the underlying 4nm GPU measures just 187.8mm2, it's actually impressive how MSI has managed to attach an array of heatpipes and such a massive heatsink.
Notice the cutout in the metal backplate? That allows the trio of Torx 5.0 fans to blow right the way through, which is ideal for cooling, but also highlights how short the actual PCB is. The board stops just after the power connector, meaning the cooler is more than twice the length of the card itself. Bonkers.
Speaking of power, MSI opts against newfangled 12VHPWR, reverting instead to a good ol' eight-pin power connector. That's fine by us, though the positioning of said connector so far along the card does make cabling a bit of an eyesore.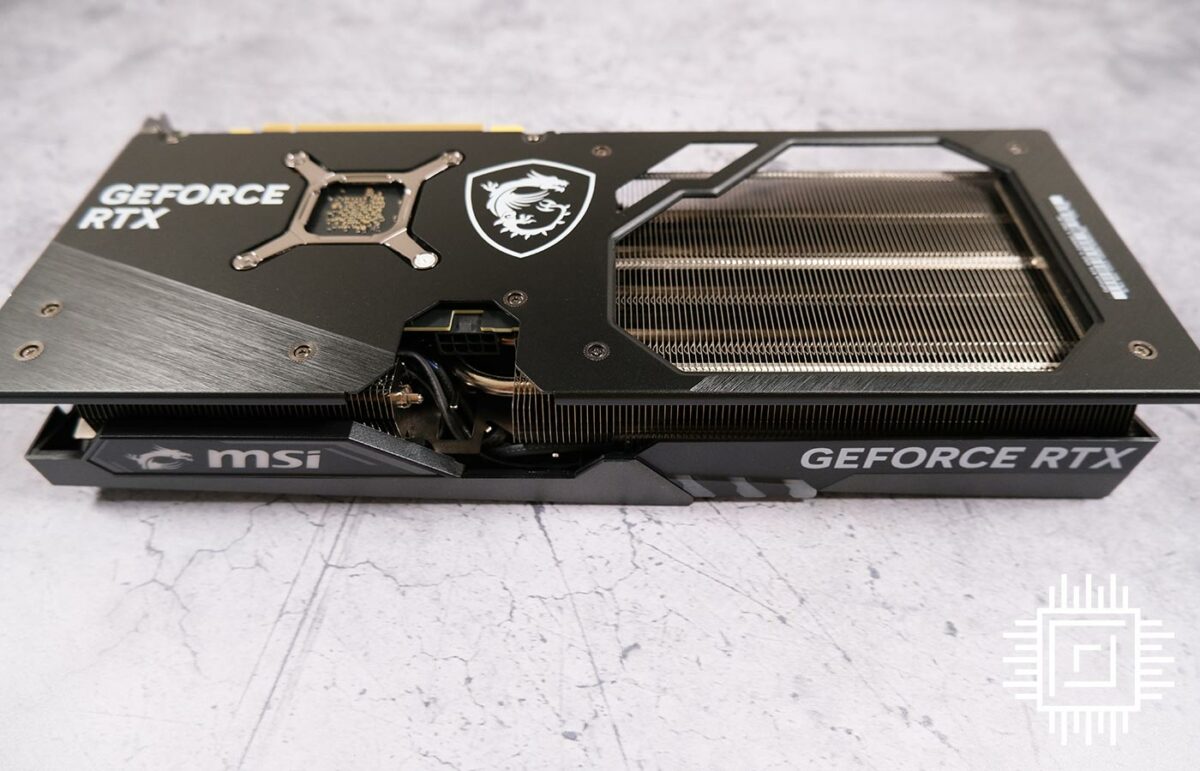 All three fans switch off at low load, as you would expect, and the card runs so cool and quiet that Gaming X Trio never feels the need to break sweat. Fan speed did not exceed 30 per cent (~1,100rpm) throughout our testing, while temperature remained comfortably below 60°C.
It's a solidly put together piece of kit, no doubt, but for GPUs of this ilk, we're of the opinion smaller is better. MSI surprisingly doesn't have a Mini-ITX model in its portfolio, and that's a shame as a small-form-factor PC is one area where RTX 4060 Ti's efficiency could shine through. On the other hand, if you have room and cash to spare, Gaming X Trio will deliver an ultra-refined 1080p experience. There's even a support bracket included in the box to guard against dreaded sag.
From a visual standpoint, MSI's aggressive angular design ticks the right boxes for a gaming build, and the colour scheme is such that it'll match almost every build but white. Even the RGB is tasteful, with three stripes running through the centre of the card and wrapping over the edges. The MSI branding across the top is also illuminated, but the dragon logo on the backplate is not.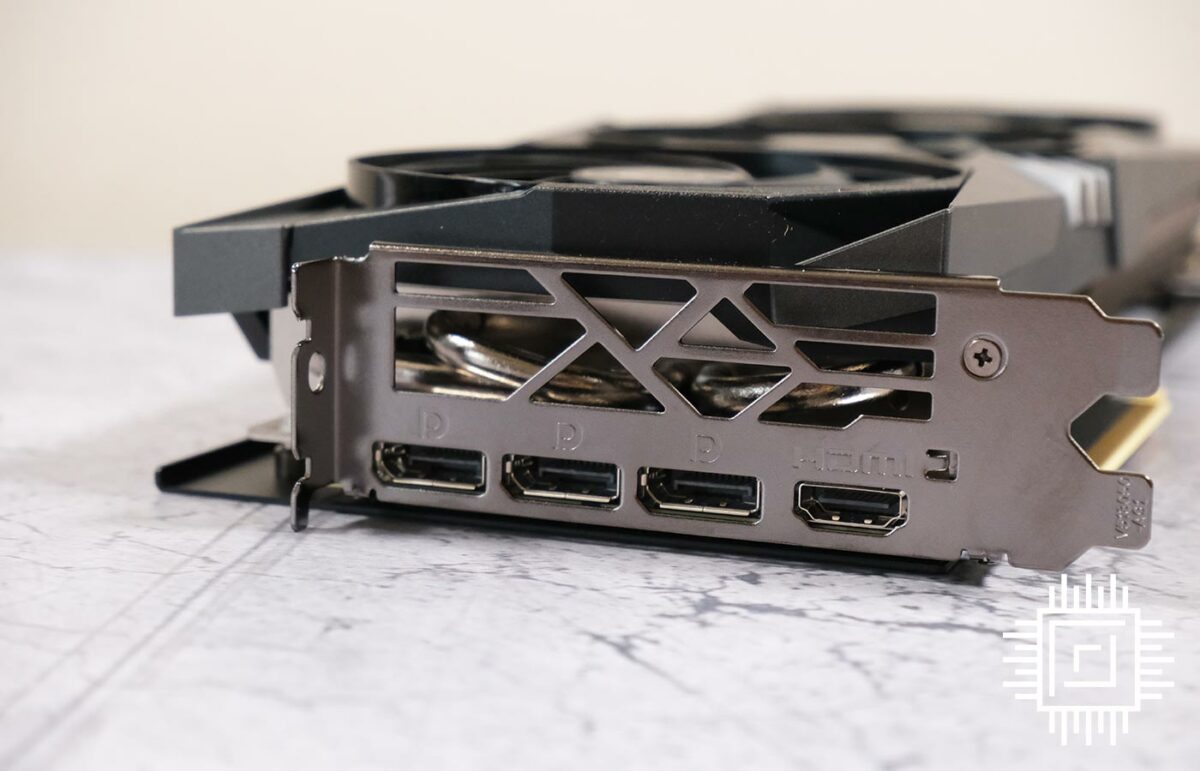 Such extreme cooling does allow MSI to raise frequencies out of the box, with boost clock climbing from 2,535MHz to 2,670MHz, however the 8GB of GDDR6 memory remains glued at 18Gbps and display outputs go unchanged with a single HDMI 2.1 and three DisplayPort 1.3.
All the ingredients for a card that's quicker, cooler and quieter than reference, which is the least we should ask for given the premium. Let's see how it pans out in the benchmarks.
Performance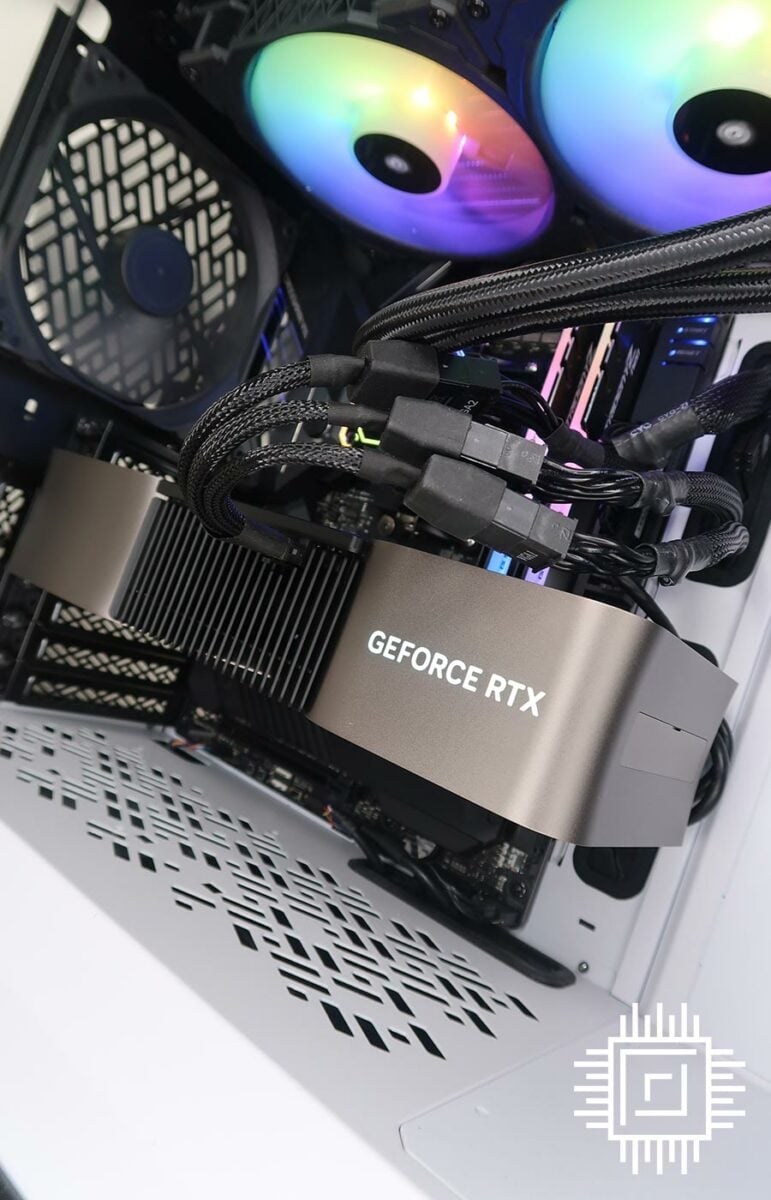 Our trusty test platforms have been working overtime these past few months, and though the PCIe slot is starting to look worse for wear, the twin AM4 rigs haven't skipped a beat. Readers wanting to see how RTX 4060 Ti compares to high-end products can cross-reference earlier Club386 reviews, but for the purpose of this editorial, we're focussing exclusively on mainstream GPUs slotting in below RTX 4070.
Some of the world's most popular cards – GTX 1660 Ti, GTX 1060 and RTX 3060 – have been tested from scratch using the latest drivers, and just to make things interesting, we've also included a couple of outliers in the form of Intel Arc A770 16GB and AMD Radeon RX 6750 XT 12GB, both of which serve as stern competitors following recent price cuts.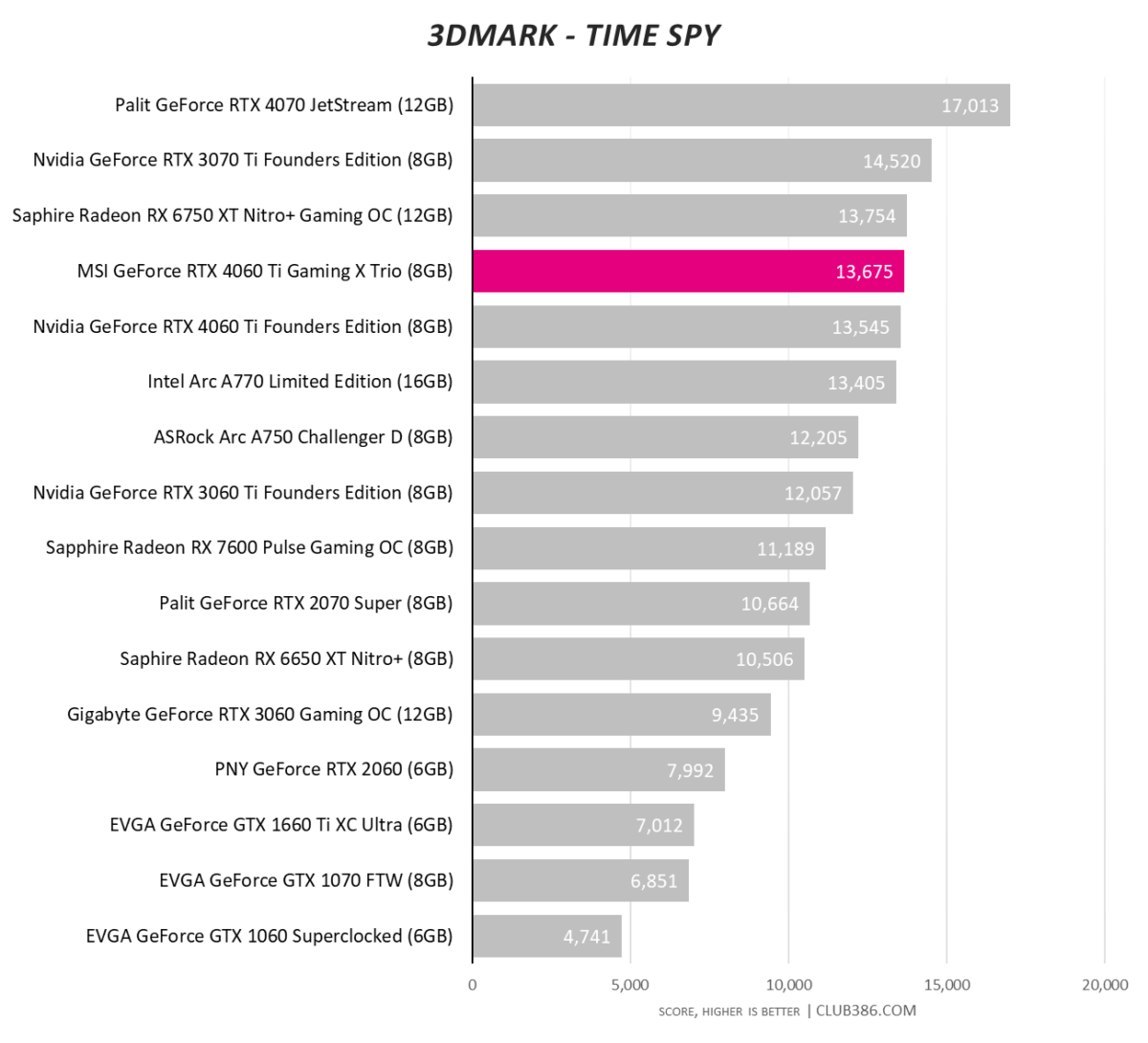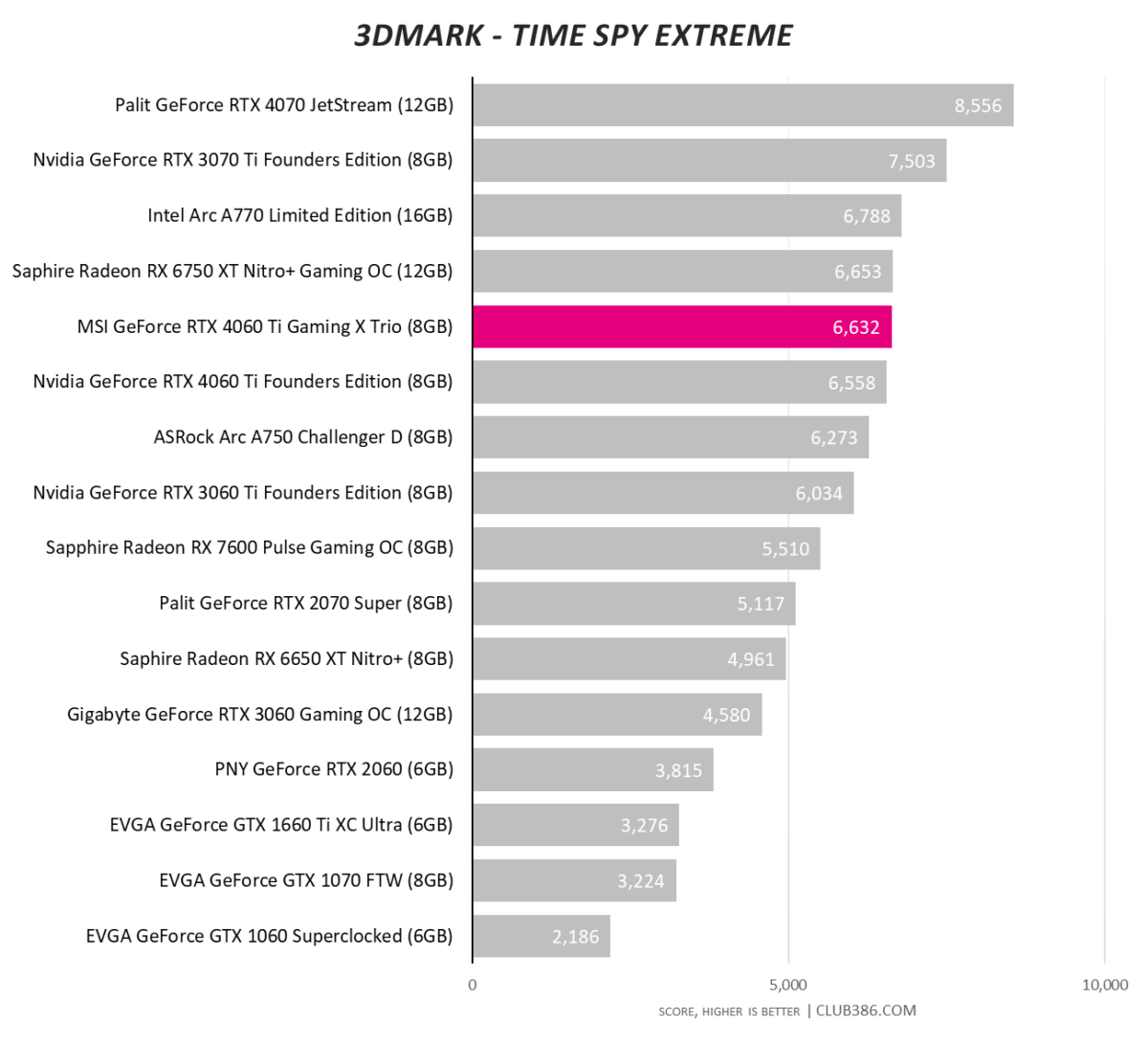 RTX 4060 Ti is roughly 10 per cent quicker than RTX 3060 Ti and arrives at the same £379 MSRP. That sounds fine on paper, yet today's topsy-turvy graphics market isn't as straightforward as that. RTX 3060 Ti, for example, is now often on sale under £300, and that's a big problem for the £460 MSI 4060 Ti Gaming X Trio.
Even if you're upgrading from a much older card, RTX 4060 Ti's 2x performance increase over, say, GTX 1660 Ti, risks being overshadowed by RTX 3060 Ti's meaty price cut.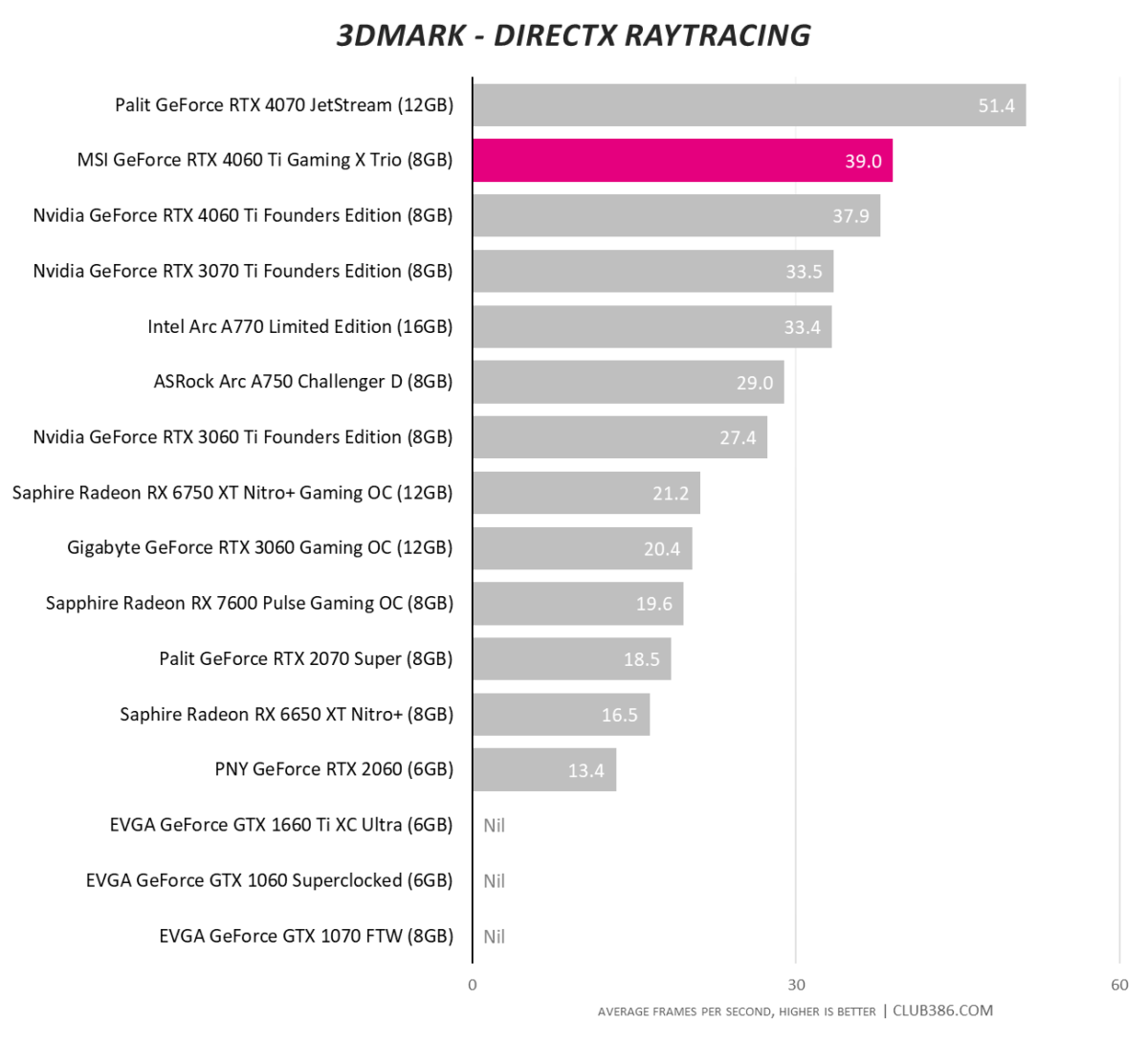 Where latest-generation architecture does make sense is the overall feature set. RTX 4060 Ti, if you can afford it, paves the way toward DLSS 3, 8th Gen NVENC and, as illustrated above, a best-in-class ray tracing experience.
Assassin's Creed Valhalla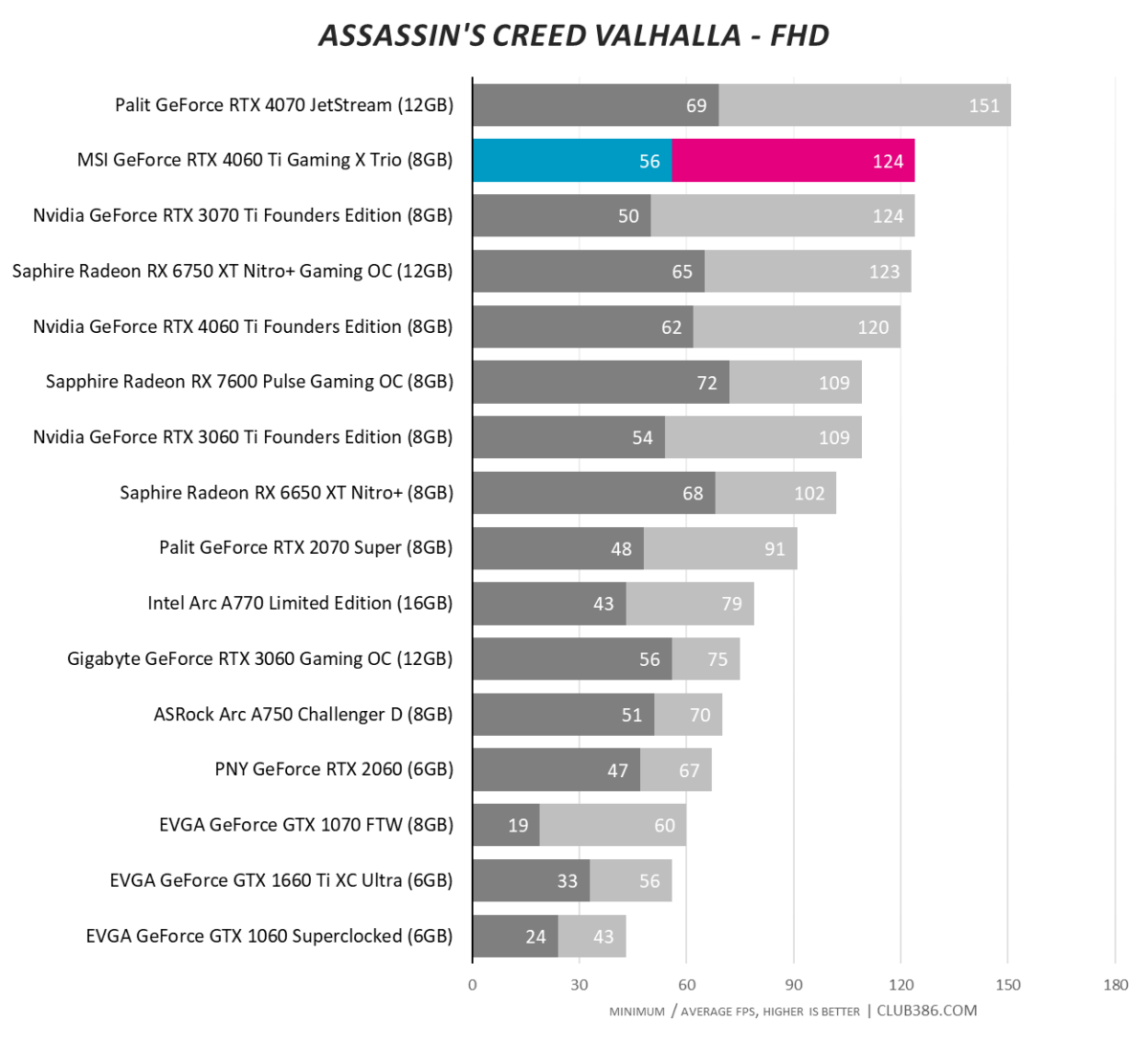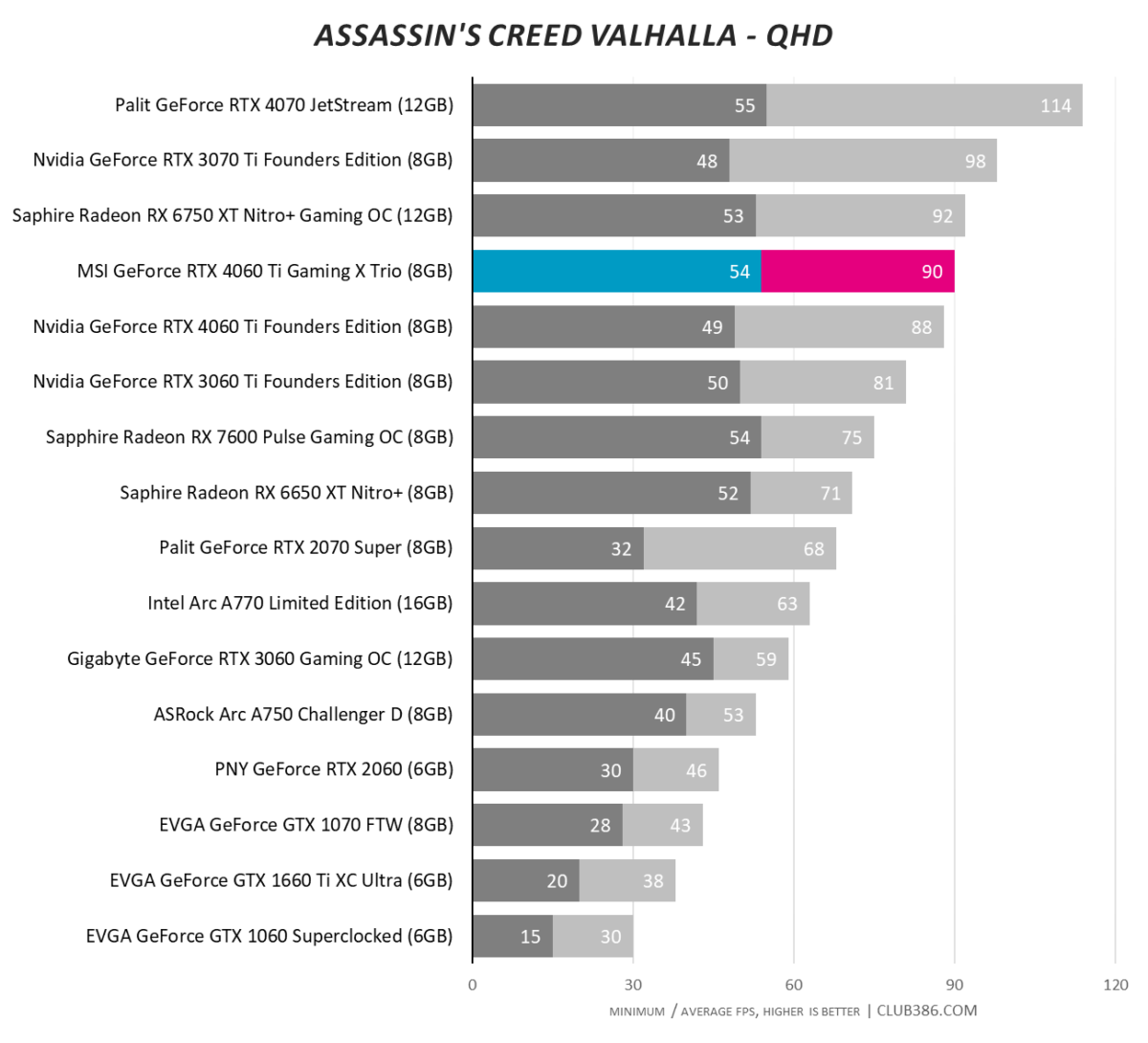 RTX 4060 Ti is known to have frequency headroom and MSI delves into that untapped potential. Whereas the Founders Edition ran steady at 2,760MHz inside our real-world test platform, Gaming X Trio stretches its legs, hitting a solid 2,850MHz. The in-game performance uplift is relatively minor, however, suggesting RTX 4060 Ti's main bottleneck lies elsewhere.
Cyberpunk 2077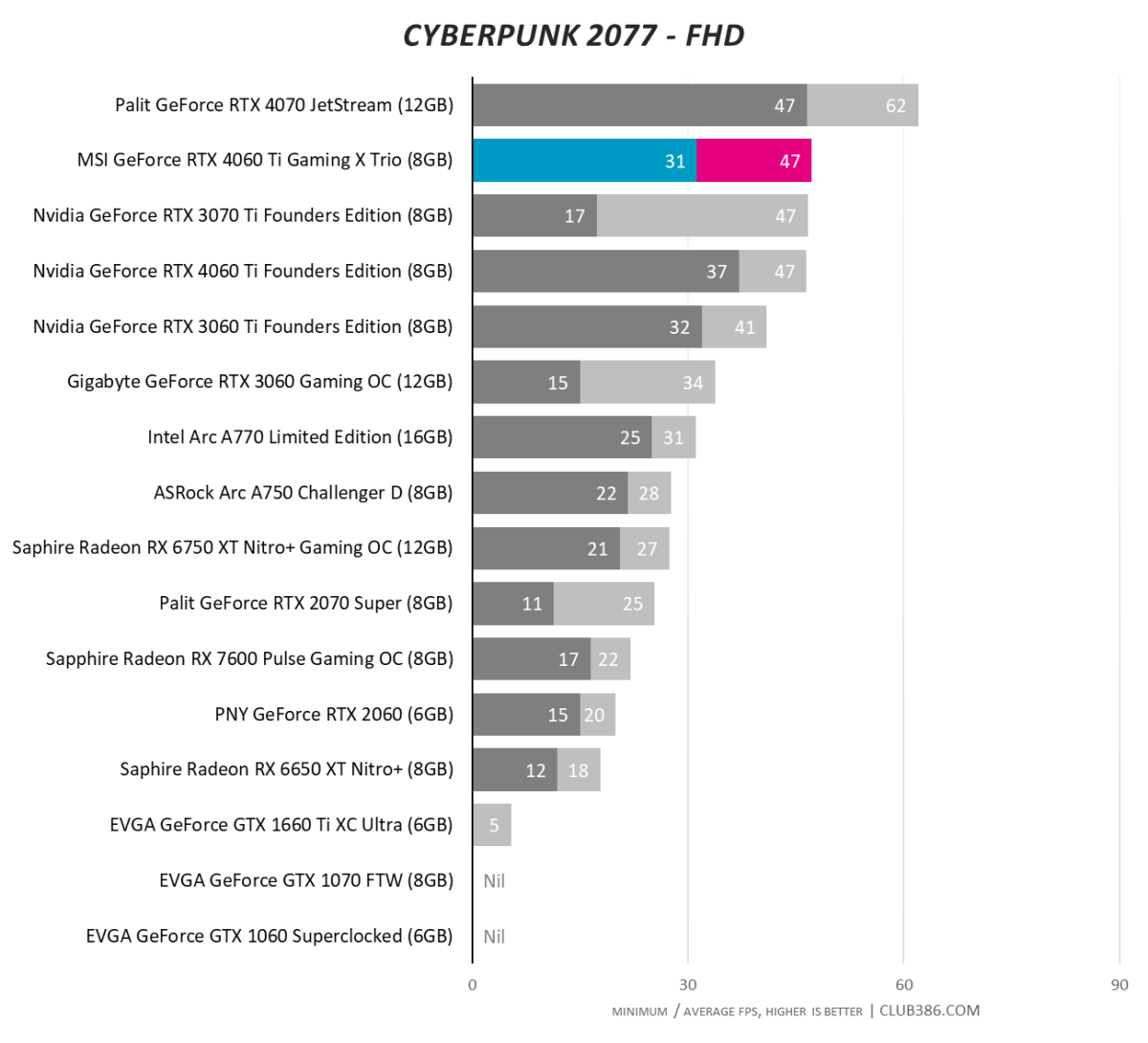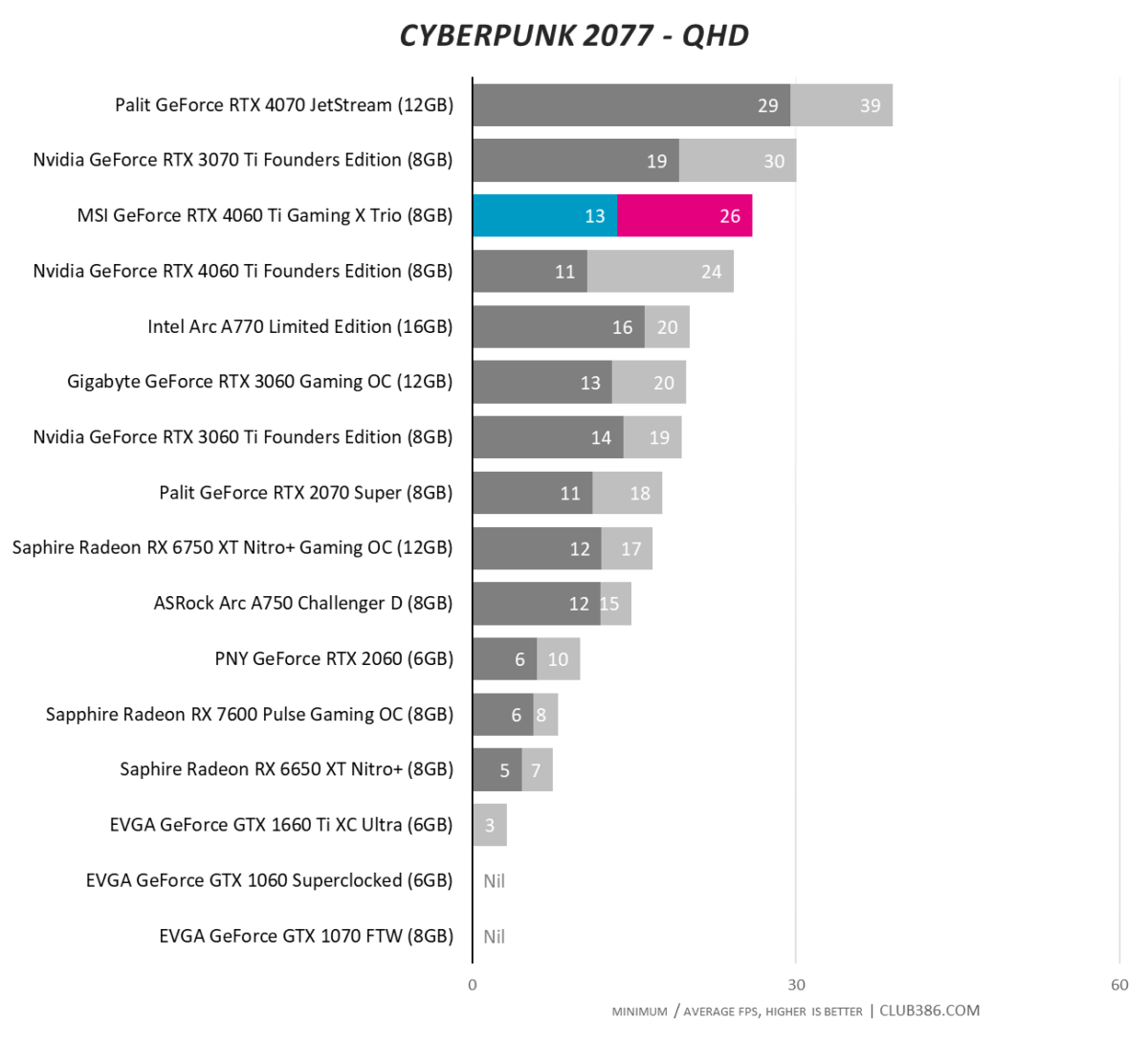 A bit quicker than reference doesn't fundamentally change RTX 4060 Ti's position. Cyberpunk 2077, with ultra ray tracing enabled, requires a better class of GPU in order to hit the desired 60fps.
Far Cry 6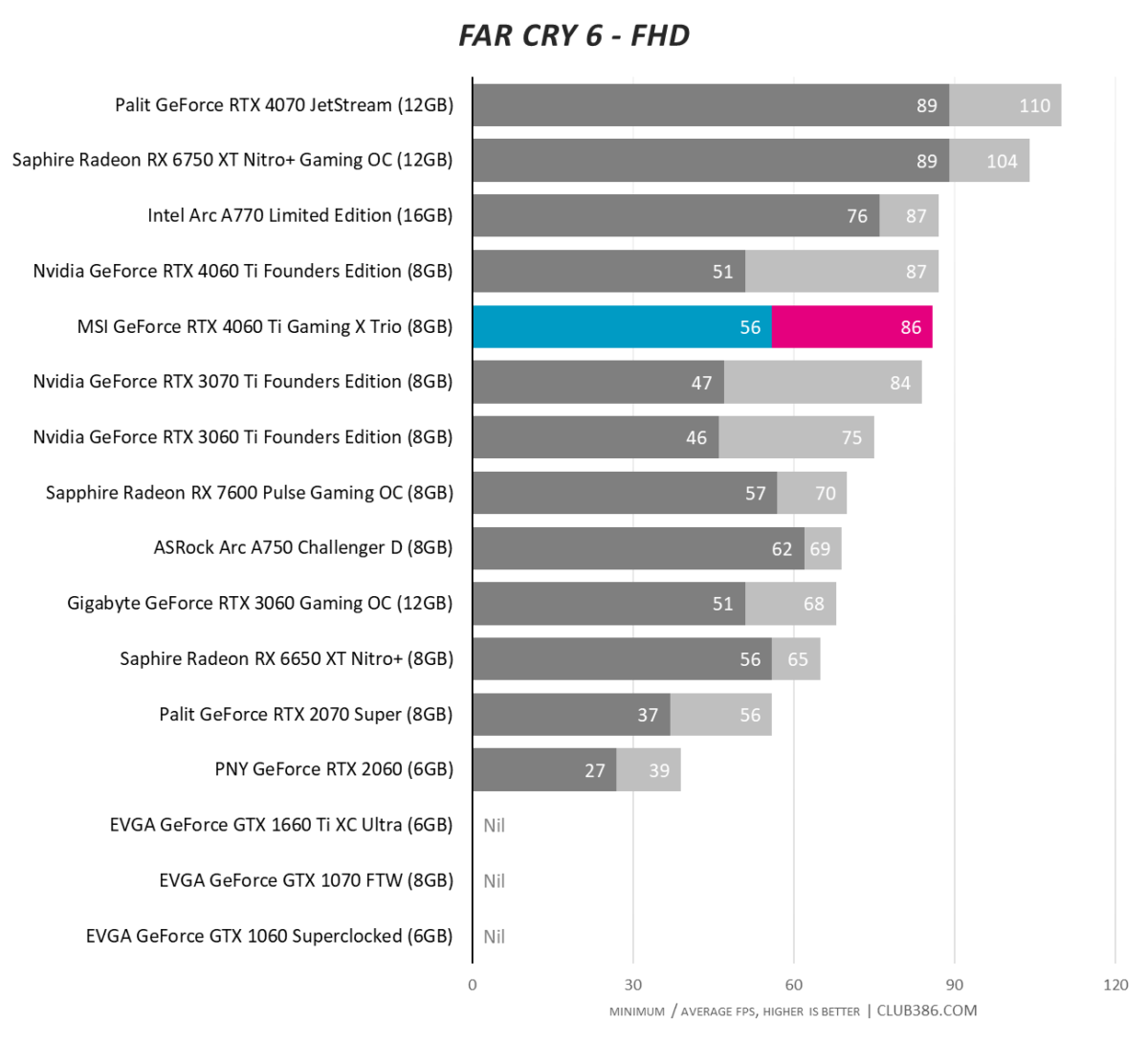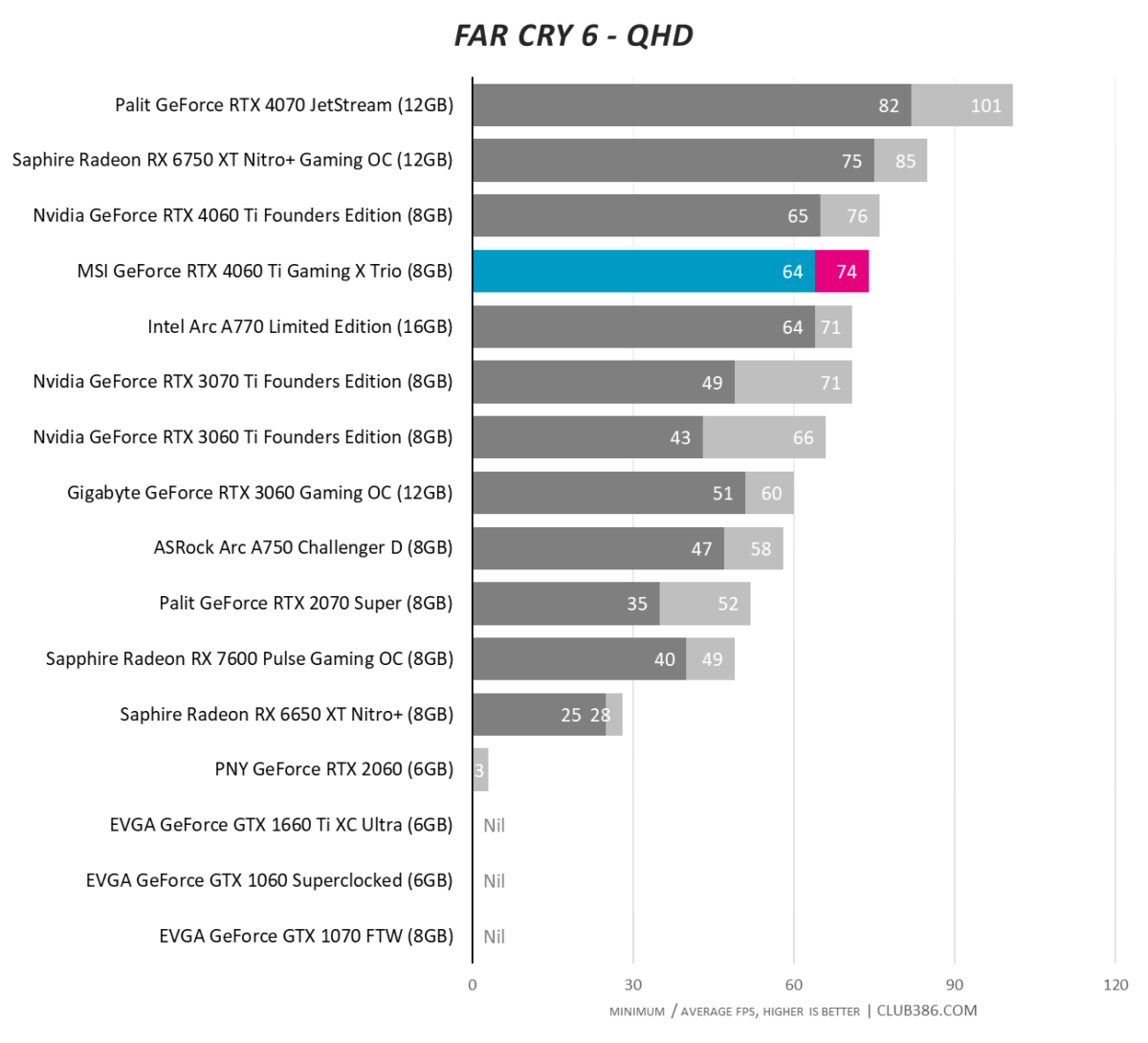 We don't mean to keep harping on about last-gen cards, but price drops make them hard to ignore. Radeon RX 6750 XT, for example, continues to offer superior non-RT performance in some games, packs more memory, and is available for £100 less than MSI's RTX 4060 Ti if you shop around.
Final Fantasy XIV: Endwalker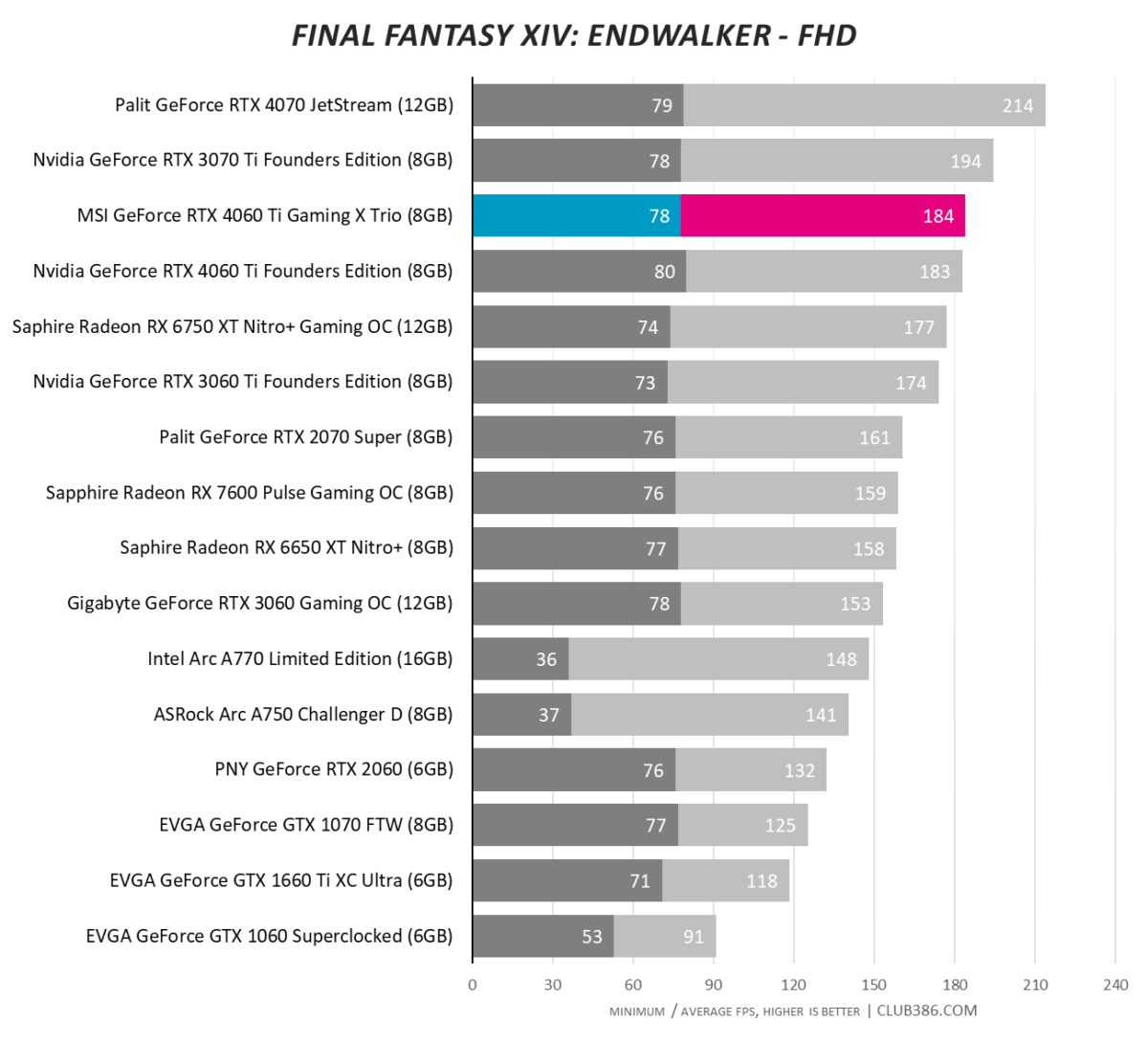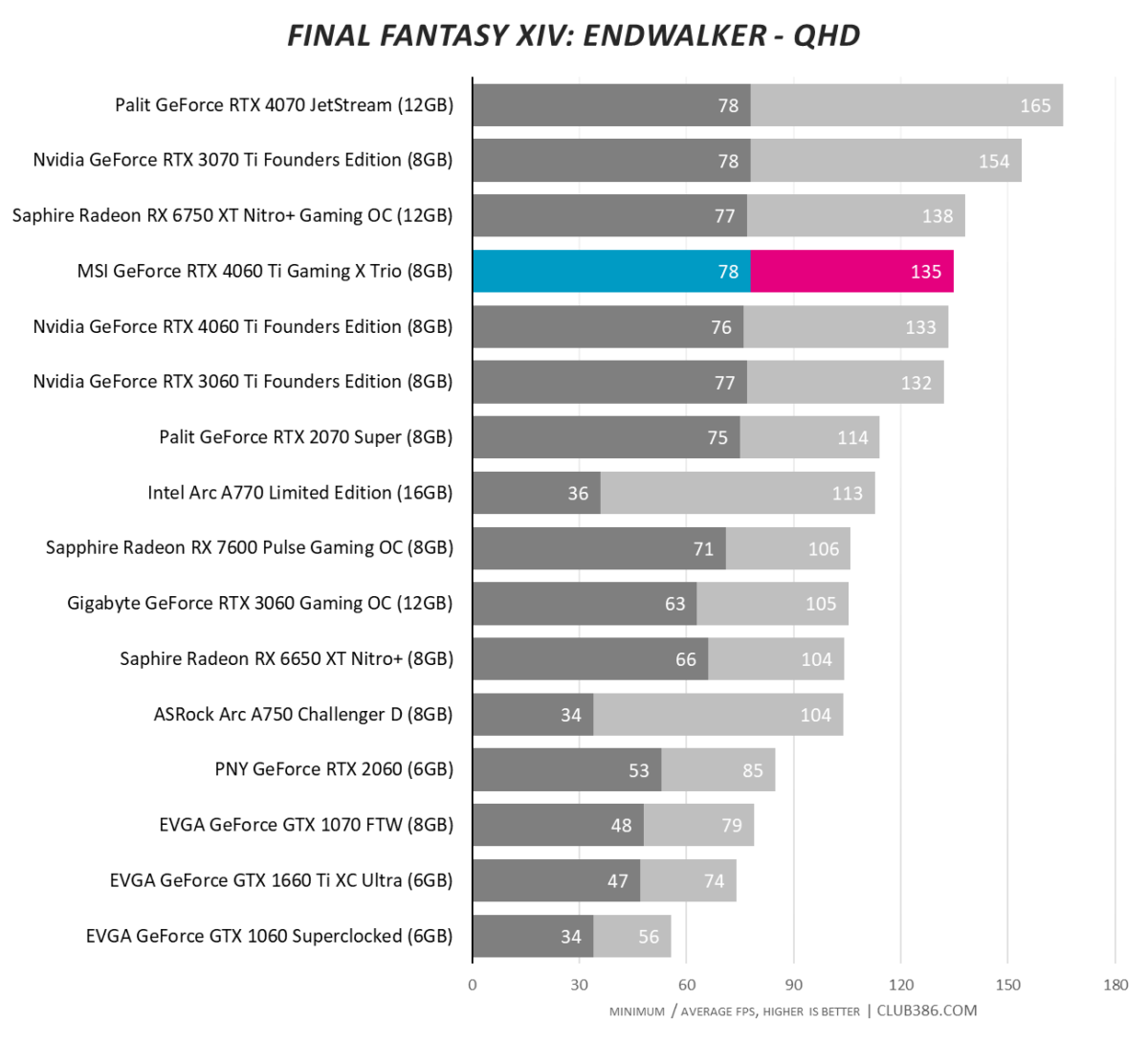 Final Fantasy XIV: Endwalker, a game relying heavily on rasterisation, tends to be a good indicator of performance across older titles. RTX 4060 Ti bodes well for high framerates at the 1080p resolution still favoured by the majority of gamers.
Forza Horizon 5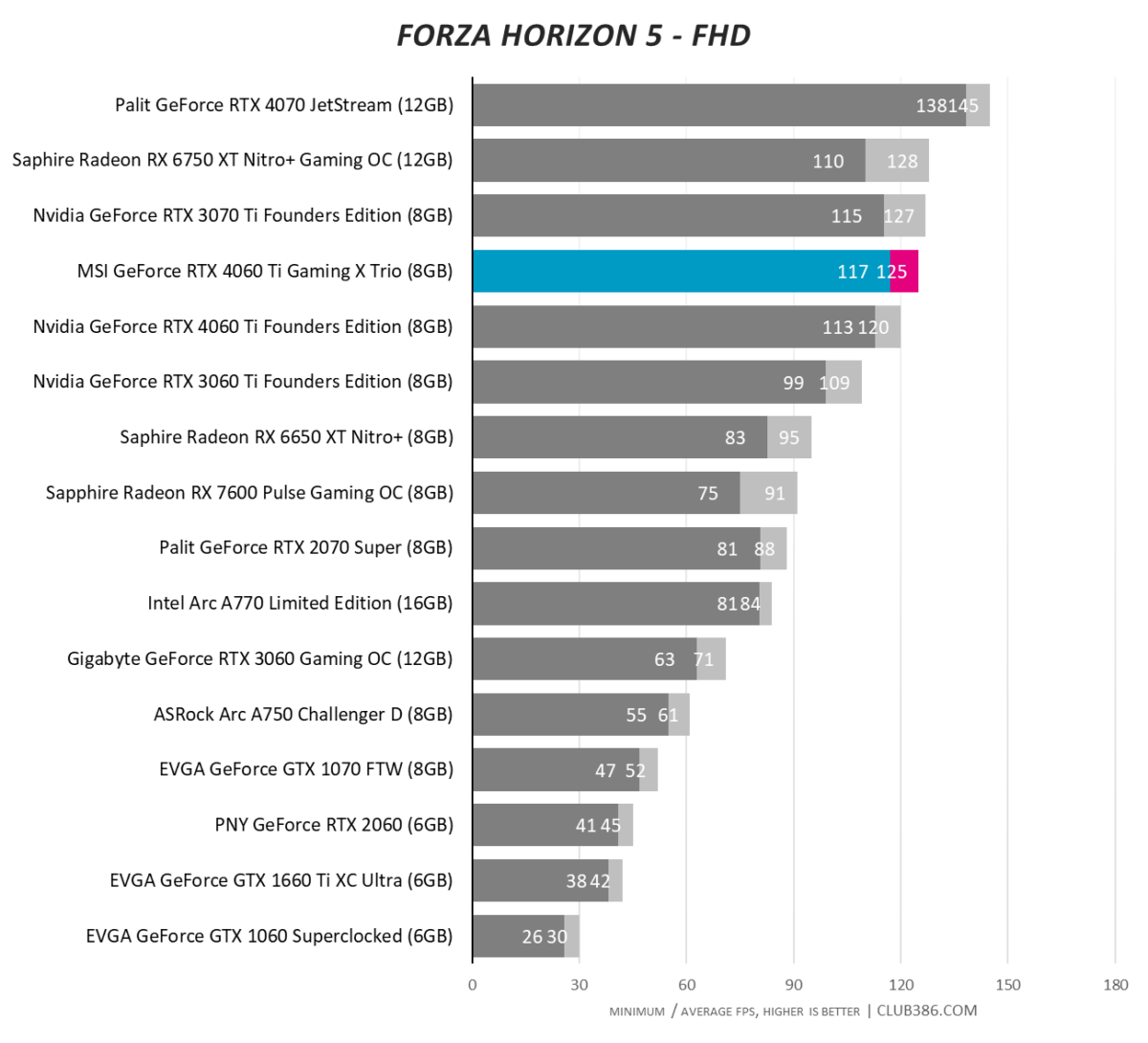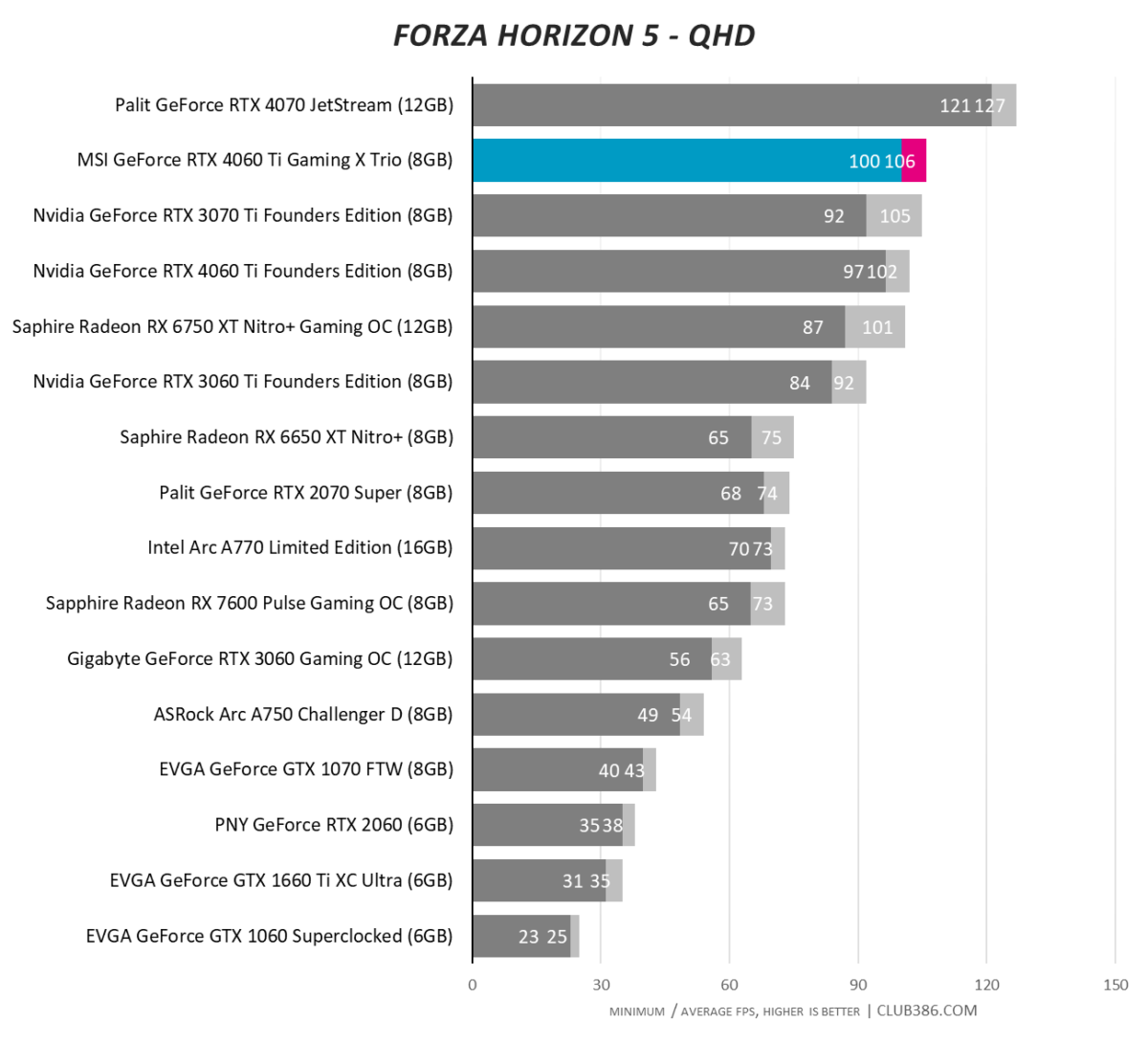 Four times faster than GTX 1060 offers good incentive to finally make that upgrade. The performance advantage over RTX 3060 Ti, however, represents arguably the smallest generational bump in recent times. That's a problem given the current retail price gap.
Tom Clancy's Rainbow Six Extraction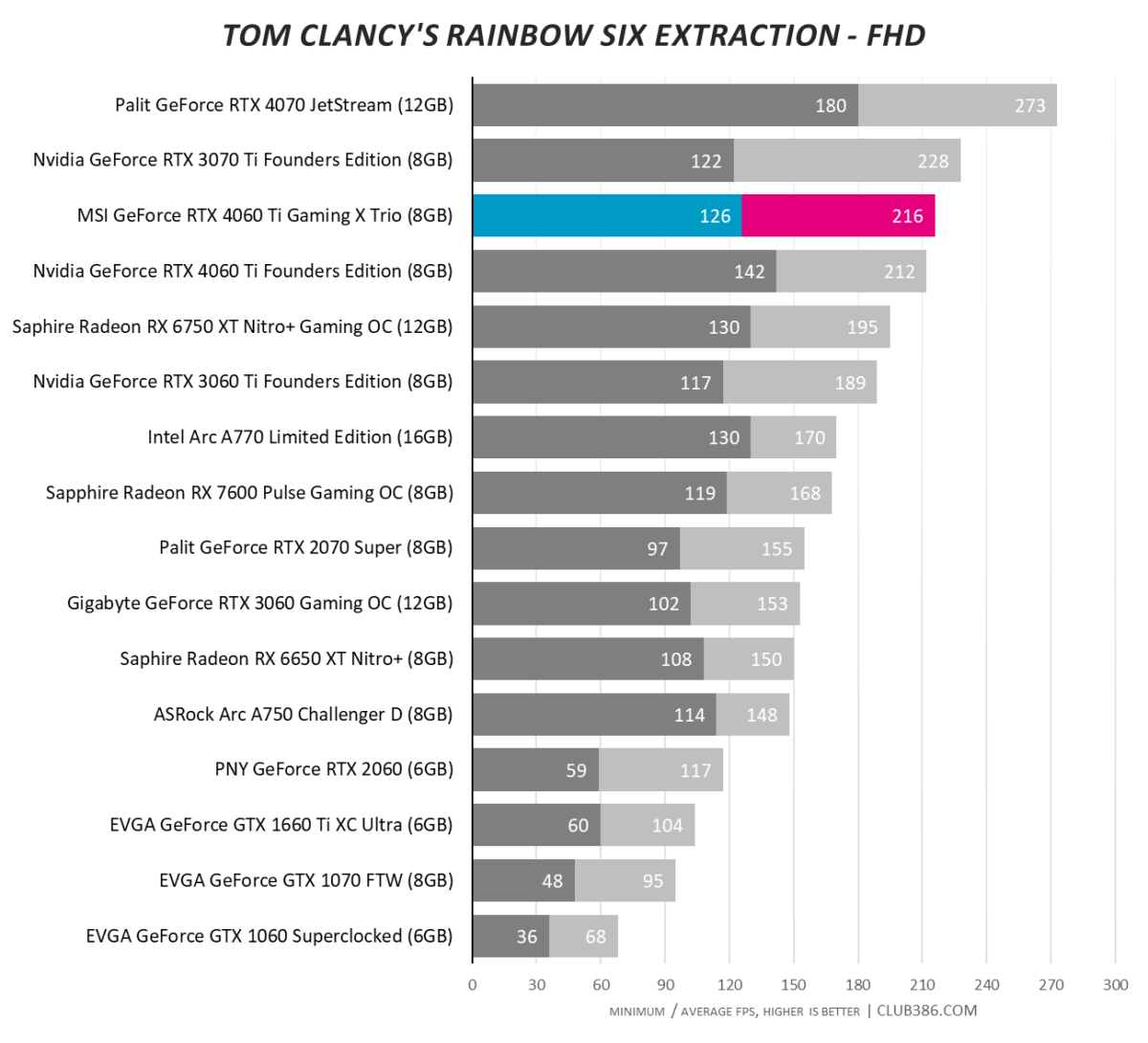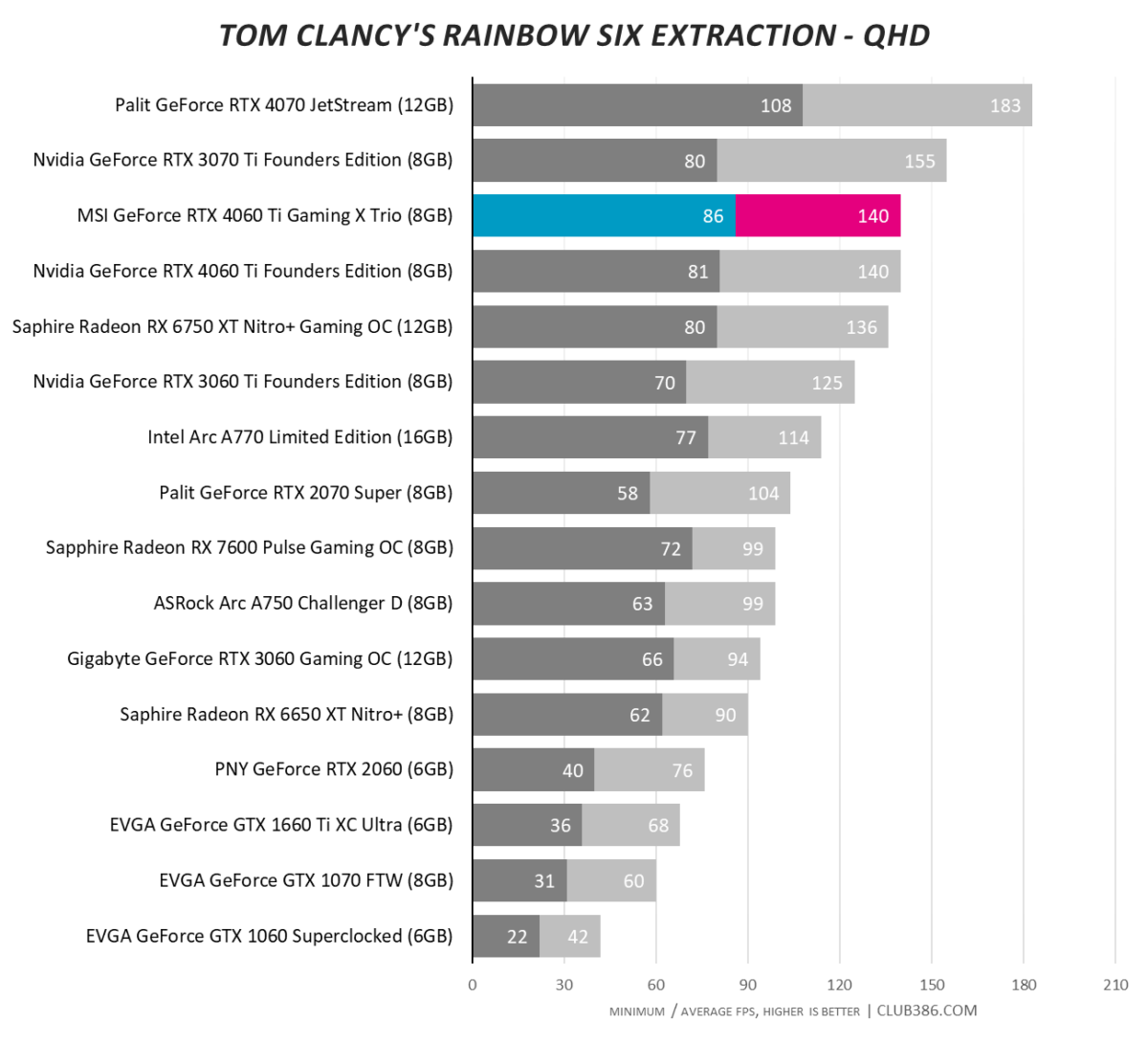 When testing such a broad array of GPUs, the overall experience is brought into focus. Every 6GB card in our charts would flash up warnings across different titles at maximum quality settings. 8GB models don't yet fall into that trap, though there are now a couple of games questioning the long-term credentials of such a configuration. Are the likes of Hogwarts Legacy and The Last of Us a sign of things to come, or merely poorly-optimised titles? Only time will tell.

Show your support for impartial Club386 reviews
Club386 takes great pride in providing in-depth, high-quality reviews built on honest analysis and sage buying advice. As an independent publication, free from shareholder or commercial influence, we are committed to maintaining the standards our readers expect.
To help support our work, please consider making a donation via our Patreon channel.
Power, Temps and Noise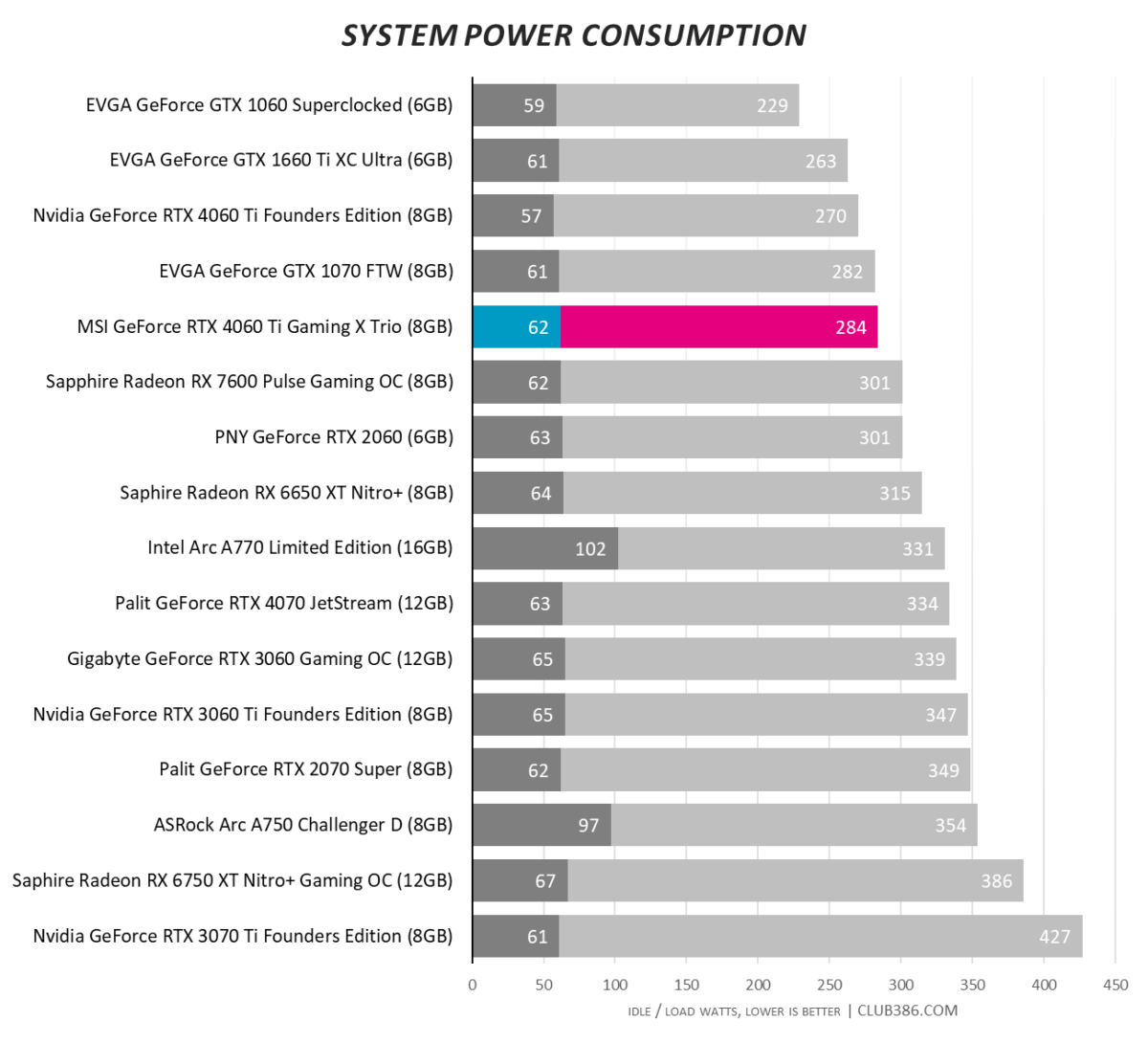 Energy efficiency is rightly becoming an increasingly important factor when picking PC components. RTX 4060 Ti scores well in this regard, though MSI's heightened frequency does require a little more juice than the Founders Edition.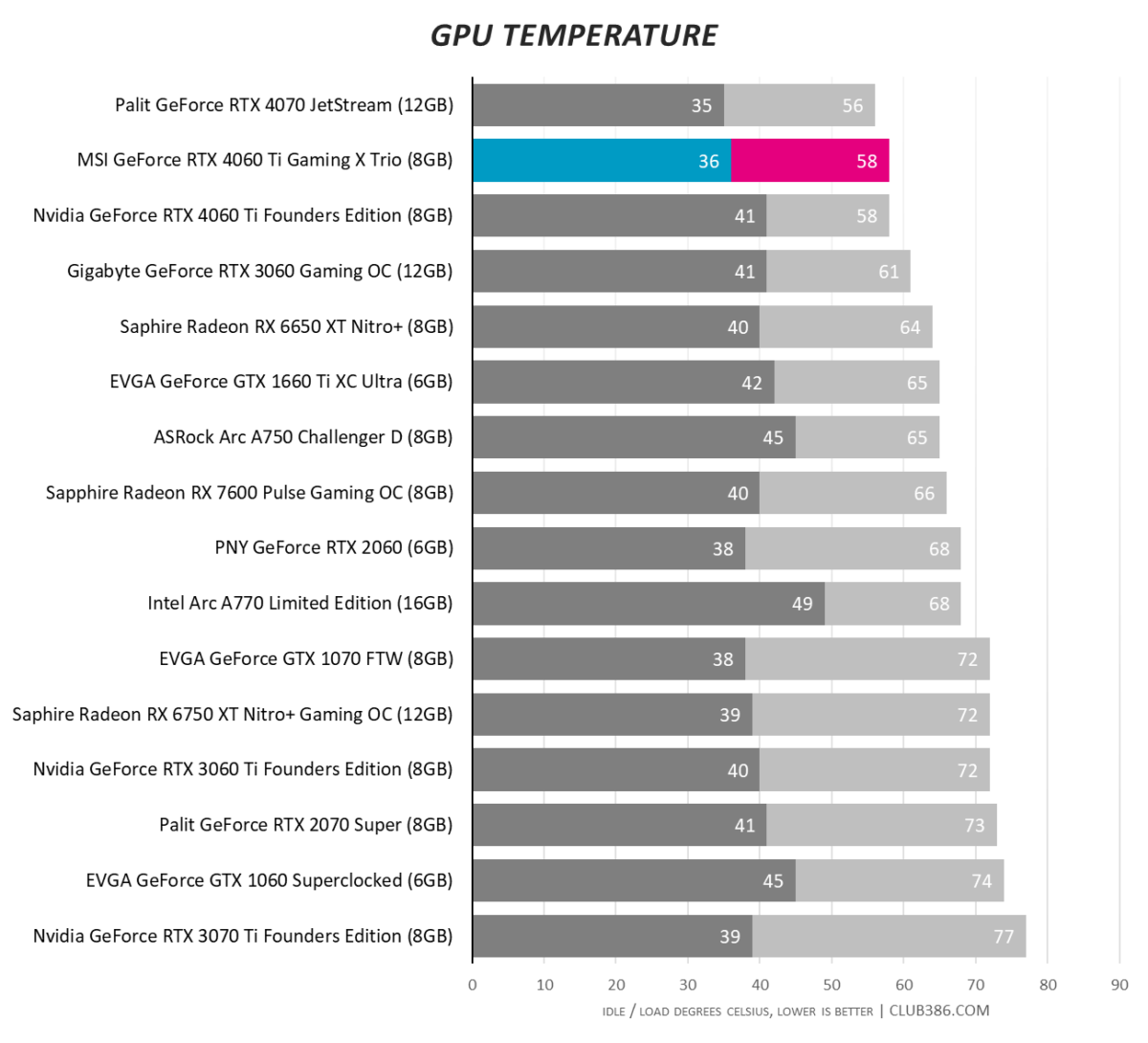 A huge triple-fan cooler is going to have no trouble taming this tiny GPU. Even on a hot summer's day, temperatures refused to hit 60°C.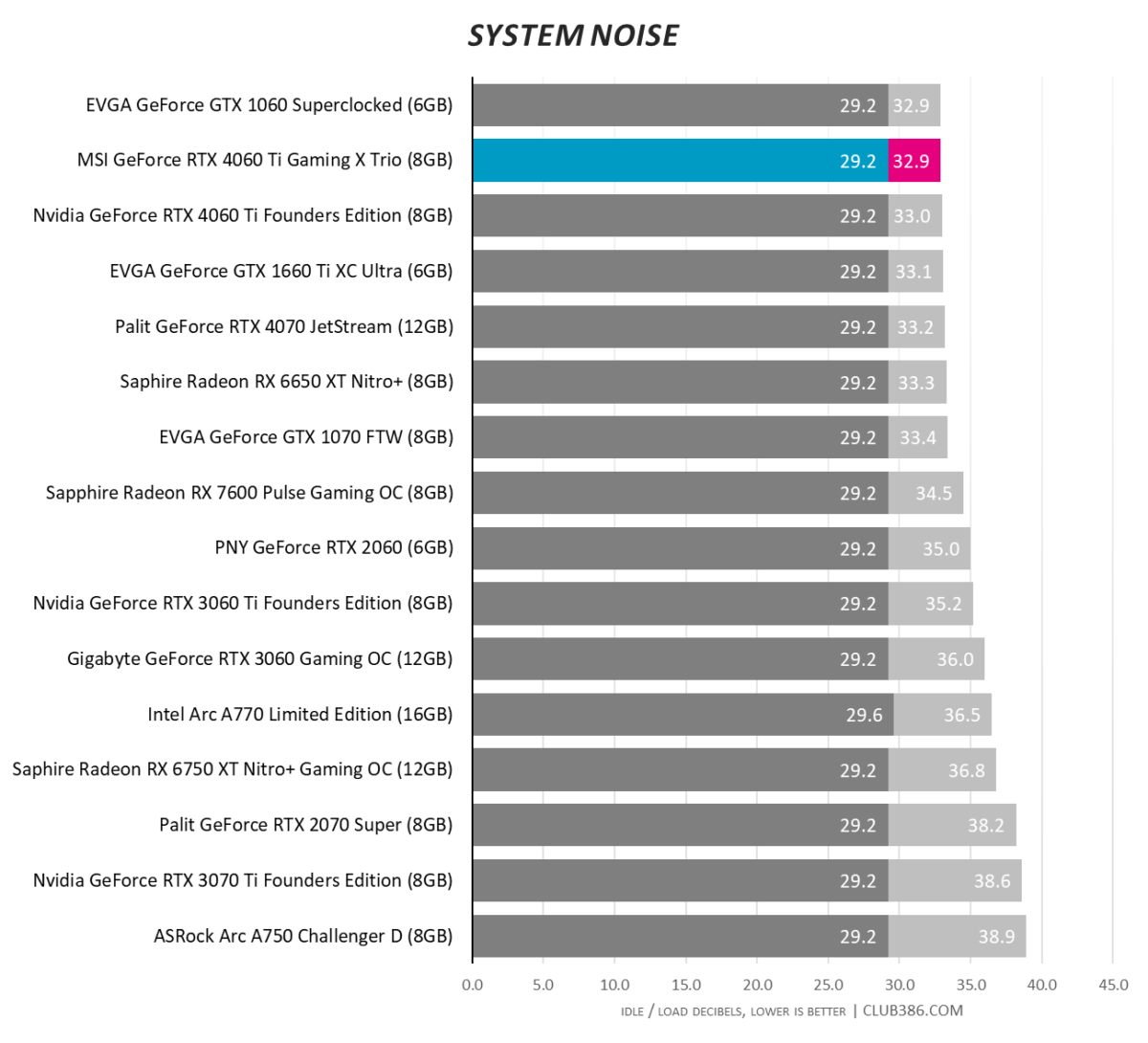 Low power, low temps, and just as we like it, little in the way of noise. MSI's card is barely noticeable at all times, and our sample had the added benefit of exhibiting hardly any coil whine.
Relative Performance, Efficiency and Value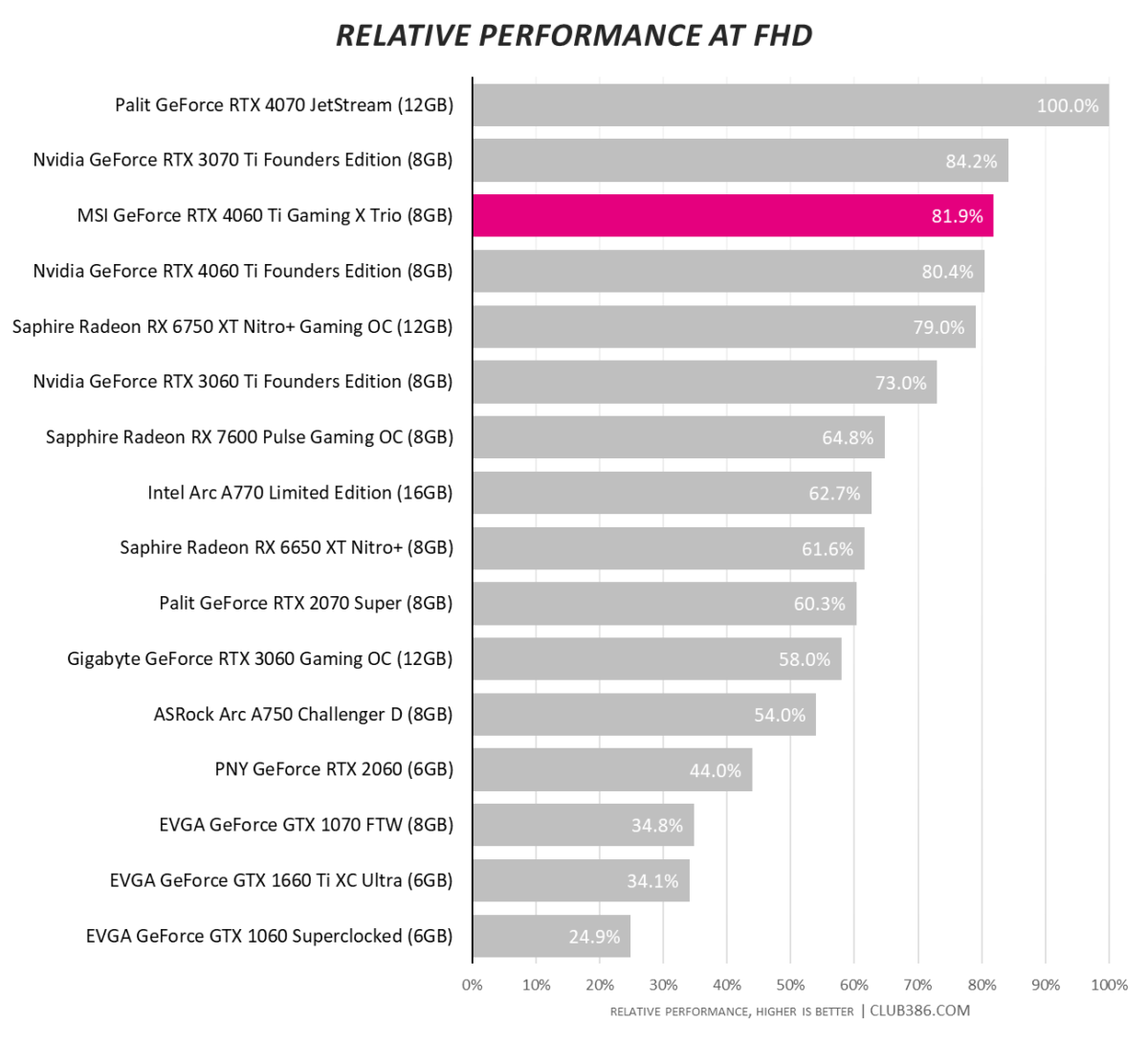 Evaluating relative performance across all benchmarked games reveals MSI's RTX 4060 Ti Gaming X Trio offers roughly four fifths of RTX 4070 performance. As expected, there's a minor improvement over the Founders Edition.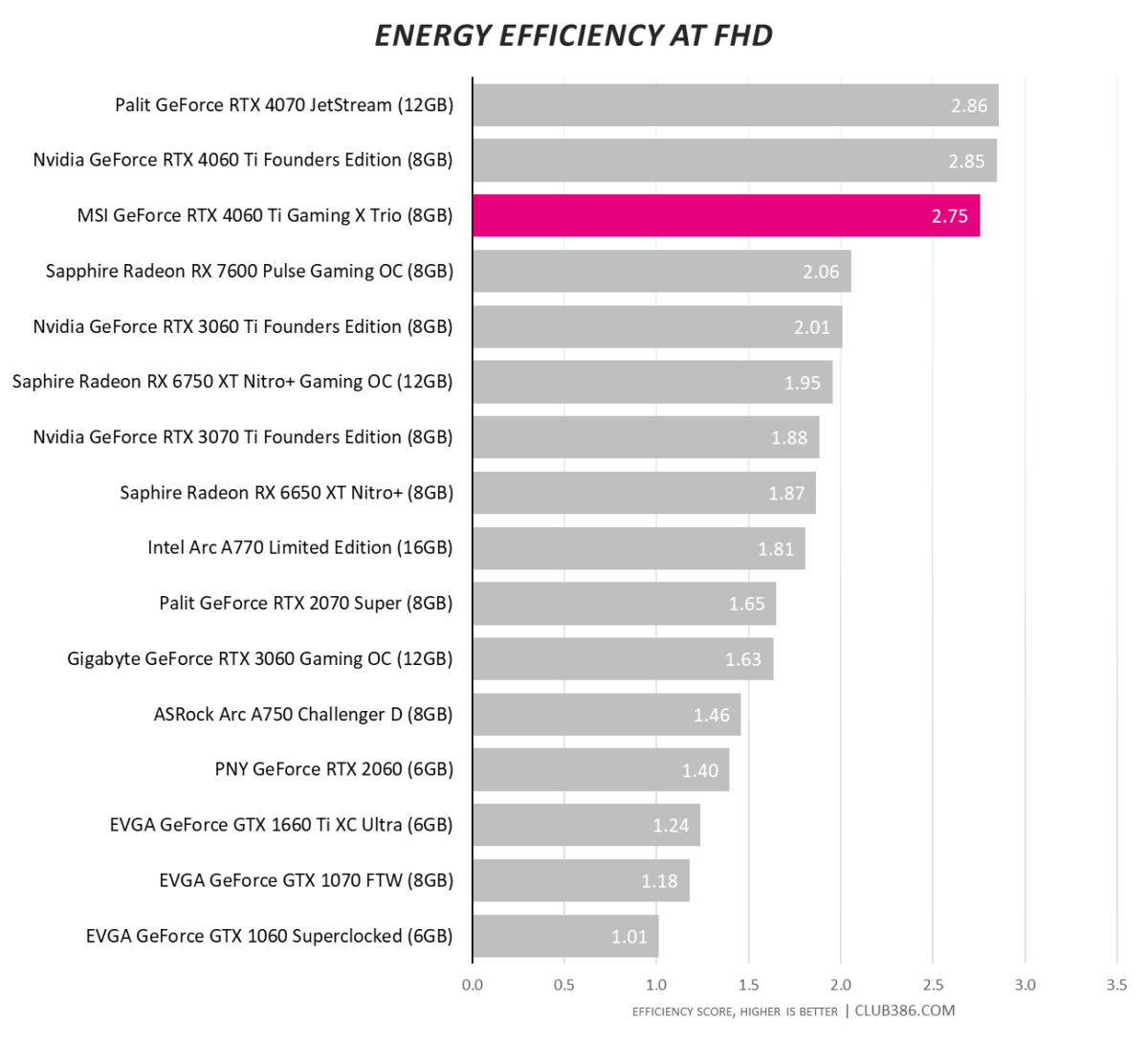 What's interesting is that heightened frequency has a negative effect on overall efficiency. Dividing average framerate by system-wide power consumption reveals the Founders Edition is better optimised.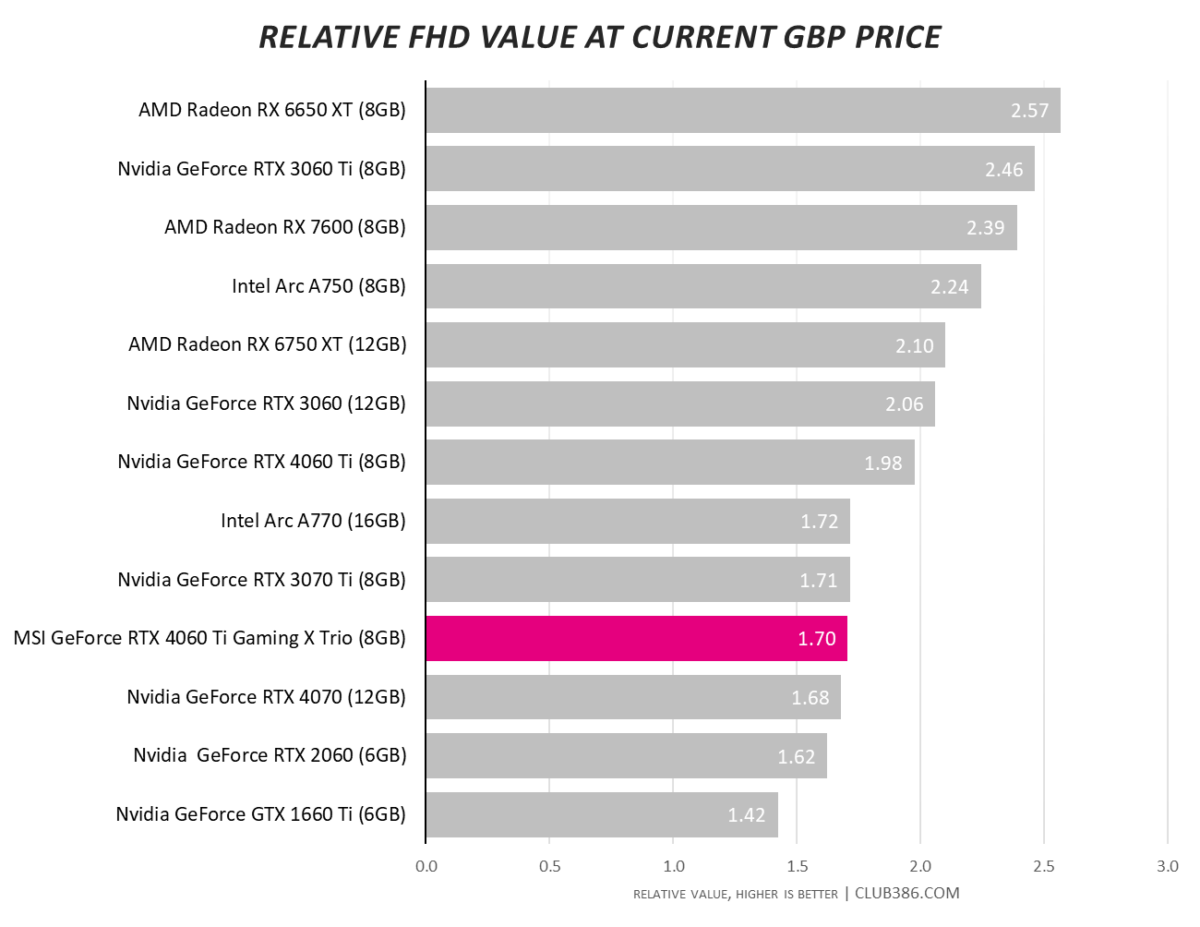 Here's where things get really interesting. Dividing average framerate by each GPU's launch MSRP would put RTX 4060 Ti near the top, yet real-world pricing has changed dramatically in recent weeks and months. Club386 has scouted all the popular UK stores to find the lowest GBP price on each listed GPU. You may notice a few cards have fallen off the chart completely; they're simply no longer available to buy.
In this scenario, MSI's £459 RTX 4060 Ti Gaming X Trio trickles down the chart on account of price cuts to competing cards. Radeon RX 6650 XT, now available from £229, leads the way, followed closely by GeForce RTX 3060 Ti, retailing at £283 at the time of writing. What's worrying for Nvidia partners is that Gaming X Trio would need to drop to £300 in order to top the value chart. Is that how much RTX 4060 Ti ought to cost?
Overclocking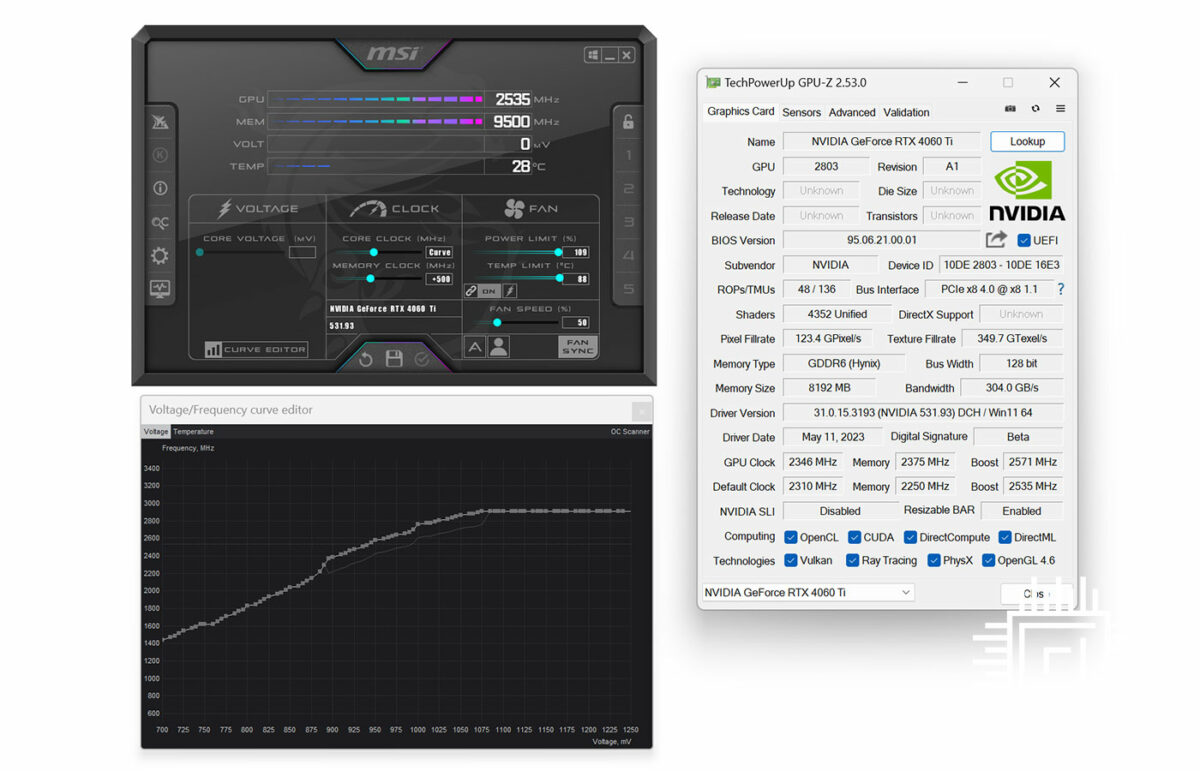 Pushing graphics cards to the limit through additional power and frequency may be an increasingly niche pastime, yet it's always nice to see a GPU that responds well. Using the automated scanner built into MSI's Afterburner utility, in-game boost clock climbs from 2,850MHz to 2,925MHz without problem. We expect enthusiasts to approach the 3GHz mark, while memory has no trouble scaling from 18Gbps to 19Gbps, helping alleviate some of those bandwidth concerns.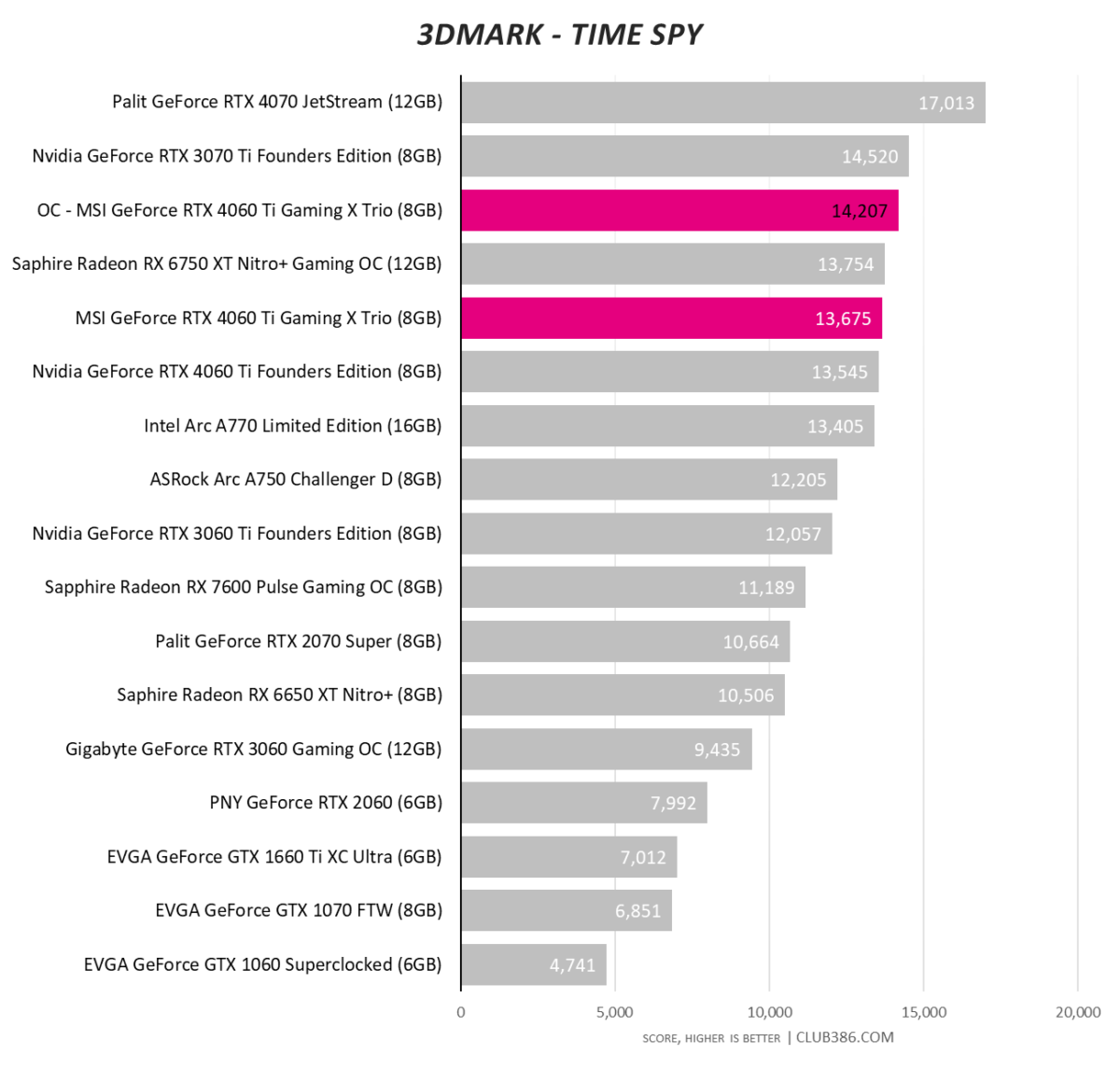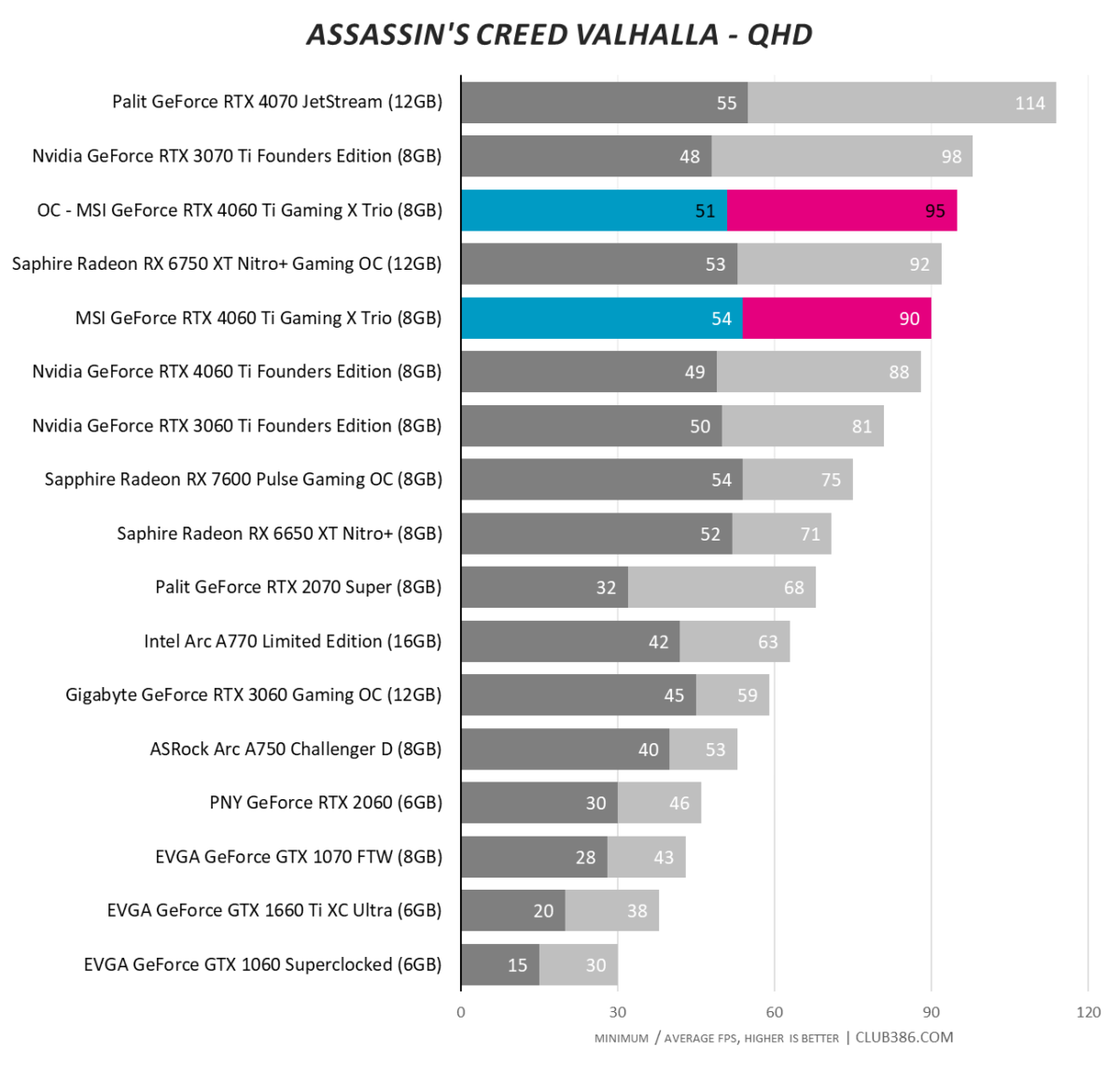 What do you know, just enough headroom to leapfrog Radeon RX 6750 XT.
DLSS 3
Rejogging the memory banks after all those benchmarks, remember developers now have the option to enable individual controls for Super Resolution and / or Frame Generation. The former, as you're no doubt aware, upscales image quality based on setting; Ultra Performance works its magic on a 1280×720 render, Performance on 1920×1080, Balanced works at 2227×1253, and Quality upscales from 2560×1440.
On top of that, Frame Generation inserts a synthesised frame between two rendered, resulting in multiple configuration options. Want the absolute maximum framerate? Switch Super Resolution to Ultra Performance and Frame Generation On, leading to a 720p upscale from which whole frames are also synthesised.
Want to avoid any upscaling but willing to live with frames generated from full-resolution renders? Then turn Super Resolution off and Frame Generation On. Note that enabling the latter automatically invokes Reflex; the latency-reducing tech is mandatory, once again reaffirming the fact that additional processing risks performance in other areas.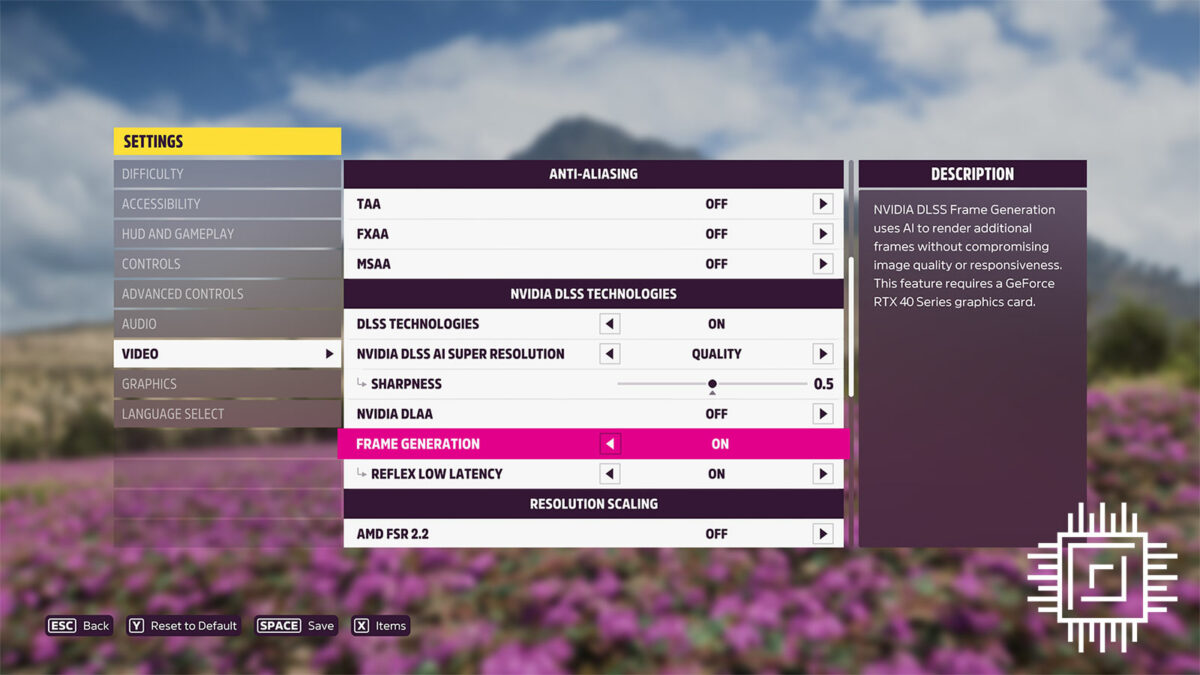 DLSS 3's initial success is reflected in industry adoption. Rival GPU manufacturers are scrambling to introduce their own variants, while triple-A games such as Forza Horizon 5 (pictured above) and Diablo IV are choosing to add full support for AI-powered frame generation. It is quickly becoming a sought-after feature with good reason, as results have been impressive thus far.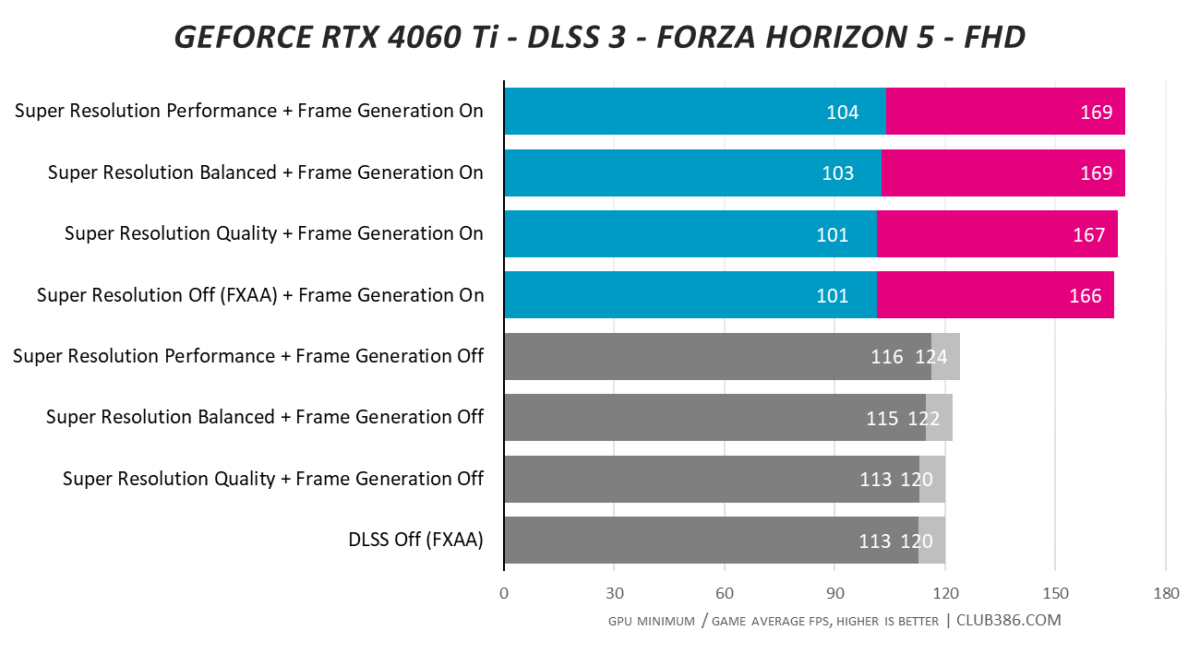 Forza Horizon 5 is one of the better implementations to date. While super resolution results in only evolutionary performance gains, frame generation is revolutionary by comparison. Flick a switch and performance is instantly bolstered to the tune of 38 per cent.
Getting performance purists on board with AI-enhanced gameplay is proving a tough task – it's akin to convincing a petrolhead to go electric – yet the future of gaming is intrinsically linked to resourceful design. Though the entry fee remains high, DLSS is without doubt the best example of how to multiply performance through AI.
Conclusion
GeForce RTX 4060 Ti's already murky value proposition is not helped by beefed-up custom designs that pile on the pounds.
MSI's Gaming X Trio has all the hallmarks of a well-built card – solid construction, ultra-low temps and barely any noise – yet an RTX 4060 Ti above RRP is difficult to justify. Nvidia's Founders Edition offers similar levels of goodness for £80 less, and if you don't feel the need for latest-generation smarts such as DLSS 3 and AV1 encoding, older cards offer comparable levels of rasterisation performance at a more agreeable fee.
A shifting market suggests no 8GB 1080p graphics card should fetch more than £300. At this rate, an RTX 4060 Ti price cut is much needed and beginning to feel inevitable.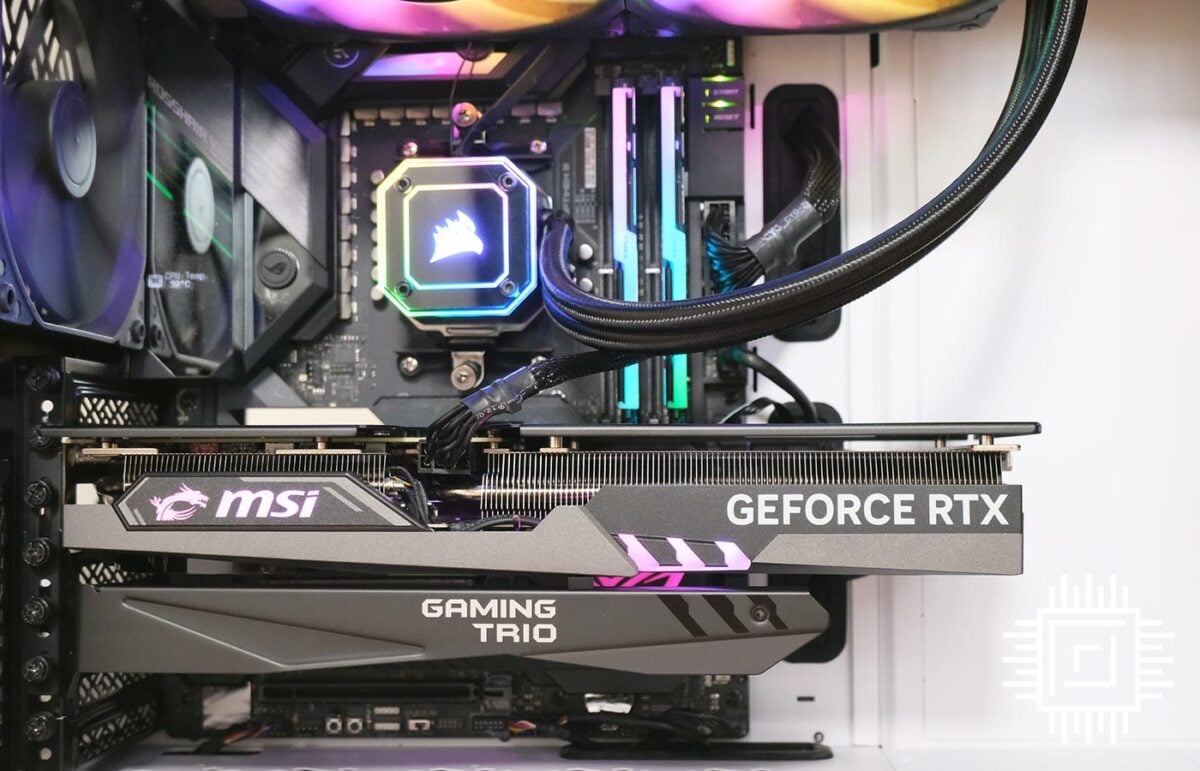 MSI GeForce RTX 4060 Ti Gaming X Trio
Verdict: adorning a modest GPU with lavish custom cooling results in mid-range graphics at an untenable price.
---
Pros
High-framerate 1080p gaming
Single power connector
Always cool and quiet
Excellent efficiency
Cons
Price is too high
Lacks VRAM staying power
Mild upgrade over last gen
---
Club386 may earn an affiliate commission when you purchase products through links on our site. This helps keep our content free for all.
Rest assured, our buying advice will forever remain impartial and unbiased.