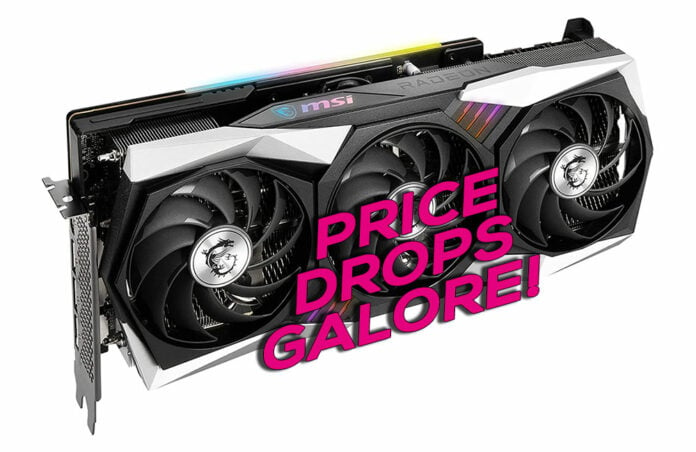 Radeon RX 6800 16GB
---
"The AMD Radeon RX 6800 graphics card, powered by AMD RDNA 2 architecture, is engineered to deliver ultra-high frame rates and serious 4K resolution gaming."
We earn a commission if you make a purchase, at no additional cost to you.
GeForce RTX 4060 Ti and Radeon RX 7600 may have been met with lukewarm reception, yet while the debate over VRAM quantity rages on, it's worth paying attention to the bigger picture. AMD's decision to issue a last-minute RX 7600 price cut has had an instant knock-on effect, with the best graphics cards from the last generation having to adjust pricing accordingly.
It's a moment we've all been waiting for, and a sign that even the graphics industry is beginning to return to normal. Excess stock after an unprecedented sequence of events has left the market saturated, and with new cards creeping down in price, meaningful cuts are the only way to clear out the shelves.
That's great news for PC gamers who've been starved of GPU deals as there are relative bargains across the board. Right now, a top pick is the Radeon RX 6800. The RDNA 2 card dates back to 2020 yet continues to offer great rasterisation performance, and more importantly, is now available in MSI Gaming Z Trio guise for under £430. A terrific card for the price, and with 16GB of memory you can crank up the resolution as you see fit.
GeForce RTX 3060 12GB
---
"The GeForce RTX 3060 Ti and RTX 3060 let you take on the latest games using the power of Ampere – Nvidia's 2nd generation RTX architecture."
We earn a commission if you make a purchase, at no additional cost to you.
Those favouring Team Green also have a slew of great deals to contemplate. 2021's GeForce RTX 3060 gets our vote for high-quality FHD or QHD gameplay, particularly now that stock shortages are no longer a thing.
On the contrary, the 12GB card is available from a variety of AIBs at aggressive price points. Zotac Twin OC is among the cheapest at £265, while an MSI Ventus 2X has fallen to an all-time-low of £278. If you're willing to jump through an extra hoop, the Asus Dual version fetches £276 and is eligible for £25 cashback, bringing total cost of ownership down to £251!
Excellent choices at key price points, but if there's room in the budget to go higher, it's worth noting that AMD's last-gen flagship, Radeon RX 6950 XT, has dropped to a lowest-ever price of £578. The 4K showstopper has never been more attractive.
Radeon RX 6950 XT 16GB
---
"The AMD Radeon RX 6950 XT desktop graphics card has 80 compute units, 128MB of new AMD Infinity Cache, and a game frequency of 2,100MHz."
We earn a commission if you make a purchase, at no additional cost to you.
It has been a strange few years for PC graphics – a global pandemic coupled with a mining craze will have that effect – however the tide has now turned. Prices of latest-gen cards are heading in the right direction, previous-gen equivalents are finally being reduced to clear, and by the time the next generation comes along, we ought to have steered well clear of this crazy period of shortages and excess stock.
What does all this mean for the enthusiast? Well, if latest-gen pricing isn't tickling your fancy, now's an opportune time to bag a previous-gen upgrade. The likes of GeForce RTX 3060 and Radeon RX 6800 still pack a hefty punch, and either will see you through at least another generation or two.