Nvidia has released GeForce 512.15 drivers, bringing optimisations for Ghostwire: Tokyo launching March 25 and Shadow Warrior 3, plus DLAA for Chorus, Jurassic World Evolution 2, and No Man's Sky. There's also support for 11 new G-Sync-compatible displays. Phew.
Day-0 support for Ghostwire: Tokyo should ensure fewer bugs are present, with performance boosts up to 2x thanks to DLSS, Nvidia claims. Useful when maxing those ray-traced reflections settings.
For Shadow Warrior 3, gains can be up to 68 per cent at 4K using DLSS, enough to hit 60FPS with any 30-series RTX card other than entry-level RTX 3050.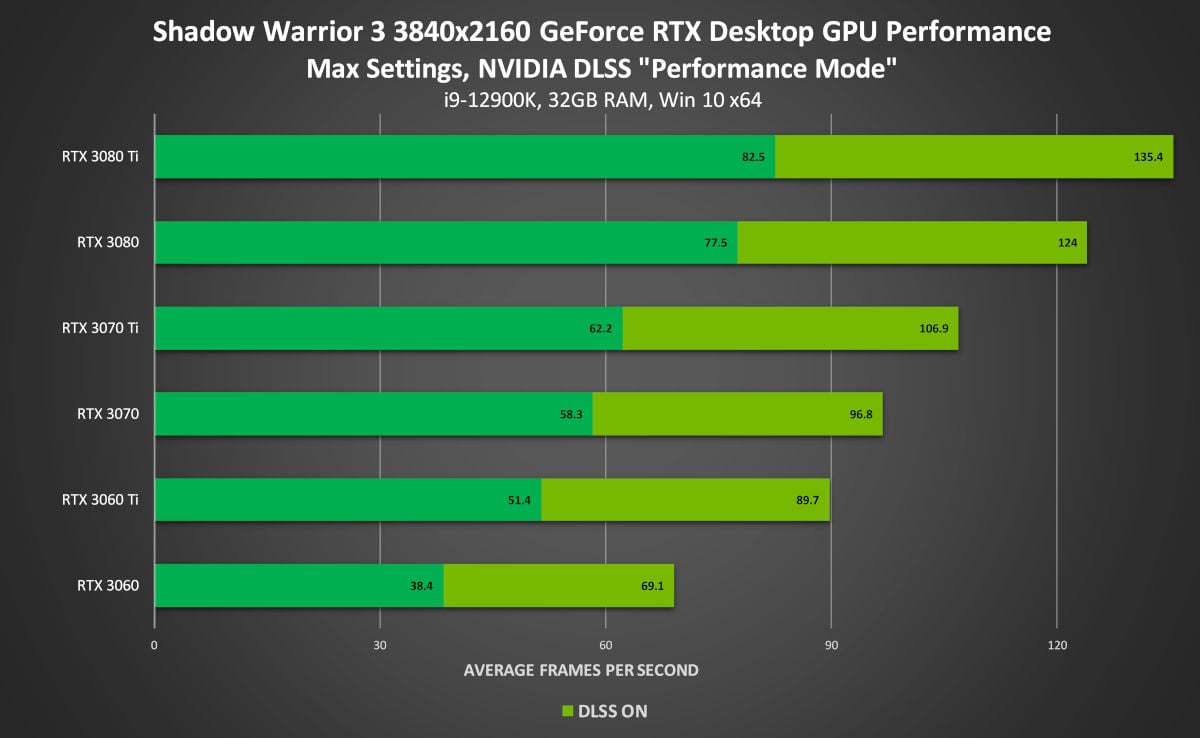 Nvidia also added GeForce Experience's optimal settings to Elden Ring, Expeditions Rome, Mortal Online 2, Shadow Warrior 3, Sifu, and Total War Warhammer III.
The GeForce 512.15 game ready drivers can be downloaded via Nvidia's website.
As usual with new drivers, this one fixed the following bugs:
[Advanced Optimus]: Brightness levels do not change properly when display set to NVIDIA GPU only mode with HDR set to off. [3497181]
Increased registry reads by DWM.exe when GPU is connected to G-SYNC/G-SYNC Compatible display [3535493]
[NVIDIA Advanced Optimus][Ampere] Putting notebook to sleep by closing the lid and then waking up the notebook may cause Windows to reboot when in dGPU mode. [3444252]
The native resolution for a DVI or HDMI display may not be available from the display settings if the display contains an invalid EDID. [3502752]
[Adobe Substance Sampler/Stager]: Fixed Optimus profile to run on dGPU by default. [3557257]
[Enscape]: Shadow rendering is incorrect. [3530584]
[Solidworks Visualize Boost]: When the application process is running in the background, the GPU memory clock may operate at lower clock speeds. [3417407]
[Adobe Premiere Pro]: Adobe Media Encoder could crash due to out of memory error when encoding multiple R3D 8k files. [3532477]
[Foundry Nuke]: CUDA and OpenCL kernel return incorrect result. [3497442]
Although these Windows 10/11 Issues are yet to be dealt with:
Sonic & All-Stars Racing Transformed may crash on courses where players drive through water. [3338967]
[NVIDIA Ampere GPU]: With the GPU connected to an HDMI 2.1 audio/video receiver, audio may drop out when playing back Dolby Atmos. [3345965]
Club 3D CAC-1085 dongle limited to maximum resolution of 4K at 60 Hz. [3542678]