Jump to: Specification | Design | Performance | Conclusion
AMD's desire to have silicon in leading-edge laptops is manifested by the release of Ryzen 7040HS Series APUs. Built using Zen 4 CPU technology and baked-in RDNA 3 graphics, 2023's roster is strong across the board. Readers with an inclination on upgrading to a thin-and-light gaming laptop will do well to consider the intrinsic merits of these processors, and proving they can offer best-of-breed performance from reputable brands, AMD's latest mobile technology is found front and centre in the all-new Razer Blade 14 (2023).
Last year's Blade 14 packed an appropriately meaty wallop by using a combination of AMD and Nvidia hardware. Driven by a Ryzen 9 6900HX processor and up to a GeForce RTX 3080 Ti Laptop GPU ensconced within a 16.8mm-thick chassis, there's arguably nothing better in this compact, backpack-friendly form factor… until now.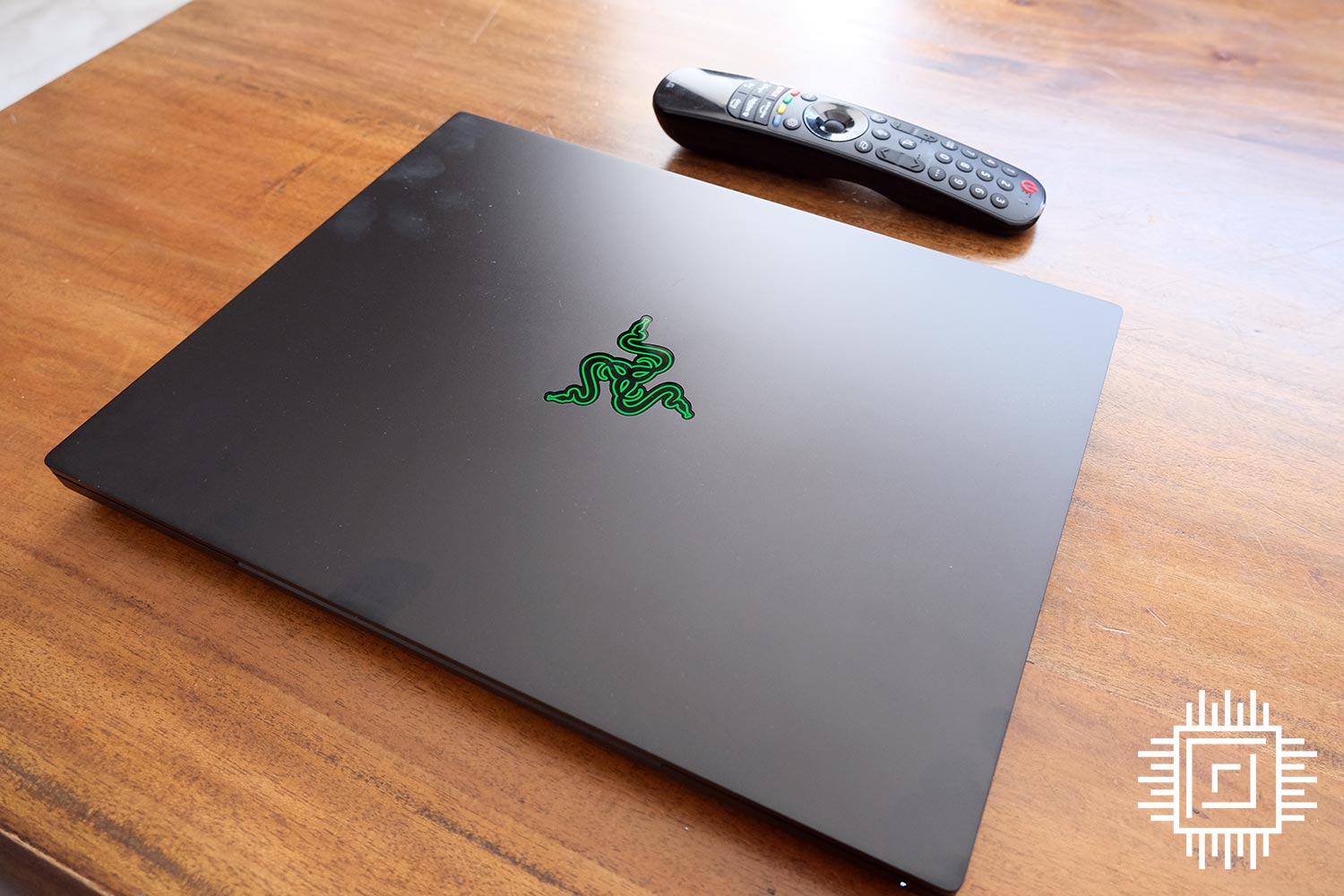 Ch-ch-ch-ch-changes – spec analysis
2023's makeover swaps the CPU for a Ryzen 9 7940HS and graphics to GeForce RTX 4070 Laptop, but there are further subtle changes afoot. Enough to warrant a table, me thinks.
| | | |
| --- | --- | --- |
| Comparison | Blade 14 2023 | Blade 14 2022 |
| Chassis size | 17.99 x 228 x 310mm | 16.8 x 220 x 319.7mm |
| Weight | 1.84kg | 1.78kg |
| Battery size | 68.1Whr | 61.6Whr |
| Best CPU | Ryzen 9 7940HS (8C16T) | Ryzen 9 6900HX (8C16T) |
| Best GPU | GeForce RTX 4070 8GB, 140W | GeForce RTX 3080 Ti 16GB, 100W |
| Screen | 2560×1600, 240Hz | 2560×1440, 165Hz |
| Highest RAM | 32GB DDR5-5600, slotted | 16GB DDR5-4800, soldered |
| Highest spec launch price | $2,799 | $3,499 |
Razer has taken the opportunity to rework the chassis into a marginally larger form factor that enables fitment of a higher-capacity battery that's just over 10 per cent more spacious. Another interesting move is the implementation of a 2560×1600 panel, instead of last year's 2560×1440, and not only does this make scrolling and general work more pleasurable, it has the knock-on effect of reducing wasted space below the screen. The panel is faster, too, coming in at 240Hz and armed with FreeSync Premium support.
Another positive rests with Razer listening to feedback and now having slotted DDR5 memory instead of the fix-and-forget 16GB of soldered RAM present in 2022. Now upgradeable to 64GB, with the PCIe 4.0 x4 1TB SSD also replaceable for a 4TB model, expandability is certainly better and keeps up with the competition.
We're surprised Razer hasn't provided an option for a GeForce RTX 4080 Laptop 12GB GPU – it appears the chassis has the thermal capability to expel enough heat, especially if said GPU is run below 140W – and the decision is at odds with the RTX 3080 Ti 16GB installed in smaller casing in 2022. As it is, choices are either RTX 4060 Laptop or RTX 4070 Laptop, though with only 8GB of onboard memory, either GPU may struggle when rendering games at maximum quality on the luscious 2560×1600 panel.
Comparing like for like, a Blade 14 equipped with RTX 4070 (2023) / RTX 3070 Ti (2022) and 16GB of memory fetches $2,699 today and $2,599 last year. Considering the advancements in technology and rampant inflation in general, the $100 price hike is well worth it.
Design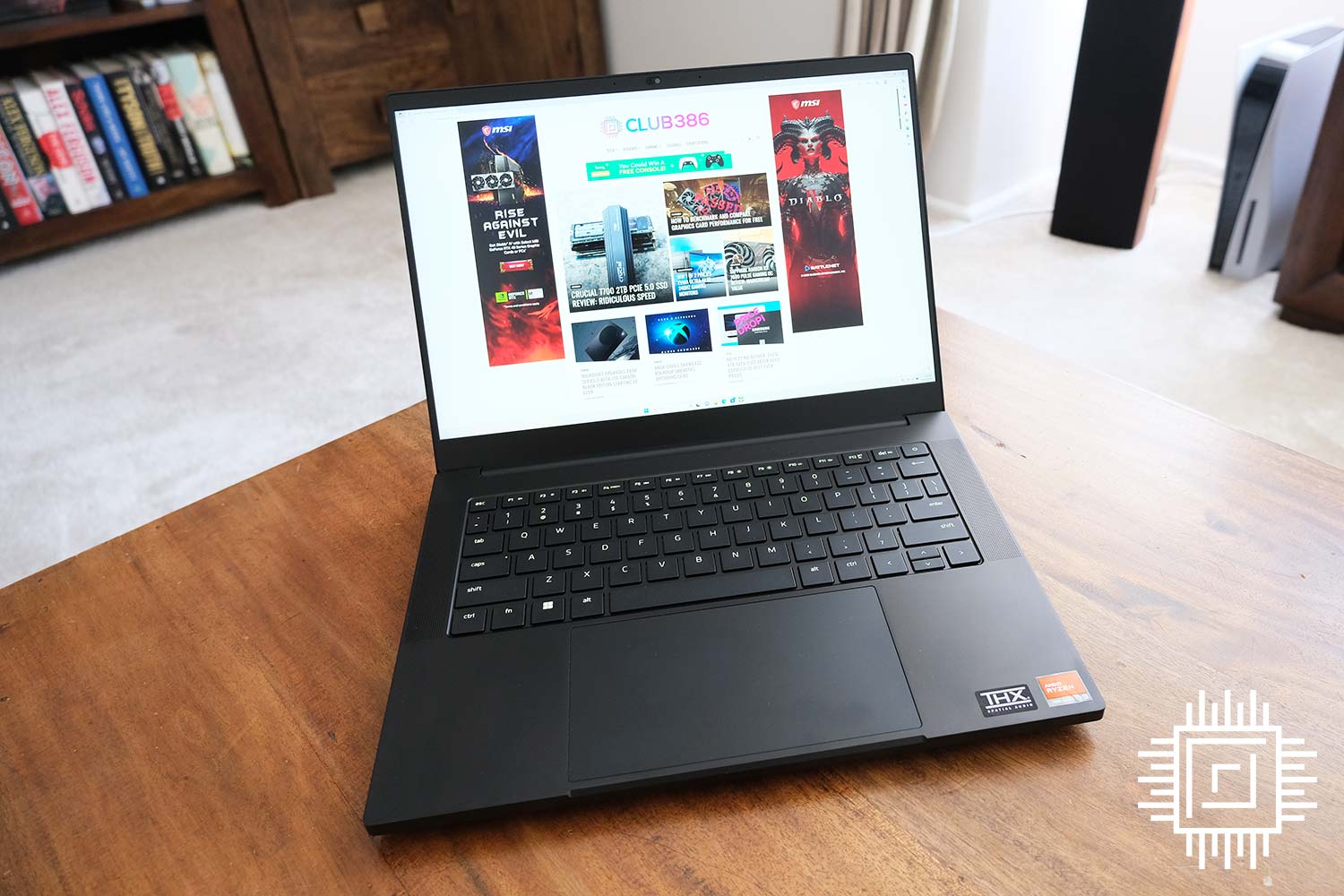 Openable with one hand, there's no doubt Razer Blade 14 is a beautifully built machine. Manufactured from CNC-milled aluminium, no squeaks or rattles present themselves. Neither should there be, as our review sample is priced at £2,599, which is £300 more than a similar-specced Asus ROG Zephyrus G14. That laptop is lighter, has a bigger battery, and can be featured with a power-restrained GeForce RTX 4090 GPU that's a natural step or two above in pure performance. Do us a favour, Razer, and get one of those in this machine.
Opportunity has been taken of making the touchpad 50 per cent larger than the last generation – it's mahoosive. Standing out like a sore thumb in a good way, we're fans of it – clicks are precise, and there's just enough space to place your hands in a touch-typing position so as not to foul the pad. Bigger for the win.
Beauty is a cruel mistress. Razer Blade 14 is an absolute fingerprint magnet. The lightest touch leaves stubborn, visible marks only removed by furious scrubbing, which is at odds with what Razer describes as a 'fingerprint-resistive coating.' I spent almost as much time cleaning as typing, and I don't like cleaning. Personally, the Razer lid logo ought to be more subtle, too.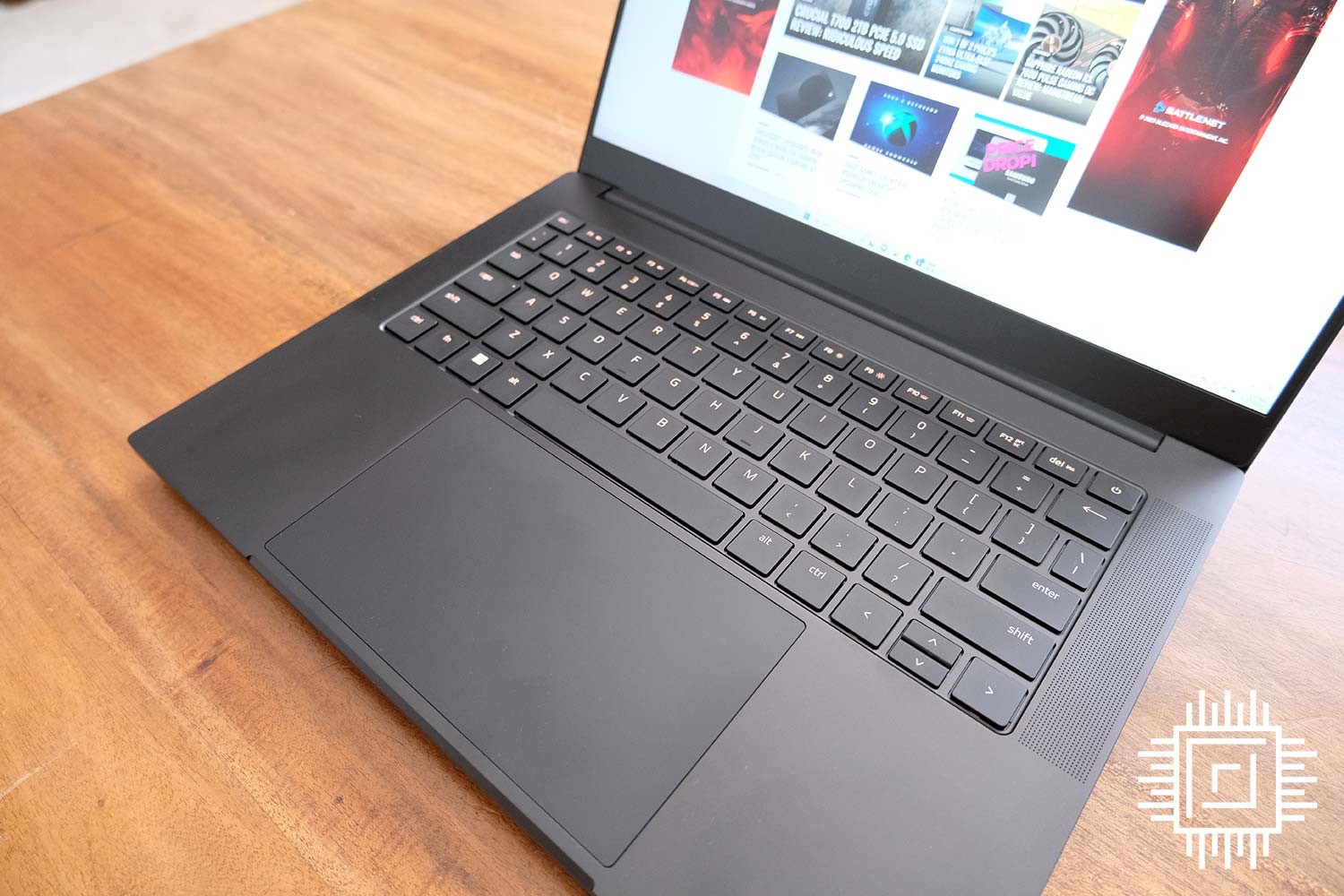 No complaints with the keyboard, however. The backlighting looks cool and key presses are quiet and accurate. Razer does a good job in not overly cramping keys on a 14in deck. Two upward-firing speakers also do a stellar job at providing solid audio that belies the 14in chassis size.
One of the brightest stars is the all-new 2560×1600 QHD+ IPS panel. Offering up to 500 nits of brightness and looking consistent across the screen, the fast 240Hz refresh rate is a boon for gamers playing older, fast-paced games. Not sure the RTX 4070 has appropriate chops to do it justice, but we're firmly in the camp that all laptop screens should feature a 16:10 ratio – it's so much better for productivity. 4.7mm bezels on each side ally to a small chin at the bottom, leading to an 84 per cent screen-to-body ratio. As an aside, perhaps I'm too attached to my Surface Laptop; I sure miss touch functionality when it's not present.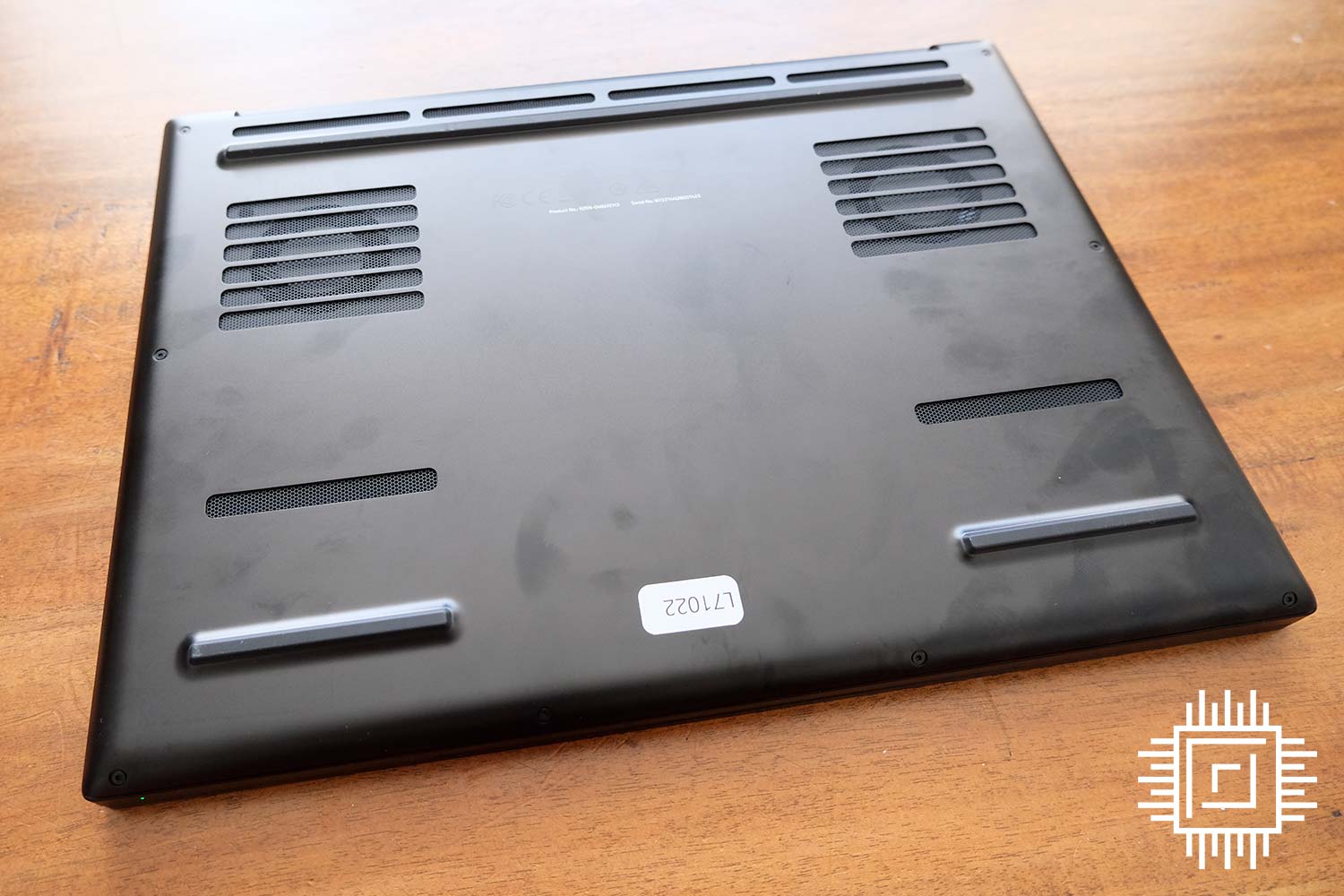 Fingerprints galore! 18mm thickness isn't much to work with, but Razer manages to shoehorn two USB 4 Type-C ports with Power Delivery (100W), DisplayPort 1.4, a separate, standalone HDMI 2.1, and a further two USB 3.2 Gen 2 Type-A. The charger itself isn't USB, mind, and uses a proprietary connection offering up to 230W. Most of the time, the laptop will happily run from USB PD, though full-framerate gaming sessions require more oomph provided by the bundled power brick.
Razer upped its game in the last generation with a Windows Hello FHD webcam situated up top. Images are generally clear, but sometimes, the auto-dimming feature goes too far and darkens the capture. AMD rolls in Xilinx hardware for select Ryzen 7040HS processors that take advantage of Microsoft's video conference enhancement features. Eeriest of which is 'Eye Contact,' where the AI automatically repositions your eyeballs as if looking directly ahead. It's a bit weird, truth be told, but saves you from looking directly at the camera the whole time you're on a video call.
Blades ship with a standard one-year warranty (two years for battery) that is stingy given this is a £2.5k piece of kit. Understanding more coin can be made, RazerCare, available only in the US presently, extends cover to three years.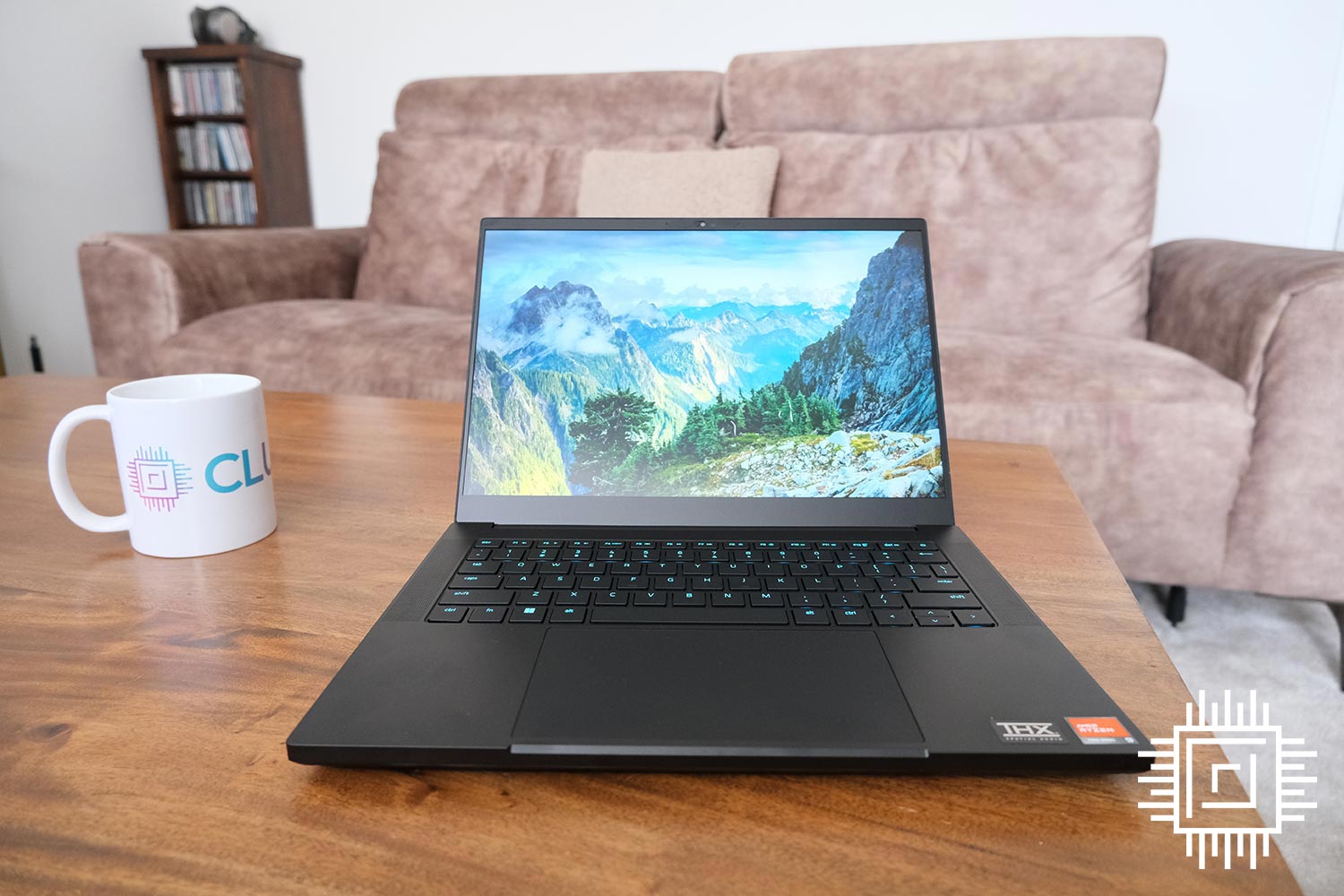 Performance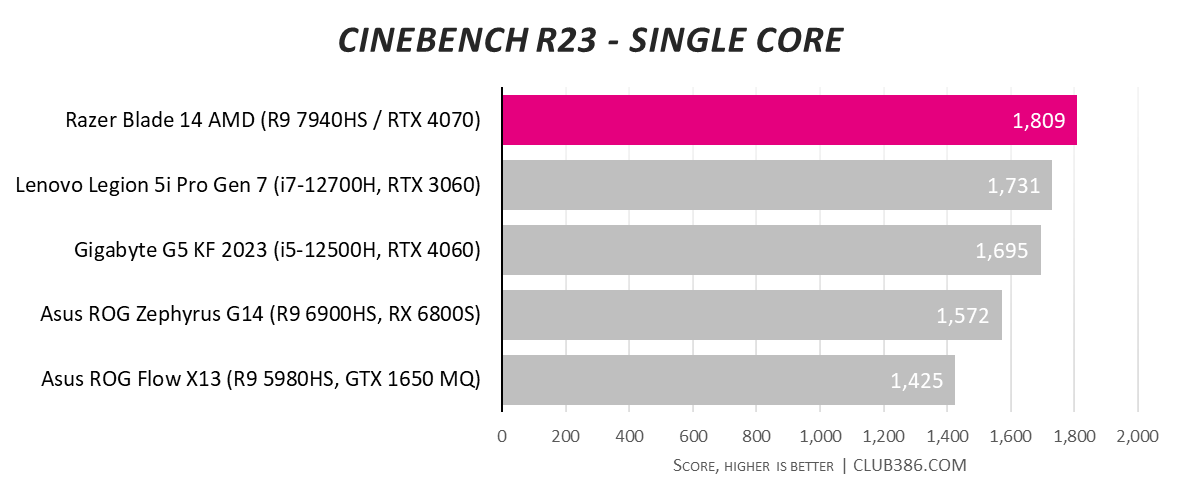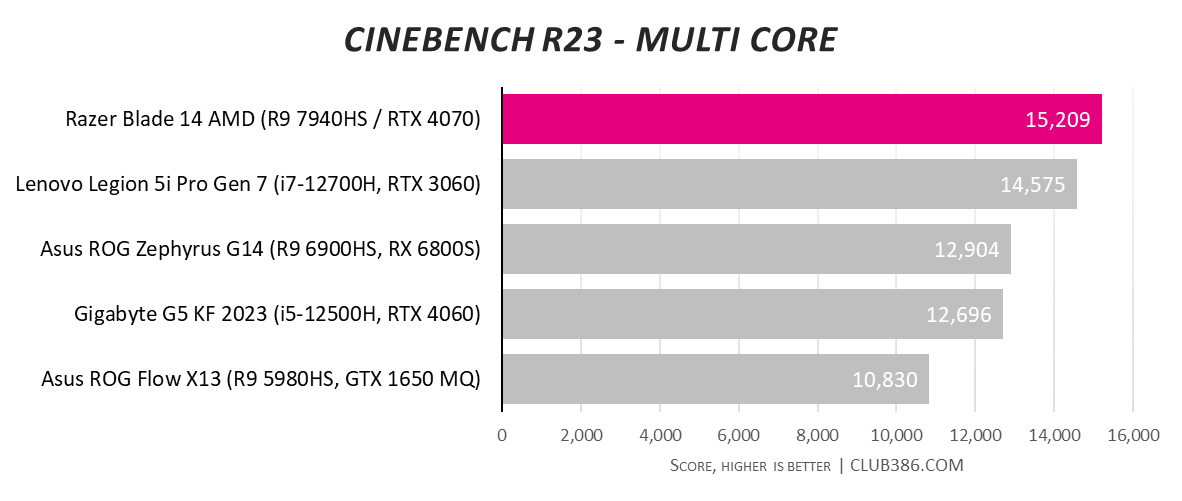 Run at balanced settings, AMD's latest CPU powerhouse is a mighty fine chip for productivity. We can see the generous performance uplift from Ryzen 9 6900HS within an Asus ROG Zephyrus G14 and Ryzen 9 5980HS from an Asus ROG Flow X13. It's worth knowing the score drops after 10 minutes of running the test, to 13,527, indicating throttling is taking place.
Those hankering for a desktop reference can equate Ryzen 9 7940HS's performance with a Ryzen 7 5800X. Not bad, huh?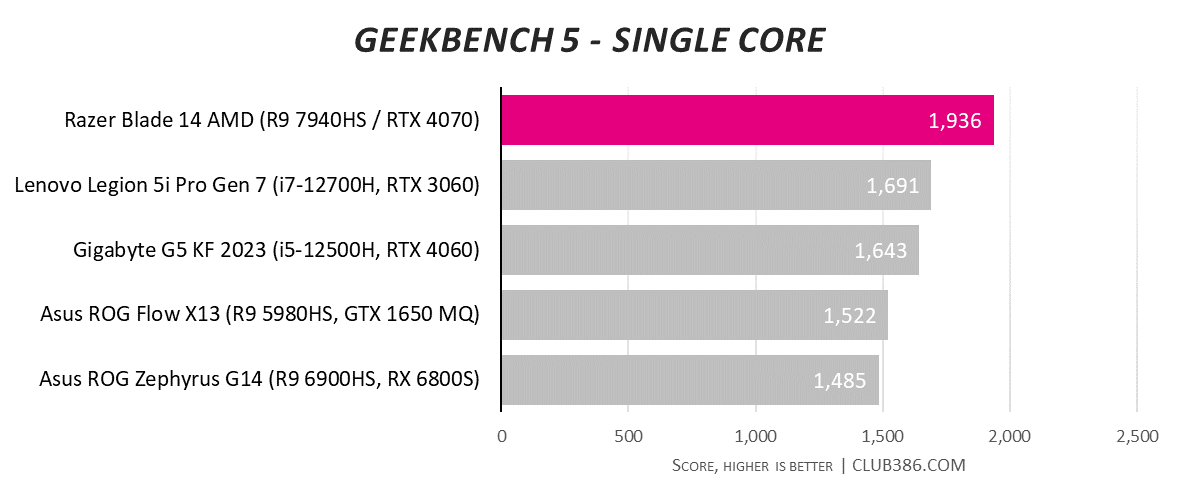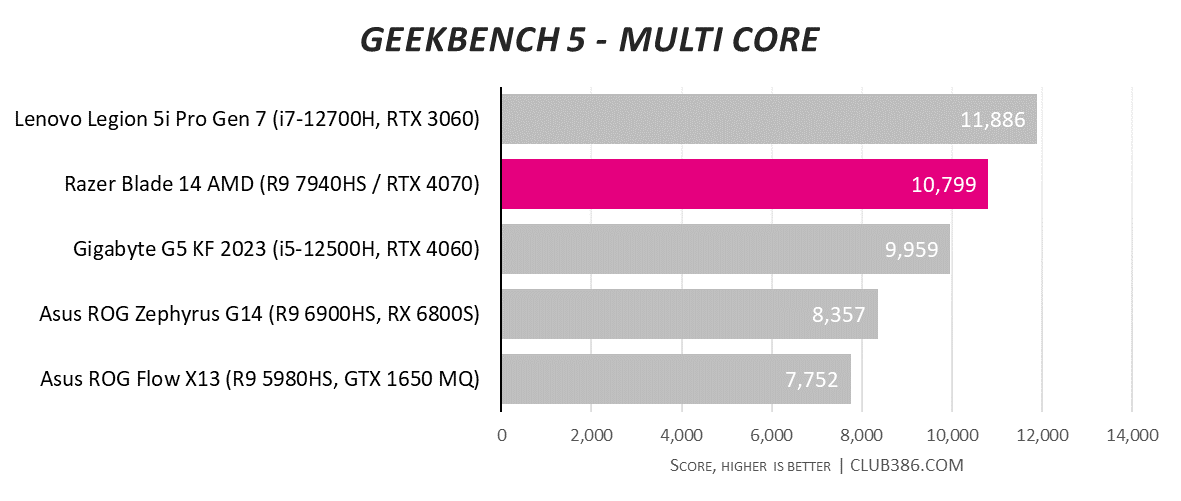 Expect the Ryzen 9 7940HS to mix it with leading 12th and 13th Generation Core Mobile chips from Intel. Impressive results for a 14in portable.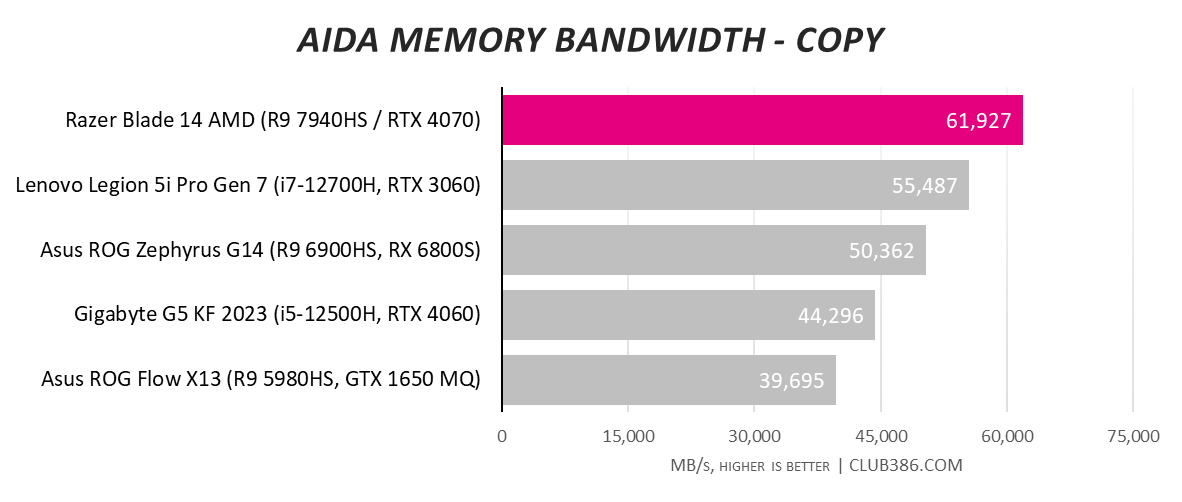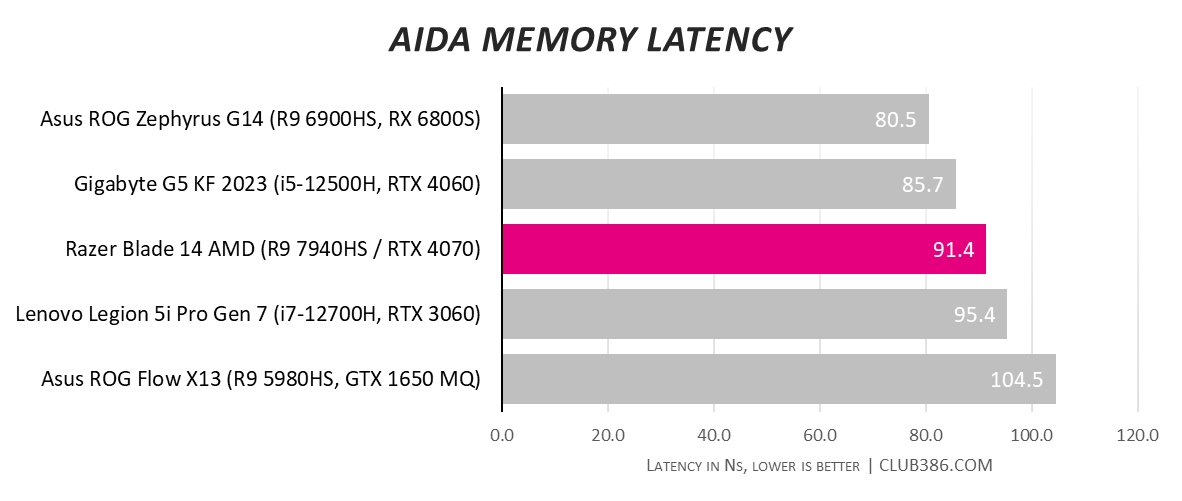 Dual-channel DDR5-5600 memory plays nicely in both bandwidth and latency.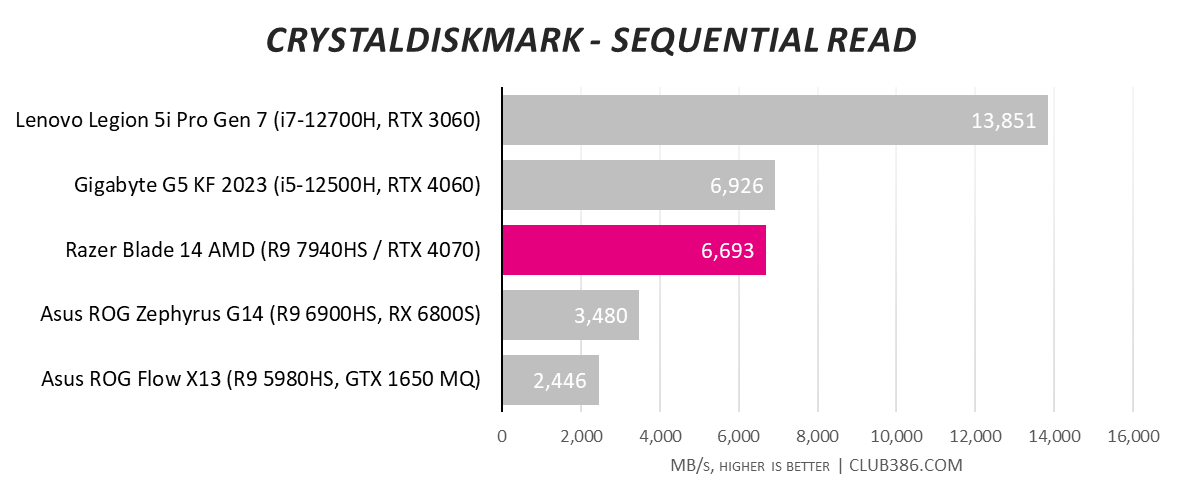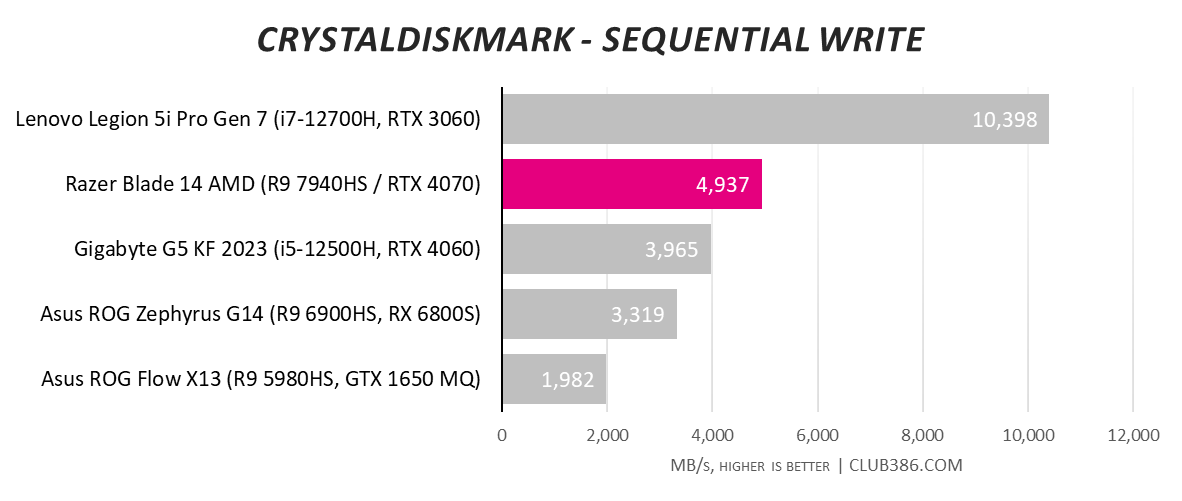 The solitary SSD option is a Samsung 1TB PCIe 4.0 x4 drive that's nice and fast.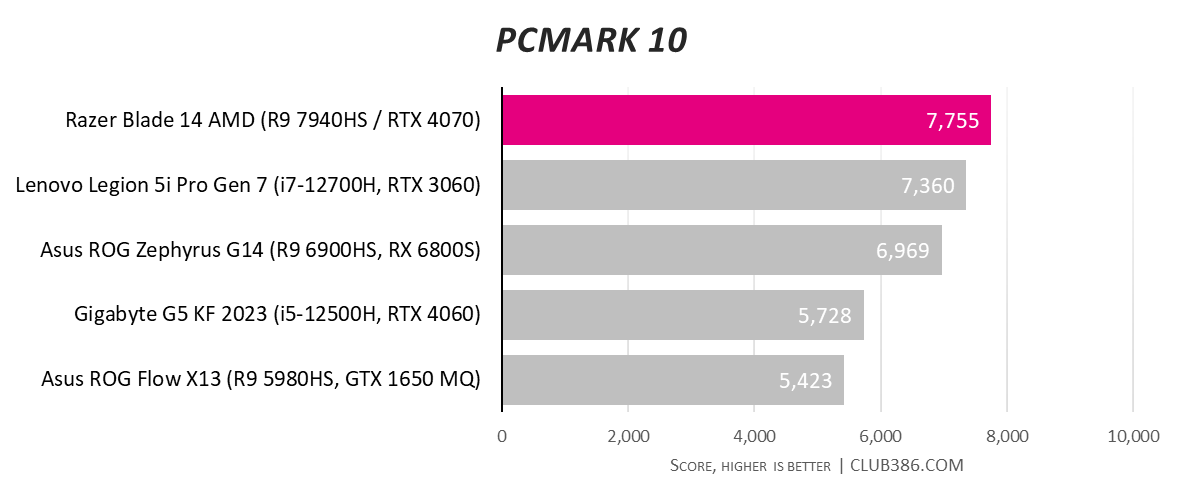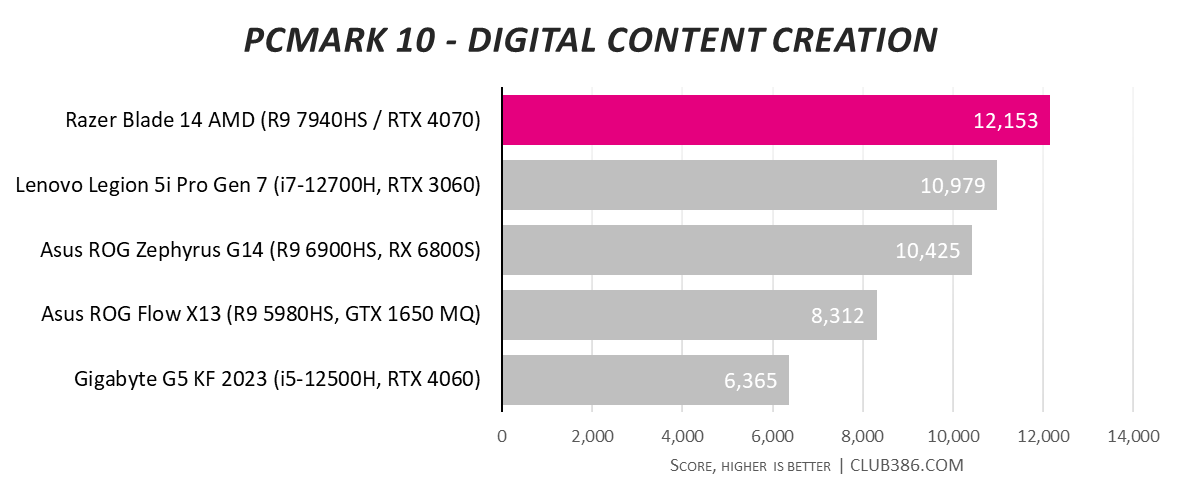 Try this test on your own laptop / desktop. Chances are it won't beat Blade 14.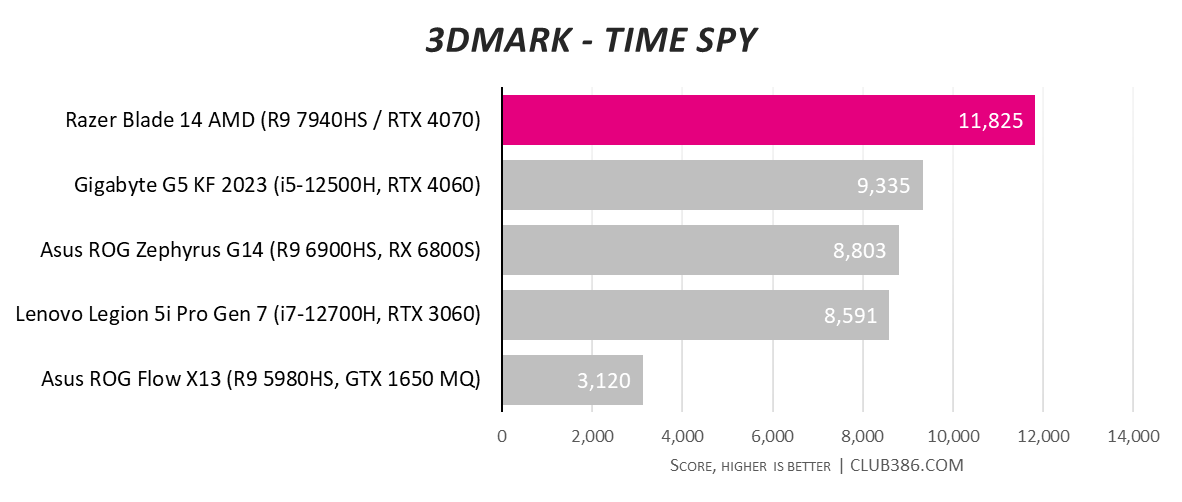 GeForce RTX 4070 Laptop comes in many forms. Razer decides to dynamically increase power up to 140W, which is interesting as Nvidia mandates a range between 35-115W. Nevertheless, that move pays dividends with superb performance.
Switching gears to the integrated graphics, baked-in Radeon 780 returns 2,667 marks, in case you were wondering.

Show your support for impartial Club386 reviews
Club386 takes great pride in providing in-depth, high-quality reviews built on honest analysis and sage buying advice. As an independent publication, free from shareholder or commercial influence, we are committed to maintaining the standards our readers expect.
To help support our work, please consider making a donation via our Patreon channel.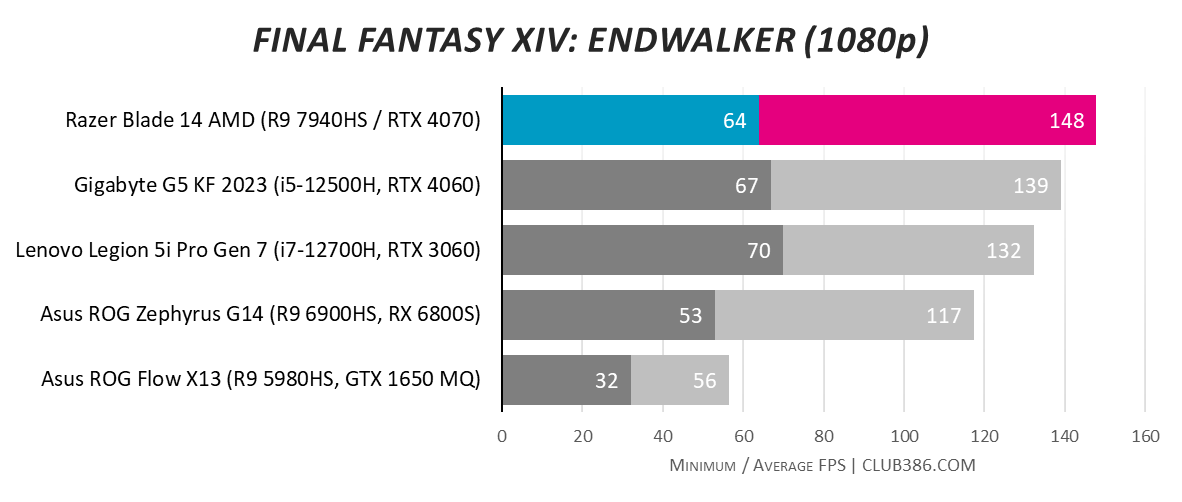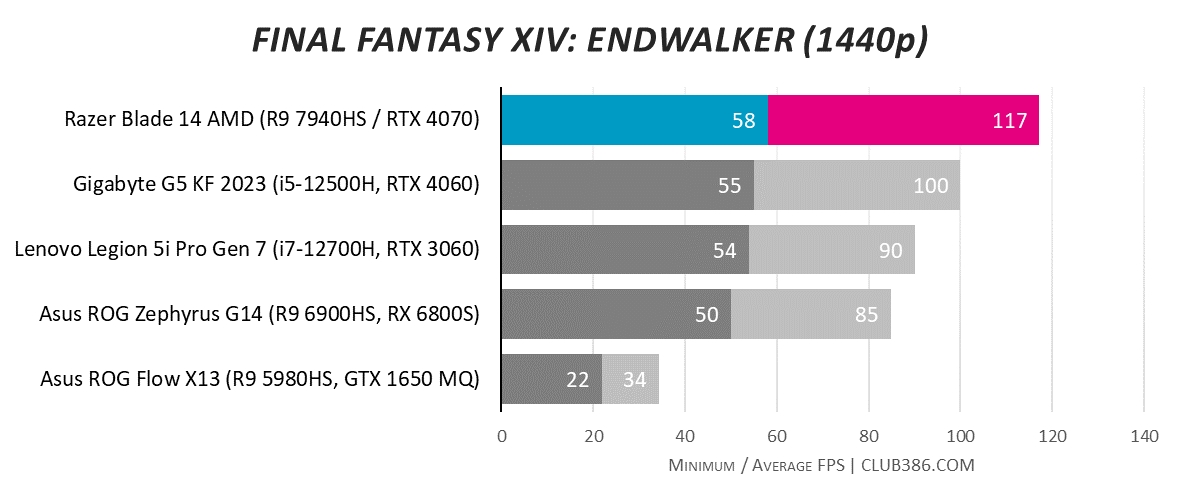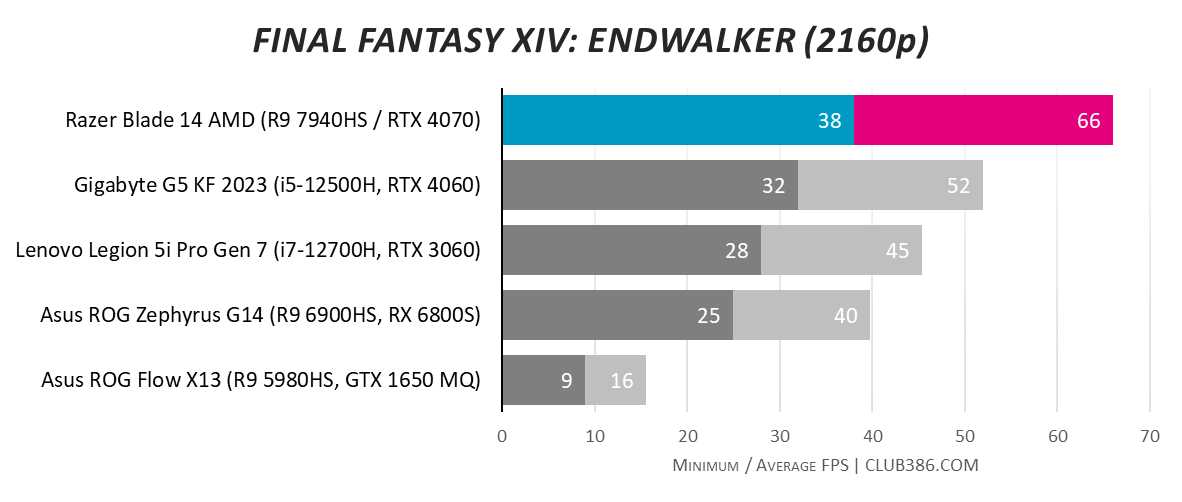 GeForce RTX 4070 is a consummate gaming performer through the resolutions. Switching to the native 2560×1600 results in an average 107 frames per second. Lovely.
| Game | Min / Avg FPS @ 1600p |
| --- | --- |
| Assassin's Creed Valhalla (Ultra High Quality) | 52 / 73 |
| Cyberpunk 2077 (Ultra Quality, RT on, DLSS quality, FG on) | 47 / 58 |
| Far Cry 6 (Ultra Quality, HD Textures and DXR On) | 25 / 49 |
| Final Fantasy XIV: Endwalker (Maximum Quality) | 63 / 107 |
| Tom Clancy: Rainbow Six Extraction (Ultra Quality) | 51 / 109 |
Running additional games at their highest-quality settings and at the panel's native resolution – you shouldn't settle for less – shows decent numbers across a selection of titles.
One outlier here is Far Cry 6 which ought to benchmark higher, one would think. We've previously seen the settings exact a large toll on the framebuffer, where 8GB is not enough, especially at a high-ish resolution such as 2560×1600. This is why a 10GB or 12GB memory pool is a preferred option, unfortunately not available on Blade 14.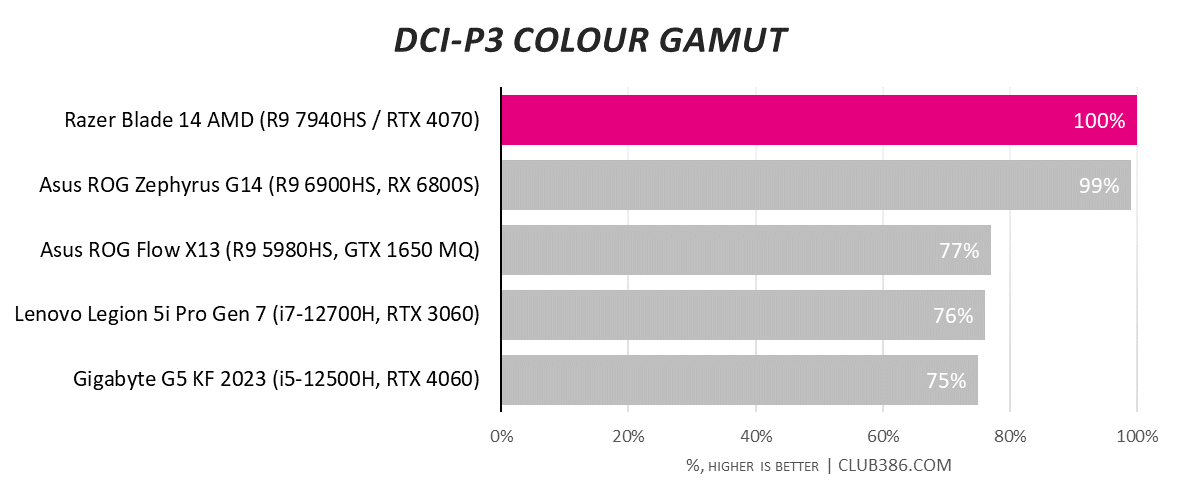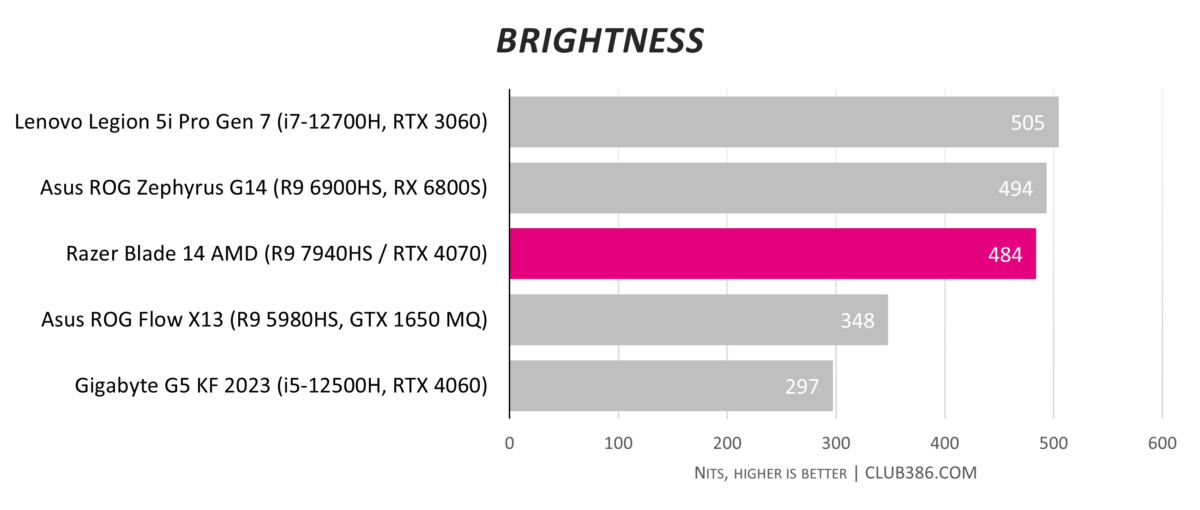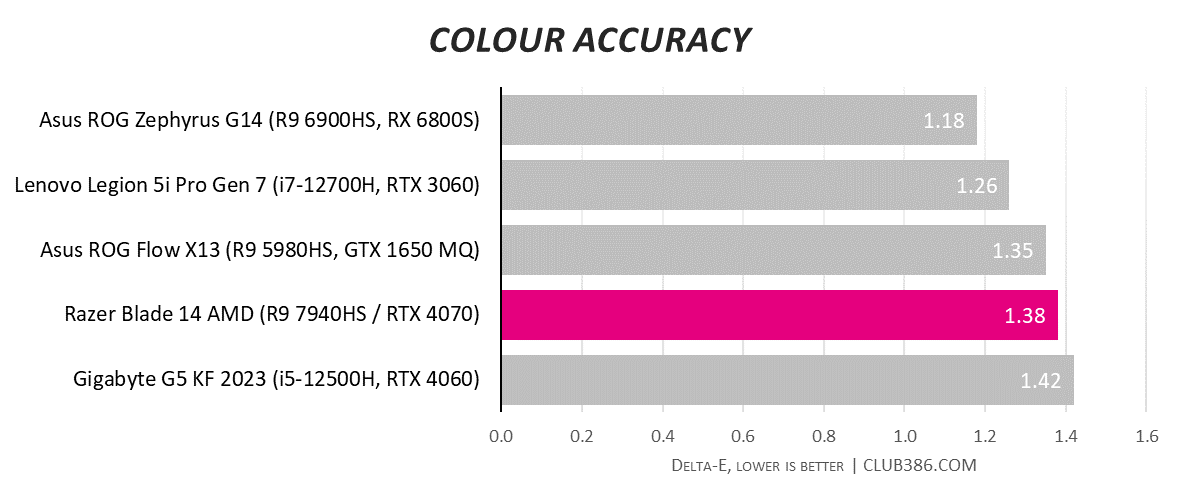 The lovely screen is bright and even; we're happy to see Razer opt for fast IPS panel instead of inferior solutions.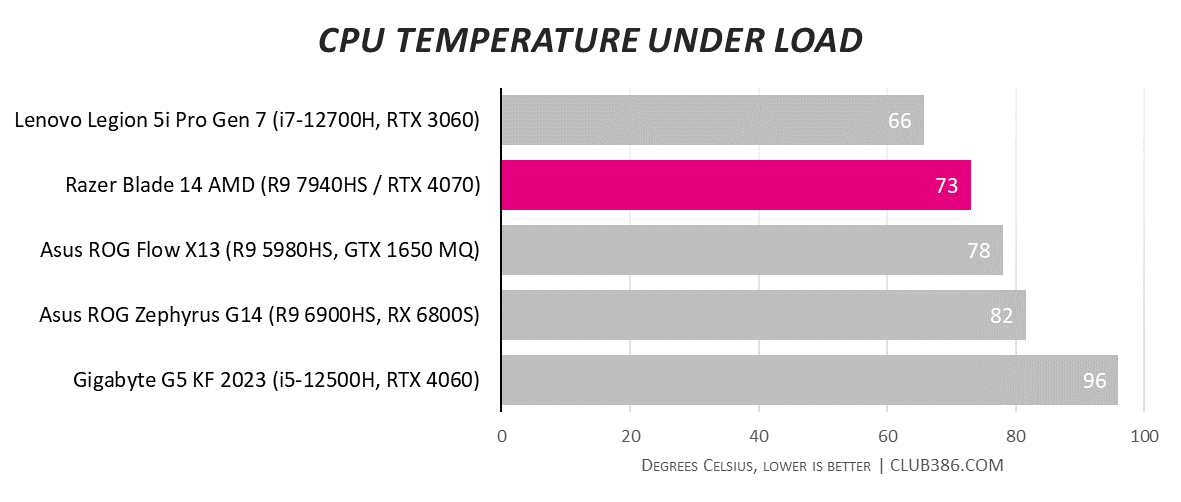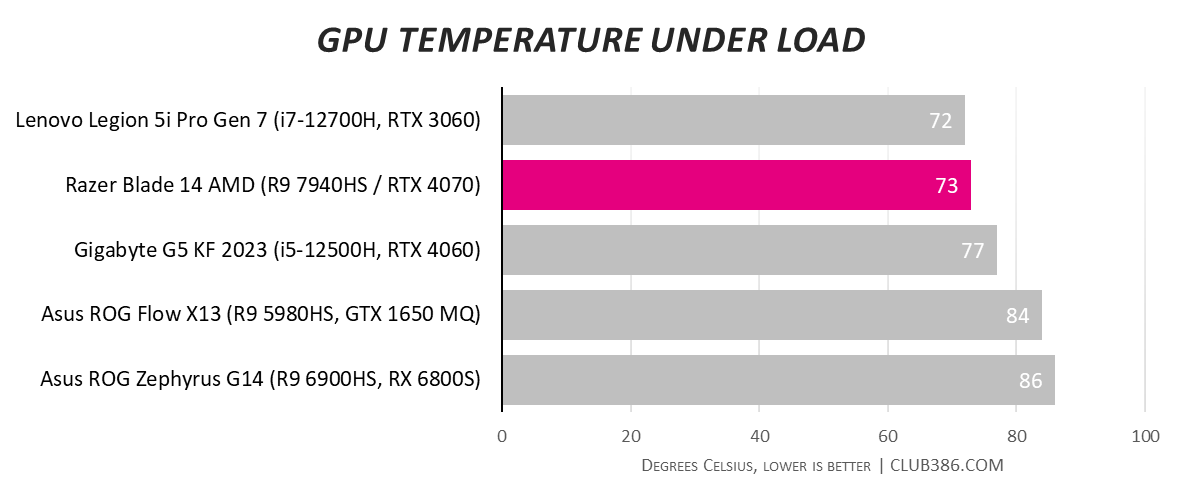 Yes, that's right, both CPU and GPU run up to 73°C. Colour us impressed with how well Razer's cooling works.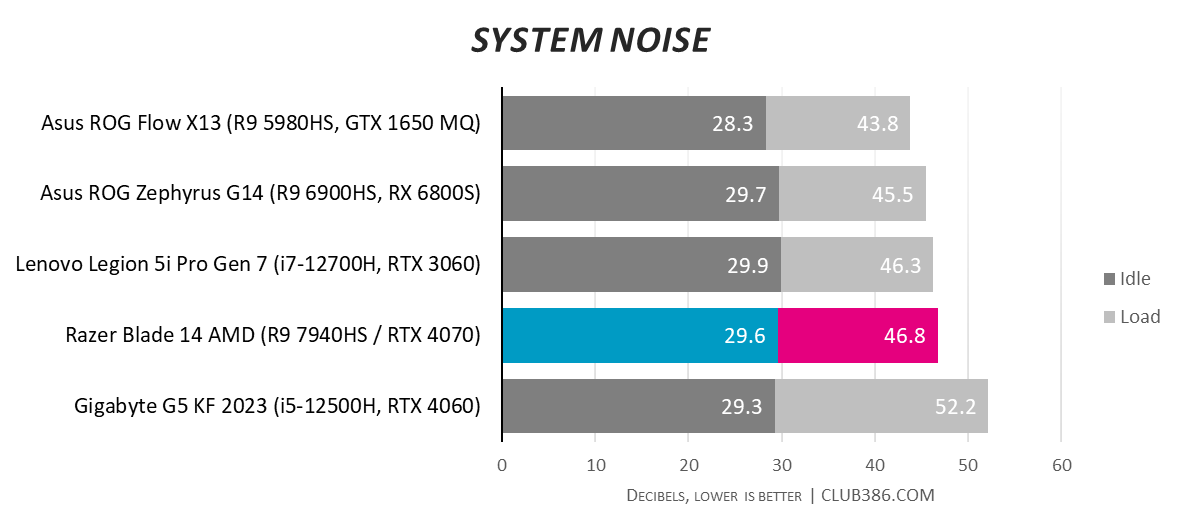 And whilst not the quietest of laptops when gaming, the default balanced profile is a good middle ground between acoustics and framerate. Razer's Synapse software, let me remind you, lets you toggle this fine balance.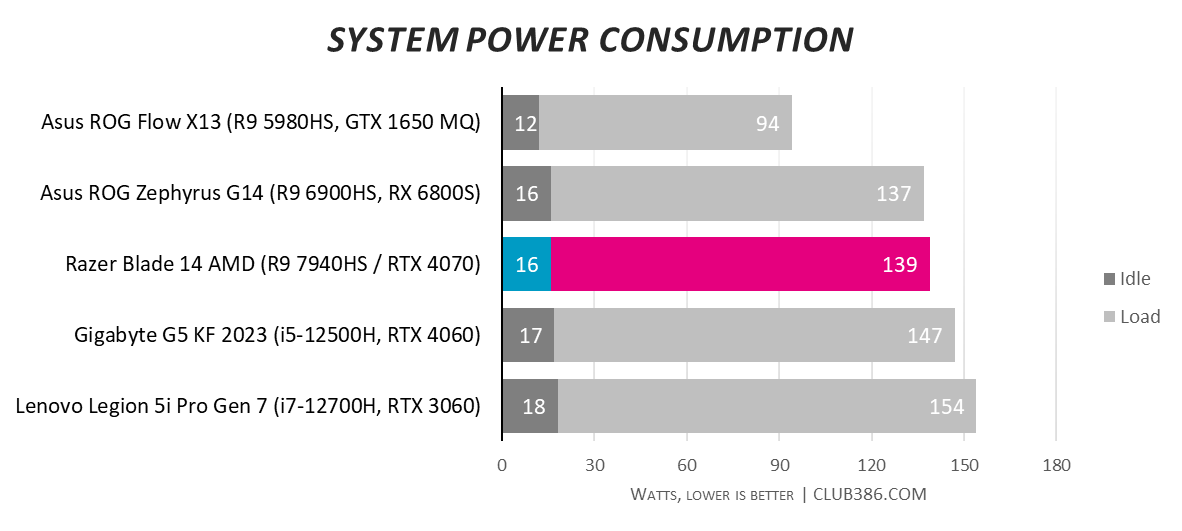 This is why you need to use the external power brick when gaming.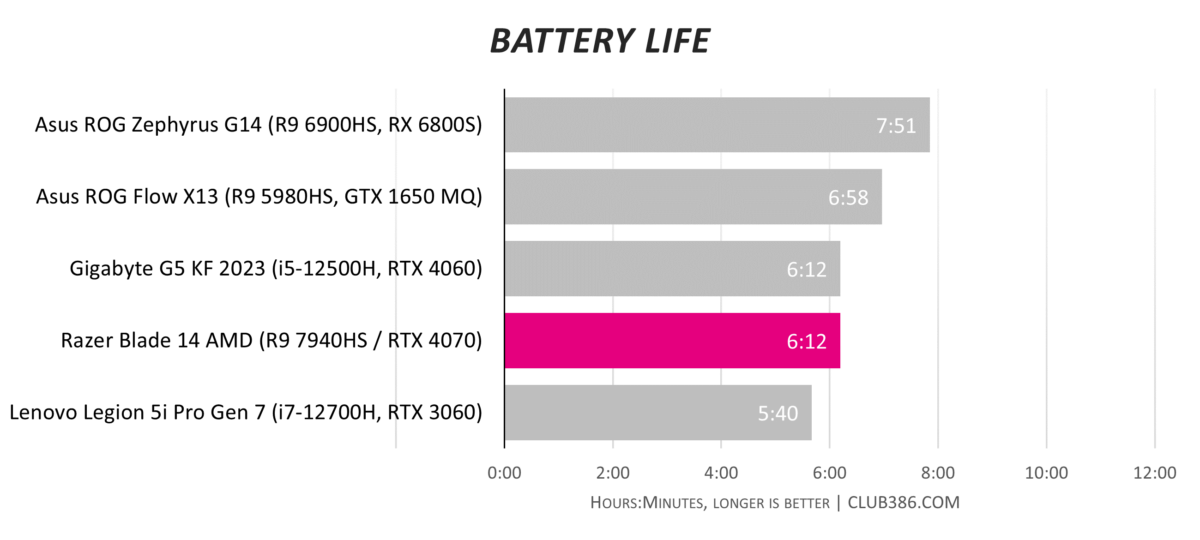 Razer Blade 14 isn't an Ultrabook built for marathon battery longevity. Nevertheless, with the impressive screen manually tuned to 200 nits, battery life for general applications is around the six-hour mark. If no-compromise gaming on the go is more your thing, expect not much more than an hour before the juice gives up the ghost.
Conclusion
Last year's Razer Blade 14 was an impressively svelte gaming laptop in its own right. Now powered by the new Ryzen 9 7940HS processor and GeForce RTX 4070 Laptop GPU, 2023's model is more than a wholesome specification change. Razer finds opportunity to redesign the chassis, include a larger battery, ensure RAM isn't soldered, and house a nicer, taller screen. All plus points that are very welcome.
It's a gorgeous-looking bit of kit, too, though if OCD is unfortunately your thing, the fingerprint-attracting chassis is sure to cause consternation – where's my microfibre cloth? The Razer premium is also in evidence, as Blade 14 is around 10 per cent more expensive than, say, an Asus Zephyrus G14 rocking many of the same components.
But if you're fans of the gaming-focussed Blade 14 and its intelligent balance between form factor, striking looks, performance and vitals, this year's model is the best yet.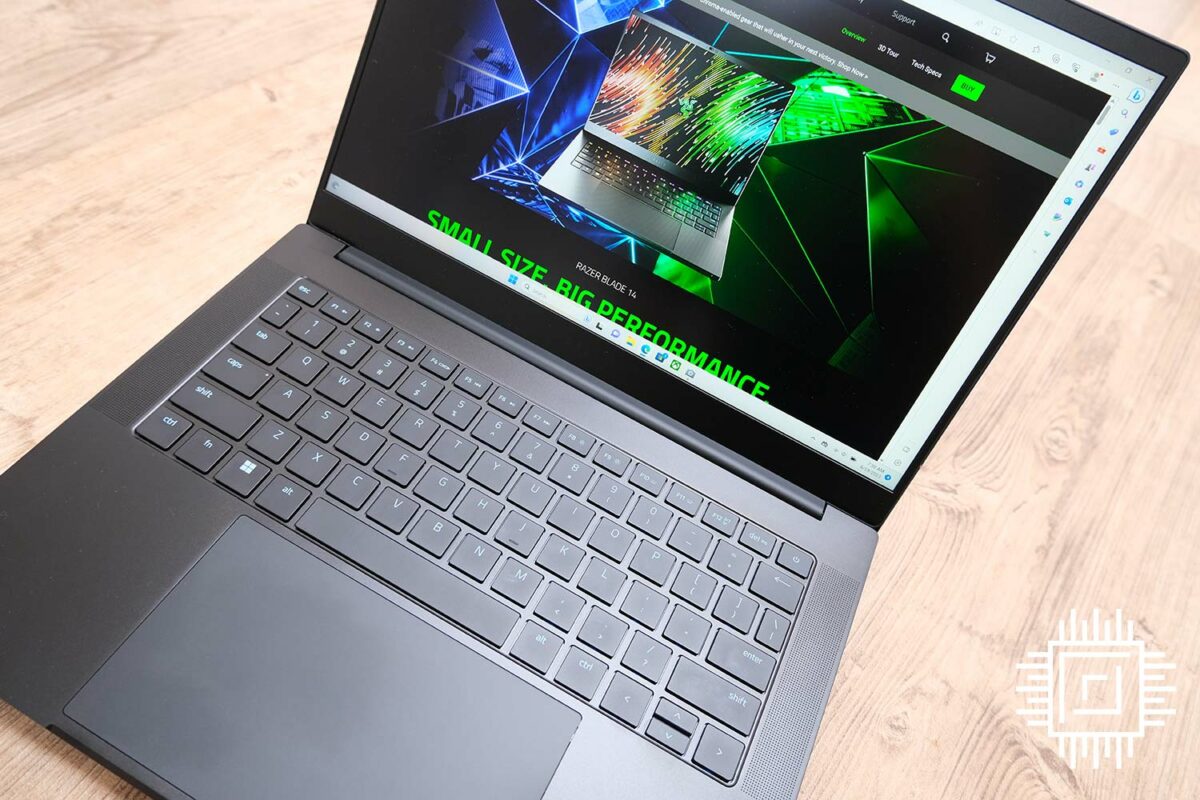 Razer Blade 14 (2023)
Verdict: A great laptop that builds on the good work laid down in preceding years.
---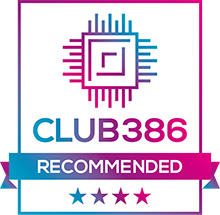 Pros
Great performance
Fantastic build
Lovely screen
Good connectivity
Huge trackpad
Cons
8GB GPU buffer
Fingerprint magnet

---
Club386 may earn an affiliate commission when you purchase products through links on our site. This helps keep our content free for all.
Rest assured, our buying advice will forever remain impartial and unbiased.