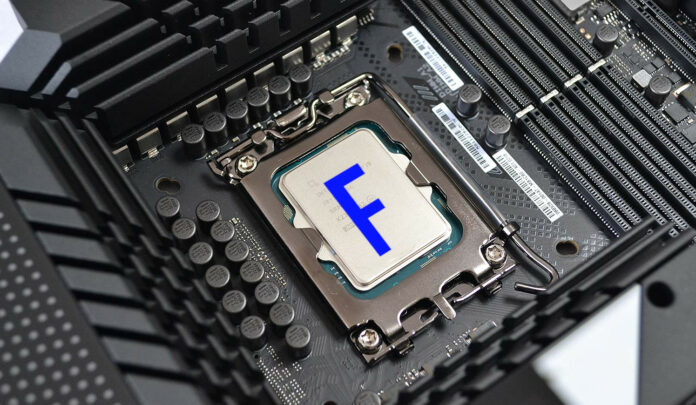 More specs for Intel 14th Gen Core non-K and F CPUs have been rumoured, revealing the frequency and cache present in eight chips ready to set sail early 2024.
According to @g01d3nm4ng0, Core i9-14900 non-K and F CPUs will feature the expected 24 cores and 32 threads clocked at a base 2GHz frequency, though peak speed is unknown, and supporting operations is 36MB of cache. Going one step down, we find a Core i7-14700 alongside its F variant, offering 20C28T at a base 2.1GHz together with 33MB of cache.
Three models are reputedly present in the Core i5 range – an i5-14600 packing a 14C20T design clocked in at a minimum 2.7GHz and 24MB of cache, an i5-14500 with also 14C20T at 2.6GHz and 24MB of cache, plus an i5-14400 housing 10C16T at 2.5GHz and 20MB of cache. Note the latter is also getting an F variant with the iGPU fused out.
Assuming Intel continues its segmentation as usual, these processors should be equipped with a 65W TDP rating while being locked from CPU overclocking, at least using the simpler multiplier method. Those who have time to spare can still get some boost by changing the BCLK frequency in BIOS. This approach's potential is limited, as other components, such as memory, depend on the BCLK, thus pushing too far may cause instabilities.
@g01d3nm4ng0 also adds that Raptor Lake Refresh may be priced similarly to the current generation, which wouldn't be surprising seeing that no major changes are being brought to bear.
Even if Intel is to use the same core layout on K, non-K, and F variants of a CPU model isn't a scoop in itself, this new rumour adds to the veracity of previous leaks, all while revealing more about the operating frequency of these chips. Intel Core non-K / F series are expected to be available early next year, most likely launching during CES 2024.