Sapphire China has revealed an economical iteration of its Nitro series featuring less RGB. The biggest difference is the use of a copper base plate and heatpipes instead of a vapour chamber.
At first sight, both models look identical, measuring 320mm (L) x 136mm (H) x 72mm (W) and carrying three fans boasting Sapphire's Angular Velocity Blades which alongside the outer ring of the axial fans are said to provide up to 44 per cent more downward air pressure and 19 per cent higher airflow than regular models. However, after checking the specs, we learn that this new model eschews the RGB LED strip located on the bottom (shining on the motherboard) plus replacement of the vapour chamber in order to keep costs down.
While missing an RGB light isn't the end of the world, dropping the vapour chamber may bring up higher temperatures. On the other hand, many competing products also use heatpipes in conjunction with a copper base plate… and they keep heat under control, meaning that with proper implementation, we may see little or no difference, which would be great.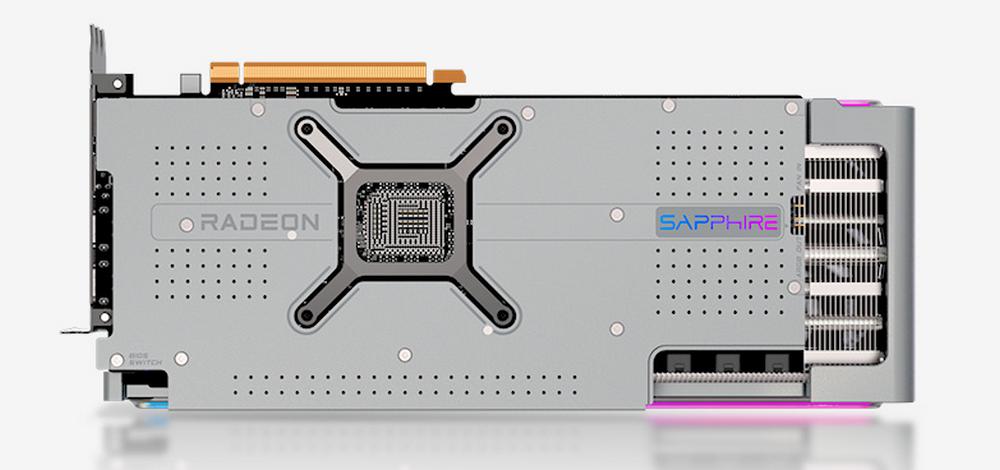 So, how much does not having an RGB light and a vapour chamber save us? Well, Sapphire's RX 7900XT Nitro L is available on jd.com for 499 yuan (£57) cheaper, at 6,299 yuan (£720). That's a seven per cent discount.
If we follow this logic, since the original RX 7900 XT Nitro+ is found the cheapest at £899.99 (£150 more than AMD's reference cards), this new model can potentially launch for £849.99, assuming it ever gets a worldwide release, that is. This still puts it roughly £100 higher than the most affordable RX 7900 XT available, which is a price that may or may not be worth it depending on the level of cooling left behind compared to the vapour-chamber variant. Choices, choices.