Jump to: Analysis | Sapphire Card | Performance | Conclusion
AMD released a trio of revamped Radeon RX 6000 series GPUs recently. Club386 has already reviewed Sapphire's best graphics cards, including RX 6950 XT and RX 6750 XT, so now it's the turn of RX 6650 XT to be front and centre.
| | RX 6800 | RX 6750 XT | RX 6700 XT | RX 6650 XT |
| --- | --- | --- | --- | --- |
| Launch date | Sep 2020 | May 2022 | Mar 2021 | May 2022 |
| Architecture | RDNA 2 | RDNA 2 | RDNA 2 | RDNA 2 |
| Codename | 21 XL | 22 KXT | 22 XT | 23 XKT |
| Interface | PCIe 4.0 x16 | PCIe 4.0 x16 | PCIe 4.0 x16 | PCIe 4.0 x8 |
| Process (nm) | 7 | 7 | 7 | 7 |
| Transistors (bn) | 26.8 | 17.2 | 17.2 | 11.1 |
| Die size (mm²) | 520 | 335 | 335 | 237 |
| Boost clock (MHz) | 2,105 | 2,600 | 2,581 | 2,635 |
| Shaders | 3,840 | 2,560 | 2,560 | 2,048 |
| GFLOPS | 16,166 | 13,312 | 13,215 | 10,793 |
| Compute/RT Units | 60 | 40 | 40 | 32 |
| Infinity Cache (MB) | 128 | 96 | 96 | 32 |
| Memory size (GB) | 16 | 12 | 12 | 8 |
| Memory bus (bits) | 256 | 192 | 192 | 128 |
| Memory clock (Mbps) | 16,000 | 18,000 | 16,000 | 17,500 |
| Bandwidth (GB/s) | 512 | 432 | 384 | 280 |
| ROPs | 96 | 64 | 64 | 32 |
| Power connectors | 2x 8-pin | 2x 8-pin | 2x 8-pin | 1x 8-pin |
| Power (watts) | 250 | 250 | 230 | 180 |
| MSRP ($) | 579 | 549 | 479 | 399 |
Analysis
Radeon RX 6650 XT's mostly a known quantity as it is based on the same Navi 23 die powering existing RX 6600 XT. Reflecting the two other x50 GPUs, differences between new and old are minor. In the case of RX 6650 XT, AMD keeps to the same 32-CU, 2,048-shader design built on RDNA 2 architecture but elevates peak GPU speed from 2,589MHz to 2,635MHz.
Over on to the memory department, RX 6600 XT's 8GB 16Gbps frame buffer is pushed to 17.5Gbps here. The resultant tweaks to last year's design increase board power from 160W to 180W, though add-in board partners are free to overclock farther by escalating TGP.
Minor increments in specification put RX 6650 XT in a tight spot. Cards are readily available from £400, but RX 6600 XT remains marginally cheaper. The travails of introducing new SKUs into an already-congested market, eh?
Though this new GPU makes most of the Navi 23 die, there is still a handsome specification gap between it and the Radeon RX 6700 XT, based on the more potent Navi 22 blueprint. Sapphire is acutely aware of the chasm and has recently launched Radeon RX 6700.
Irrespective of inter-familial positioning, Radeon RX 6650 XT is an able solution for FHD and QHD gameplay. Cards such as these benefit greatly from framerate-boosting technologies such as FSR 2.0, so it's possible to extend RX 6650 XT's usefulness to UHD in certain scenarios.
Sapphire's Radeon RX 6650 XT Nitro+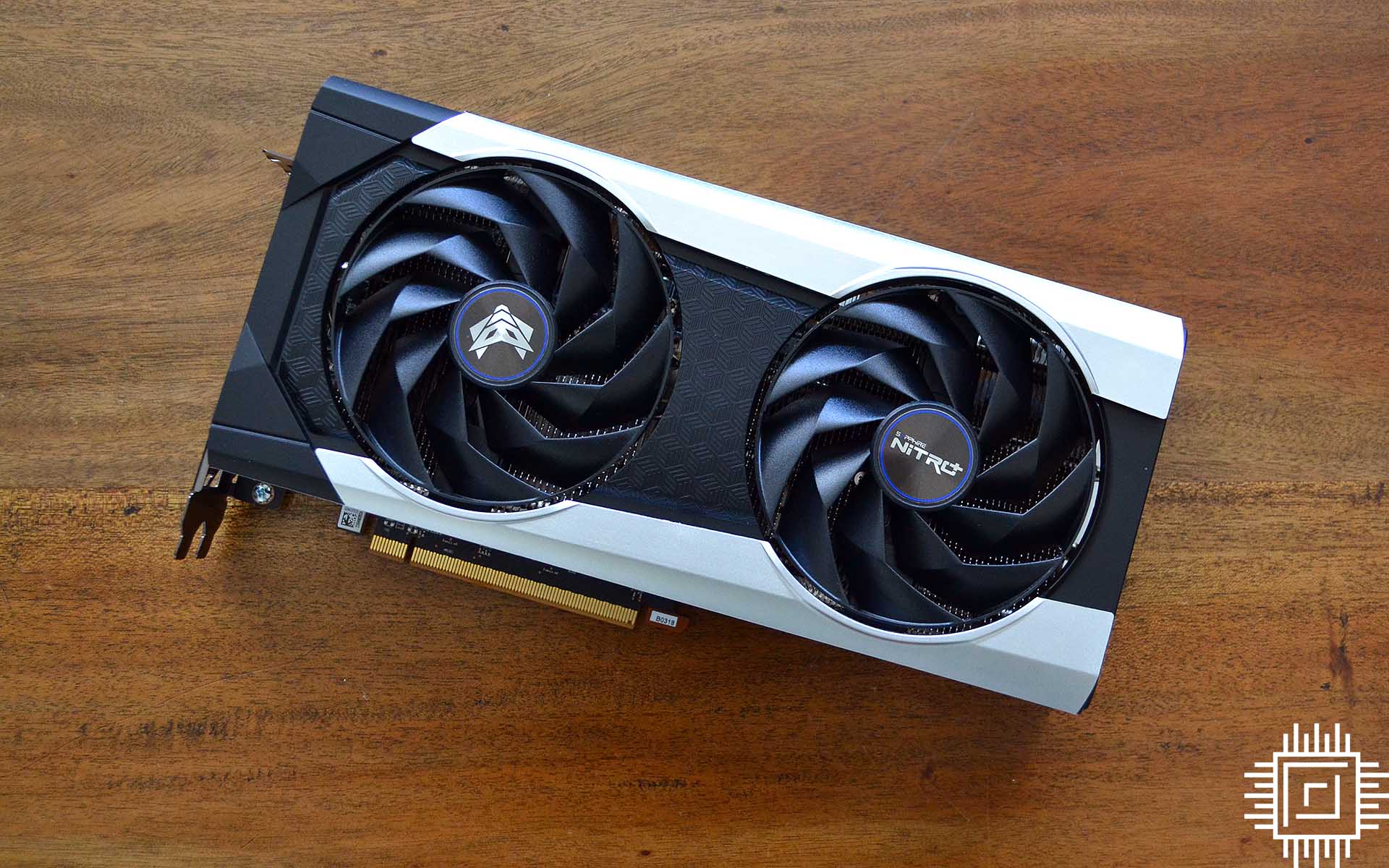 Sapphire markets two flavours of RX 6650 XT: Pulse and Nitro+, and we take an in-depth look at the latter. Presented in a 2.5-slot form factor measuring 260mm long, 130mm wide, and 57.57mm high, the use of a metal backplate pushes card weight to 847g. Overall build quality is a cut above for a GPU of this ilk.
It's interesting Sapphire changes cooling between 6600 XT and 6650 XT Nitro models. The newer card is larger and taller, and the latter is required to house twin 100mm fans that switch off at low load and, for easy cleaning and maintenance, are removable via Sapphire's Quick Connect technology.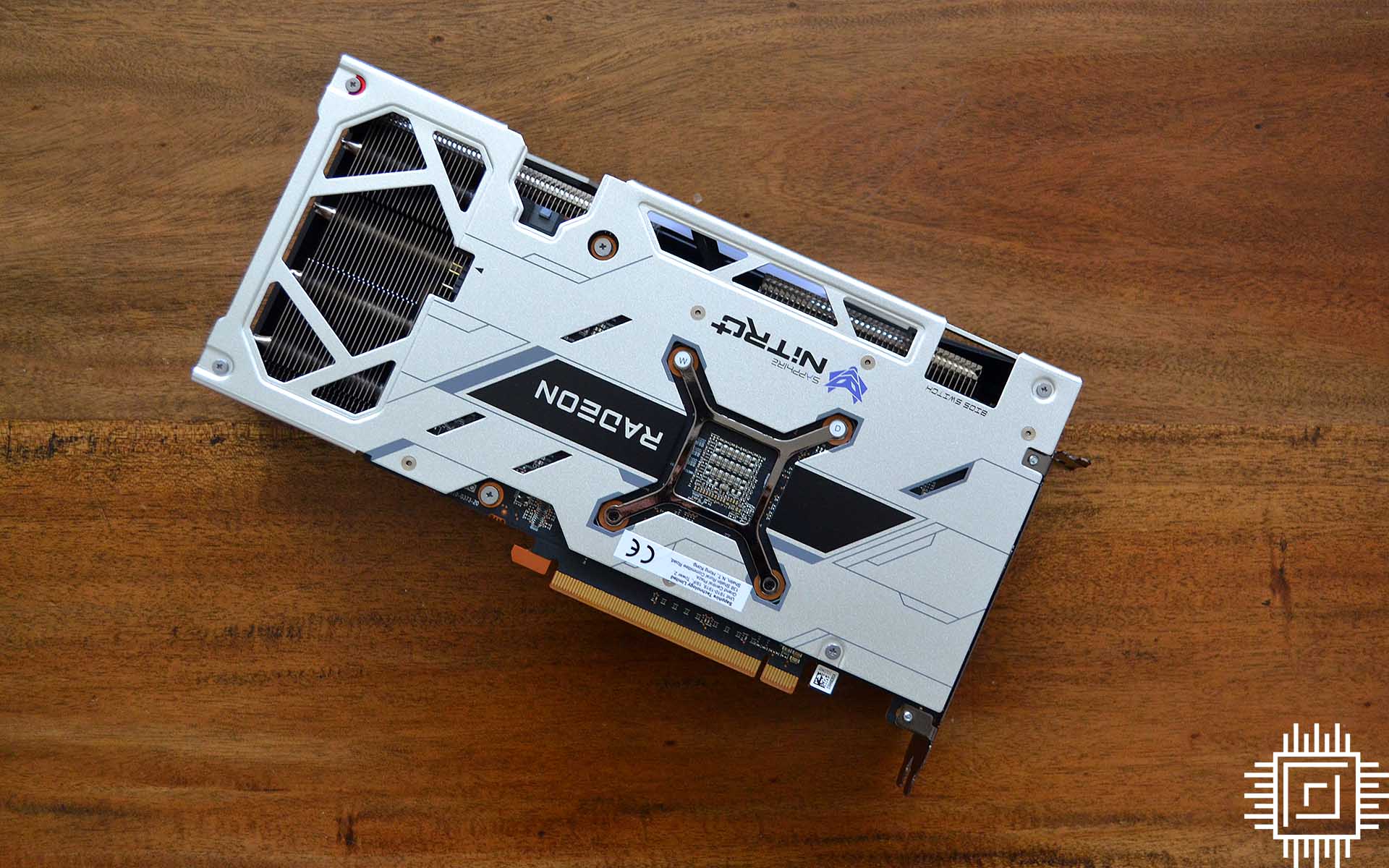 Sapphire's card-encompassing heatsink comes in two parts joined effectively together by four heatpipes. As you look at it, the left-hand section is solely for cooling as the PCB finishes about two-thirds the way along.
A three-position BIOS switch on the right is one feature marking Nitro(+) out from Pulse. As standard, the card is in Performance mode, the second position enables Silent mode, whilst the third offers BIOS switching within Sapphire's TriXX software utility.
AMD's 2,635MHz boost clock increases to 2,694MHz on Nitro+, though do appreciate the 8GB of GDDR6 memory is left untouched at 17.5Gbps. Very few board partners bother with memory overclocking.
Accommodating higher core speed, with the card actually running at a consistent 2,733MHz, Sapphire boosts board power from 180W to 203W. We're happy to see a single 8-pin power connector enabling tidier builds, and it's recessed to keep cable protrusion to a minimum.
The only RGB is present on the Sapphire logo on this side. Tastefully done, lighting can be synchronised to the system via a three-pin connector on the rear which connects to compatible motherboards.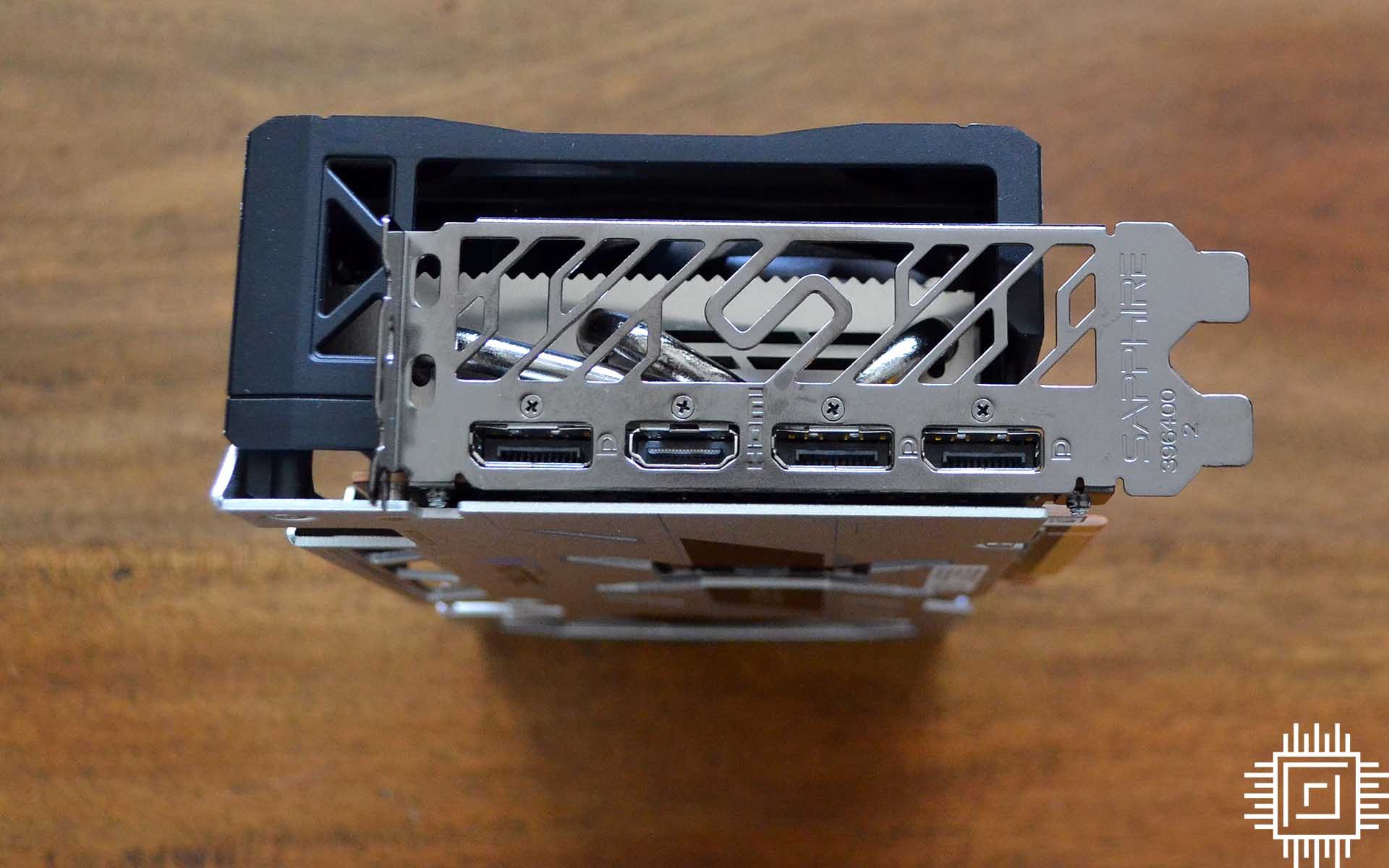 Sapphire plays it sensible for I/O comprising three DisplayPort and a single HDMI. The card's 2.5-slot height and larger width is firmly on show.
Full testing methodology can be found on the second page of this review.
Performance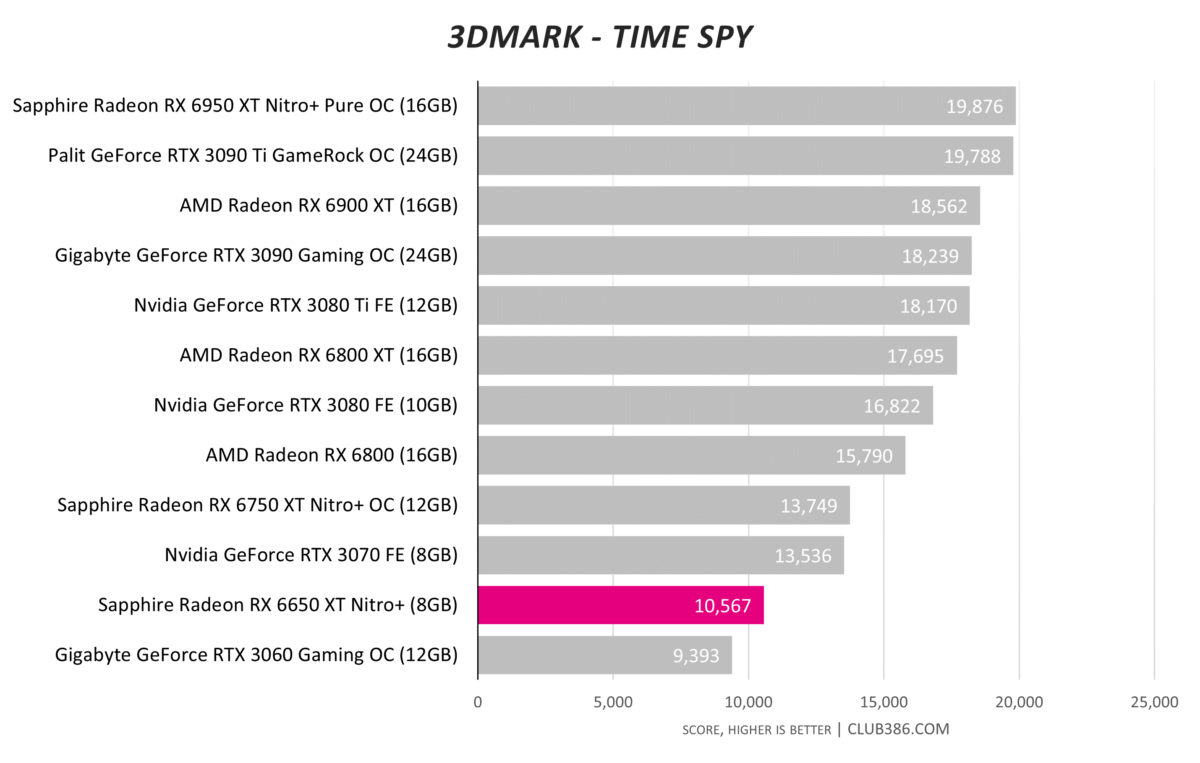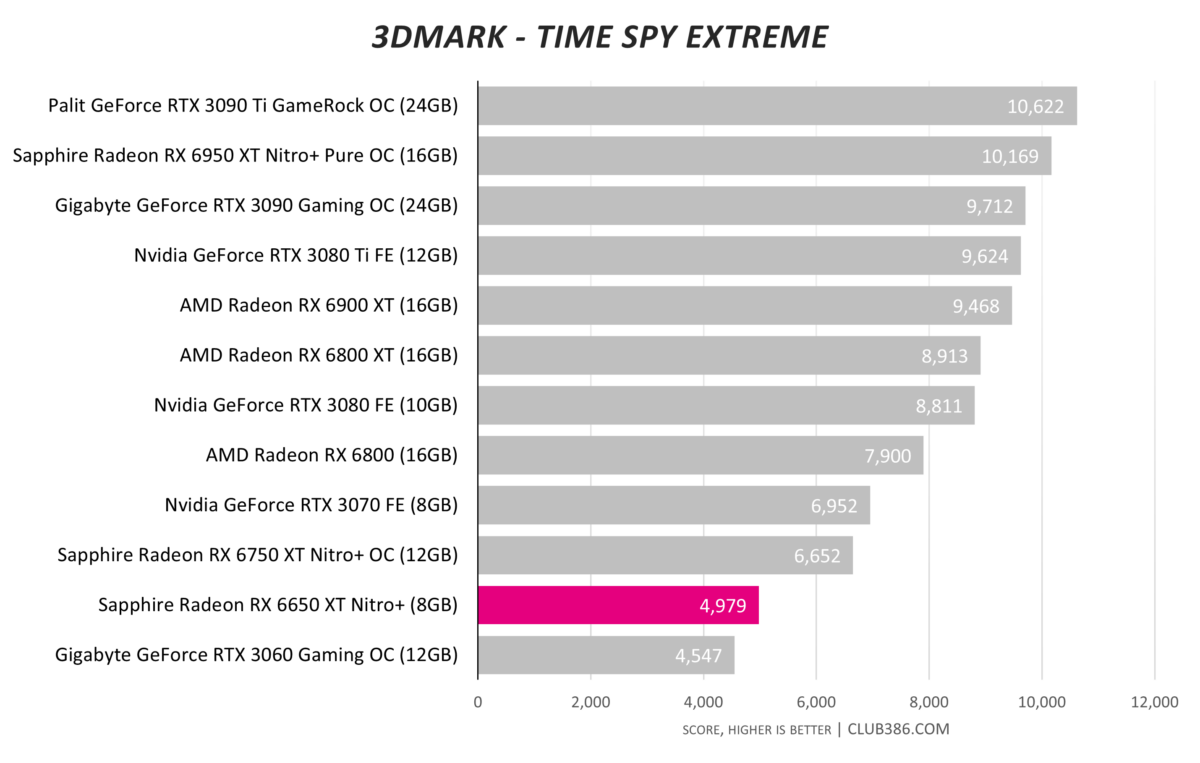 The key competitor is Gigabyte's GeForce RTX 3060 Gaming OC as its £420 price tag is in the vicinity of the review Sapphire. RX 6650 XT has the upper hand here.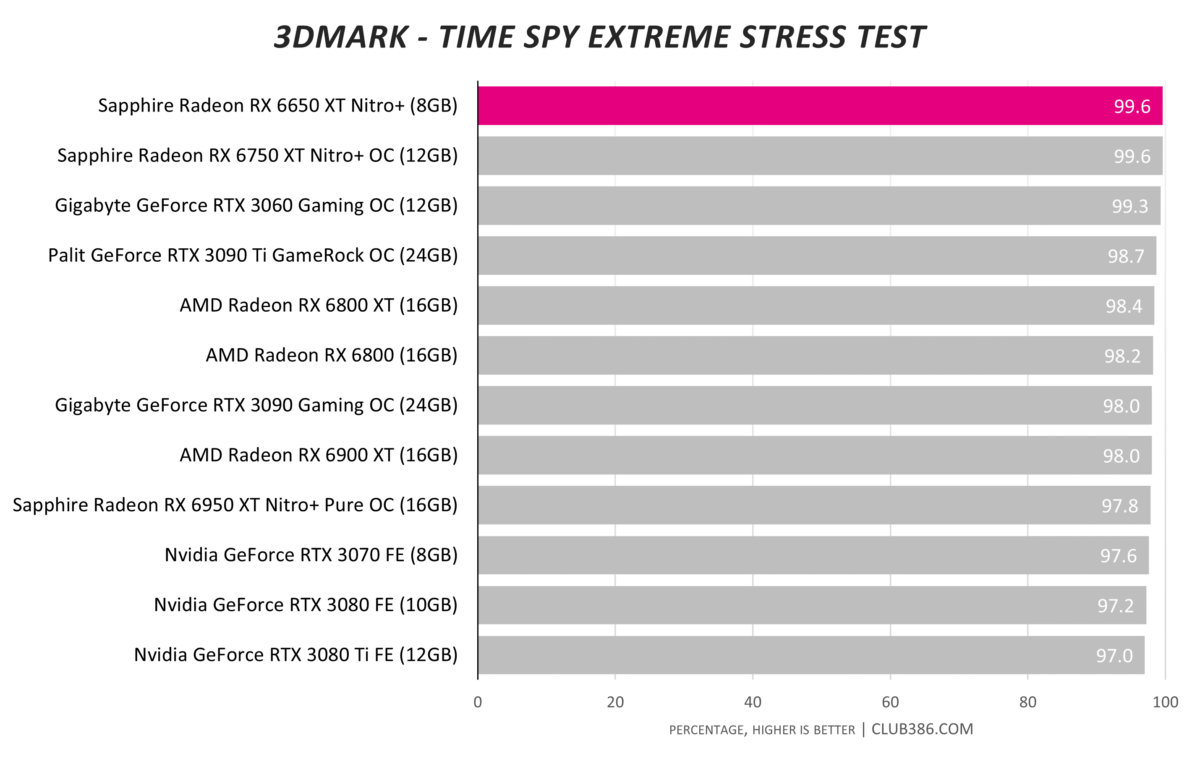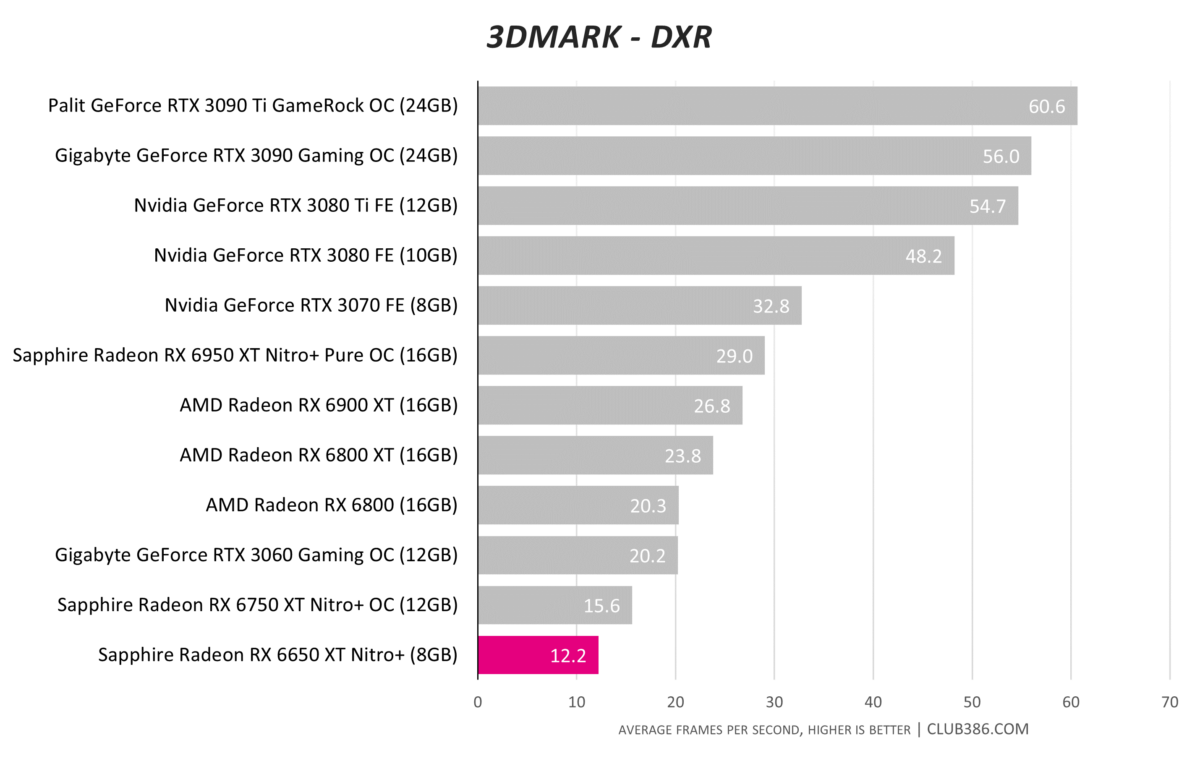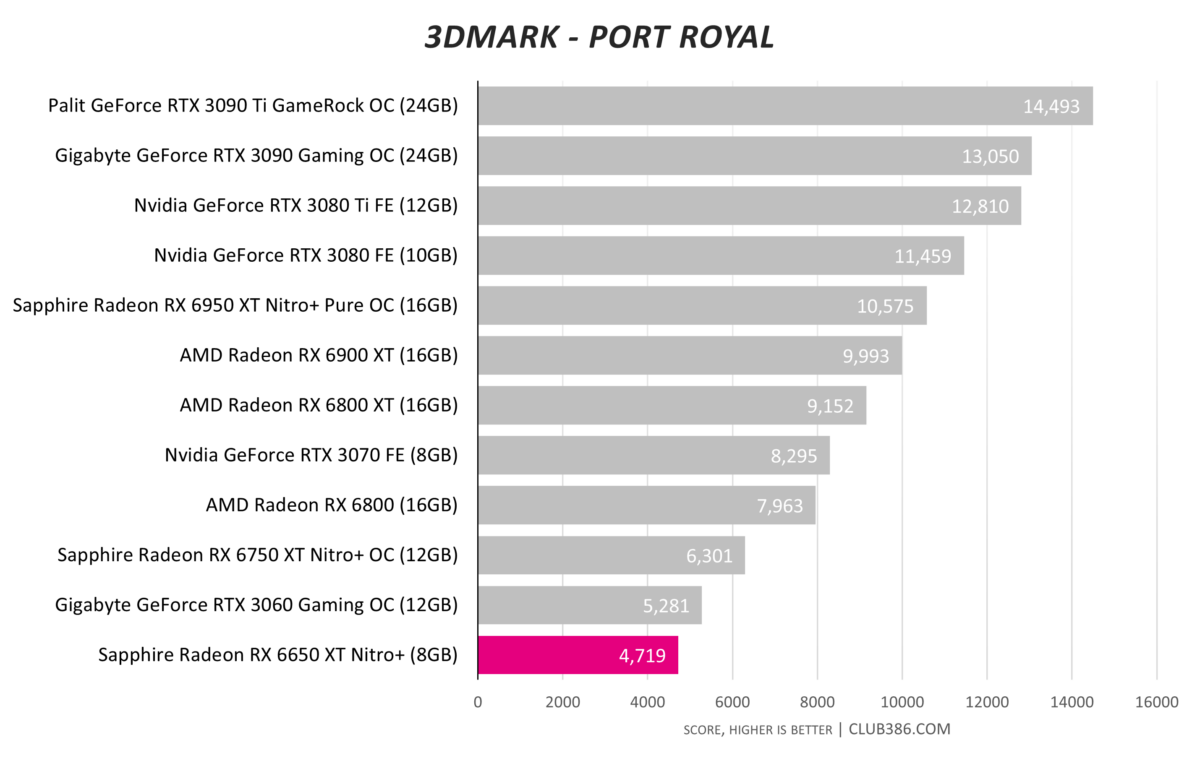 At a given price point, AMD tends to be faster at rasterisation while Nvidia holds a raytracing lead. Our graphs reinforce that line of thinking.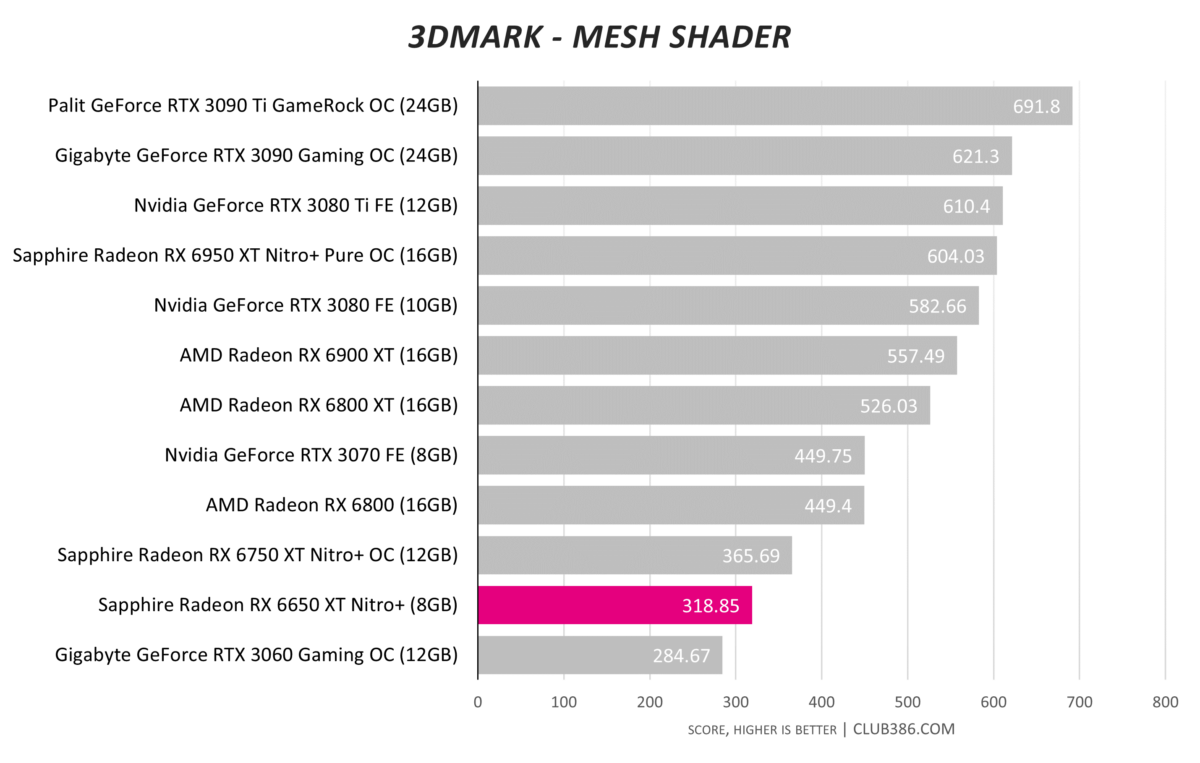 Assassin's Creed Valhalla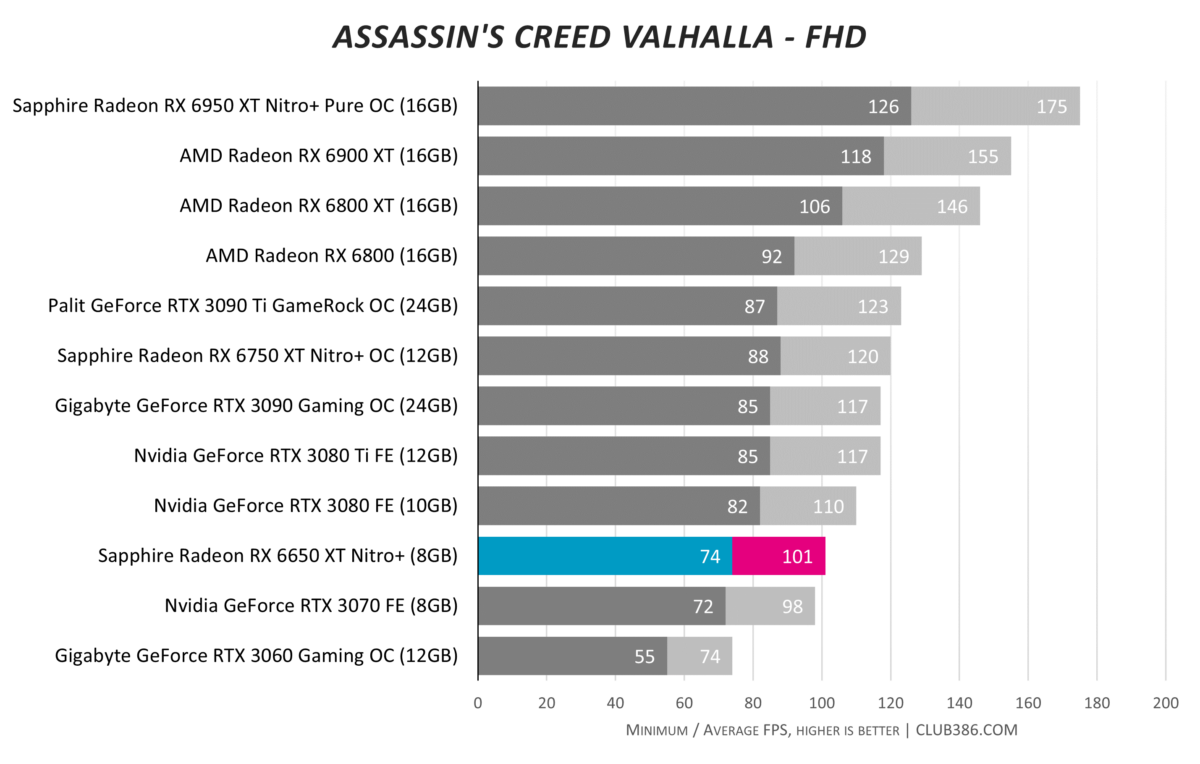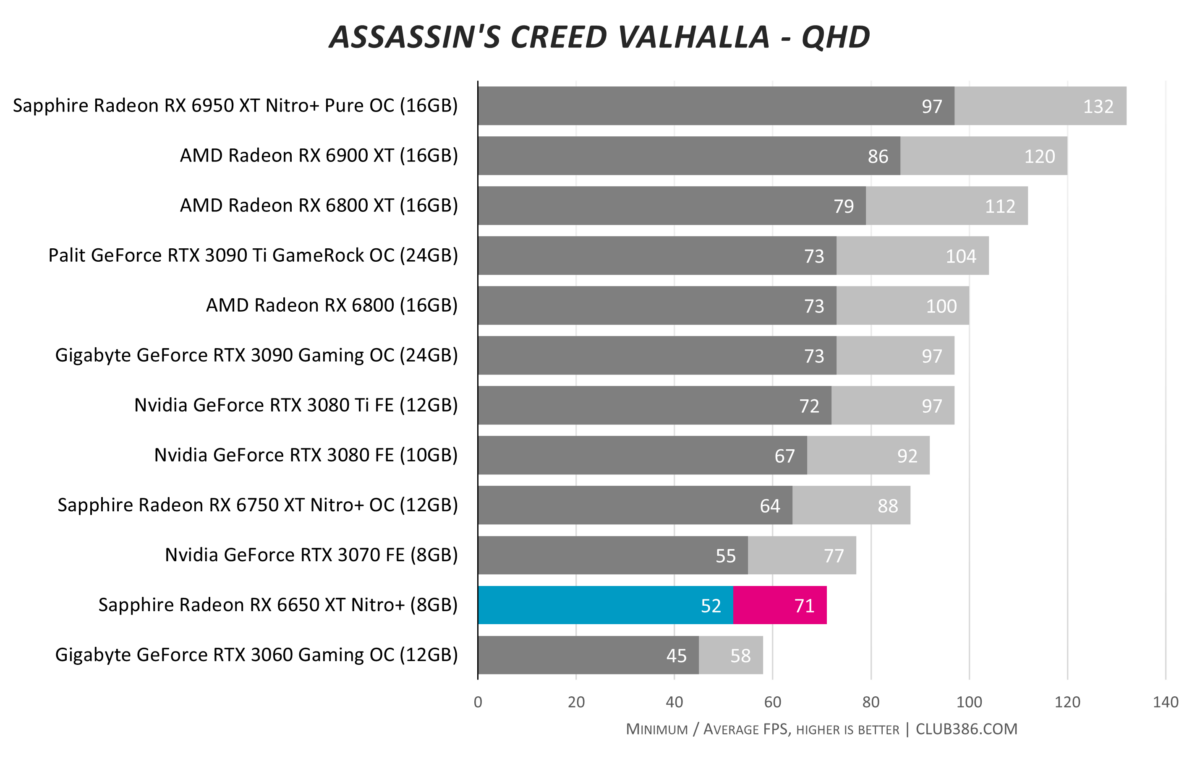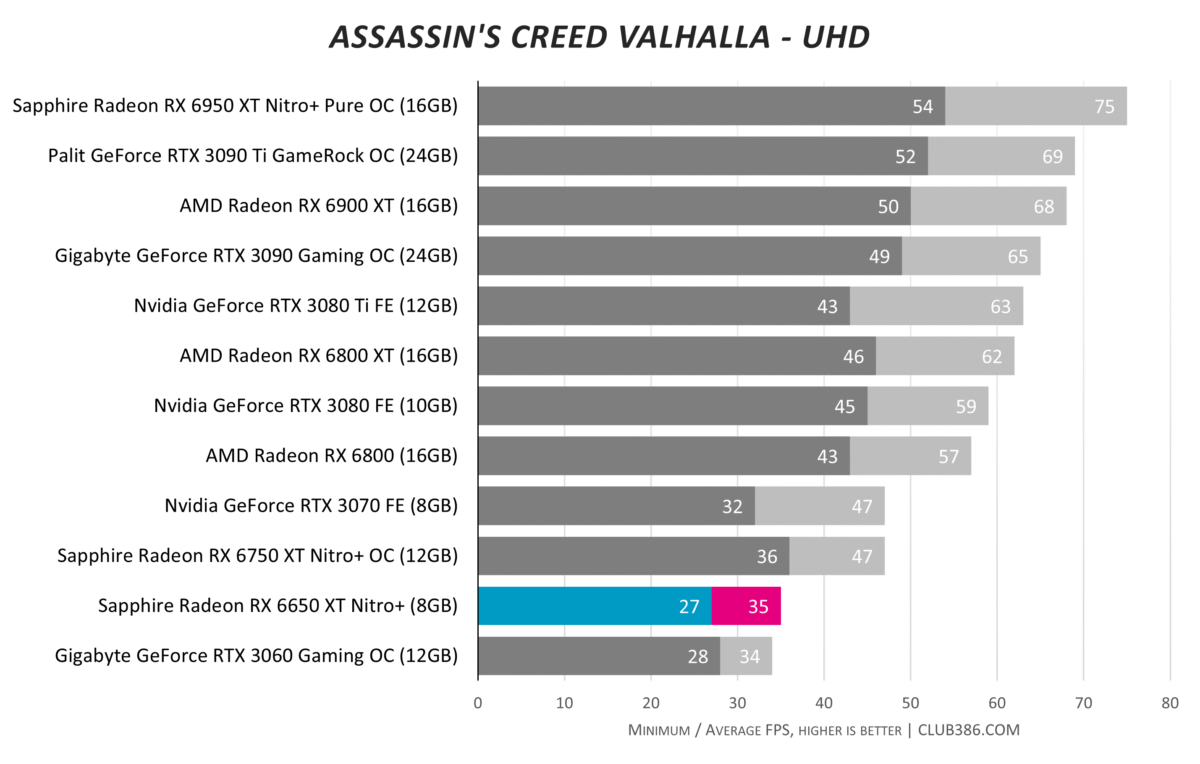 Moving on to real games, set to maximum quality, Sapphire's mid-range card is ample for FHD and QHD gaming.

Show your support for impartial Club386 reviews
Club386 takes great pride in providing in-depth, high-quality reviews built on honest analysis and sage buying advice. As an independent publication, free from shareholder or commercial influence, we are committed to maintaining the standards our readers expect.
To help support our work, please consider making a donation via our Patreon channel.
Far Cry 6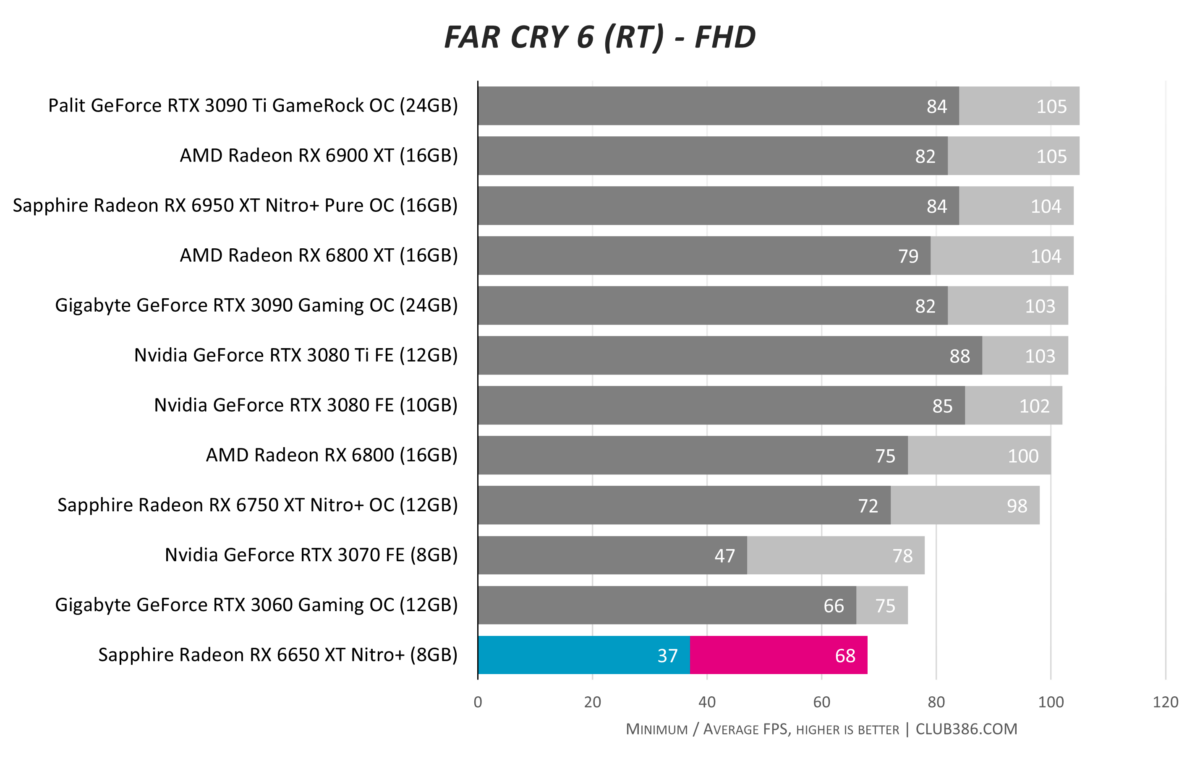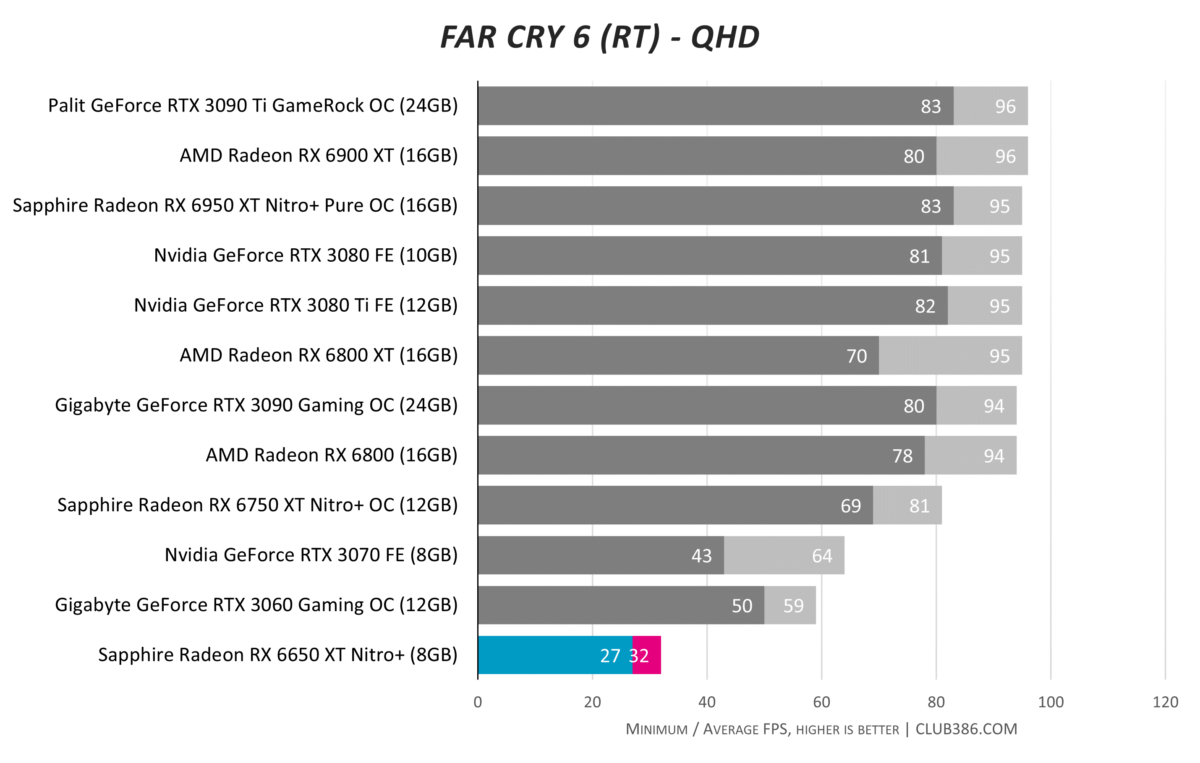 Adding ray tracing to Far Cry 6 puts the RX 6650 XT on the back foot. We also believe an 8GB framebuffer is not enough at the higher resolutions.
Final Fantasy XIV: Endwalker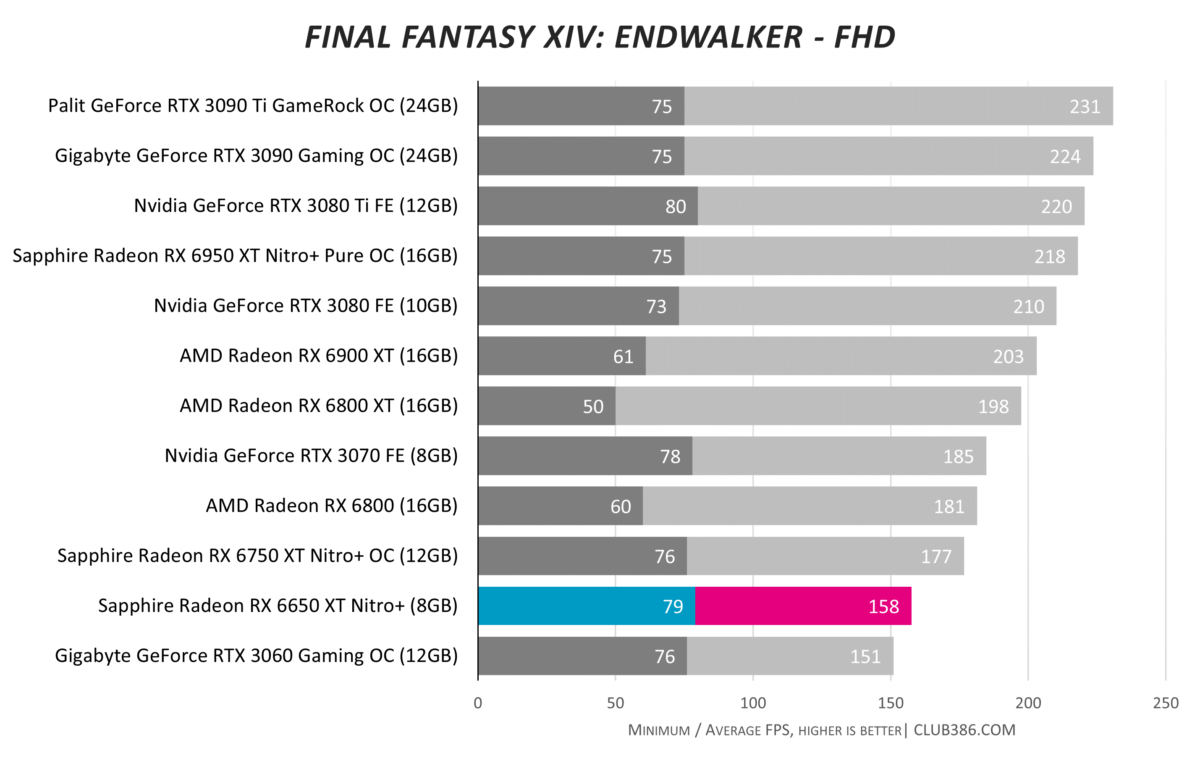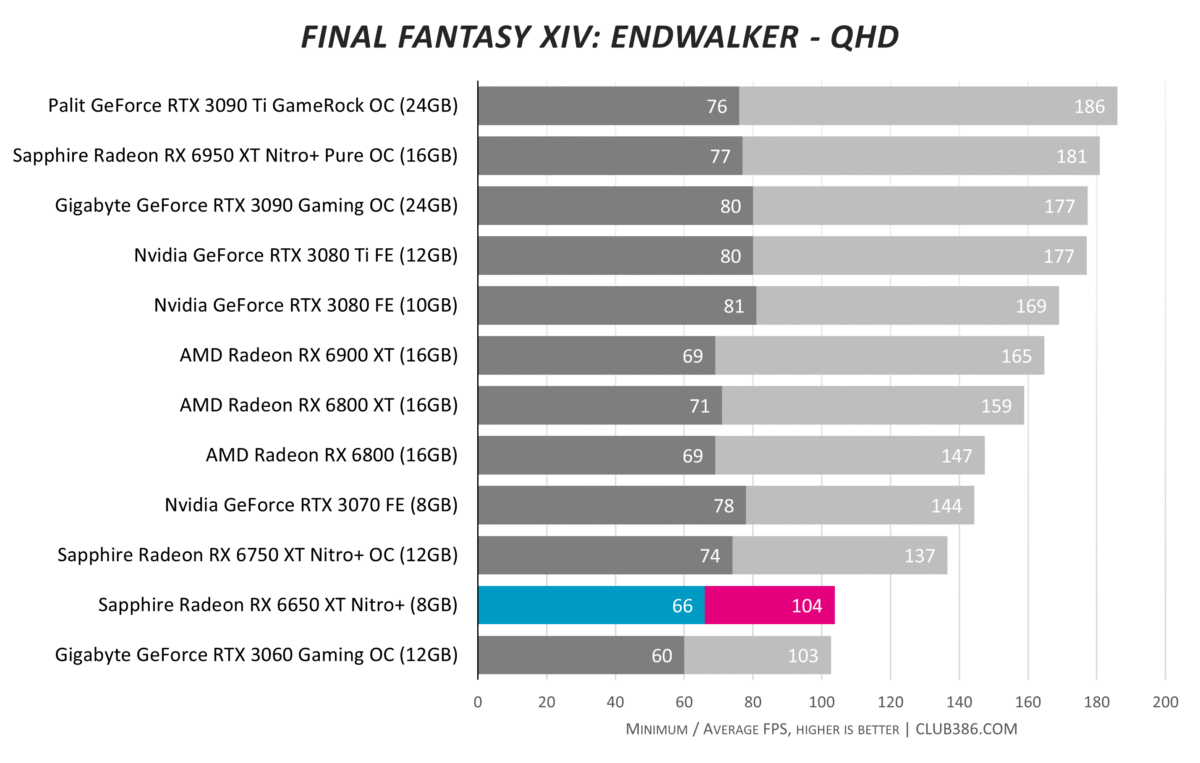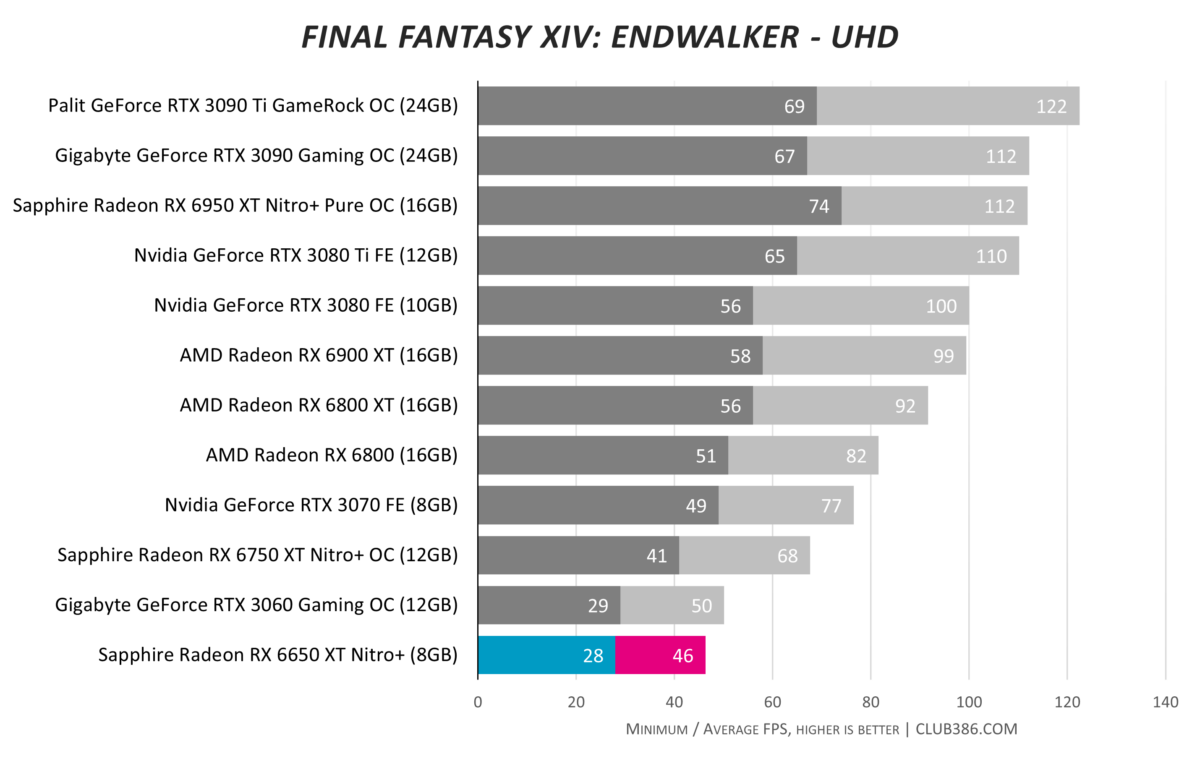 As a straight-up rasterisation test on a popular engine, Sapphire's card continues to be a good performer at QHD, which is exactly how it's positioned.
Forza Horizon 5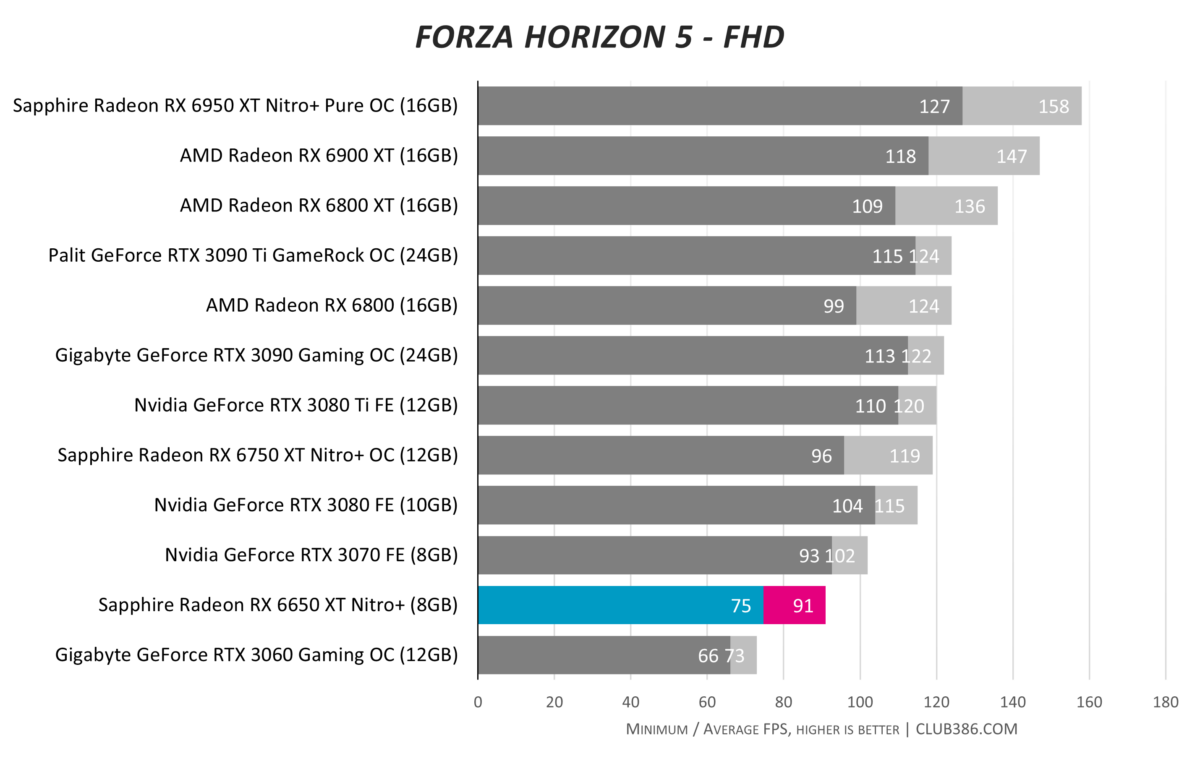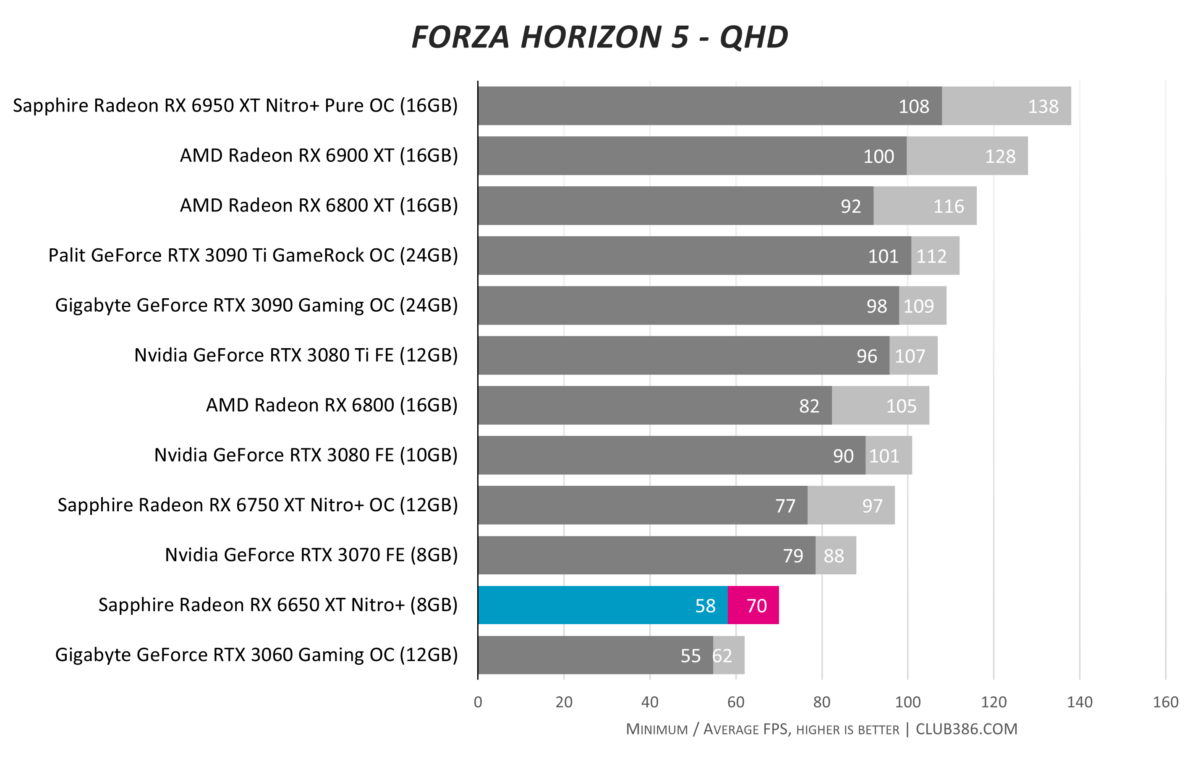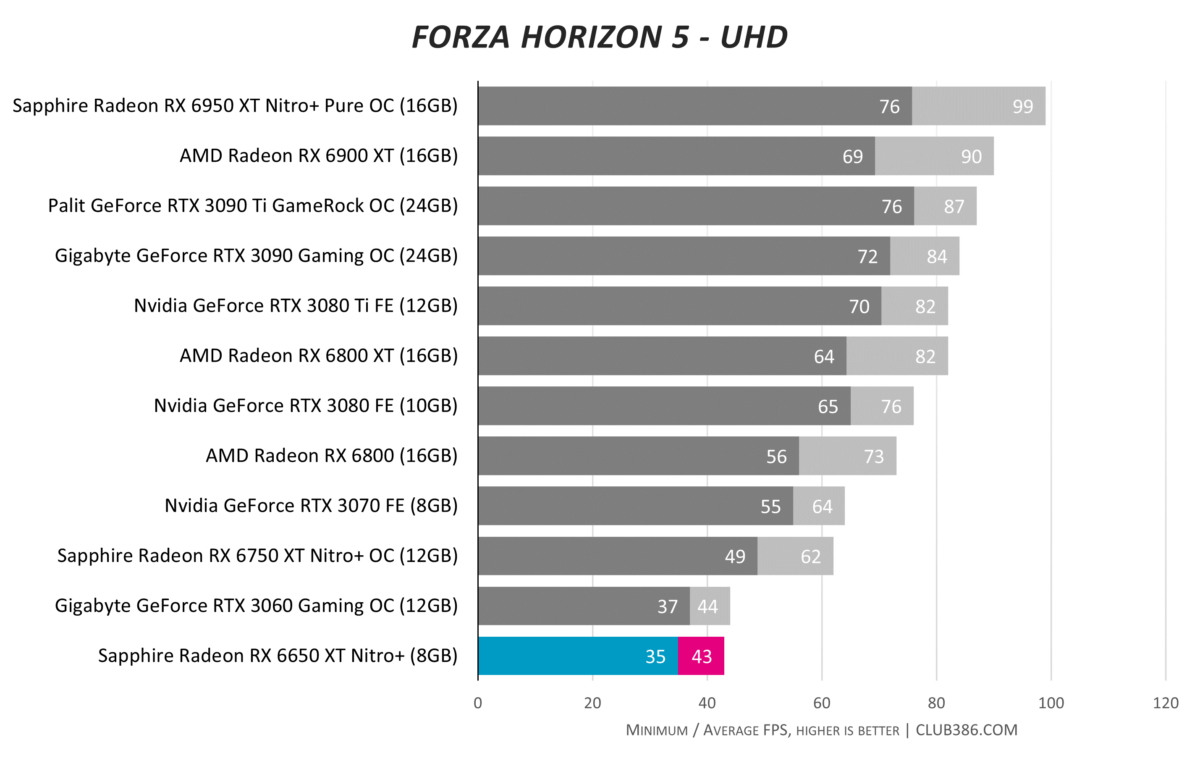 There's not much to choose between RX 6650 XT and RTX 3060, and both cards have a lot to offer gamers running FHD and QHD monitors.
Gears Tactics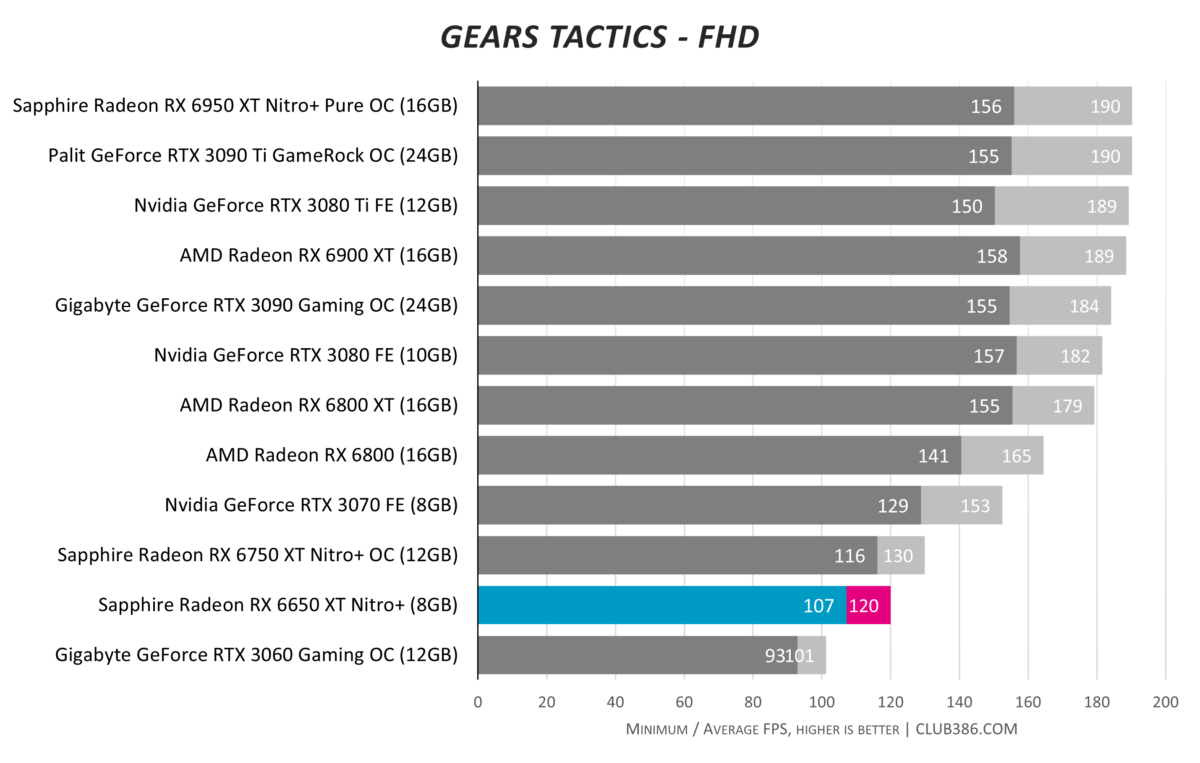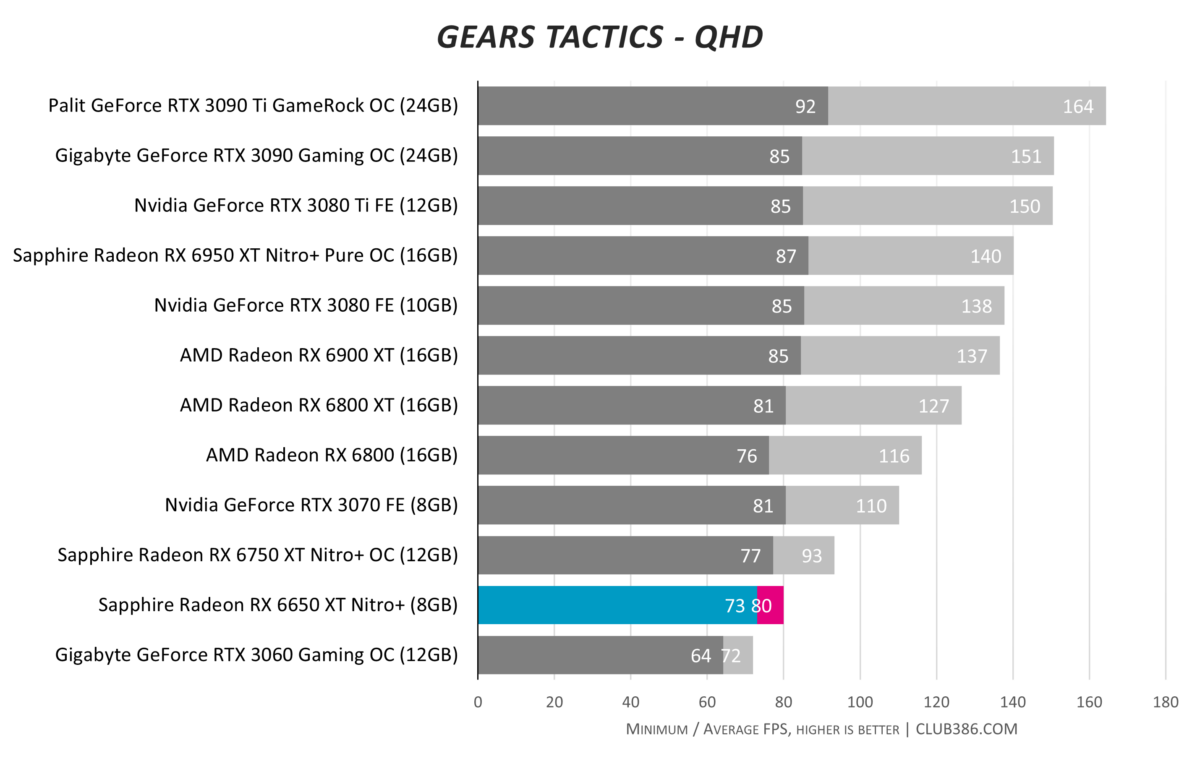 An average 80fps with all the bells and whistles turned on at 2560×1440 is a good return. Makes one wonder about spending a heap more if not running a UHD screen.
Marvel's Guardians of the Galaxy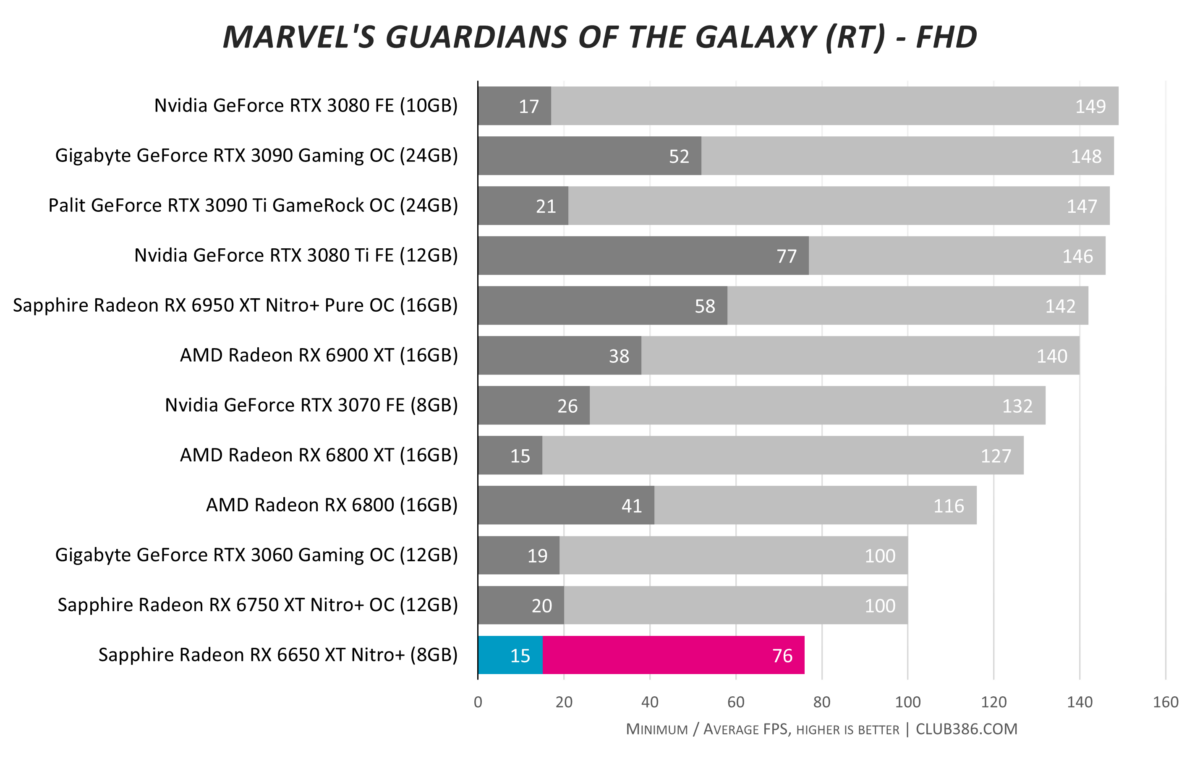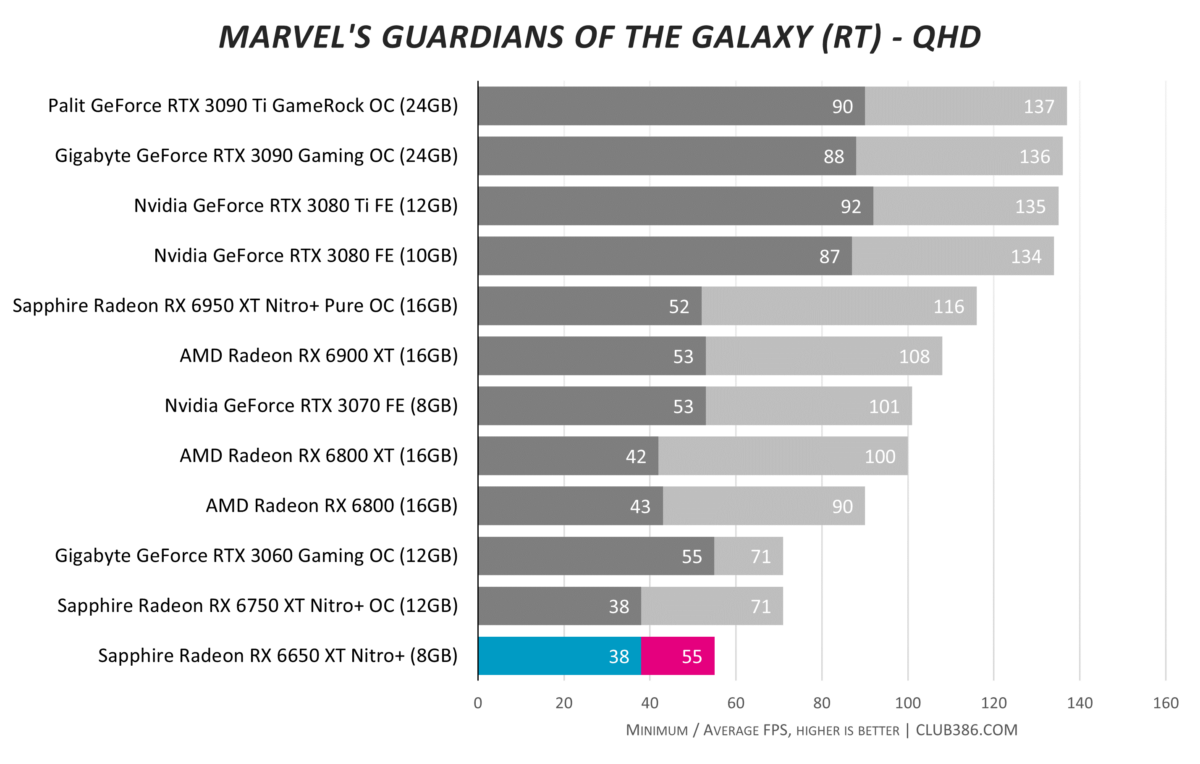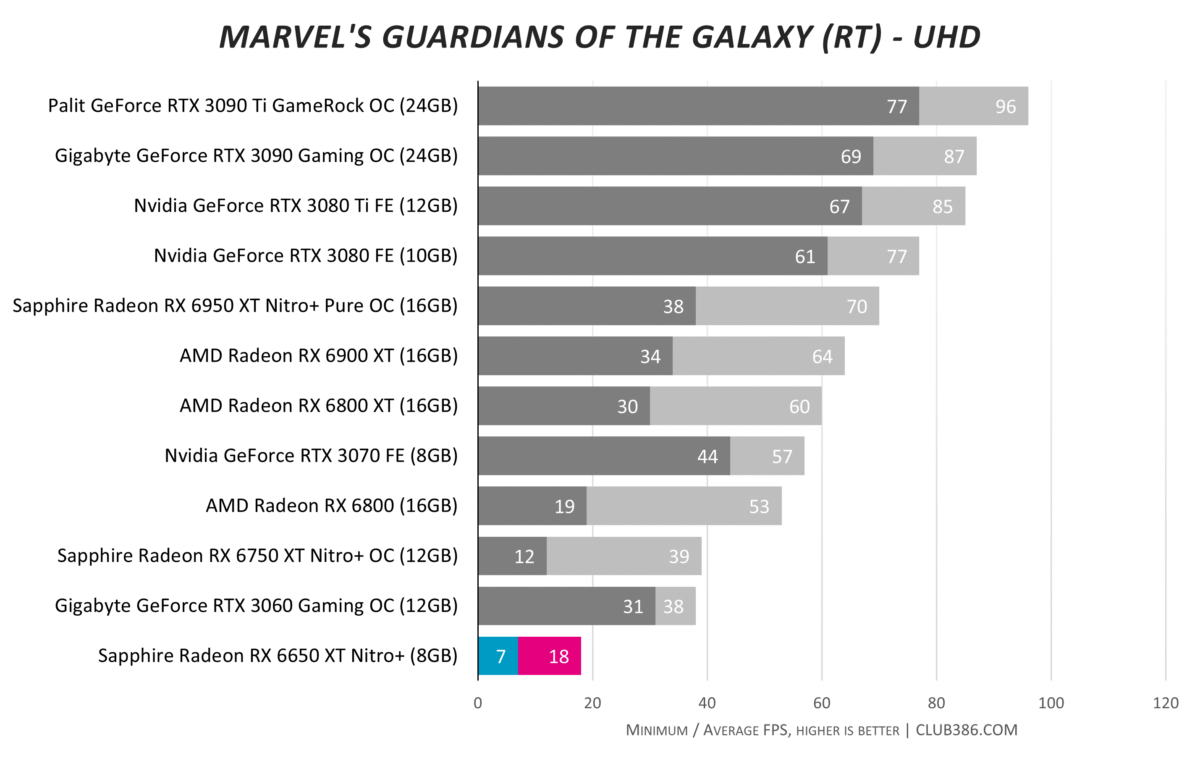 Use lots of ray tracing? Better off with an Nvidia card.
Vitals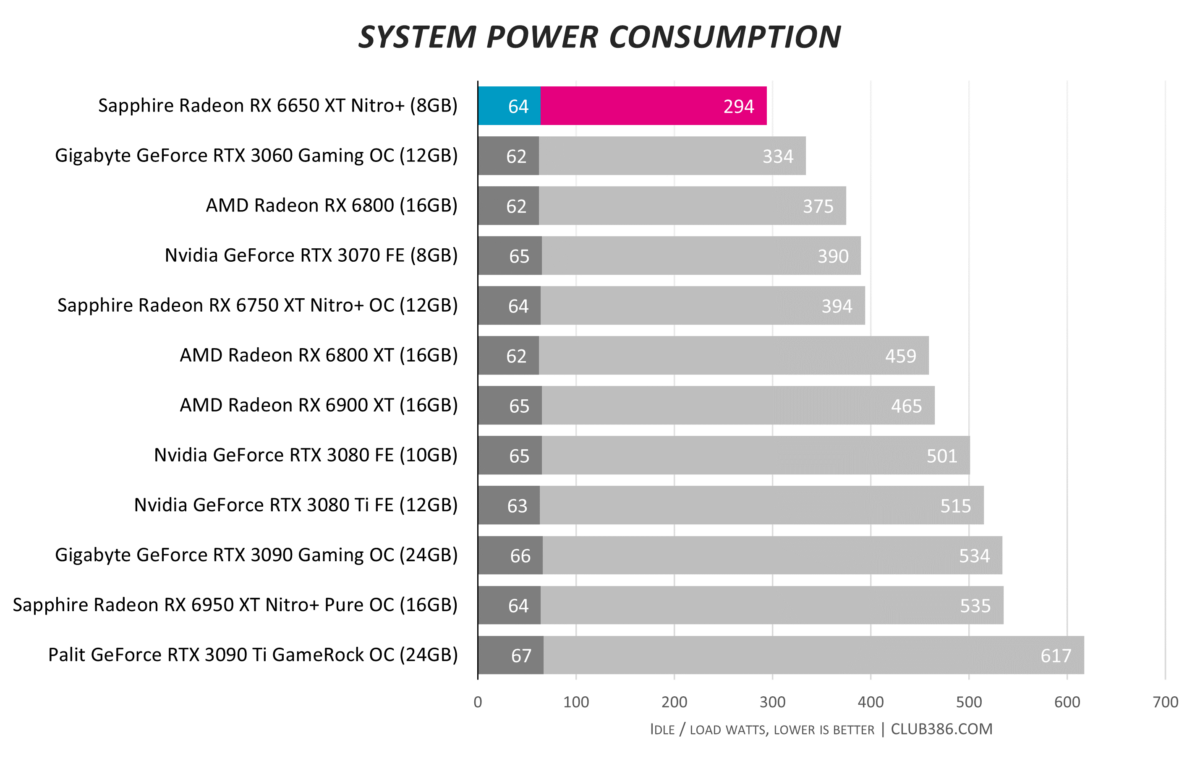 AMD claims of energy efficiency are illustrated in the above graph. Sapphire's overclocked card is, by a decent margin, the most frugal of our 12-GPU line-up.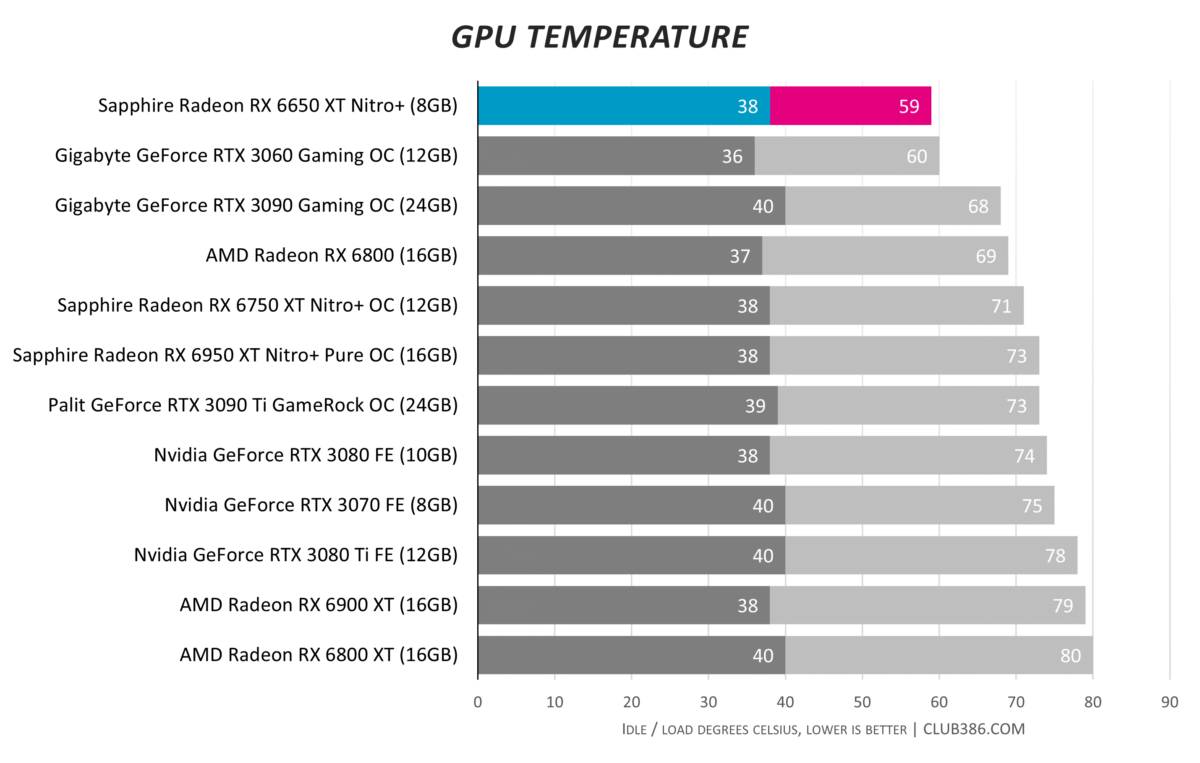 When you factor in the massive, well-designed heatsink and restrained power consumption, temperatures are nothing short of excellent.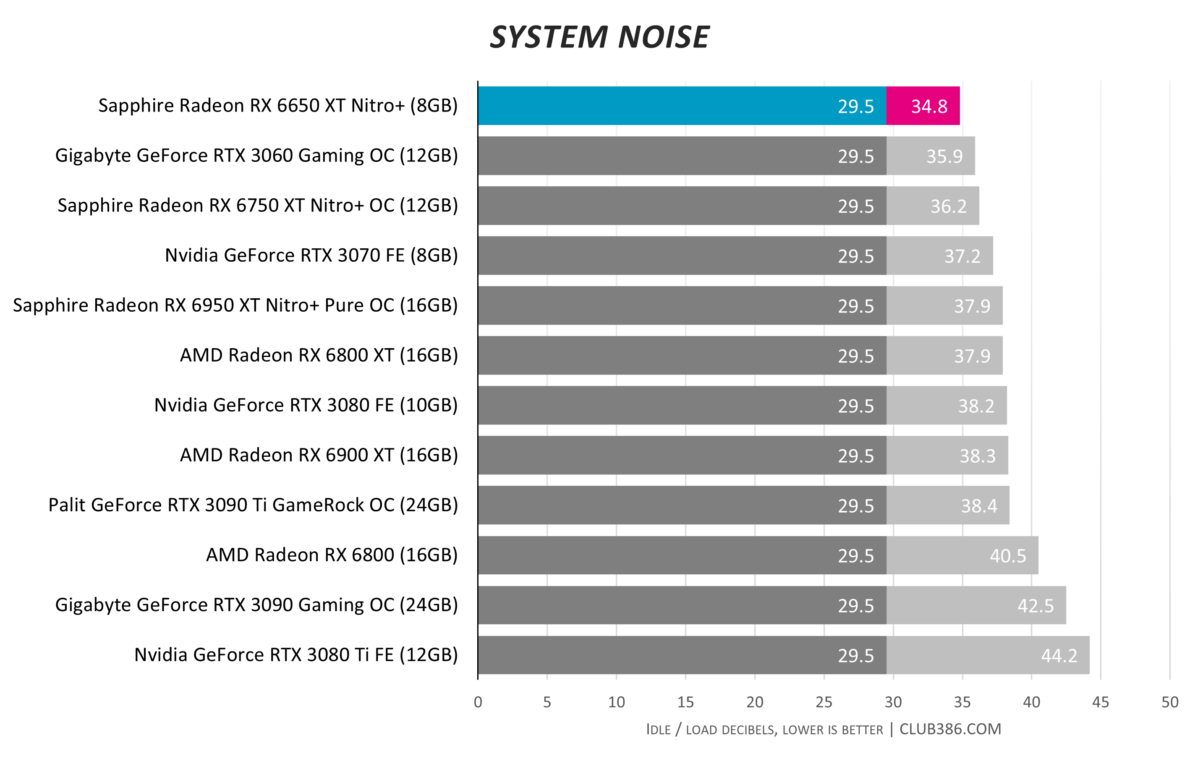 Logs show a maximum fan speed of only 890rpm, explaining why Nitro+ is so quiet.
Overclocking
Knowing the cooler to be capable, frequencies were increased to 2,850MHz core and 19Gbps memory.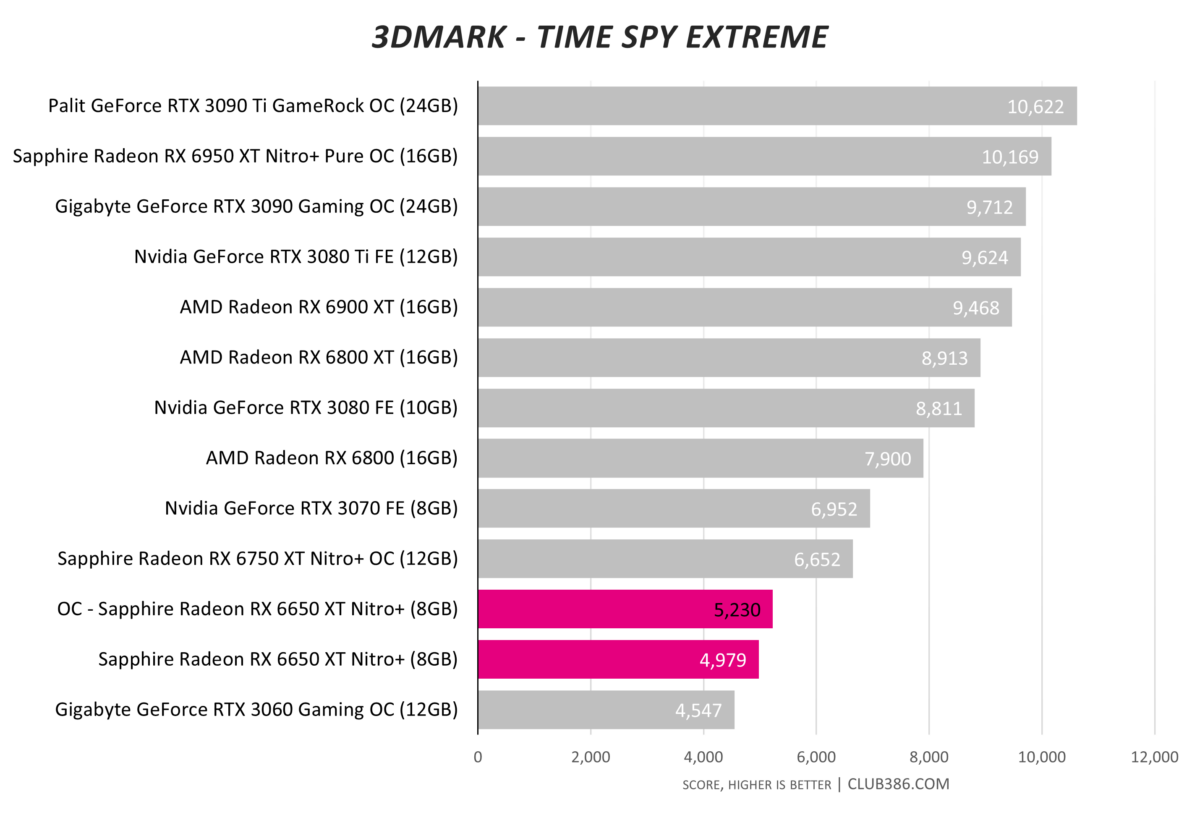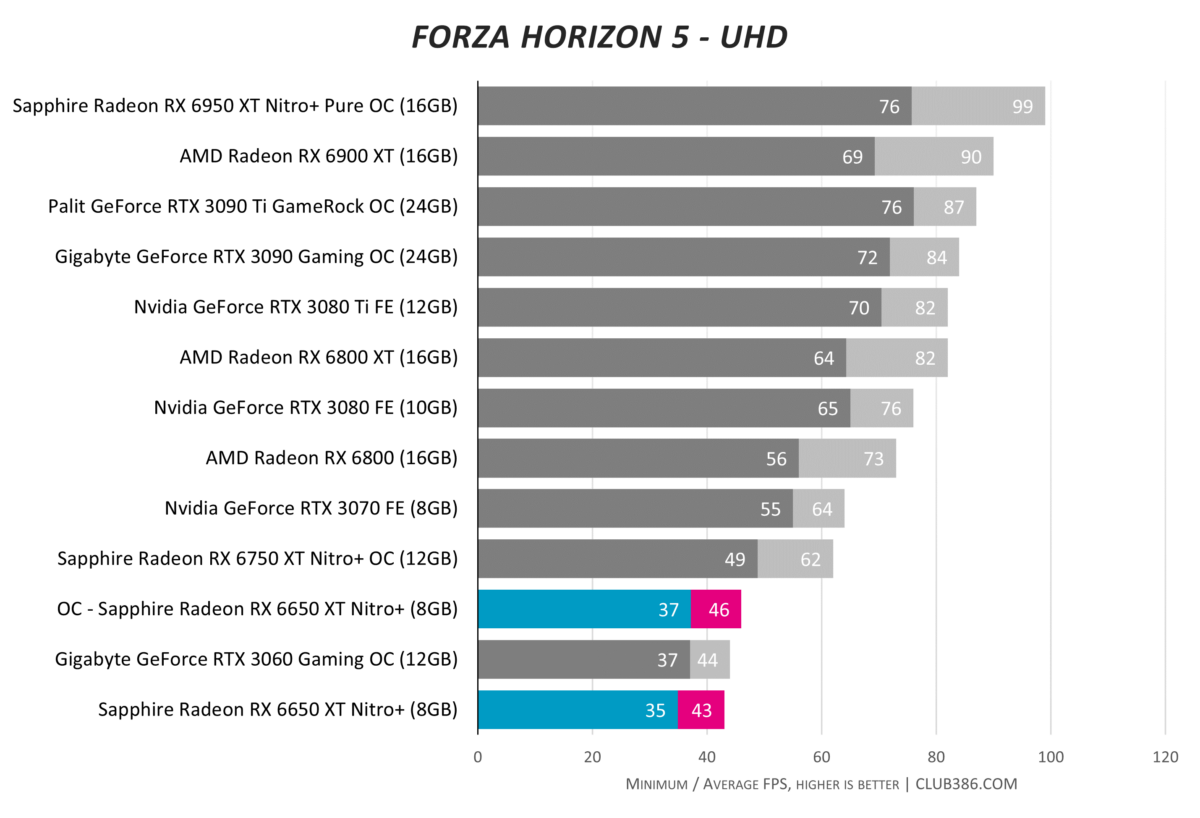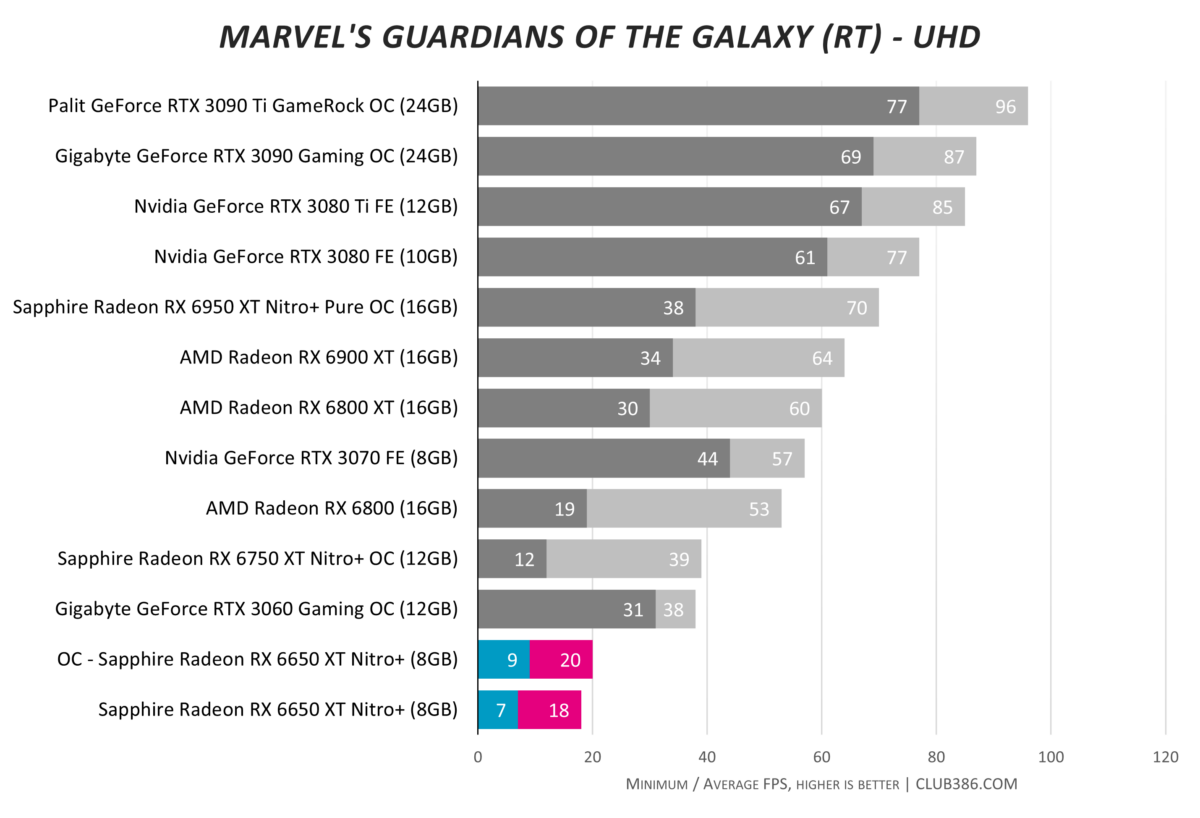 No matter how hard you push RX 6650 XT, it will always be much slower than RX 6750 XT.
Conclusion
AMD introduced Radeon RX 6650 XT as a minor upgrade over a GPU released a year earlier. An uptick in peak speed and faster memory mark out this new SKU over the RX 6600 XT predecessor, which will become end of life quickly.
Investigating performance shows the latest desktop Navi to be more than competent at FHD and QHD resolutions, though the gap between it and the Radeon RX 6700 family remains large. Compared to rival GeForce RTX 3060, costing from the same £400, AMD's card battles well.
Sapphire goes to town on its premier implementation known as Nitro+. Increasing cooling capability from the previous generation through a larger heatsink, it excels in whisper-quiet operation alongside cool temperatures. Some may view Sapphire's efforts as overkill and overengineering, but we have no qualms about size or presentation.
Can't afford a Radeon RX 6700-class of card and want the next best thing? Sapphire's RX 6650 XT Nitro+ is a fine choice in today's market.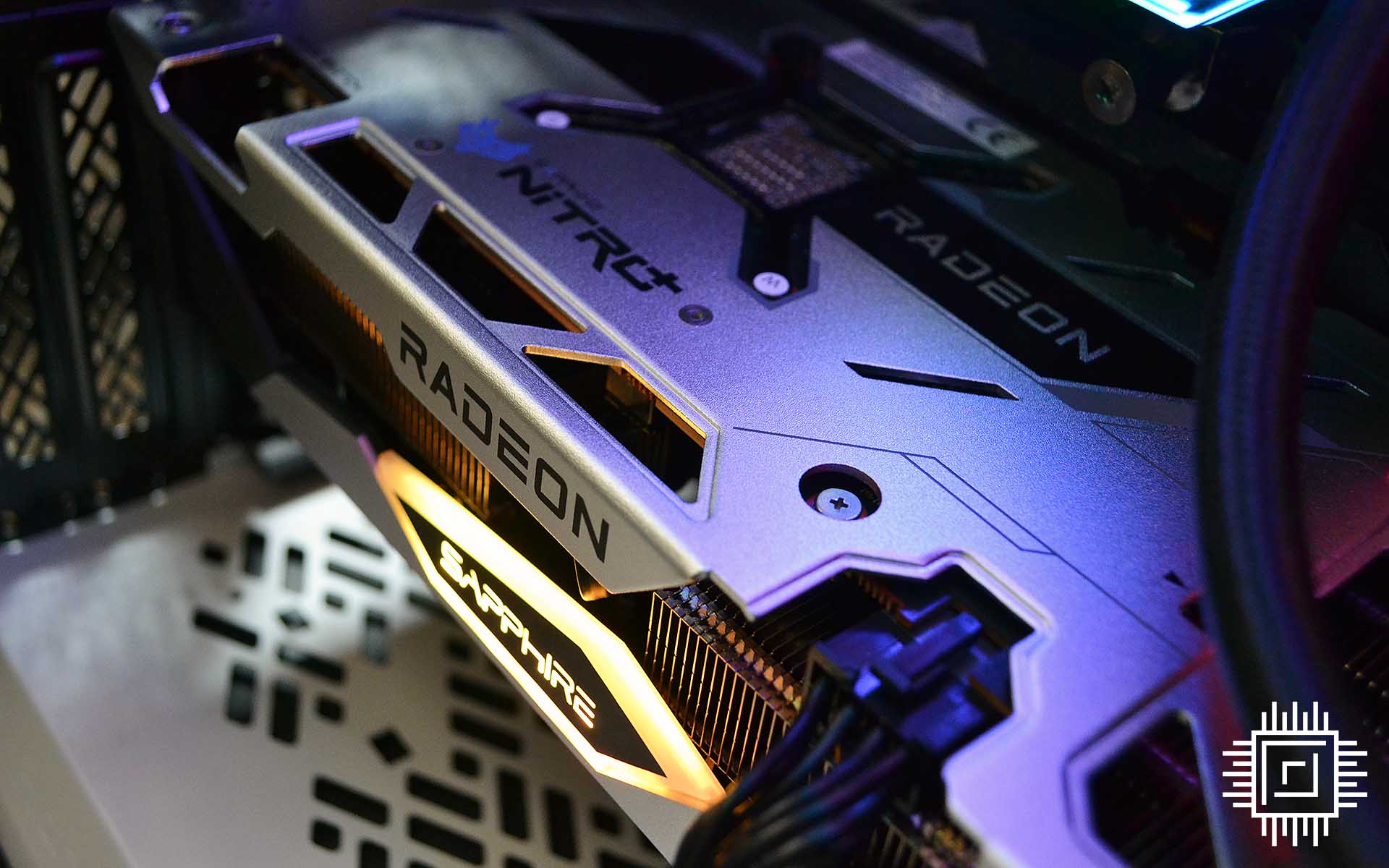 Sapphire Radeon RX 6650 XT Nitro+ 8GB
Verdict: A well-designed card majoring on eliminating noise and cool operation, there's plenty to like.
---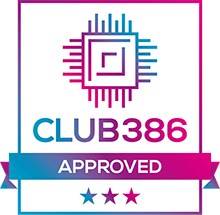 Pros
So quiet
Runs very cool
Great build quality
Dual BIOS
Decent FHD and QHD
Cons
Big gap to RX 6700
Small jump over last-gen
---
Club386 may earn an affiliate commission when you purchase products through links on our site. This helps keep our content free for all.
Rest assured, our buying advice will forever remain impartial and unbiased.