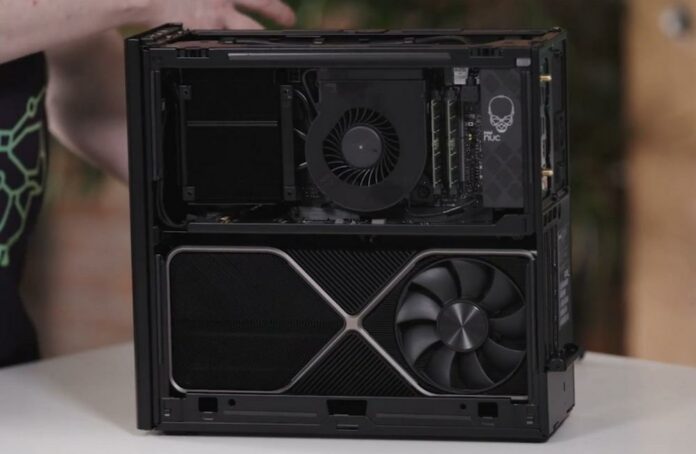 Intel has launched the latest Raptor Canyon series of NUCs featuring up to a powerful, socketed Core i9-13900K, 64GB of SODIMM DDR5 memory, super-fast 10GbE LAN, and full-fledged dedicated graphics cards.
Intel showcased this small box of wonders about a month ago during TwitchCon, but today we get to find out the complete spec list alongside pricing and availability.
NUC 13 Extreme is targeting gamers and content creators looking for a powerful computer capable of running heavy tasks while staying cool. To do so, Intel opted for a fully-meshed chassis measuring 337mm x 318mm x 129mm (about 14L volume) with filtered openings on the left and right sides plus the top. In addition to the graphics card and CPU blower fans, the case also includes two 120mm exhausting hot air through the left side, with the possibility to cram one last fan on top of the extended CPU heatsink. Phew.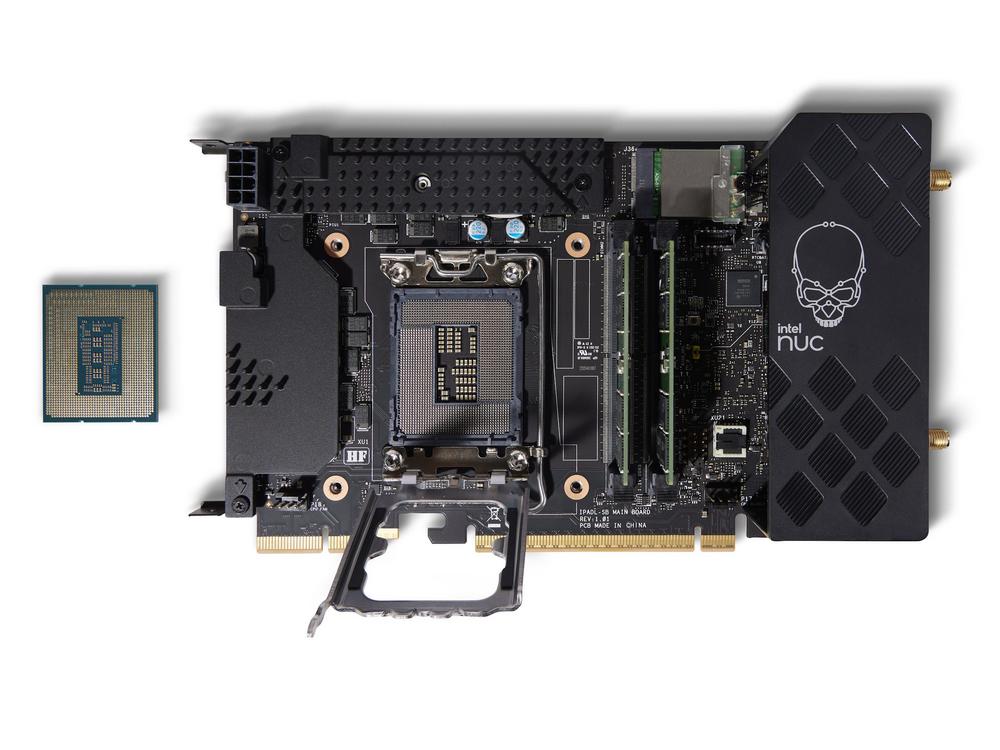 Users will choose between an (8P+16E) i9-13900K, an (8P+8E) i7-13700K, or a smaller yet very capable (6P+8E) i5-13600K. All variants support up to 64GB (2x32GB) of SODIMM DDR5-5600 memory. All triple-slot PCIe graphics cards are technically supported – even those requiring a 12VHPWR connector, as long as their power requirements and size are below 450W and 313mm in length, respectively. Quite the bundle of fun.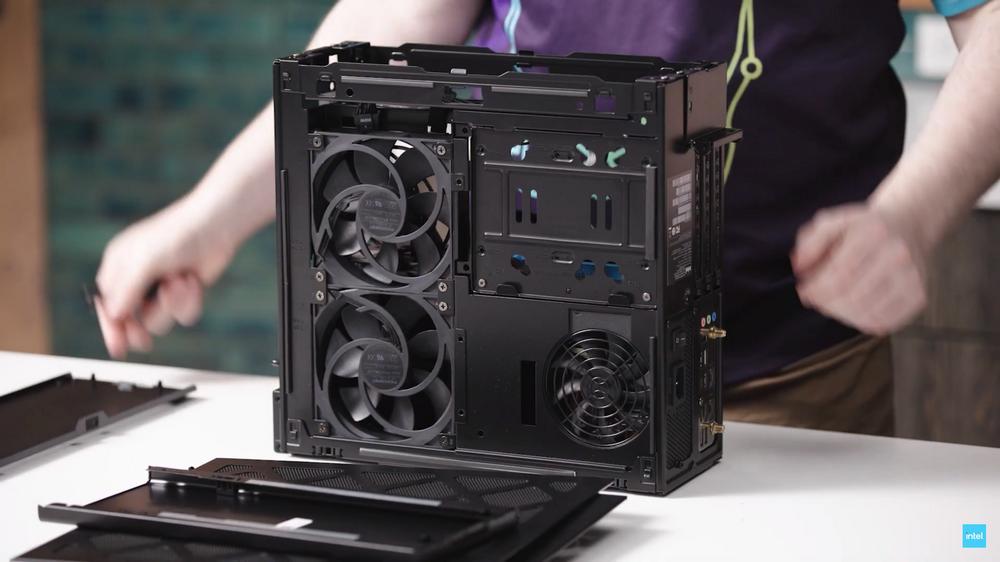 Aside from the CPU itself, users choose between a complete kit including chassis, motherboard, CPU, plus a fully-modular 750W 80 Plus Gold SFX 12VO PSU, or just the compute element which comprises motherboard and a CPU. Note that in both instances users will need to provide their own memory, storage, and operating system.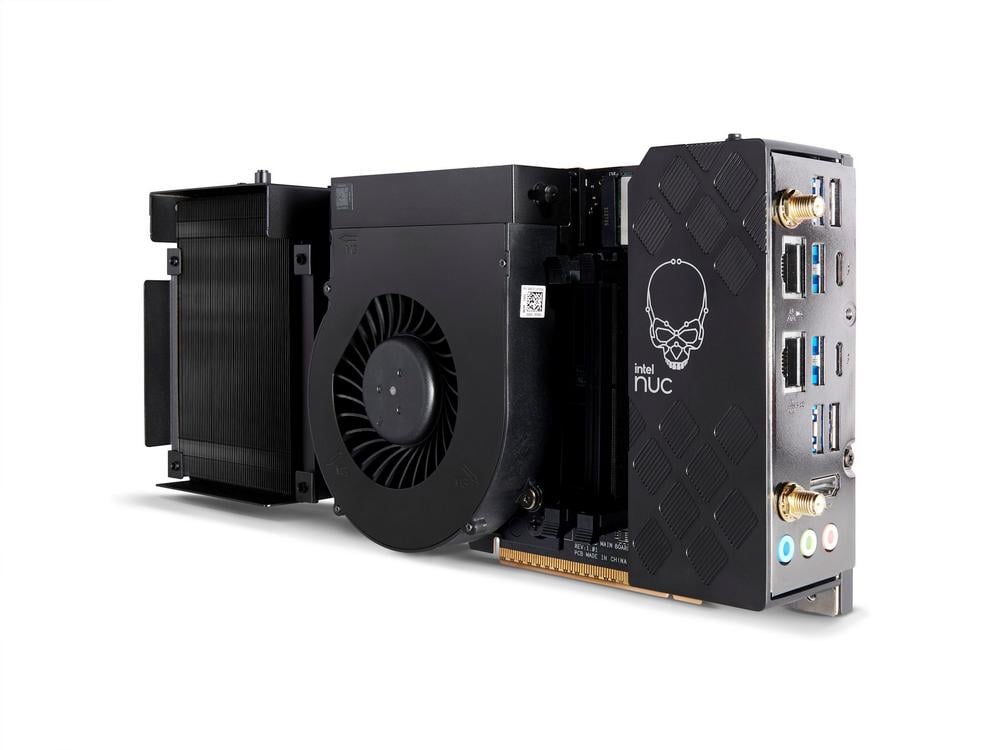 The motherboard carries some excellent connectivity for its size, boasting one HDMI 2.1, two Thunderbolt/USB4 Type-C (capable of video output), six USB 3.2 Gen 2 Type-A, three 3.5mm audio jacks, one 2.5GbE, one 10GbE, Wi-Fi 6E and Bluetooth 5.2 on the rear. There are two USB 3.2 Gen 1 Type-A and one USB Gen 2×2 Type-C on the chassis' panel. Not failing to mention the three PCIe Gen 4 x4 M.2 and two SATA SSD connections for storage.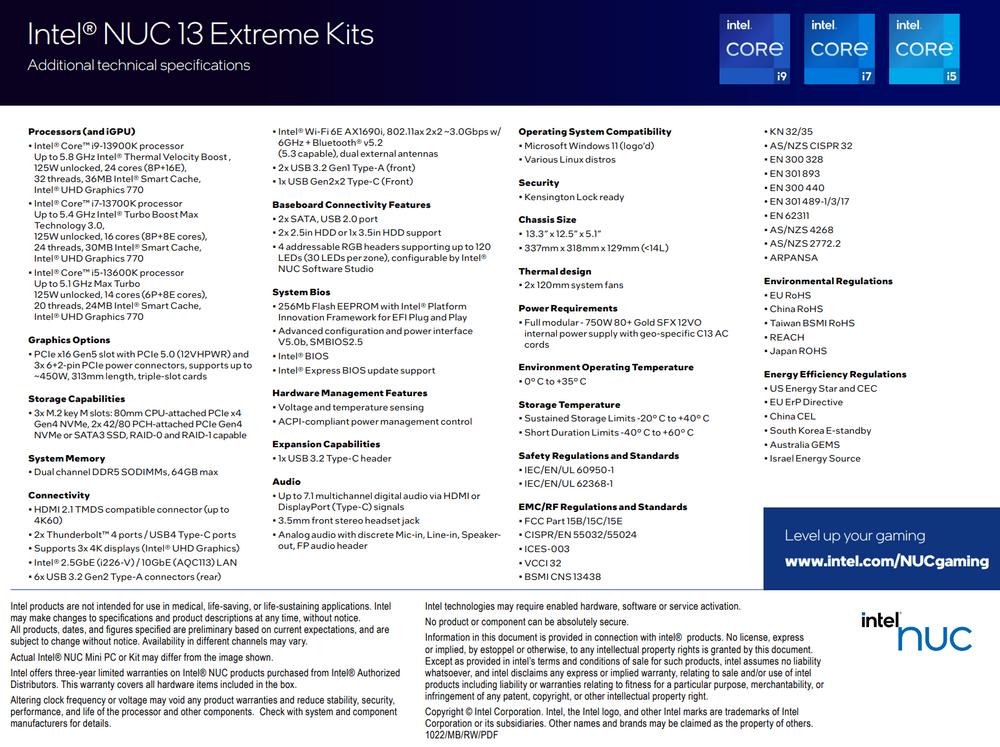 "This year marks the 10-year anniversary for our impressive lineup of Intel NUC products, and the Intel NUC 13 Extreme (code named Raptor Canyon) is an excellent representation of how far we've come. Our first ever NUC demonstrated a breakthrough in the miniaturization of a small desktop PC into an ultra-small PC form factor. While much larger than our tiniest mini-PC, our latest Intel NUC 13 Extreme sets a new bar for how to pack stellar gaming performance in a form factor that is 70% smaller than a typical 50L gaming tower. Along with the epic performance you expect from an Intel NUC product, we also deliver exceptional product quality and feature density in a completely modular and customizable design," said Brian McCarson, Intel Vice President and General Manager of the Intel NUC Group.
The Intel NUC 13 Extreme is expected to be available first in China with release to wider audiences from Q4 2022 through early 2023. Prices will range from $1,179 to $1,549 for the Intel NUC 13 Extreme Kit, and from $760 to $1,100 for the Intel NUC 13 Extreme Compute Element – depending on configurations.