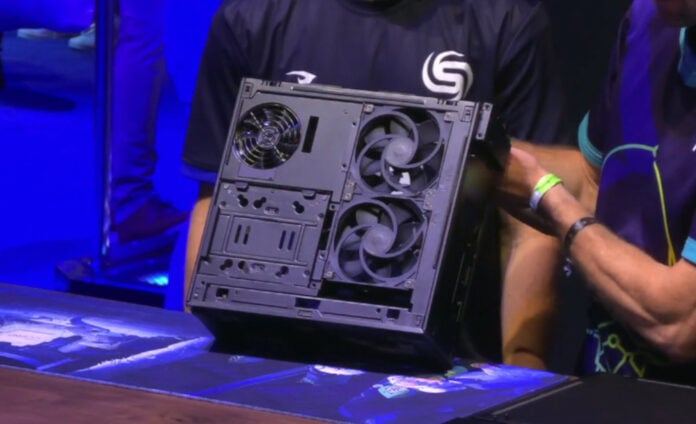 Intel has showcased its upcoming NUC 13 Extreme PC codenamed Raptor Canyon boasting an unlocked Core i9 processor and supporting a triple-slot dedicated graphics card.
On the third day of TwitchCon, Intel gave us a first look at the NUC 13 Extreme, where the show host used it to build a complete system with CPU, RAM, PSU, and even a massive graphics card. The NUC chassis was fully made of metal according to the host, and featured mesh panels on both sides for better air circulation, which is vital to be able to cool high-power GPUs. Both panels were held by a single thumbscrew.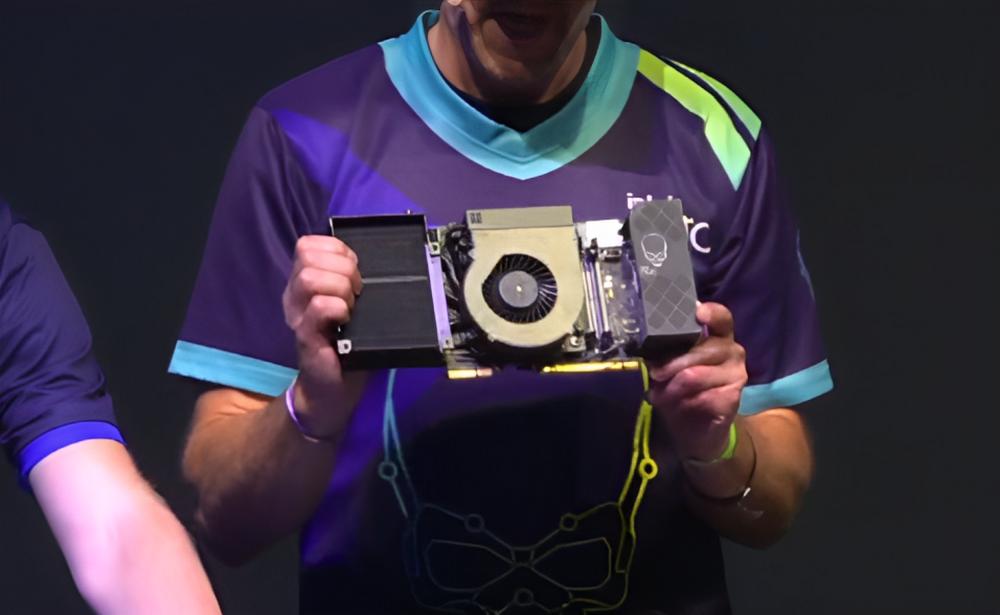 This new NUC Extreme is even bigger than its 12th Gen counterpart (13.9L vs. 8L volume) allowing it to accommodate more potent hardware. Its compute element can pack up to a full Core i9 K Series (unlocked) CPU alongside 64GB (2x32GB) of DDR5 SODIMM memory and storage. The CPU is cooled by a beefier heatsink compared to other NUCs, seemingly getting airflow from both a blower-style fan and the 120mm fans strapped on the chassis (see pictures below), akin to the flow-through design of Nvidia's Founders Edition graphics cards.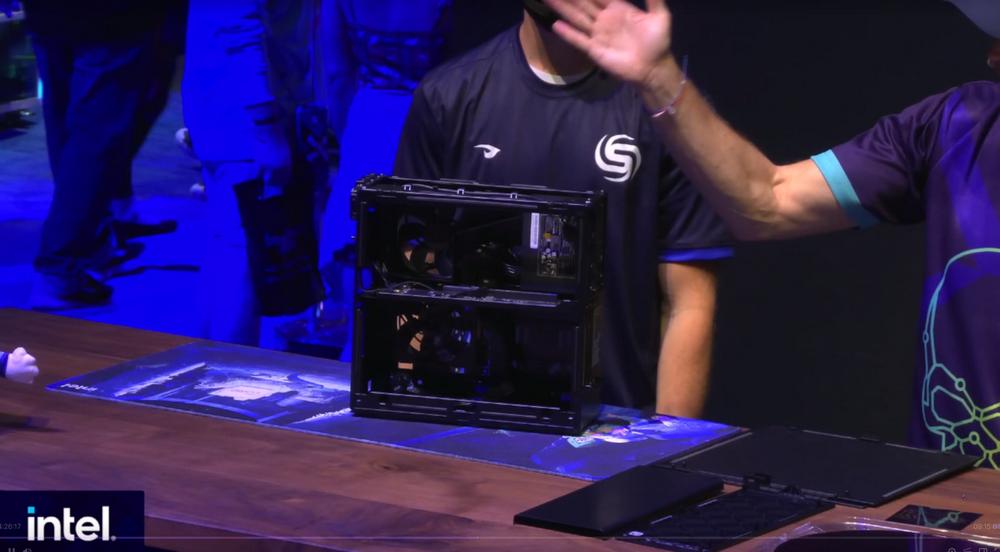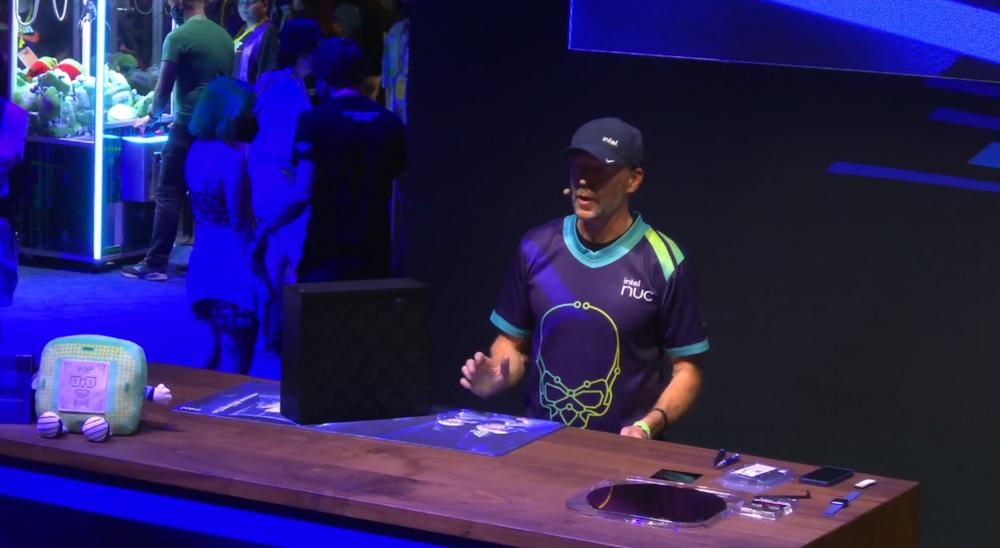 While it's hard to distinguish via a compressed stream quality, on this specific NUC we can see what looks like six USB Type-A (most likely 3.2), two video outputs, 3.5mm audio jacks, two Ethernet ports (one may be 2.5GbE), Wi-Fi (6E or go home) and probably Bluetooth 5.2, too.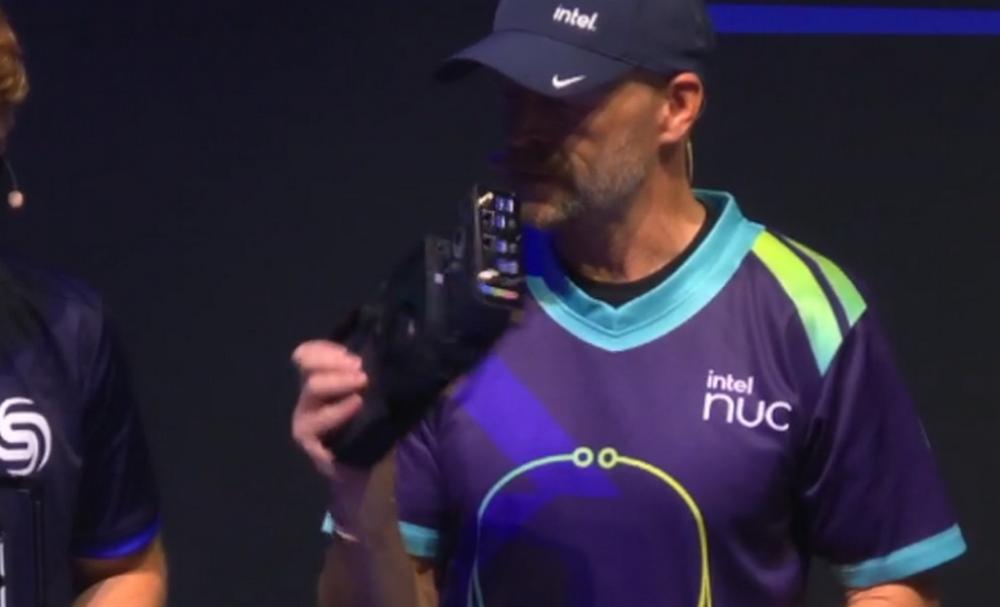 Those looking for what made Intel NUCs interesting in the first place (small size) fear not, since the brand still has capable products such as the NUC 12 Extreme 'Dragon Canyon' featuring a 12 Gen Lake Core-S CPU and an Arc A-Series GPU, NUC 12 Enthusiast 'Serpent Canyon' with an Alder Lake Core-H plus an Arc A-Series, and NUC 12 Pro 'Wall Street Canyon' packing an Alder Lake Core-P processor.
Full details alongside pricing and availability should be released in a couple of weeks.