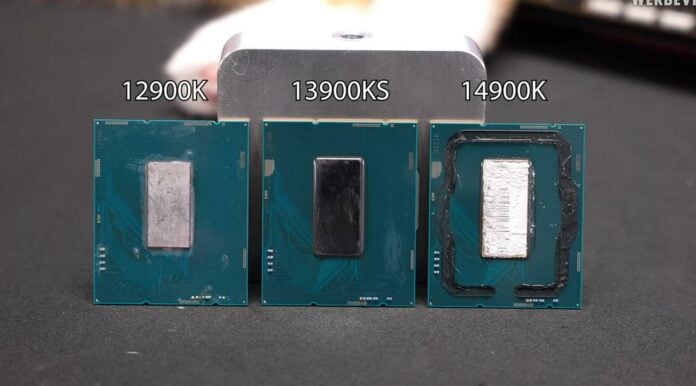 YouTuber Der8auer has significantly reduced the Core I9-14900K temperatures by delidding the chip and replacing the Indium thermal interface material.
To test compatibility with Thermal Grizzly's 13th Gen CPU delidder, Der8auer pried open an Intel Core I9-14900K processor to measure the CPU-die, substrate, and integrated heat spreader (IHS) dimensions. Before anything, though, they took some temperature measurements under heavy load. This helps to see if changing the Indium between the die and IHS with liquid metal has any benefits. Spoiler alert: it does.
Out of the box, the i9-14900K reached 93.1°C on average at a peak power draw of 294W, as recorded by HWinfo. Its hottest cores reached up to 100°C, which engaged thermal throttling. These results were produced on an Asus Maximum Z790 Hero motherboard with a 5.6GHz P-Core frequency target set in BIOS at 1.39V. The CPU was cooled using Corsair's iCUE Link H150i RGB AIO Liquid CPU Cooler featuring the brand's iCUE Link single cable technology, with fans and pump speeds set to 1,160rpm and 2,640rpm respectively.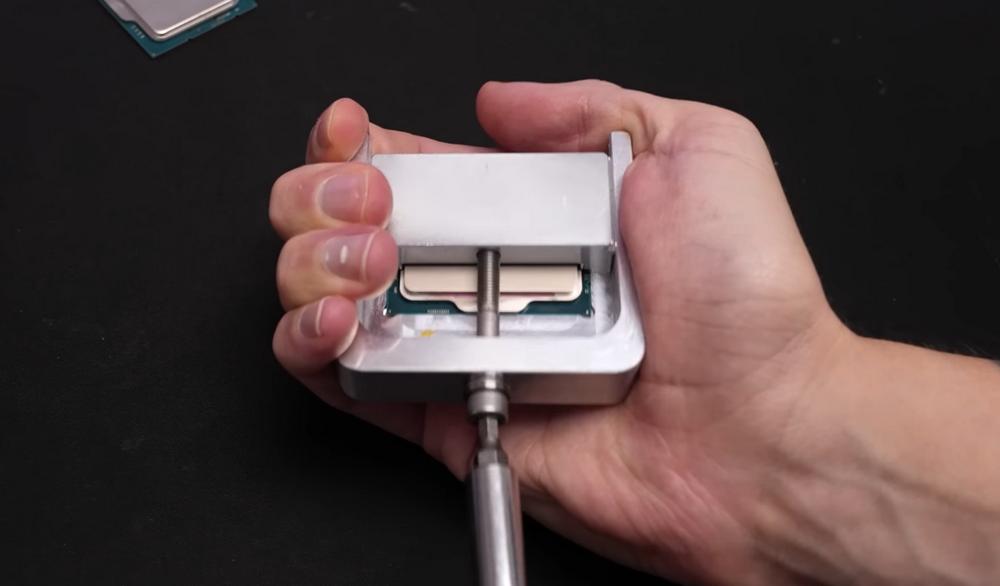 After dealing with the measurements, Der8auer applied Conductonaut Extreme liquid metal to the CPU die and IHS before sandwiching them back together. Putting things to the test, results hit 83.2°C on average, which is a lovely 9.9°C lower.
While at it, Der8auer also checked if adding a contact frame, which provides even pressure on the CPU, can further reduce temperatures. The answer is yes, by 1.7°C for a total 11.6°C reduction – 13°C lower on the hottest core. We can also expect more gains using a direct-die cooling solution, which they didn't test.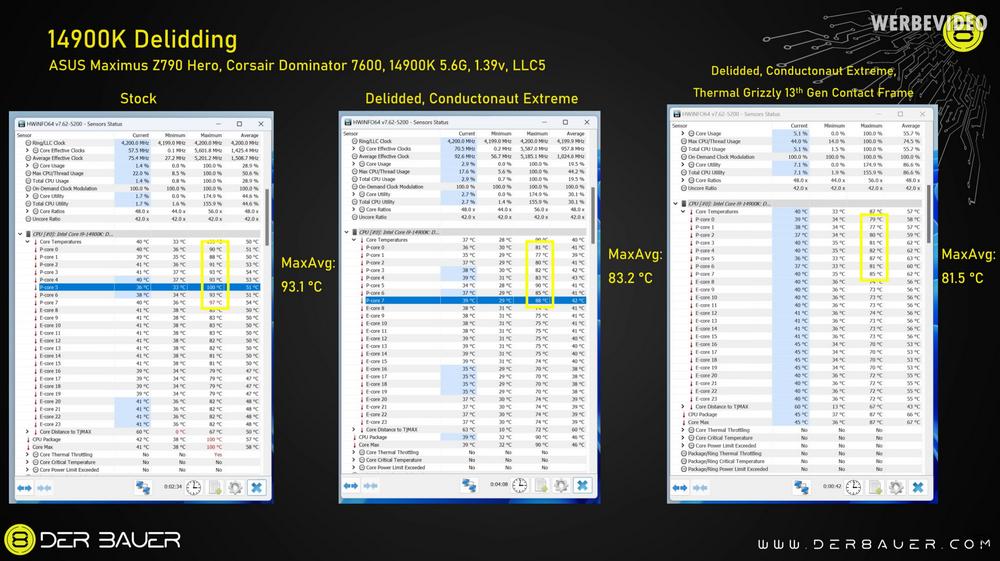 Needless to say, these results will vary a bit between processors depending on the mounting and the silicon quality. Also, remember that warranty is no longer applicable after such modifications. This shows there is still room to improve temps for enthusiasts looking to maximise their CPU performance.
If you fancy doing the same, it costs around £57 for a delidding tool, £17 for liquid metal, and £30 for a contact frame. Happy tinkering.