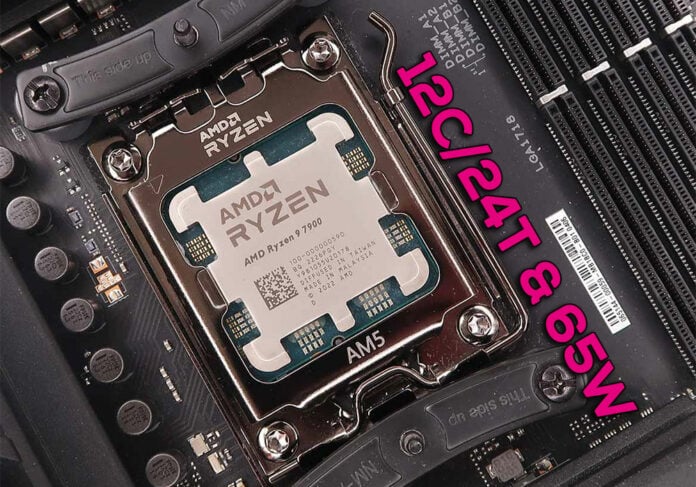 AMD Ryzen 9 7900
---
"This processor comes fully unlocked, overclockable, and will remain cool and quiet with an included AMD Wraith Prism cooler with RGB LED lighting."
We earn a commission if you make a purchase, at no additional cost to you.
A lot has changed since AMD first lifted the lid on Ryzen 7000 Series processors back in September of 2022. Stern competition from Intel 13th Gen has instigated a raft of Ryzen price cuts, but more importantly, platform costs, often cited as a stumbling block to AM5 adoption, have fallen dramatically.
DDR5 memory is now bordering on ridiculously cheap, fast M.2 SSDs are practically a dime a dozen, and you can now pickup a highly competent B650 AM5 motherboard for comfortably under £200. Great news for those who've been sat on the fence.
Platform longevity is a major boon – AM5 is intended to last at least a couple of generations – and there are some genuine bargains among the current crop. A chip we've been keeping a close eye on is the Ryzen 9 7900, which for the first time ever has dropped to £399 at Amazon.
Said chip touts a 12-core, 24-thread Zen 4 configuration, but what really tickles our fancy is a stringent 65W TDP. Ryzen 9 7900 sets new standards in the Club386 efficiency ratings, and the IGP-enabled processor also includes a Wraith Prism cooler in the box. Ideal for a potent-yet-efficient build, and as you may have heard, it works wonderfully well as part of the ultimate passive PC.
On a personal note it's a CPU I'm considering as an upgrade from the ageing six-core processor in my own rig. The caveat facing myself and others in a similar boat is that AMD's full-fat, 170W Ryzen 9 7900X is available for similar money.
The X does have the benefit of higher boost clocks – 5.6GHz vs. 5.4GHz – and could always be downclocked to run efficiently, yet doesn't include the basic cooler in the box. Decisions, decisions, but in these times of rampant energy costs, I won't be alone in leaning toward a 65W solution.