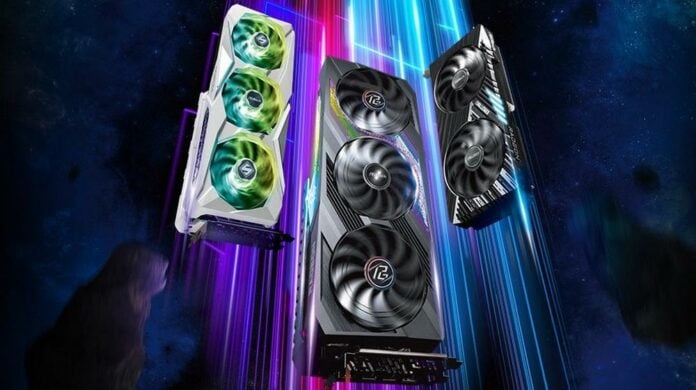 ASRock has launched Phantom Gaming, Steel Legend, and Challenger Radeon RX 7800 XT and RX 7700 XT graphics cards, offering different sizes, looks and price choices.
Six cards are available. The Phantom Gaming RX 7800 XT / RX 7700 XT pair uses identical heatsinks and measure 328mm x 140mm x 53mm and features the brand's metallic reinforcement, nickel-plated copper base for the GPU, alongside 50A power stages and 2oz copper PCB, allowing them to reach up to 2,565MHz and 2,599MHz boost clocks, respectively. That's a little ways above reference speeds mandated by AMD, so these are overclocked models.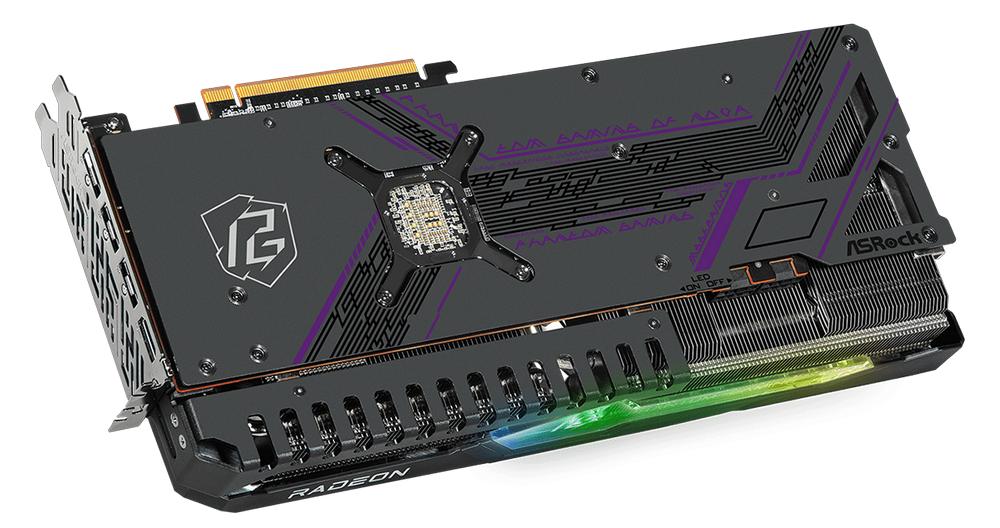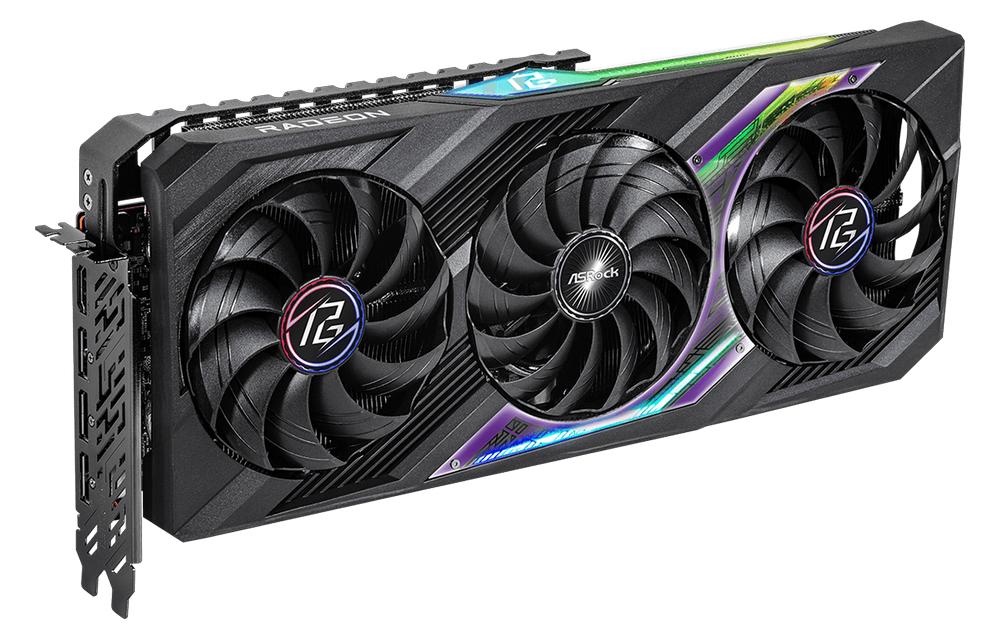 Measuring 304mm x 131mm x 56mm and using 2.8 slots, the Steel Legend RX 7800 XT and RX 7700 XT boast a nickel-plated copper base contacting both GPU and VRAM allowing them to achieve up to 2,520MHz and 2,599MHz boost clocks. Additionally, thanks to a backplate with flow-through cuts and camo-like patterns plus a white frame, these could be prime candidates for any white or RGB-centred build, further helped by those three ARGB fans supporting Polychrome Sync and delivering detailed lighting effects control.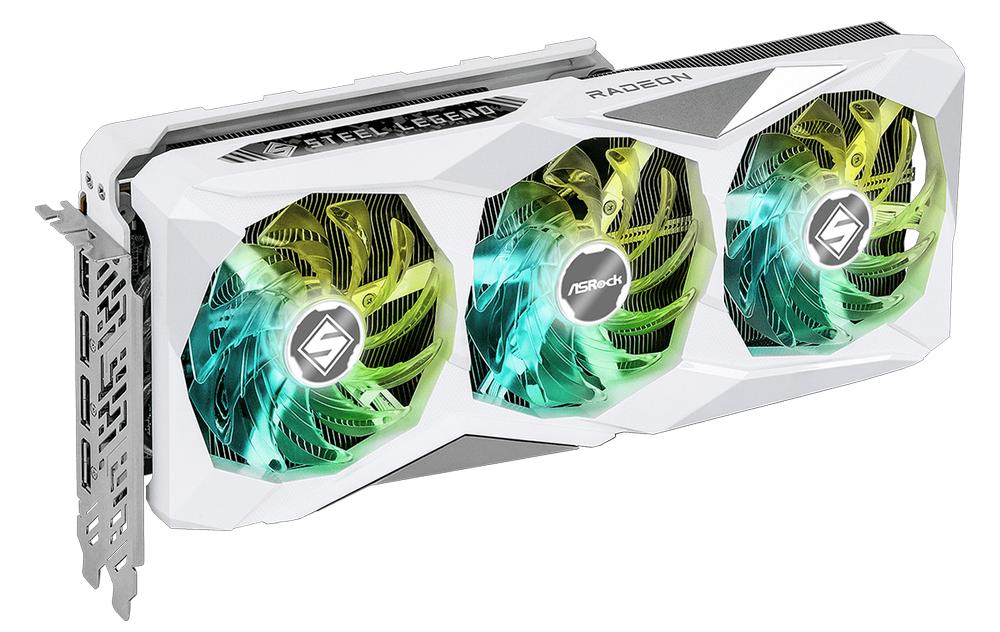 Lastly, the Challenger RX 7800 XT and RX 7700 XT graphics cards target the mainstream segment with their dual-fan cooler measuring 267mm x 130mm x 51mm. You won't find fancy RGB or flow-through back plates here, and only the useful parts are kept. This means you get simple LED strips instead of ARGB fans, a basic backplate, but no metallic reinforcement, and bare copper heatpipes. Even so, these models still arrive with a factory OC, hitting up to 2,475MHz and 2,584MHz, respectively, on each card. If you are looking for price to performance before all, these are for you.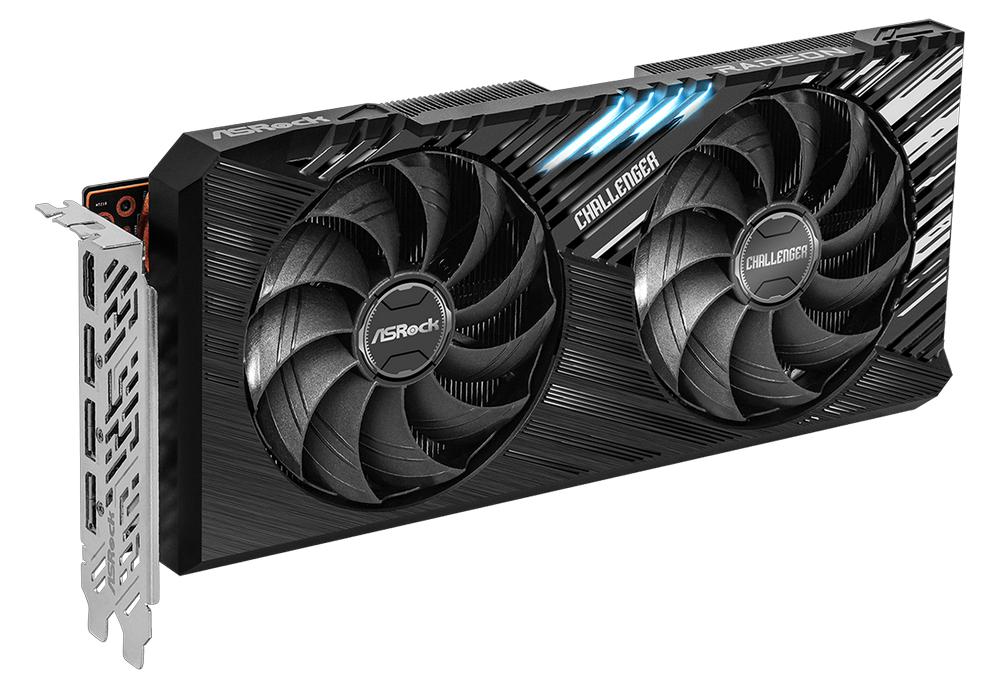 All cards also support various ASRock features such as striped axial fans delivering enhanced airflow, air-deflecting fins to guide airflow, 0dB fan mode for silent operation, ultra-fit heatpipes maximising GPU contact area, a metal backplate helping with PCB rigidity, and Polychrome Sync for your fancy ARGB lighting effects.
According to our testing, the Radeon RX 7800 XT is one of the best graphics cards for FHD gaming and even QHD, offering lush and playable framerates, all the while rocking a comfortably-sized memory pool for any potential VRAM-thirsty games. Unfortunately, ray tracing is still AMD's Achilles heel, even though improvements have been made compared to previous generations. That said, RT options can be disabled in most games to claim back any lost performance. The good part about the RX 7800 XT is that AMD has finally chosen reasonable launch pricing, undercutting rival RTX 4070 by $100.
While ASRock didn't specify any pricing for these cards, you can expect something near AMD's announced MSRPs, i.e. $499 for an RX 7800 XT and $449 for an RX 7700 XT, plus a little markup for the beefier designs.
You won't have to wait long until Club386 puts the Phantom Gaming RX 7800 XT under the review microscope.