AMD and its partners have officially introduced A620 motherboards to the masses. Simple yet effective, these boards target the sorely missing budget-tier segment.
The price of admission for X670 and B650 class motherboards has left many wanting. Despite all this, Team Red is on a mission, slashing prices to its CPU lineup, all the while introducing more options, from cache-heavy X3D variants, to power-sipping non-X parts. With A620 on the event horizon, now seems a good time to join the Ryzen 7000 family.
Concessions
As with any other affordable option, cost-cutting measures have been made; there's no flashy RGB or overly aluminium-clad heatsinks here. These motherboards are strictly business. It also appears a decent amount of copper has been cut from the equation as all the boards featured below are only available in mATX form factor, with options for either dual-DIMM or four-DIMM design.
PCIe 5.0 functionality is removed completely, and in its absence users receive PCIe Gen 4 support instead. That's not necessarily a bad thing, as both Nvidia and AMD have yet to transition to PCIe 5.0 functionality as far as graphics cards are concerned, and if you're looking to future-proof the setup with blazing-fast Gen 5 SSDs, then budget-friendly parts are the least of your worries. However, PCIe Gen 4 is more than adequate for gaming and budget-oriented first-time builders.
Moving on to I/O, forget about USB 3.2 Gen 2×2 ports, because there are none, meaning you'll make do with USB 3.2 Gen 2 ports, which are also limited to fewer than two ports compared to the six offered on beefier B650 boards. A mix of USB 3.2 Gen 1 and USB 2.0 ports fill the gaps here and provide connectivity for all your peripheral needs. Finally, 'top tier' A620 boards feature 2.5GbE connectivity and/or Wi-Fi 6E support, while the rest add 1GbE ports. Also, not necessarily a bad thing.
The Roundup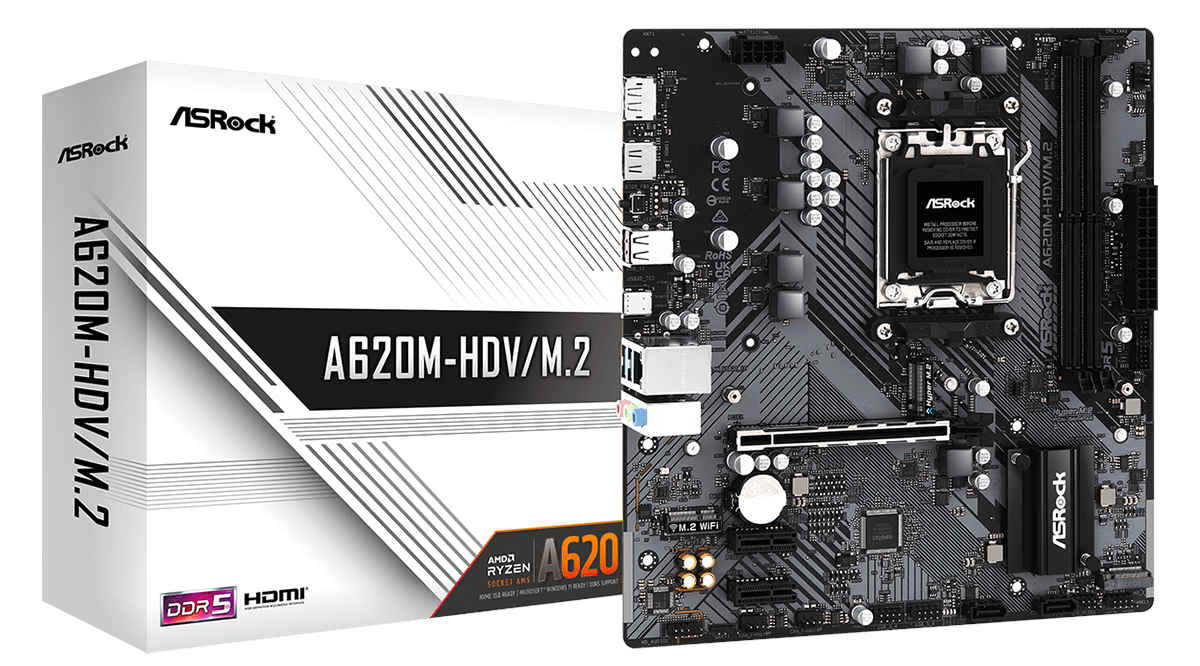 Kicking off in alphabetical order, ASRock is launching four AMD A620 motherboards; the A620M Pro RS Wi-Fi, A620M Pro RS, A620M-HDV/M.2 Plus, and the A620M-HDV/M.2. Whew! Let's break it down.
Top-tier Pro variants feature four DIMM slots, while the HDV/M.2 Plus and non-Plus feature dual-DIMM memory support. Also, the Pro series comes kitted with beefier heatsinks – to cool the 6+2+1-phase power-delivery configuration – a pre-installed I/O shield, some subtle RGB in the top-right corner, and a few more I/O options.
Meanwhile, the HDV/M.2 Plus has a slightly less flashy heatsink covering its also less powerful VRMs presented in a 6+1+1-phase configuration. Finally, the A620M-HDV/M.2 offers less power delivery with a 4+1+1-power phase and no heatsinks. Barebones as it gets, it seems to be best suited for a zero overclock, non-X build in mind. No pricing has been made available for the Pro boards just yet, though the HDV/M.2 Plus, and HDV/M.2. have a suggested retail price of $99 and $85, respectively.
Asus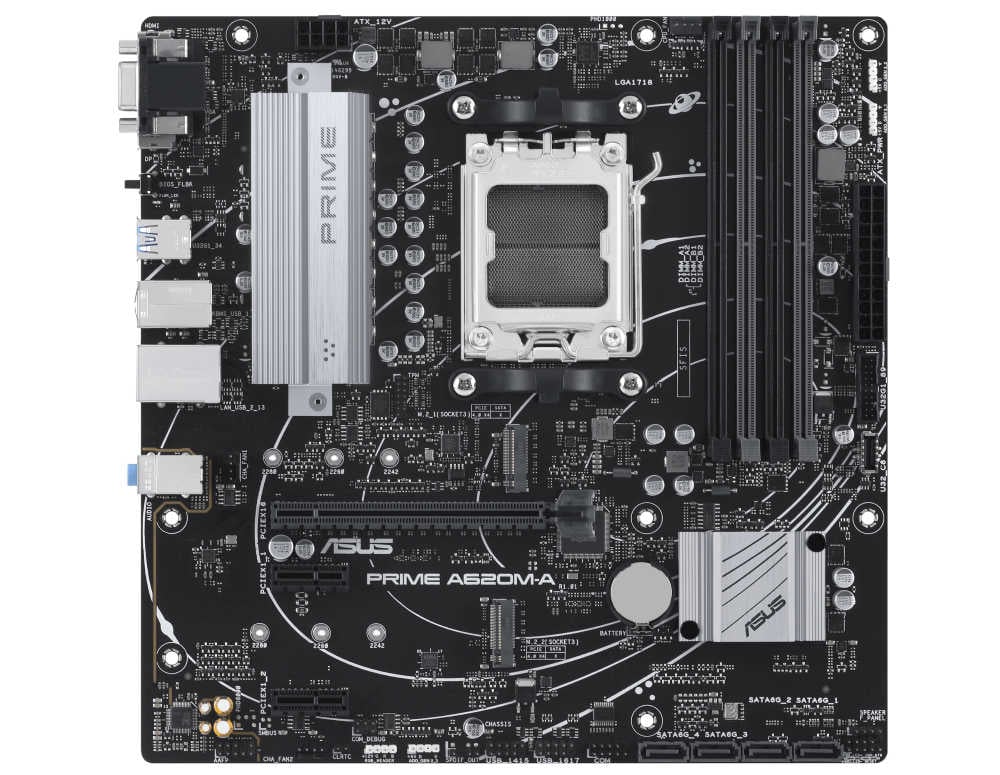 Asus has three boards in the works, two carrying its TUF Gaming moniker, and the other from the Prime line-up. The TUF motherboards are much the same in terms of design and features, with the exception that one has Wi-Fi and the other has none.
Asus opted for four-DIMM configurations across all boards, including the Asus Prime A620M-A-CSM, and all three seem to have adequate cooling for their 6+2+1-phase VRM power. Also, TUF variants offer 2.5GbE ports, while the Prime board has a 1GbE port for Internet connectivity.
Finally, the TUF Gaming A620M-P, TUF Gaming A620M-Plus, and Prime A620M-A-CSM have a suggested retail price of €169, €149, and €139, respectively.
Biostar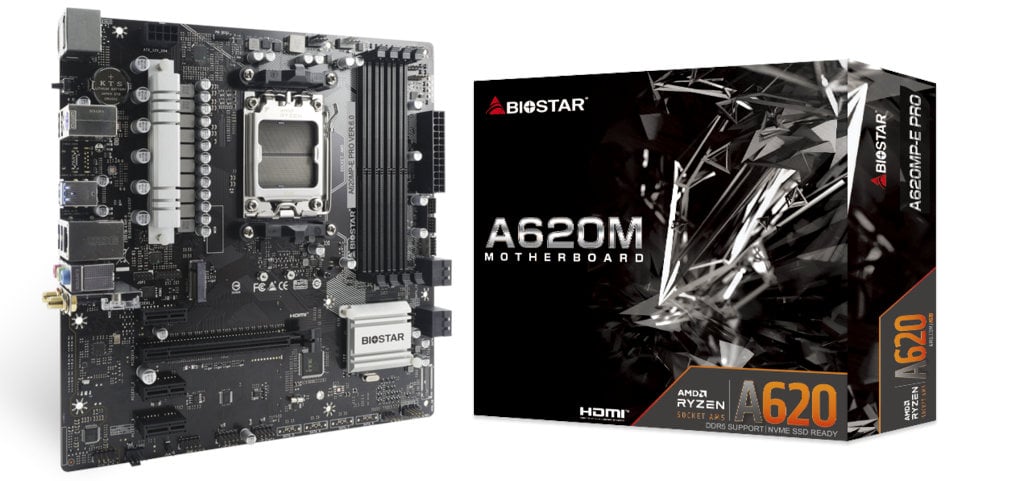 Biostar is among the two manufacturers with only a single offering at launch with its A620MP-E Pro motherboard. While not as flashy as the aforementioned motherboards, it offers a 10-phase VRM design in a 6+2+2 configuration that could possibly be adequate enough for a gamer-focused X3D build. Cache-ing.
Additional highlights include four DIMM slots that feature up to 128GB of DDR5 RAM targeting 6,000MHz EXPO clock speeds. No pricing just yet, sadly.
Gigabyte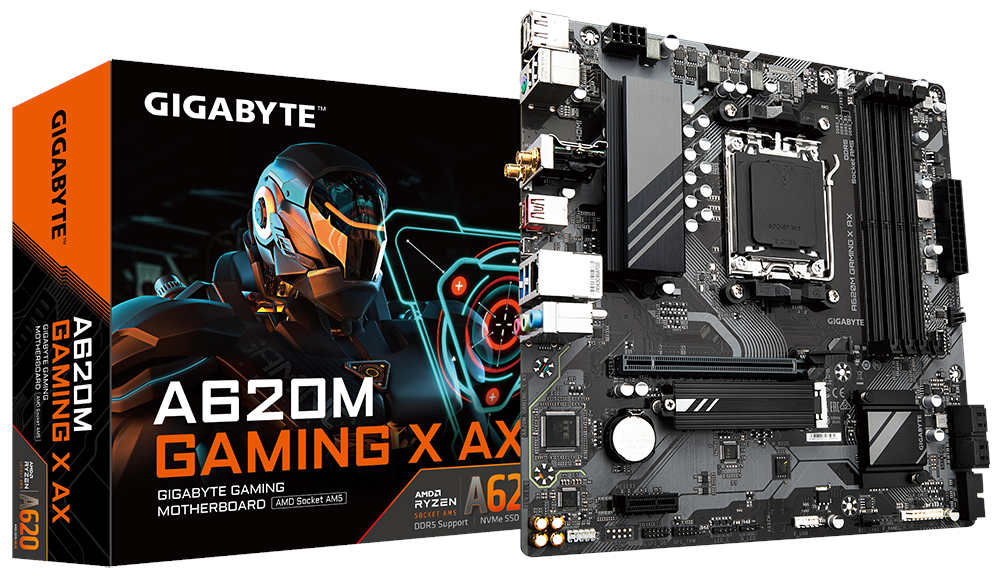 Gigabyte has a single design available in Wi-Fi and non-Wi-Fi options. These include the Gigabyte A620M Gaming X AX and the A620M Gaming X. The boards arrive with a four-DIMM design with support for up to 6,400MHz EXPO clock speeds and a 10-phase VRM design split into 8+2+1 power phases. Other highlights include 2.5GbE ports, Wi-Fi 6E connectivity and EZ-Latch technology on the single PCIe 4.0 x16 slot for easily removing graphic cards.
MSI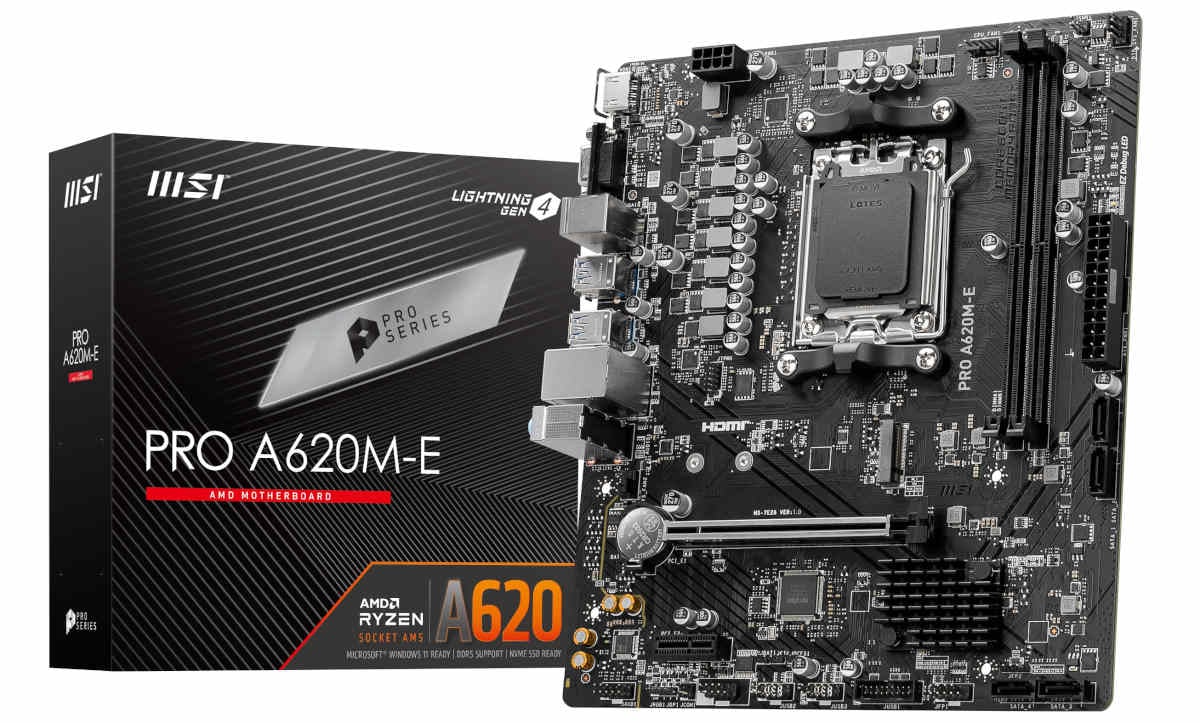 Last but certainly not least, MSI is the second manufacturer with only a single offering at launch, introducing the Pro A620M-E. The board is as basic as it gets, featuring only two DIMM slots, though it'll get the job done with its 6+2+1-phase design and support for DDR5 EXPO memory speed support. It's also one of the few boards attempting to hit the proposed sub-$100 price bracket with a suggested retail price of $84. If it hits the mark, there'll be no complaints here.
That about wraps up the rather extensive list, and we'll keep our feet on the ground should any other boards or new information arise. Looks to be everything we expected from the A620 lineup so far, which will hopefully be a godsend for those looking for affordable transition options.