Jump to: Specification | Performance | Gaming | Conclusion
There's always attraction in cutting-edge hardware, yet the best incentive for a new gaming PC remains a AAA game. Such titles don't tend to come around all that often, and even fewer manage to live up to the hype. For Starfield, the signs are good, and whether you're new to the genre or not, this spawling sci-fi RPG is destined to occupy your time in the months ahead.
Playing the game as intended isn't easy, mind. Official system requirements recommend at least a hexa-core processor such as the AMD Ryzen 5 3600X or Intel Core i5-10600K, as well as 16GB of RAM, Radeon RX 6800 XT or GeForce RTX 2080 graphics, and an SSD as standard.
Your current rig cowering beneath the desk? Then you might want to consider a whole new setup, and CyberPowerPC UK reckons the £2,789 Ultra 79 Pro is perfect for a top-notch Starfield experience.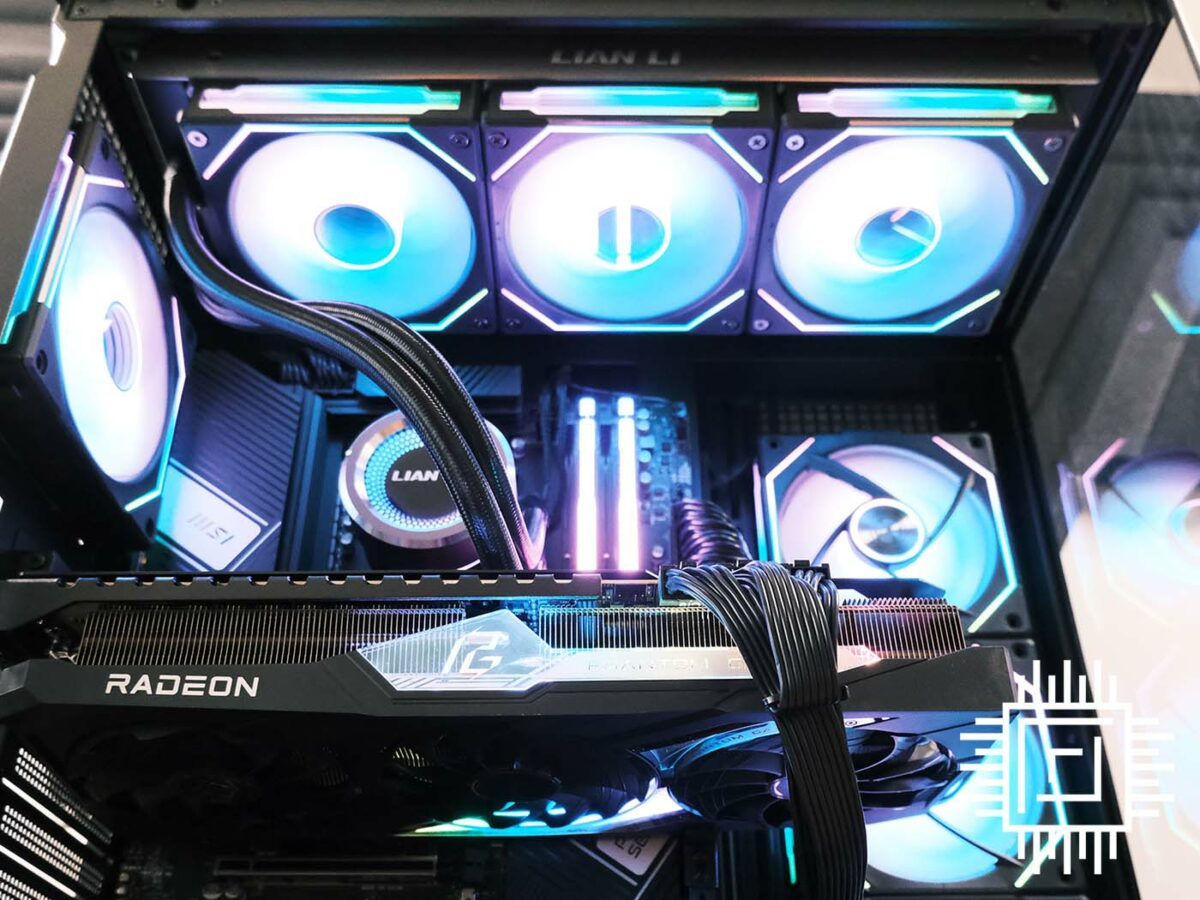 You might be wondering what exactly constitutes a perfect Starfield PC. These are early days, and we imagine optimisations will come thick and fast, yet AMD is evidently leading the charge. Analysis from the team at Digital Foundry suggests a surprising performance drop off on both Intel and Nvidia hardware, though this shouldn't come as a surprise, with Bethesda and AMD having previously confirmed close collaboration throughout the game's development.
That being the case, Cyberpower sets out to showcase the best of modern AMD hardware in an eye-catching configuration. Headline components include a cache-laden Ryzen 9 7950X3D gaming CPU and range-topping 24GB Radeon RX 7900 XTX graphics in ASRock Phantom Gaming guise.
"We have worked hand-in-hand with Bethesda to optimize Starfield for Ryzen 7000 series processors and Radeon 7000 series graphics."

Jack Huynh, AMD Computing and Graphics Business Group
A duo typically prescribed for high-quality 4K gaming, and the supporting cast ain't bad, either. Core components sit atop an MSI Pro X670-P WiFi motherboard alongside 32GB (2x16GB) of Kingston Fury Beast DDR5-6000 memory and a 2TB WD_Black SN850X SSD. Power is supplied by a 1,000W Corsair RMe PSU, but it's presentation that adds the requisite finishing touch.
Cyberpower's Prism 321V mid-tower case is built by Lian Li, and the near-seamless, wraparound glass makes for a terrific show of the interior. The PC will need to sit to your right for the best view, and augmenting the aesthetic is a Lian Li Galahad II Trinity 360mm AIO cooler and three further Lian Li Uni Fan SL-Infinity 120mm side intakes. Hubba hubba!
Combined with RGB elements on the pump head, memory and graphics card, it makes for a sexy-looking build. We're liking the contrast against the deep-black frame, but boy, a paler Starfield-themed variant would be a sight to see. One for the modders.
Implementation is tidy throughout, and we like that Cyberpower pays attention to the finer details. Our PC was packaged well, with nary a fingerprint in sight, and not only does the out-the-box configuration include a clean install of Windows 11, we were pleasantly surprised to find the MSI BIOS had also been updated to the latest available release. And yes, in case you were wondering, the system is eligible for a free copy of Starfield Premium Edition via AMD's bundle offer.
Cable management is decent – there aren't many of them thanks to Lian Li's lovely daisy-chained fans – and connectivity is plentiful. The top of the case provides USB Type-C and Type-A alongside the customary audio jack, and around back, MSI's motherboard delivers a further eight USB ports – including an ultra-fast 20Gbps USB-C – as well as 2.5GbE LAN if you prefer not to employ onboard Wi-Fi 6.
Perusing the virtual shelves of various retailers suggests it would cost somewhere in the region of £2,700 to acquire the same or equivalent components. By that reckoning, Cyberpower is charging less than a five per cent premium to put it all together, test it, and deliver to your door complete with a five-year warranty that includes parts and collection for the first 24 months.
Pricing is very competitive, and now that stock shortages are a thing of the past, estimated shipping is two weeks from the date of order. Can't wait that long? An extra £59 affords a fast-track build that will be with you in three days flat, and there are myriad possible specifications in Cyberpower's online configurator. Playing devil's advocate, if gaming is order of the day, downgrading from 7950X3D to 7800X3D should return similar framerates while putting £300 back in your pocket. Something to consider.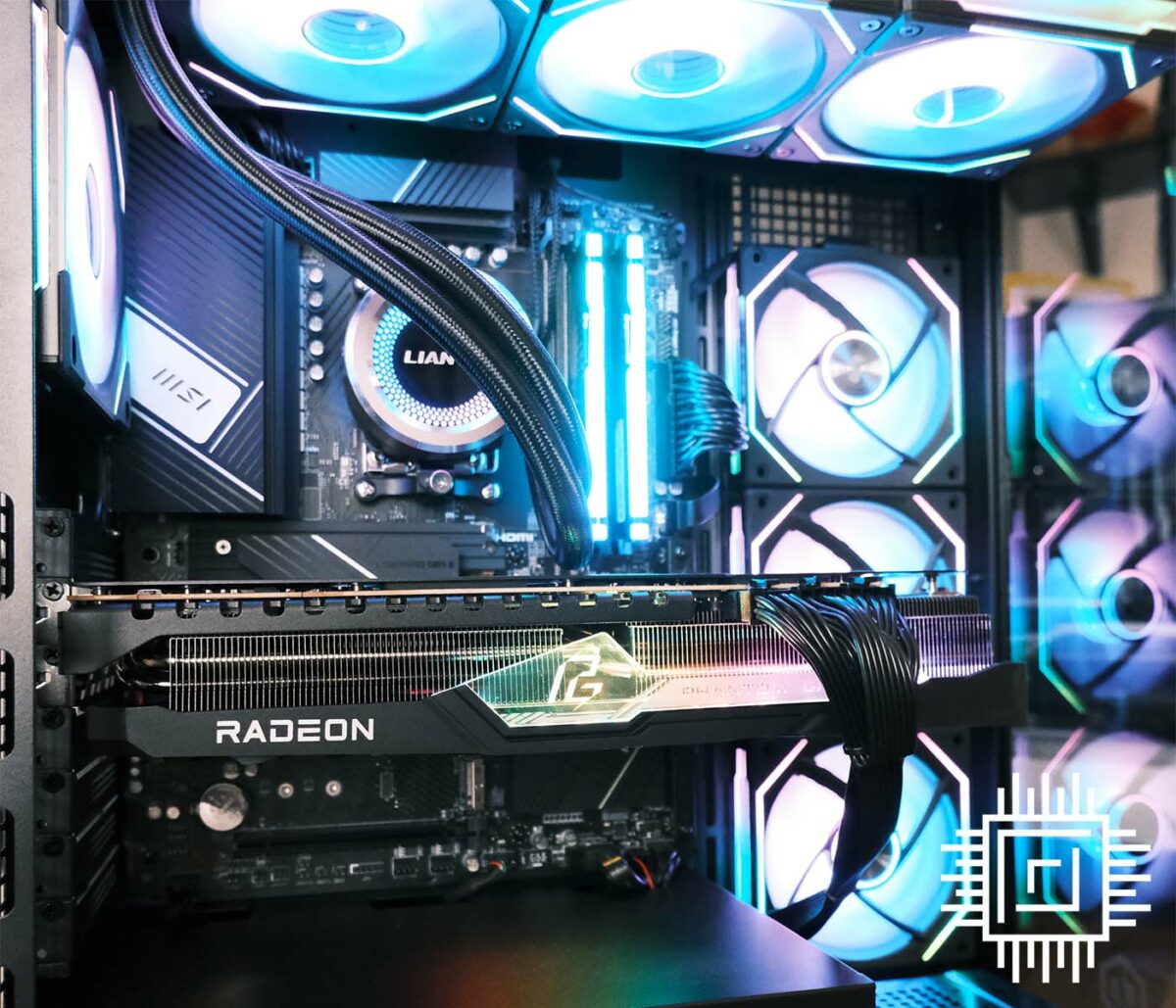 Show your support for impartial Club386 reviews
Club386 takes great pride in providing in-depth, high-quality reviews built on honest analysis and sage buying advice. As an independent publication, free from shareholder or commercial influence, we are committed to maintaining the standards our readers expect.
To help support our work, please consider making a donation via our Patreon channel.
Performance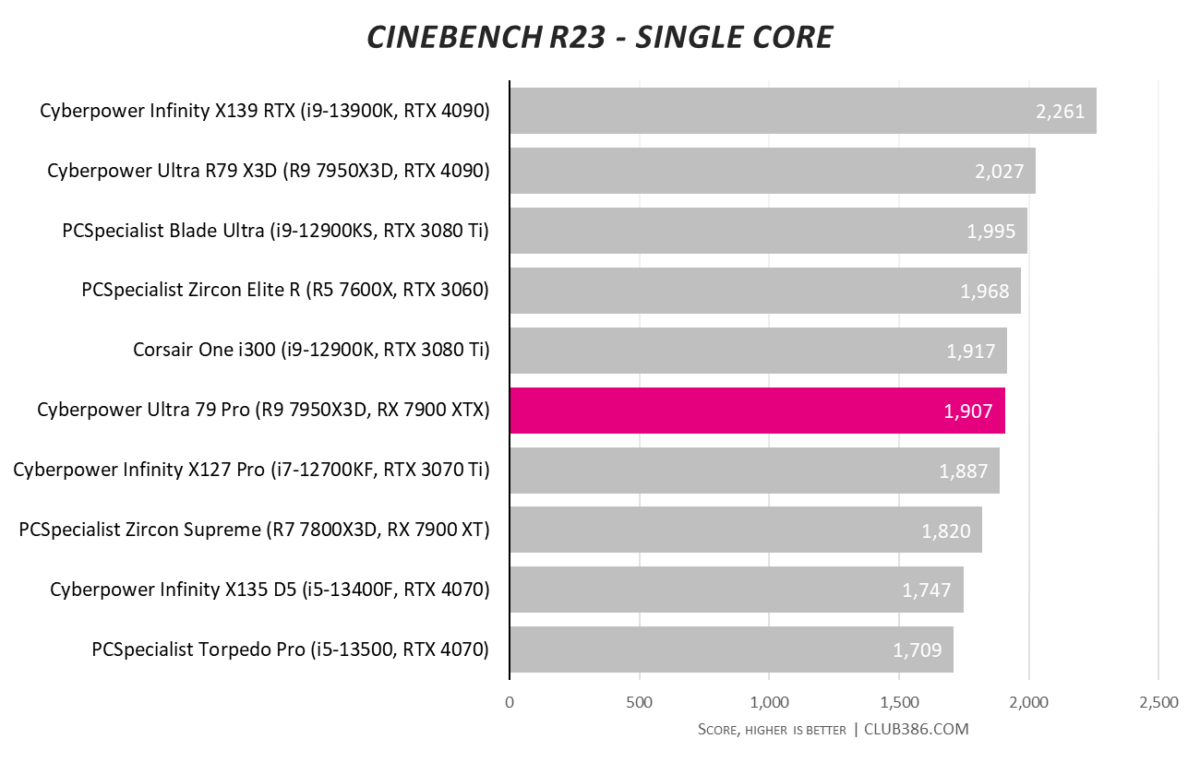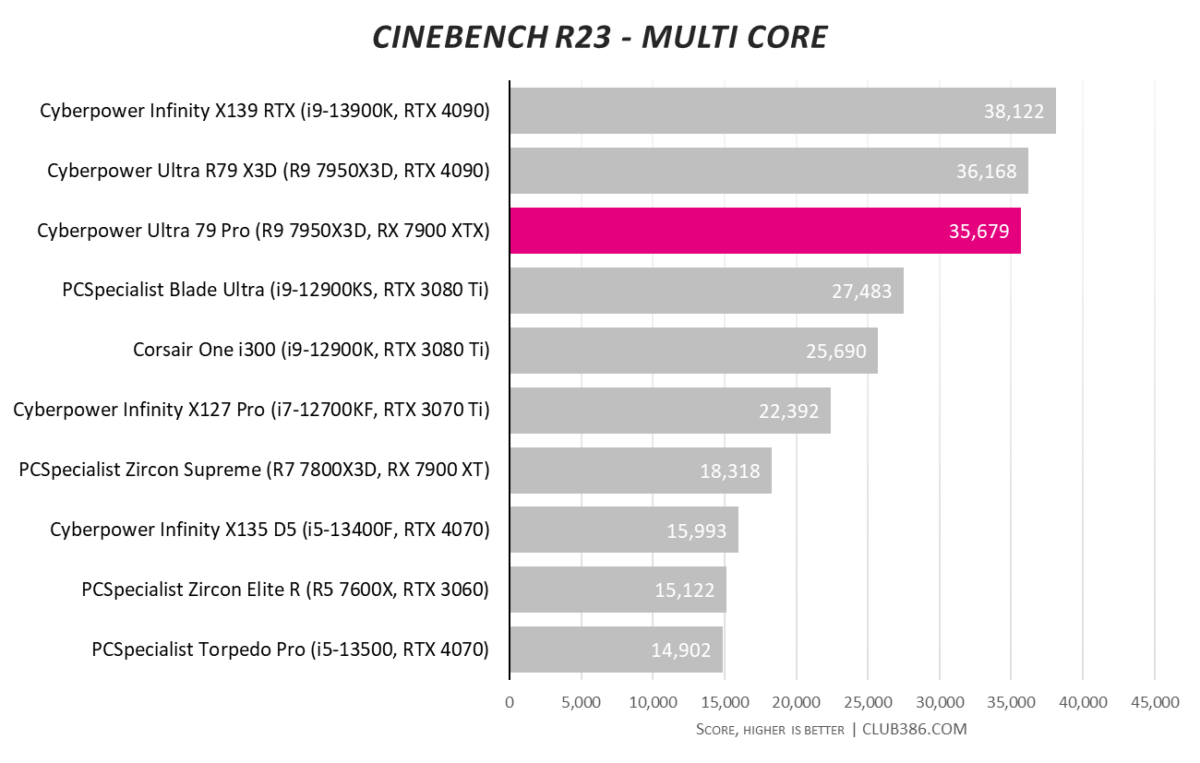 16 cores, 32 threads, a top speed of 5.7GHz and 128MB L3 cache. There's no doubt about it, 7950X3D is a monster of a CPU. Be it gaming, streaming or content creation, you won't be lacking in horsepower.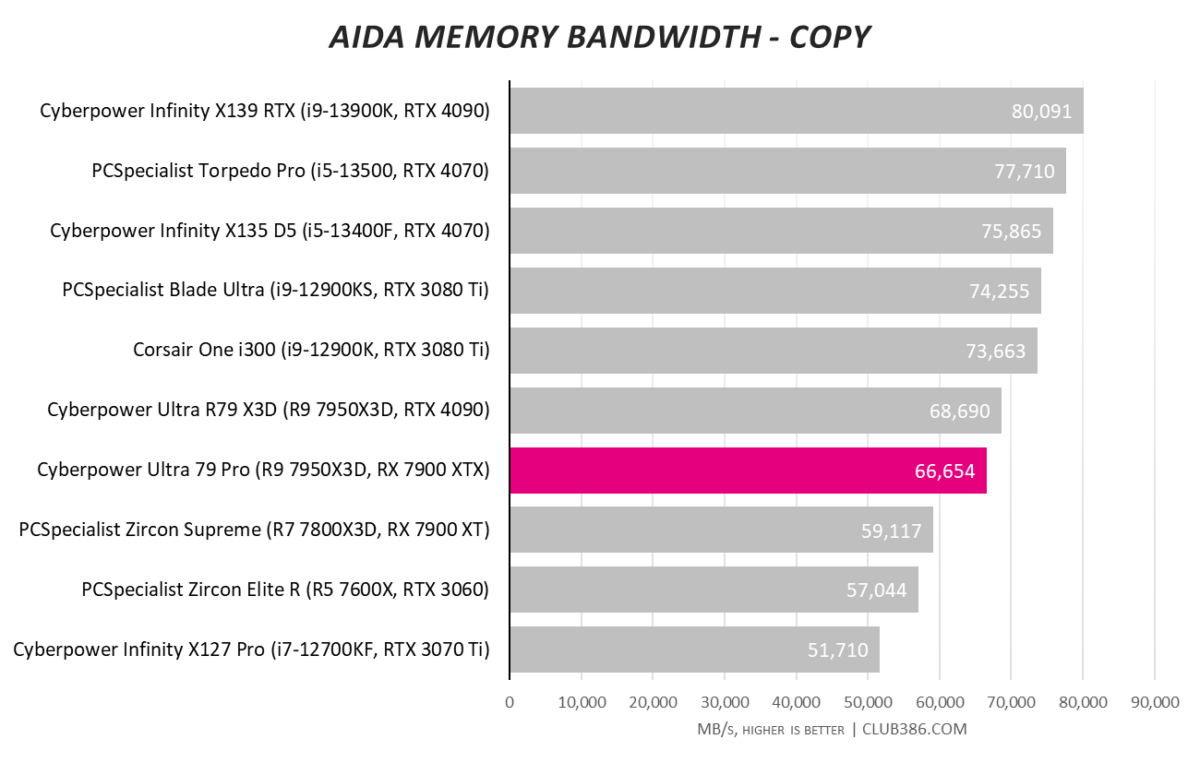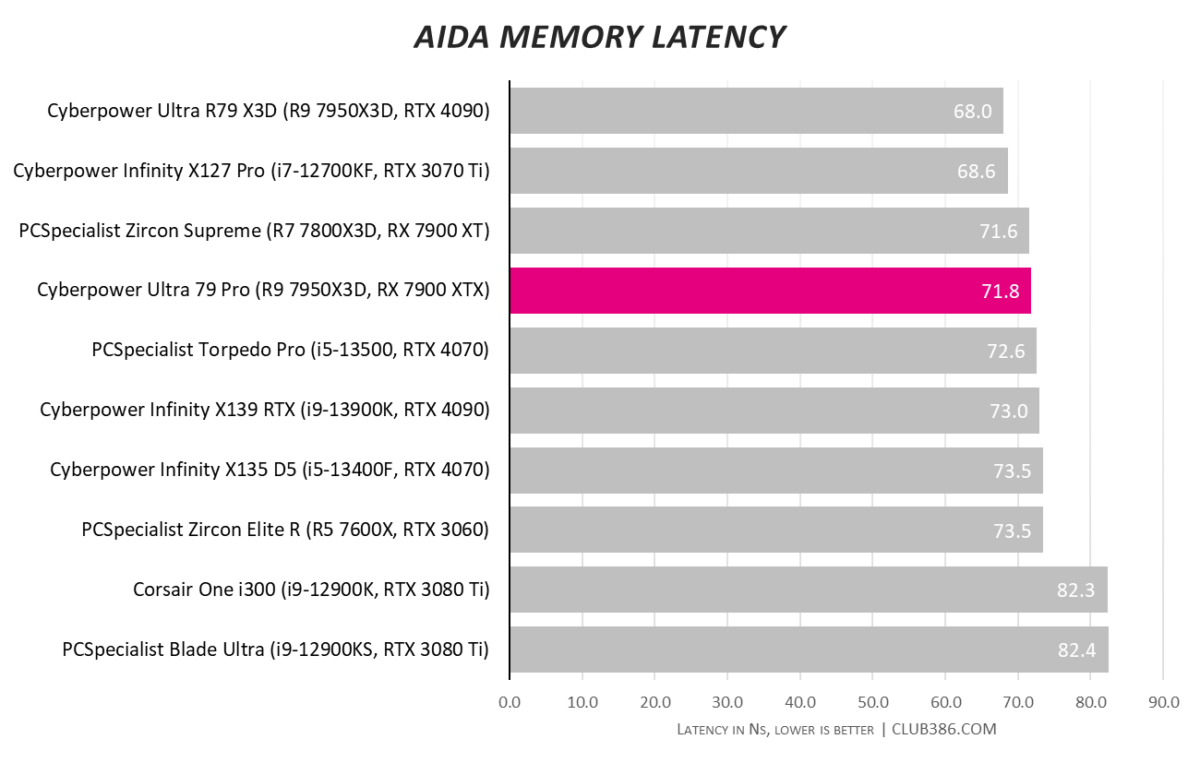 32GB of dual-channel DDR5-6000 is par for the course on a gaming rig of this ilk. Interesting to note that Cyberpower's online configurator doesn't include an option to upgrade to 64GB whilst maintaining this speed, so that's something we'd like to see added.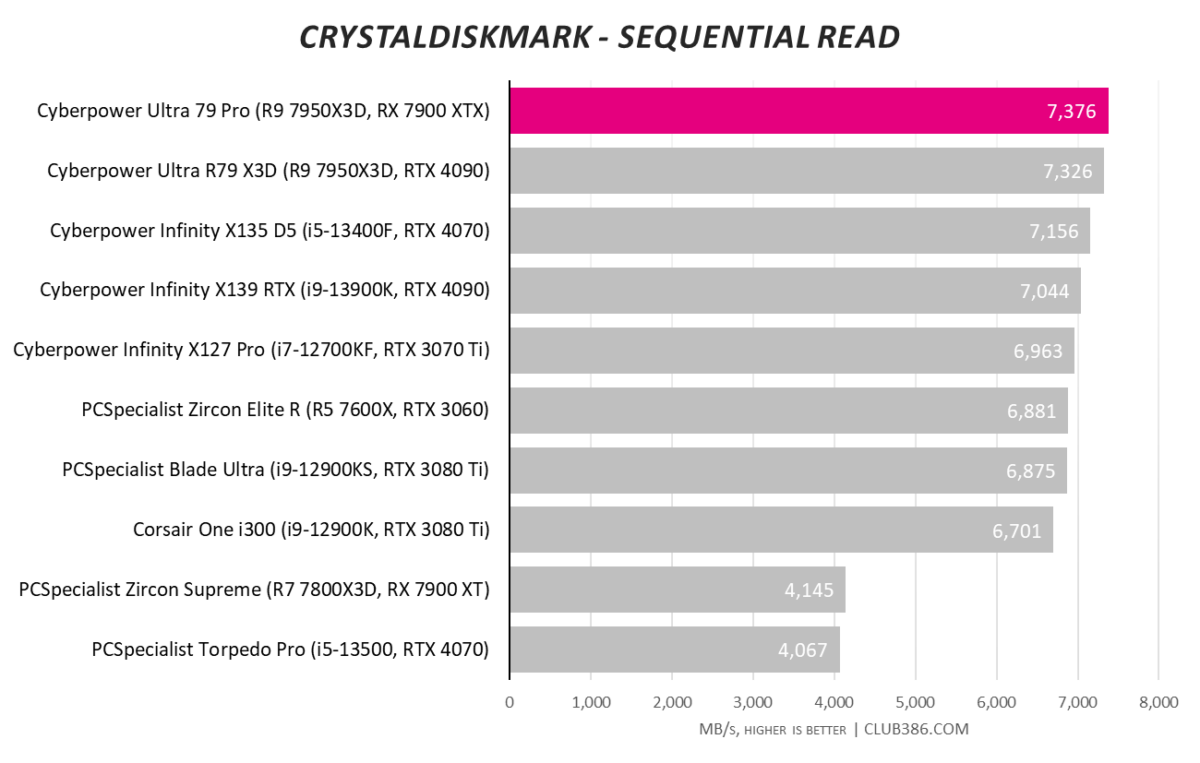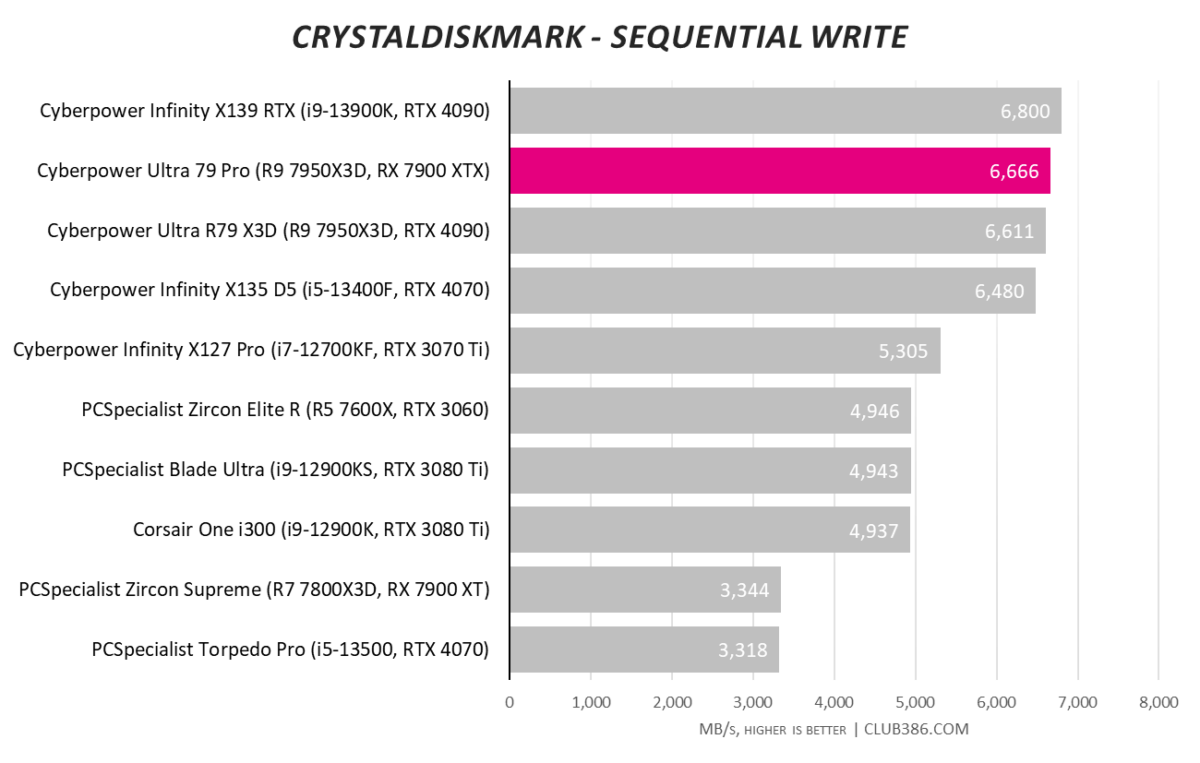 We're well acquainted with WD's 2TB SN850X and know it to be one of the best PCIe 4.0 SSDs on the market. Cyberpower is extracting maximum performance, though that sequential write number is a tad freaky.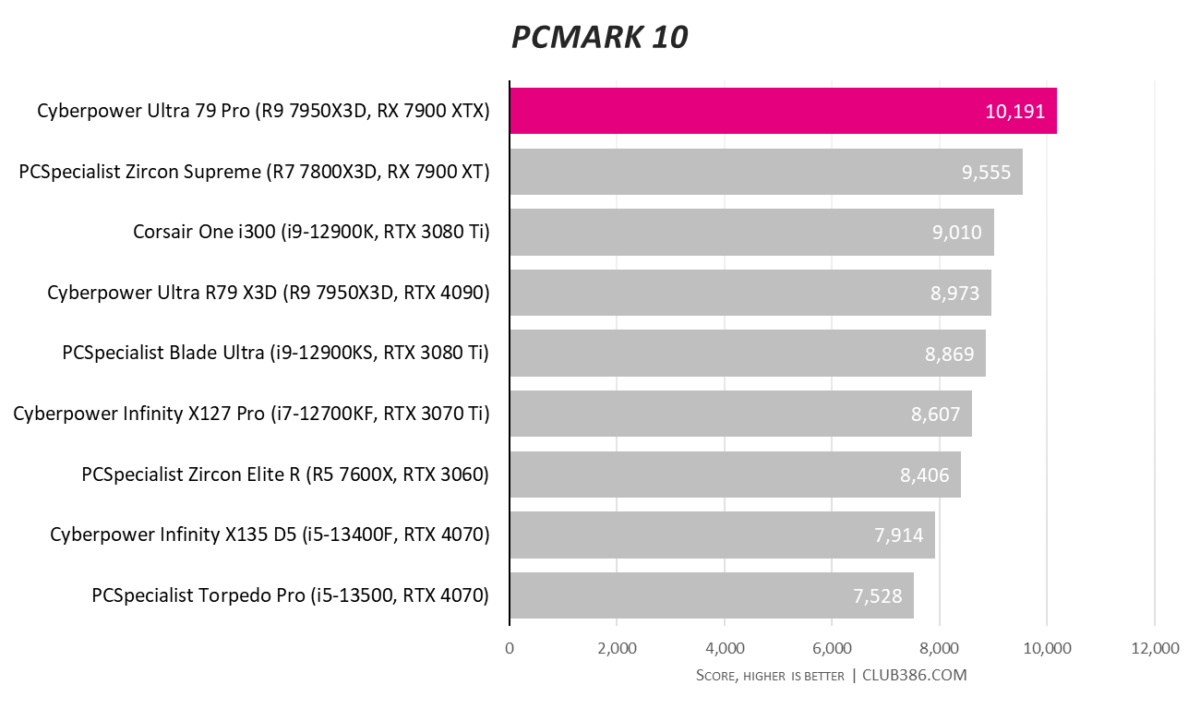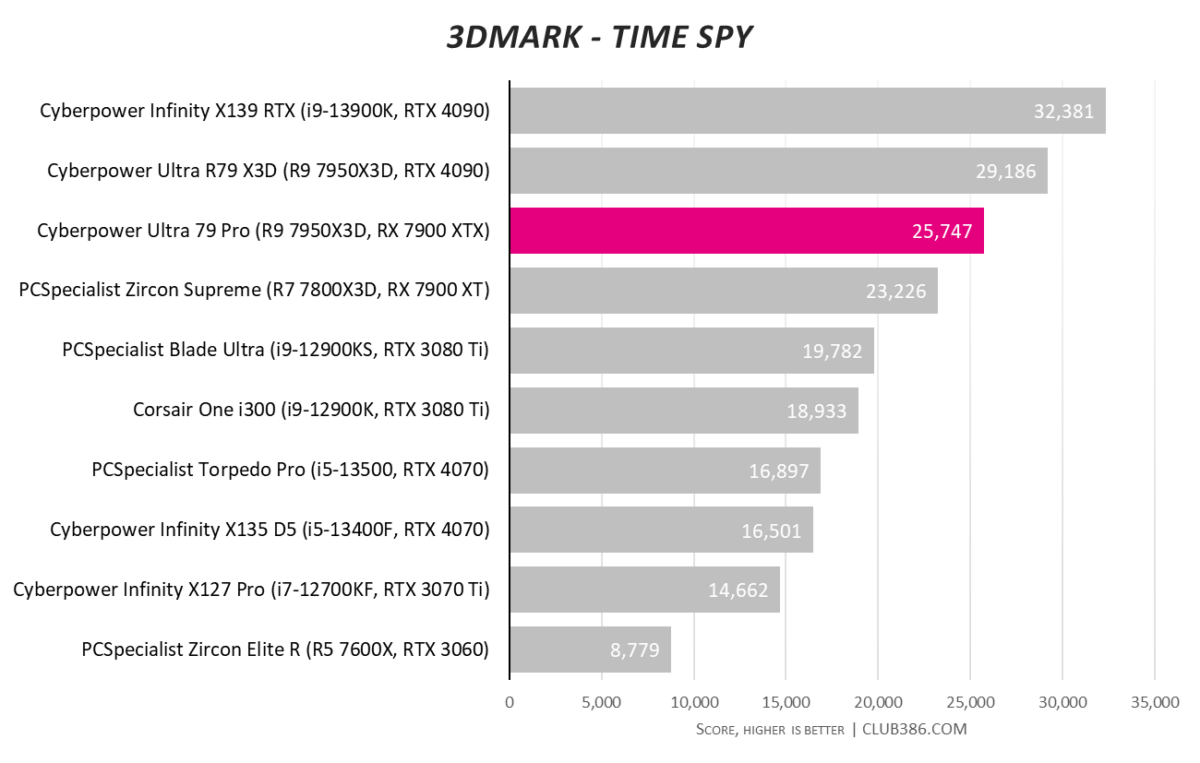 Much is being made of an all-AMD combination these days. PCMark is another benchmark that appears to be particularly well optimised, with the 7950X3D + 7900 XTX combination racing to the top of the chart. There's no dethroning the might of RTX 4090 in 3DMark, where as expected the flagship Radeon slots in as second best.
Gaming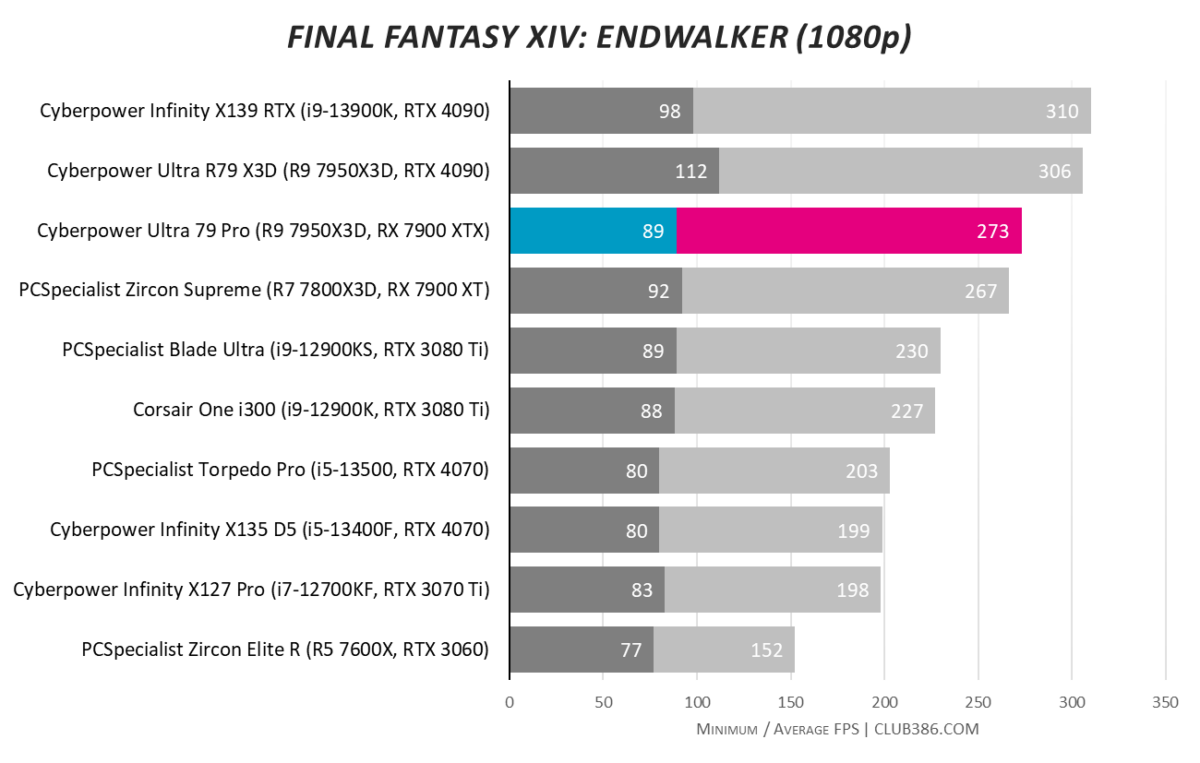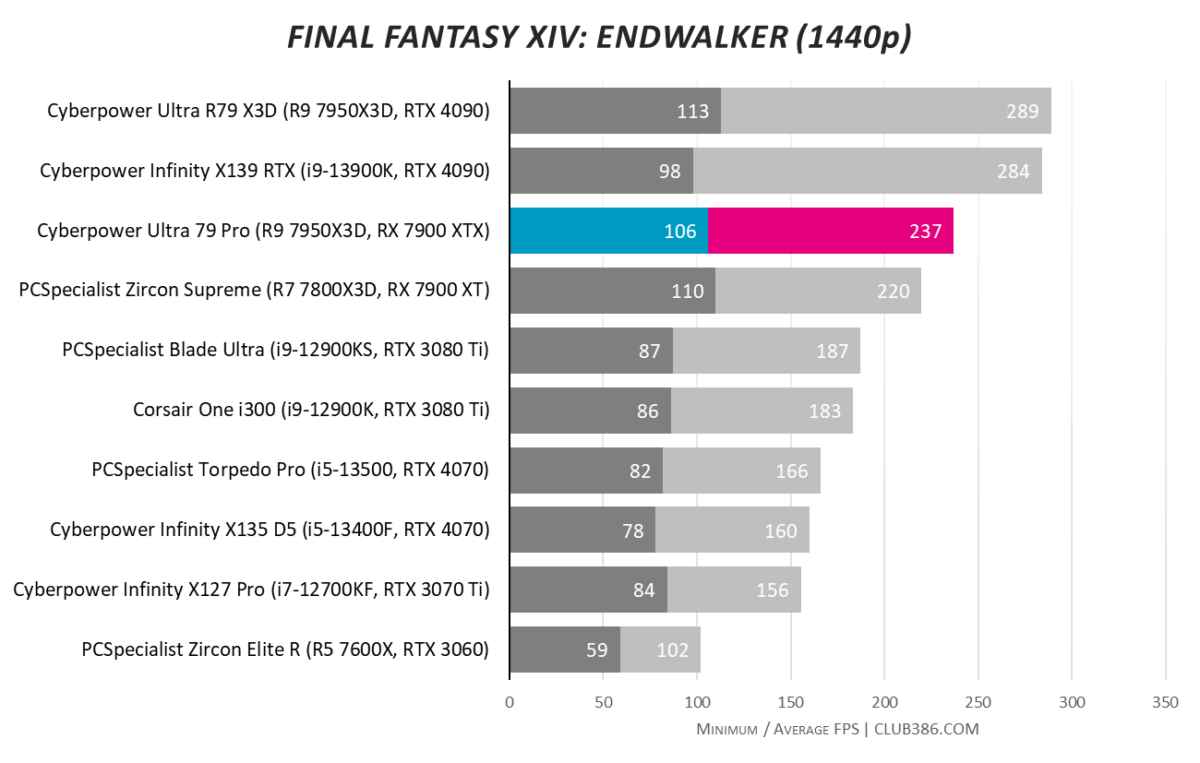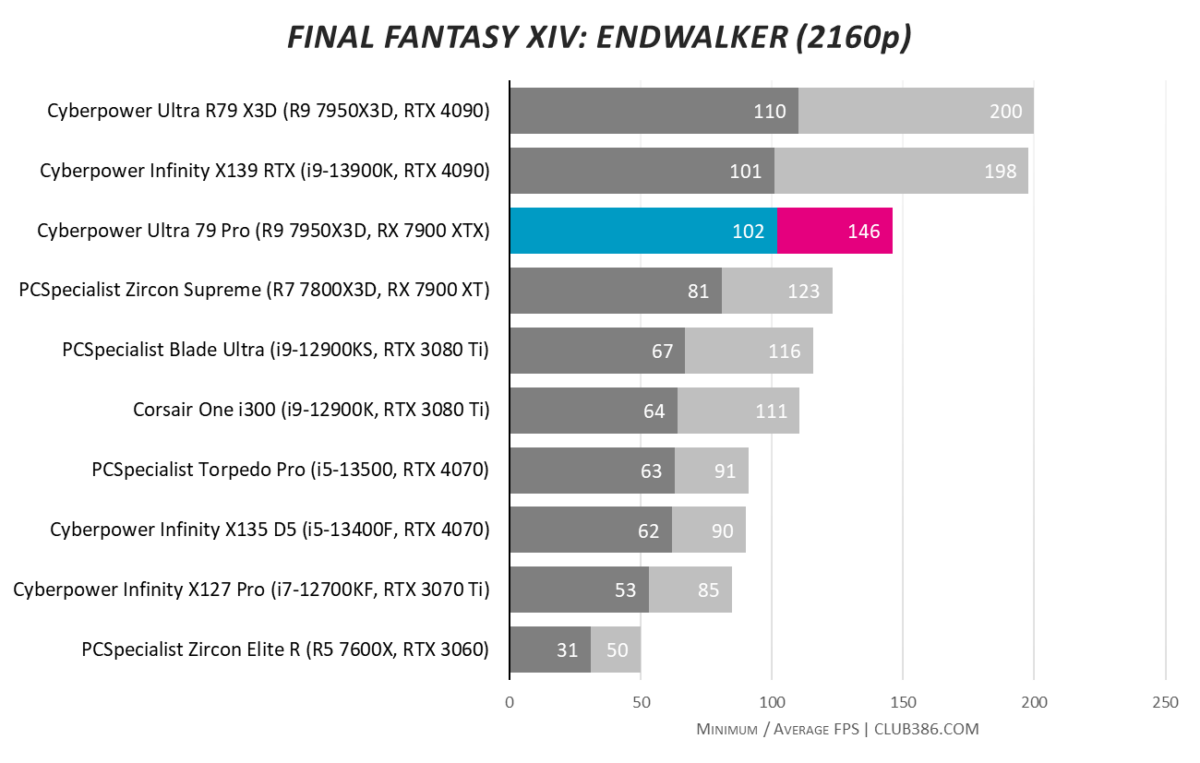 Yep, no doubt about it, this is as good as it gets for an all-AMD gaming powerhouse. Lofty framerates are churned out with such ease that a high-resolution monitor is basically a prerequisite. QHD120 or 4K60 would make for a fine pairing.
| Game | FPS @ 1080p FHD | FPS @ 1440p QHD | FPS @ 2160p UHD |
| --- | --- | --- | --- |
| Assassin's Creed Valhalla (Ultra High Quality, FSR Off) | 212 | 172 | 106 |
| Cyberpunk 2077 (Ray Tracing: Ultra, FSR Quality) | 98 | 71 | 40 |
| Far Cry 6 (Ultra Quality, HD Textures and DXR On) | 162 | 156 | 107 |
| Tom Clancy's Rainbow Six Extraction (Ultra Quality) | 234 | 232 | 151 |
| Starfield (Ultra Quality, FSR Off) | 110 | 93 | 62 |
Testing a handful of recent games highlights the amount of firepower on offer. Maintaining in excess of 100 frames per second at a 4K resolution is possible in most titles, and only ultra-taxing games with copious amounts of ray tracing put the system under genuine strain.
Starfield's what it's all about though, right? Performance isn't easy to pin down as in-game framerate can fluctuate significantly from one region to another, yet these are the best results we've seen thus far. The Ultra 79 Pro gaming PC averages just over 60fps at a UHD resolution, and though the number does dip below that target in the most demanding scenes, 4K60 shows the game at its very best.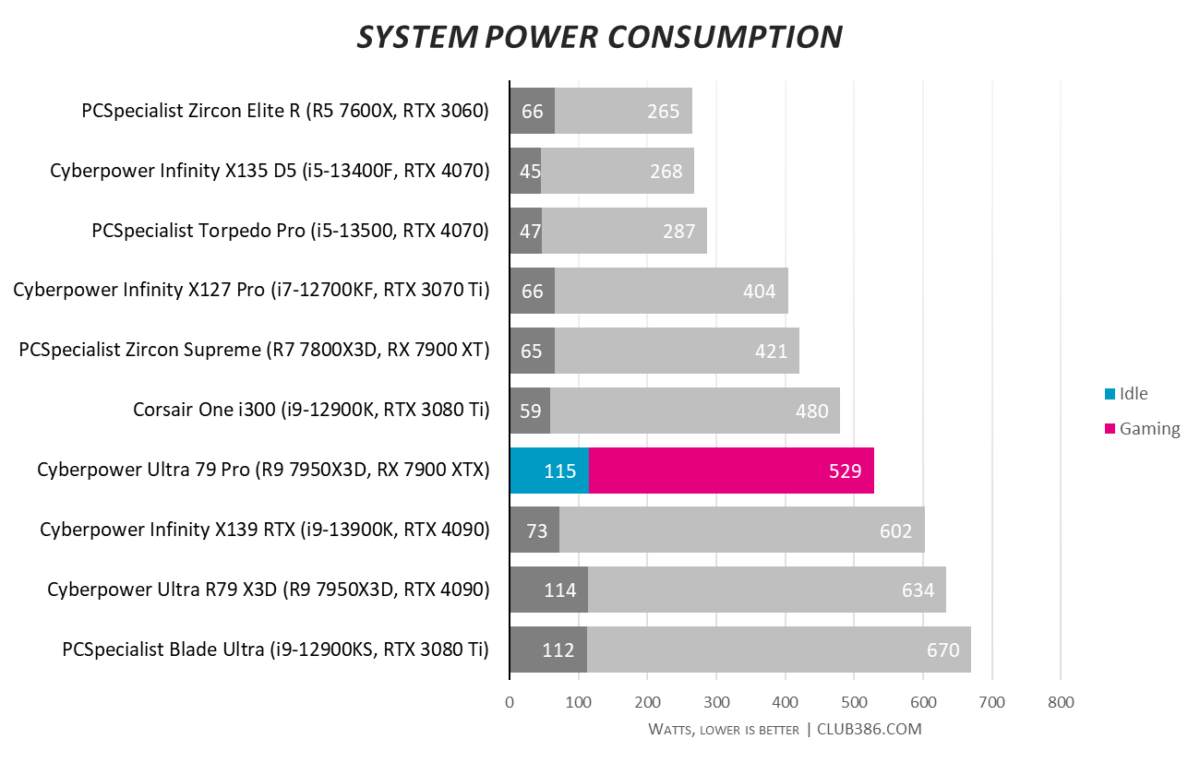 Such performance requires a fair amount of juice, with the system pulling over 500 watts from the wall when gaming. That's to be expected given the hardware within, though higher-than-expected idle power consumption continues to puzzle on Ryzen 7000 X3D systems.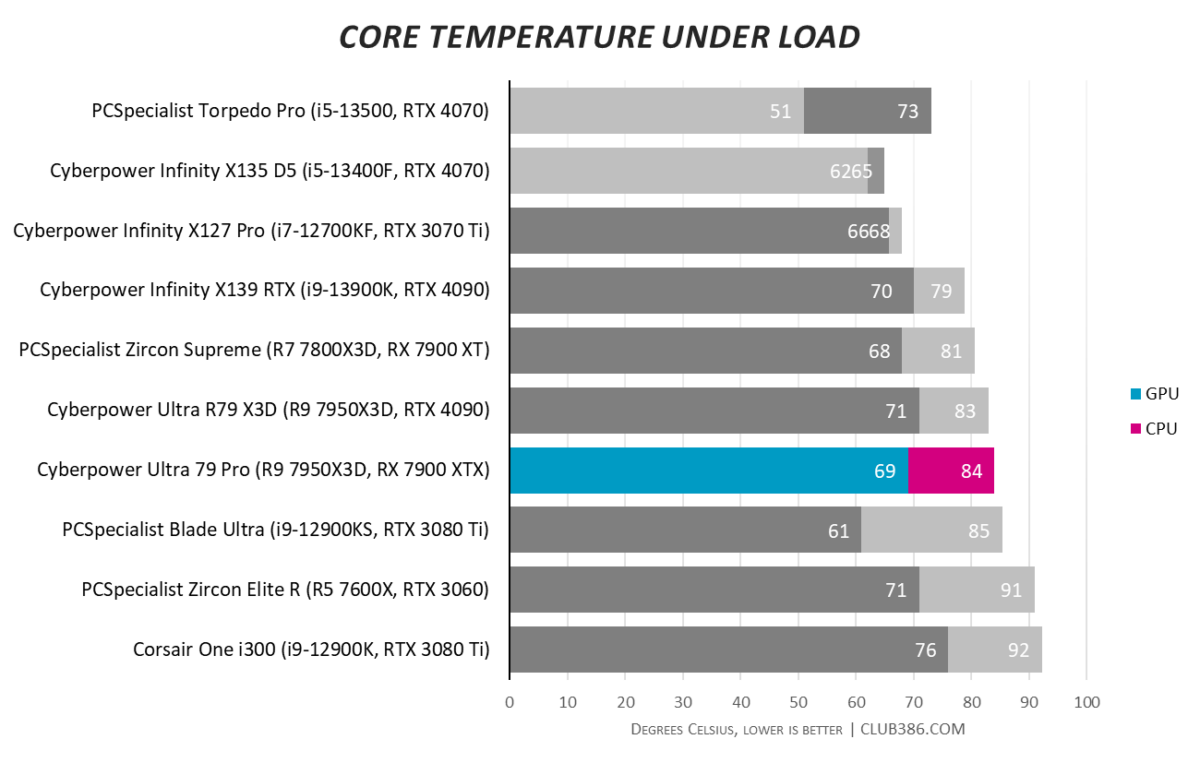 Gaming without getting overly hot and bothered, both CPU and GPU are kept well within their limits. The ASRock graphics card, in particular, is a cool customer.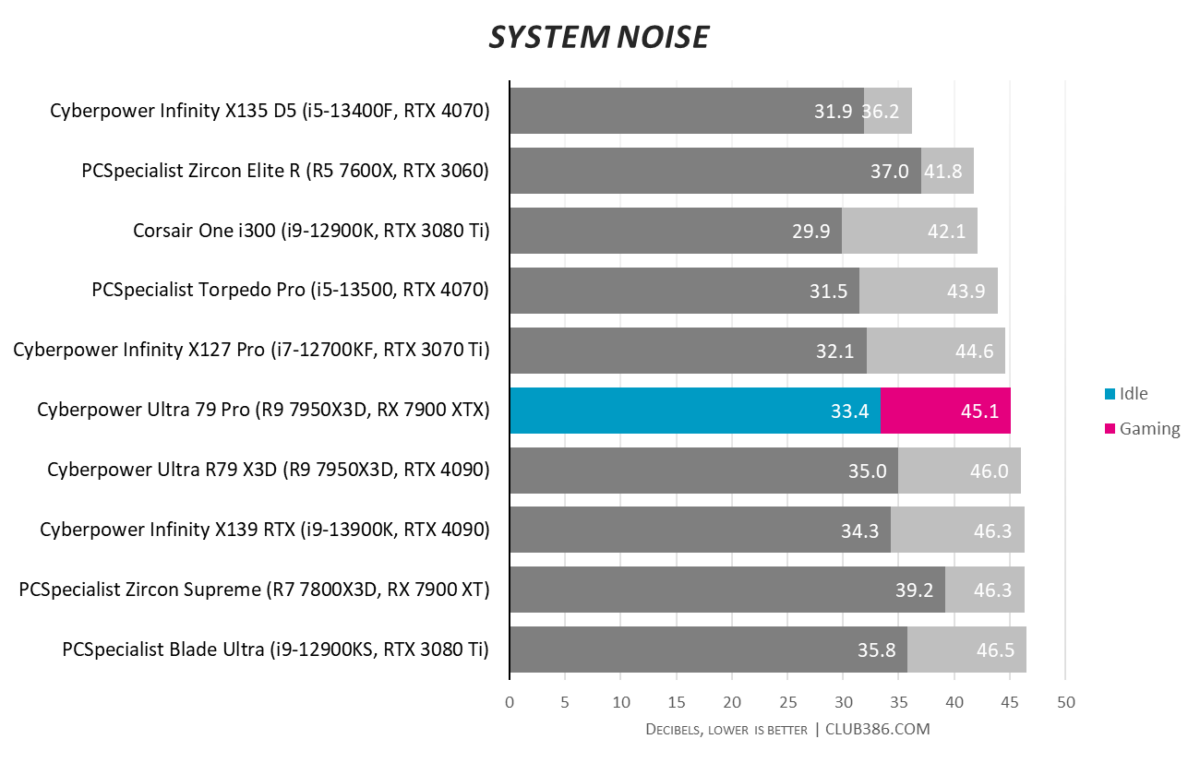 Out-the-box noise levels are middle of the pack, and though the smooth hum of Lian Li's fans isn't overly distracting, there's scope for further customisation. With a little massaging of fan curves, we reckon it'd be possible to bring gaming noise down closer to 40dB with little detriment to performance.
Conclusion
What's more fun than playing Starfield? Playing it on a kick-ass PC. That's a deft description of Cyberpower's Ultra 79 Pro.
Outfitted with Ryzen 9 7950X3D and Radeon RX 7900 XTX, this formidable rig showcases the very best of AMD gaming hardware in 2023. Further embellishment comes from 32GB of DDR5-6000 memory, one of the fastest 2TB SSDs money can buy, and a 1,000W PSU with ample breathing room.
The cost of such goodness is considerable – £2,789 to be precise – yet it's barely any cheaper to build your own, and worth noting a similar rig with RTX 4090 graphics fetches closer to £4,000, meaning value is very much relative.
For those who see merit in an all-AMD setup, Ultra 79 Pro ticks all the high-end boxes. It looks the part, is future proof with regards to features and connectivity, and delivers performance in spades. Whether you're rendering content or exploring the Starfield universe, there are few better ways to do it.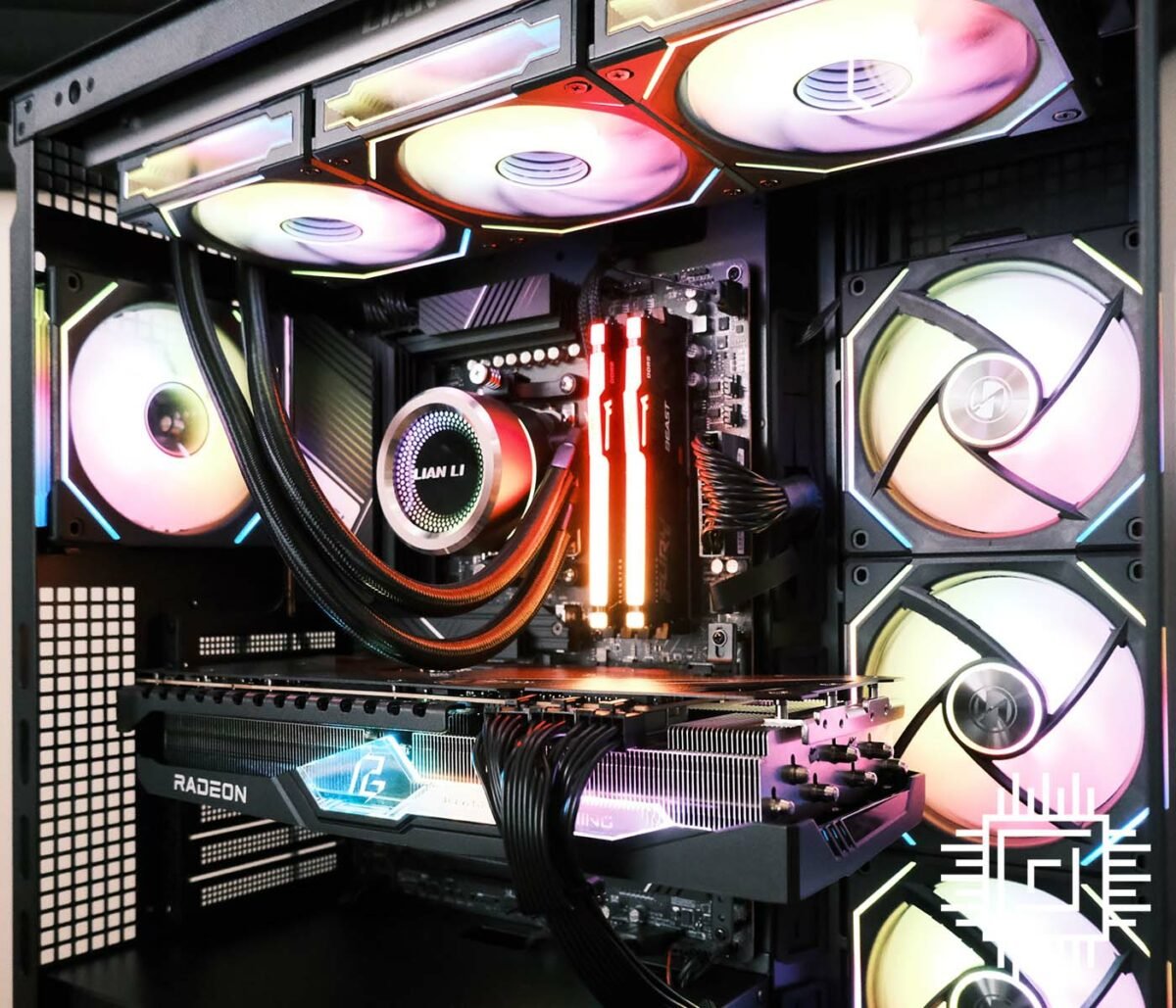 CyberPowerPC UK Ultra 79 Pro Gaming PC
Verdict: A fine showcase of flagship AMD technology and a great place to play Starfield.
---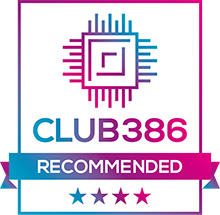 Pros
The best AMD has to offer
Renders Starfield at 4K60
Looks fantastic
Price comparable to DIY
Comprehensive warranty
---
Club386 may earn an affiliate commission when you purchase products through links on our site. This helps keep our content free for all.
Rest assured, our buying advice will forever remain impartial and unbiased.