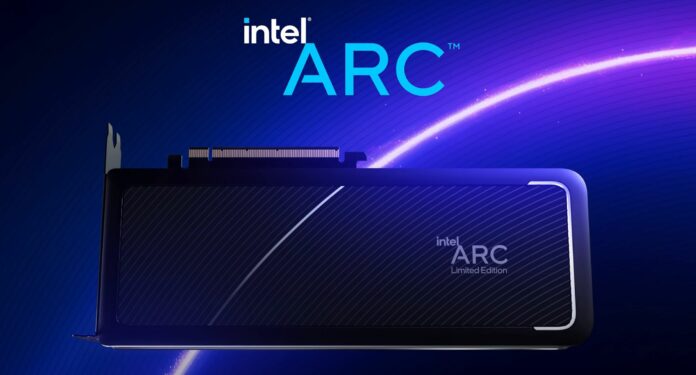 The saga continues, as Intel Arc has been thrown yet another curve ball, if a recent internal leak of the tech giant's roadmap is anything to by. In short, the information signals disaster and a struggle to get the GPUs launched.

Originally slated for a global Q2 release, rumours began circulating earlier last month that Intel would further delay the release until late summer and the recent leak sourced by Moore's Law is Dead seemingly confirms this information. The company initially planned to have four different SKUs shipped to system integrators between May and the end of July. Fat chance of that ever happening. The Intel graphics cards in question include Arc A770, Arc A750, Arc A580 and Arc A380.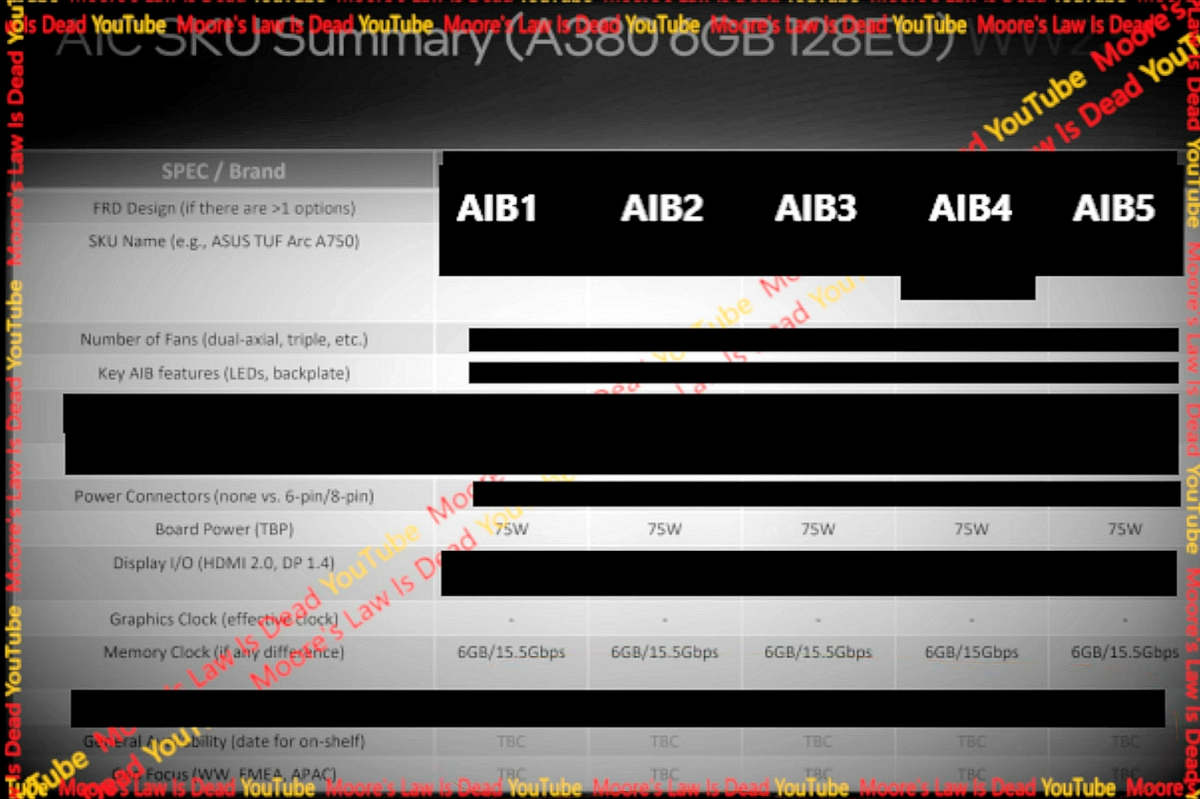 Disarray has left both the Intel graphics division and AIB partners confused on when the GPUs will be released, and another slide leads in stark contrast to the previous – allegedly shown internally just a month ago – showing Intel still did not know the release date for any of the custom designs.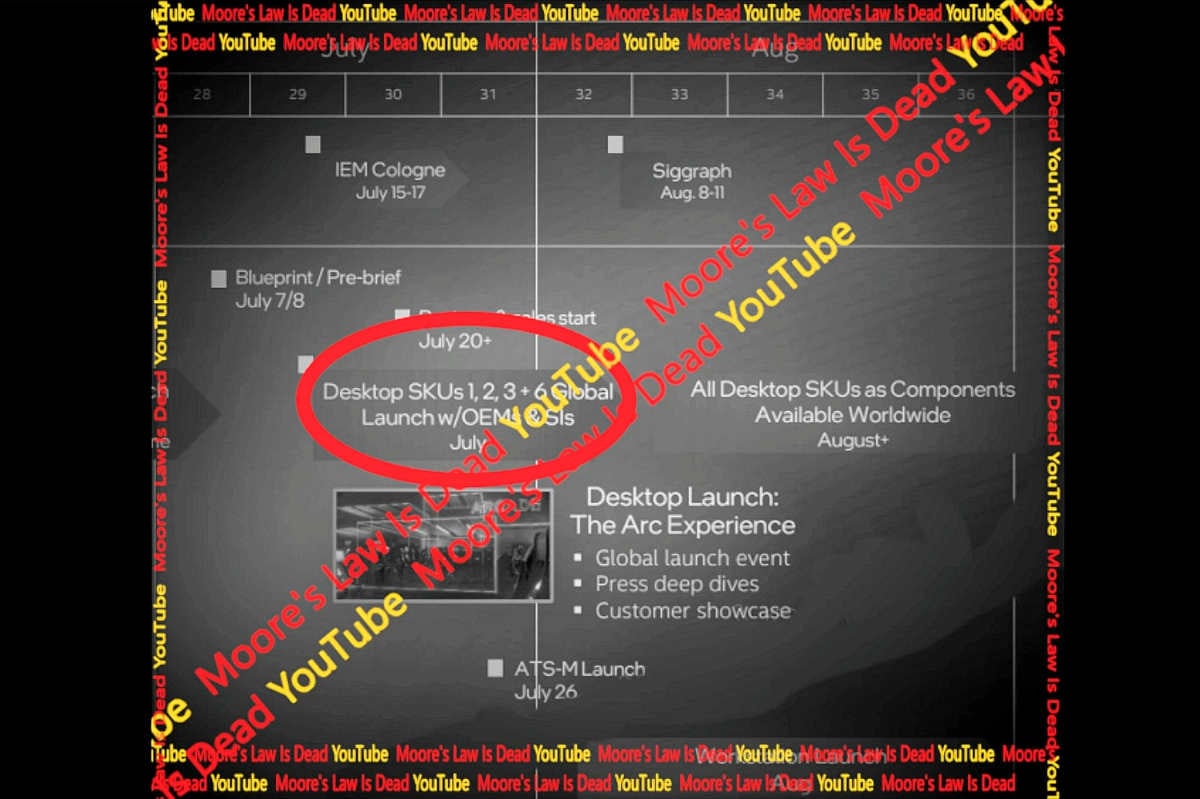 Additionally, a planned "Desktop Launch: The Arc Experience" is mentioned as a way of globally launching the Arc Alchemist series, though Intel has not confirmed such an event would take place, including a poorly-worded roadmap information stating 'Story, not Launch', that could be seen as early confirmation that the Arc launch would be delayed until September.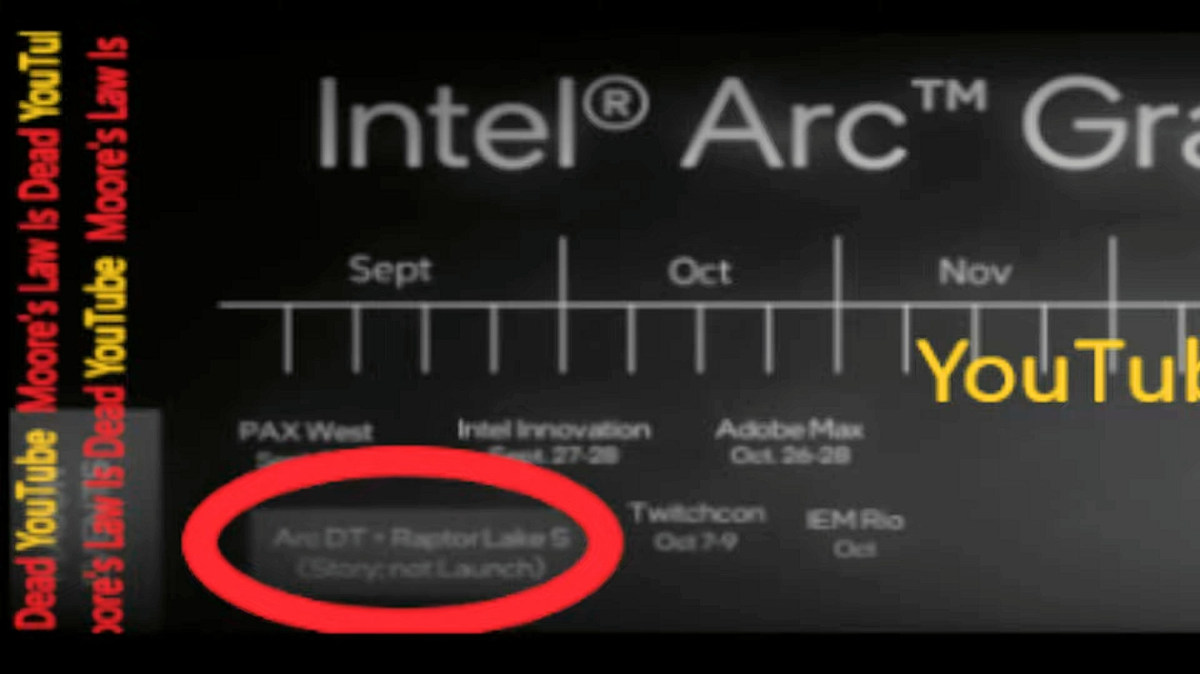 Though we have seen China-only releases of Intel Arc A380 graphics cards, no retail cards are yet available in Europe or the Americas even though third-party AIB's such as the Gunnir Intel Arc A380 Photon 6G OC have sneaked their way through US customs. Though the much higher-end 500- and 700-series is what many enthusiasts look forward to, save for leaked pricing, the release is still undecided as the Q3 release window draws to a close.
After a dismal Q2 performance loss it was hoped that an official earnings call announcement of the Arc launch would create an uptake in revenue for the company's third-quarter, with CEO Pat Gelsinger going as far as stating during the earnings call, "Intel Arc A5 and A7 desktop cards will start to ship in Q3. Our energy-efficient blockchain accelerator Blockscale achieved a major milestone in Q2 with revenue shipments to our lead customers, going from tape-in to shipping in less than a year. We expect to ship millions of units this year, not originally in our forecast."
Let's hope that amidst all the talk of delays, Intel pulls through and successfully launches Arc Alchemist at least before the end of September, instead of cancelling the release outright until next year. We wait with bated breath until then.