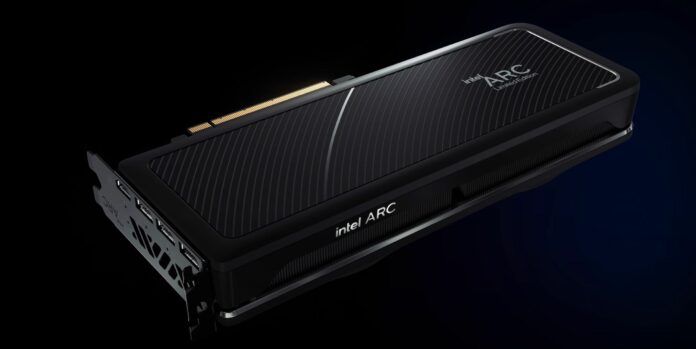 The much-awaited Intel Arc GPUs have already been released in China. Coming to western shores later on in the year, a lot is already known about the underlying architecture and in-game performance. Now, wccftech claims to have pricing for the desktop Arc stack, comparing it with current Nvidia and AMD competitors. Intel's purported positioning and pricing makes for wholesome reading.
As you may know, Intel segregates the Arc line-up into 300-, 500-, and 700-series. A310 and A380 use the smaller, leaner ACM-G11 die whilst A580, A750 and A770 harness ACM-G10 for up to 32 Xe cores and more performance. Zooming in, A300-series is designed as the first step up from integrated graphics, offering, we imagine, FHD gameplay at medium-quality settings. A580 likely ups that to FHD with high/max settings and A750/A770 appears, on paper at least, to be QHD high/max settings type of GPUs.
The first point of note is where Intel is capping probable performance. Going by the chart, A770 is the premier solution featuring either 8GB or 16GB of memory. Intel quotes a power budget of 225W, which is noticeably higher than competitor Radeon 6650 XT's 180W and Nvidia's RTX 3060 Ti's 200W. Matters get worse when comparing A580 to rivals, as Intel looks to cede performance to Radeon RX 6600, even though the power budget is significantly higher than AMD's better-performing solution.
We're surprised to see no model in the crucial $150-$199 space – A380 is not powerful enough and A580 appears to be too robust to fit in. It's likely Intel will release a slower A500-series card eventually, tapping into this rich mainstream seam.
It makes sense for Intel to stack the mainstream end of the market ($99-$379) first as that's where the real volume is. There's still time for Intel to fine-tune drivers with an eye on increasing overall performance for each SKU in the line-up… and going by the chart, it will need to. From our point of view, it won't be difficult for Nvidia and AMD to counter-market against the burgeoning Intel line-up – the pair already has proven in-market GPUs that offer predictable gaming performance achieved through years of experience.
The fight is on… and Intel is the underdog.