Jump to: Design | Performance | Gaming | Conclusion
Today's laptops offer unprecedented levels of performance. Whether it's a sleek 14in portable or 16in gaming machine, there are many ways to achieve the requisite punch at any given size. But what if you want more? A lot more. Old-school desktop replacements are few and far between, and manufacturers have by and large shied away from mammoth solutions in favour of slimmer, modern designs.
You can always rely on one of Taiwan's enthusiast brands to step up, and MSI is never afraid to turn the dial way up past 11. For 2022, the firm is resurrecting the all-singing, all-dancing line of Titan behemoths with the all-new GT77, starting at a cool $3,199.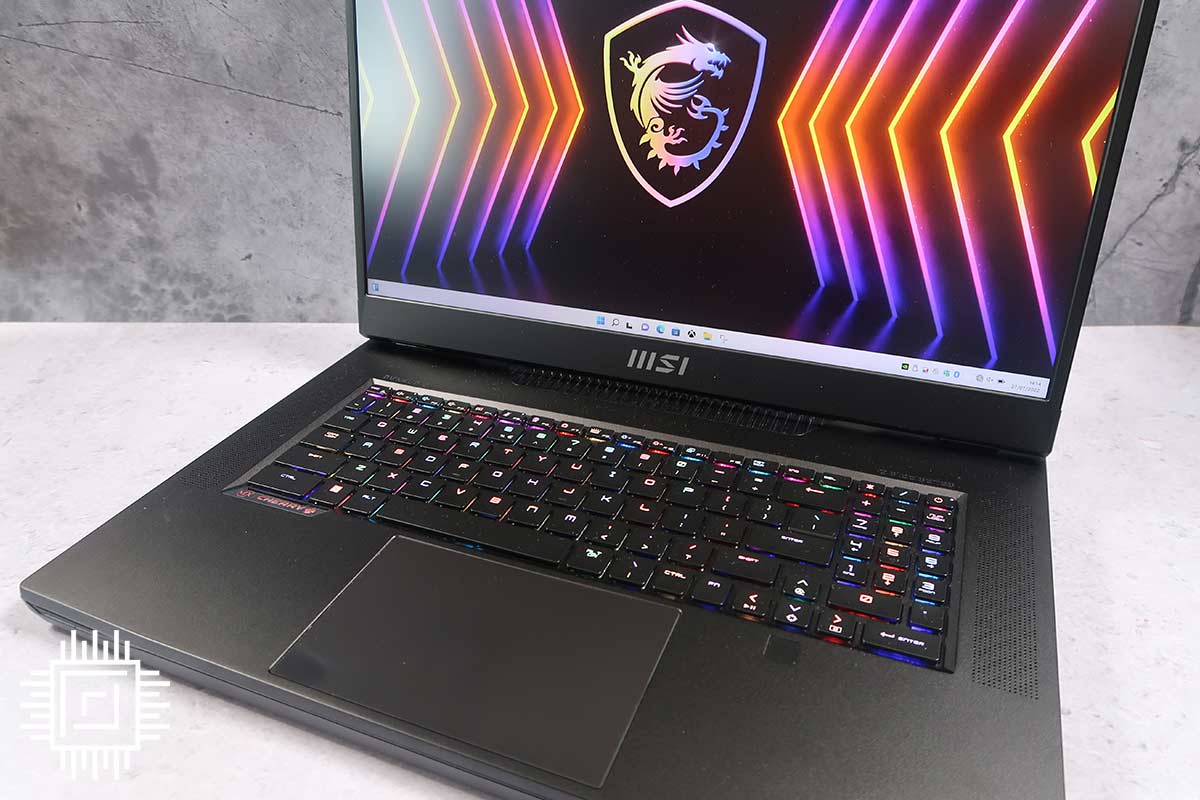 At first glance, this latest reincarnation bears little resemblance to the monstrosities that came before. Gone are the gaudy red accents and stocky display bezels, and in comes a less ostentatious exterior. You'll still notice it, of course – chunky dimensions of 397mm x 330mm x 23mm make sure of that – but as far as desktop replacements are concerned, GT77 is relatively tasteful. Putting those measurements into perspective, I recall testing a Titan laptop with SLI graphics back in 2016 that measured 456mm wide and a whopping 49mm thick!
A Sleeker Titan
Size has certainly improved and so too has weight. GT77's 3.3kg heft signals a reduction of 40 per cent compared to the aforementioned Titan SLI. It's undoubtedly a beast, but one I'd be fine carrying from A to B in a suitably-sized backpack. Keeping weight down to a reasonable level has resulted in largely plastic construction, yet while there's a bit of flex to the keyboard tray and display lid, the unit as a whole feels sturdy enough.
It could be argued MSI has managed to find an acceptable middle ground in terms of design. Titan GT77 is never going to be the sleekest of laptops, and nor should it be. The dragon logo on the lid is RGB backlit, as is a 70mm-deep ventilation arrangement residing behind the display hinge, yet while clearly a gaming laptop on the outside, turn off the RGB and it becomes a much more business-like environment.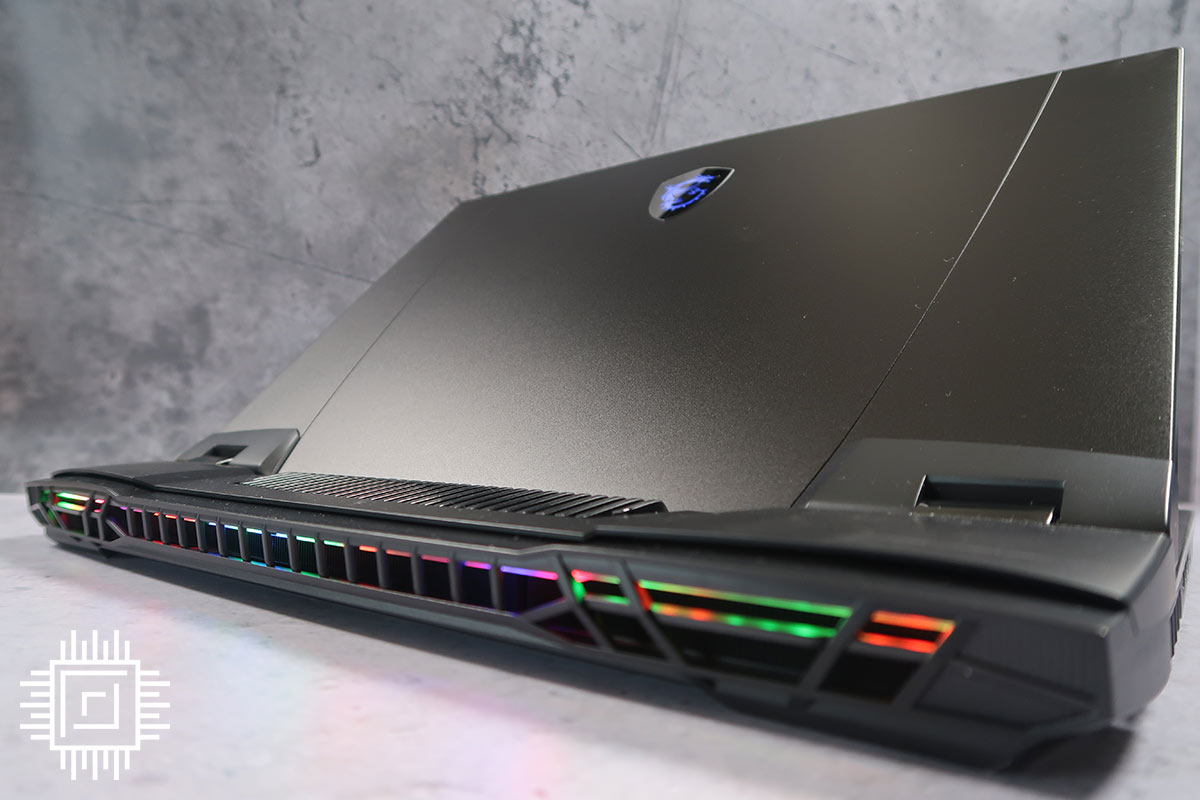 A plus point, as expected on a laptop of this magnitude, is MSI has managed to shoehorn a good amount of firepower and functionality. The full-size backlit keyboard, with numpad, doesn't feel cramped and comes equipped with ultra-low-profile Cherry MX mechanical key switches. An accompanying 84mm x 130mm trackpad is positively huge, and there are two forms of biometric security; an IR webcam for face recognition, as well as a fingerprint reader.
A recurring caveat, however, is that while MSI's configuration tends to include everything but the kitchen sink, overall implementation leaves room for improvement. A mechanical keyboard, for example, ought to be a plus point, but keys on our sample exhibit a high-pitched ping that's difficult to ignore. Similarly, Windows Hello face recognition is welcome, but a basic 720p webcam resolution feels woefully out of place.
Powerful Innards
Users contemplating a Titan are far more concerned with what's beneath the hood, and make no mistake, there's plenty of firepower where it counts. MSI offers a choice of 12th Gen Intel Core HX Series processors, up to 64GB of DDR5 memory and dedicated Nvidia GeForce RTX graphics. Just be prepared to dig deep into that wallet, as while the base $3,199 spec affords a Core i7-12800HX processor, 32GB of RAM and RTX 3070 Ti graphics, our review unit is likely to fetch closer to $5,000.
Exact pricing is yet to be determined, as is spec availability per region, but our test system packs a flagship 16-core, 24-thread Core i9-12900HX CPU, 64GB of RAM, four (yes, four) 1TB Samsung PM9A1 M.2 SSDs and a top-of-the-range GeForce RTX 3080 Ti Laptop GPU. In terms of user upgradeability, all four DIMM and M.2 slots are easily accessible, as is the Wi-Fi adapter.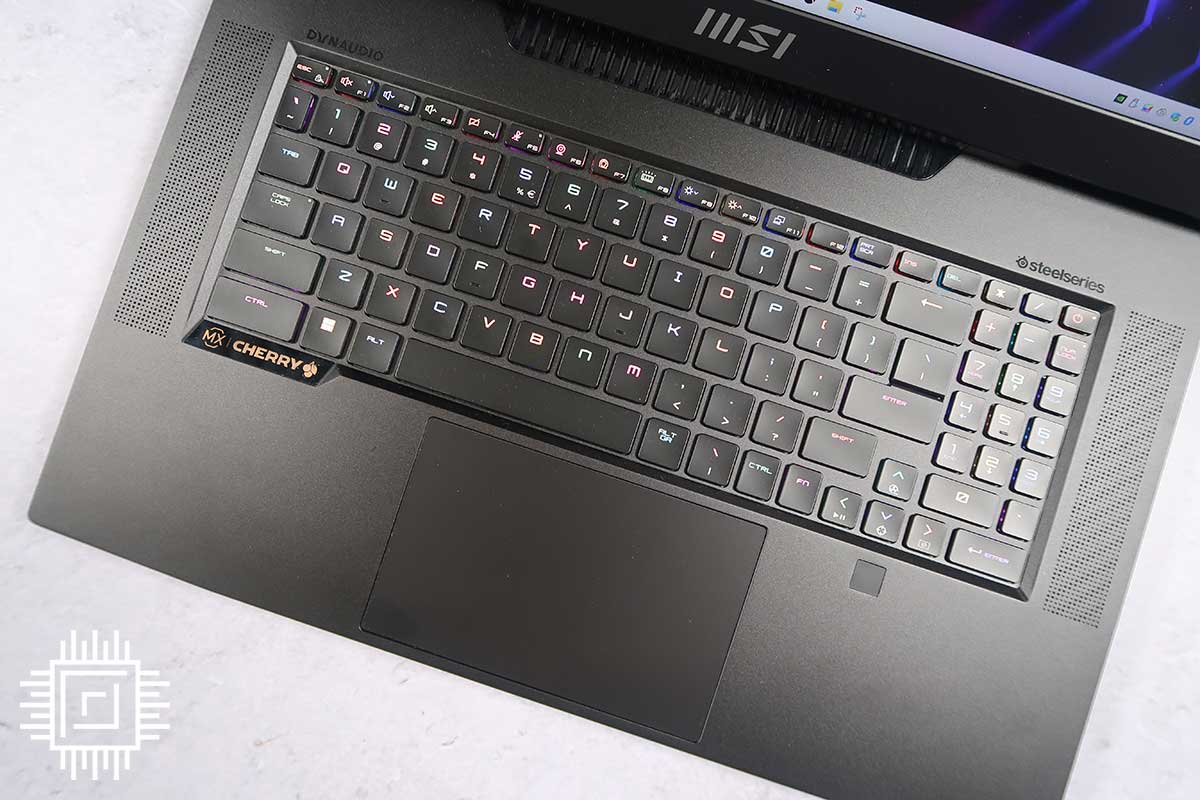 Performance is hardly going to be lacking and MSI goes right ahead in plumbing all that dynamism into a 17.3in 1080p display with a blazing-fast 360Hz refresh rate. Not quite as outrageous as the latest Alienware, but e-sports gamers will feel right at home, and for prosumers there will be an optional 4K120 panel with superior colour coverage. Sadly, it seems neither will support G-Sync as standard.
Rounding out the specification is 2.5GbE Killer LAN, Killer Wi-Fi 6E, a 99Whr battery and an above-average speaker system comprising upward-firing stereo speakers and two woofers. Connectivity is comprehensive, too, with the laptop's right side presenting LAN, HDMI, Mini-DisplayPort, two Thunderbolt 4 Type-C and a USB 3.2 Gen 2 Type-A. Over on the left you'll find a headphone jack, full-size SD card reader, two further USB 3.2 Gen 2 Type-A, plus a connector for the external 330W power supply.
Familiar Limitations
Such lofty ammunition has obvious benefits – we'll get to the benchmark-busting results shortly – however there are typically some wrinkles when manufacturers attempt to shoehorn so much into tight confines. In the case of Titan GT77, fan noise is definitely one of them. MSI's cooling configuration consists of four fans, seven heatpipes and six exhausts, and though reasonably quiet during everyday tasks, it becomes obnoxiously loud when the CPU is placed under maximum loud.
Fan noise is, in our estimation, one of Titan GT77's biggest drawbacks, but there are other considerations, too. The brick-like PSU, for example, weighs almost 1.2kg alone and severely hampers portability. On the other hand, stick it under the desk and it'll do a decent job of keeping your toes warm.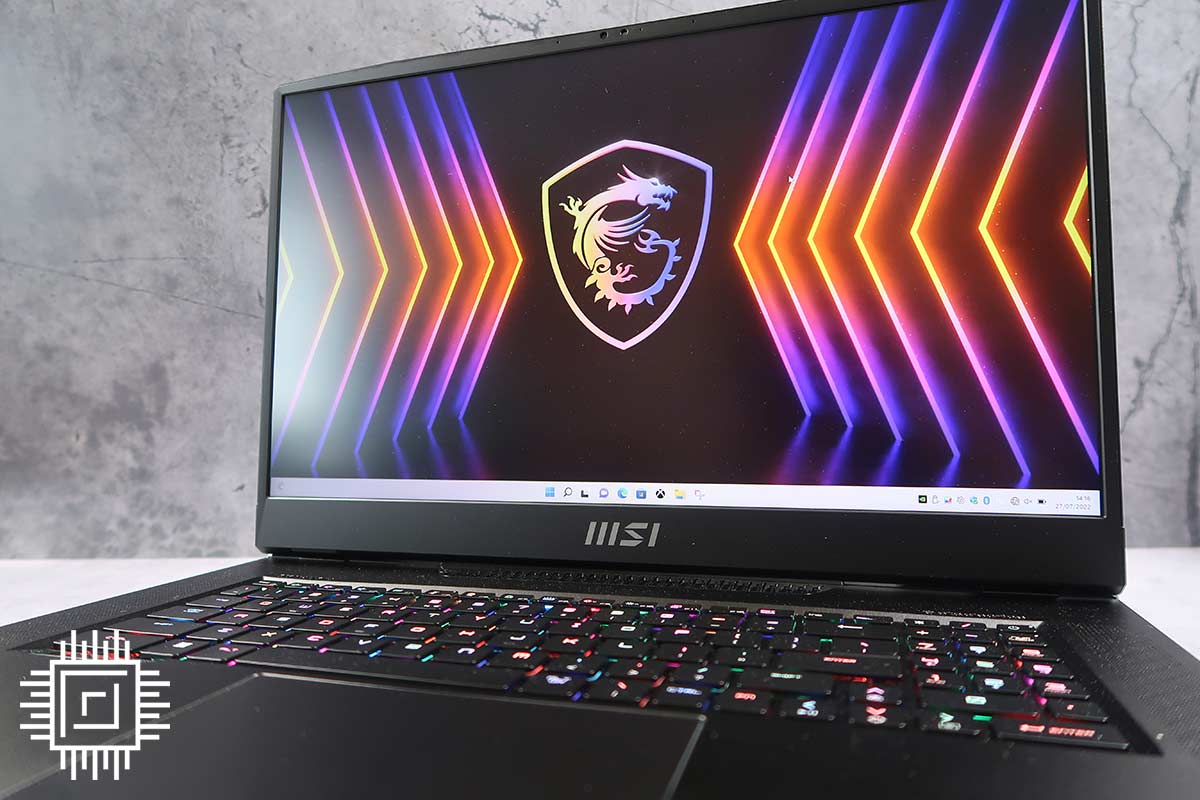 It is also worth pointing out an unexpected incompatibility following a recent Windows Update, whereby the latest Intel graphics driver fell foul of MSI's True Color application, resulting in a washed-out, whitened image that needs manual intervention. Regrettably, MSI's convoluted resolution entails using a third-party display driver uninstaller, loading the latest available GPU drivers from Intel and Nvidia, and then the latest release of True Color. All this should be done while disconnected from the Internet.
Not quite the out-the-box experience you'd expect from a ~£5,000 product, and we're hopeful retail machines will ship with working software from the get-go. An unexpected wrinkle, yet for performance aficionados such concerns quickly fall by the wayside when you see exactly what this laptop can do.
Performance


Laptop CPUs simply don't come any faster than the Intel Core i9-12900HX. With eight performance cores allied to eight efficient, this 16-core, 24-thread chip raises the bar by some distance.
A 5GHz top speed certainly helps proceedings, and while a 157W maximum turbo power is not to be scoffed at, there's no denying the sheer abundance of performance. Putting the multi-core Cinebench result into perspective, a desktop Ryzen 9 5950X scores 24,643, placing Titan GT77 within striking distance.


We see similar excellence in Geekebench. As far as CPU performance is concerned, Titan GT77 is easily the most capable laptop we've ever tested. In this instance, the multi-core score actually beats the 15,980 achieved by a full-fat desktop Ryzen 9 5950X.


MSI's implementation of latest-generation DDR5 entails four 16GB modules. Bandwidth and latency are naturally very good.


Storage is a little more peculiar. We've seen manufacturers such as Lenovo resort to RAID in an effort to ramp-up sequential performance, but MSI plays it safe. The 1TB Samsung PM9A1 M.2 SSD is nonetheless fast, and remember there are four of them to play with for a total 4TB capacity.


We're perplexed to see a relatively low PCMark score. Re-runs are consistent and we're struggling to explain that one outlier. 3DMark puts us firmly back on track, with Nvidia's GeForce RTX 3080 Ti Laptop GPU delivering chart-topping results once again.

Show your support for impartial Club386 reviews
Club386 takes great pride in providing in-depth, high-quality reviews built on honest analysis and sage buying advice. As an independent publication, free from shareholder or commercial influence, we are committed to maintaining the standards our readers expect.
To help support our work, please consider making a donation via our Patreon channel.
Gaming



Despite RTX 3080 Ti branding, readers ought to be aware of specification differences between desktop and laptop parts. While the former boasts 10,240 cores, the smaller, more efficient laptop equivalent scales back to 7,424 cores at lower frequencies.
Still, Nvidia's mobile part benefits from more memory (16GB vs. 12GB), and RTX 3080 Ti Laptop has the best chance of realising the full potential of a 1080p display with a 360Hz refresh rate.
| | FPS @ 1080p | FPS @ 1440p | FPS @ 2160p |
| --- | --- | --- | --- |
| Assassin's Creed Valhalla (Ultra High Quality) | 88 | 71 | 45 |
| Dirt 5 (Ultra High Quality, Raytraced Shadows On) | 99 | 82 | 52 |
| Far Cry 6 (Ultra Quality, HD Textures and DXR On) | 94 | 76 | 47 |
| Gears Tactics (Ultra Quality) | 150 | 103 | 52 |
Attaching the laptop to an external monitor, we also bench a handful of more demanding titles to gauge performance at various resolutions. FHD and QHD are no problem, but 4K UHD is arguably a step too far – you'll need to lower quality settings in most titles to achieve the desired 60 frames per second.
Display and Vitals



Titan GT77 has enjoyed top spot in many of the tests thus far, but the tables have turned in the display department. While a 360Hz refresh rate bodes well for super-fast, super-smooth gaming, the 17.3in IPS panel is distinctly average in most other regards.
Middling colour coverage is joined by poor out-the-box accuracy and peak brightness falls just shy of 300 nits. There's no support for HDR and, outside of refresh rate, the panel feels noticeably uninspired at this price point. We're left feeling as though MSI's optional 4K display will be a better bet.


You saw this one coming, didn't you? Core i9-12900HX is hella fast, but it's also a particularly thirsty chip. Heightened power consumption leads to toasty temps, which have a knock-on effect…

…yep, we weren't kidding when we said this thing gets loud. Anything over 45dB can be deemed noisy, but over 55dB is downright annoying. Makes you wonder about the thinner chassis; would users accept a thicker frame in favour of lower temps and reduced noise? Food for thought.

And how slim/portable does a desktop replacement really need to be? Using PCMark 10's Modern Office test, which intermittently tasks the laptop with writing, web browsing and video conferencing workloads, we configure each system with a purpose-built power plan, wireless radios disabled, and screen brightness set as close to 200 nits as possible using a calibration device.
A run time of just over six hours isn't terrible for this manner of gaming beast, yet as was the case with old-fashioned desktop replacements, you can't help feel that GT77 is best left plugged in at all times.
Conclusion
MSI's latest Titan laptop remains true to form as a powerhouse PC designed to incorporate the very best mobile CPU and GPU combinations. In the case of our top-spec review unit, GT77 marries an Intel Core i9-12900HX processor with GeForce RTX 3080 Ti Laptop graphics.
A potent pairing, for sure, and just for kicks MSI adds 64GB of DDR5 memory and four 1TB M.2 SSDs delivering on both performance and capacity. Such is the allure of core hardware that it's surprising to see glaring weaknesses in the supporting cast. A 720p webcam has no place on a laptop of this stature, and the 17.3in 360Hz display, while incredibly fast, misses the mark in terms of colour coverage, accuracy and brightness.
Other caveats include raucous fans, a hefty power supply and of course a princely price tag. Such drawbacks remain consistent between generations, yet MSI's 2022 interpretation does add immediate benefits. A restrained aesthetic is easier on the eye, connectivity is brought right up to date, and the Intel CPU at the helm delivers a level of performance that puts most full-size desktops to shame. For the target market, that's precisely what matters.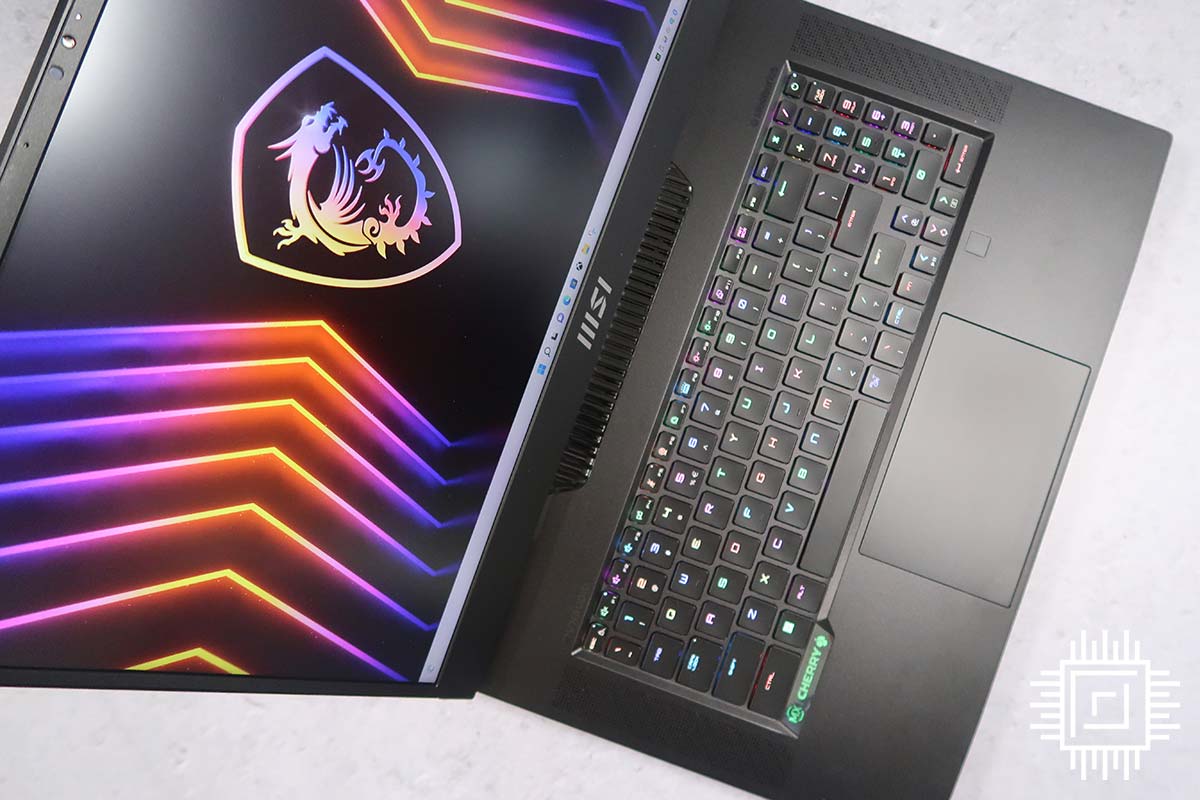 MSI Titan GT77
Verdict: a desktop replacement in every sense, high-performance laptops don't come much more potent than this.
---
Pros
Stonking CPU performance
Top-class gaming credentials
Mobile desktop replacement
Comprehensive connectivity
Restrained aesthetic
Four M.2 drive bays
Cons
Huge price tag
Uninspired 1080p display
Gets obnoxiously loud
Basic 720p webcam
Pinging keys
---
Club386 may earn an affiliate commission when you purchase products through links on our site. This helps keep our content free for all.
Rest assured, our buying advice will forever remain impartial and unbiased.