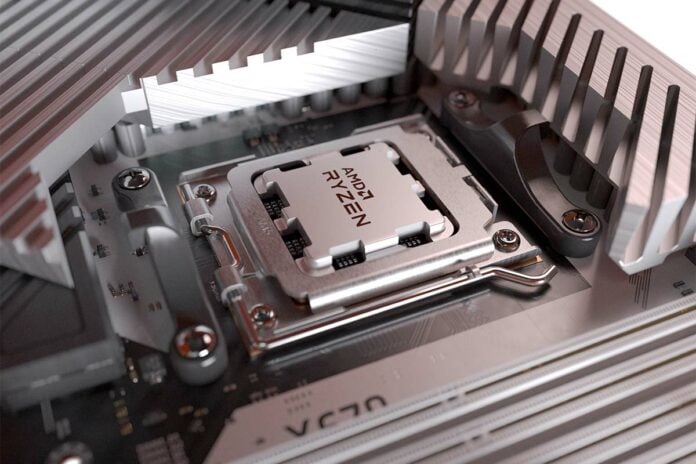 It's all change for AMD's desktop CPU platform in 2022. Released in 2017 to much fanfare, Ryzen-supporting AM4 is finally being shown the upgrade door and being superseded by AM5. Today, AMD has announced the new platform will feature similarly impressive longevity and has 'support planned through 2025.'
That's a big deal as it gives early adopters confidence that generation after Ryzen 7000 Series will also reside on an AM5 platform, meaning they can invest in a high-quality motherboard and not worry about chopping platforms anytime soon.

As a recap, AM5 ushers in a new socket known as LGA1718 – where the pins are on the motherboard rather than CPU – support for DDR5 and PCIe 5.0 (the latter depending upon specific chipset), and heightened power capabilities required to install processors consuming up to 230W of socket power out of the box.
Coming back to the present, high-performance X670 and X670E arrive in September, coinciding with general availability of the four Ryzen 7000 Series processors. A month later, value-focussed B650 and B650E hove into view.

Like the X-series, B650E has support for both PCIe 5.0 graphics and PCIe 5.0 M.2 slots for storage. More will be known of its capabilities in the weeks running up to launch, including how it materially differs from X670(E), though AMD has said that B-series AM5 boards will retain overclocking capabilities.
Looking to woo the enthusiast with modest budgets, AMD further says B-series boards will start at just $125, though we don't expect many at that price point. Nevertheless, A B650 paired with a Ryzen 5 7600X and cheaper DDR5 memory looks to be a potent combination on paper. That said, it feels like AMD has missed a trick in, unlike Intel, not providing DDR4 support to the lower echelons of AM5.
As AMD is not launching lower-than-7600X chips in the initial wave and with due knowledge of memory distinctions for platforms, AM5 and AM4 will coexist for quite a while. A sensible move that enables the company to deplete AM4 stock that's currently residing in the channel… until a time when DDR5 becomes cheaper than incumbent DDR4.