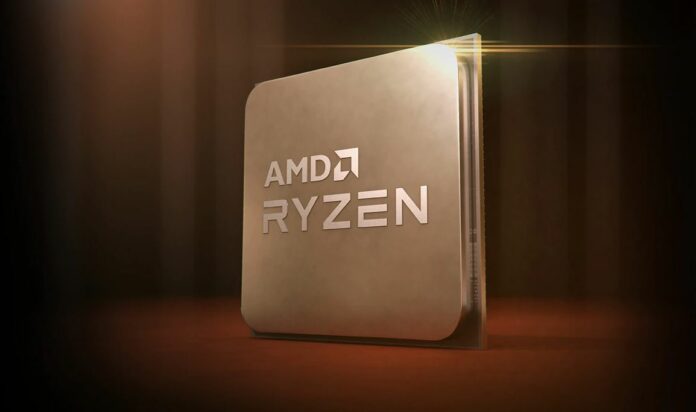 Revealed at the turn of the year, Ryzen 7 5800X3D is a novel processor housing triple the L3 cache as regular models. AMD cites moving from 32MB to 96MB as a significant boon for gaming and other cache-heavy applications. So much so, in fact, that performance uplift of 20 per cent has been put forward, even though the X3D model operates at marginally lower frequencies. Putting some meat on the bones before the official April 20 reveal, a Geekbench 5 leak provides interesting numbers.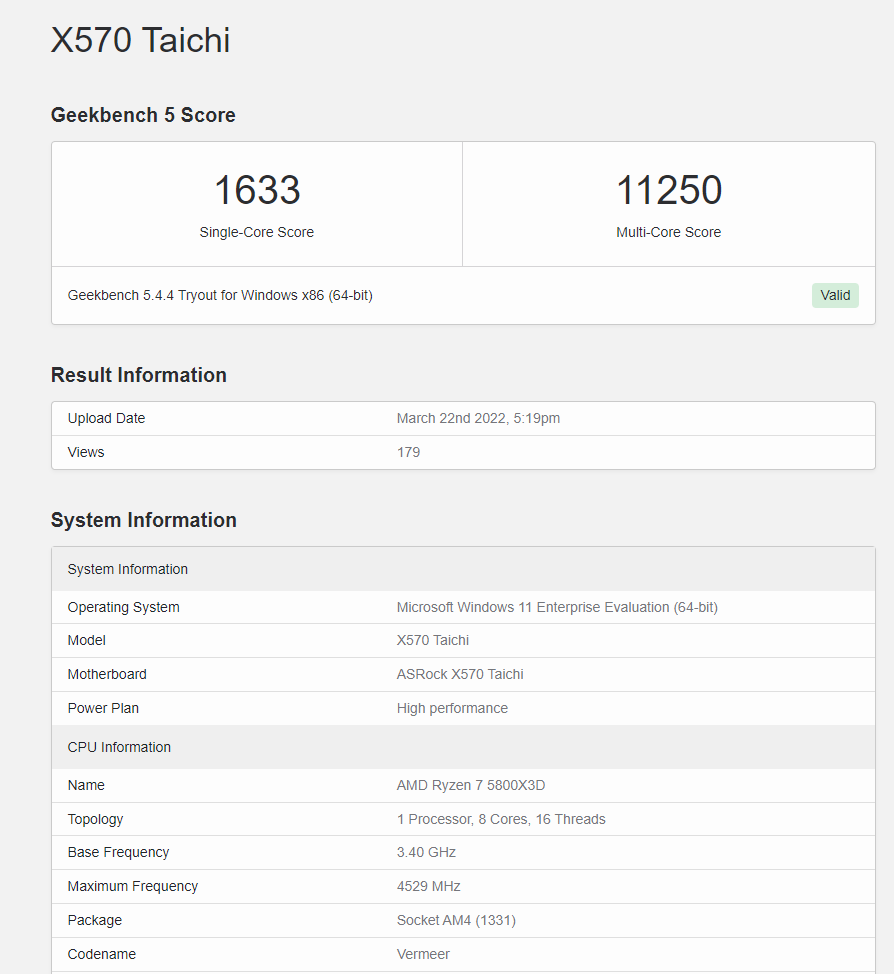 Someone's been busy testing said chip on an ASRock X570 Taichi motherboard. The stated 3.4GHz base and 4.5GHz boost frequencies marry up to official AMD specifications, so we know the chip, imbued with 3D V-Cache, is running correctly.
We can take the posted score at face value and transplant the single- and multi-core efforts into our own graphs, as we handily use Geekbench 5 in testing.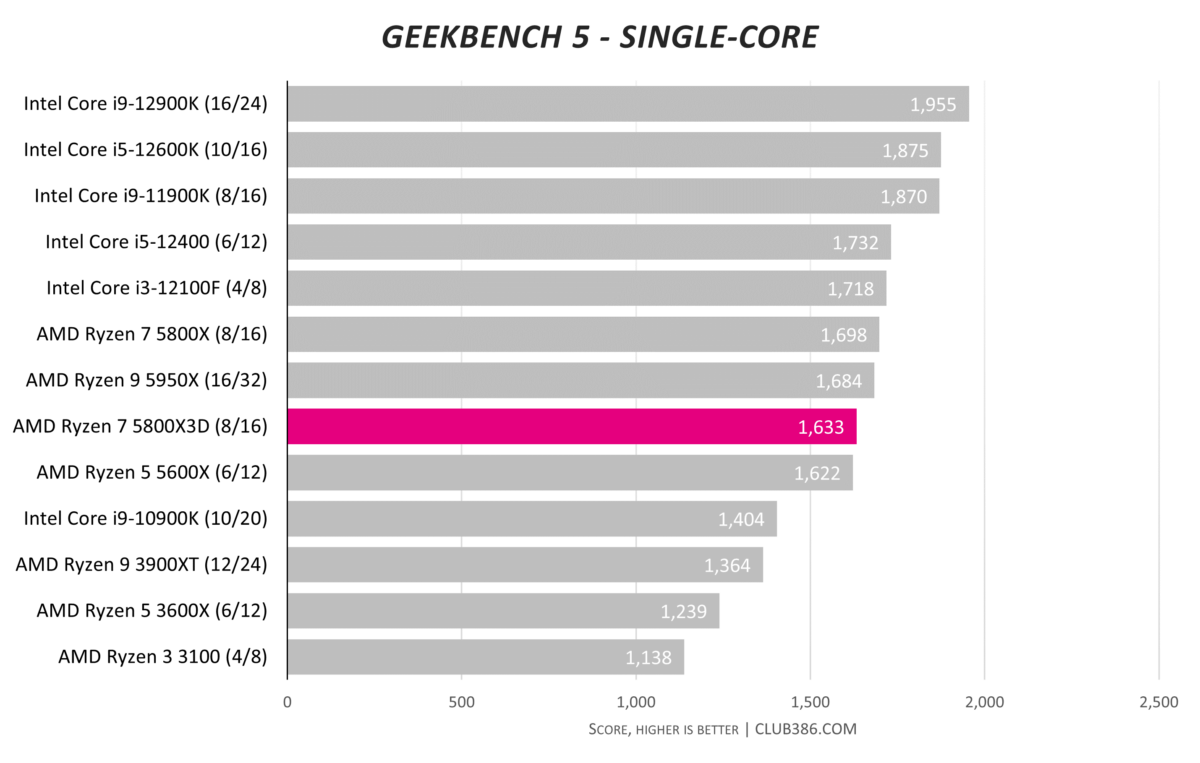 Understanding Ryzen 7 5800X3D's peak speed is 200MHz lower than the non-X3D's 4.7GHz the single-core score makes sense. Geekbench 5 isn't typically sensitive to large levels of L3 cache for single-thread applications, meaning it's not the best benchmark to illustrate gains.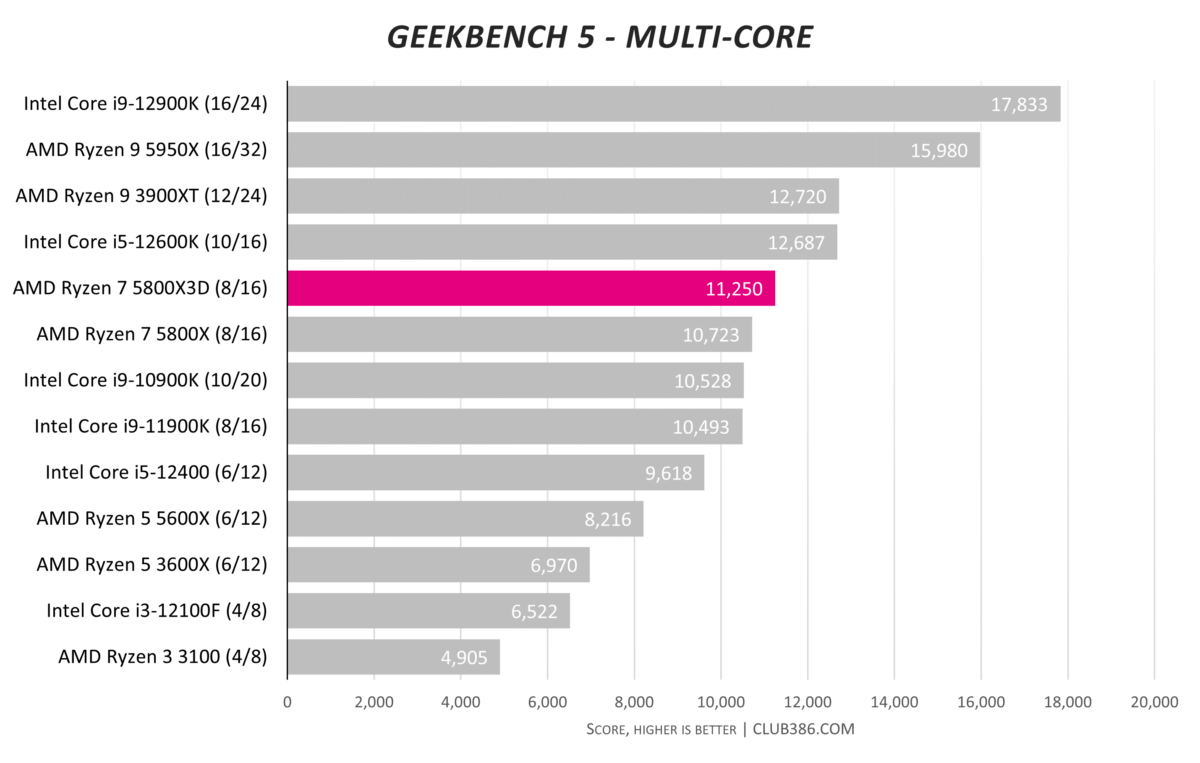 Moving on over to multi-core paints a different picture. AMD doesn't provide a hard-and-fast all-core speed for Ryzen processors, instead relying on built-in smarts to elevate frequency once cooling and environmental conditions have been factored in.
Nevertheless, there is a five per cent uptick compared to our in-house-tested Ryzen 7 5800X, suggesting oodles of extra cache is more beneficial when all cores are under the cosh. This analysis is valid because both chips share a 105W TDP. Those interested in massive multi-core performance will likely skip this chip because far more can be gained with investing in a 16-core model from either AMD or Intel.
To that end, the true success of Ryzen 7 5800X3D rests with how it performs when gaming – it's put forward as the world's fastest CPU for this use case – and just how it compares to the upcoming Core i9-12900KS from Intel. Roll on April 20.