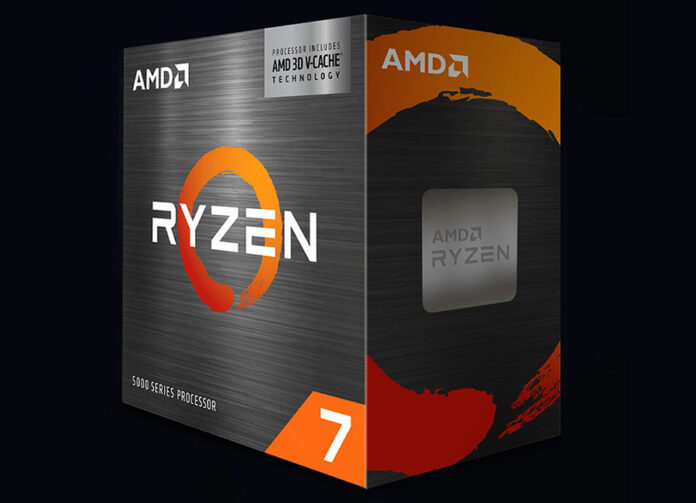 AMD has officially announced a sweeping refresh of its consumer Ryzen processors, launching seven new models uniquely positioned to counter the growing Intel Alder Lake threat.
Headlining the new additions is Ryzen 7 5800X3D, arriving April 20 at a cost of $449. AMD's first desktop part to feature 3D V-Cache technology, the well-documented chip is intended to wrestle back the crown of world's fastest gaming CPU and combines a familiar eight-core, 16-thread Zen 3 configuration with additional, vertically stacked cache.
An extra 64MB on each chiplet triples the amount of available L3 cache from 32MB to 96MB, and though boost clock drops from 4.7GHz on the regular 5800X to 4.5GHz on the 5800X3D, in-game performance improvements are said to measure as high as 15 per cent.
Model

Cores / Threads

TDP

L3 Cache

Base Clock

Boost Clock

Launch MSRP

AMD Ryzen 9
5950X

16 / 32

105W

64MB

3.4GHz

4.9GHz

$799

5900X

12 / 24

105W

64MB

3.7GHz

4.8GHz

$549

AMD Ryzen 7
5800X3D

8 / 16

105W

96MB

3.4GHz

4.5GHz

$449

5800X

8 / 16

105W

32MB

3.8GHz

4.7GHz

$449

5700X

8 / 16

65W

32MB

3.4GHz

4.6GHz

$299

5700G

8 / 16

65W

16MB

3.8GHz

4.6GHz

$359

AMD Ryzen 5
5600X

6 / 12

65W

32MB

3.7GHz

4.6GHz

$299

5600G

6 / 12

65W

16MB

3.9GHz

4.4GHz

$259

5600

6 / 12

65W

32MB

3.5GHz

4.4GHz

$199

5500

6 / 12

65W

16MB

3.6GHz

4.2GHz

$159

4600G

6 / 12

65W

8MB

3.7GHz

4.2GHz

$154

4500

6 / 12

65W

8MB

3.6GHz

4.1GHz

$129

AMD Ryzen 3
4100

4 / 8

65W

3MB

3.8GHz

4.0GHz

$99
Keen pricing makes the cache-laden Ryzen 7 an intriguing challenger to Intel's upcoming Core i9-12900KS, but it is further down the stack that AMD's refresh really holds weight. The current Ryzen product line had neglected mid-range and low-end segments for too long, and spurred by growing popularity of low-cost Intel Core i5 and Core i3 models, the bulk of AMD's new parts target the sub-$300 bracket.
Note that excluding OEM-exclusive CPUs, AMD's desktop Ryzen portfolio has more than doubled in size with today's announcement, and five of the seven new processors land under mainstream Ryzen 5 and Ryzen 3 umbrellas.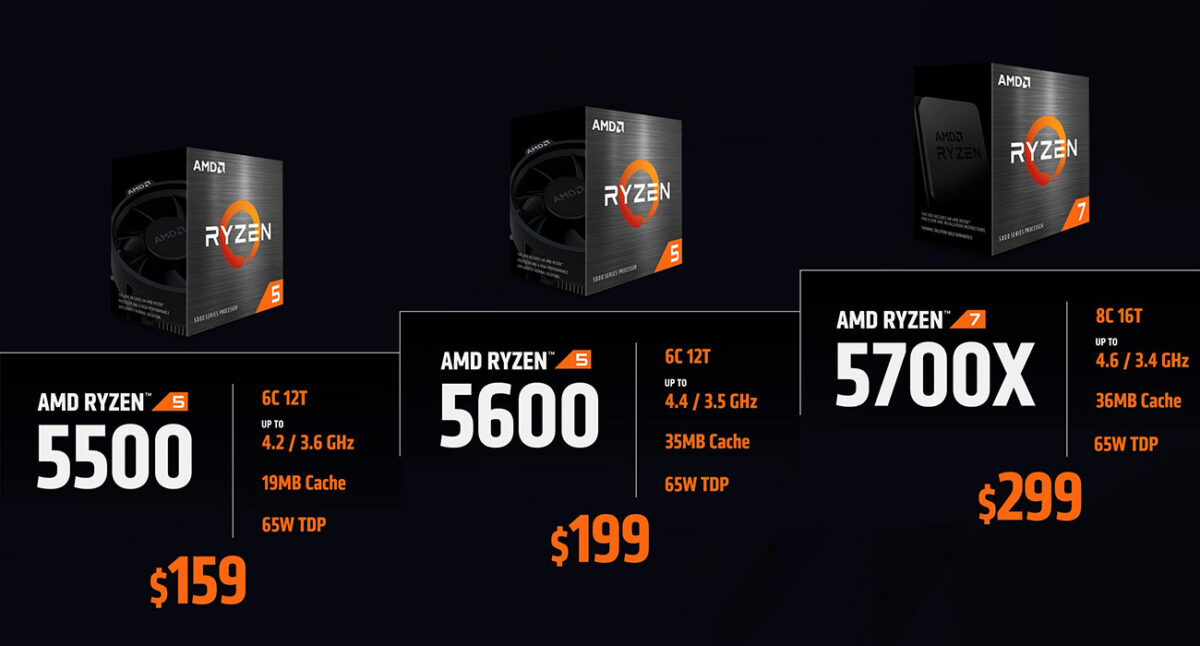 Extending Zen 3's reach to new price points, a trio of 65W newcomers span the $159 to $299 market. At the top end of that scale, Ryzen 7 5700X will battle Intel's Core i5-12600K and becomes the first desktop Zen 3 CPU to offer eight cores and 16 threads for under 300 bucks.
AMD knows exactly where to pick a fight. Six-core, 12-thread Ryzen 5 5600 is positioned at $199 to combat the similarly priced Core i5-12400, and it is no surprise to see the Ryzen 5 5500 undercut Intel's Core i5-12400F at $159.
Complicating the line-up somewhat, AMD has had to source whatever silicon happened to be available, leading to a mix-match of cache configurations. Ryzen 7 5700X and Ryzen 5 5600 are hewn from Zen 3 'Vermeer' die, whereas Ryzen 5 5500 is based on Zen 3 'Cezanne' parts carrying less cache and originally intended for mobile. One would assume Cezanne chips whose IGP didn't make the grade are being repurposed here for desktop use.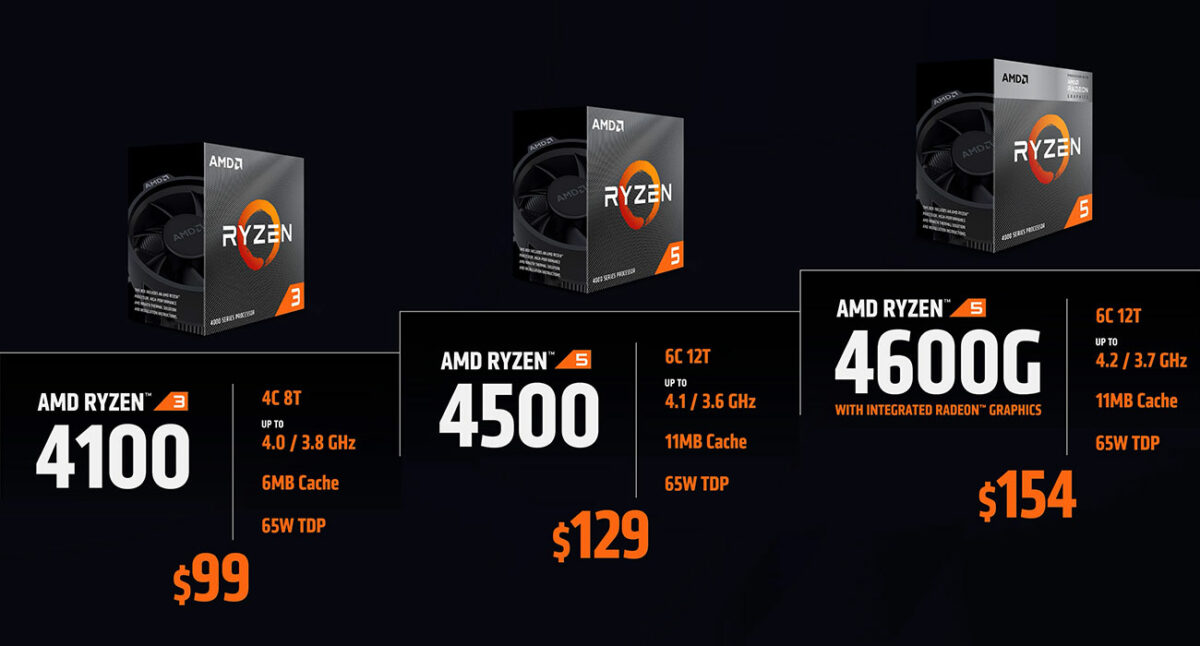 Segmentation becomes even more apparent at the low-end, where AMD has reverted back to Zen 2 'Renoir' in order to flesh out its range. Ryzen 5 4600G, at $154, is the only new addition to feature integrated Radeon graphics, while the four-core Ryzen 3 4100 is a clear challenger to Intel's Core i3-12100F in the ultra-competitive sub-$100 market. All Ryzen 5 and Ryzen 3 models will come bundled with a stock AMD Wraith cooler and availability is expected starting April 4.
AMD's drastic response to Intel's vast range of 12th Gen Alder Lake parts ultimately spells good news for consumers. While prices on current parts have been plummeting in recent months, these new additions offer affordable drop-in upgrades on the long-standing AM3 platform.
To that end, AMD has also taken this opportunity to confirm Zen 3 support is officially coming to select 300 Series motherboards. Compatibility on X370 and B350 will require a new BIOS update based on AGESA 1207, which also includes a fix for fTPM stuttering. According to AMD, motherboard vendors are expected to start issuing relevant updates in April and May.
Has AMD done enough to grab your attention, or are you already looking ahead to 5nm Zen 4, scheduled to launch in the second half of 2022? Either way, it's a good time to be in the market for a new CPU.
---
"AMD's fastest 8 core processor for mainstream desktop, with 16 processing threads."
We earn a commission if you make a purchase, at no additional cost to you.