Jump to: Specification | Performance | Gaming | Conclusion
Itching to drop a large wad of cash on a new gaming PC? There's never been a better time to do it. For years, top-end hardware has flattered to deceive through a combination of large premiums and minor uplifts in performance – here's looking at you, Core i9-12900KS and RTX 3090 Ti – but the latest generation sets the record straight. There's no free lunch in late 2022, however, as the large premiums remain, yet performance uplift is such that perceived value is much improved.
UK system integrator Cyberpower wants to play in that arena with the Infinity X139 RTX Gaming PC, a £4,000 rig destined to deliver benchmark results that are borderline off the scale.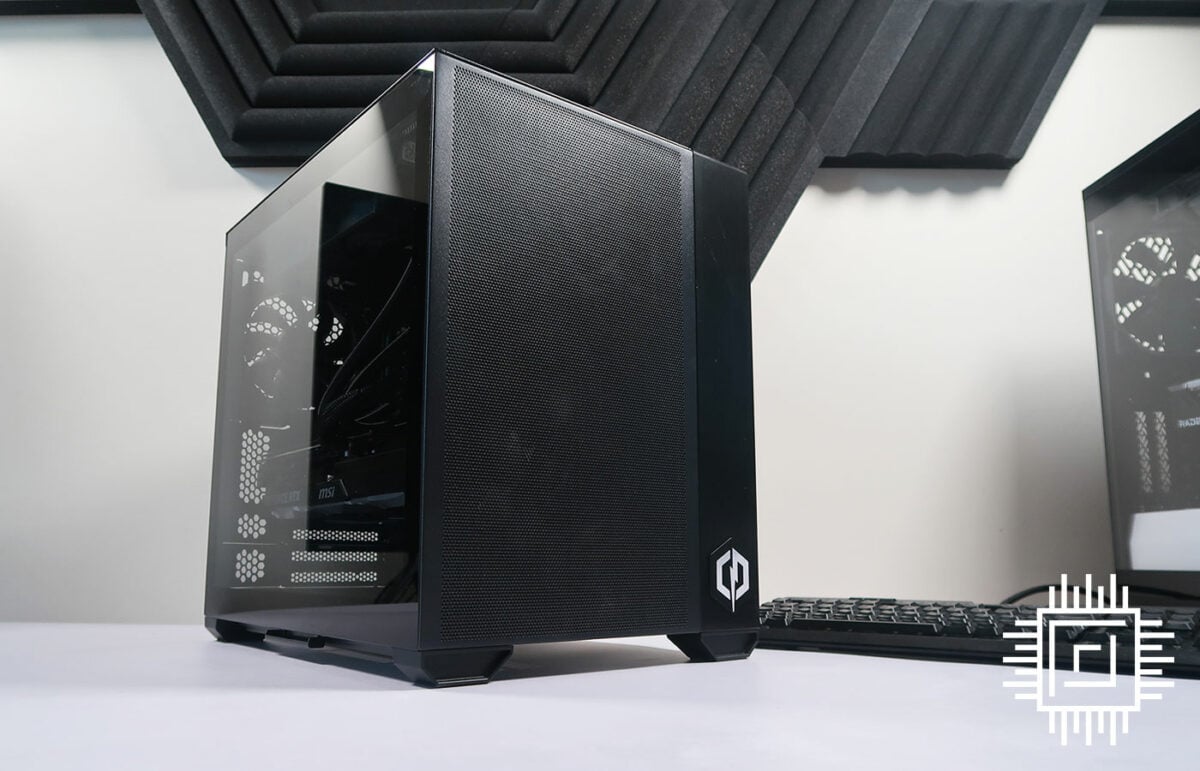 Given the lavish fee, this is a surprisingly tranquil build. RGB lighting is restrained, there's no complex cooling loop, and it doesn't take a five-a-side team to carry it up the stairs. Today's PCs are much easier to assemble, and Cyberpower chooses a Lian Li O11 Air Mini chassis as its foundation with good reason. The 465mm (H) x 476m (D) x 272mm (W) case is less imposing than your typical tower yet retains good airflow, tidy cable management and excellent build quality. The brushed-aluminium trimmings feel a step up from many plastic competitors, while top I/O, as you'd expect, includes both USB Type-A and Type-C.
Specification
The unassuming exterior gives way to assured interior hardware, where components effectively pick themselves. CPU? It has to be a flagship Core i9-13900K, doesn't it? GPU? Look no further than a benchmark-busting MSI GeForce RTX 4090. The headline duo resides on an MSI MAG Z790 Tomahawk WiFi motherboard, outfitted with 32GB (2x16GB) of Kingston Fury Beast RGB DDR5-5600 memory and a 2TB Fury Renegade PCIe 4 NVMe SSD.
Any old schoolers among us will argue it's all too easy. Remember having to try and shoehorn in an optical drive, wide IDE cables and all the extra expansion cards you needed for connectivity? Now you have Wi-Fi 6 hanging off the motherboard, and more USB than you're ever likely to need.
The streamlined evolution of high-end rigs is reflected in few visible cables and a rear compartment that feels sparse. You do get to spy the 1,200W Corsair HX Series Platinum-rated power supply, which while plenty powerful, doesn't offer native ATX 3.0 support. A shame, really, as a single cable would look tidier than the three-way, eight-pin adapter that's used.
CPU cooling is handled by a Corsair iCue H100i RGB Elite 240mm liquid cooler, and the radiator's dual 120mm fans, coupled with the chassis' 140mm intakes and 120mm exhaust, ought to deliver ample airflow for the hot-running Intel chip. Outside of the components themselves, it's good to see Cyberpower pay attention to delivery and warranty. Our review system arrived particularly well packaged, with expanding foam inserts keeping everything secure, while the standard five-year warranty includes six months collect and return, 24 months parts, and labour for the duration.
That feeling of a clean, minimalist build extends to software – Windows 11 is loaded only with manufacturer-specific apps such as Corsair iCue – but if we're being picky, RGB lighting leaves room for improvement. As it stands, the Kingston Fury Beast memory is vividly lit, the Corsair CPU block is more subdued, while the MSI RTX 4090 Ventus 3X graphics card has no illumination whatsoever. The trio don't harmonise and rather than being either bright or stealthy, Infinity X139 RTX is twixt and between.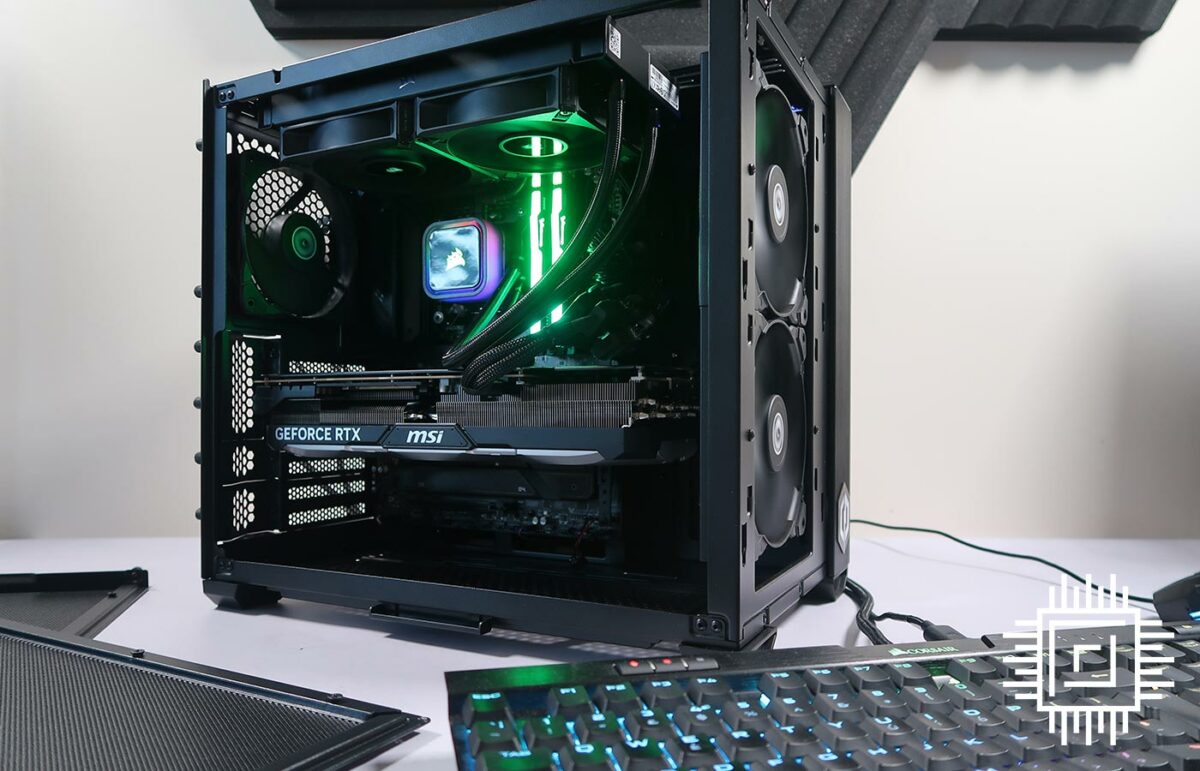 Cyberpower's online configurator will no doubt have a long list of available options for those favouring more or less illumination – the build looks quietly menacing with no lighting at all – yet from a pure performance perspective, there's not a great deal we'd look to change.
There is always the question of whether or not experienced users (or even interested novices) should build such a machine themselves. Seeing what's available at various retailers, we estimate a cost of ~£3,800 to buy all the aforementioned components, or their nearest equivalent, plus Windows 11. Cyberpower is therefore charging a five per cent premium to put it all together and attach a five-year warranty. When spending these figures, that extra peace of mind doesn't go amiss.

Show your support for impartial Club386 reviews
Club386 takes great pride in providing in-depth, high-quality reviews built on honest analysis and sage buying advice. As an independent publication, free from shareholder or commercial influence, we are committed to maintaining the standards our readers expect.
To help support our work, please consider making a donation via our Patreon channel.
Performance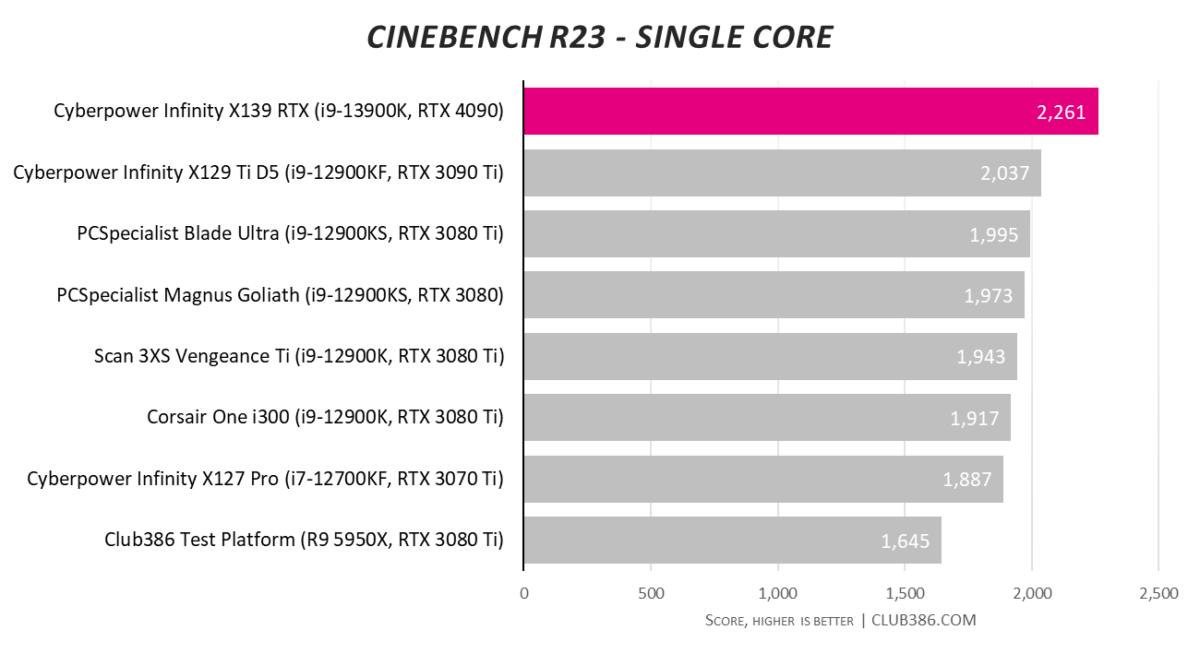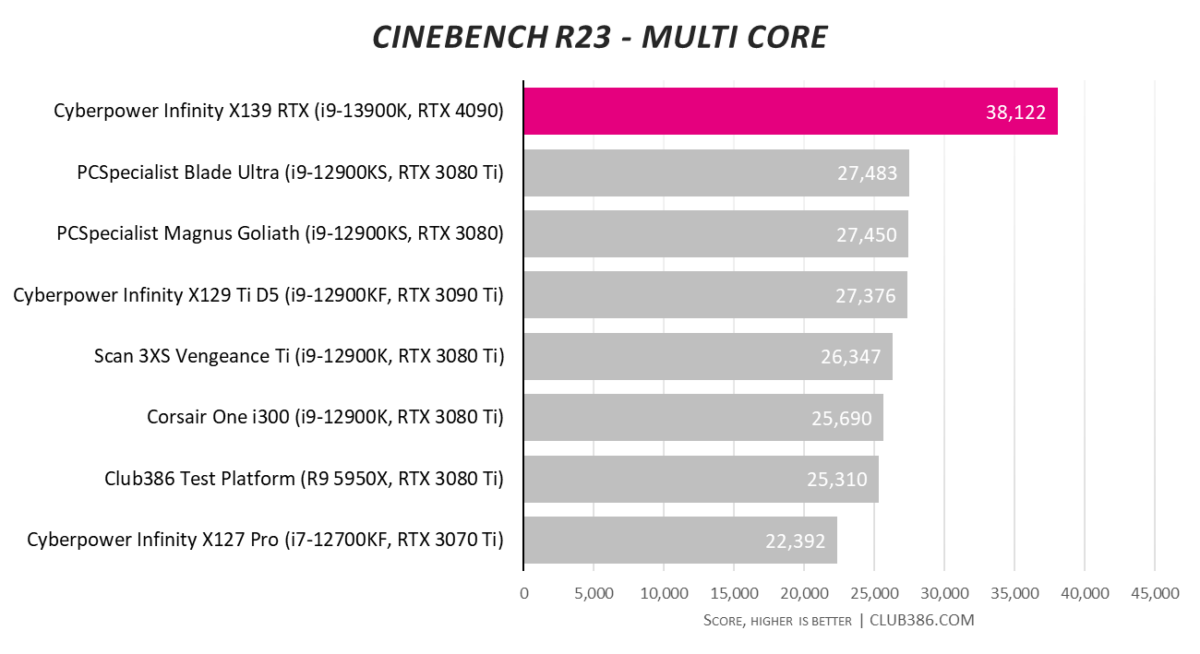 Want the best CPU that money can buy? Intel's Core i9-13900K is a genuine contender. 24 cores and 32 threads combine to deliver a dizzying level of performance that eclipses any previous-generation machine. Whether it's gaming, creation or general productivity, the 13th Gen 'Raptor Lake' chip has you covered.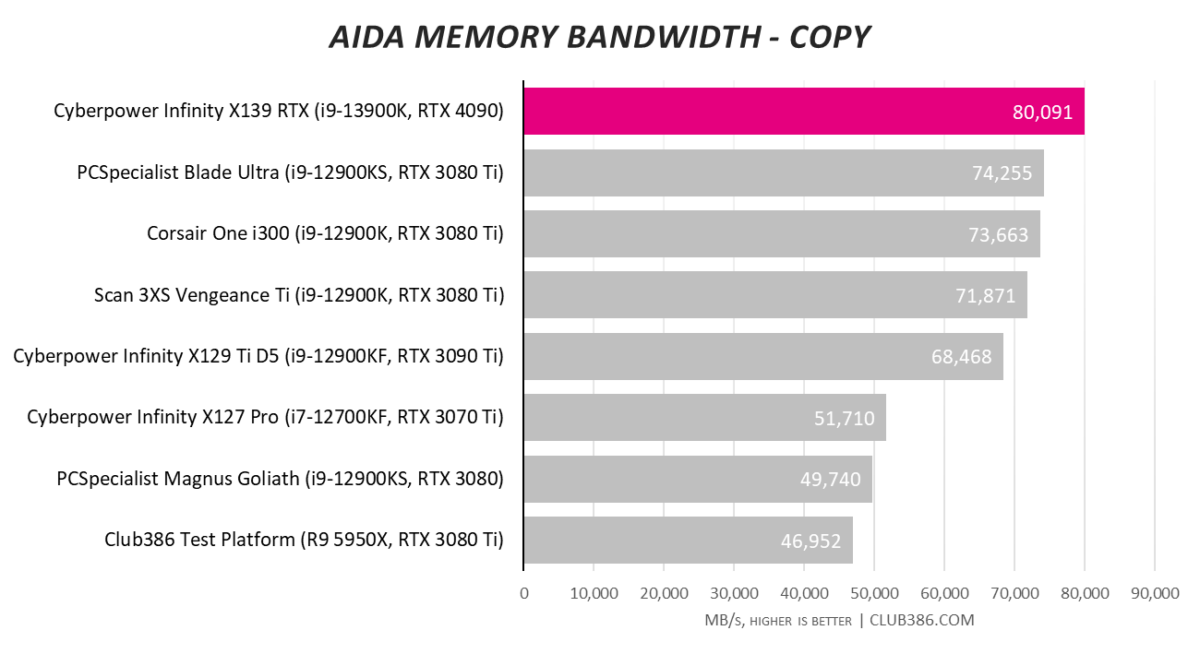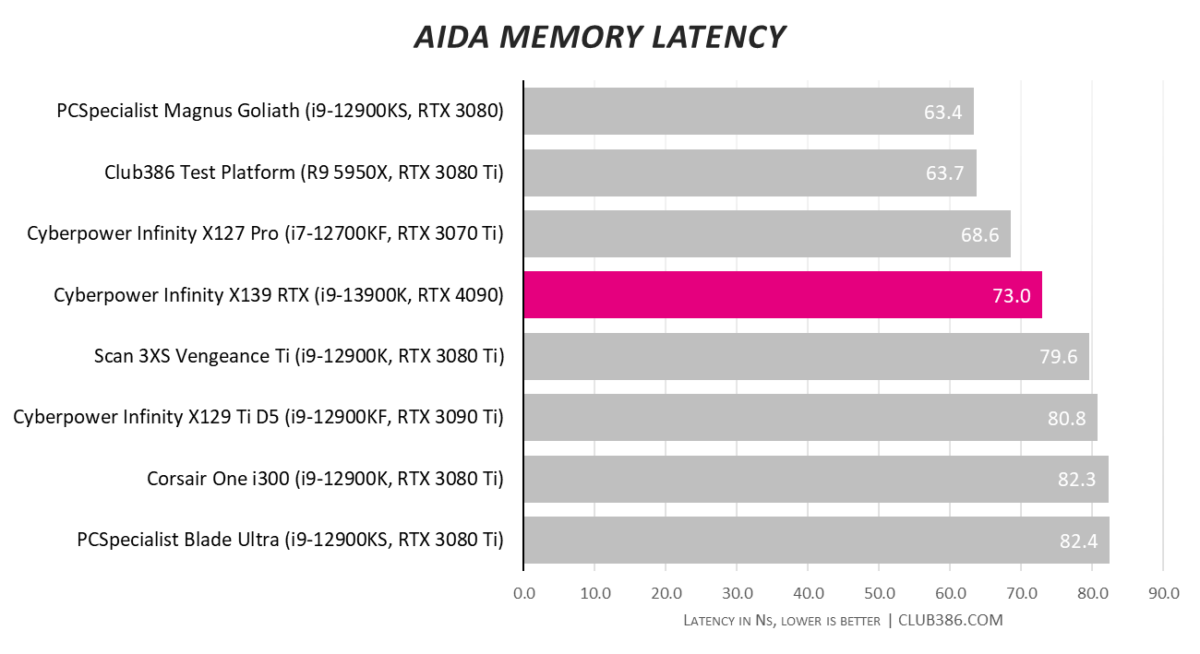 32GB of quick DDR5 memory doesn't hurt, either. Bandwidth is excellent and latency for high-speed DDR5 continues to creep downward.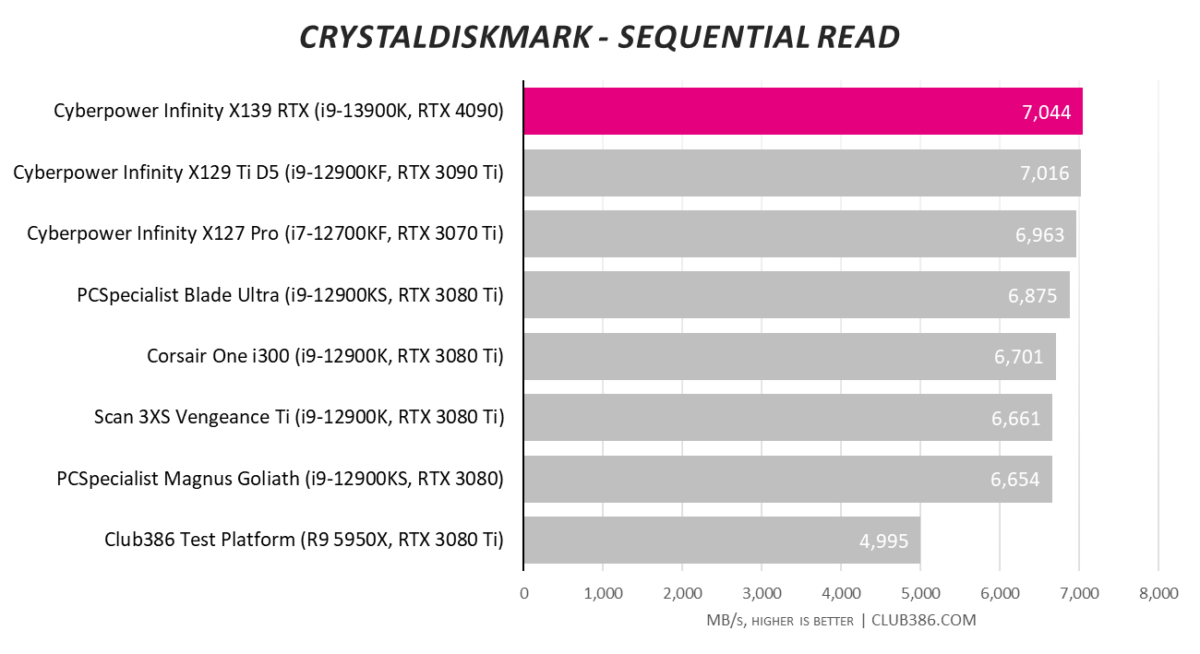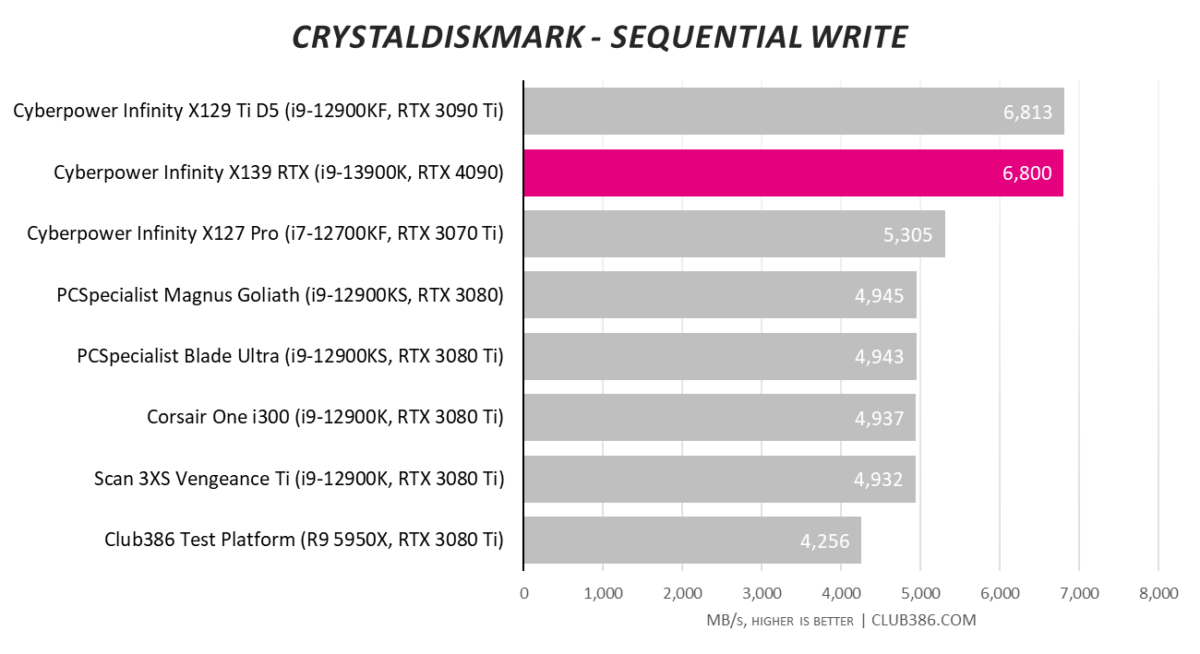 Cyberpower doesn't tend to skimp in the storage department. That much is true here, with the 2TB Kingston Renegade M.2 drive delivering sequential read and write speeds closing in on 7,000MB/s.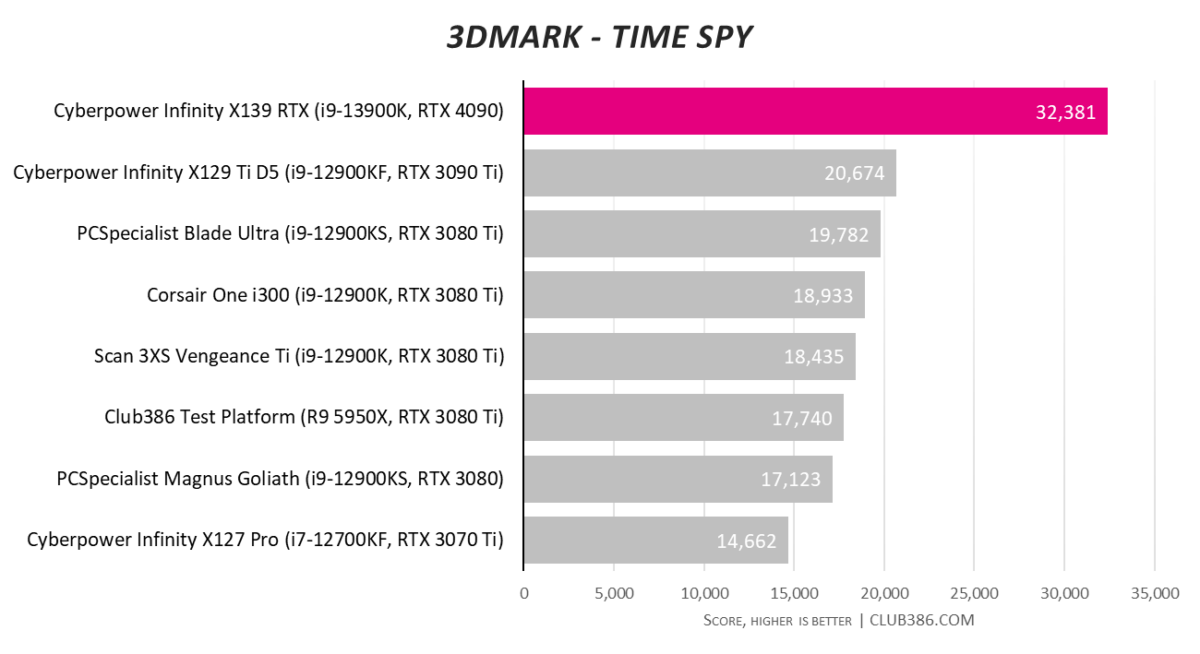 13th Gen Core i9, DDR5 memory, fast NVMe storage and RTX 4090 graphics. Yep, put all that together and you're in for a spectacular amount of gaming potential. 12900K and RTX 3090 Ti looks positively timid by comparison.
Gaming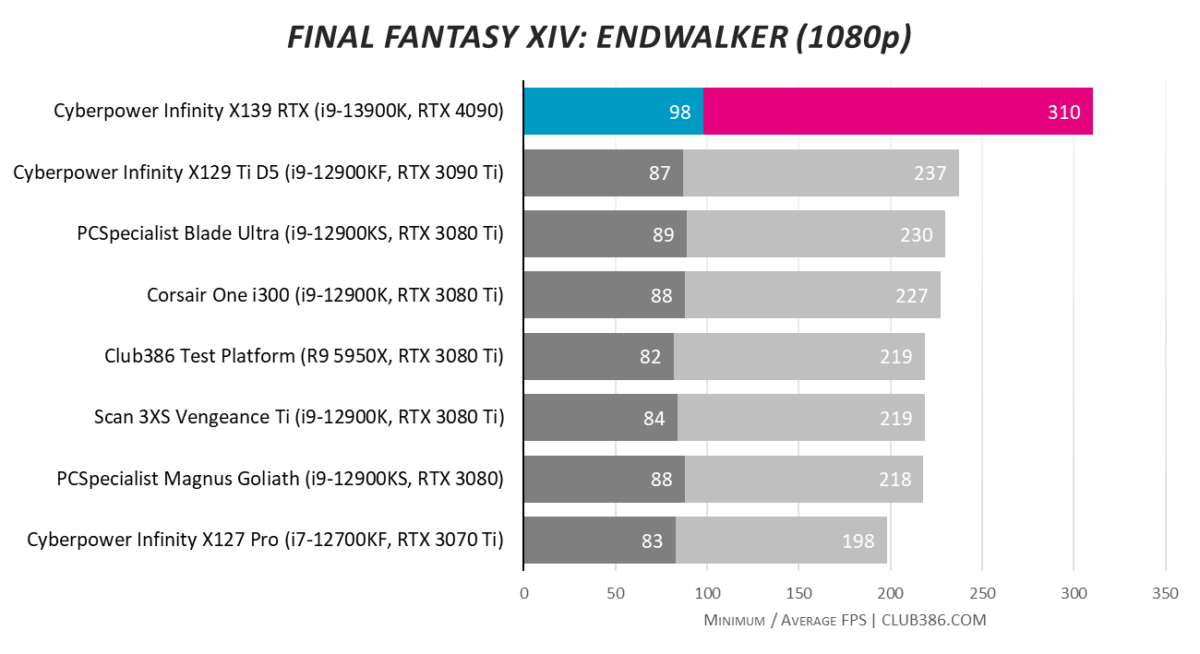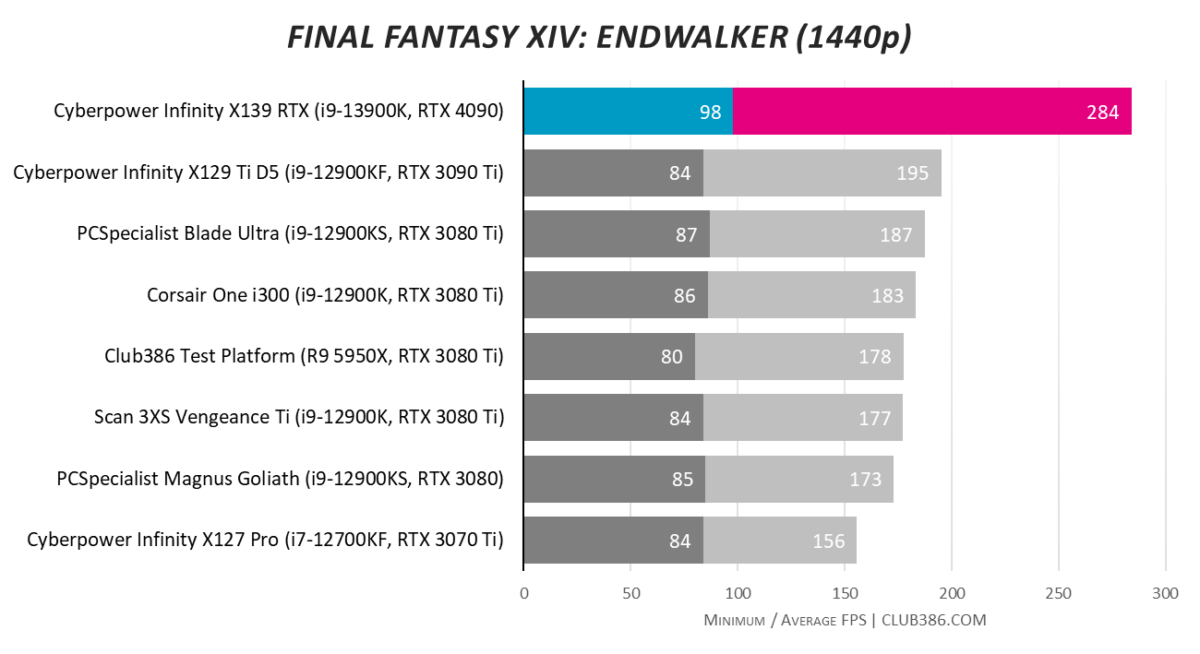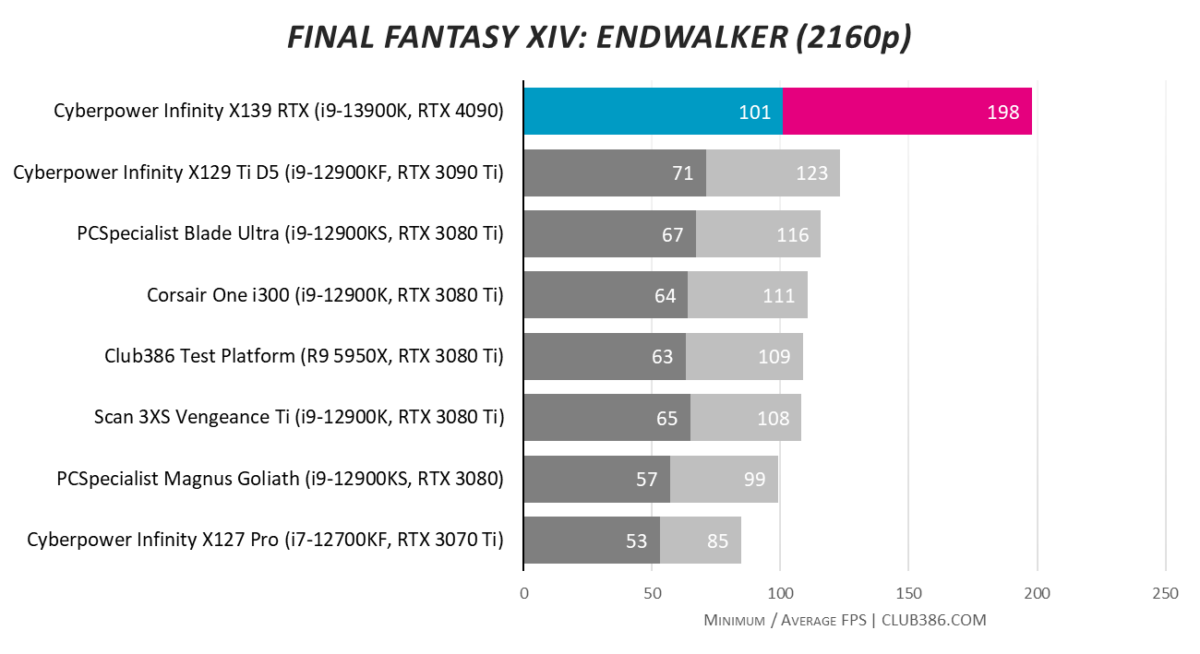 Nothing else comes close with regards to gaming. Our regular Final Fantasy test is smashed at all three resolutions. Really, a 1080p monitor with this sort of rig makes no sense at all. Factor a fast 4K panel into the mix.
| Game | FPS @ 1080p | FPS @ 1440p | FPS @ 2160p |
| --- | --- | --- | --- |
| Assassin's Creed Valhalla (Ultra High Quality) | 213 | 178 | 116 |
| Cyberpunk 2077 (Ray Tracing: Ultra, DLSS Off) | 123 | 83 | 43 |
| Far Cry 6 (Ultra Quality, HD Textures and DXR On) | 144 | 137 | 116 |
| Tom Clancy's Rainbow Six Extraction (Ultra Quality, DLSS Off) | 458 | 354 | 201 |
Testing a quartet of recent titles confirms Infinity X139 RTX showcases PC gaming at its absolute best. 4K120 is feasible in most titles with all the bells and whistles turned on. The only game that falls short is ultra-taxing Cyberpunk 2077, though even that can be brought into the 4K120 realm when enabling DLSS 3.
Vitals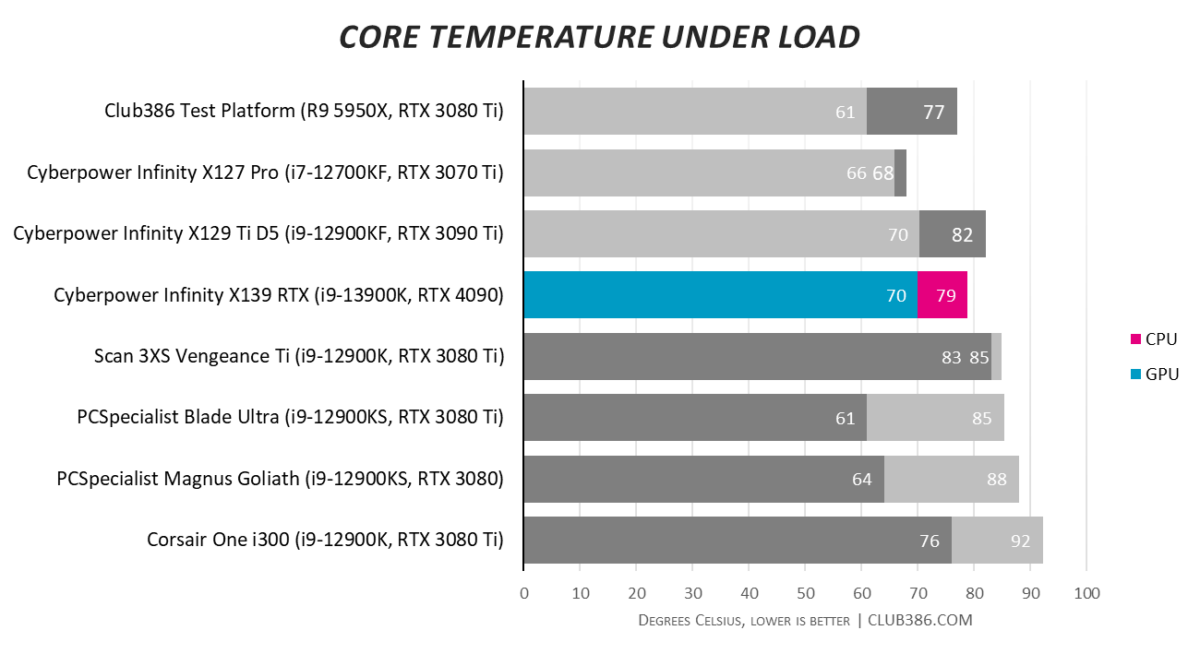 Hulking, triple-slot RTX 4090 graphics cards, as we know, run nice and cool. The same isn't for true for Core i9-13900K, which does get a little hot beneath the heatspreader. 79°C doesn't sound particularly warm, but remember that's an average under load across both performance and efficient cores. Digging into the logs reveals that a couple of performance cores get close to 90°C at full pelt.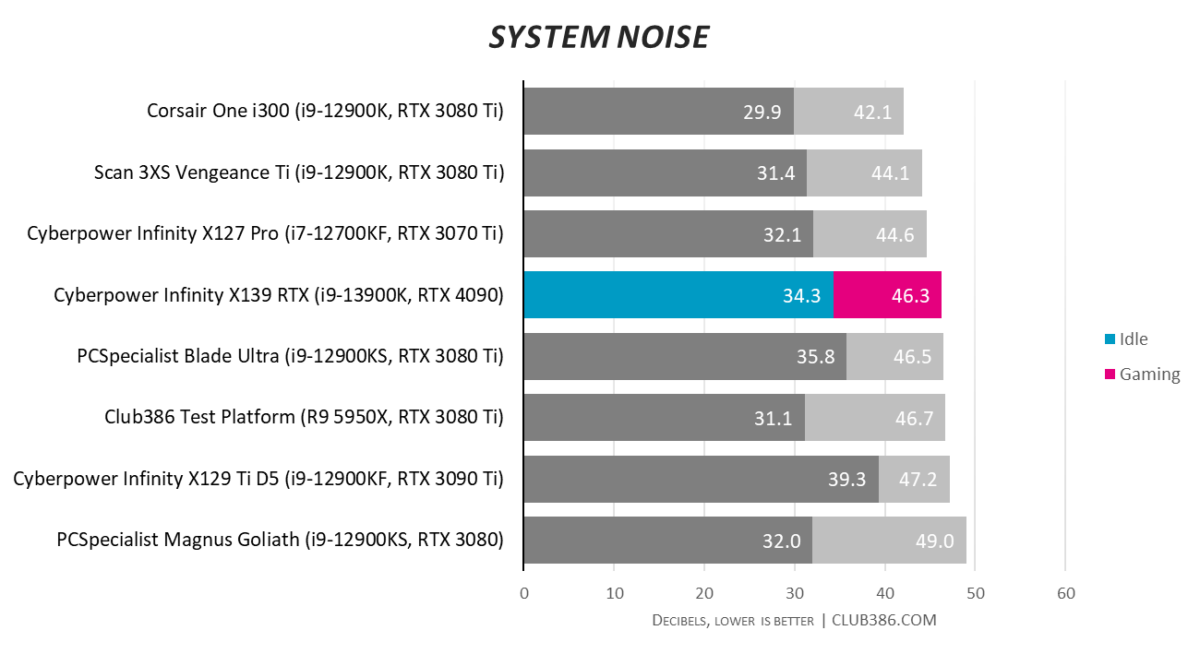 Even at stock settings Infinity X139 RTX runs nice and quiet. The system is barely noticeable when idle and the steady hum while gaming is far from distracting. With a little fine tuning in BIOS we reckon noise levels could be dropped further with little detriment to cooling.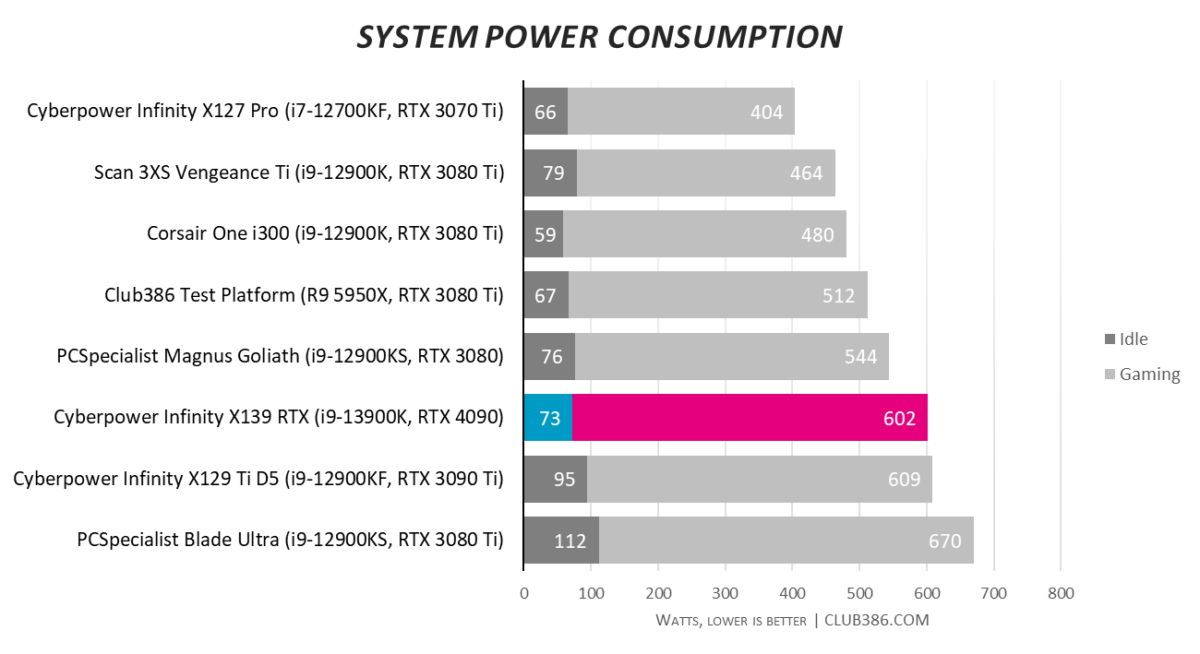 You could, we suppose, lower overall power consumption by scaling back either CPU or GPU TDP, but 600 watts when gaming is about right for a system of this ilk. The reading is consistent with previous-gen builds, but of course performance is far superior.
Conclusion
Cherry picking some of the very best components of a new generation, Cyberpower's Infinity X139 RTX delivers performance in spades. Whether you're gaming, streaming or creating, the combination of Core i9-13900K and RTX 4090 is unsurpassed, and though the £4,000 ticket price is extreme, so too is the sheer level of performance.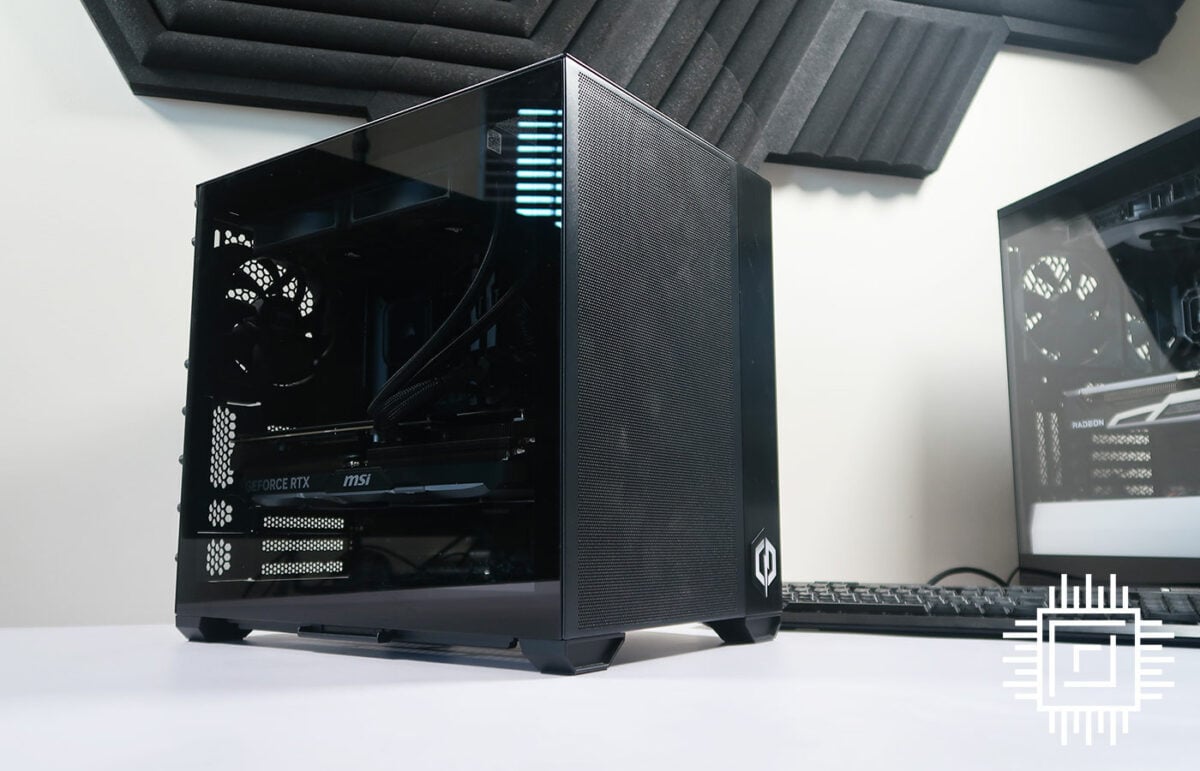 Cyberpower Infinity X139 RTX
Verdict: Blisteringly quick on all fronts and a fine example of the best that PC gaming has to offer.
---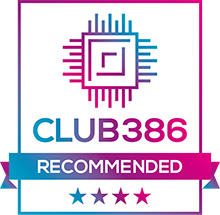 Pros
Flagship performance
Minimalist design
Built for 4K120 PC gaming
Five-year warranty
---
Club386 may earn an affiliate commission when you purchase products through links on our site. This helps keep our content free for all.
Rest assured, our buying advice will forever remain impartial and unbiased.