Jump to: SFF | Build | Performance | Conclusion
Fractal Design has every right to be in confident mood. The Swedish computer hardware manufacturer is a relative newcomer having arrived on the scene as recently as 2007, but has well and truly hit its stride with blockbuster case releases including Define 7, Torrent, and most recently, the gorgeous-looking North.
That hot streak has won plenty of plaudits, yet such is the nature of the PC enthusiast market that there's no time to rest on your laurels. DIY builders want to know what's coming next, and in an unexpected change of pace, Fractal has opted for something a little different with a small-form-factor enclosure fit for the modern age. Say hello to Terra.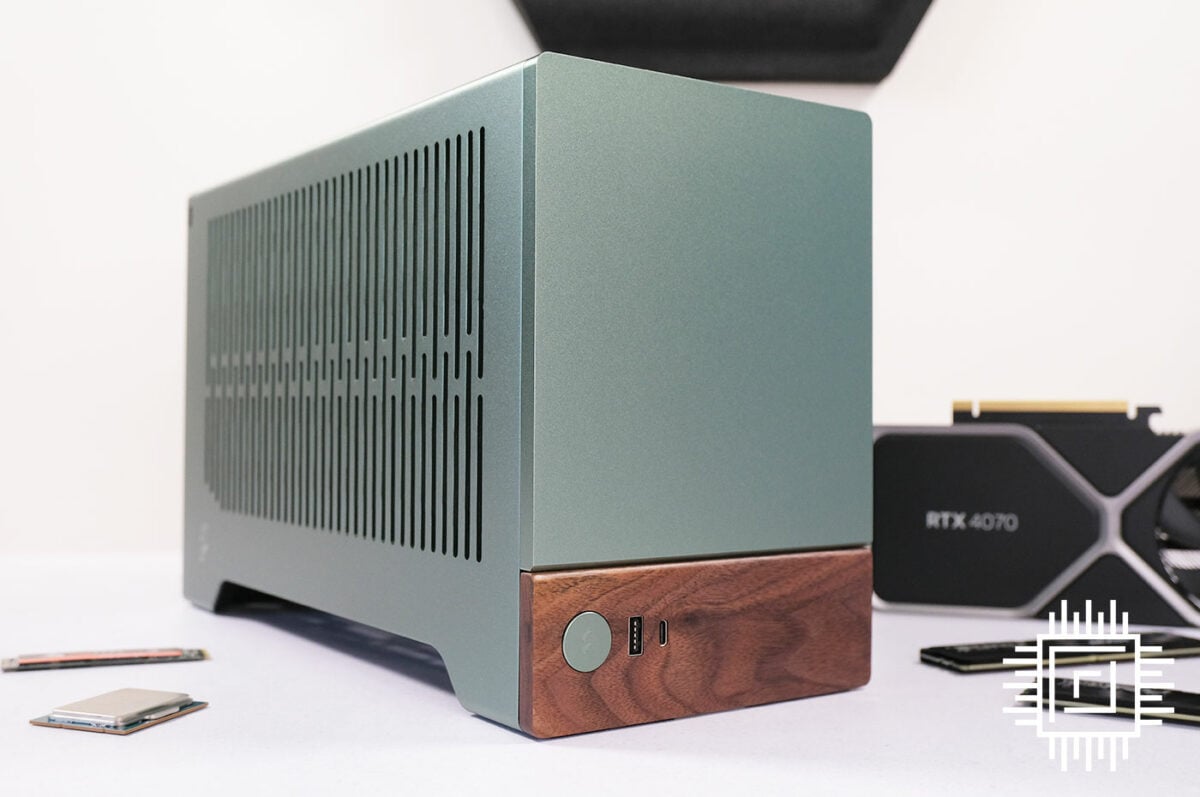 Priced at £180 and unmistakeably a Fractal case, this beautiful little box oozes style and sophistication. We adore the solid walnut trim across the front, the anodised aluminium exterior exudes quality, and true to form, there's a choice of colours.
Terra comes in silver, graphite or jade, and we'll be honest, whatever apprehension we felt toward the latter faded the moment it came out of the box. It's a subtle, light green that's even more stunning than the pictures suggest, and looks fantastic atop a white desk. There's no gaudy RGB – not even a status LED – and minimalist front I/O includes a solitary power button alongside USB Type-A and USB Type-C. Simple, sleek.
Small Overhaul
Before we delve inside, it's worth touching on the potential of SFF builds in 2023. Mini-ITX motherboards are more readily available than ever before and rarely skimp on features, the latest crop of 65W CPUs offer tremendous performance, M.2 storage diminishes the need for multiple storage bays, and while top-end graphics cards have gained weight, something like an RTX 4070 delivers ample oomph in a dual-slot form factor.
Point is, compact-build opportunities are excellent, and the only issue we had while sourcing components for our Terra configuration was in the power-supply department. There's a distinct lack of SFX or SFX-L supplies on the market, and many models that have been released appear out of stock, suggesting a manufacturing shortage. Take note, PSU manufacturers, there's a gap in the market for quality SFF supplies, particularly ATX 3.0 units sporting a forward-looking 12VHPWR connector.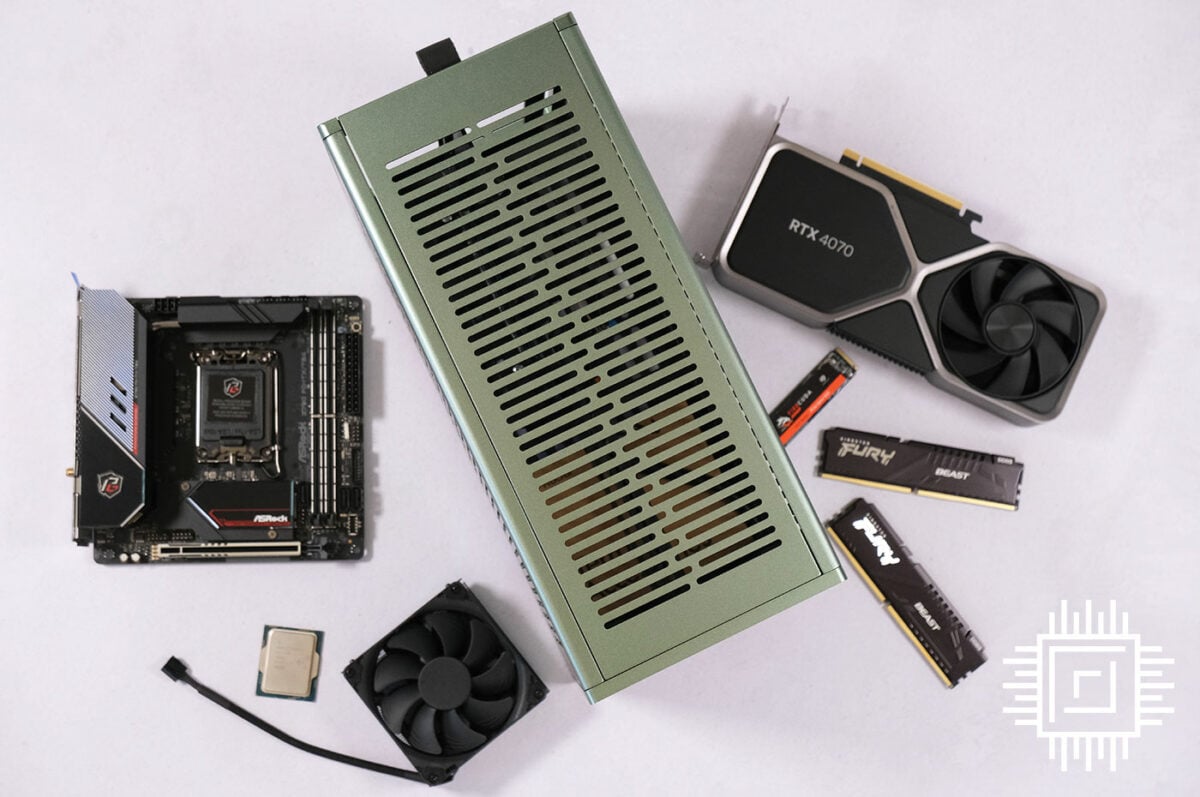 The obvious attraction of going small is the space saved. Terra sits atop the desk neatly with shoebox-like dimensions of 343mm x 153mm x 218mm, and the consolidation of PC components is such that you can still achieve high-end performance with just a handful of parts.
For our test setup we've assembled a tasty supporting cast that includes an ASRock Z790 PG-ITX/TB4 motherboard, Intel Core i5-13400F processor, 32GB of Kingston Fury Beast DDR5-6000 memory, Seagate FireCuda SSD and Nvidia GeForce RTX 4070 graphics. No shortage of firepower.

Show your support for impartial Club386 reviews
Club386 takes great pride in providing in-depth, high-quality reviews built on honest analysis and sage buying advice. As an independent publication, free from shareholder or commercial influence, we are committed to maintaining the standards our readers expect.
To help support our work, please consider making a donation via our Patreon channel.
Downsized Build
Cramming such goodies into a small-form-factor enclosure has traditionally been a pain, but Fractal has a few neat tricks to help ease the process. Don't get me wrong, it's still much easier building into a traditional tower, yet initial frustrations that come with working in tight confines soon give way to the satisfaction of putting together something that is petite, different and an efficient use of space.
Terra's most useful trick is that it comes apart with ease. The two hinged side panels are like a car's gull-wing doors, or an Imperial Shuttle, if you're a sci-fi fan. Released with just a gentle tug, they swing open with one hand, and a spring-loaded tab allows for them to be removed entirely with no effort. The top panel also slides back and off in one simple movement, providing unrestricted access without the need for any tools.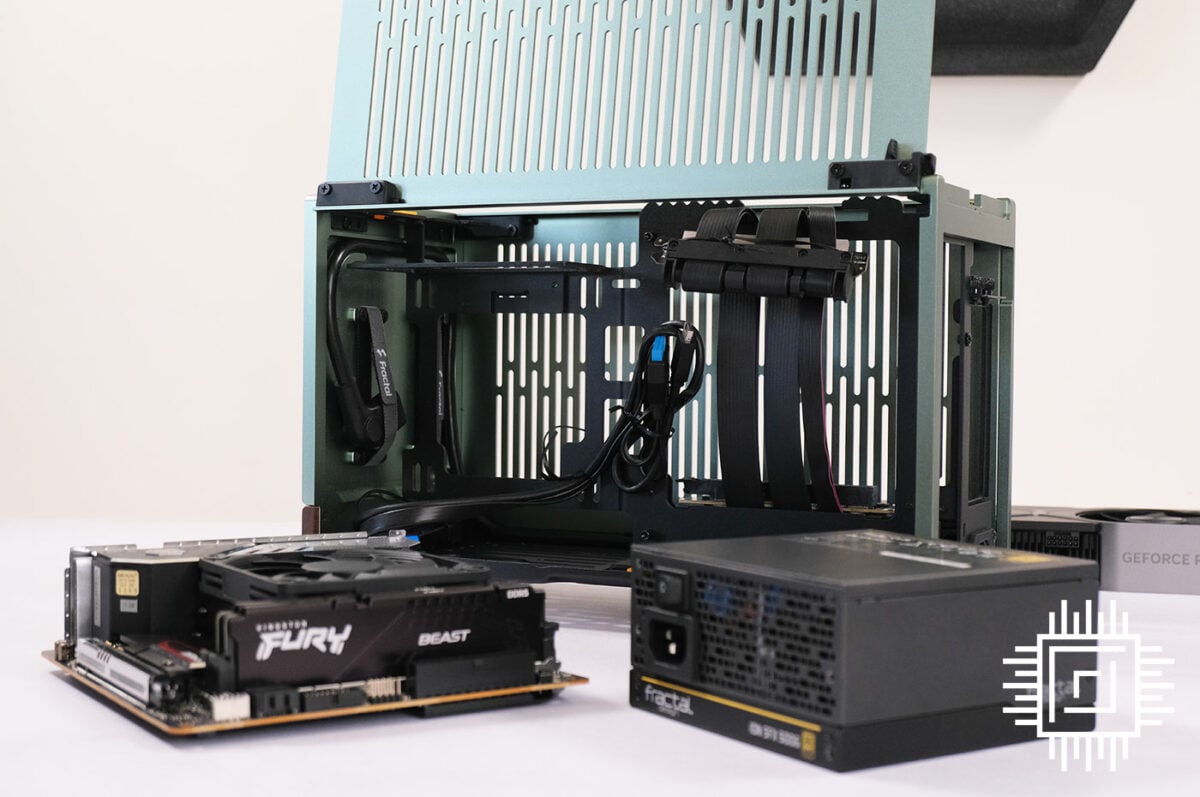 On the inside, the solid steel foundations are divided into two compartments. The motherboard and power supply on one side, leaving space for a discrete graphics card on the other. And don't worry, seeing as vertical graphics mounting is the only option, a PCIe 4.0 riser cable is included as part of the package. What's clever is that Terra's central dividing spine can be adjusted to either side, increasing or decreasing CPU or GPU headroom as needed.
Want to give your CPU more breathing room? Unfasten the four holding screws (two on top, two underneath), slide over the spine, and clearance can be increased from a minimum of 48mm to 77mm. That's enough for, say, a be quiet! Shadow Rock LP (75.4mm) or Noctua NH-L12S (70mm). Conversely, the GPU compartment ranges from 33mm to 72mm, with room for a graphics card measuring up to 322mm long. Space for even a chunky triple-slot cooler, though do be aware that maximum card width is reduced to 62mm on coolers taller than 145mm.
The ability to adjust compartment sizing is a neat feature that helps support a wider range of components, and there are other similar value-adds, too. The upright PSU mount can be offset using standoffs to help airflow on graphics cards with flow-through coolers, and if you opt for a particularly petite card (<200mm), you could use the back of the PSU mount to house a 120mm radiator and fan for modest liquid cooling.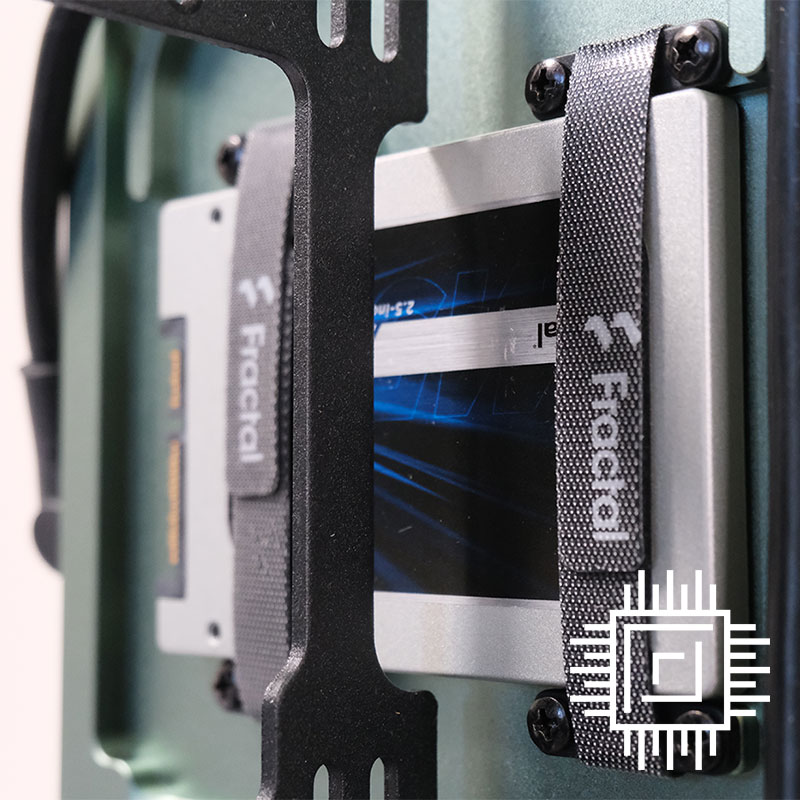 It's always fascinating to see manufacturers attempt to shoehorn extra features into itty-bitty cases, and inevitably, some work better than others. Terra's weak points revolve around fan and storage mounts. There is technically support for a 120mm bottom-mounted fan beneath the PSU, but you'll need to use a small SFX supply, as our Fractal Ion SFX-L 500W Gold unit obscures that spot.
The same floor space can also house a 2.5in drive on a bundled sled, while the second storage bay is unusual insofar as you're meant to strap a 2.5in SSD into the Velcro tabs behind the front panel. It works well enough, but we'd rather have all our components properly screwed in, and nitpicking somewhat, I'm never a fan of the PSU power cable being routed internally, and much prefer the power switch to be accessible at all times… just in case.
Gentle reminders that small-form-factor does come with limitations, though none of these are deemed deal breakers. Do note, also, that the recommended maximum GPU backplate width is 4mm; the chunky backplate on Nvidia's RTX 4070 Founders Edition is snug alongside the power supply standoff screws as pictured above.
Living with Terra
Considering the limited 10.4l internal volume, the inverted motherboard slots in with ease, and it's then a case of how adventurous you want to be. Cable management is helped by the mere fact there isn't much cabling, and for CPU cooling, we've opted for a high-quality Noctua NH-L9i-17xx chromax.black with the addition of an NA-FD1 fan duct kit. The latter bridges the gap between the CPU fan and side panel, helping draw fresh air, as opposed to recirculating warm air within.
It's all very tidy right now, but are you thinking what we're thinking? Yep, those lovely cutouts in the aluminium shell look fabulous and provide copious airflow, but there's nothing in terms of dust filtration. Fractal states mesh linings were excluded "for unmitigated airflow throughout the case," but one has to wonder how clean the build will look after a year or two. On the other hand, given how easily the side panels flip open, it's hardly a chore to hoover the innards now and again.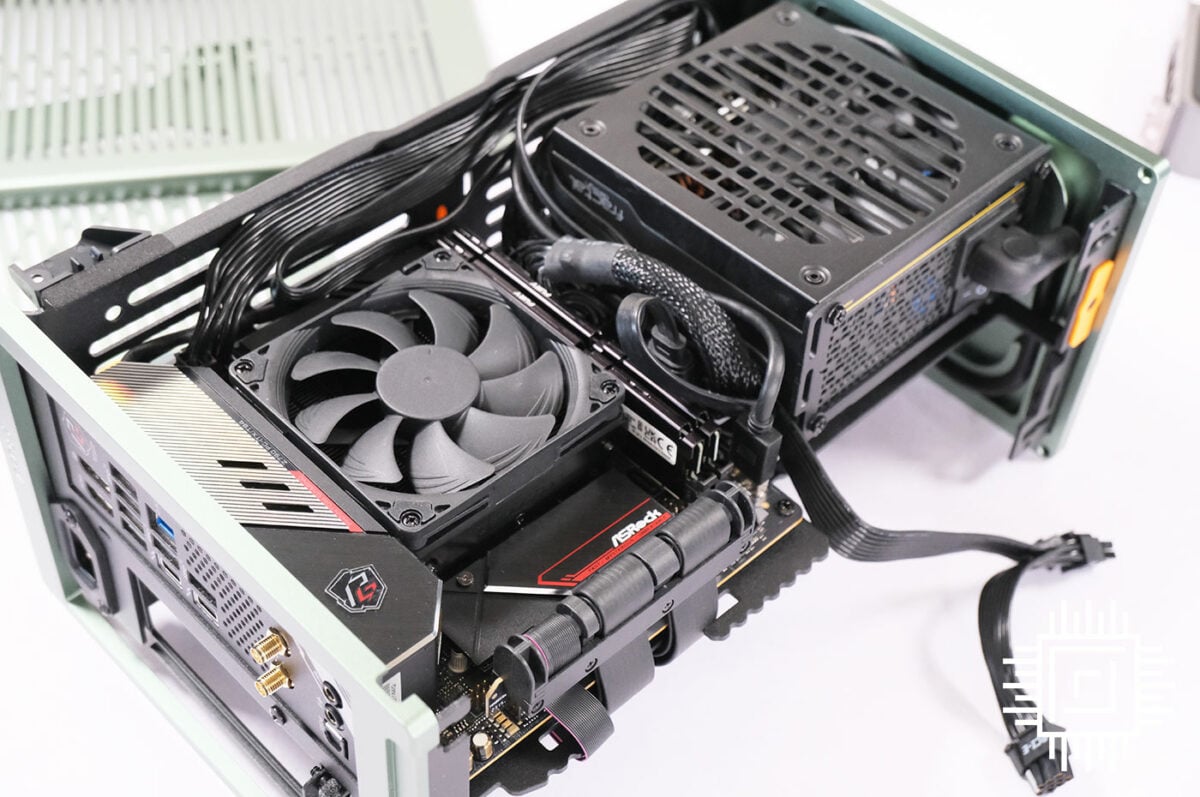 Handsome and largely effortless to build into, Terra holds plenty of allure, but if you've never experienced a small-form-factor setup, you're going to be wondering; what's it like to live with? Well, there is an obvious proviso when compared to a traditional tower in that CPU cooling is more of a challenge. We've purposely chosen a 65W Core i5-13400F for our test build, but Intel is coy in the way in which it rates TDP, and this '65W' chip will, in fact, hit 148W in order to extract maximum performance. At stock settings, it's hard to tame in a compact PC and results in rapid throttling with the Noctua fan spinning-up aggressively in order to keep temperatures below 90°C.
In our experience, for a Terra build it's best to expand the CPU compartment to allow for a larger cooler, and even then, it may be wise to lock this particular CPU to 65W by applying a hard limit in BIOS. As a quiet-PC aficionado, I'm always wary of heightened noise from tighter confines and smaller fans, particularly when said system is situated on top of the desk in close proximity. With a 65W limit in place, those concerns are dispelled during everyday use. My workload typically involves office apps, image editors and multiple browser windows, and in these scenarios, the Noctua cooler fluctuates smoothly between barely audible to a gentle hum.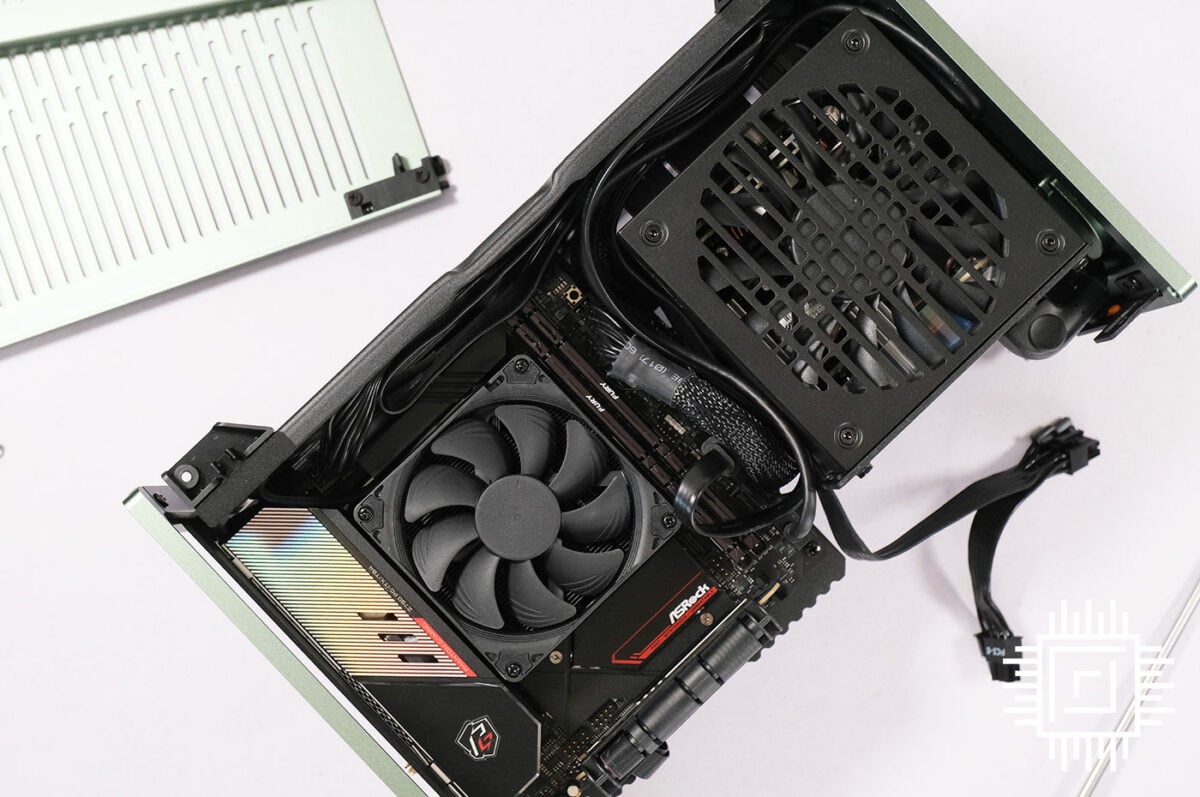 Artificially cranking up the load with Cinebench R23 reveals average temperature across all six performance cores peaks at 69°C, while the four efficient cores top out at 62°C. Interestingly, peak temperature increases to 72°C with the Noctua FD-1 fan duct removed, so there is a definite benefit for such an accessory in a compact build.
Comfortable temps at 65W help keep noise levels in check, but also peak frequency, which is reduced to 3.6GHz across all performance cores. The consequence of such a limit is that Cinebench R23's multi-core result drops from 15,790 in our traditional mid-tower test platform to 13,262 in this small-form-factor PC. That 16 per cent deficit is something we're willing to accept when keeping acoustics and thermals to a satisfactory level.
There's no discernible performance loss in the graphics department. Nvidia's GeForce RTX 4070 is able to maintain peak speeds of close to 2,800MHz, but does have to work a little harder to stay there. Fan speed rises to 42 per cent (up from 30 per cent in our mid-tower setup), yet noise levels aren't bothersome and temperature is kept just below 70°C when gaming. Just for kicks, we also tried installing a gargantuan RTX 4090. The card, amazingly, fits, but with a Founders Edition you'd find it impossible to connect the top power connector without a right-angled adapter.
Conclusion
Balancing performance and temperature on high-end parts is always going to be the biggest challenge with a SFF PC, yet achieve the right compromise and the payoff is worth it. Our Terra build is great for high-framerate 1440p gaming, powers through everyday work, and keeps noise levels down to a minimum.
There's a fun element in putting together a compact rig – trust me, it'll be weeks before you settle on the perfect fan curve – and the space saving can't be underestimated. Miniscule compared to a traditional tower, Terra sits handsomely within arm's reach and highlights Fractal's understanding of a key point many rivals tend to miss; in addition to packing a performance punch, a modern-day DIY PC build ought to make you smile. Terra does exactly that.
Fractal Terra
Verdict: small-form-factor PCs are well and truly back in vogue.
---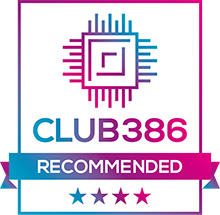 Pros
Beautiful build quality
Lives on top of the desk
Thoughtful build process
Houses a full graphics card
Riser cable included
Cons
No dust filters
CPU cooling not easy
---
Club386 may earn an affiliate commission when you purchase products through links on our site. This helps keep our content free for all.
Rest assured, our buying advice will forever remain impartial and unbiased.