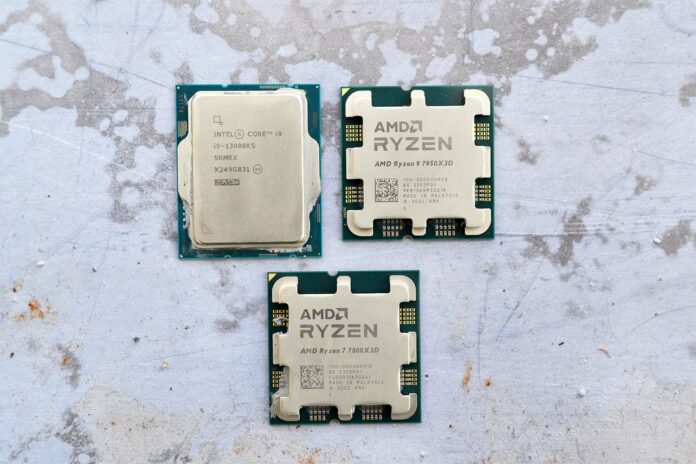 PC gaming is becoming attractive once again as component manufacturers are now forced to provide honest-to-goodness value after the pandemic and cryptomining boom pushed pricing to ridiculous levels. It's possible to build a rather tasty gaming system for a grand, complete with brand-new GeForce RTX 4070, but what are the choices if you're in the very fortunate position of having no financial limit? The GPU is easy; GeForce RTX 4090 is absolutely head and shoulders above anything else. Other bits and pieces fall into place quickly, too, as high-speed memory and uber-fast SSDs are legion.
The best conversation is reserved for the CPU powering all this goodness. We already know AMD Ryzen 9 7950X and Intel Core i9-13900KS are best-of-breed chips, harnessing spectacular multi-core power for content professionals whilst wonderfully adept at gaming. But there's an upstart in the ranks, primed for ultimate gaming performance. Enter AMD Ryzen 7 7800X3D.
It's a curious chip, all right, as the modest 5GHz boost speed, locked multiplier, and 8C16T design aren't credentials we'd look for in a well-balanced processor that works hard by day and games harder by night. As specialised as it gets, AMD understands it can't be all things to all PC enthusiasts. That's perfectly okay if Ryzen 7 7800X3D truly aces games.
There's real potential to do so. By the very nature of an eight-core processor, AMD uses a single-CCD implementation. This is helpful as the entire 96MB of framerate-boosting L3 cache – 64MB more than usual – is accessible by eight cores without having to worry about extraneous factors. Other Ryzen 7000 Series chips harnessing the same technology – 7950X3D and 7900X3D – use dual CCDs to house more processor cores, but then have asymmetrical layouts from an L3 cache point of view, with one carrying a standard 32MB and the other 96MB. Not ideal.
The upshot of this dual-CCD approach is extra software – 3D V-Cache performance optimiser and PPM provisioning file driver – required to manage throughput correctly; otherwise potential L3 confusion leads to sub-optimal performance. And as history has proven on many occasions, using additional software is not a good thing.
Ryzen 7000 Series X3D Models
Model
Cores /
Threads
TDP
L3 Cache
CCDs
Boost Clock
MSRP
Ryzen 9 7950X3D
16 / 32
120W
128MB
2
5.7GHz
$699
Ryzen 9 7900X3D
12 / 24
120W
128MB
2
5.6GHz
$599
Ryzen 7 7800X3D
8 / 16
120W
96MB
1
5.0GHz
$449
Stripped down to the bare essentials, Ryzen 7 7800X3D is an exercise in focus. Our review paints a suitably robust picture of gaming performance when battling Ryzen 9 7950X3D and Core i9-13900K(S), though being even handed, the use of an Nvidia GeForce RTX 3080 FE card stymies absolute framerate… and this is where Big Boy­ RTX 4090 comes out to play.
The intent of this editorial is to determine the best gaming CPU, removed from all major encumbrance, so common components include a Zotac GeForce RTX 4090 AMP Extreme Airo 24GB graphics card, 32GB (2x16GB) G.Skill Trident Z5 Neo EXPO memory operating at DDR5-6000 CL30 on all fronts, Noctua NH-D15S chromax.black cooling, Seagate FireCuda 530 2TB NVMe SSD, and ASRock Z790 LiveMixer (Intel) and X670E Taichi (AMD) motherboards updated to the latest firmware.
be quiet! is on hand with a Dark Power 13 1,000W PSU providing perfectly stable juice and easy cabling thanks to a single PCIe 5.0 GPU power connector. We couldn't make these class-leading platforms more similar if we tried; it's a fair fight and in-game settings are set to maximum. Adding some previous-generation context, an AMD Ryzen 9 5950X is included in upcoming graphs. All chips are run with their manufacturer-specified power limits intact. Game on!
GeForce RTX 4090
---
"The Nvidia GeForce RTX 4090 is the ultimate GeForce GPU. It brings an enormous leap in performance, efficiency, and AI-powered graphics."
We earn a commission if you make a purchase, at no additional cost to you.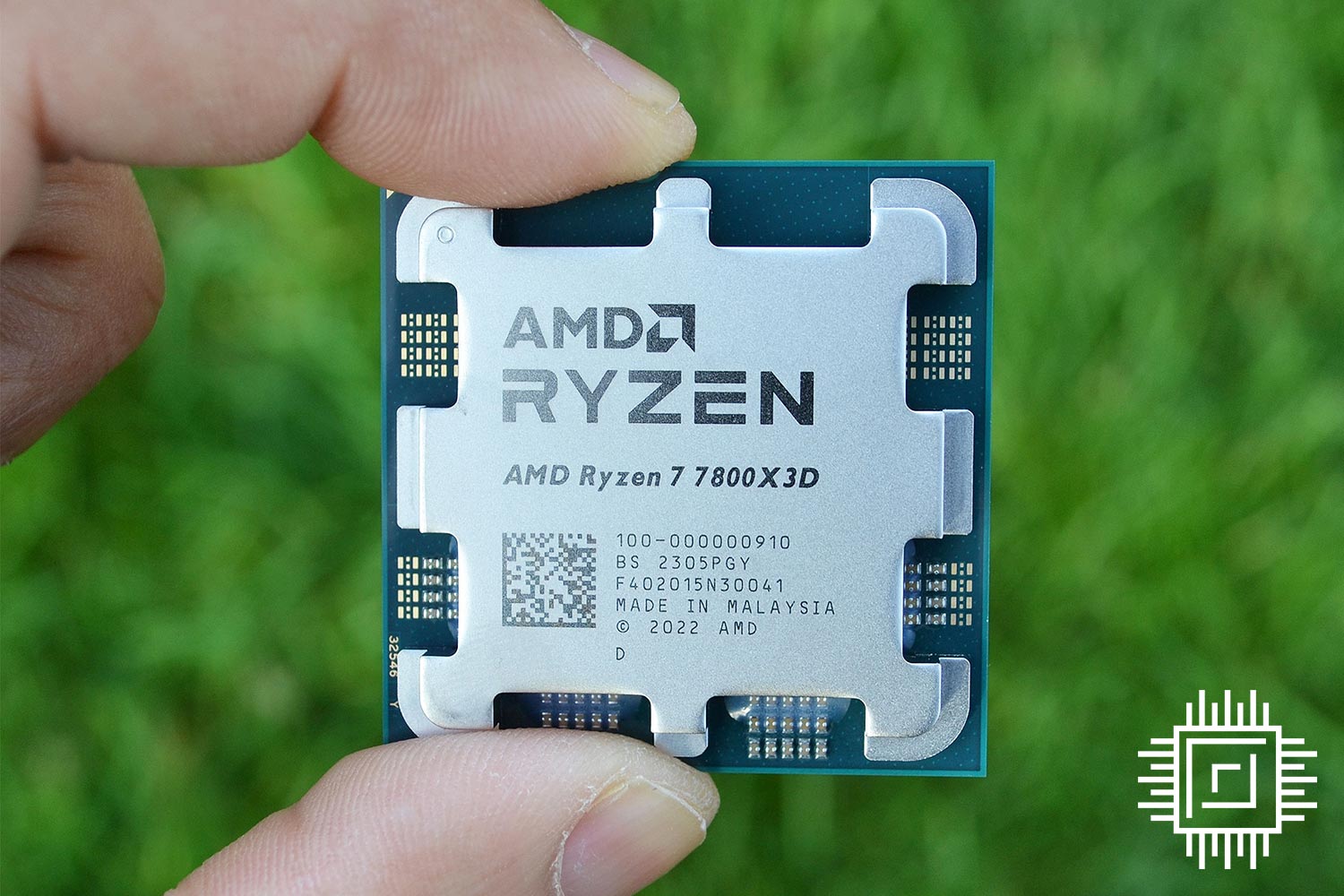 Application performance


Let's not beat around the bush. Ryzen 7 7800X3D isn't a productivity powerhouse. Far from it, actually, as both top-bin chips are twice as fast at rendering. But like the Uruk-hai, this cache-engorged processor is bred for one purpose.
Synthetic tests

AMD's three CPUs are closely grouped together and cannot touch the high-frequency performance exhibited by Core i9-13900KS. Nevertheless, Ryzen 7 7800X3D's lowly 5GHz peak frequency actually holds up well against the faster 7950X3D. A portent of things to come.

Hold your horses for a second, Nelly. There's something about the Extreme test that doesn't agree with the single-CCD chip. Run multiple times, the result is consistent with those posted on the Futuremark website for the same configuration.
Yet we all know synthetic results don't mean a jot if actual game performance is brilliant.
Assassin's Creed Valhalla

3D V-Cache lives! Zooming to the top of the charts, this typically GPU-bound game shows appreciation of CPU; there's a decent uptick in performance from Ryzen 9 5950X to Ryzen 7 7800X3D.


It's natural for framerate to coalesce as resolution is increased and load transferred from CPU to GPU. There's still a large enough difference between 5950X and 7800X3D for it to be worth it, and it's not often we say that at 4K.
Cyberpunk 2077



Run using ultra settings and with RT on – no pathtracing, mercifully for even RTX 4090 – Cyberpunk doesn't care much for the underlying CPU. Can't win 'em all.
Far Cry 6

Well, this is interesting. A few threads need to be untangled here, and we're not talking about those inherent in CPUs. There's huge performance increase when jumping from 5950X to 7950X3D. One might assume that's totally reasonable given the twin hammers of Zen 4 architecture and extra L3 cache. Still not enough to beat out rampaging Core i9-13900KS, mind.
For that task, Ryzen 7 7800X3D dutifully takes up the challenge and dispatches best-ever gaming Core into second spot. We conjecture the single-CCD and cache-infused approach simply works more efficiently than when toggling the dual CCDs of Ryzen 9 7950X3D.


Sometimes it's easy to dismiss a generational upgrade with the usual refrain of it not offering a great deal more. Admittedly needing a GeForce RTX 4090 to show true gaming worth, 7800X3D, when paired with DDR5-6000 memory, is a gaming match made in heaven.
Final Fantasy XIV: Endwalker



You know, Core i9-13900KS has had this benchmark in the bag for a while, strutting its 6GHz stuff and fending off Ryzen after Ryzen. This ain't Core town no more, says Ryzen 7 7800X3D, because there's a new gaming sheriff ready to lay down more fps.
Forza Horizon 5



Look at me, carries on Ryzen 7 7800X3D, I'm also the best gaming chip for Forza Horizon 5, and that's before any DLSS 3 voodoo is introduced into the mix.
Tom Clancy's Rainbow Six Extraction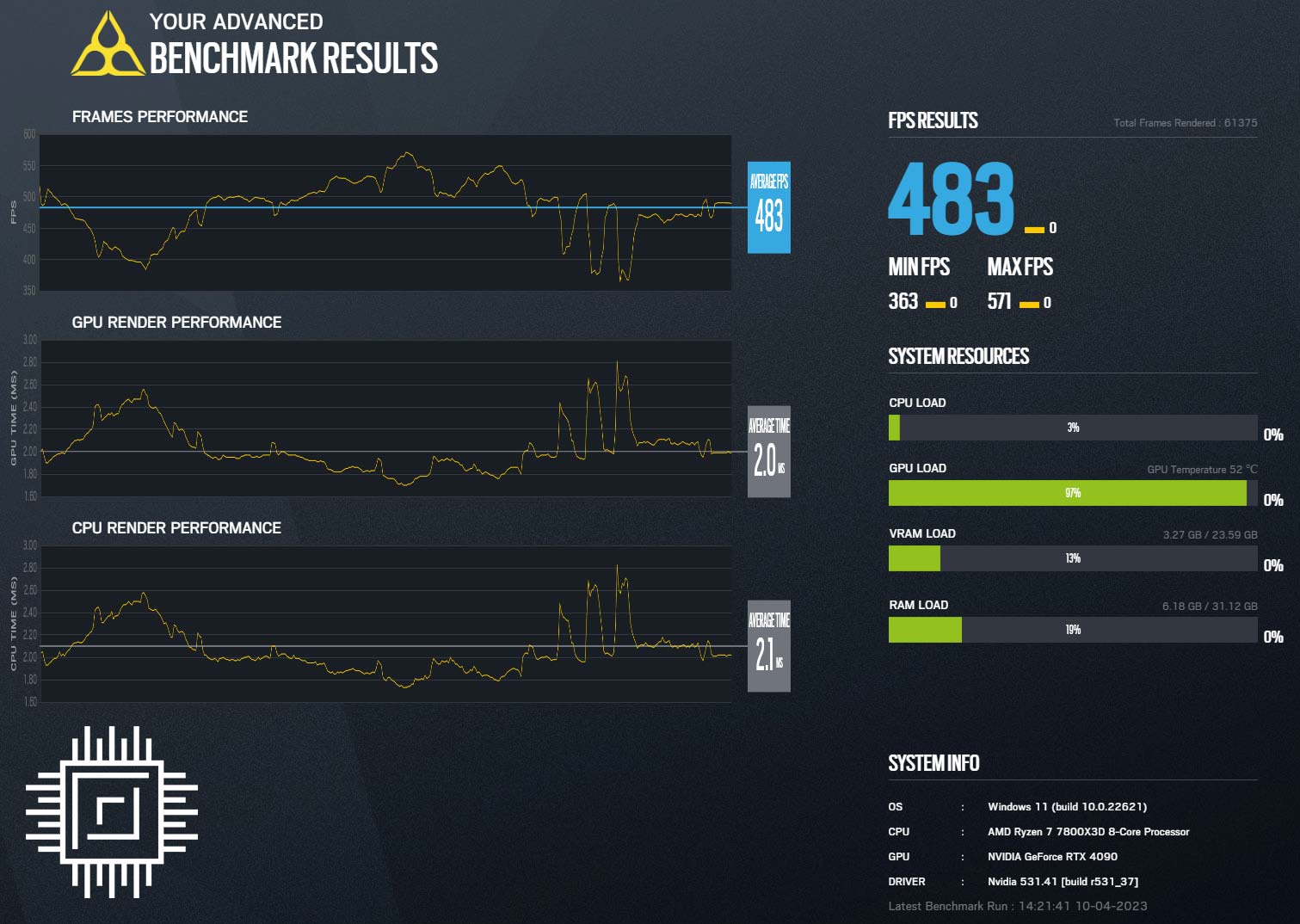 I'll take your 466fps, Core i9-13900KS, and raise you another 17. Too rich for your blood, huh. Monster gaming performance.



Here we take the relative scores at the most CPU-bound FHD resolution and see how it all shakes out. Top dog here claims the crown of fastest PC gaming CPU.
Consistently high performance means only one thing: AMD Ryzen 7 7800X3D dethrones Intel Core i9-13900KS as Big Chief. Hugely impressive for a CPU that only boosts to 5GHz, is far more frugal on power, and costs a whole heap less.
Ryzen 7 7800X3D
---
"Whatever the setting, whatever the resolution, lead your team to victory with this incredible gaming processor."
We earn a commission if you make a purchase, at no additional cost to you.
Summary
AMD built Ryzen 7 7800X3D with the express aim of achieving the mantle of world's fastest processor for PC gaming. It has succeeded. Knowing frequency alone was unlikely to move the goalposts enough, AMD's resorted to a single-CCD chip endowed with an extra dollop of 3D V-Cache.
FHD numbers are hugely impressive across the board, eclipsing rampant Core i9-13900KS far more often than not. And what's surprising is oftentimes the unexpectedly large framerate gap between Ryzen 7 7800X3D and Ryzen 9 7950X3D. Design leanness trumps frequency and inelegance.
The processor excels in energy efficiency, too, as it rarely gets close to the prescribed 120W TDP, so there's a lot to like from a gaming standpoint. But let's be fair. Meagre productivity performance means it's not suited to all. This is a one-trick pony CPU whose speciality is fully realised with ludicrously powerful GPUs.
Nevertheless, for PC enthusiasts fully intent on maximising the gaming framerate above all else, look no further than AMD's Ryzen 7 7800X3D.