Jump to: Installation | Performance | Conclusion
Competition is literally hotting up in the high-end CPU stakes. AMD and Intel going toe-to-toe for the crown of fastest desktop processor has left little on the table, and as both tech giants continue push the envelope with regards to power, performance and heat, there's opportunity for cooler manufacturers to flaunt more elaborate solutions for the very best chips.
This is a market that has become increasingly competitive in recent years, and in a way, all the more absurd. Enthusiasts are now expected to spend well in excess of a hundred pounds on an all-in-one cooler, though if you're entertaining, say, an RTX 4090 and Core i9-13900K, there's evidently room in the budget to go above and beyond.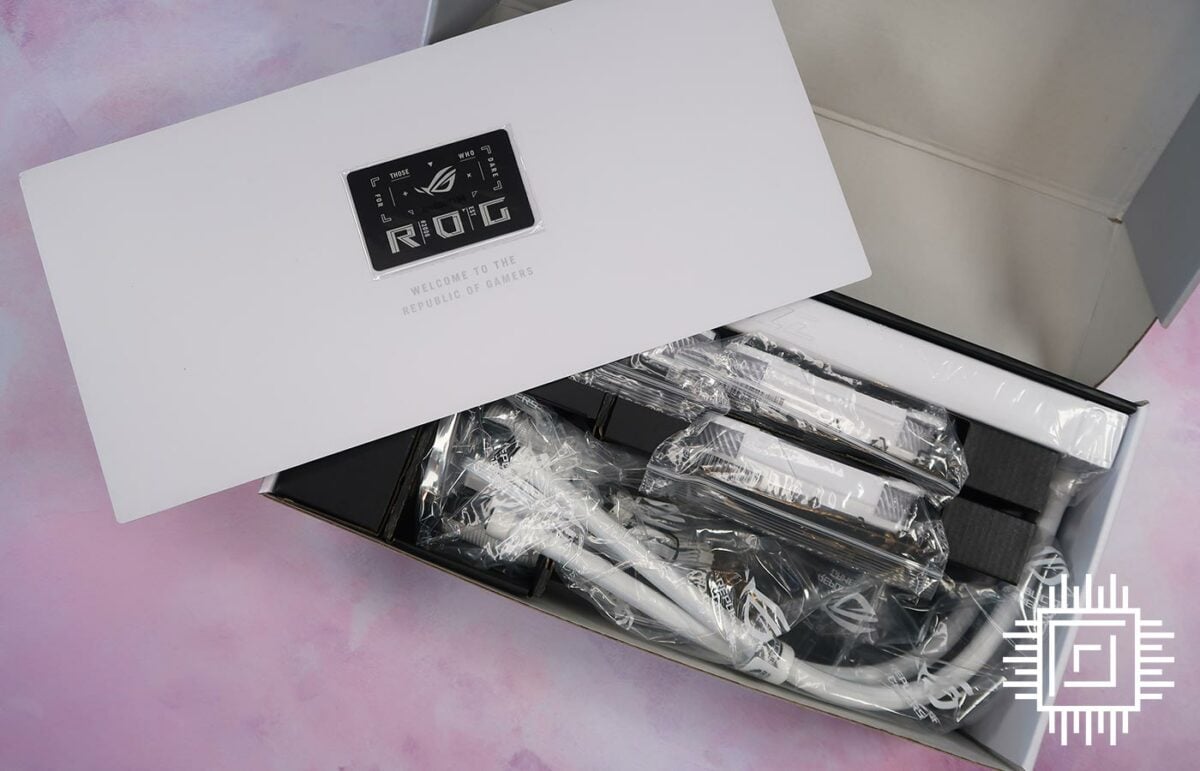 Asus is no stranger to that sentiment, and the Taiwanese giant's latest ROG Ryuo III coolers are aimed squarely at the ultra-high-end. Available in either 240 or 360 formats (sorry, no 280 just yet) priced at £250 and £300, respectively, the new-look duo attempts to outmuscle a raft of competitors through the inclusion of an 8th generation Asetek pump.
It hasn't escaped our attention that you can buy a highly capable Core i5 for similar money, but the ROG Ryuo III clearly isn't intended for budget builds. Rather, it's a showpiece, or the cherry atop a build designed to turn heads. With that in mind, the top-end 360 model comes in a choice of black or white colour schemes, making for an eye-catching fit irrespective of theme.
Presentation, as you'd expect at this price point, is a little more thorough than the average AIO. Asus's fixtures and fittings are all individually wrapped, the radiator is covered by full-length plastic caps to prevent any damage to the aluminium fins during transit, and all the cables are colour-matched to maintain the snow-white theme. The one caveat is the black fan screws, though they don't detract from the overall finish.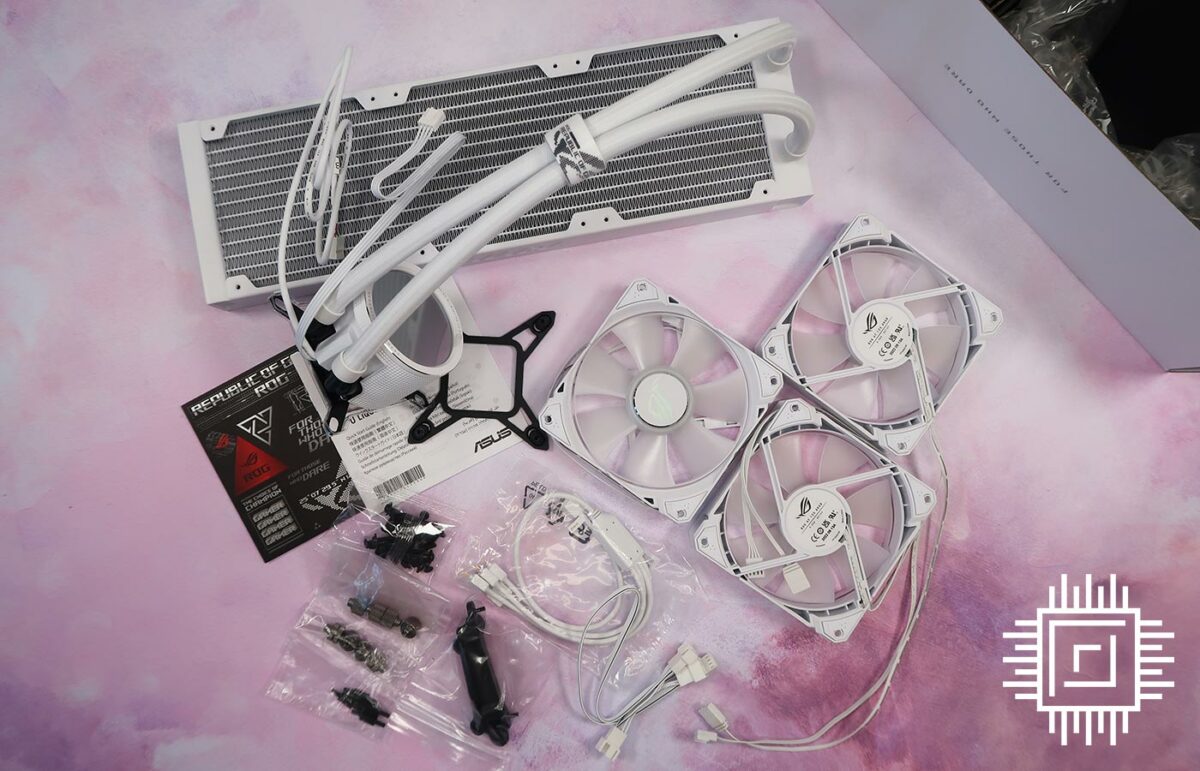 Asus's paintwork is a good quality throughout with consistent whites, and the bundle includes just about everything you need for a simple setup, including a three-way splitter for the fans, plus four-way for aRGB. The radiator, measuring 399.5mm x 120mm x 30mm, comes pre-attached to the 89mm x 89mm x 68.3mm water block via 400mm of sleeved rubber tubing, with articulating fittings at the CPU end. There's no option to refill, but the entire package is backed by an excellent six-year warranty as standard.
The trio of 120mm ROG AF 12S PWM fans has some fun detailing to go with the RGB illumination, and each blower offers speeds of between 300 and 2,200RPM, creating 70CFM airflow. Nothing out of the ordinary as far as radiator and fan combinations are concerned, and it is in the pump department that Ryuo III sets itself apart.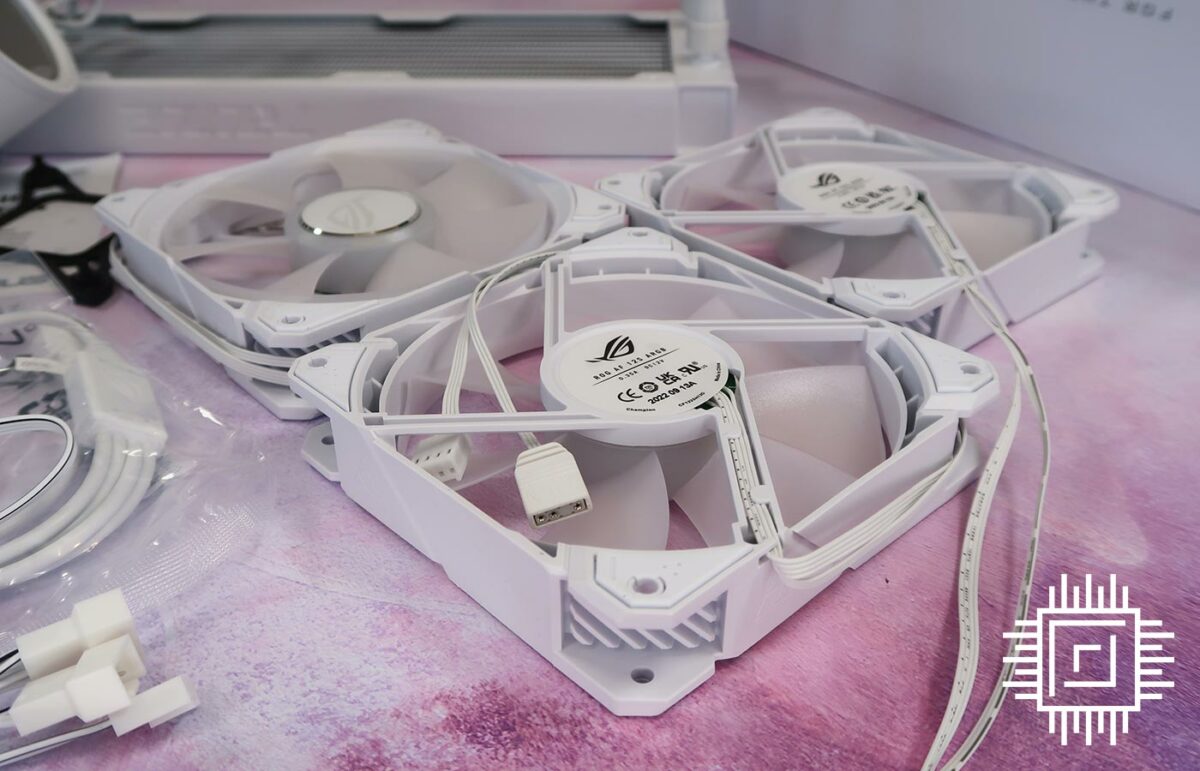 Those hoping for a larger, square cold plate have had their prayers answered. Asetek responds with a copper redesign said to be "optimised for the latest AMD and Intel processors." The pump now features a three-phase motor touting higher flow and quieter operation, the rubber tubes tout a larger internal diameter, while the HEX tubes and tanks are also said to offer wider and smoother flow paths within the pump to reduce impedance.
Higher flow is the end result, and ODM Asetek reckons cooling performance is improved to the tune of 2°C per each 100W of load. An 8th Gen foundation is a key selling point, but any modern AIO needs to look the part, and Asus scores well in the design department. The CPU block's textured aluminium surround looks elegant, as does the diamond-cut top bezel, and the circular display offers something a little different to the norm.
Rather than install a full-LCD display, Asus instead hides a series of mini-LEDs behind the 'vacuum-coated' lens. The resulting effect, dubbed AniMe Matrix, now adorns multiple Asus products and allows decent customisation for animations and system status updates. There's an '80s vibe to it that we appreciate, and it's great to see another circular block, but the AniMe Matrix doesn't do a great job of displaying legible stats. The dotted, pixel-based layout favours cool looks over actual function, and the experience is wholly different to, say, a NZXT Kraken Z73.
Installation
Newcomers to liquid cooling needn't worry, all-in-ones have championed simple setup for many years, and the ROG Ryuo III takes very little effort. Mounting kits for all the latest AMD and Intel sockets bar Threadripper are included, though do be aware that there's no spare thermal paste. All you get is what's pre-applied to the copper contact plate, and at this price point we'd really liked to see Asus include a good-sized tube for subsequent remounts.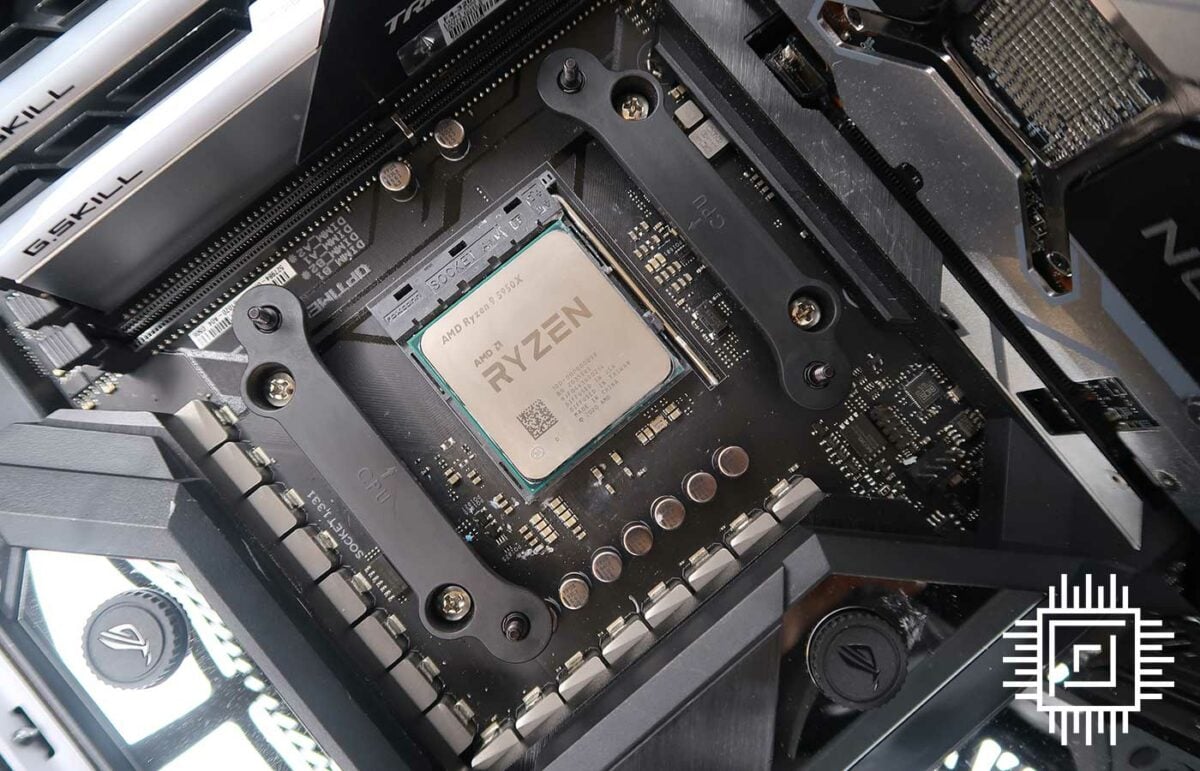 On our AM4 Ryzen 9 5950X test platform it's merely a case of unscrewing the default AMD mounting brackets and replacing them with the Asus duo. Built of thick plastic, they feel well put together, and when it comes to installing a liquid block we do favour the four-point fixing method over AMD's standard two clips.
The block slides into position with plenty of room to spare, and unlike previous-generation circular contact plates, the square frame now comes with a universal clamp for all supported sockets, meaning AMD users no longer need to swap over from Intel or vice versa to get started. Four supplied thumb screws hold everything in place, and just two cables emanate from the block itself; a four-pin AIO pump header and a USB cable for software control.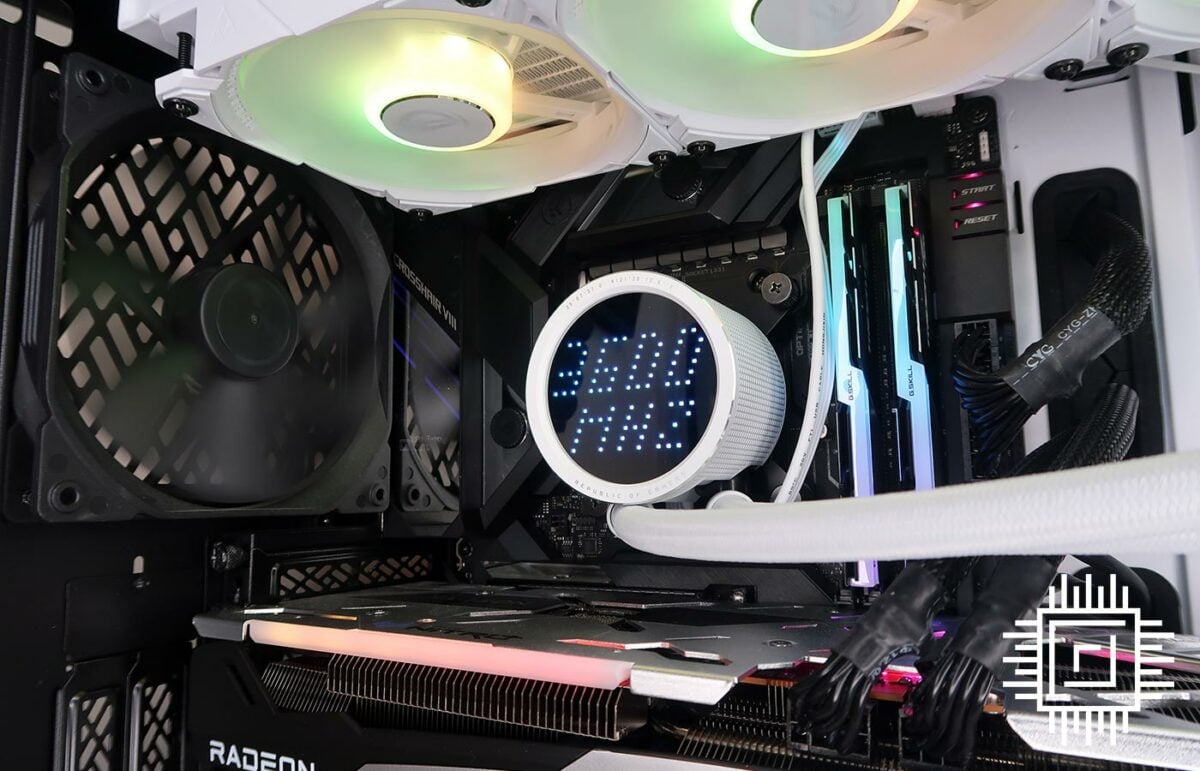 The whole process can be completed in a matter of minutes, though you will likely want to install Asus's Armoury Crate software for maximum customisation. The app carries an array of pre-built animations or effects, and also includes options to display relevant system stats such as CPU frequency (pictured above), temp or fan speed.
A decent array of options, and Armoury Crate is intuitive in handling a playlist of animations and data, but the constraints of a pixel-based display do quickly become apparent during use. If you're contemplating a custom graphic or your clan logo, have a play with the web-based AniMe Matrix Pixel Editor to see what you can achieve given the limitations.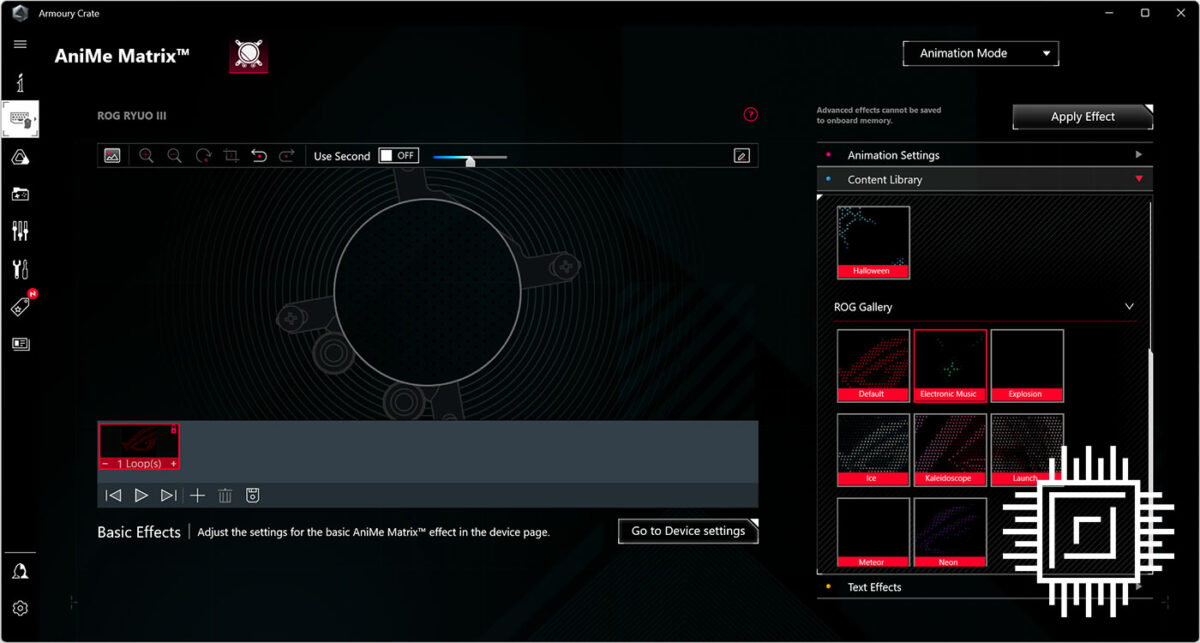 There is also the matter of bloat, as Armoury Crate is notorious for carrying a fair few necessary utilities. No surprise given the same Asus software governs literally hundreds of components, yet if you're only interested in the cooler, it is a surprise to see so nearly a dozen Asus apps listed in control panel after installing Armoury Crate. I'm a stickler for clean installs, and if you prefer not to litter your Windows installation, the cooler works perfectly fine as a plug-and-play solution with fan speed governed by motherboard BIOS.
Performance
CPU cooling credentials are examined on the Club386 Ryzen 9 5950X test platform, featuring Asus ROG Crosshair VIII Formula motherboard and Sapphire Radeon RX 6700 XT graphics card inside a stock Fractal Design Define 7 chassis. All coolers are tested with fan speeds configured to 600, 1,200 and maximum RPM. We record noise output at each setting and log temperature during an extended multi-core run of Cinebench R23.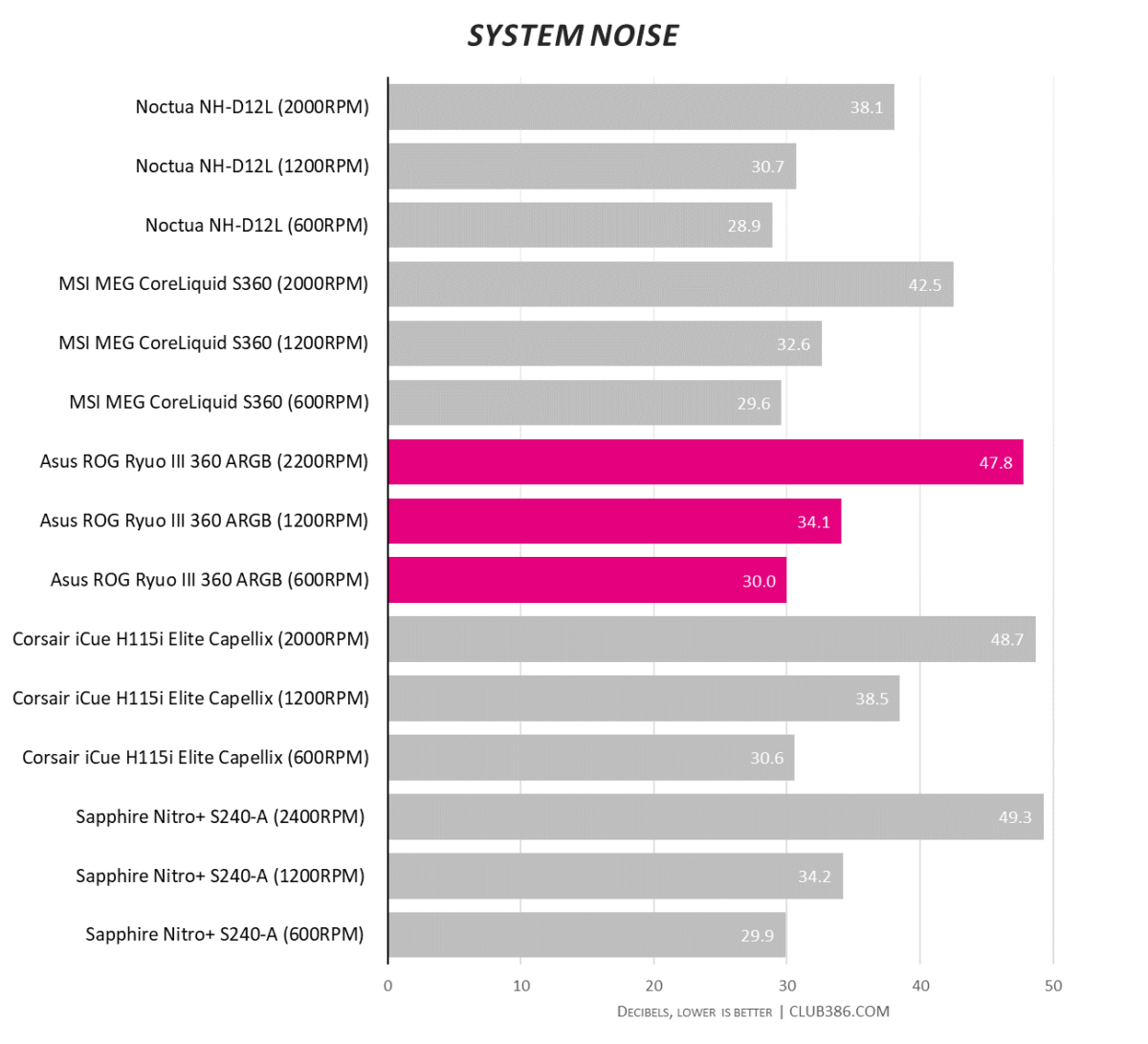 Any modern AIO CPU cooler ought to keep noise levels down to a minimum. ROG Ryuo III manages to do exactly that – the cooler is barely audible at 600RPM and very quiet at 1,200RPM – however, the pump on our review unit did exhibit a minor hum that's noticeable in an ultra-quiet environment. Reducing pump speed even slightly to 95 per cent almost entirely eliminates this noise with no obvious detriment to performance.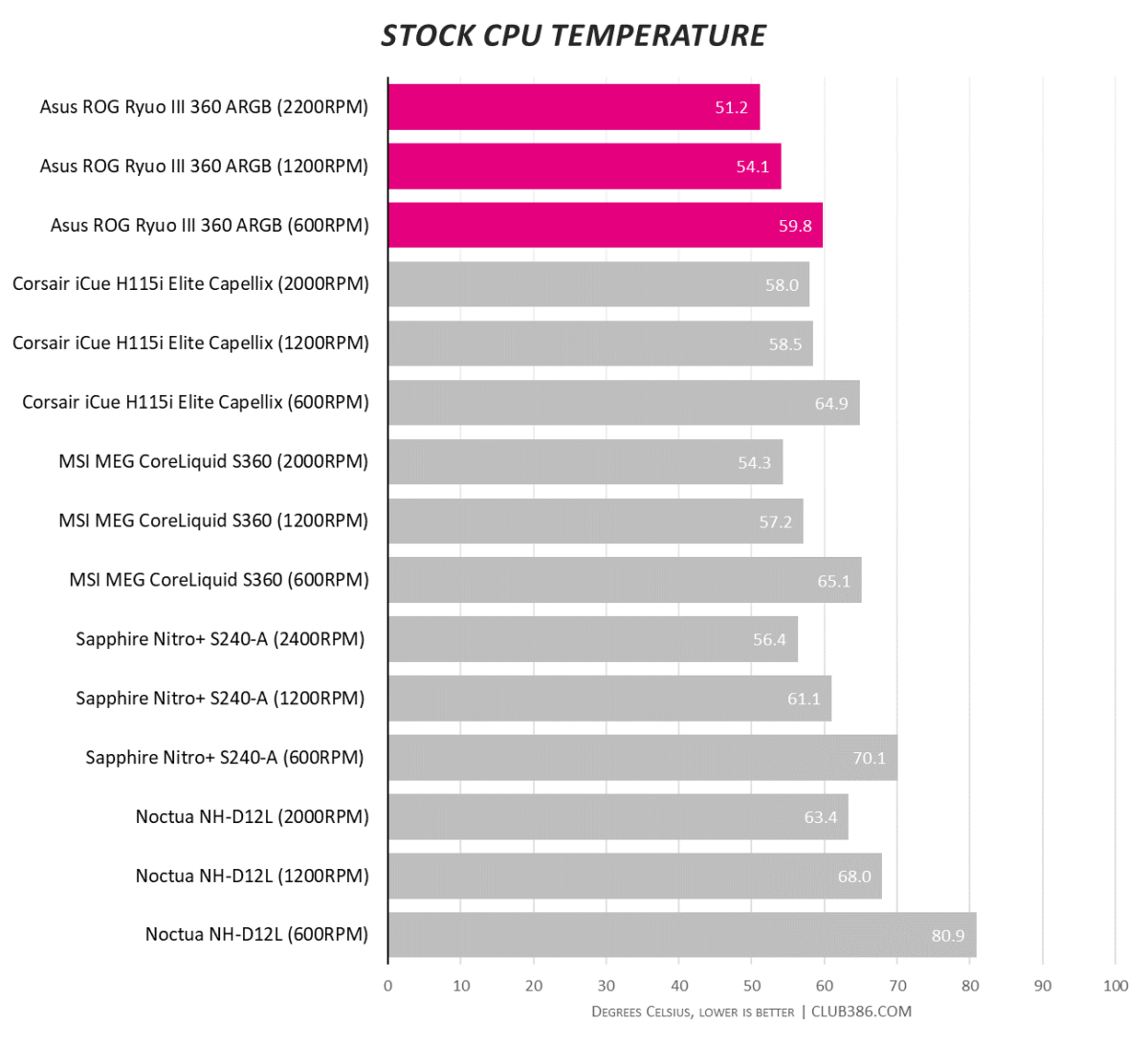 The value of the 8th Gen Asetek platform becomes apparent in the cooling stakes, where Asus ROG Ryuo III takes top spot with consummate ease. A sub-60°C reading at low fan speed is an outstanding result for our stock-clocked, 16-core chip.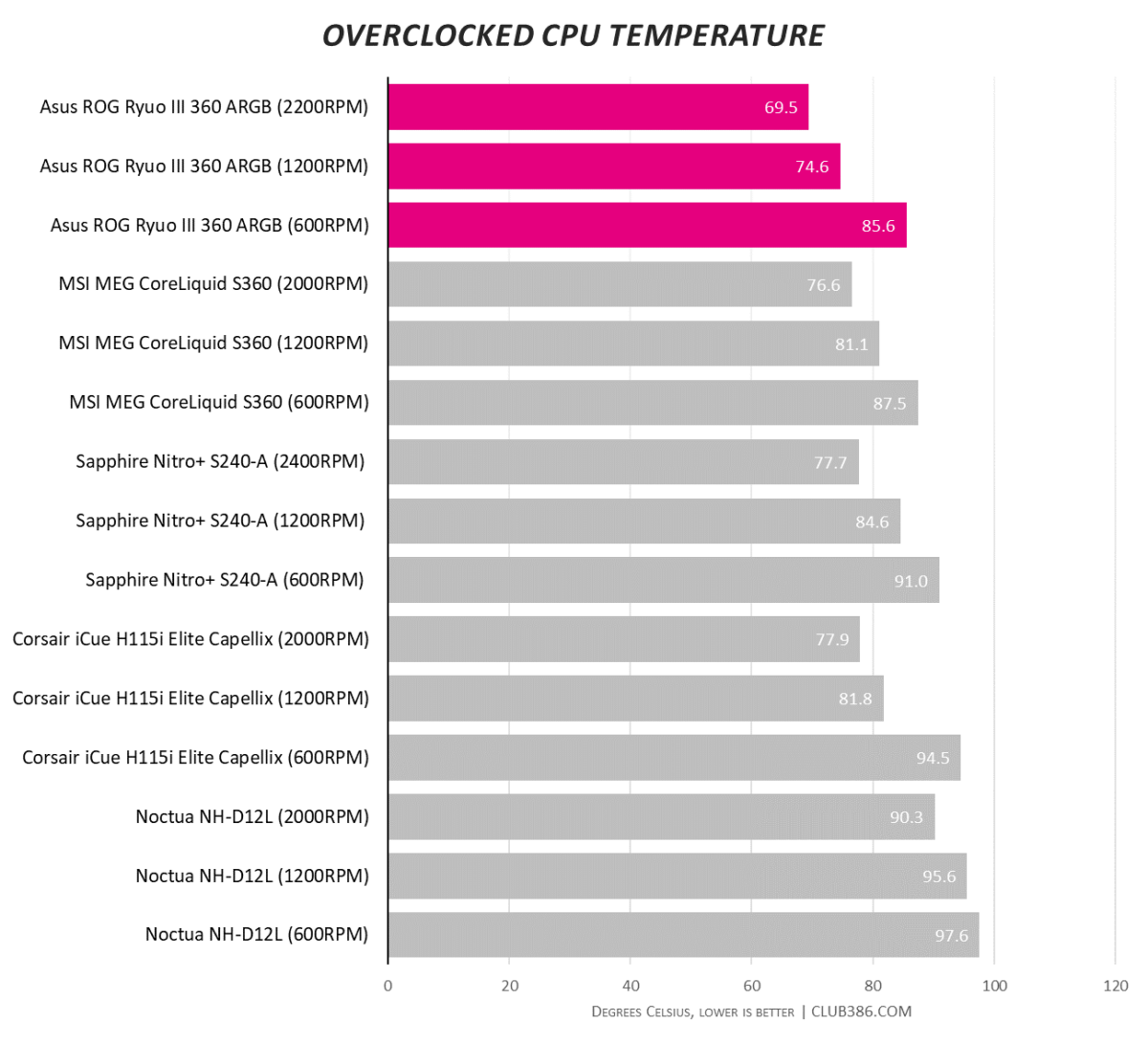 Performance remains ahead of the pack even when Ryzen 9 is overclocked. Apply 1.3V and a 43x multiplier and temperature typically climbs past 90°C on lesser coolers. The triple-fan Asus delivers the best results at all three fan speeds, though the maximum 2,200RPM should only be initiated for isolated testing; it's far too loud for everyday use.
Conclusion
First to market with Asetek 8th Gen cooling credentials, the Asus ROG Ryuo III 360 delivers chart-topping cooling performance in a sleek package available in a choice of black or white.
The latest hardware does naturally attract a premium – £300 is seriously steep – however if you are able to play in this arena, a re-engineered pump, larger cold plate and improved liquid flow puts the Asus ahead of a chasing pack. Jury's out on the AniMe Matrix lid – it looks cool but also feels like a missed opportunity to insert a proper round LCD – yet save for a custom loop, few other options deliver high-end cooling credentials and design flair as effortlessly as ROG Ryuo III.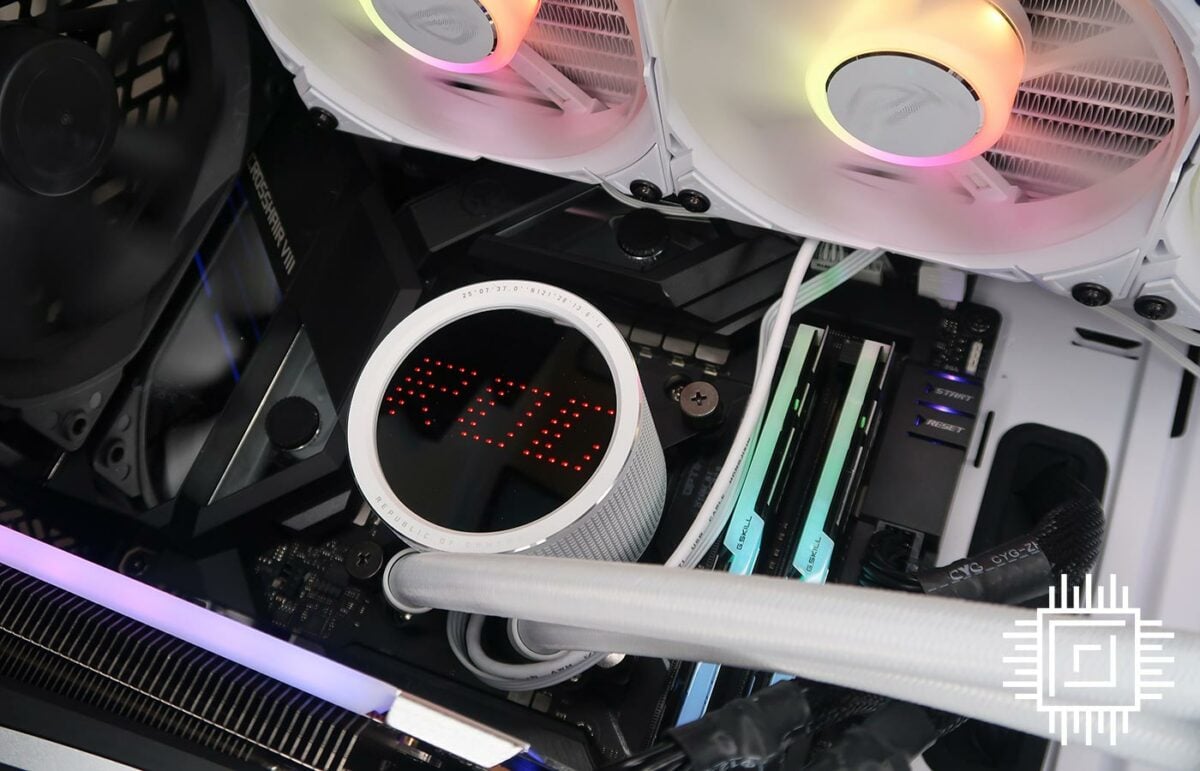 Asus ROG Ryuo III 360 ARGB White Edition
Verdict: If you can get past the price tag, ROG Ryuo III is the best-performing AIO cooler to date.
---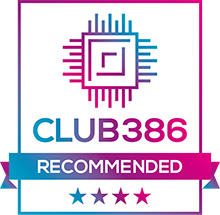 Pros
Excellent performance
Looks lovely in white
Low noise
Simple setup
Six-year warranty
Cons
Huge price tag
No 280mm option
No spare thermal paste
---
Club386 may earn an affiliate commission when you purchase products through links on our site. This helps keep our content free for all.
Rest assured, our buying advice will forever remain impartial and unbiased.