The Nvidia GeForce RTX 4090 remains the unequivocal performance leader for discrete desktop graphics. Armed with ungodly firepower emanating from third-generation Ada Lovelace architecture, the Big Beastie crams in 76.3bn transistors into a design featuring 16,384 cores and over 82TFLOPS of sheer compute. Numbers alone don't do it adequate justice; you need a high-refresh-rate 4K screen and DLSS lovin' to experience smoothness on a different scale. Knowing it has no performance peer, the debate often arises of which CPU to pair with all of Ada's might. It raises a good question, too, as a fast CPU is instrumental in propelling RTX 4090 to stratospheric framerates.
On the one hand, there is the Intel Core series that relies on massive frequencies to get the job done. AMD takes a different tack by using heavily cache-infused processors to mete out superlative frame rates. By our reckoning, the AMD Ryzen 7 7800X3D is the most suitable partner for Nvidia's head honcho, as it carries enough real-world muscle to stave off the very obvious threat coming from 6GHz Core i9-13900KS. Mind you, it's a close-run thing – our benchmarks suggest Intel's rampaging speed is enough to provide 98 per cent of the Ryzen's performance at 1080p. Close, my friend, but no cigar.
Which brings us nicely on to today's investigation. Intel is waving goodbye to the LGA1700 socket through the release of 14th Gen Core processors colloquially known as Raptor Lake Refresh. Chief Intel Core i9-14900K inches ahead of 13900K through elevated clocks rather than manifest tweaks in architecture. Nevertheless, there's enough under the hood to ensure it's the fastest out-the-box chip for content creators and multitaskers, as well as naturally great for gaming. The burning question – and it will be one if you don't possess top-notch cooling – is whether this new champ packs enough gaming cojones to take down $$$-rich Ryzens when run with mighty RTX 4090.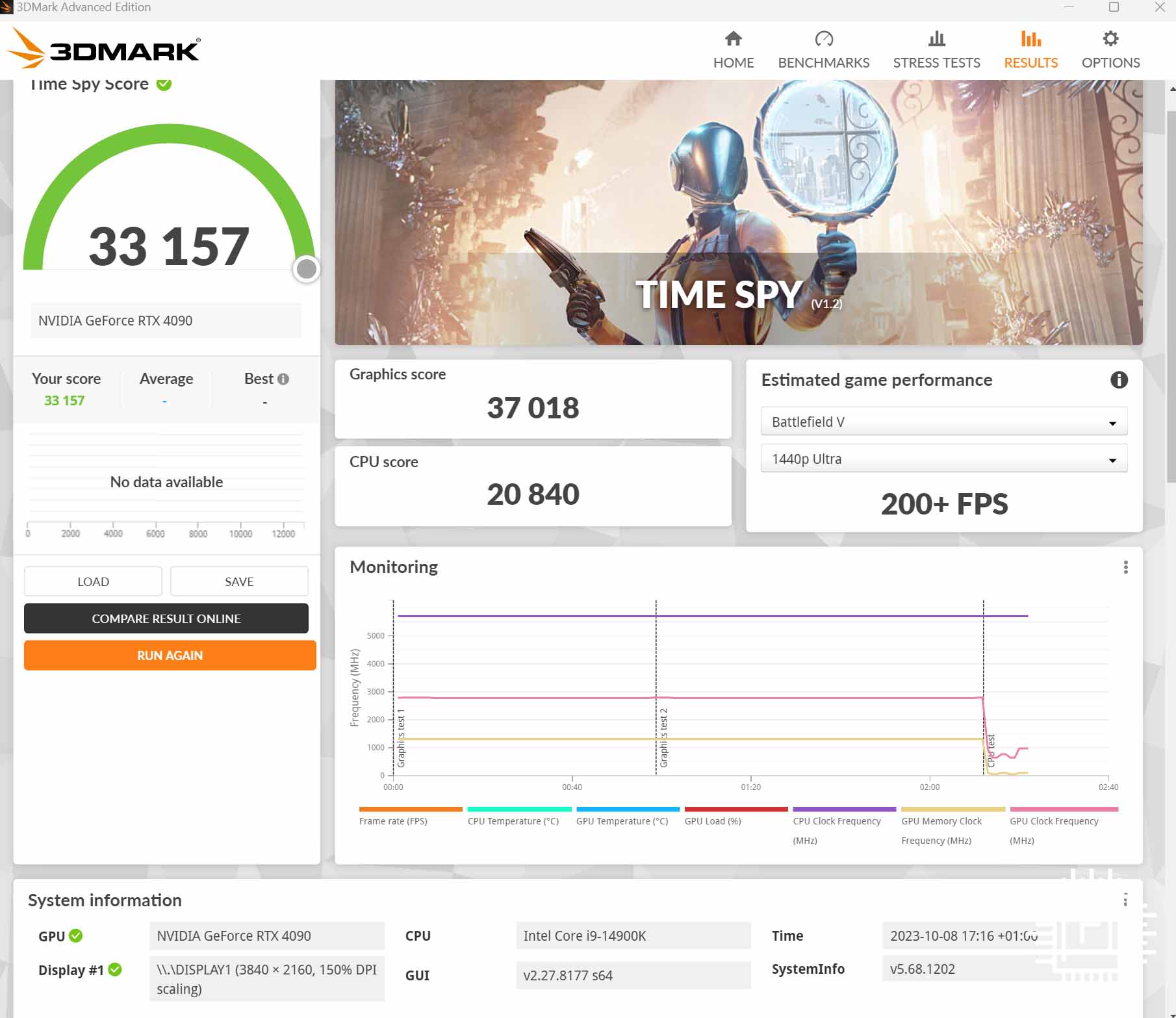 The simple intent of this editorial is to determine the best gaming CPU, removed from all major encumbrance, so 7800X3D, 7950X3D, 13900KS, and 14900K all get a justifiable outing. Common components include a Zotac GeForce RTX 4090 AMP Extreme Airo 24GB graphics card, 32GB (2x16GB) Kingston Fury Beast RGB 32GB DDR5-6000 operating at CL32 on all fronts, either MSI MAG CoreLiquid E360 (Intel) or Noctua NH-D15S chromax.black (AMD) for cooling, Seagate FireCuda 530 2TB NVMe SSD, and ASRock Z790 Nova WiFi (Intel) and X670E Taichi (AMD) motherboards updated to the latest firmware.
be quiet! is on hand with a Dark Power 13 1,000W PSU providing perfectly stable juice and easy cabling thanks to a single PCIe 5.0 GPU power connector. We couldn't make these class-leading platforms more similar if we tried; it's a fair fight and in-game settings are set to maximum. Adding some previous-generation context, an AMD Ryzen 9 5950X is included in upcoming graphs. All chips are run with their manufacturer-specified power limits intact. Game on!
Application performance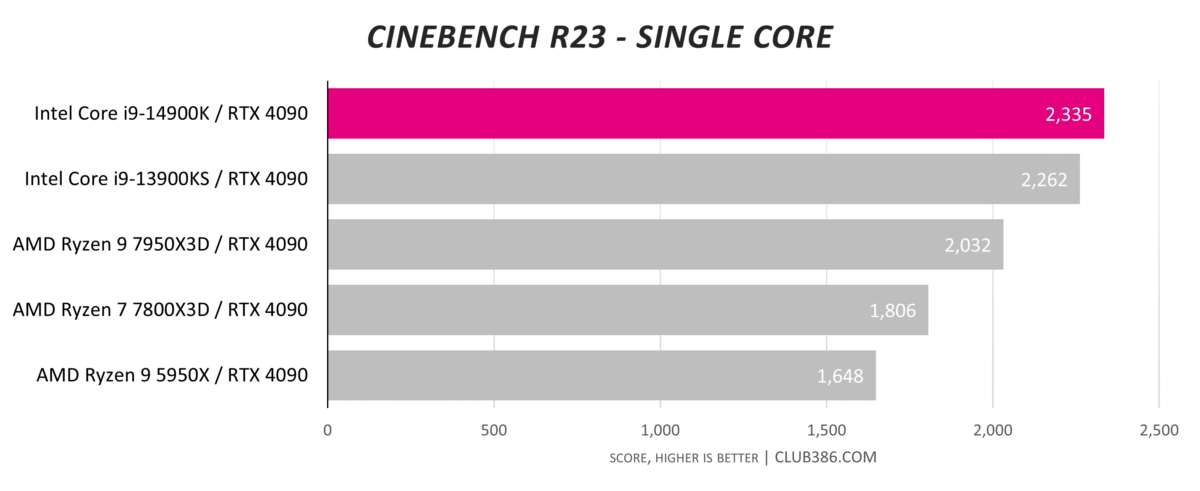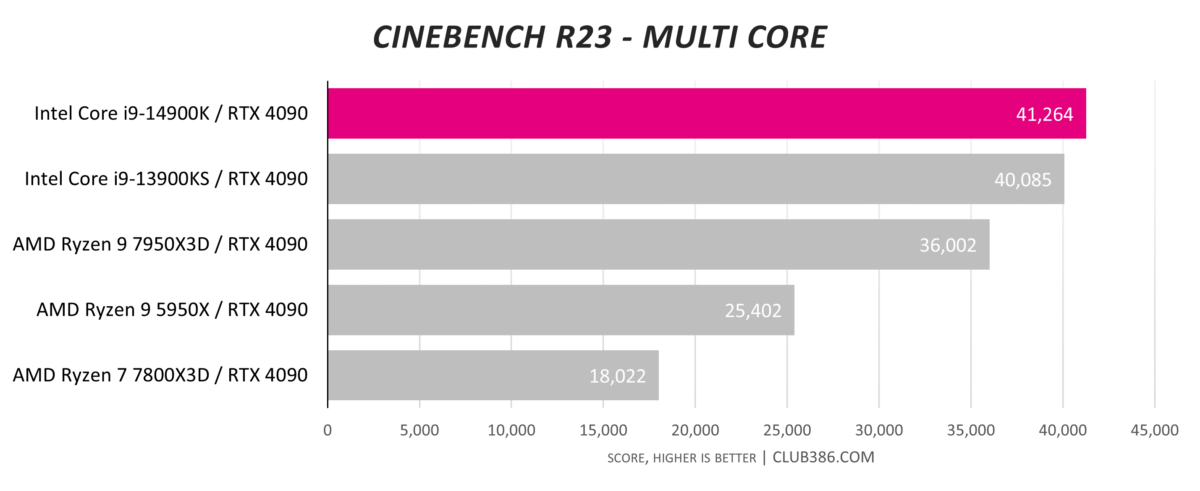 Though gaming is the main focus, it's worth knowing how each processor handles productivity tasks. A one-trick pony is fine, but most would prefer a well-rounded solution.
Intel's high frequencies pay dividends for those who work by day and game by night, and it's one area where power-restrained Ryzen X3D chips cannot compete as well.
Intel Core i9-14900K
---
"The Intel Core 14th Gen desktop processor family powers the world's best desktop experience for enthusiasts."
We earn a commission if you make a purchase, at no additional cost to you.
Synthetic tests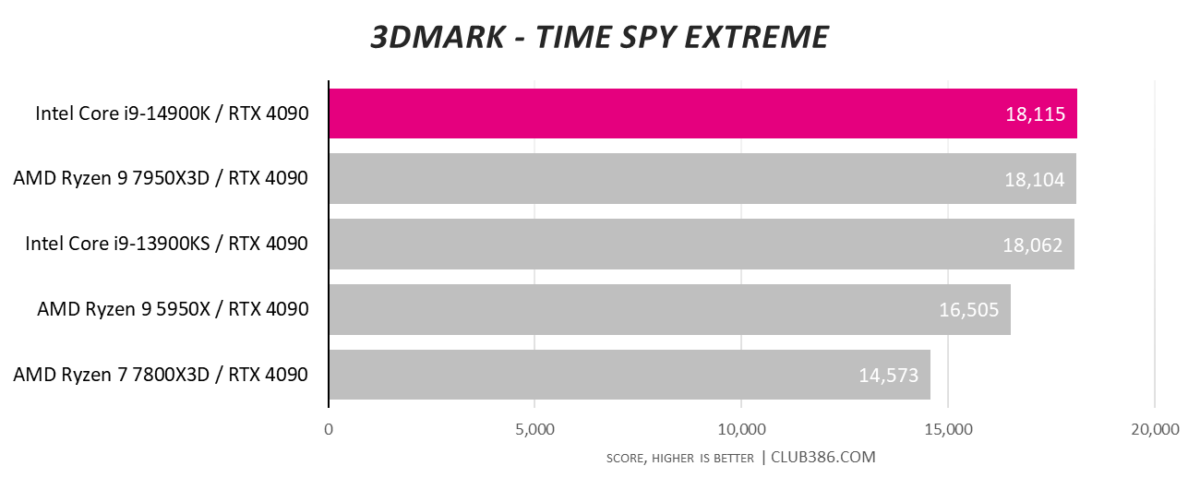 It's the same oodles of power that push Core i9s into the top two positions for our standard synthetic gaming test. Hard to ignore 6GHz of frequency, yet the gap between Raptors and Zens closes at the UHD examination.
Gaming tests
Assassin's Creed Valhalla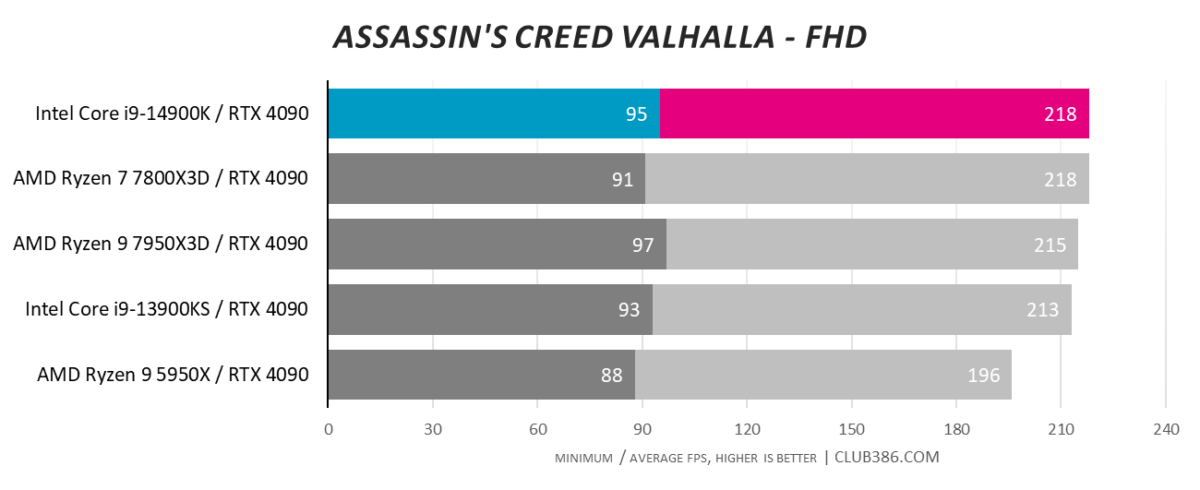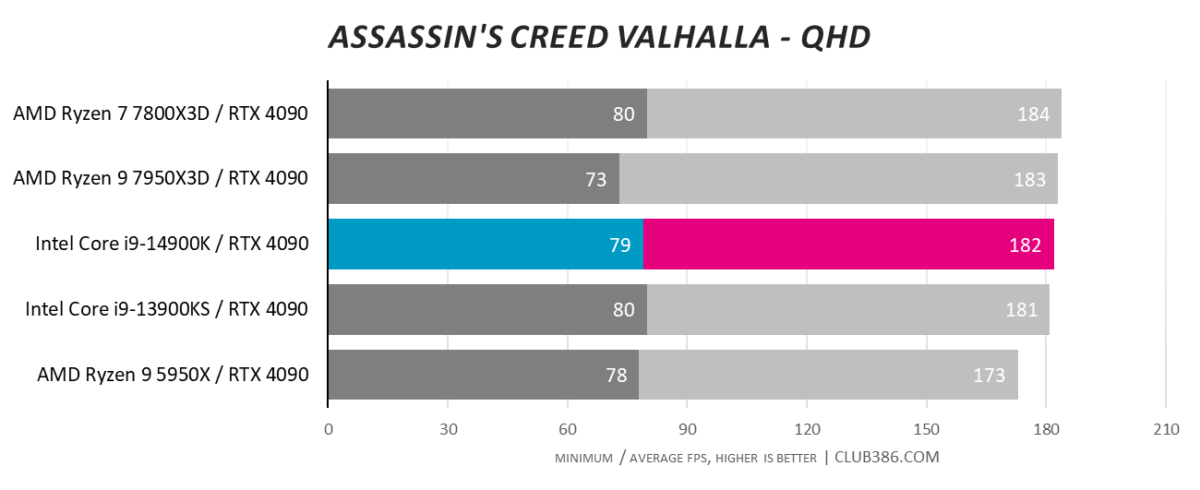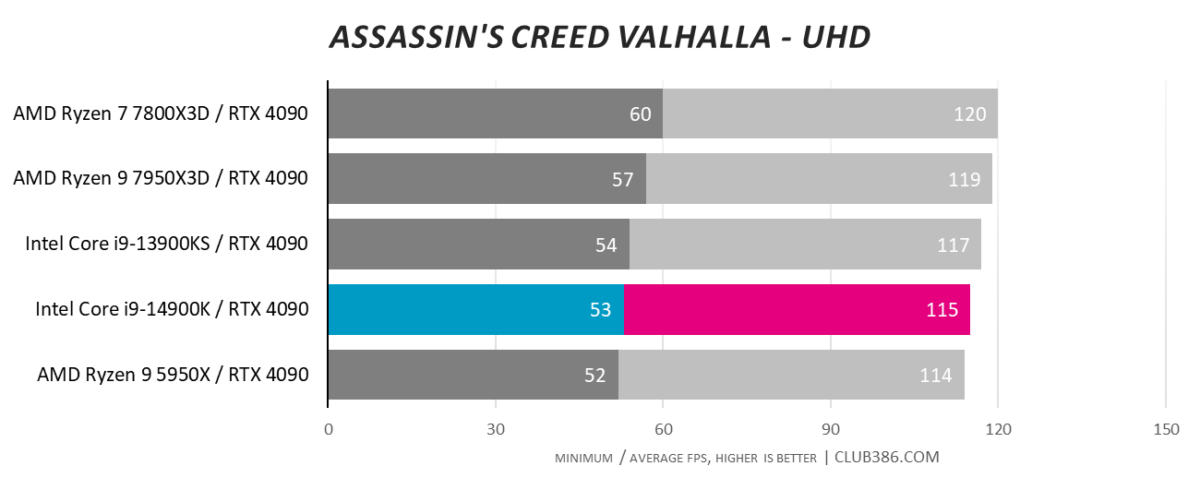 Assassin's Creed Valhalla is a title that runs well on Ryzen. There really isn't anything between these five gaming champs as we scale resolutions. Somewhat strangely, Core i9-14900K doesn't do as well as expected at UHD.
Cyberpunk 2077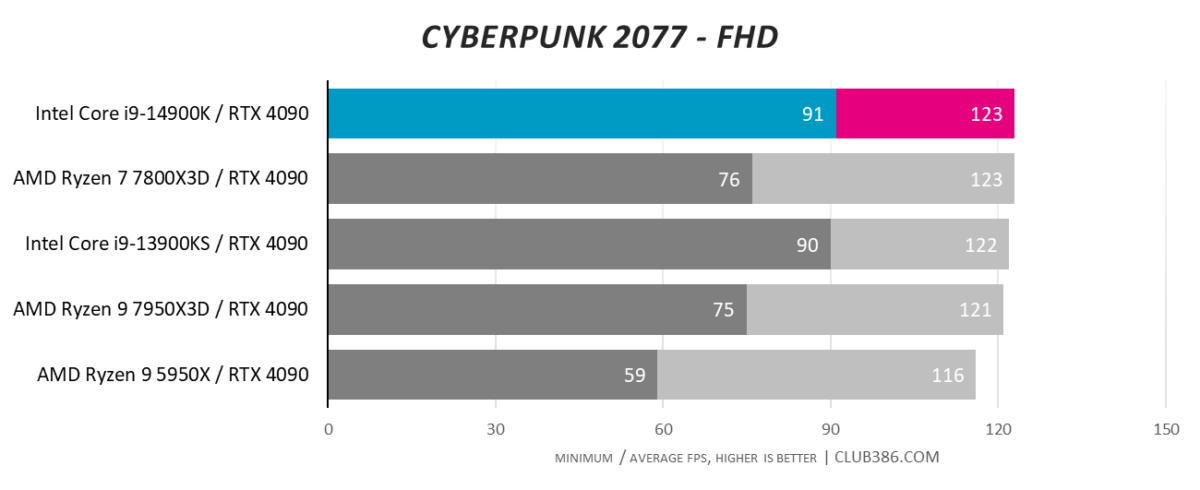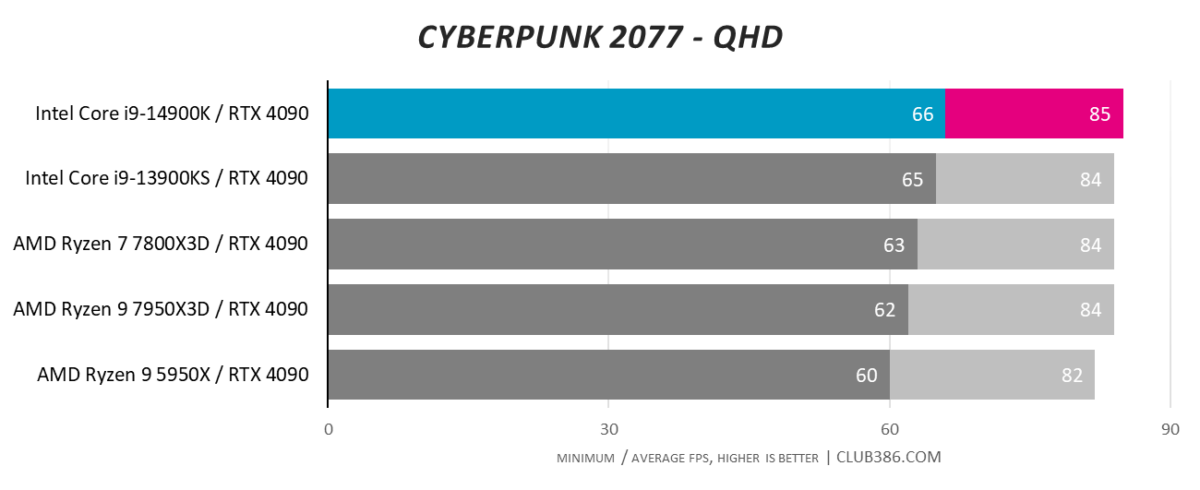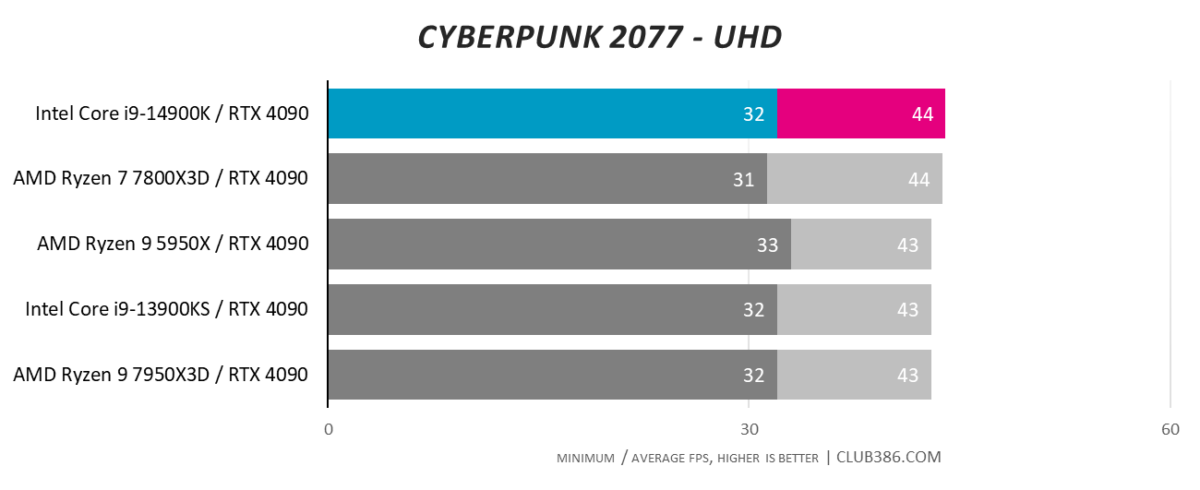 Run without DLSS magic, you will enjoy a similar games-playing experience on all chips.
GeForce RTX 4090
---
"The Nvidia GeForce RTX 4090 is the ultimate GeForce GPU. It brings an enormous leap in performance, efficiency, and AI-powered graphics."
We earn a commission if you make a purchase, at no additional cost to you.
Far Cry 6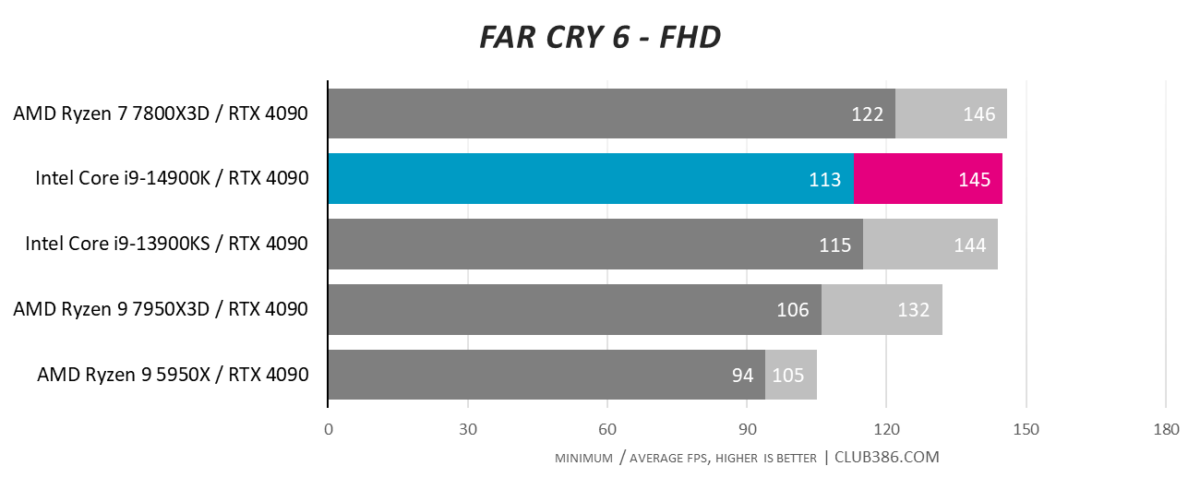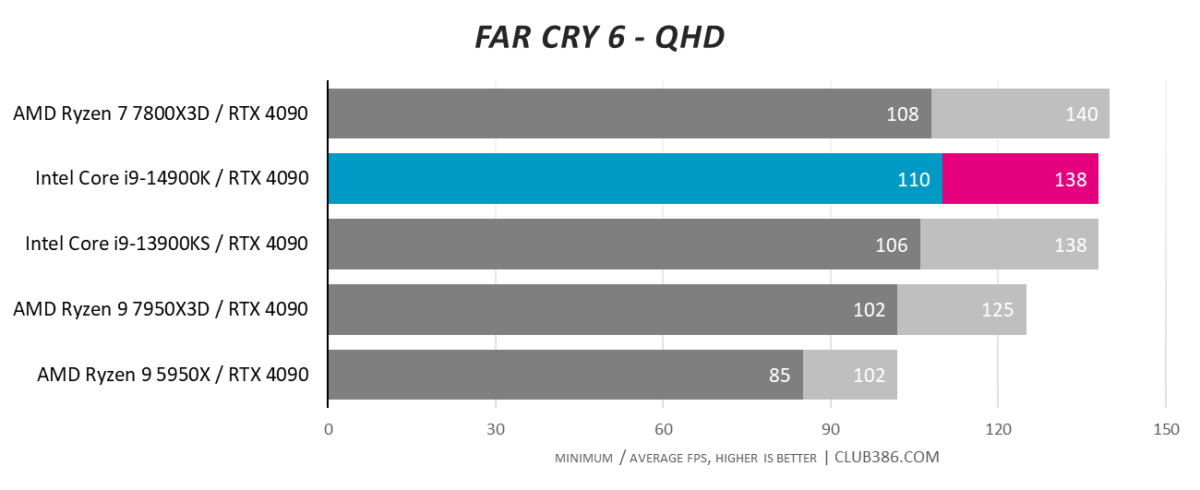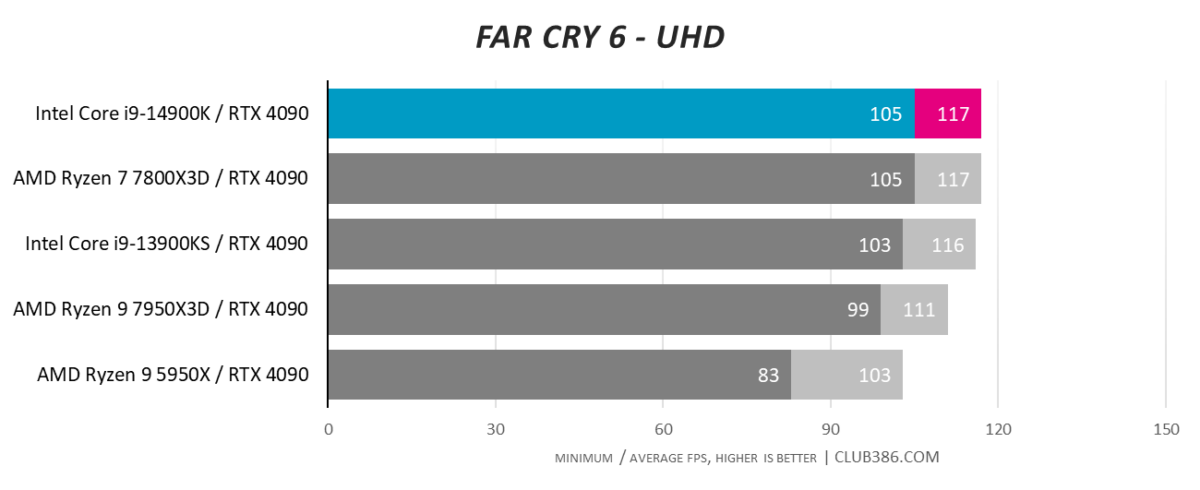 Intel Core had this game covered until Ryzen 7 7800X3D showed up at work. A fraction behind at the first two resolutions, Core i9-14900K steps it up at 4K.
Final Fantasy XIV: Endwalker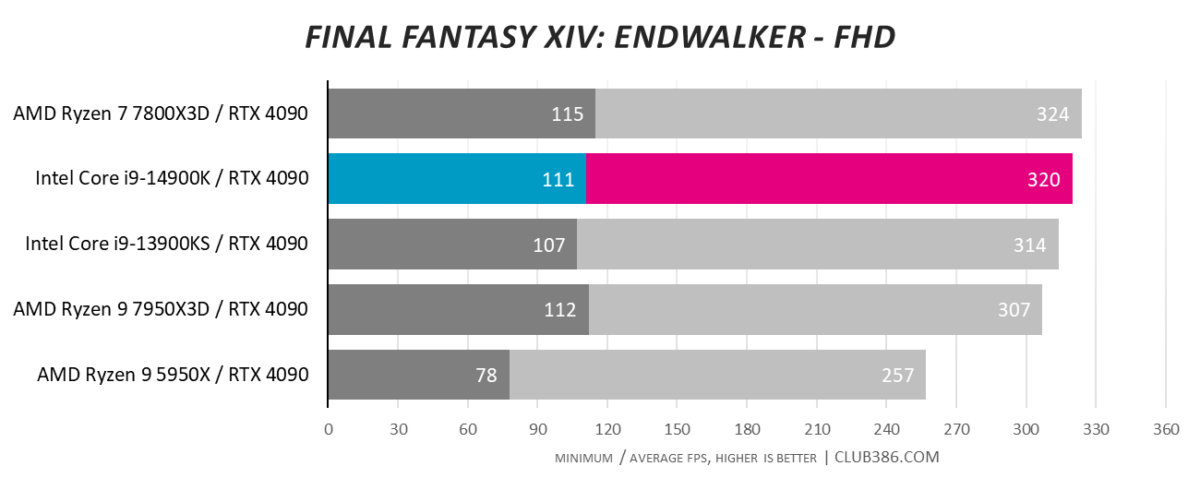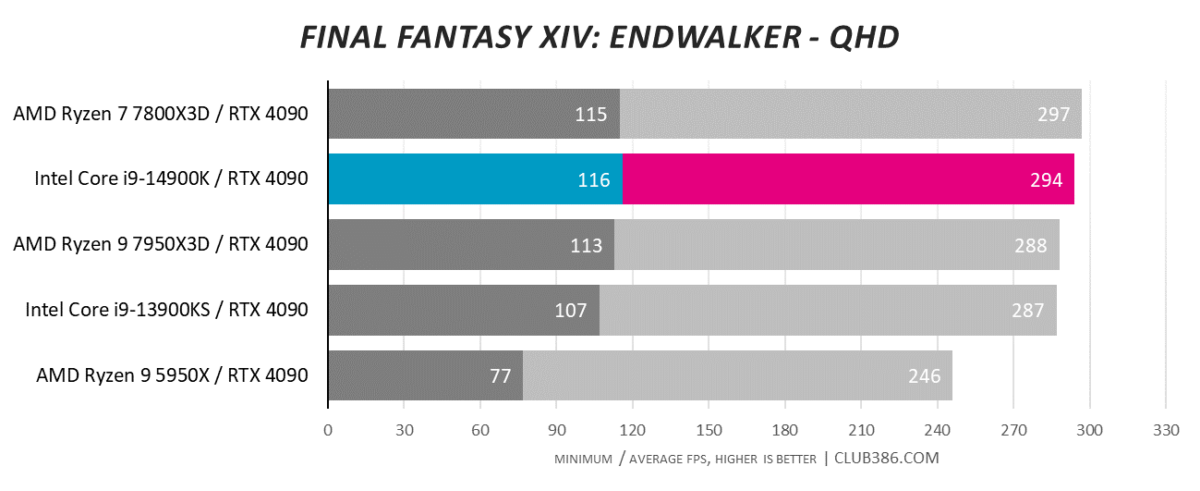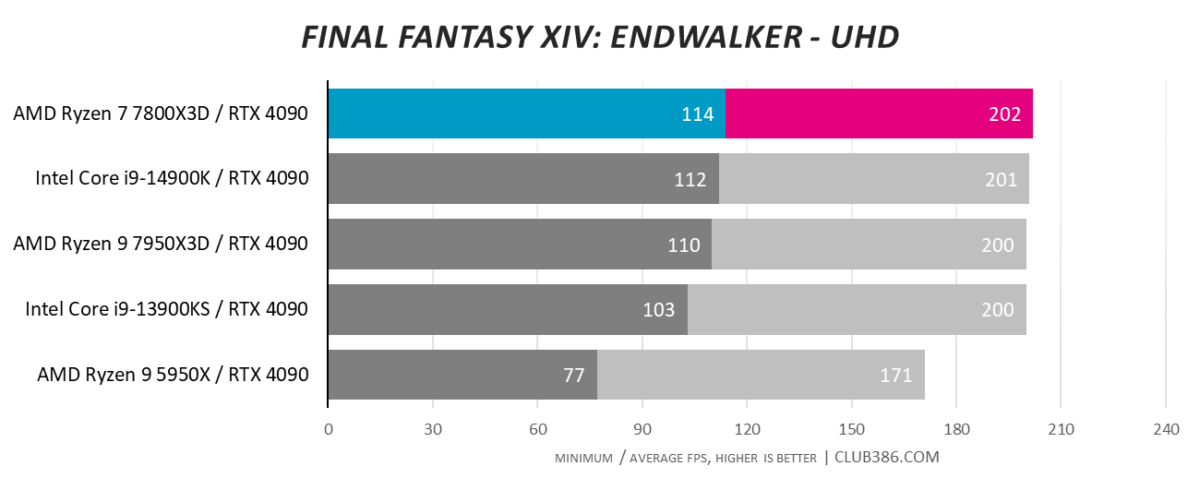 Core i9-14900K brings the fight to Ryzen 7 7800X3D by decreasing the FHD gap. Nevertheless, gamers gain a super experience if using anything other than Ryzen 9 5950X.
Forza Horizon 5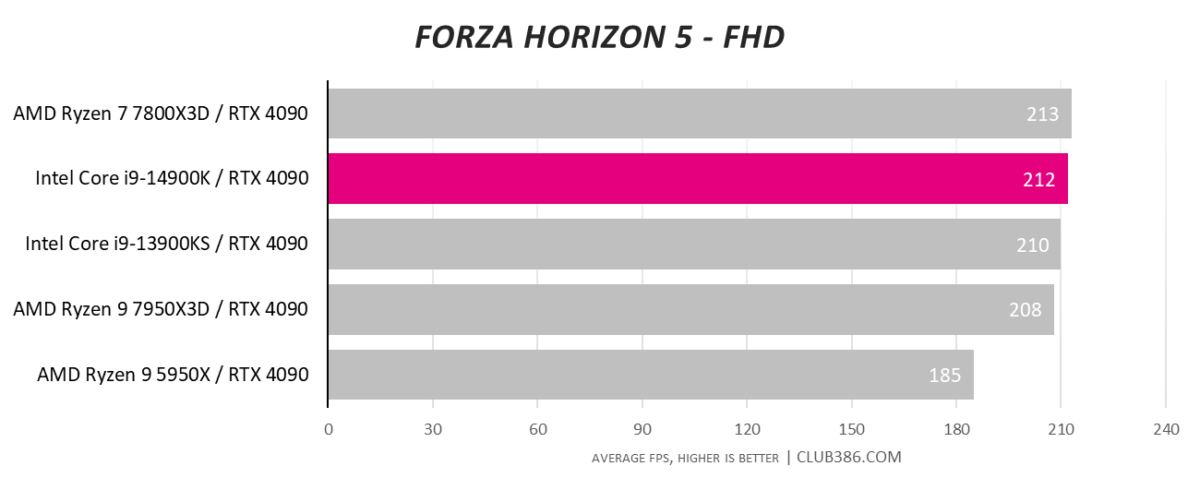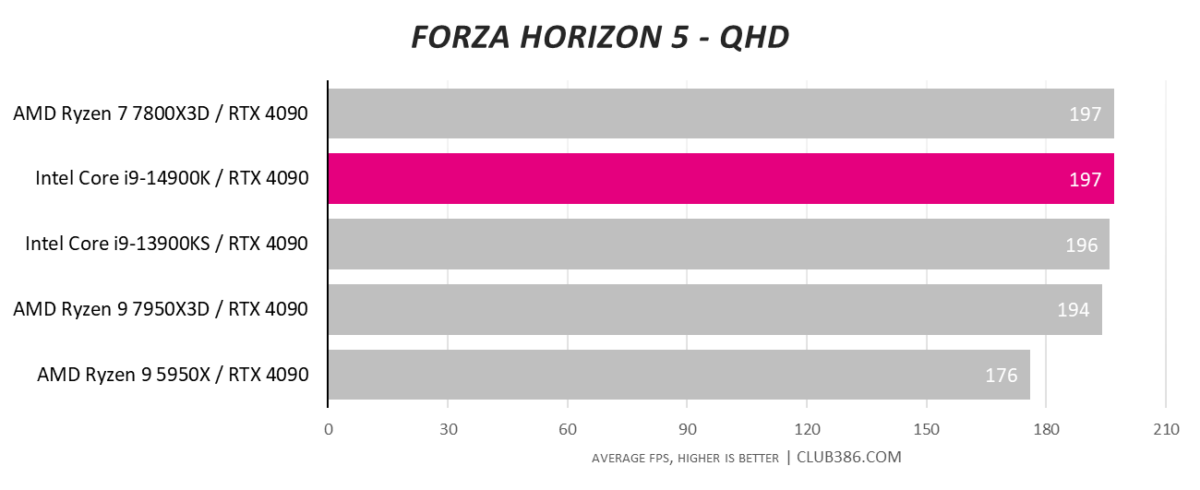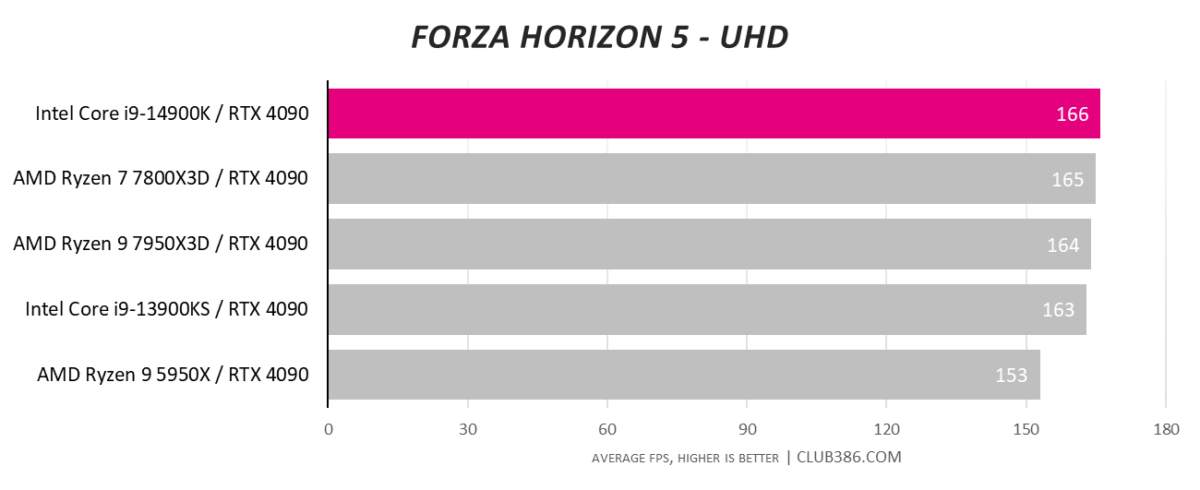 Even mighty RTX 4090 fails to distinguish between horsepower provided by today's champion CPUs. Be it cache-rich Ryzen or frequency-monster Core, you are guaranteed a great gaming experience.
Rainbow Six Extraction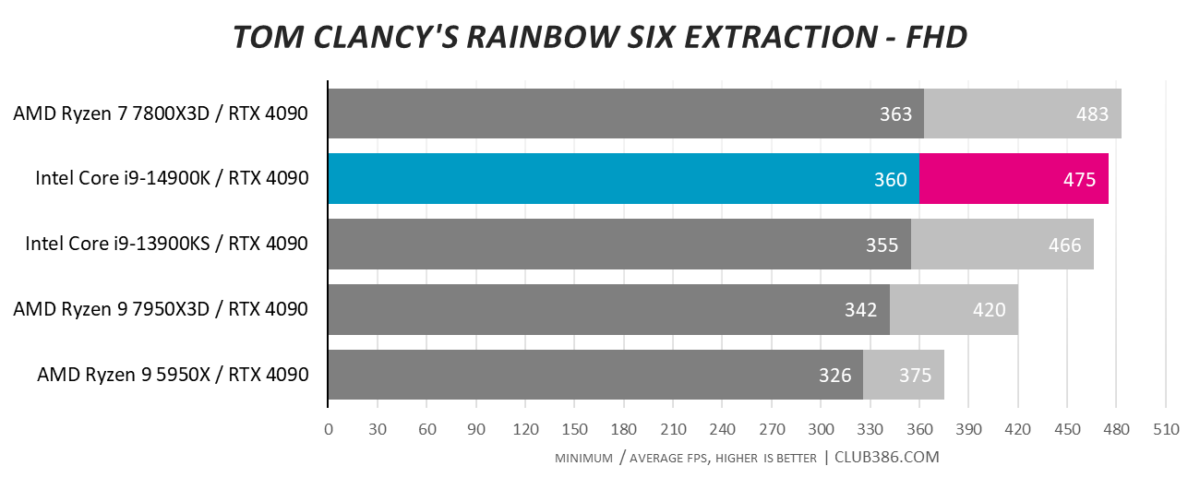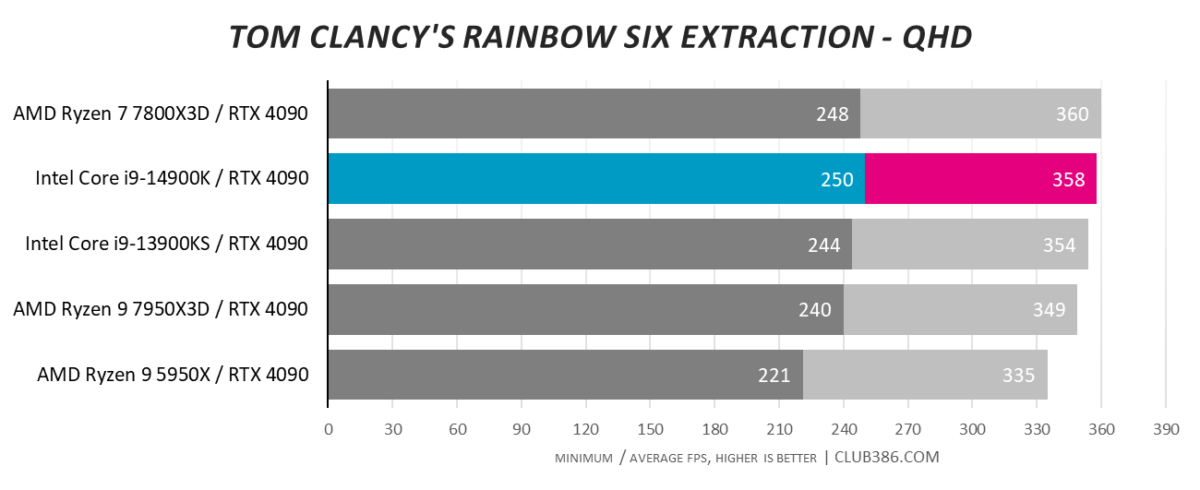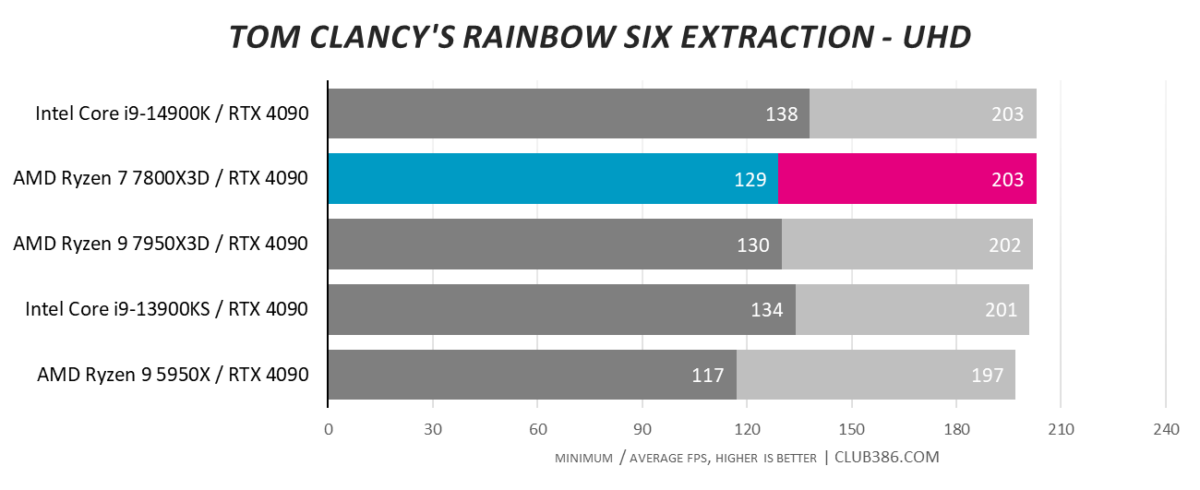 Loving high framerates more than most games, Tom Clancy's Rainbow Six Extraction needs a powerful CPU at the helm. Core i9-14900K falls just shy of gaming-optimised Ryzen at FHD. As one would expect, the gap between all five diminishes as the resolution is raised and onus shifts to the GPU.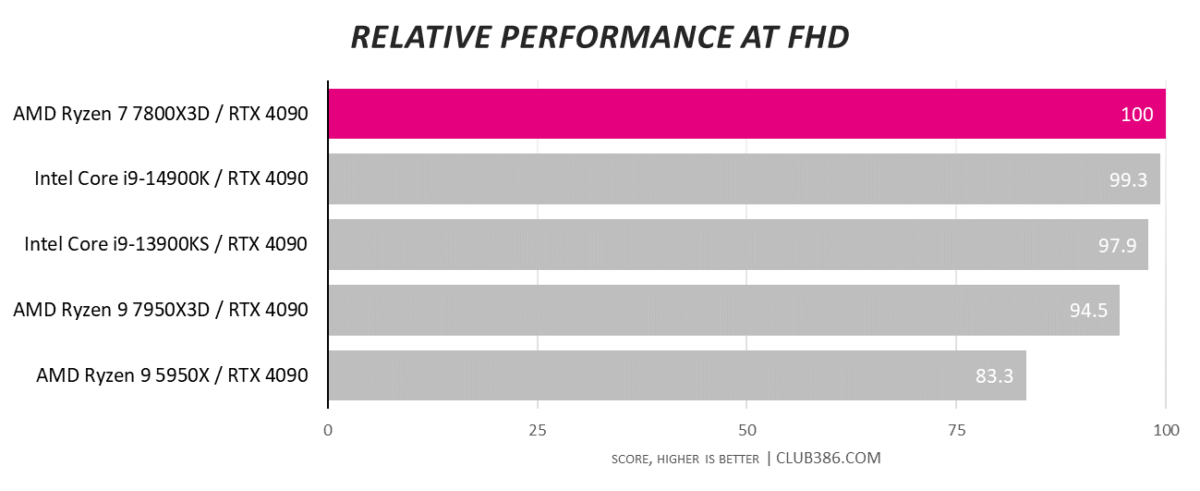 Totting up the relative performance at FHD in each game and then expressing it relative to others, we determine which, in our tested titles, is the best tool for the job. Turns out Ryzen 7 7800X3D holds on to the mantle of world's fastest gaming processor… just. Intel needs a 6.1GHz part, one would think, to trump AMD's smarter implementation.
Summary
The meaty GeForce RTX 4090 is a hard customer to please. Massive throughput shines an uncomfortable spotlight on the supporting cast, most notably the CPU. Yesteryear's Ryzen 9 5950X falls short in the examination by leaving precious frames on the table at a FHD resolution, with sub-par rates seeping through to 4K. Today's best processors, however, are better bedfellows, and Intel's foremost proposition is the 6GHz Core i9-14900K.
Ostensibly a 13900KS able to run marginally faster through unlocked power limits, the 14900K is the best Intel gaming processor to date. Caring little for energy efficiency leads to top-notch performance, particularly with regard to minimum framerates, so there's plenty to like.
All that said, we still find AMD's cache-heavy and gaming-optimised Ryzen 7 7800X3D clings on the title of fastest gaming processor by the slimmest of margins, though precisely whether AMD or Intel is quicker depends upon your flavour of gaming.
But don't let the odd frame here or there perturb you. Leading Intel 13th and 14th Gen Core and Ryzen 7000 Series are all fine supporting partners to all-conquering GeForce RTX 4090.