Jump to: Design | Installation | Performance | Conclusion
Fierce competition in the CPU space is good news for consumers and an entire roster of partners who stand to benefit from interest in the wider ecosystem. Cooler manufacturers, in particular, are facing renewed enthusiasm as a result of AMD and Intel pushing processors to the limit in an effort to extract every last drop of performance.
The increasing crop of hot-running chips need taming, and though we've historically been fans of simple air coolers – there's merit to less complexity in the right scenario – high-performance liquid all-in-ones are destined to be the default choice for enthusiasts wanting to keep flagship CPUs the right side of 100°C.
That being the case, Club386 has put together a rig based around Intel's sizzling Core i9-13900K processor to gauge the credentials of various up-and-coming coolers against one of the most powerful chips available today. As you ought well know, Chipzilla's powerhouse part has a max TDP of 253W, generating volcanic levels of heat and pushing even the largest air coolers to their limit. For comparison purposes, we'll be using be quiet!'s excellent Dark Rock Pro 4 as the baseline, a venerable dual-tower cooler whose performance is on par with industry stalwarts such as the Noctua NH-D15.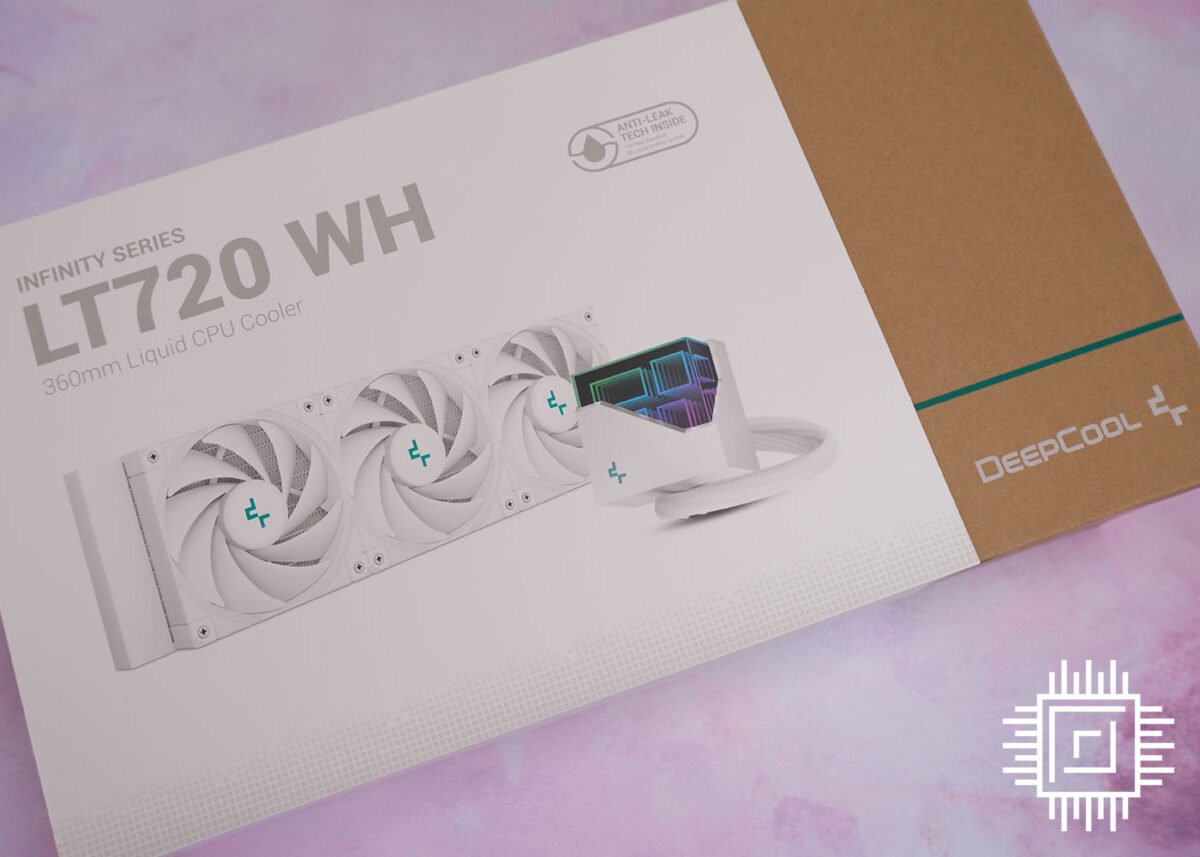 Question is, how much better, if at all, is an all-in-one when it comes to wicking away heat from today's extreme CPUs? The first challenger to step up to the plate is DeepCool's LT720 WH. The Chinese firm's portfolio of AIOs has ballooned in recent years to encompass two-dozen models, ranging from budget to high-end; what performance purists need to know is the LT Series is the crème de la crème.
Available in a choice of black or white colourways, the cooler comes in 360mm (LT720) or 240mm (LT520) formats priced at £130 and £110, respectively. There's no 280mm option – an oversight we hope DeepCool will remedy for those who favour 140s throughout – yet the cooler sure does look the business.
Elegant Design
LT720 WH is beautifully finished, with minimal fluctuation in the shades of white, and a contrasting green company logo that doesn't spoil the overall aesthetic. Even the fittings are colour matched in white or silver, and in a world of increasingly dazzling pump designs, DeepCool's 'Infinity Mirror' has to be one of our favourites.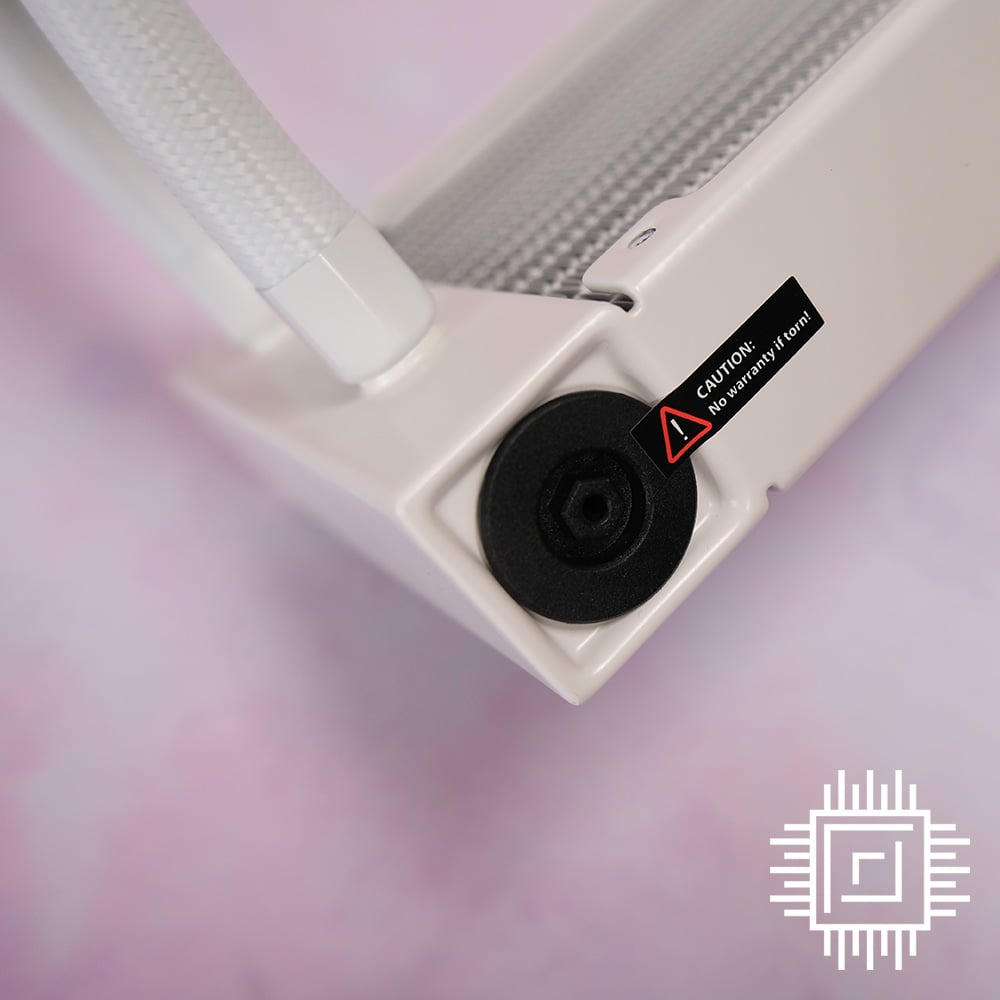 There's an almost retro look to it that's right up our street and we love the little design flourishes. Small iconography on the corner of the fans, stylised airflow direction symbols, tubing clips, and even the packaging, which is much nicer than back in the day when DeepCool was still deciding on whether to pursue Gamerstorm branding. This is no longer a budget manufacturer, and the quality of product reflects the company's growth in recent years.
Built around an in-house, fourth-generation pump design, LT720 promises improved microchannel layout for optimal coolant flow, an upgraded 3,100rpm motor, and a thick, solid copper contact plate. The pump head isn't the smallest, measuring 94mm (L) x 80mm (W) x 68mm (H), and connects to a 402mm (L) x 120mm (W) x 27mm (H) aluminium radiator via 410mm braided tubing.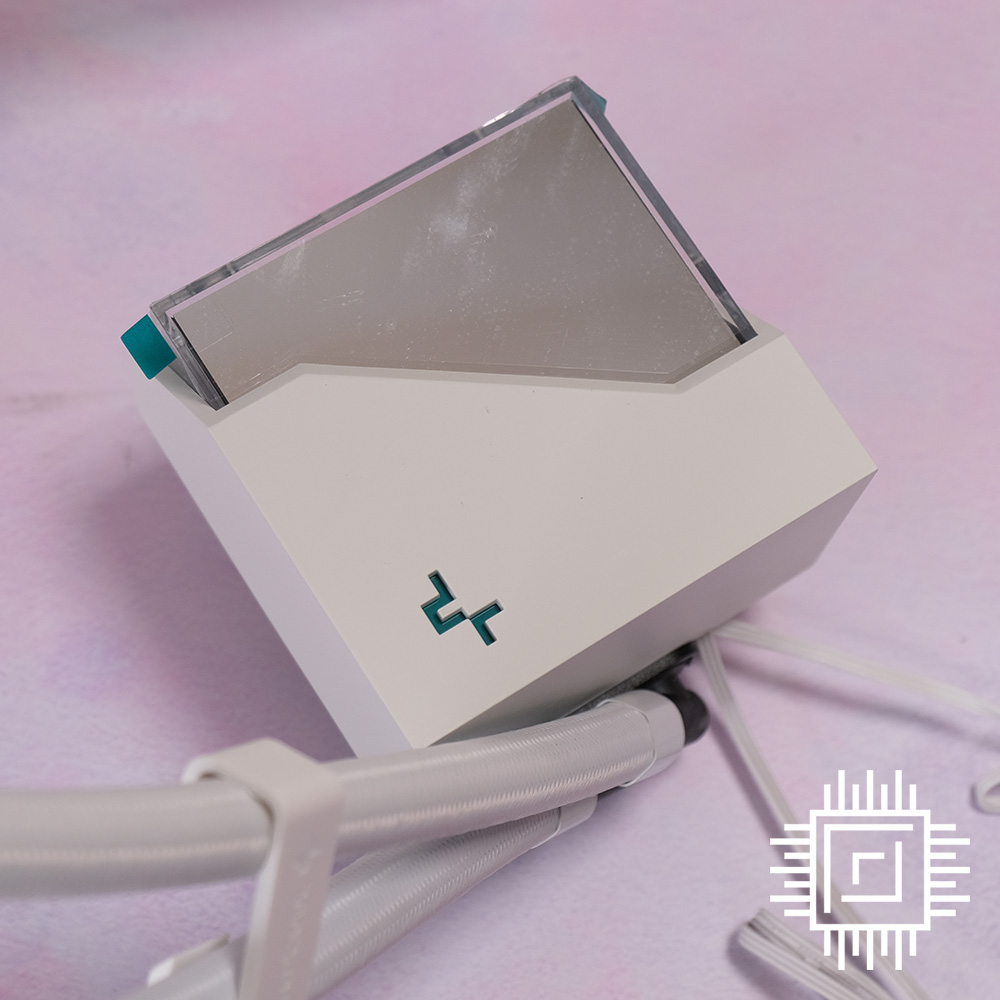 A familiar configuration whereby three 120mm fans are tasked with funneling air through the radiator, DeepCool's four-pin PWM blowers are 25mm thick, spin between 500 and 2,250rpm, and generate up to 86CFM airflow at top speed. The fans don't offer any RGB lighting, which has the benefit of tidier cabling. There's also a three-way splitter included, as well as a trio of low-speed adapters, all in white, alongside mounting kits for the latest Intel and AMD sockets.
Installation
Setup for any modern AIO ought to be a cinch and while the LT720 is straightforward enough, there are a few minor caveats. Firstly, the magnetic pump cover only attaches in one orientation, meaning if you want it the right way up, the cables will need to emanate from the bottom of the assembly, as pictured below. Secondly, the radiator has a refill hole on one side, and a company logo the other. We're of the opinion it looks better with the logo in view and refill hole hidden, hence installation with the tubes routed toward the back of the case.
An inability to rotate the pump cover isn't a problem as the 'Infinity Mirror' lighting is effective in any orientation, but it's something to be aware of. Furthermore, while first-time installation is aided through a very neat layer of pre-applied thermal interface material, there's no spare paste in the bundle for a remount or new build.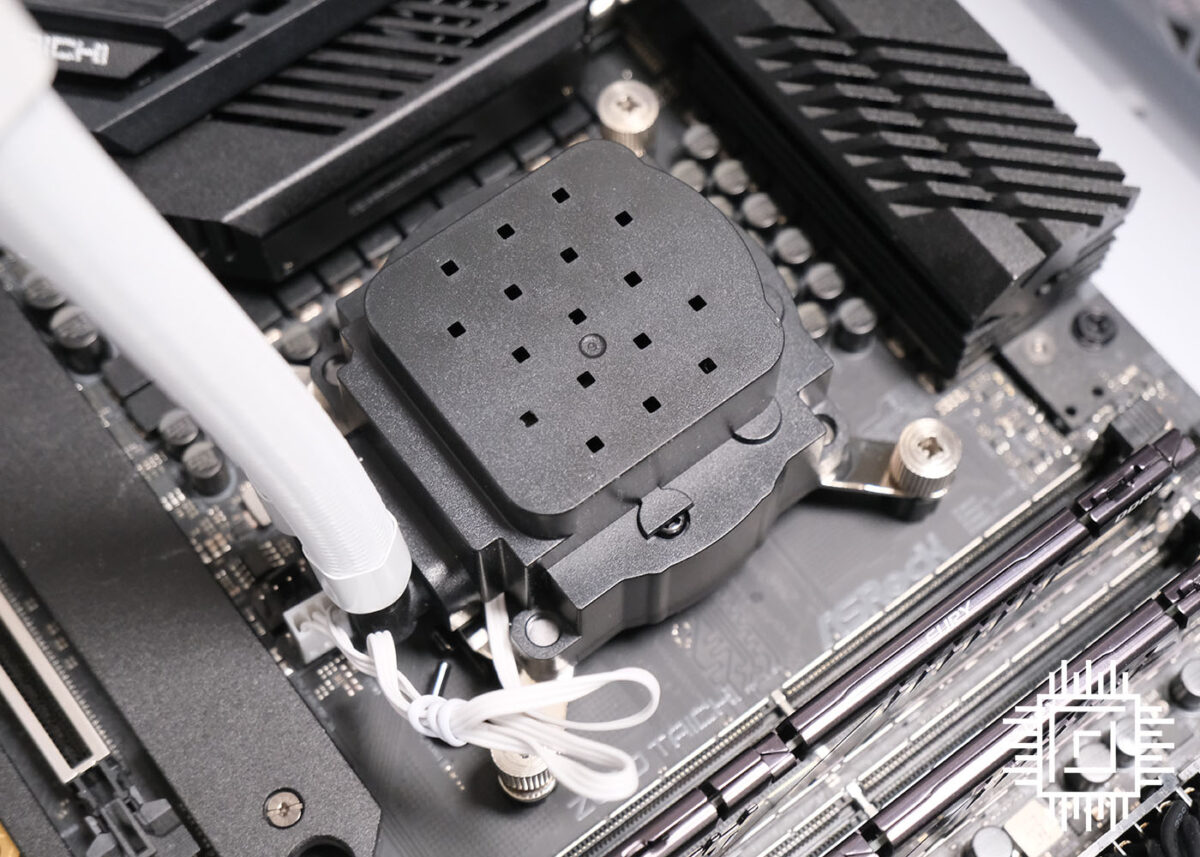 Cables are limited to three-pin power and ARGB connectors for the pump, whose cap pulls away during installation to make it easy to attach the mounting bracket, and there's neither software nor USB cables to faff with, creating a clean overall finish.
Getting up and running on our LGA1700 platform took next to no time – it's merely a case of attaching the mounting bracket to the rear of the motherboard then securing the pump head on top – and if we may say so ourselves, it sure looks the part in situ. We're seeing a surge in availability of pale PC components, and LT720 WH is a fine match for our test rig's Shadow Base 800 FX chassis. It's the Z690 Taichi that's now the odd one out; time to upgrade to ASRock's Carrara, perhaps, but that's for another day.
Performance
The somewhat disingenuous nature of today's enthusiast CPUs is such that the numbers written on the box don't paint a complete picture. Core i9-13900K maximum power soars to 253W, but maintaining that top level of performance and the frequencies that come with is easier said than done.
Without requisite cooling, peak performance will drop off quickly, and for that purpose we're testing the CPU configured in BIOS to remain at 253W under full load. The question we want to answer is whether each cooler can maintain that wattage, what it means for core temperature, and how it affects benchmark results.
Getting testing underway, we begin with noise readings reflective of a real-world, fully-built PC. With chassis fans fixed to 600rpm at all times, noise is measured with CPU cooler fans configured in three states; low-speed (600rpm), high-speed (1,200rpm) and the maximum applicable to each model of cooler.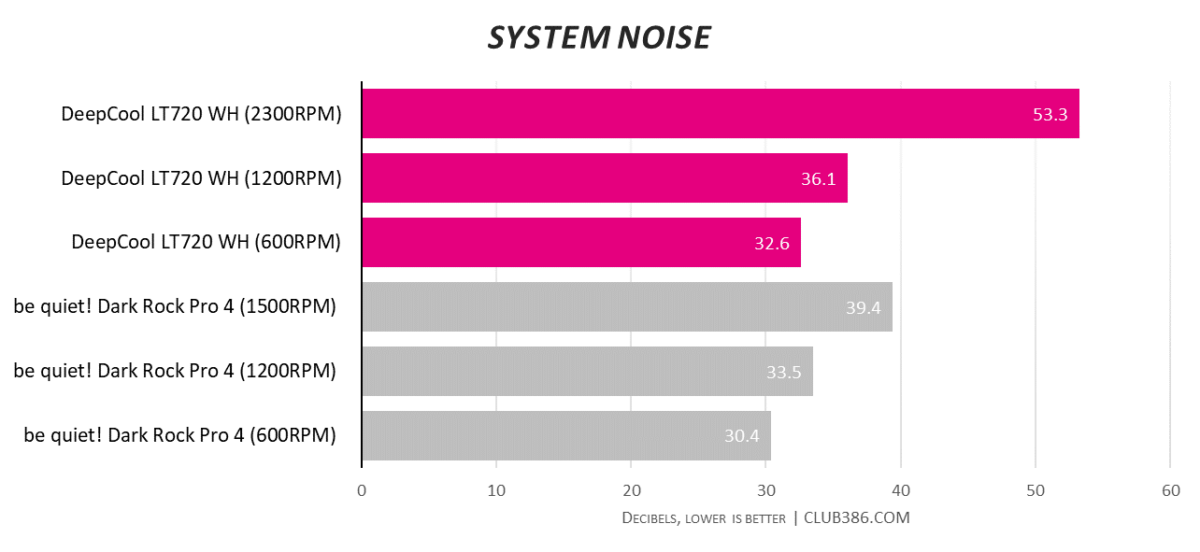 There isn't a great deal in it at low speed, but a faster, more capable pump does have a trade-off in that it is clearly audible at all times. In a quiet room we can hear the motor whirring away at 3,100rpm, and if you're intending your rig to be as hushed as possible, reducing pump speed to ~70 per cent brings noise more in line with an air cooler with little detriment to performance.
Nevertheless, at each setting, the liquid cooler is the more vocal configuration, as is to be expected when three fans and a pump are at play. The steady hum at 1,200rpm is perfectly acceptable, but the crescendo at full blast is much louder than we'd want during everyday use. Noise readings alone, however, do not tell the full story.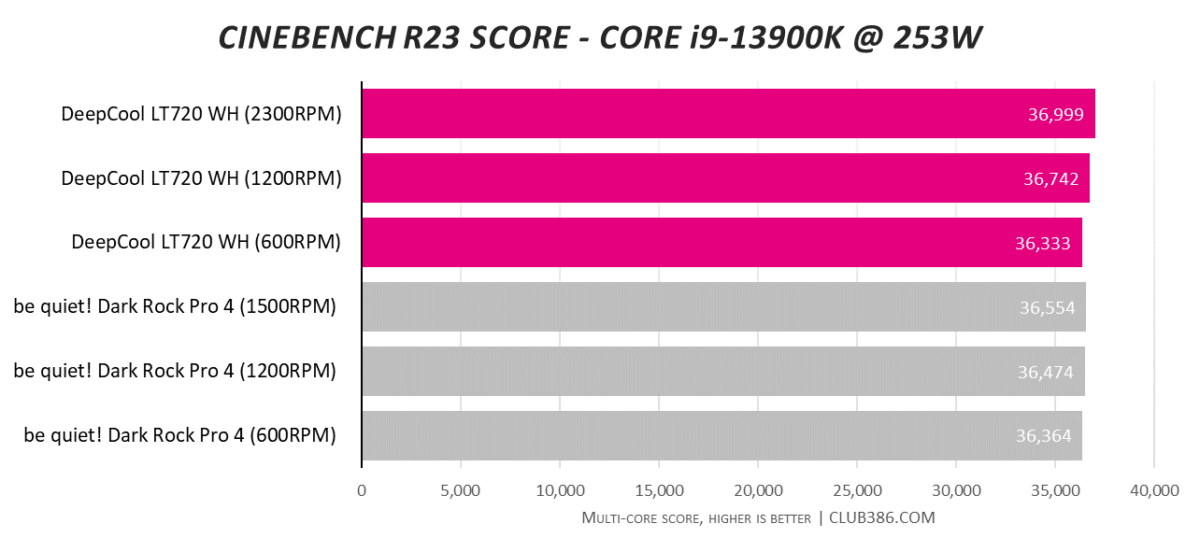 Running Cinebench R23's built-in stress test is always helpful in gauging cooling optimisation. We expect the Intel Core i9-13900K to score in the region of 38k when all cores are firing optimally in a single run, but continuing that load for an extended period sees performance drop off by a fraction. Both coolers once again appear closely matched, but core temperature during these benchmarks show a marked difference.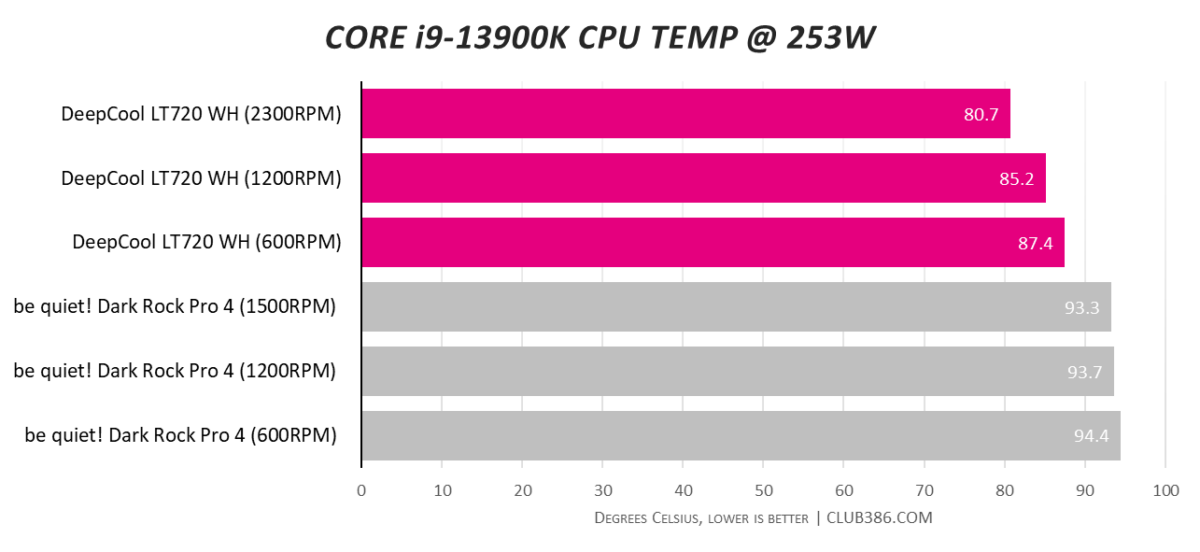 There's no doubt about it, upgrading to liquid cooling offers a significant improvement in operating temperature. Even at low fan speed, DeepCool's LT720 is able to outperform a high-end air cooler running full tilt. An impressive feat, and the real-world impact is even more profound as ASRock's Z690 Taichi motherboard has a built-in 'critical temperature' limit of 100°C, which when breached causes fans to instantly spin-up to 100 per cent whether you like it or not.
The above graphs depict average temperature across Core i9's eight performance cores, but do note the air cooler was unable to prevent a couple of cores from hitting 100°C after a few minutes of load, causing fans to ramp-up undesirably to full speed from time to time. No such problems for the liquid all-in-one.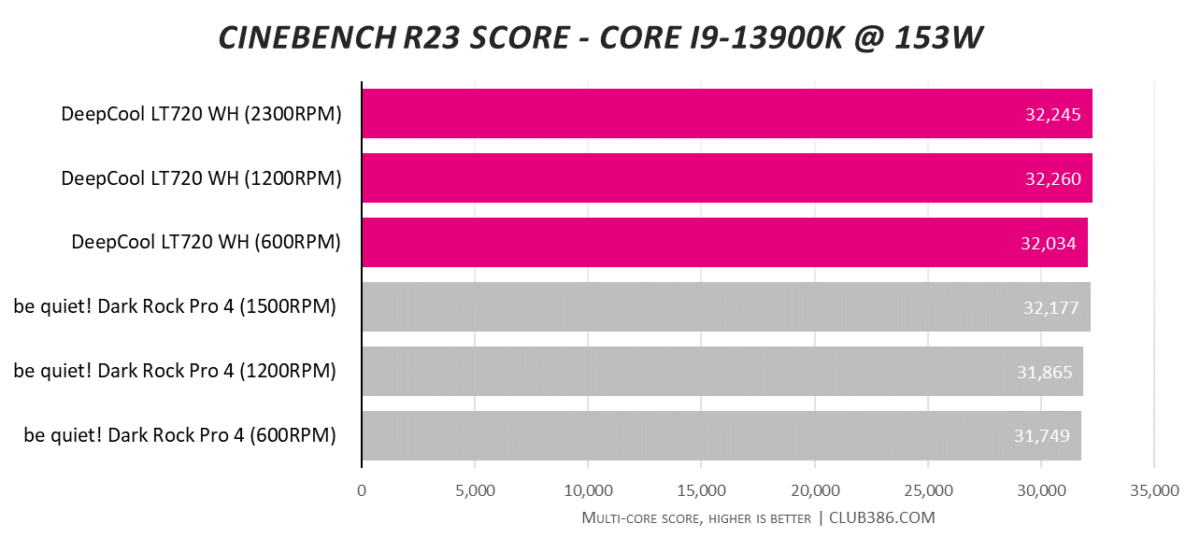 Given the alarming amount of energy consumption and heat generation at 253W, it is not uncommon in DIY circles to reduce power limits on enthusiast CPUs to more agreeable levels. Lopping 100W off the Core i9-13900K still delivers highly respectable performance and makes for a more composed setup.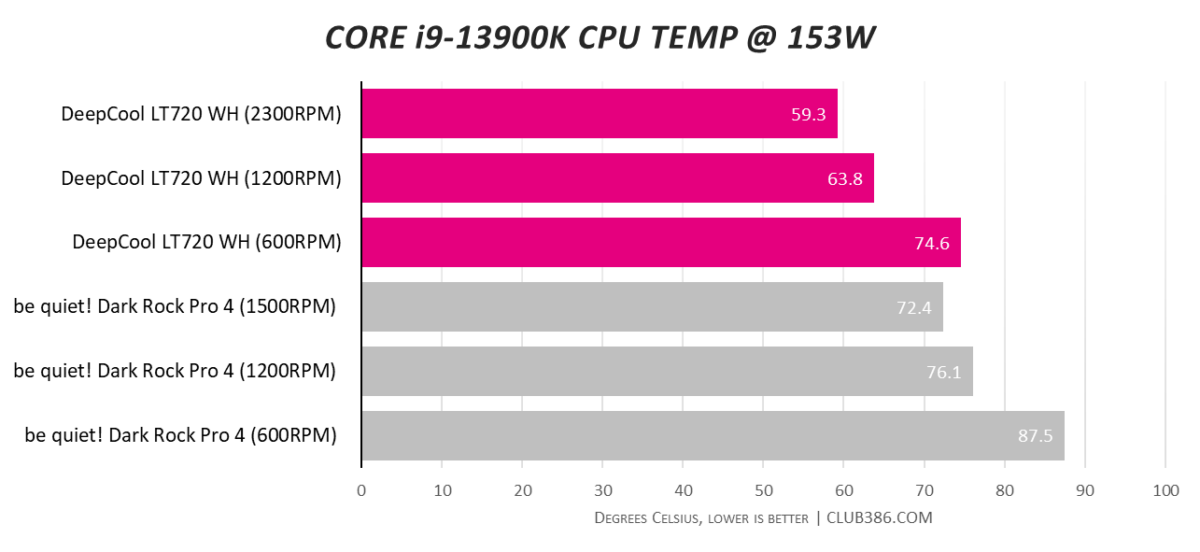 At these settings, temperatures are much improved across the board, with the DeepCool liquid cooler continuing to lead the way. We wouldn't choose to run at 2,300rpm on account of the accompanying whoosh, but sub-75°C at low speed is a great balance of fast performance and barely any noise.
Conclusion
The onslaught of fast, thirsty and mega-hot CPUs has placed renewed focus on the cooling that needs to go with it. Leading the charge are user-friendly liquid all-in-ones, whose profile has gradually transformed from a luxury item to a necessity when building with the very best components.
Traditional advantages include freeing up space around the CPU socket, simple installation and eye-catching aesthetics, and though these continue to ring true, the simple fact is hulking air coolers have met their match; a competent all-in-one is what it takes to prevent today's best CPUs from hitting 100°C.
Highlighting the gulf in cooling capability, DeepCool's 360mm LT720 AIO outperforms a traditional air cooler by a significant margin, allowing the likes of Core i9-13900K to deliver intended levels of performance without running into system-wide limitations.
Combining clutter-free installation, beautiful design and top-notch performance, the LT720 lays down an early marker for the 2023 cooler to beat.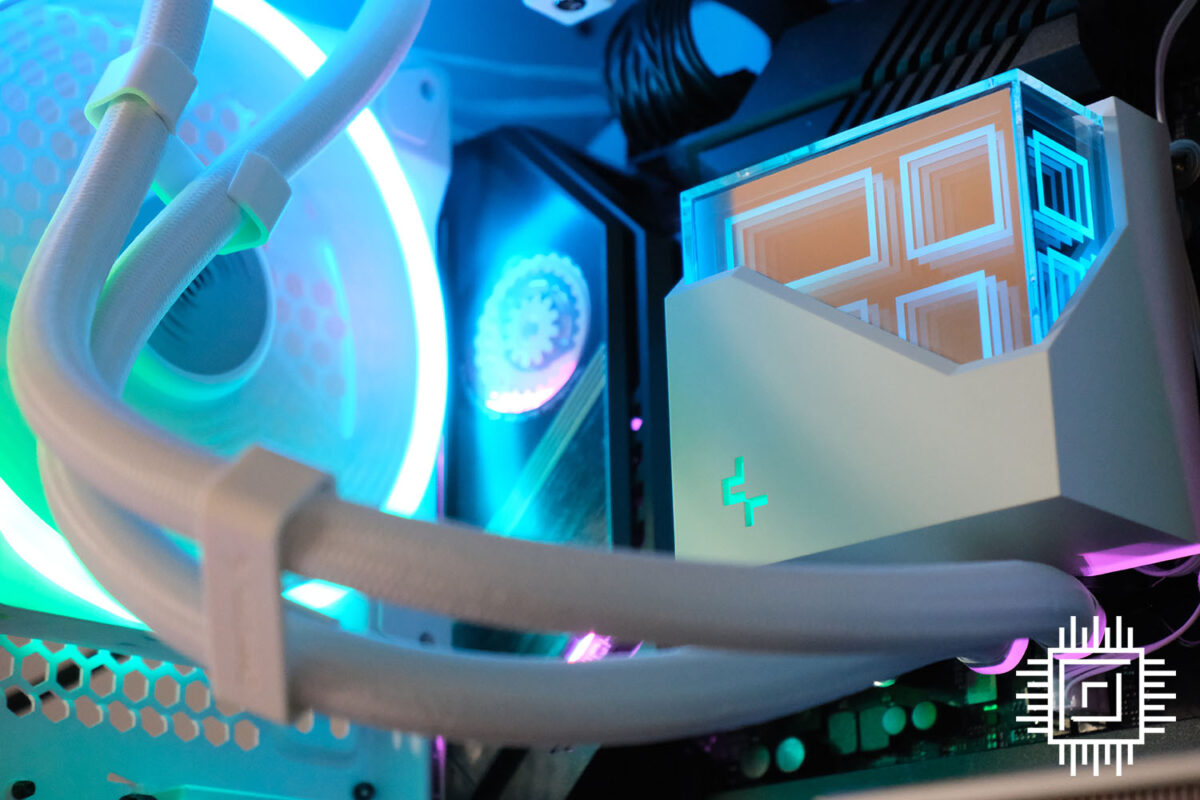 DeepCool LT720 WH
Verdict: an essential all-in-one cooler for today's most extreme CPUs.
---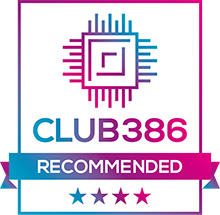 Pros
Enthusiast-grade cooling
Comes in black or white
Awesome retro design
Simple installation
Five-year warranty
Cons
No spare thermal paste
No 280mm option
---
Club386 may earn an affiliate commission when you purchase products through links on our site. This helps keep our content free for all.
Rest assured, our buying advice will forever remain impartial and unbiased.