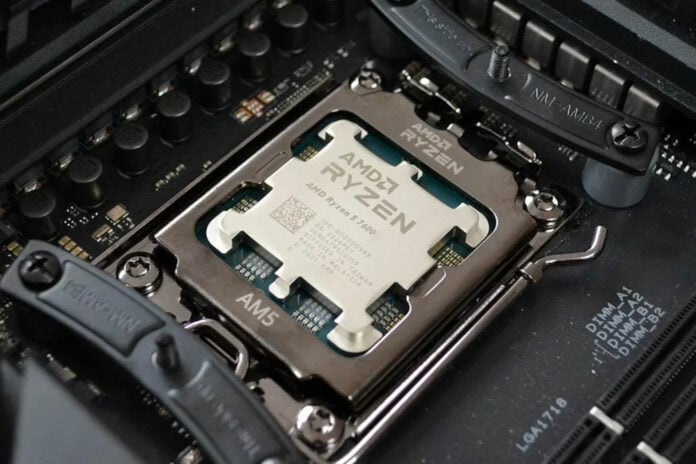 AMD Ryzen 7000 Series non-X processors' pricing and specs have been leaked, showing up to a $120 MSRP price reduction while including a box cooler.
Our colleagues at Videocardz managed to get their hands on AMD slides showing the rumoured 65W Ryzen 7000 Series non-X CPUs. At least three models are planned, Ryzen 9 7900, Ryzen 7 7700, and Ryzen 5 7600. All feature lower base TDP and frequency compared to their X counterparts, putting them in the running for best CPU when it comes to efficiency.
According to the slides, there are no plans for a 16-core Ryzen 9 7950 model, meaning the top spot is held by Ryzen 9 7900, which is a 12-core CPU with 76MB of cache, boosting up to 5.4GHz while consuming only 65W – which is even lower than 7900X Eco mode. The 7900 base clock is said to be 3.7GHz, or 1GHz lower than the X variant, something that is likely to impact multi-threaded workloads. This processor will cost $429, so $120 cheaper than the 7900X MSRP (or $10 compared to current retail) and is bundled with a Wraith Prism cooler that's man enough for the restrained TDP.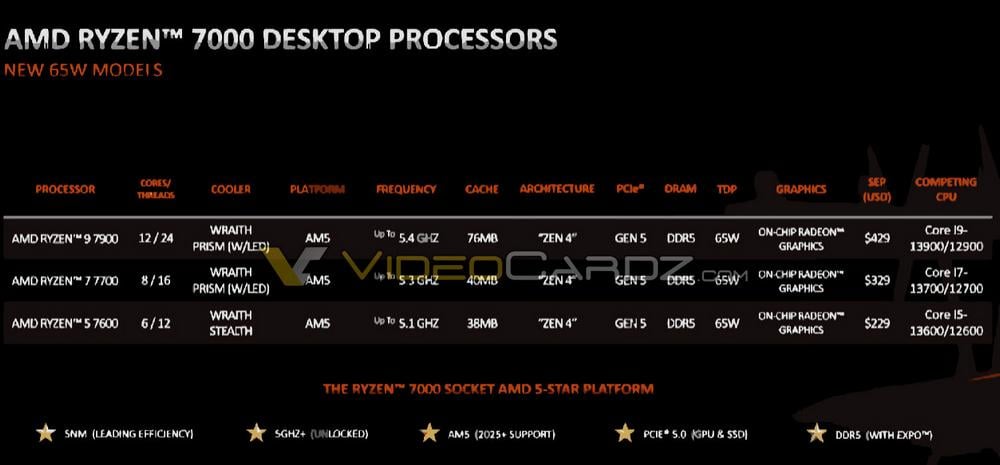 Next, we have the Ryzen 7 7700, an 8-core CPU clocking up to 5.3GHz and featuring 40MB of cache. The base frequency on Ryzen 7 7700 is rumoured to be 3.8GHz, or 700MHz lower than 7700X. Pricing is set to $329, meaning $18 cheaper than 7700X current retail ($70 lower than MSRP). This one also includes a Wraith Prism cooler.
Lastly, there is Ryzen 5 7600, a 6-core model set to 5.1GHz boost with 38MB of cache. Depending on who you ask, this may be the most interesting model thanks to it costing even less, thus reducing the entry price for the AM5 platform. Base frequency is said to be 3.8GHz, or 900MHz lower than 7600X. It will set you back $229, or $20 less than current 7600X's online pricing, but this time bundled with a simpler Wraith Stealth cooler.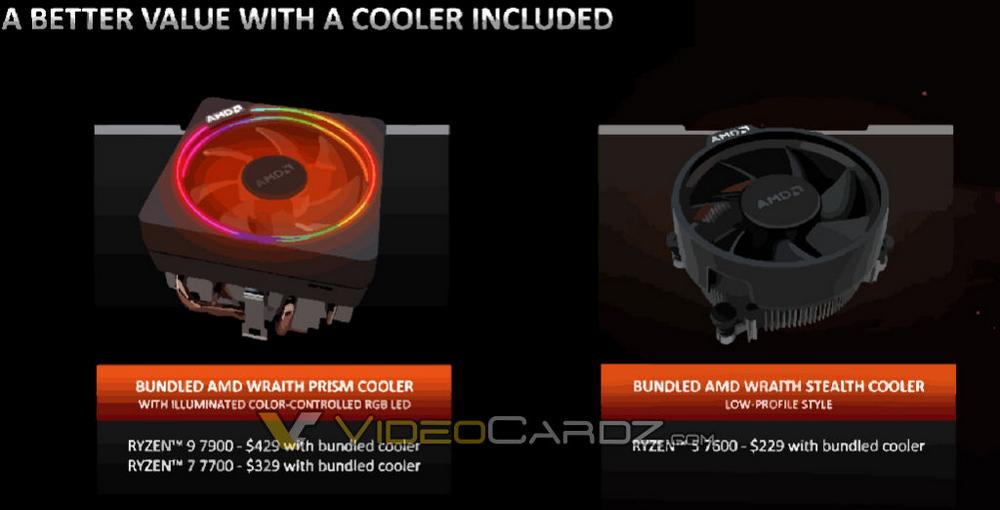 As you can see, these non-X models will have a hard time competing against the ongoing sales if the base clocks turn out to be correct, even when considering the added value of an included cooler. At MSRP, however, the story is different, offering up to $120 reduction is nothing to sneeze at.
The embargo on these Ryzen CPUs is said to lift on January 9, a few days after AMD's CES 2023 presentation and announcements.