The long-running saga of intermittent connectivity with Intel I226-V Ethernet controllers appears to be drawing to a close with the chip giant having identified a potential cause.
According to Intel, disabling the 'Energy Efficient Ethernet (EEE)' mode in driver settings ought to alleviate the issue. The manufacturer has rolled the fix into an updated driver, identified as v2.1.3.3 for Windows 11 and v1.1.4.38 for Windows 10.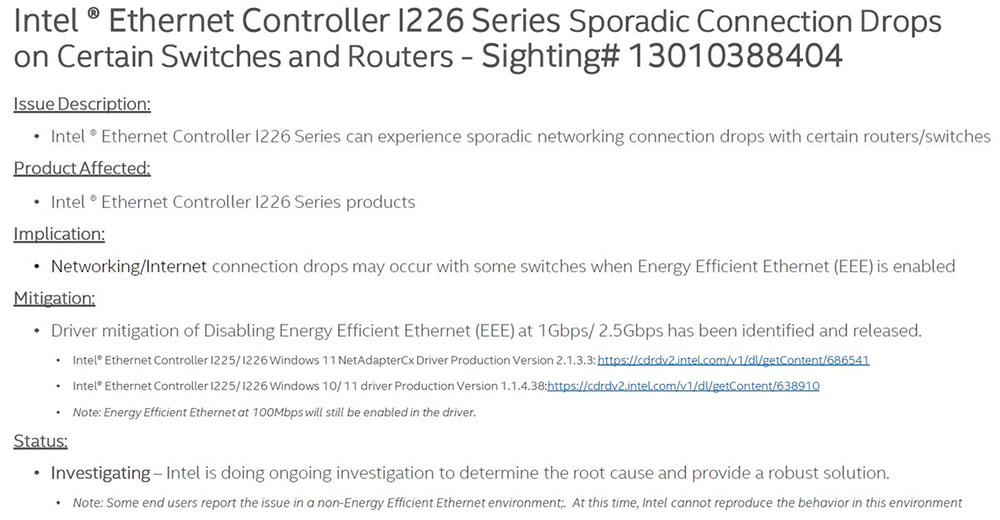 Motherboard vendors are now tasked with making the software fix available to end users, and MSI is quick off the mark, with the revised driver already available for high-end boards such as the MPG Z790 Carbon WiFi.
A similar problem had plagued Intel's previous-generation I225-V controller, and ongoing issues on the newer part have affected a wide range of enthusiast boards based on the latest AMD and Intel chipsets. The same connection drops and instability are also thought to be present on the Killer E3100 2.5GbE.
Intel's patch seems to disable EEE entirely at speeds above 100Mbps, suggesting the energy-saving feature may have been kicking in inadvertently on an active connection.
Clearly not a long-term solution, it remains to be seen whether or not a permanent software fix is applicable, or if revised hardware will be required. Intel states it is "continuing to assess the situation and will follow-up accordingly."