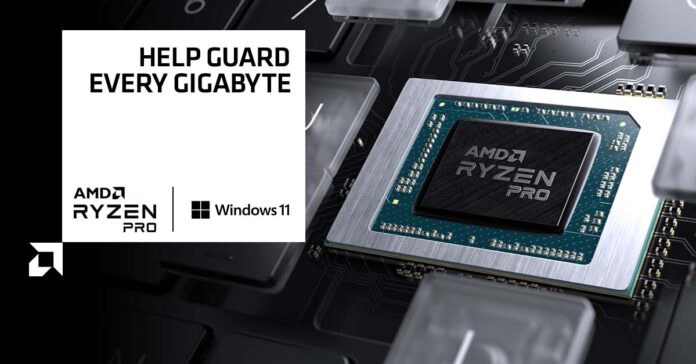 The following text is provided by AMD and published verbatim.
As a result of the COVID-19 pandemic, our digital environments have become more dynamic – and more complex – than ever before. While the mass shift to remote and hybrid working has enabled employees to enjoy enhanced flexibility and a better work-life balance, having workers stationed in different locations has multiplied the number of networks, applications, and user interfaces through which data is accessed.
At the same time, the pandemic has fuelled a major cybercrime wave. There has been a huge rise in spoofing and spear-phishing attempts, ransomware has become more prevalent than ever, and there seems to be a new high-profile data breach on an almost daily basis.
No organisation is immune to this evolving threat landscape. This means IT teams must rethink their approach to cybersecurity as hybrid working presents a new, unknown challenge.
The foundations of the new hybrid workplace lay on technology solutions like modern devices and cloud-based collaboration tools, grounded on security solutions that keep endpoints, data and identities secure.
With that in mind, it might be time to rethink your organisation's hardware strategy. Devices, such as laptops, are used by employees across a number of mission-critical scenarios, from collaborating on sensitive documents in Microsoft Office to catching up with far-flung colleagues on Microsoft Teams. Providing robust protection against the latest malware and ransomware is a critical priority as organizations expect these devices and data to withstand common attacks.
Hardware-level security
Laptops equipped with an AMD Ryzen 6000 PRO Series CPU make helping to ensure the security of corporate devices easier than ever. While legacy devices will commonly provide gateways for cybercriminals to enter, Ryzen 6000 PRO processor-based laptops offer enterprise-grade security features at a hardware level which is designed to protect against the most sophisticated of attacks.
That's thanks, in part, to the inclusion of the Microsoft Pluton security chip. Although developed in collaboration with AMD, Intel and Qualcomm, the Ryzen 6000 PRO Series is the first to integrate Microsoft's security processor architecture[1], which was pioneered in Xbox and Azure Sphere and is designed to store sensitive data, such as encryption keys, with hardware that is integrated into the die of a device's CPU
Microsoft Pluton builds on ideas from the Trusted Platform Module (TPM) chip, which helps to improve security by preventing attackers from tampering with low-level firmware that could lead to an attack on data stored on the PC. It also enables security features such as BitLocker disk encryption, and better security for your biometric data used with Windows Hello.
However, thanks to the growing popularity of the TPM, attackers have begun to innovate ways to attack it, particularly in situations where an attacker can steal or temporarily gain physical access to a PC.
The Pluton design removes the potential for that communication channel to be attacked by building security directly into the CPU, helping to protect credentials, user identities, encryption keys, and personal data.
With an AMD Ryzen 6000 PRO processor, you're also gaining access to cutting-edge security features such as 'Shadow Stack' hardware protection against control-flow attacks, its own secure processor, and 'Memory Guard' real-time system memory encryption against physical attacks on lost or stolen laptops.
Invest in employee training
Human error is the number one cause of cyberattacks, which is why phishing attacks are constantly on the rise. While hardware-based security features will help to reduce the risk of attackers compromising your home office-based employees, cybersecurity awareness training is critical if you want to reduce the risk that employee errors pose. Educating employees on topics such as cybersecurity best practices, personal device usage policies, and common threats and how to identify them can go a long way towards ensuring sensitive corporate data doesn't fall into the hands of cybercriminals. 
With a robust plan in place, businesses can be prepared to mitigate risk and respond to threats before they prove to be costly.
Managing and securing remote devices
Mobile Device Management (MDM) enables an employee to remotely manage and monitor an employee's personal device. For example, it offers features such as remote wiping and location tracking if a laptop gets lost or stolen, and 'sandboxing' for creating a secure section on the device to be used exclusively for corporate tasks.
As a result of hybrid working, MDM has evolved from perimeter-based thinking, and IT admins must ensure they now have a comprehensive solution that enables them to manage and secure devices being used both inside and outside of the office while ensuring no loss of productivity as a result.
AMD Ryzen 6000 processor-based laptops make this easier than ever. The processors feature an integrated AMD Manageability processor, which offers simplified deployment and management that is compatible with an organisation's current infrastructure, which means no major infrastructure investments are required. You'll be able to deploy hardware easily thanks to the Ryzen 6000 PRO processor's support for cloud-based tools such as Windows Autopilot, you'll have flexibility thanks to the processor's open standards and features, and management at scale with be easier than ever thanks to Ryzen 6000 PRO processor's support for modern management solutions, such as Windows Endpoint Manager.
Securing your hybrid workforce
Security must always be a priority for businesses, and with the rise in remote and hybrid workspaces, challenges and complexities will continue to grow as businesses constantly evolve to keep up with these challenges. While ensuring your employees are clued up on the latest threats and the best practices, it's also important that organisations look to embrace a hardware solution that will protect employees against sophisticated attacks and corporate data from being stolen.
---
[1] 1. As of January 2022, only AMD Ryzen 6000 Series processors include the Microsoft Pluton security processor, while AMD Ryzen 5000 Series processors and Intel's latest 11th and 12th Gen processors do not. RMB-24. Microsoft Pluton is a technology owned by Microsoft and licensed to AMD. Microsoft Pluton is a registered trademark of Microsoft Corporation in the United States and/or other countries. Learn more at https://www.microsoft.com/security/blog/2020/11/17/meet-the-microsoft-pluton-processor-the-security-chip-designed-for-the-future-of-windows-pcs/