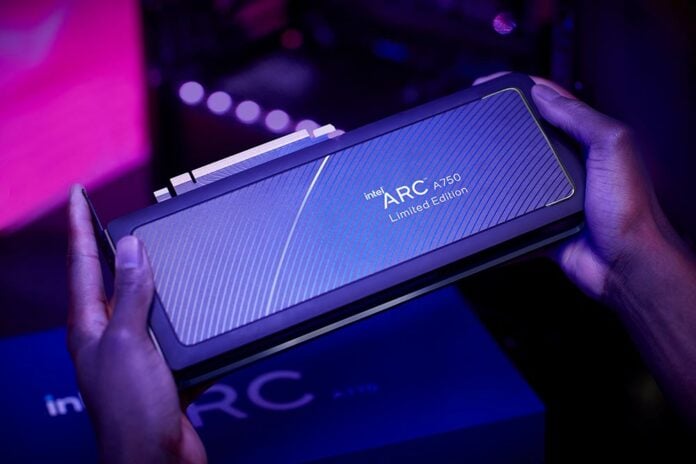 It's fair to say Intel has had a tough time convincing enthusiasts to accept the Arc lineup of graphics cards. Being the third player in a market led by two established heavyweights, continual delays and sub-par launch drivers have inexorably hampered progress. Take the A750 as an example. Launched to the enthusiast market at $289 in October 2022, Intel's own numbers painted a mixed picture, with DX9 performance a particular sore point.
Team Blue feels more bullish about Arc's prospects today, suggesting that iterative driver improvements have fuelled honest-to-goodness upticks in framerates. Not only that, but Intel's dropping the price of A750 Limited Edition from $289 to $249. A win-win in a cutthroat environment? Let's take a closer look at claims made in a press call yesterday.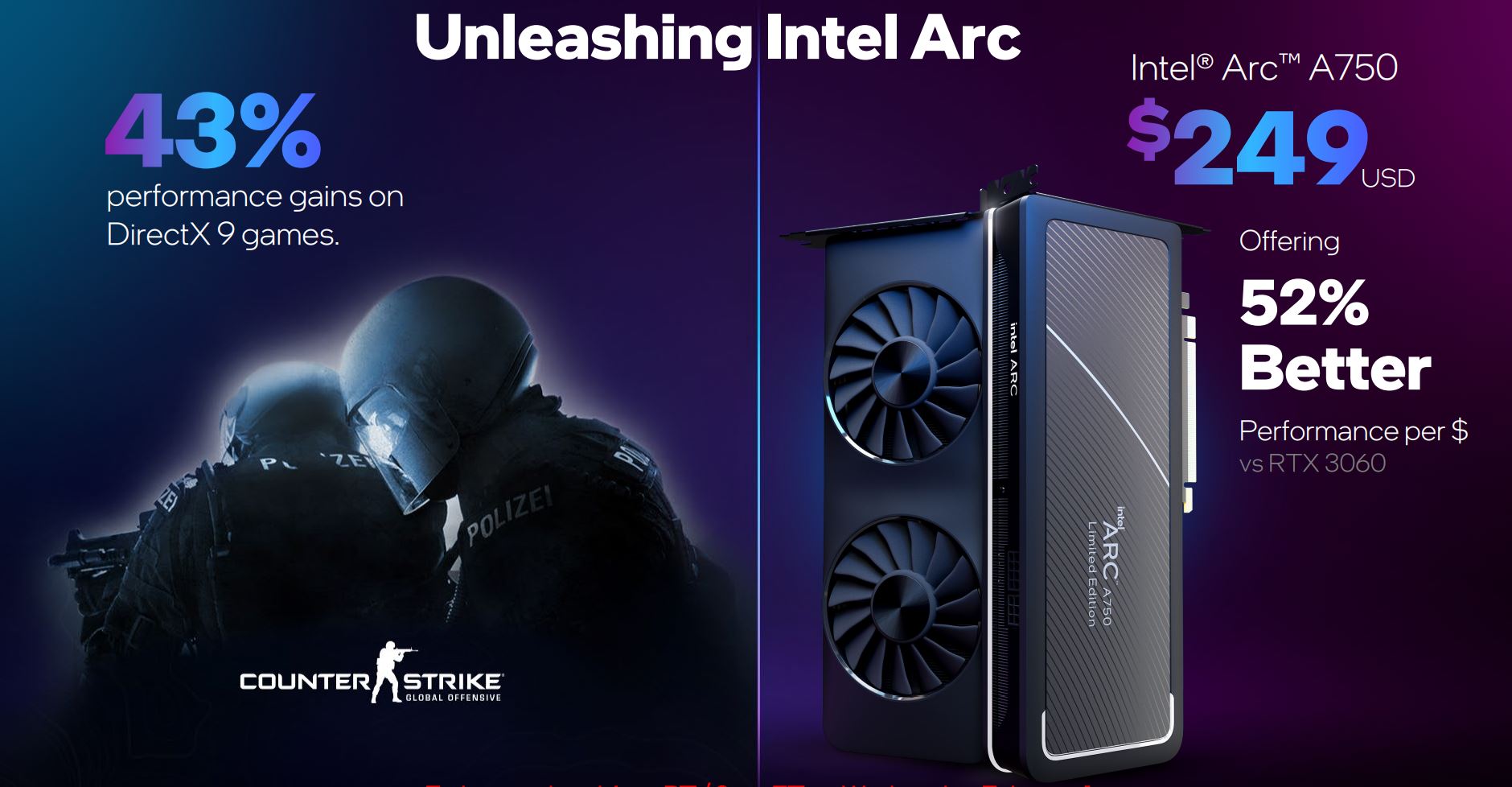 Manifestly Better Performance?
Hoping to eradicate one Achilles heel, namely that of sub-par performance from an architecture that promised much, Intel compares against itself by looking at benchmark results from the blighted launch 3490 driver to the 4086 released recently. Largest gains are found in DX9 titles, many of which remain wildly popular today.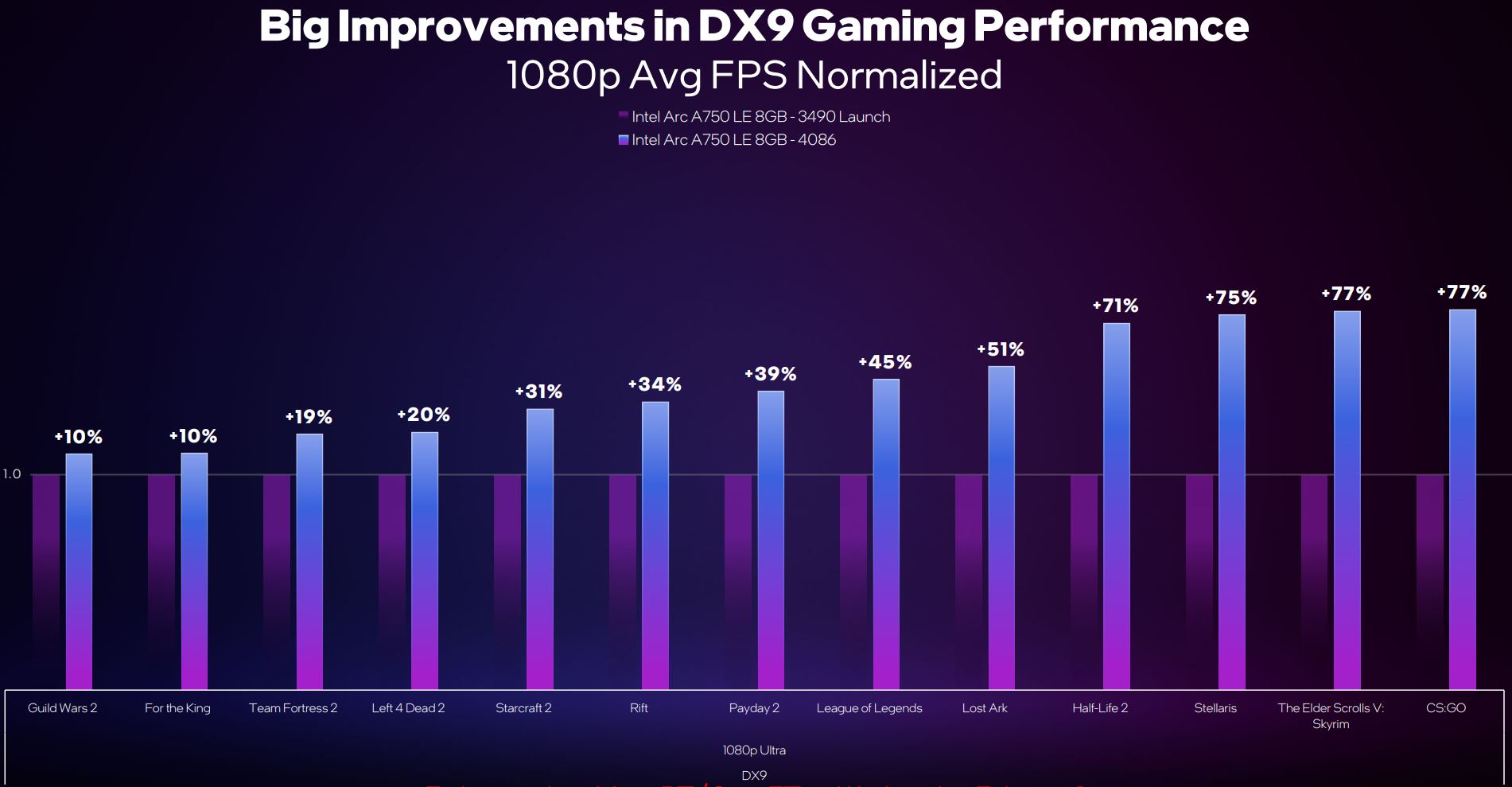 Citing an average 43 per cent gain when comparing drivers across the same games and settings, Intel's Tom Petersen admitted the launch-day proposition wasn't as robust as it should have been. The months between release have provided Intel's software teams the necessary time to re-architect the driver for better utilisation, particularly for DX9, and going by some Intel-provided graphs, performance has nearly doubled in some games. Not only that, but framerate delivery and consistency have also improved markedly, opined Petersen.
All that said, Intel has simply righted the wrongs of the launch-day offering, rather than extract meaningful increases on an already-decent platform. It's easy to find double-digit gains when your starting point is, for all intents and purposes, semi-broken. Really, desktop Arc wasn't ready for public consumption in October 2022, which is a fact tacitly underscored by this Q1 2023 update. The numbers provided today ought to have been those posted last year, truth be told.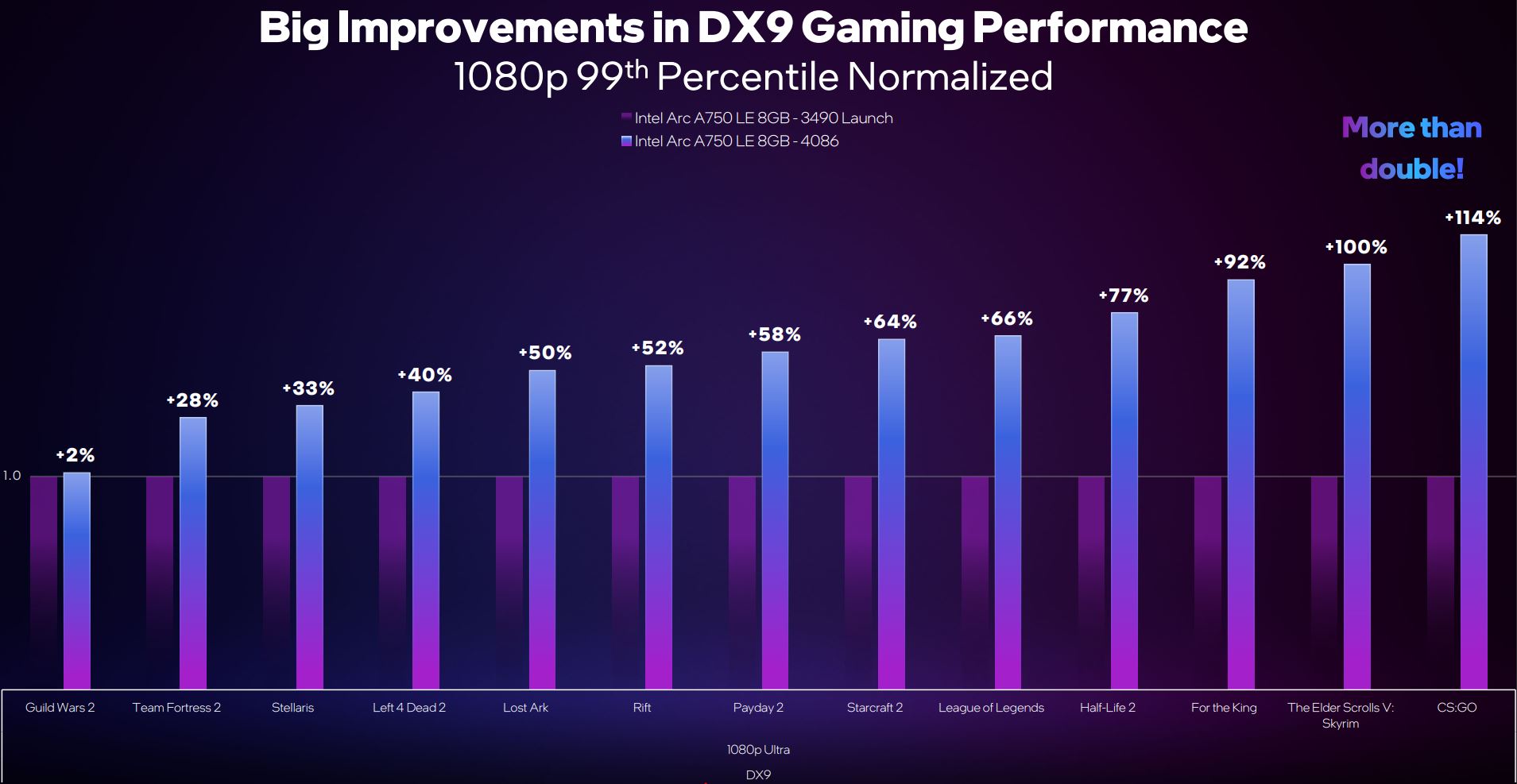 Working through it all by taking into account improved performance and a $40 price reduction for the A750 LE 8GB card, Intel rolls out another graphic which takes into account both factors. We see major gains in DX9, while most of the extra value for DX11 and DX12 is derived from the price drop rather than game performance improvements. There's still plenty of work for the software team to do for newer APIs.
Arc As It Ought To Have Launched
Last but not least, Intel takes a pop at Nvidia by comparing the $249 A750 LE's normalised per-dollar performance against the $391 (averagef price) GeForce RTX 3060 12GB. The graph doesn't mean A750 is faster, of course, as the primary instigator of higher scores is relative value, but it's a cheeky slide where apples are compared to oranges. Surely Intel ought to compare to a $249 Nvidia card, right?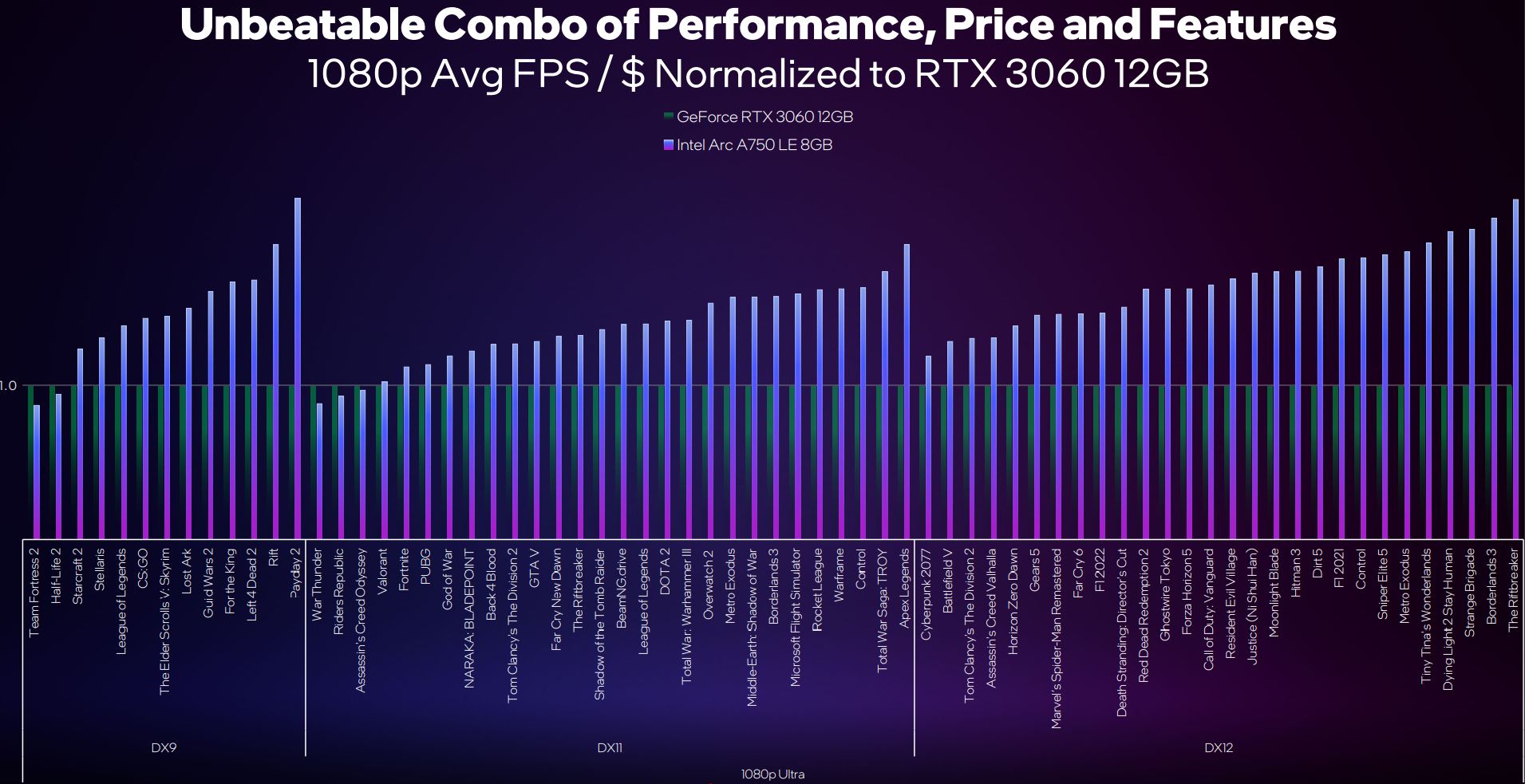 After listening to the melodious tones of ol' Tom yesterday, we come away with the feeling desktop Intel Arc is finally in a place where it's considered, internally at least, a genuinely good solution for those shorn of big budgets, particularly so if playing DX9 games such as CS:GO, League of Legends, and Guild Wars 2. Only the most ardent of Arc supporters would have thought the same back in October.
It's unclear how Arc partners will be compensated for the drop in the reference LE card, as any A750 now costing above $250 doesn't make sense. There's also no firm guidance on how non-US pricing will change, if at all, in the face of this renewed focus on keeping enthusiasts interested. It remains telling that some retailers stocking plentiful GeForce and Radeon don't yet list Arc. Looking at it more positively, competition in the $250 isn't all that strong from Nvidia and AMD, so Intel is grasping this opportunity for further inroads with both hands.
Is it therefore prime time to revisit desktop Intel Arc as the preferred graphics base for value-driven PC? Intel certainly thinks so, and we'll be putting the bombast claims to test in upcoming editorial. Stay tuned.