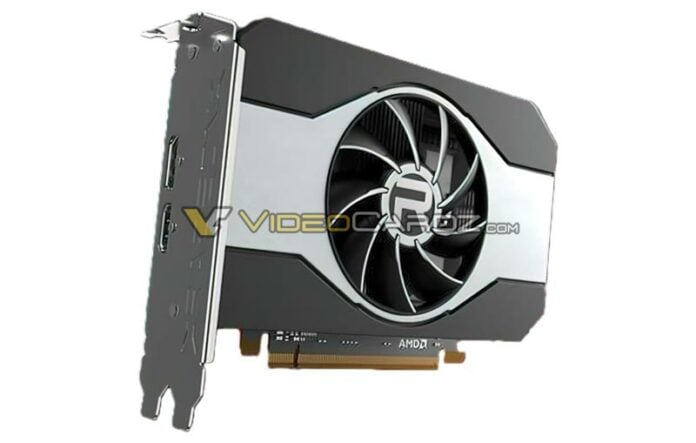 Over the holiday weekend, several details about AMD's expected new entry-level RDNA 2 graphics cards came to light. Normally, you might expect the likes of AMD to use components from the latest available nodes in premium or enterprise graphics cards first. If the leaks being shared by VideoCardz are correct, though, the AMD Radeon RX 6500XT will become the first graphics card with a 6nm GPU. OEMs will be exclusive bundlers of a trimmed-down version of the same component GPU, dubbed the Radeon RX 6400, it is added.

The codename of the 6nm GPU that will power both the AMD Radeon RX 6500XT and RX 6400 is Navi 24. This same GPU may be purposed for next-gen mid-range laptops too. Key characteristics of the Navi 24 are: a die size of 141mm2, a full implementation with 16CUs for 1,024 shading units, an Infinity Cache size of 16MB, and a 64-bit memory controller. Graphics cards based on this GPU will very likely be limited to 4GB of VRAM (GDDR6).
The snips to a Navi 24 GPU to create the Radeon RX 6400 are likely to be a reduction in CUs resulting in 768 shading units being active, and the use of slightly slower GDDR6 chips. Importantly, as well as creating a somewhat slower performer, the cuts help halve the TBP from 107W to 53W. The RX 6400 will therefore be very easy to integrate for OEMs, while its low TBP will mean cooling doesn't need to be particularly bulky and smaller low-profile cards could be on the way. This will contrast to the dual-slot RX 6500 XT which purportedly requires a 6-pin power connector.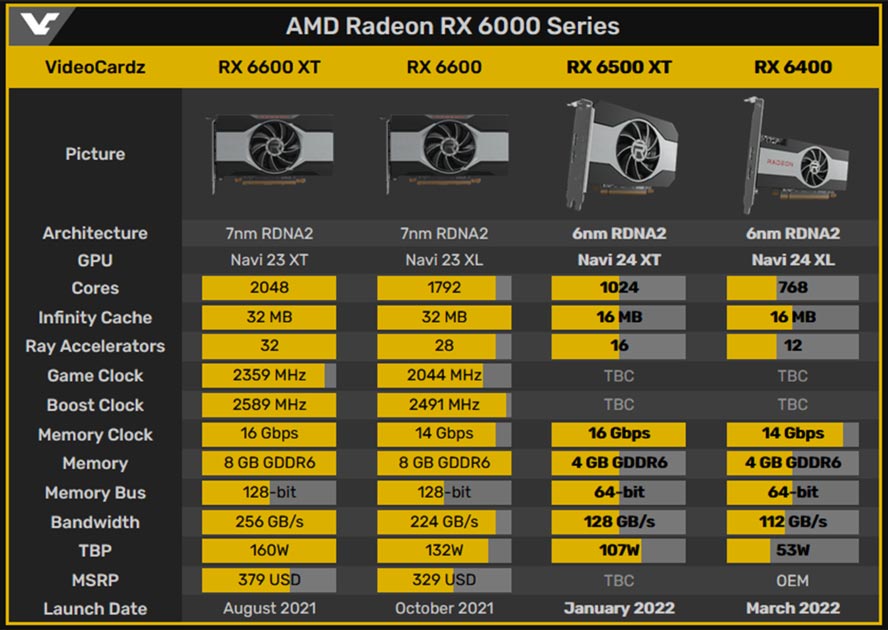 Performance of the Radeon RX 6500 XT remains a mystery, with no significant leaks on this front. All we have previously are reports of retail listings. The specs make it look like "half a Radeon RX 6600 XT" in many respects, so you shouldn't be far out by estimating the new entry-level gaming offering to offer about 60 per cent of the performance.
Thus, it should easily muster 60fps+ in many popular titles at 1080p high settings and be a whizz for eSports titles at this resolution (not Assassin's Creed Valhalla). Below is an AMD slide highlighting the RX 6600 XT's performance in some popular games, from which to base expectations.
The above Navi 24-based GPUs should be announced at CES 2022 next week. The AMD Radeon RX 6500XT is tipped to become available starting from January 19.