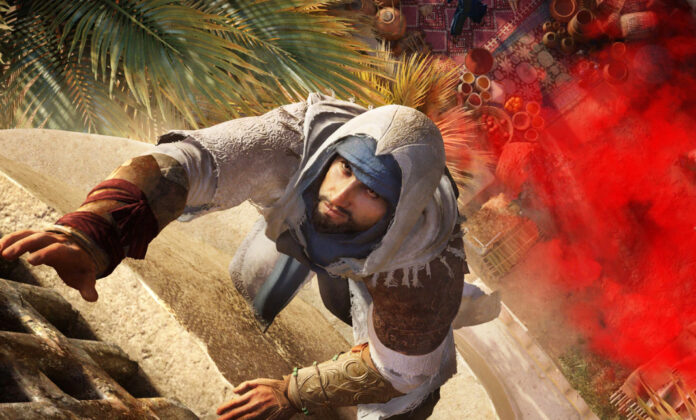 Three years on from Ubisoft's most sprawling action RPG yet, Assassin's Creed Mirage is finally here, taking the stealth series back to basics. For better or worse, it features a much leaner campaign that demands you spend around 20 hours in Baghdad rather than miss the birth of your newborn child to complete every aspect. Reviews are out there for everyone to see, and the consensus is pretty clear: it's better received than Unity, but not quite the heights of its open-world counterparts.
That's a bit of a sweeping statement, underpinned by the aggregate of Metacritic, and the scores are so close that they don't matter too much. Mirage sits with a healthy 77 out of 100, while Origins hit 81, Odyssey landed 83, and Valhalla has a score of 80. What matters more than anything is what people have to say about the new game, which is generally quite positive.
Most reviews praise the game shedding the bulk of the last few predecessors, taking a more streamlined approach, including gameplay mechanics and a smaller world. Reviewers were generally pleased with the structure of the missions and even the increased focus on stealth. I'm sure this will be hit-and-miss to some, depending on how likely you are to throw your mouse or controller when you get caught.
There's a consensus that the story is the weakest part, particularly with strange turns during the conclusion. According to some, however, it's mostly self-contained, sidestepping the complicated history the series has with its overarching narrative. Regardless, reviewers are happy to recommend the game and don't believe this dampens the experience too much.
Just short of an average 8/10 is impressive on its own, but even more so when you consider the shoes it needs to fill from renowned past games. Throw in a particularly competitive year, with 2023 bringing us gems like Baldur's Gate 3, The Legend of Zelda: Tears of the Kingdom, and Starfield, and it must be a good game to hold its own.
You can grab it for yourself on PlayStation 4, PlayStation 5, Xbox Series X, and PC via Ubisoft Connect. Better yet, Intel GPU owners just got a new driver that'll improve the game's performance.